Best Carrot Cake Cupcakes Recipe with Lemon Ricotta Frosting + Video
---
These awesomely fun, light, soft, moist and seductive Carrot Cake Cupcakes with Lemon Ricotta Frosting can make anyone drool. They are absolutely sufficiently sinful to enjoy as a dessert. And also they are sufficiently healthy so that you could eat them for breakfast like I do. I just love 'em. 🙂
Woohoo! So finally, Easter is coming soon in a few days. So technically it's the beginning of the the Spring fest. 🙂 Even though it's still not feeling like Spring on most of the days here, but I can surely tell that it's getting warmer here day-by-day.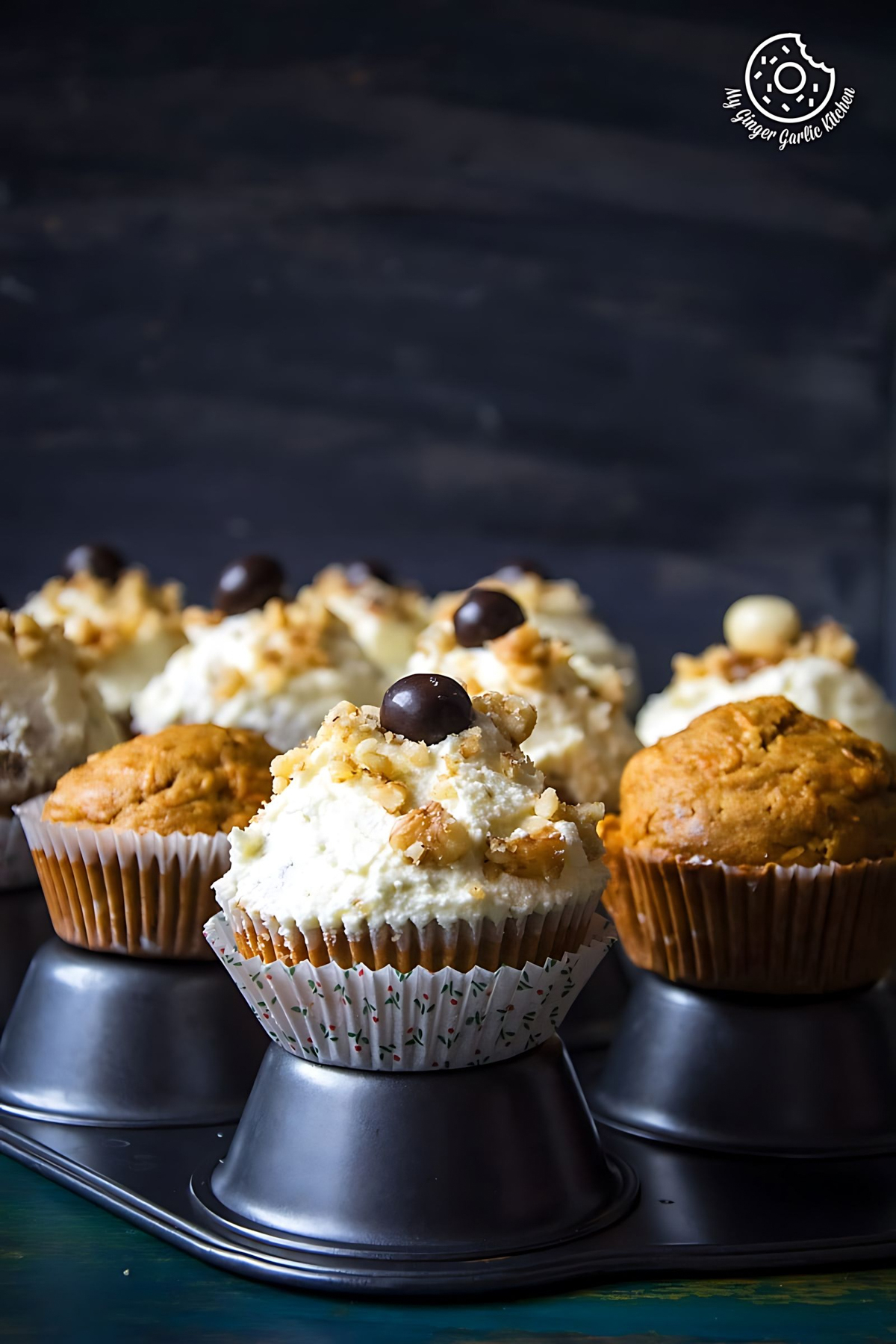 Easter and carrot dishes are best friends. So I decided to share this tasty carrot recipe with you'all. And I so want to eat them now. All right, the thing is that I am craving for one of these stunners right now, but sadly they all vanished as soon as I made them last week.
We baked these sweet, cinnamony and nutty cupcakes last week. And then, when there was more batter left after baking one batch, Adoria suggested me to bake carrot cake brownies. So yeah, I did that, and the result was fabulous.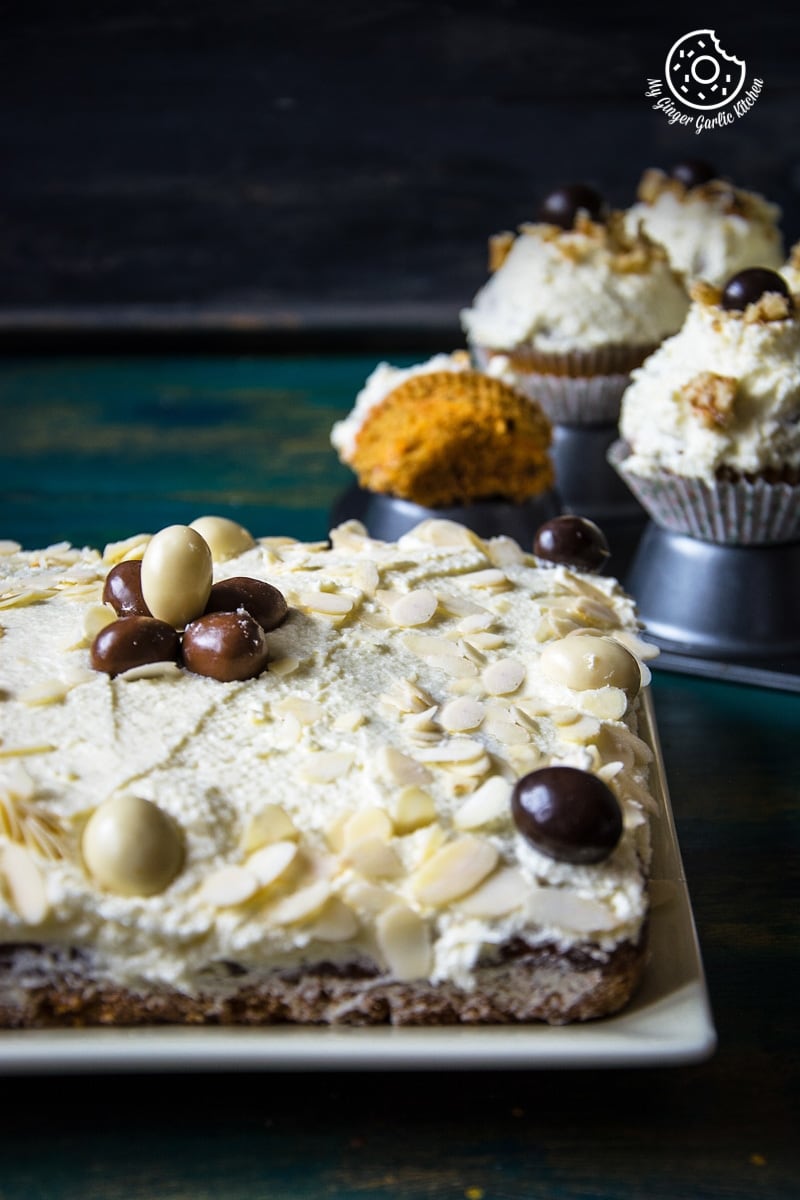 They were Adoria's favorite breakfast and snacks for 3 days in a row, and after that they vanished into thin air. However, I somehow liked the fact that she ate and loved those cupcakes. At least that way, I could get her to eat more carrots, and I must say that the hiding fruits and veggies in a delicious way like this always works.
Related: Chocolate Cream Cheese Cupcakes Topped with Fresh Blueberries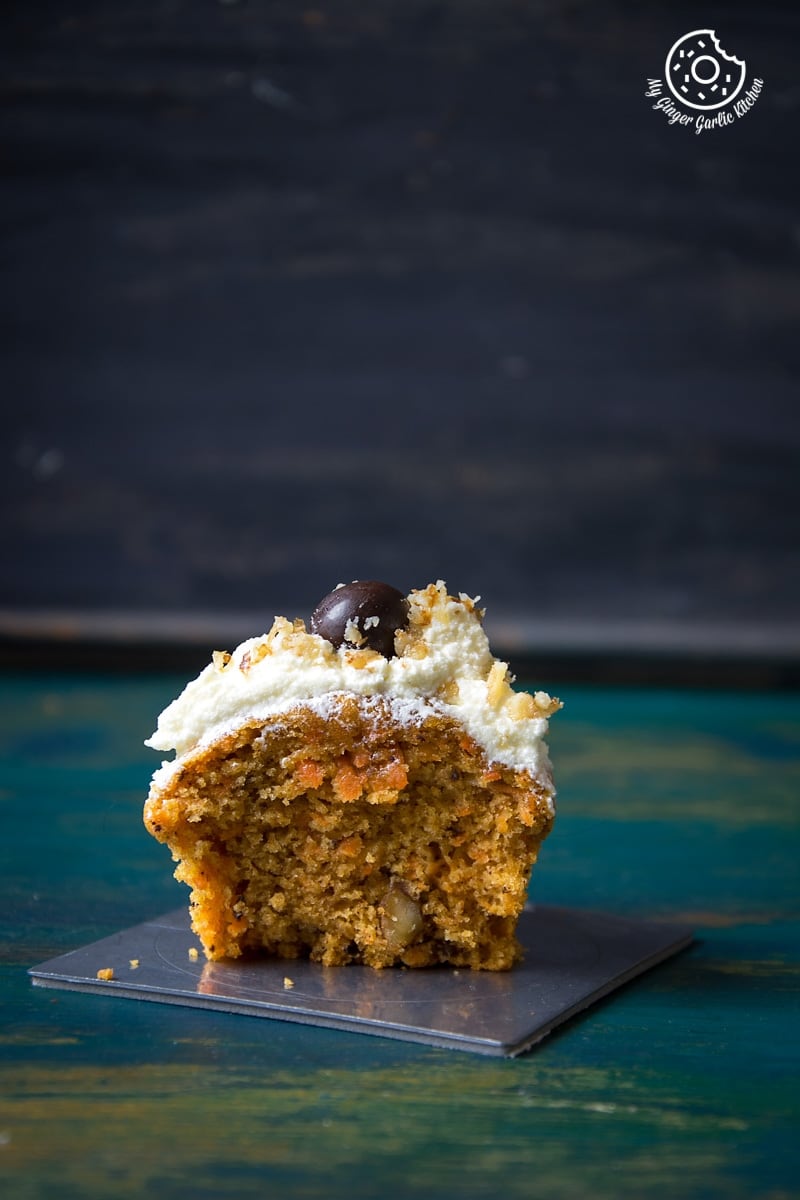 Do they need an introduction?
I don't think that I need to tell you about the goodness of carrots in these cupcakes. But I still want to write something about these irresistibly fluffy, and moist carrot cake cupcakes.
Reltaed: Eggless Orange Olive Oil Muffins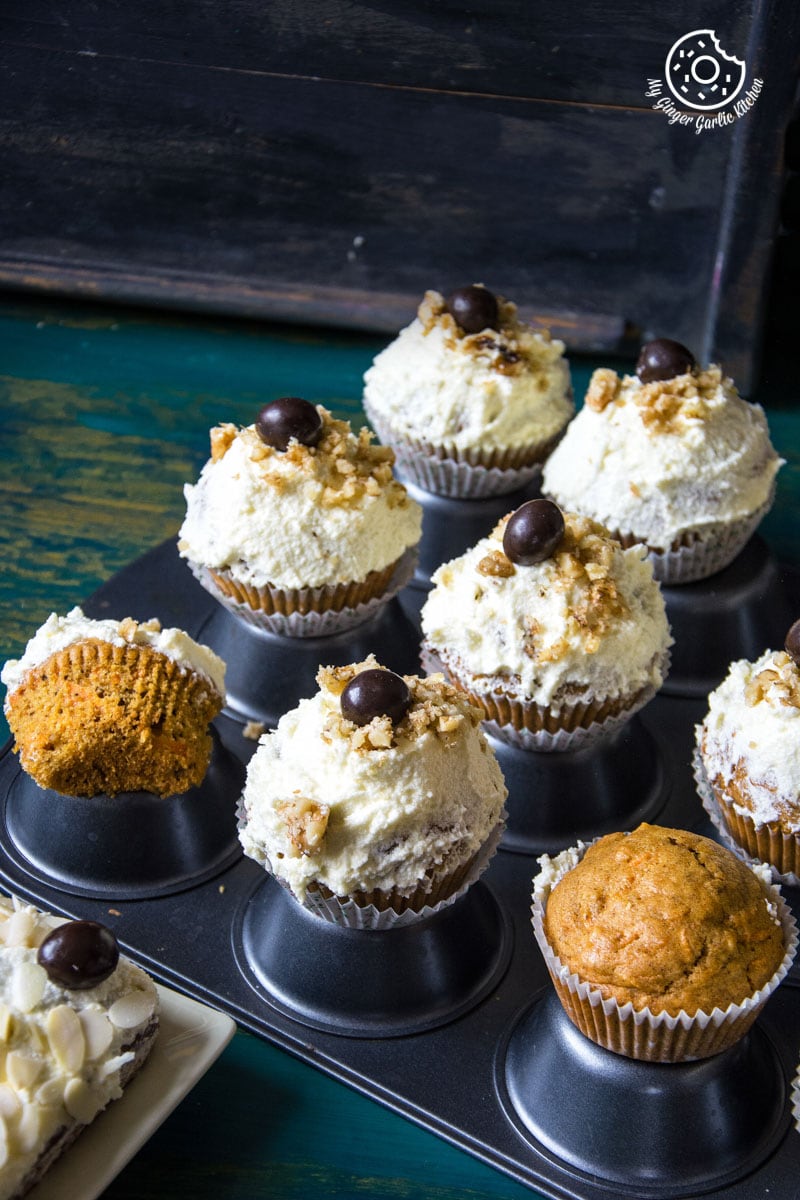 These carrot cake cupcakes are super light and fluffy. Carrots add wonderful moistness to these cupcakes which also have a decent flavor of cinnamon. Nothing can go wrong when carrots and cinnamon are involved. Right? These cupcakes are a great way to eat a cake and a vegetable together. 🙂
Related: Oats Orange Eggless Muffins 3 Ways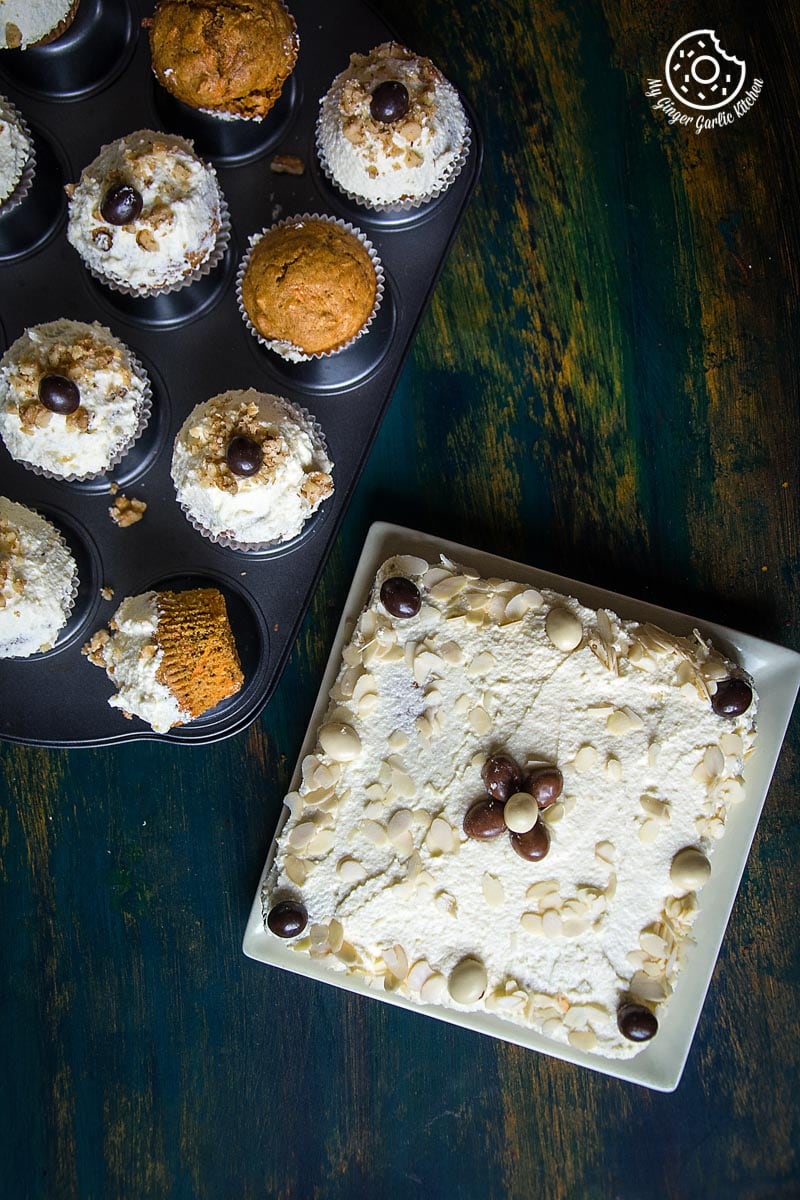 And there is no butter. And believe me, no one can ever tell there is no butter in these. Here I used a simple ricotta frosting which I couldn't record as video, but that frosting is super easy and I am sure, you won't necessarily need video instructions for that. My baby girl and I love our cupcakes with frosting. Unlike the two of us, Daddy dear went for a simpler frosting free muffin.
So let us get started.
Related: Banana Chocolate Muffins with Wheat Flour
Related: Delectable Blueberry Muffins For 4
Best Carrot Cake Cupcakes with Lemon Ricotta Frosting

[RECIPE]

These awesomely fun, light, soft, moist and seductive Carrot Cake Cupcakes with Lemon Ricotta Frosting can make anyone drool. They are absolutely sufficiently sinful to enjoy as a dessert. And also they are sufficiently healthy so that you could eat them for breakfast like I do. I just love 'em. 🙂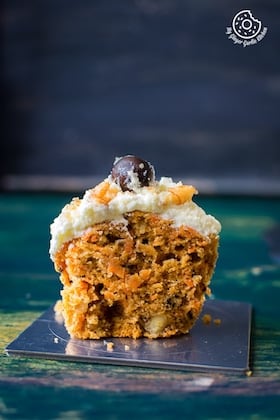 ♥ ♥ ♥ ♥ ♥
(Rating:
4.8
from
25
reviews)
INGREDIENTS
For Carrot Cake Cupcakes:
• Wheat flour or Plain flour - 2 cup (225g)
• Eggs - 2 large
• Cinnamon - 1 tsp
• Peeled and Grated carrots - 2½ cup
• Chopped walnuts - ½ cup
• Baking powder - 1 tsp
• Baking soda - 1 tsp
• Salt - ½ tsp
• Raisins - 4 tbsp (Optional)
• Powder sugar - ½ cup (100g)
• Vegetable oil - I cup (250ml) (I used rapeseed)
• Chopped walnuts and chocolate eggs for decoration (Optional)
• Vanilla extract - 1 tsp

For Frosting:
• Skim Ricotta - 200g
• Greek yogurt - 200g
• Lemon juice - ½ tsp
• Lemon zest - 1 tsp
• Honey - ¼ cup

---
| 🕐 Prep time | 🕐 Cook time | 🕐 Total time |
| --- | --- | --- |
| | | |
| ☶ Category | ♨ Cuisine | ☺ Serves |
| Dessert | Western | 22 |
---
Nutrition Info:
335 calories
//
Servings:
1 serving
INSTRUCTIONS:
For Carrot Cake Cupcakes:

1. Preheat oven to 180°C // 355°F.
2. In a large mixing bowl, whisk together eggs, granulated sugar, oil, vanilla, using a wire whisk or an electric hand mixer.
3. Whisk until slightly pale.
4. Add shredded carrots, chopped walnuts and mix well until combined.
5. In the same mixing bowl, sift together flour, baking soda, baking powder, salt, cinnamon and mix well until combined.
6. Add raisins and toss in the batter until evenly combined.
7. Pour batter into paper-lined muffin cups, filling each cup about ¾ full.
8. Bake in preheated oven at 180°C for about 20-24 minutes.
9. Do a toothpick test; if the toothpick inserted into the center of a cupcake comes out clean they are ready.
10. Let them cool slightly in muffin tray for few minutes.
11. Then transfer them to a wire rack and let them cool completely.

For Whipped Ricotta Lemon Frosting:

1. Using an electric mixer whip together ricotta and yogurt on medium speed until lightly smooth and fluffy.
2. Add the honey and grated lemon zest and fold together well.
3. Frost the cupcakes. Garnish with chocolate candies, and serve.

---
NOTES:
---

More carrot recipes you may like:
---