Small Batch Of Fudgy Carrot Brownies Recipe
---
Learn how to make Small Batch Of Fudgy Carrot Brownies Recipe with step-by-step photo instructions. Imagine the taste of a chilled fudgy brownie topped with some vanilla custard, a dollop of vanilla ice-cream and a drizzle of caramel sauce. Uummm! Doesn't that sound sinfully delicious?
How about I call it a brownie Wednesday?
Because what's a good Midweek without an awesome brownie? Right? Well, it's me, always up for chocolate treats.
Do you know what's the best feeling for me? Dreaming about chocolate! I love my chocolates so much. I know, I have said it a thousand times, so one more time wouldn't harm! 😉
And I think I am not the only one who thinks this way. Please say it, that there are some more people who feel this way. 🙂
So today I bring you all an awesome carrot brownie with a hint of cinnamon. AWESOME!
It's not complicated. You don't need so many ingredients — only basic baking ingredients which we all have most of the times. And it doesn't take much time. So, if you wish, you can simply make these right now. We all work so hard, and we all deserve some good brownies!
Related: Eleventh Hour Chocolate Spoons For Valentine's Day
At Least all the chocolate lovers need it!  Sometimes, we all just need to break the dieting rules and have a cheat diet. It's kinda fun! Especially midweek! 🙂
Oh, do you know the real reason I made these brownies midweek?  Well, this was for my little daughter Adoria.
By now, you all know that my little one is a fussy eater. I know many moms face the same issue — I feel for you ladies! 🙂
However, like all (most of) the other kids, Adoria is a big chocolate sucker. Although she doesn't get to eat that quite often, whenever she gets a chance, you can simply see her extra charming behavior, her glossy eyes turn bright, and her complexion turns ruddy. She starts humming and bumping her shoulders! 🙂
Related:  Mascarpone Cream Cheese Chocolate Mousse Cups 
Just yesterday, I thought about an emotional incident, and I started missing Adoria so much while she was at daycare! So I made these brownies to please her, or maybe I just wanted to see her surprised expressions and happy face. So I made Fudgy Carrot Brownies for her!
Here is a funny little episode to tell you all about her chocolate madness!
The other day, one of my friends met us at a nearby grocery store. She was trying to make a friendly conversation with Adoria, but no response from Adoria's side. Some kids are moody for sure!
By the time we bid adieu to each other, my friend handed two big chocolates to Adoria. I just saw her eyes glued to those bars, and reacting to that, Adoria started a charming conversion with her. It was the first time when Adoria did something like that, almost instantly after a gift.  So, I was stunned seeing this sudden change in her behavior!
Related: Vegan Chocolate Mousse With Aquafaba
And after that she did not want to go with me, she wanted to go along with my friend. And it was a tough job to convince her! But I managed it somehow, or I should say, I had to bribe her for doing so! 😉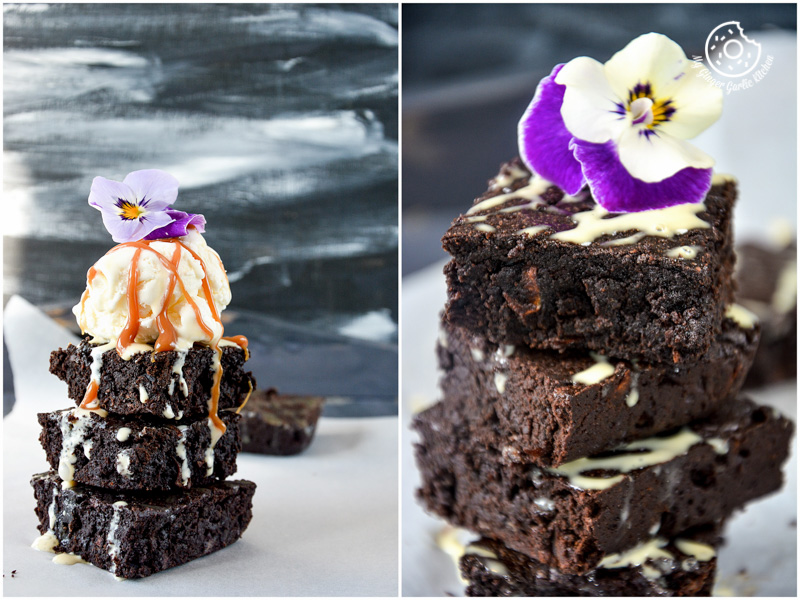 And later in the evening, I told the whole incident to my husband, and he was surprised too! 🙂
Abhishek to me: "If given a chance, Adoria would sell us both for chocolates!" And we both chuckled! 😉
Back to yesterday!  When she came back home in the evening, I asked her about what she wants to eat?
Me: "Hey Princess! I have made omelet for your brunch! You want one?"
Adoria: "No! No, omelet! I don't want to eat now. Not hungry."
Daddy from another room: "Adoria, would you like to taste some of my Carrot Brownie. It's so yummy, I love it!"
Related: Chocolate Molten Lava Mug Cake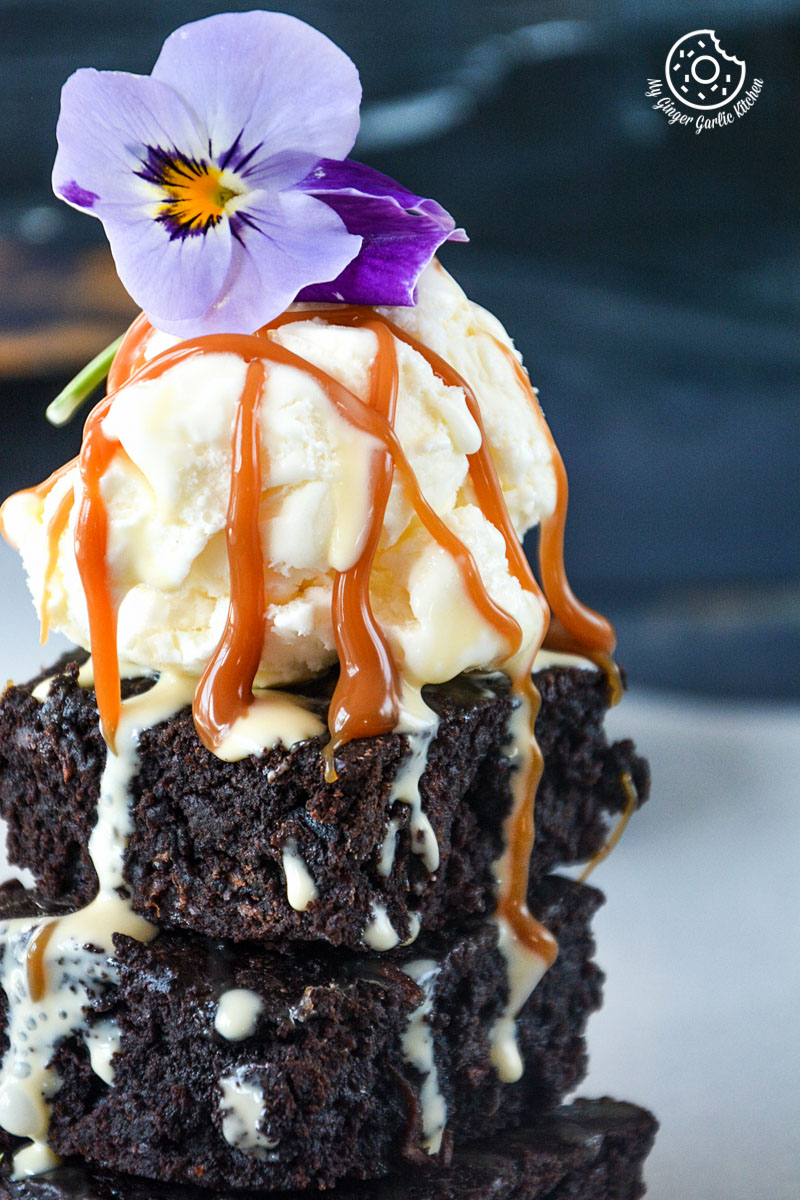 Adoria rushed to another room and screamed: "Yeah! Chocolate cake! I want it now."
At first, anything which looks like cake and chocolate is chocolate cake for her! 😉
And she ran back to me in the kitchen to get her fork.
Adoria: "Mamma, fork please".
Me: Why?
Adoria: "I want chocolate cake".
Me: "But you said, you don't want to eat anything. And anyway that is not a chocolate cake, that is carrot brownie."
Adoria: "Okay, I am eating carrot brownie, give me a fork."
Me: "But you said, you are not hungry. So no brownie for you".
Adoria with big tears in her eyes: "aaahhhhhhnnnn aaahhaaannnnnn. Mamma, I need brownie please, please, please."  (We all have wants for interesting things, but in her case, it's all NEEDS 😉 )
Me: "Okay, but you have to give me ten kisses first."
Adoria: "Puuucchh, puuccch,…………….", and after 10 kisses, "Mamma, fork!" with a grin!
Me: "Here you go!"
And she started jumping on the floor. She ran to another room, and after a few seconds, I heard something!
Adoria to Daddy: "Nom nom, I like it. Like it Daddy."
Daddy to Adoria: "Adoria, Mommy made it for you, say thank you to Mommy. Go!"
Related: Chocolate Pots De Creme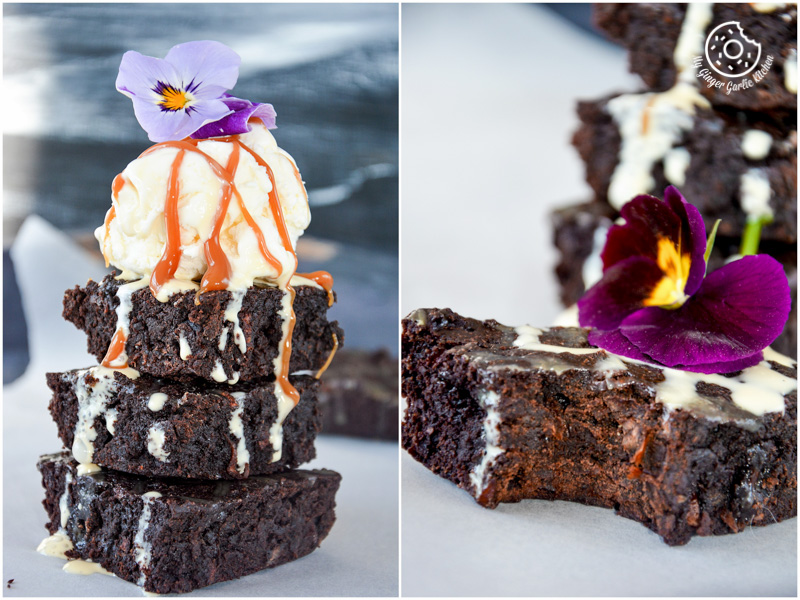 Adoria ran to me and said, "thank you mamma, I love you" and hugged me tightly holding my legs, as I was working in the kitchen. 🙂
I bent down to the knees and hugged her back. And after that, we all lived happily ever after! 😉
Well, that was the end of the conversation with Adoria. But I have a lot more to say about these brownies, so please, please, please don't go anywhere! 😉
Related: Eggless Banana Peanut Butter Chocolate Brownies
Don't get me wrong – I just love to see Adoria instantly change her reactions. So I tease her sometimes! 😉 Seriously, I'm not kidding. Or exaggerating. I love to tease my child sometimes, and she doesn't even mind that. So a win-win for both of us! It might sound strange and comical, but it's really fun for me! 🙂
I don't blame Adoria for liking Chocolate too much, I think it's in her genes. Her Mommy and Daddy both are crazy for chocolates. It's our weakness, we simply can't resist it.
Related: Chocolate Chip Cookies Salted Peanuts Caramel Ice-Cream Sundae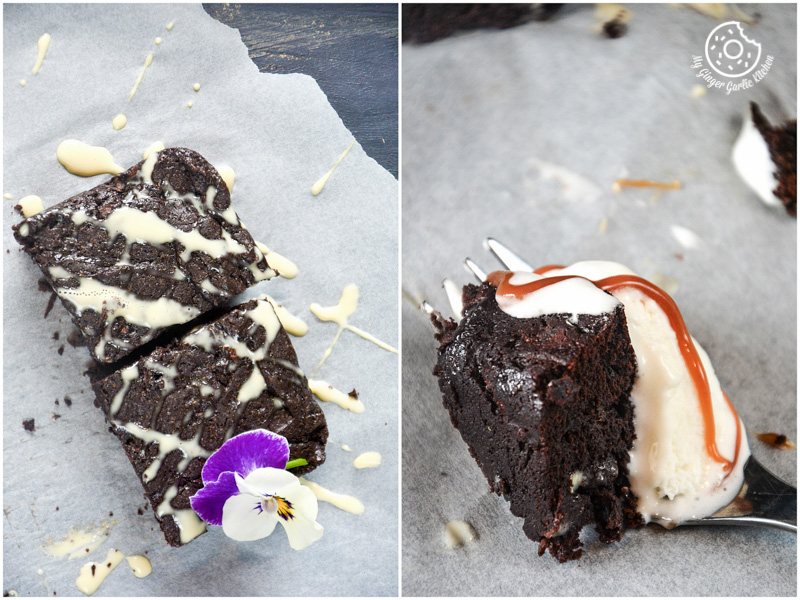 Sometimes, we even divide the last piece of chocolate!
Actually, that's a rare case — because we always have some extra chocolates in store! Though, we don't open that unless necessary!  🙂 And usually Dark Chocolate is always on the top of the grocery list, so we cannot have any shortage at the time of cravings. 😉
And they are really, really good! Let's talk about these brownies again.
It's a rich Fudgy Carrot Brownie that is infused with the spicy cinnamon flavor usually used in carrot cake. And I have also added carrots, of course.
Dreaming of a carrot cake and all you feel is that taste of the carrots. The addition of carrots in these brownies really give a little texture and a hint of carrot cake flavor. And the cinnamon goes that extra mile — it's like magic is added to the chocolate. So YUMMY!
Don't be scared of the carrots in the brownies, really. They aren't overwhelming. 🙂 Fudgy Carrot Brownies and creamy vanilla custard frosting are like a match made in heaven.
They are amazing just like that, without any drizzle. But I decided to give some of them a vanilla custard drizzle. With or without it, they are best either way. And I kinda love these. They are now included in some of my favorite brownies ever! 🙂
I used my very favorite brownie recipe here and basically added carrots and cinnamon to the batter. And we are done with this rejuvenated brownie.  These are the killer brownies for carrot cake and chocolate cake lovers. Don't believe me? Try these yourself, and you will know! 🙂
Imagine the taste of a chilled fudgy brownie topped with some vanilla custard, a dollop of vanilla ice-cream and a drizzle of caramel sauce. Uummm! Doesn't that sound sinfully delicious!
It not only sounds delicious, the taste also proves it. One bite of the heavenly treat and you are sold. And the good thing is that this recipe is for the small batch of brownies. So you have no worries to finish a big batch.
Related: Oatmeal Peanut Butter Chocolate Cookies
This fudge is waiting for you all the way. It has PERFECT sweetness, and with every bite, these just melt in your mouth.
The only thing still required here is a glass of milk, or maybe your favorite coffee. That's it! And you are all set to go on this enticing trip.
I love these Small Batch Of  Fudgy Carrot Brownies! And what's not to love about them? They are full of chocolate + carrot + cinnamon. And this equals DROOLICIOUS!  I mean, DEAR GOSH, look at all that chocolate with carrot and cinnamon!
Sometimes the simplest of the brownies work wonders! These are pretty much everything you would want at a cafe. They are extra moist, extra gooey, extra chocolatey and the texture is out of this world. No really, it is! YUMMYLICIOUS, DELICIOUS, and DROOLICIOUS. Whatever you like to call them, they are just FABULOUS!
Let's learn to make these Small Batch Of Fudgy Carrot Brownies!

Preheat oven to 300°/150C.
Line 8×4" pan and spray with non-stick cooking spray.
Place butter in a microwave-safe bowl and heat in microwave until 2⁄3 of the way melted, about 25 seconds.
Mix in sugar, stirring until butter is fully melted, then add in egg and vanilla extract. Mix well.
Add flour and cocoa powder and mix just until combined.
Related: MASCARPONE CREAM CHEESE CHOCOLATE MOUSSE CUPS

Stir in grated carrots, and cinnamon. Pour into prepared pan and bake 20-25 minutes.
Allow the brownies to set at least one 3o minutes in the fridge before cutting.
Related: Peach Chocolate Eggless Brownies
Happy Cooking!
Small Batch Of Fudgy Carrot Brownies
Author:
Prep time:
Cook time:
Total time:
SMALL BATCH OF FUDGY CARROT BROWNIES. Imagine the taste of a chilled fudgy brownie topped with some vanilla custard, a dollop of vanilla ice-cream and a drizzle of caramel sauce. Uummm! Doesn't that sound sinfully delicious?
Ingredients
<ul class="ingredients">
  <li class="ERSeparator">
    for brownie:
  </li>
  <li class="ingredient">
    flour - 1/4 cup
  </li>
  <li class="ingredient">
    salted butter - 1/4 cup
  </li>
  <li class="ingredient">
    egg - 1
  </li>
  <li class="ingredient">
    vanilla extract - 1/2 tsp
  </li>
  <li class="ingredient">
    granulated sugar - 1/2 cup
  </li>
  <li class="ingredient">
    unsweetened cocoa powder - 1/4 cup
  </li>
  <li class="ingredient">
    shredded carrots - 1/2 cup
  </li>
  <li class="ingredient">
    ground cinnamon - 1 tsp
  </li>
  <li class="ERSeparator">
    for serving:
  </li>
  <li class="ingredient">
    vanilla custard
  </li>
  <li class="ingredient">
    vanilla ice-cream
  </li>
  <li class="ingredient">
    caramel sauce
  </li>
</ul>

Instructions
<div class="instructions">
  <div class="ERSeparator">
    For [b]Brwonie[/b]:
  </div>

  <ol>
    <li class="instruction">
      Preheat oven to 300°/150C.
    </li>
    <li class="instruction">
      Line 8x4" pan and spray with non-stick cooking spray.
    </li>
    <li class="instruction">
      Place butter in a <g class="gr_ gr_338 gr-alert gr_spell gr_run_anim ContextualSpelling ins-del multiReplace" id="338" data-gr-id="338">microwave safe</g> bowl and heat in microwave until 2/3 of the way melted, about 25 seconds.
    </li>
    <li class="instruction">
      Mix in sugar, stirring until butter is fully melted, then add egg and vanilla extract. Mix well.
    </li>
    <li class="instruction">
      Add flour and cocoa powder and mix just until combined.
    </li>
    <li class="instruction">
      Stir in grated <g class="gr_ gr_364 gr-alert gr_gramm gr_run_anim Punctuation only-del replaceWithoutSep" id="364" data-gr-id="364">carrots,</g> and cinnamon.
    </li>
    <li class="instruction">
      Pour into prepared pan and bake 20-25 minutes.
    </li>
    <li class="instruction">
      Allow the brownies to cool before frosting.
    </li>
    <li class="instruction">
      Allow the brownies to set at least one 3o minutes in the fridge before cutting.
    </li>
  </ol>

  <div class="ERSeparator">
    For [b]Serving[/b]:
  </div>

  <ol>
    <li class="instruction">
      Drizzle vanilla custard right over the brownies.
    </li>
    <li class="instruction">
      Top brownie with a dollar of ice-cream and drizzle some caramel sauce. Enjoy with a glass of milk or coffee!
    </li>
  </ol>
</div>

You may also like these chocolate recipes:
If you enjoyed this recipe, then please further help me by FOLLOWING me on:
Instagram // Facebook // Pinterest // Twitter // Google+ // YouTube
If you cook this dish, be sure to tag your photo with this hashtag: #mggk
Happy Cooking and Keep Sharing! 🙂
---