Persimmon Chocolate Bundt Cake [With Video]
---
Happy Monday! I hope you all had a fantastic weekend! 😀
BTW, if you noticed this last week, that I was almost away from this blog. I only shared 2 posts. Why? Because this weekend was super busy, super fun and looooong, which I didn't want to get over — but as a matter of fact, it's over now. And I am back in business.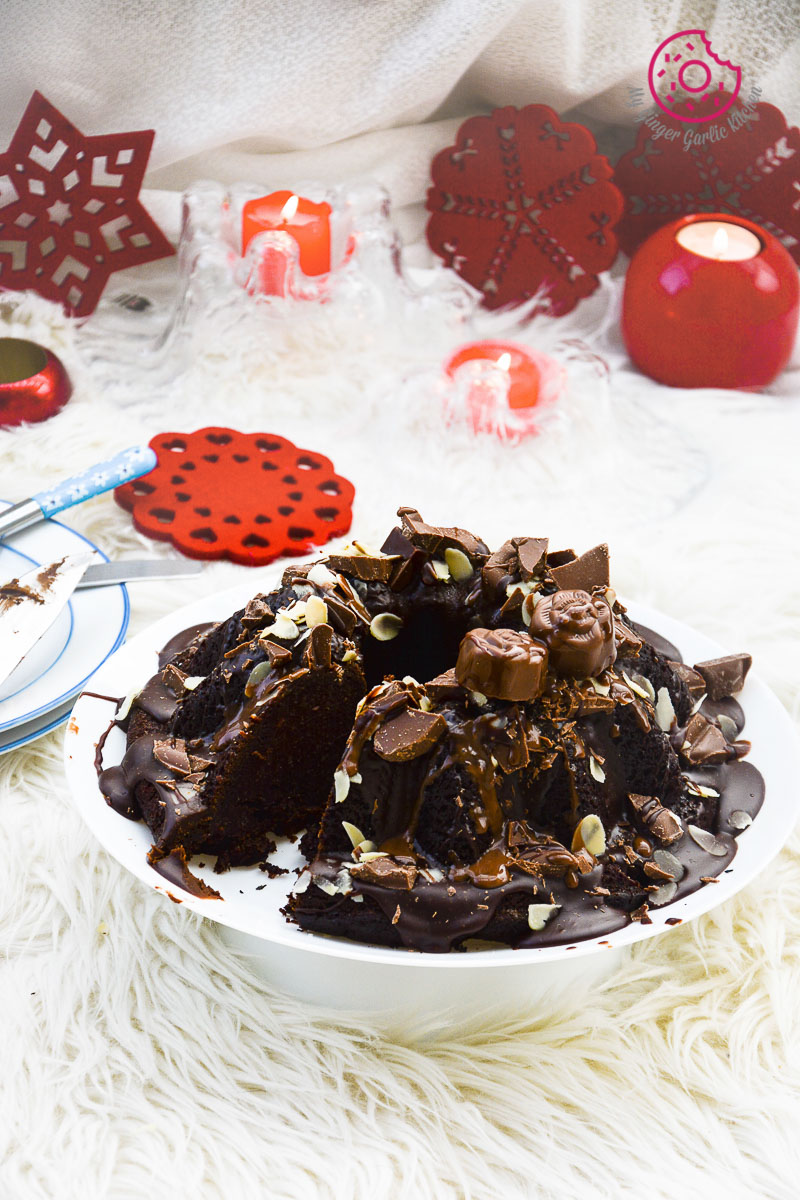 And what was the reason for this loooong FUN weekend?
Well, last Saturday Abhishek and I celebrated our 8th official anniversary of togetherness. Though it's been 17 years since we've known each other, and we were as MAD in love as we are now. 8 years ago, this was the day when we took the marriage vows — the vows of eternal love.  
And it sure called for a BIG celebration. So, this time we both decided to hide from the world and celebrated this WE time. It was such FUN doing nothing! 🙂
So now you know the reason why I was away. 🙂
I assume no celebration is complete without some chocolate. So I am sharing with you all, this Persimmon Chocolate Bundt Cake which I made for our anniversary.
It was so so delish. Yes, it was! Now the two and a half of us have finished it all 😉
This cake is really simple but so nummy. It's because it has my favourite chocolate. Oh! I love anything CHOCOLATE. And sometimes I even think, what would happen if chocolate magically disappears from this world. But at the second thought I convince myself saying this;  I know, that's never gonna happen, because we have plenty of chocolate which is more than enough for everyone. Good for keeping my fears away. 🙂
So for all chocolate lovers; are you ready to dig into this chocolate pool, I mean chocolate cake! 😉
I completely adore this combination of ingredients which I have used in this cake — persimmon, butter, vanilla, and lots and lots of chocolate. Ummmm, the more chocolate the better.
And another good reason for sharing this cake today is that this cake would be perfect for Thanksgiving dessert, because of its awesome flavors.  It's delicious. It's super sweet. It's fruity. And it's chocolatey. And nothing can beat a chocolate cake, right??
Persimmons have always been exotic fruits for me, because when you go to the grocery store you can't really pass through their section without buying them.  For me, they are charming enough to grab my attention. I just love these orange shiny beauties.
Often people aren't sure what to do with persimmons. Like some people I also eat them while they are crunchy. And I love using them in my salads as well.
But this was the second time when I baked with persimmons. OH. GOSH. Now I am completely in love with persimmon baking. LOVE, love baking with persimmon. It's so custardy. They are so fabulous for adding to the baked goods.
They are really hard when you buy them, but if you let them ripe they just become ridiculously juicy. So this cake happens to be insanely delicious. This is fruity-sugary-sweet and chocolatey, as a chocolate cake ought to be.
I drizzled this cake with chocolate ganache and then topped with more and more chocolate and sliced almonds. It was just PERFECT. I don't know why, but I just love how this cake looks. I couldn't take my eyes off. May be it looks like a heavenly treat for a chocoholic like me! 😉
Use soft persimmons to make puree, they are super sweet and easy to work with. To make puree, remove the stem, cut the fruit in half, and scoop out the jellied pulp. You don't need a food processor to make persimmon puree.
So try this easy and mouth-watering persimmon chocolate cake. It's sweet and very rich.
Let's learn to make 'Persimmon Chocolate Bundt Cake'.


Preheat oven to 350°F/180°C. In a bowl, whisk the flour with baking powder, baking soda, salt and cocoa powder. Set this aside. Butter and dust with flour a 10 inch bundt pan.


In another large bowl, mix butter with sugar until light and fluffy. Now add eggs and whisk until combined. Add persimmon puree, vanilla and mix until well combined.


Add the flour mixture and whisk well. Add milk little at a time and whisk until the mixture is fluffy. Pour the batter into the prepared pan. Bake for about 70 minutes or until a toothpick inserted into the center of the cake comes out clean. Remove the cake from the oven and let it rest for about 10-15 minutes.

Heat a pan. Add cream and chocolate and whisk well. Whisk continuously and let it come to a boil. Immediately remove from heat and let it cool completely. Take a plate and gently invert onto a plate or rack to cool completely. Drizzle cake with chocolate ganache and top with chopped chocolate and sliced almonds.
Persimmon Chocolate Bundt Cake [With Video]
Author:
Prep time:
Cook time:
Total time:
Try this super easy, and mouth-watering Persimmon Chocolate Bundt cake. This cake is fruity-sugary-sweet and chocolatey, as a chocolate cake tend to be. This cake is incredibly delicious and too rich — just good enough for a holiday dessert table.
Ingredients
<ul class="ingredients">
  <li class="ERSeparator">
    For Persimmon Chocolate Bundt Cake:
  </li>
  <li class="ingredient">
    baking powder - 1 tsp
  </li>
  <li class="ingredient">
    baking soda - 1 tsp
  </li>
  <li class="ingredient">
    bread flour - 3 cup
  </li>
  <li class="ingredient">
    butter or baking margarine - 1 cup
  </li>
  <li class="ingredient">
    cocoa powder - 5 tbsp
  </li>
  <li class="ingredient">
    eggs - 2
  </li>
  <li class="ingredient">
    milk - 1 cup
  </li>
  <li class="ingredient">
    persimmon puree - 3/4 cup
  </li>
  <li class="ingredient">
    sugar - 1 cup
  </li>
  <li class="ingredient">
    salt - 1 tsp
  </li>
  <li class="ingredient">
    vanilla extract - 1 tsp
  </li>
  <li class="ERSeparator">
    For Chocolate Ganache:
  </li>
  <li class="ingredient">
    milk chocolate - 200 gas
  </li>
  <li class="ingredient">
    heavy cream - 1 cup
  </li>
  <li class="ingredient">
    salt as per taste
  </li>
  <li class="ERSeparator">
    For Decoration:
  </li>
  <li class="ingredient">
    sliced almonds
  </li>
  <li class="ingredient">
    chopped milk chocolate
  </li>
</ul>

Instructions
<div class="instructions">
  <ol>
    <li class="instruction">
      Preheat oven to 350°F/180°C.
    </li>
    <li class="instruction">
      In a bowl, whisk the flour with baking powder, baking soda, salt and cocoa powder. Set this aside.
    </li>
    <li class="instruction">
      Butter and dust with flour a 10 inch bundt pan.
    </li>
    <li class="instruction">
      In another large bowl, mix butter with sugar until light and fluffy. Now add eggs and whisk until combined.
    </li>
    <li class="instruction">
      Add persimmon puree, vanilla and mix until well combined.
    </li>
    <li class="instruction">
      Add the flour mixture and whisk well.
    </li>
    <li class="instruction">
      Add milk little at a time and whisk until the mixture is fluffy.
    </li>
    <li class="instruction">
      Pour the batter into the prepared pan.
    </li>
    <li class="instruction">
      Bake for about 70 minutes or until a toothpick inserted into the center of the cake comes out clean.
    </li>
    <li class="instruction">
      Remove the cake from the oven and let it rest for about 10-15 minutes.
    </li>
    <li class="instruction">
      Heat a pan. Add cream and chocolate and whisk well.
    </li>
    <li class="instruction">
      Whisk continuously and let it come to a boil. Immediately remove from heat and let it cool completely.
    </li>
    <li class="instruction">
      Take a plate and gently invert onto a plate or rack to cool completely.
    </li>
    <li class="instruction">
      Drizzle cake with chocolate ganache and top with chopped chocolate and sliced almonds.
    </li>
    <li class="instruction">
      Enjoy!
    </li>
  </ol>
</div>

If you cook this dish, be sure to tag your photo with this hashtag: #mggk
Happy Cooking & Keep Sharing! 🙂
---