Persimmon Chocolate Bundt Cake (with Video)
Try this super easy, and mouth-watering Persimmon Chocolate Bundt cake. This cake is fruity-sugary-sweet and chocolatey, as a chocolate cake tend to be.
---
« Go back
Print this recipe »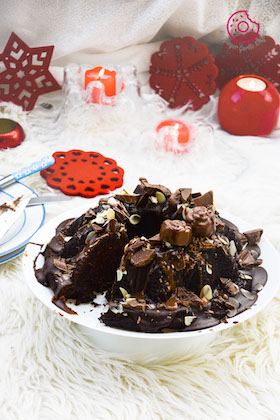 ---
Prep Time = 10 minutes
Cook Time = 1 hour(s) 20 minutes
Total Time = 1 hour(s) 30 minutes
Category = Dessert
Cuisine = International
Serves = 10-12 pieces
Nutrition Info = 238 calories
Serving Size = 1 serving
---
RECIPE INGREDIENTS
» For Persimmon Chocolate Bundt Cake //
baking powder - 1 teaspoon
baking soda - 1 teaspoon
bread flour - 3 cup
butter or baking margarine - 1 cup
cocoa powder - 5 tablespoons
eggs - 2 medium
milk - 1 cup
persimmon puree - ¾ cup
sugar - 1 cup
salt - 1 teaspoon
vanilla extract - 1 teaspoon
» For Chocolate Ganache //
milk chocolate - 200 grams
heavy cream - 1 cup
salt as per taste
» For Decoration //
Sliced almonds
Chopped milk chocolate
---
RECIPE INSTRUCTIONS
» How to Make Persimmon Chocolate Bundt Cake //
Preheat oven to 350°F/180°C.
In a bowl, whisk the flour with baking powder, baking soda, salt and cocoa powder. Set this aside.
Butter and dust with flour a 10 inch bundt pan.
In another large bowl, mix butter with sugar until light and fluffy.
Now add eggs and whisk until combined.
Add persimmon puree, vanilla and mix until well combined.
Add the flour mixture and whisk well.
Add milk little at a time and whisk until the mixture is fluffy.
Pour the batter into the prepared pan.
Bake for about 70 minutes or until a toothpick inserted into the center of the cake comes out clean.
Remove the cake from the oven and let it rest for about 10-15 minutes.
Heat a pan. Add cream and chocolate and whisk well.
Whisk continuously and let it come to a boil. Immediately remove from heat and let it cool completely.
Take a plate and gently invert onto a plate or rack to cool completely.
Drizzle cake with chocolate ganache.
Top with chopped chocolate and sliced almonds.
Enjoy this festive cake with a cup of coffee or mulled wine!
---
RECIPE NOTES
No notes for this recipe.
---