No-churn coffee ice cream with chocolate chunks, swirled with caramel and chocolate. It has the perfect hint of coffee and ultimate rich, creamy and smooth texture with perfect sweetness.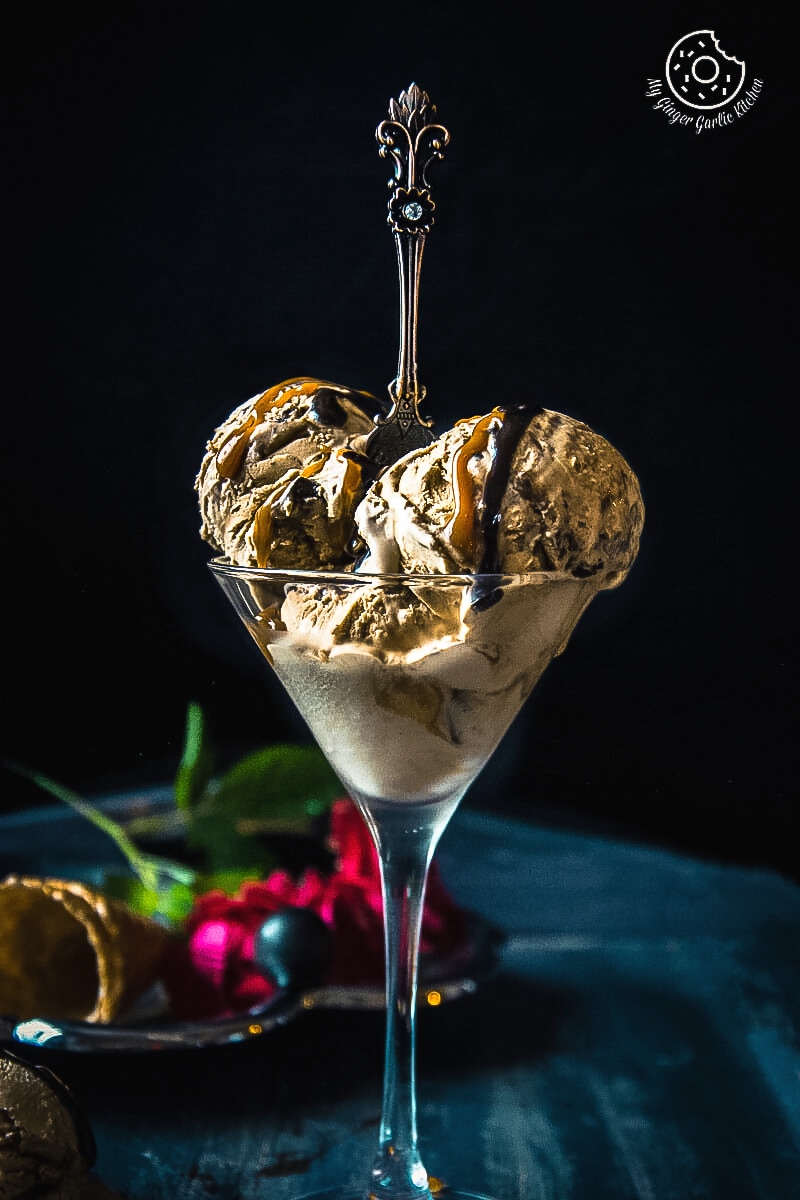 Kid's summer breaks are fun: No matter what the weather outside is, my freezer always has plenty of ice-cream. Thanks to Ado who encourages me to make ice-cream during her summer breaks. However, I am not sure, who should thank whom here. 😉 10 more days and she will start going to her kindergarten again.
I couldn't say that I have worked regularly in past 25 days, but I could surely say that I go out almost every day and most of the time I have no agenda for myself! 😉 They say, "when you don't have your personal agenda then you become a part of someone else's agenda!" And these days the same thing is happening to me. Ado is driving my days. But I guess that's the joy of motherhood which keeps us moving without any specific reasons. 😉
Children know how to manipulate: Only a Mom knows what would happen if she says to her child: "we are not going out today". In my case, I have to face endless naggings. At the end of that long one-sided conversation (read nagging), I would eventually make a decision to go out. Or may be going out will become my primary mission that day. And that's how the Moms get manipulated, most of the times through naggings. Ah, the little ones. 😉
Baking or cooking: The other thing which she wants me to do is — she wants to spend time in the kitchen with me. And most (99%) of the times this is for either baking some sweet stuff or an ice-cream. Yes, she insists me to make ice-cream every time our freezer is without ice-cream. Yeah! And yes, I do make some ice-cream for her. Well, I do have a couple of personal reasons for that.
First, I don't let her eat ice-cream throughout the year, by saying, "Weather is cold and you will catch the cold if you eat ice-cream". And she innocently believes in it! 🙂
Second, She can't handle too much of sweet stuff. More than one scoop of ice-cream is too much for her. Sometimes she can't even finish her cone and after eating it half-way, she gives it to me or to her Daddy dear! 🙂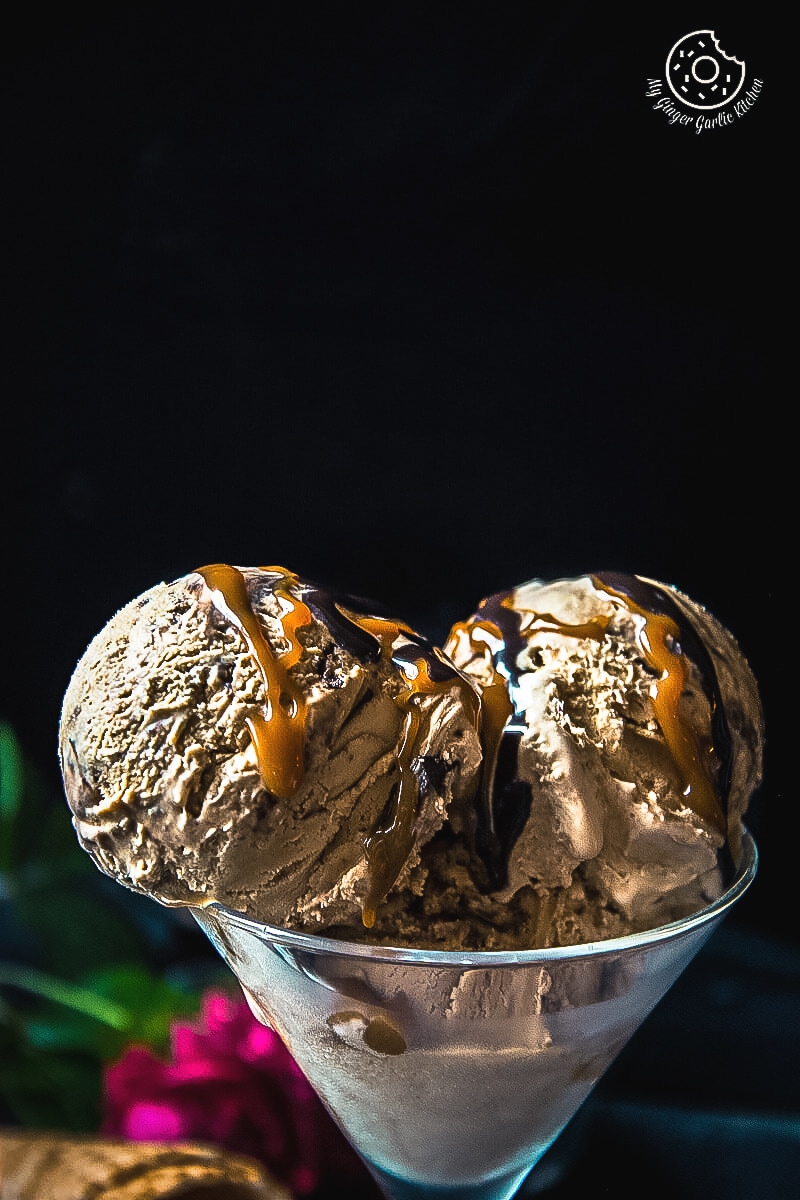 A good believer: She also completely believes in me when I say, "If you eat too much of the sweet stuff, then you will get cavity and doctor will drill your teeth". Here's one for the Moms, if nothing works, the phrase 'visit to the doctor' surely will 😉 Oh! My little one 100% follows. #motherhoodbliss
She is sold to the idea: I call it a win because she sells this idea to herself by telling the same thing to her favorite toy, her purply-pink shiny unicorn. She says to her toy, "Eating donut every day is not good for your teeth. If you eat too much sweet stuff, then the doctor will drill your teeth". And the funny part is that she forcibly nods unicorn's head in agreement as if it wants to say, "Yes, mommy"! 😉
Last Sunday we went to a friend's place for brunch. She played and enjoyed a lot there. I assumed that she got very tired and she would fall asleep when we'd reach home. But to my surprise, she was pretty active! First, she nagged me about watching her favorite cartoon show for 5 mins. Yes, her standard time interval for doing anything is 5 mins and those 5 mins are usually 45-50 mins of our reality! 😉
Well, I said 'NO' to that. Then the next thing was: "Mommy, I want to eat ice-cream because you said I can eat ice-cream during summer break."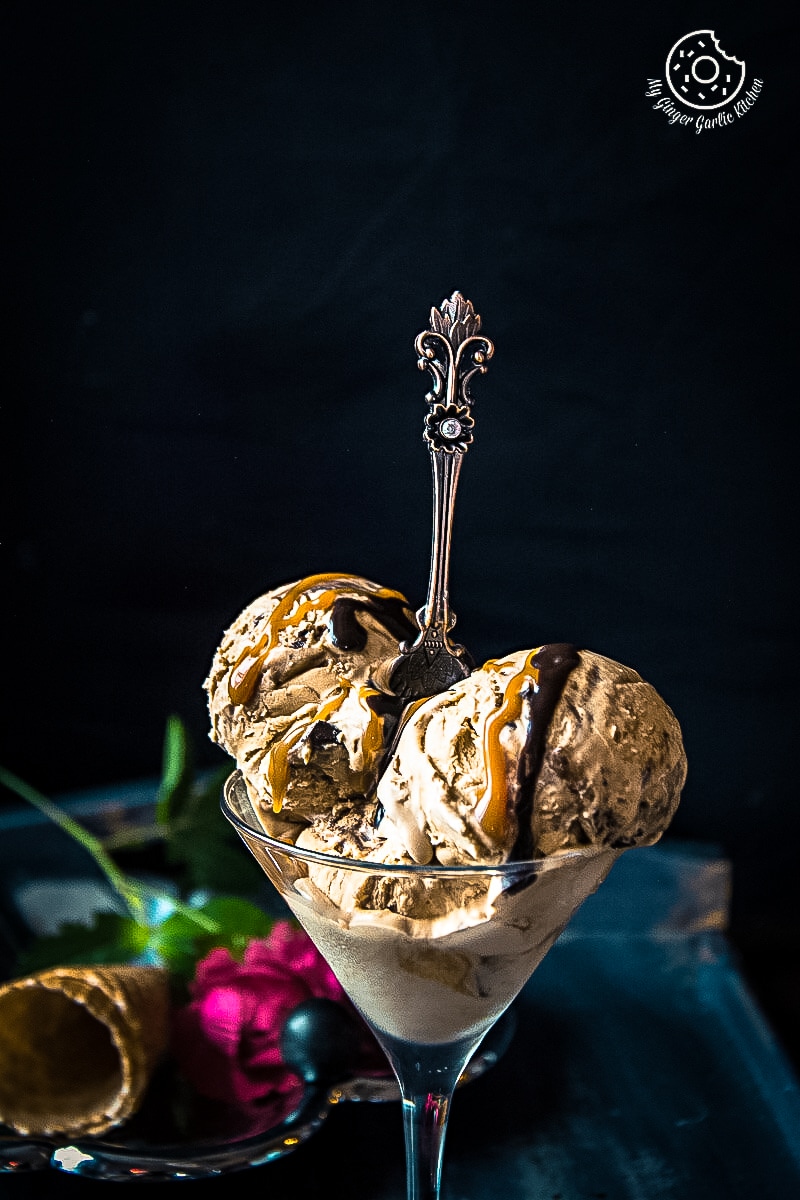 Me: "We, don't have any ice-cream and it's too late so I don't want to buy it".
Ado: "But, you can make it for me, please!"
Me: "Yes, I can make it. But you will still have to wait until tomorrow to eat it!" 😉
Ado: "Okay, mommy! We will eat ice-cream tomorrow when it's ready to eat."
And there usually is a humming voice around the house, "mommy is making ice-cream, mommy is making ice-cream." 🙂
Then you have no other options, and you have to make it. 🙂
And the ice cream that I made the last time was this No-Churn Coffee Caramel Chocolate Ice-Cream.
For her, it was the coffee-free version naturally. But she believed that it has coffee. And said: "I like coffee, like mommy". 😉
I always write about the goodness of ice-creams and I also know that I don't need to write anything about ice-cream as we all know what it is, and how it makes us feel! 🙂
So this time I am only presenting facts for my recipe here:
It does not need any fancy coffee. Instant coffee powder or espresso powder would do the magic. This means no beans or grinding for coffee.
It is super creamy and you can scoop it out within 5 mins from the time you take it out of the freezer.
It's classic, creamy and super smooth, and rich in coffee flavor.
Everyone who loves to drink coffee would love this coffee ice cream, isn't it?
Everyone differs when it comes to his/her favorite coffee flavor. Some want it mild and others want it strong. Here a good thing: you can adjust the amount of coffee according to your own favorite taste!
It has chocolate chunks in every bite.
It has the sweetness from caramel and chocolate swirl.
No ice-cream machine is needed.
So what do you get at the end?
You get a homemade No-churn coffee ice cream with chocolate chunks, swirled with caramel and chocolate. It has the perfect hint of coffee and ultimate rich, creamy and smooth texture with perfect sweetness.
No-Churn Coffee Caramel Ice-Cream

[RECIPE]

No-churn coffee ice cream with chocolate chunks, swirled with caramel and chocolate. It has the perfect hint of coffee and ultimate rich, creamy and smooth texture with perfect sweetness.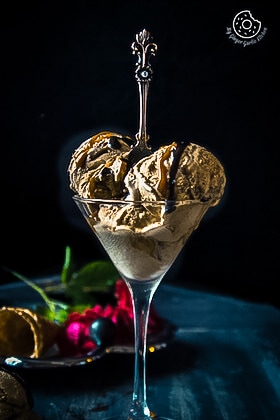 ♥ ♥ ♥ ♥ ♥
(Rating:
4.7
from
23
reviews)
INGREDIENTS
For Ice Cream:
• Heavy cream or whip cream- 2 cups
• Sweetened condensed milk – 1 can (400ml)
• Vanilla extract – 2 tsp
• Instant coffee powder – 5 tsp
• Warm water – 1 tbsp
• Caramel sauce
• Chocolate sauce
• Chocolate chunks – 1/4 cup (I have added milk and dark chocolate)
• Ground almonds – 2 tbsp (Optional)

For serving:
• Caramel sauce
• Chocolate sauce

---
| 🕐 Prep time | 🕐 Cook time | 🕐 Total time |
| --- | --- | --- |
| | | |
| ☶ Category | ♨ Cuisine | ☺ Serves |
| Dessert | World | 8 |
---
Nutrition Info:
245 calories
//
Servings:
1 serving
INSTRUCTIONS:
1. Place the heavy cream into a large bowl and whisk on a medium speed until soft peak.
2. Add vanilla to condensed milk and stir well.
3. Dissolve instant coffee powder in warm water and stir into condensed milk.
4. Pour ice cream mixture into a freezer safe tin or container.
5. Drizzle the caramel and chocolate sauce on top and add the chocolate and fold gently.
6. Drizzle more chocolate sauce and caramel sauce.
7. Sprinkle ground almond on top.
8. Cover with cling film and place in the freezer for 6-­8 hours, or overnight.
9. Scoop out ice-cream in a cup or cone.
10. Drizzle more caramel and chocolate sauce on top and enjoy!

---
NOTES:
1. You can also add toffee bits to this ice cream. 2. Instead of caramel sauce, you can also use dulce leche for this recipe.
---