These Chocolate Dipped Shortbread Cranberry Cookies are zesty, tender, fruity, melt-in-mouth, chocolatey, and topped with pretty sprinkles. Plus, they are chocolate dipped.
These Cookies combine some of favorite holiday flavors — chocolates + dried cranberries + some orange flavor.  In other words, they are ideal for this Christmas time.
Make these easy to make cookies for holiday gifts this year, and these will surely wow friends and family.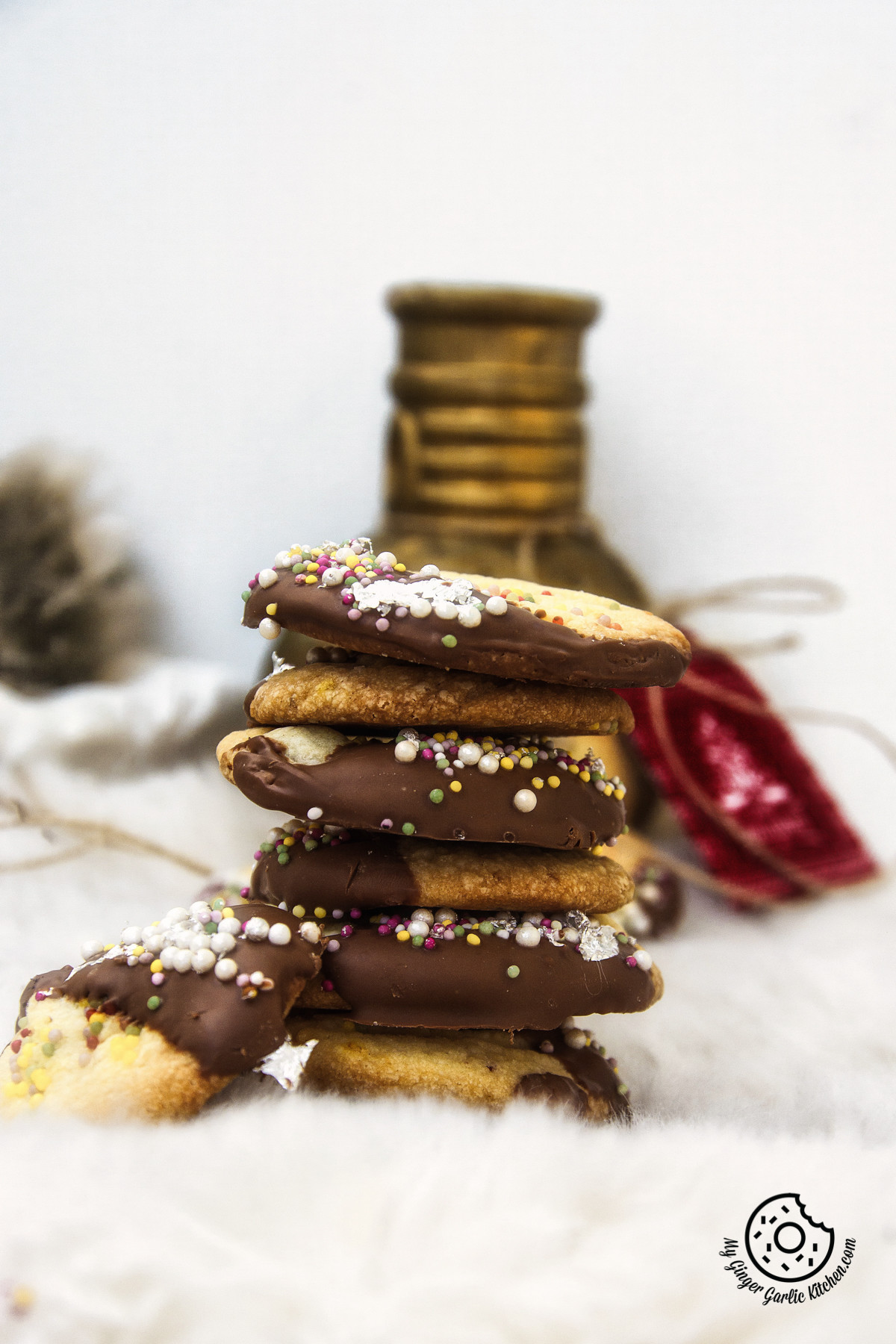 New Year is coming soon! So awesome people, are you all excited for this Christmas Month? I am super thrilled. 😀
Rehash of the year 2019:
I must say that this year 2019 has shown so much love for me. I had a bumpy ride with all the ups and downs which are called the blissful joyride of a life.
There are an endless number of things which I am thankful for. And the following are some of those special things: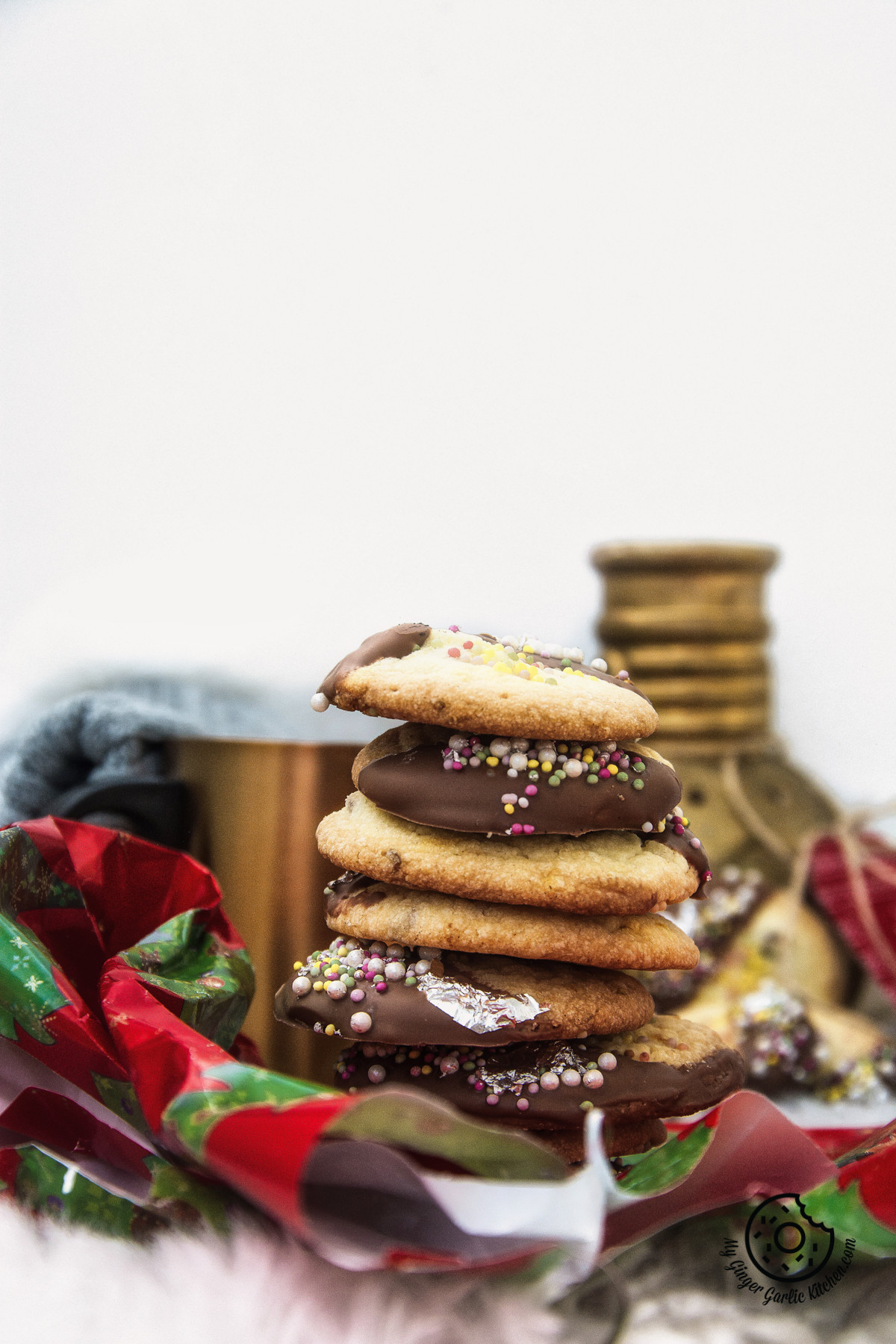 A Thank You note for the things which I cherish:
I am lucky and thankful to be alive.

I am thankful for mine as well as my family's good health.

I am thankful to love, support, and togetherness of my husband. Everyday is Valentine's day with him.

I am thankful to my little one who spreads joy in my life. Everyday is a fun day with her.

I am thankful to my parents who keep showering their love, blessings, and care, which I need all the time.

I am thankful to all my true friends who always stood behind me. No matter how busy I was they were always there as a good reminder that I have friends for a lifetime.

I am thankful to all my readers who show their love and always inspire me to create something creative everyday. I can pursue my passion for food just because of you guys. You guys are an essential part of my life, so thank you for being in my life.

I am thankful for every bright day which brings the sunshine. If you live in a cold and a dark country like Finland, then you would surely know how important and miraculous sunlight is.

I am a big foodie, and I am thankful for my estate on the web, 'My Ginger Garlic Kitchen'. Because of you, I get the motivation to create and eat such good stuff.

Last but it can never be the least, I am thankful to all my blogger friends whom I never met personally but it always feels like I know each and every one of them quite a lot. I know you all have a heart of gold. I can't name everyone here, but you all know that I am writing about you. I Love you.
Christmas is on the way. Oh, wait, let me change the phrase — Christmas is finally here, so let's get into the Christmas spirit. Let's play all the pretty festive tunes and enjoy all the festivity. Let's ring all the jingle bells.
Speaking of the jingle bells and celebratory spirit, let's talk about the cookies I am sharing today.
Finally, time to share goodness:
I baked these Chocolate Dipped Cranberry Orange Shortbread Cookies last month for Cookies exchange. I was hoping that I will share them with you the same week, but I had some other holiday recipes so I almost forgot about this one.
And last week when I realized that I haven't shared these cookies on my blog then I decided to keep it as the last recipe right before Christmas. Because we all love shortbread cookies.
Can you resist the taste of shortbread? Well, I cannot. I think no one can resist these melt-in-mouth cookies. Especially when we are talking about the holidays. But in my opinion, they can be enjoyed anytime of the year because everyday has a cause to celebrate.
I am sharing a pretty easy and simple recipe which always works great. They are just so easy and damn delicious. Aren't they? 🙂 They always turn out just right!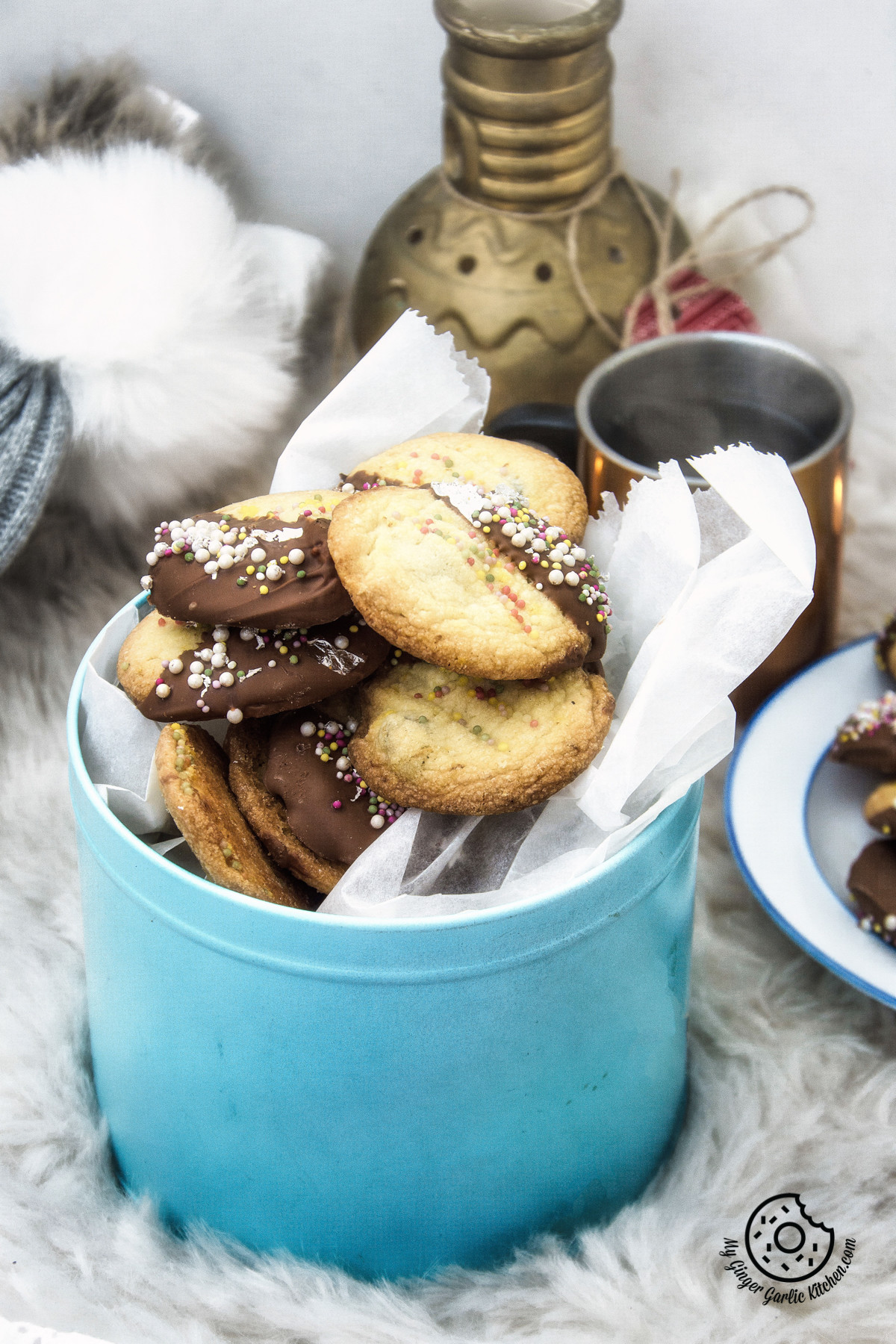 Have you ever had trouble in making whipped shortbread cookies?
I personally have never met anyone who had trouble in making shortbread cookies.
But I have heard that making a perfect shortbread cookie is a challenge for many. So if that's the case with you, then try out this one, you will love this super easy cookie recipe.
Tips to make the best shortbread cookies:
One main thing which needs to be considered is a good whipping. So make sure that you don't rush the whipping process, it really helps in making perfect shortbread cookies.

Do not overbake shortbread cookies. Overbaked shortbread cookies will get really dry, and they won't taste good. So if you under baker by just a couple of minutes they would get sensational results.

The orange zest in these cookies provide a revitalizing zing. So, I have used orange zest and very little orange juice for making these cookies. But you can easily replace orange zest and juice with any other citrus fruit.

For a nutty texture, you can also add some chopped almonds, pecans, or pistachios to the dough.

If you are running out of time, you can also prepare the cookie dough a day before and keep the dough in the refrigerator. You can keep this cookie dough in the fridge for up to 4 days.

I used almond extract to these cookies because almonds and cranberries create an incredible flavor profile. However, if you cannot find almond extract, then you can certainly use vanilla extract.

For an extra pretty presentation, I topped the cookies in nonpareils before baking, you can use any other sprinkles for beautifying these cookies. They come out so sparkly that no one can resist them.

I would recommend using real butter for this cookie recipe. You wouldn't get great results with margarine.
I especially love these Cranberry Orange Shortbread Cookies because they are made with only a handful of ingredients. They are eggless, and they are ready in a very little time.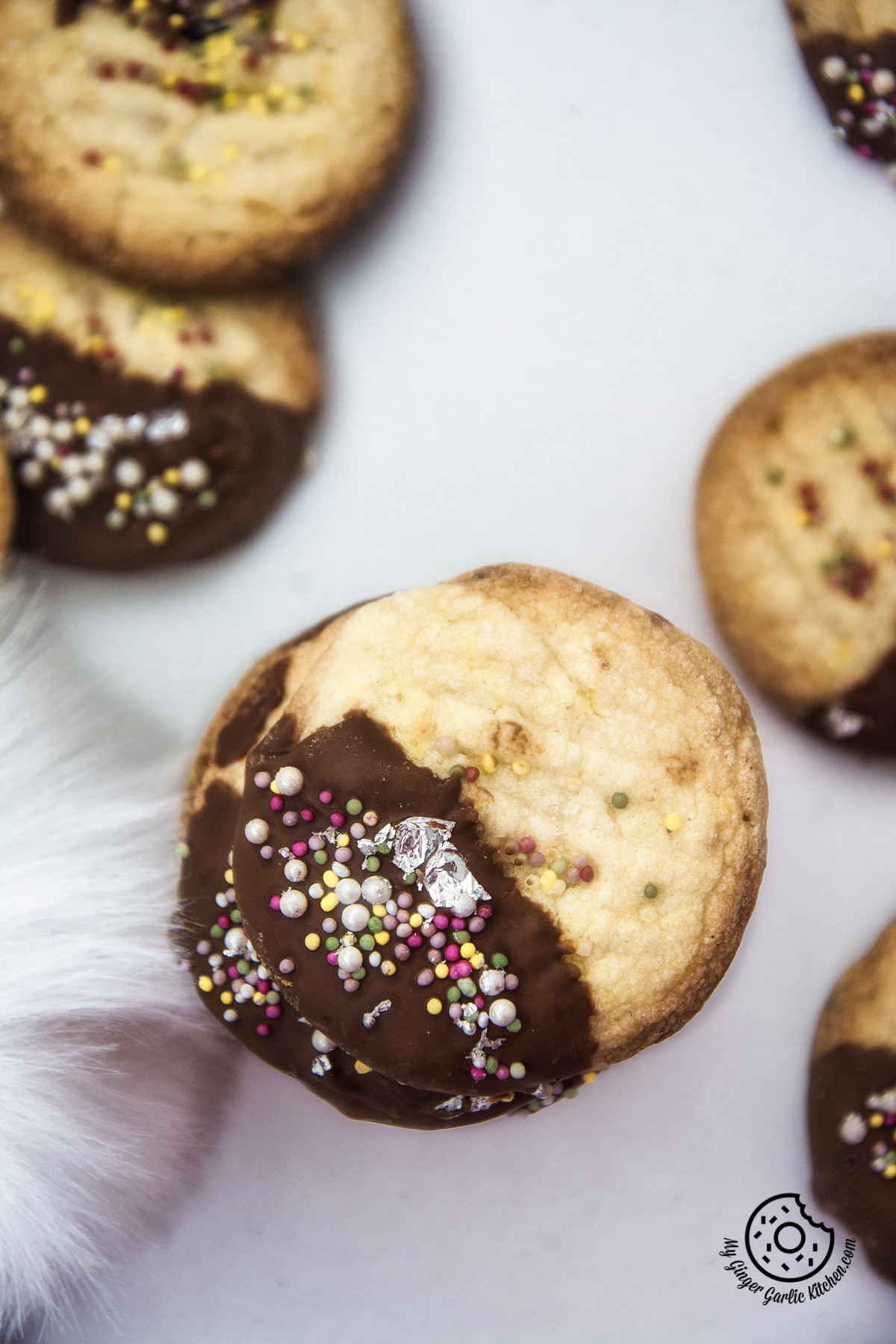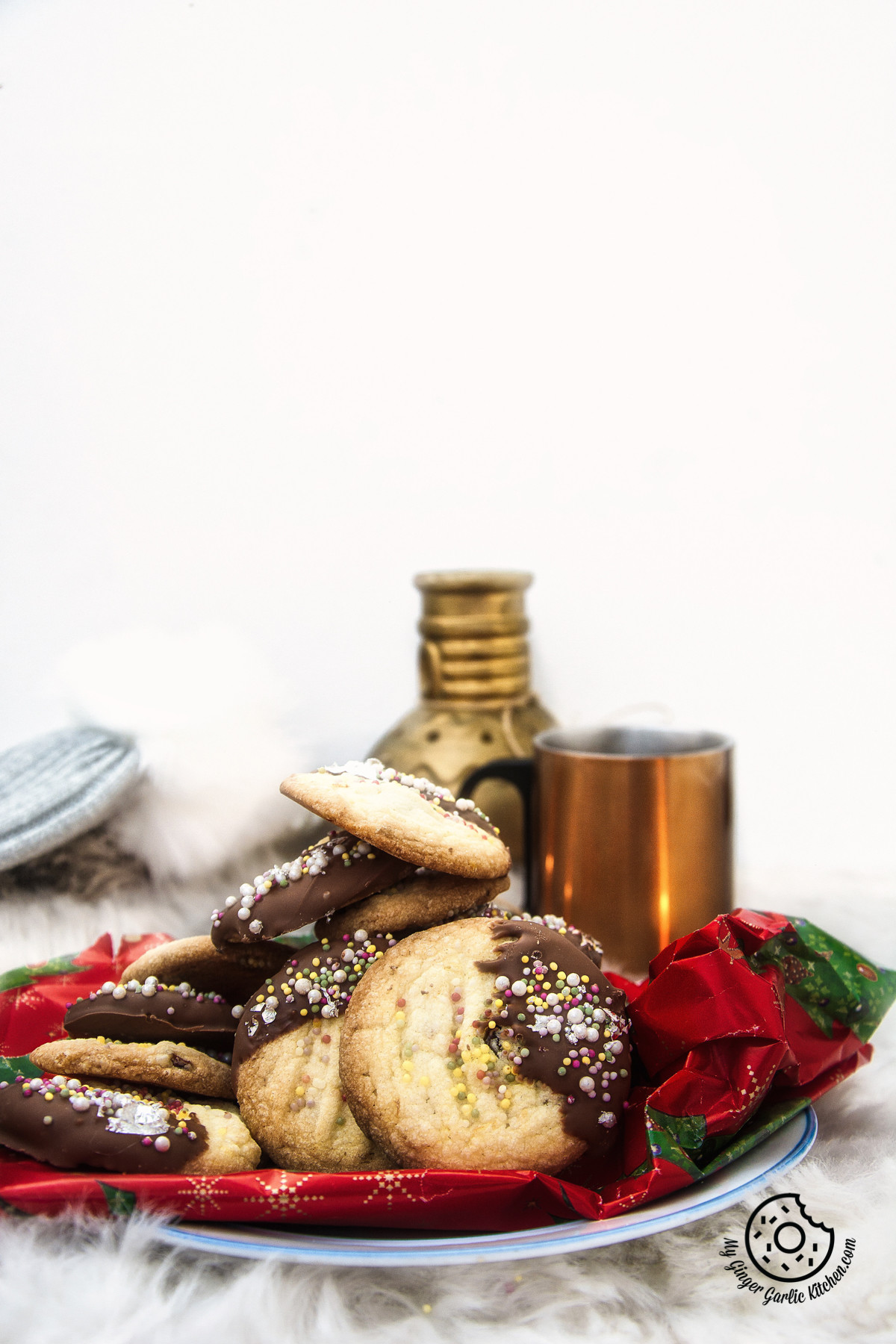 Some other cookies you may like:
Chocolate Dipped Shortbread Cranberry Cookies

[Recipe]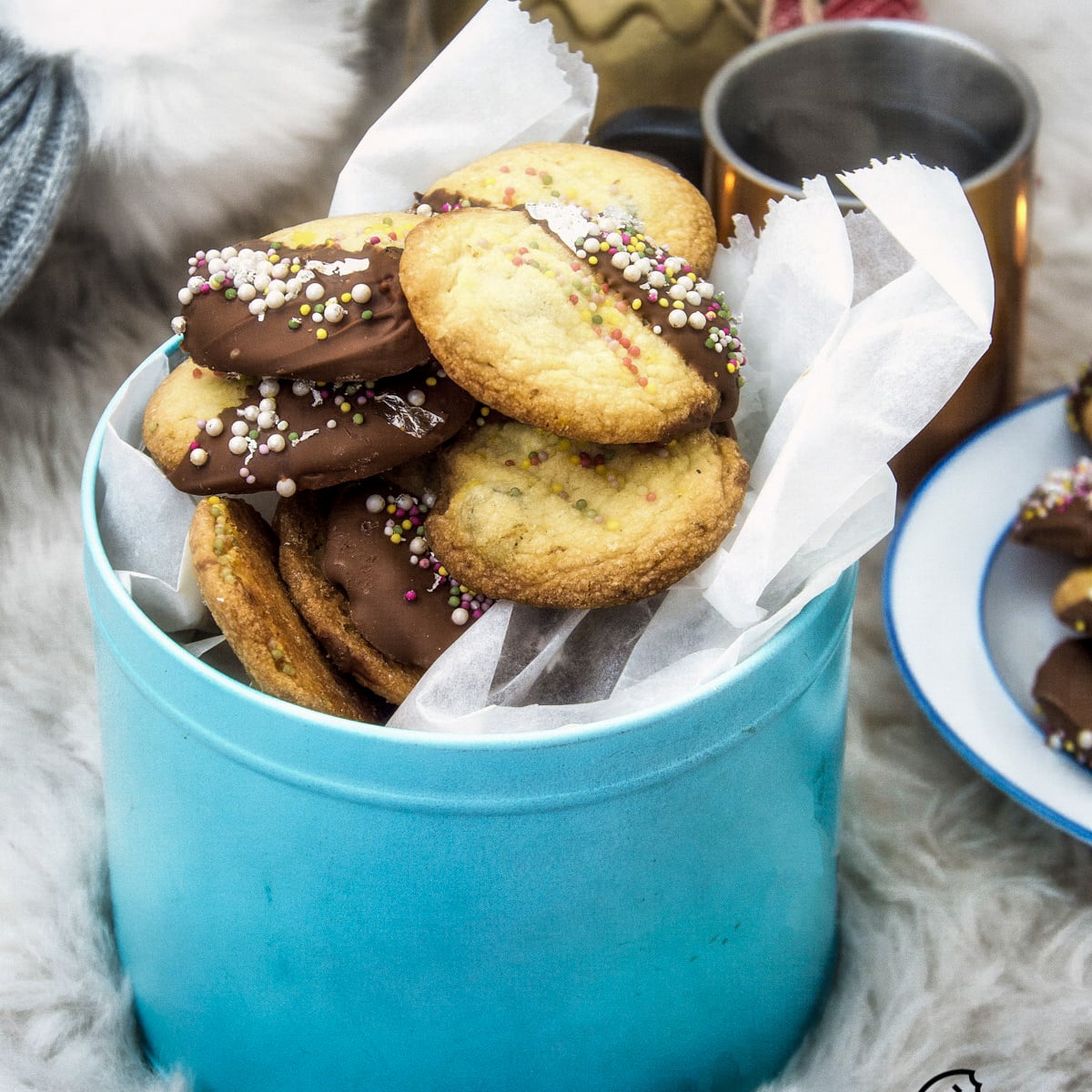 These Chocolate Dipped Shortbread Cranberry Cookies are zesty, tender, fruity, melt-in-mouth, chocolatey, and topped with pretty sprinkles.
---
★★★★✰
(Rating:
4.5
from
32
reviews)
---
| Prep time 🕐 | Cook time 🕐 | Total time 🕐 |
| --- | --- | --- |
| | | 25 mins |
| Category ☶ | Cuisine ♨ | Serves ☺ |
| Main | Indian | 26-28 |
| Nutrition Info ⊛ | | Serving size ⊚ |
| 75 calories calories | | 1 cookie |
---
INGREDIENTS
For Shortbread Cookies //
3/4 cup (170 grams) butter softened (room temperature)
1/2 cup (64 grams) confectioners sugar
1 1/4 cups (160 grams) all-purpose flour, sifted
1/2 cup (64 grams) cornstarch
1/2 tablespoon baking powder
1/8 cup dried cranberries, sliced (you can add more)
1.5 tablespoons orange zest
1 tablespoon fresh orange juice
1 1/4 teaspoons almond extract
Nonpareils for sprinkle
For Decoration //
200 grams milk (dark or semi-sweet) chocolate, melted
Pearl sprinkles and Nonpareils
Edible silver, golden leaf (optional)
---
INSTRUCTIONS:
How to Make Shortbread Cranberry Cookies //
In a large bowl, cream butter and confectioners sugar until light and fluffy.




Add flour and cornstarch, cranberries, orange zest, almond extract, and baking powder.




Beat until well blended.




Roll the cookie dough into 1-inch balls. (You can also shape the dough into 2 logs, and refrigerate 1 hour. Just slice the logs into 1/4-inch-thick rounds before baking them).




Arrange cookie balls on a parchment lined baking tray.




Press them all lightly with a floured fork and top with nonpareils.




Bake cookies at 160°C for 12-14 minutes or until bottoms are lightly browned.




Remove them from the oven, and let them cool completely.



Dipping Shortbread Cranberry Cookies in Chocolate //
Dip each cookie into melted chocolate and chocolate and return to the parchment lined baking sheets. Repeat with the remaining cookies.




Then sprinkle them with a mix of pearl sprinkles and nonpareils.




Decorate with edible silver leaf and let the chocolate set. Place the cookies in the freezer to set for 10 minutes.




Enjoy Shortbread Cranberry Cookies with a glass of milk.



---
WATCH VIDEO:
---
NOTES:
You can store these cookies in an air-tight container for up to 1 week.
---
If this recipe helped you, then please spread the word by sharing and
subscribing
to us on YouTube to get more such Recipe Videos.
---
Your feedback is so helpful for me and other MyGingerGarlicKitchen readers. So, for Facebook and Instagram, please mention
@MyGingerGarlicKitchen
or
#mygingergarlickitchen
. I would love to see your photos. :)
---
Author:
Anupama
Recipe Source Link:
https://www.mygingergarlickitchen.com/chocolate-dipped-whipped-shortbread-cranberry-cookies-video-recipe/
Date Published:
2019-12-17
• • • • • • • • • •