Learn to make Nankhatai Recipe | Indian Shortbread Cookies Recipe with an easy video tutorial**. 'Nankhatai'** **( नानखटाई )** is a melt-in-mouth cardamom scented Indian shortbread cookie. These are buttery soft, sweet and perfectly crisp, and go so well with a steaming cup of milk, tea or coffee. These cookies are one of the simplest cookies I make, but also they're one of my favorites.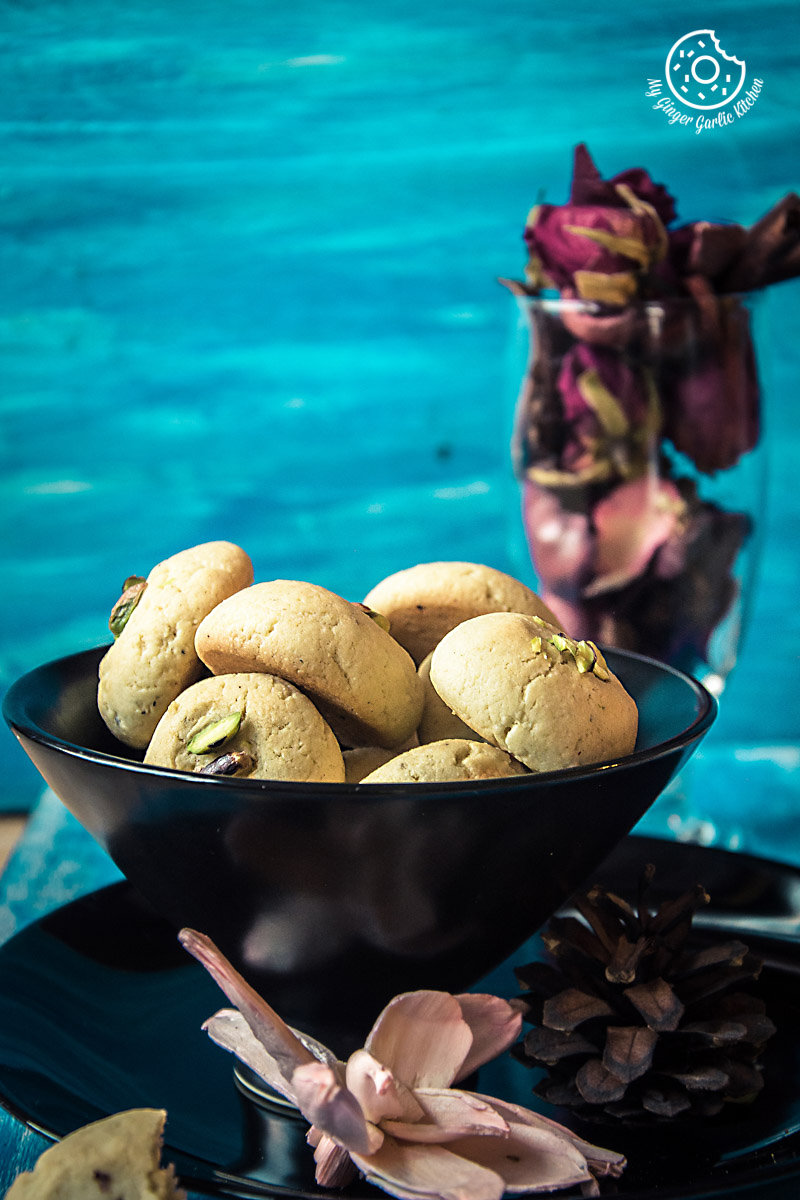 Sometimes, you just need a cookie which takes you to your childhood memories. So you can clearly see that these cookies are close to my heart and I am super thrilled about these cookies. I really have a lot to talk about how great these cookies are.
I am deeply in love with these melt-in-mouth cardamom scented Indian shortbread cookies. I adore this divine combo of ghee (clarified butter), vanilla, yogurt and cardamom.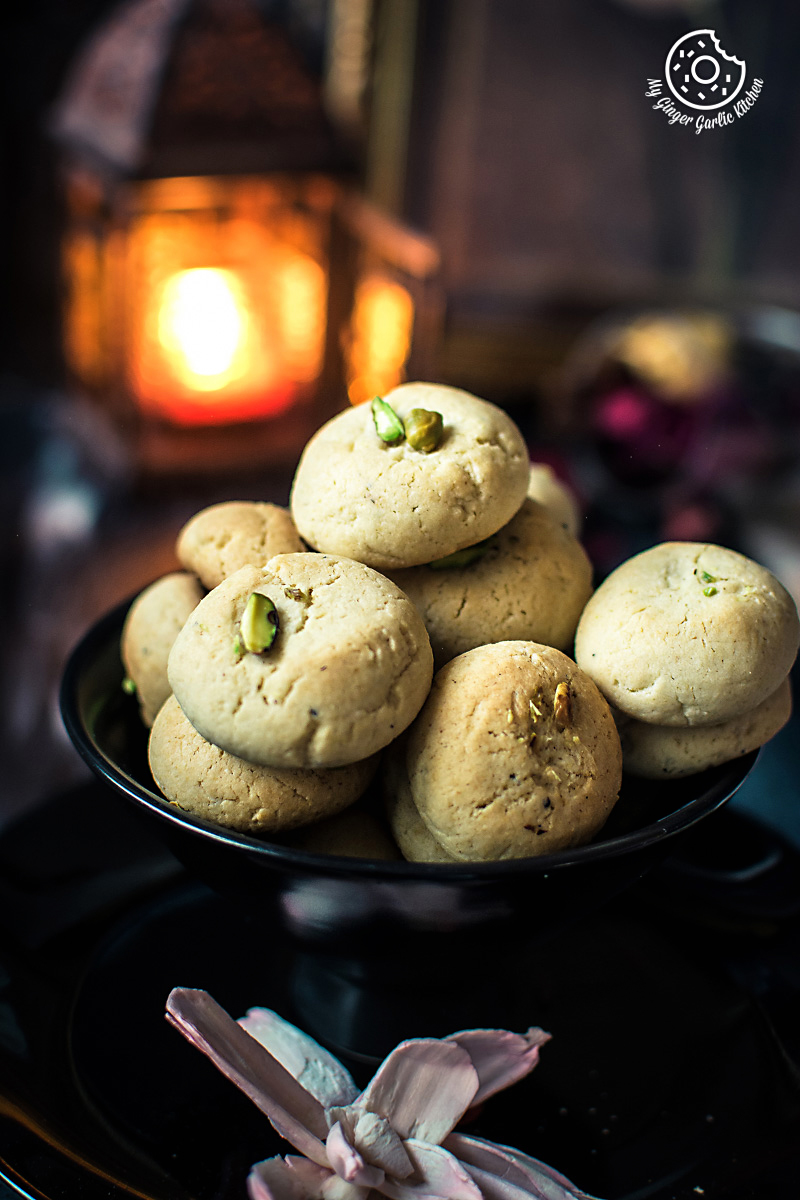 What is 'Nankhatai or 'Nan Khatai'?
Nan is referred as Nan bread here. And khatai (aka biscuit in some countries), also refers to the tanginess in Hindi language. So maybe the word 'khatai' in the recipe is used because yogurt is added to these cookies.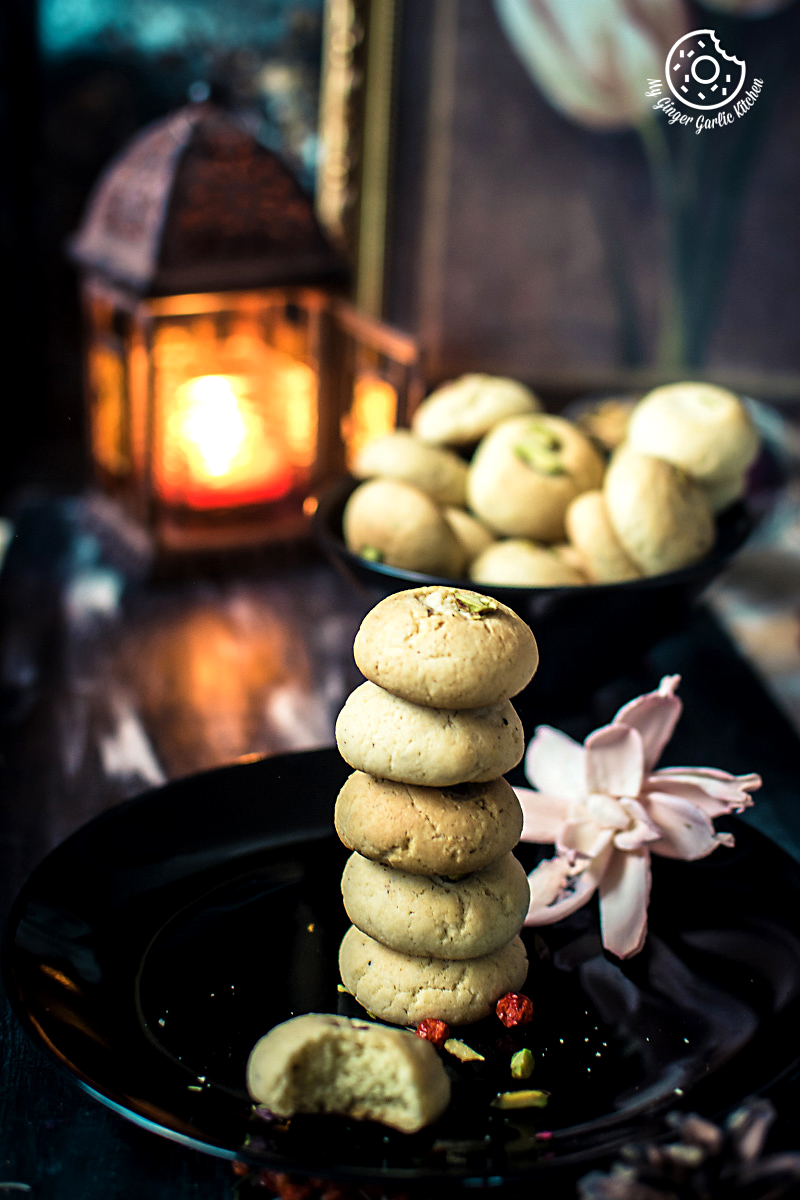 Nan Khatai Cookies Are Very Popular:
These cookies are very famous in India, and everyone I know raves about them. They are perfect for an afternoon snack, brunch, tea time snack or even to munch throughout the day. They also make a great gift for the holidays and I gifted them to my non-Indian friends. Although it was hard to avoid eating them, but Ado and I did it. 🙂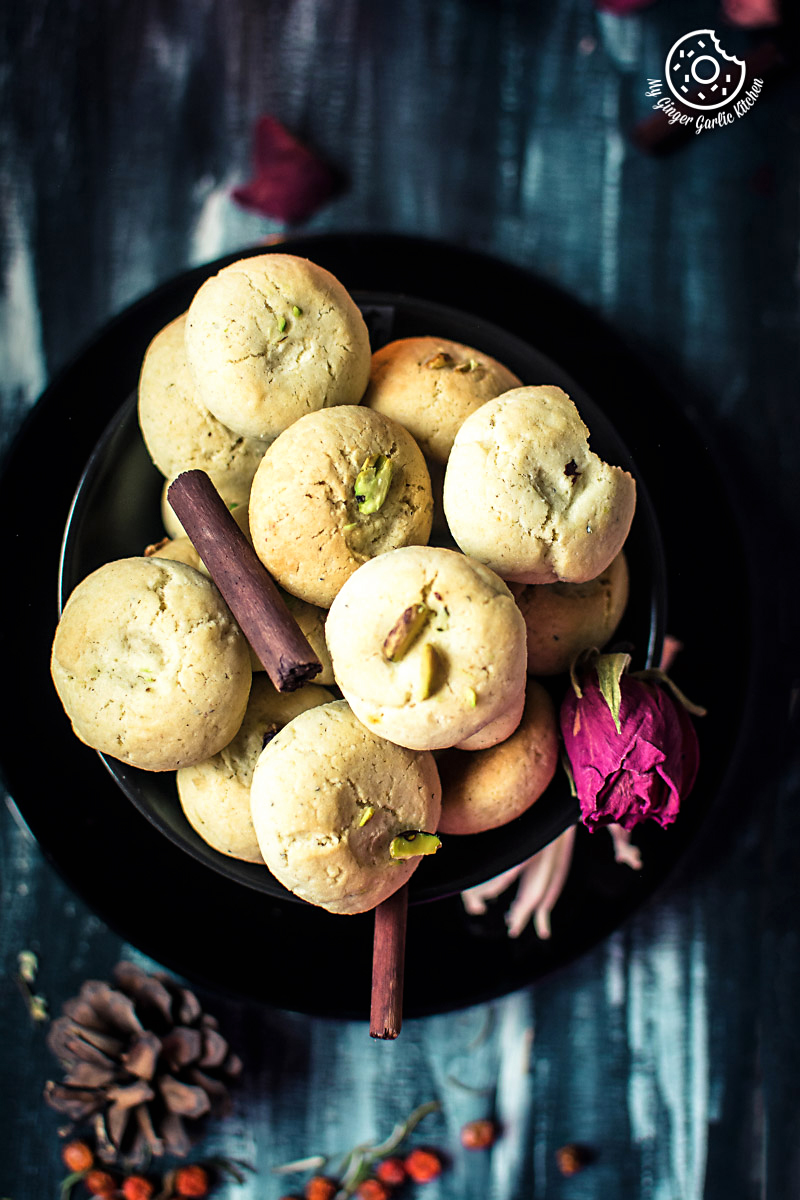 Related: Eggless Tutti Frutti Cookies Recipe — Karachi Biscuit
Times have changed:
Ovens were not very popular in Indian households during times when I was a little. We used to buy all the baked goodies from bakeries only.
Related:  Jeera Biscuits | Eggless Roasted Cumin Cookies
But these 'Nankhatai' cookies were an exception because my granny used to bake them in 'Baati' oven or pressure cooker. She baked 'Nan Khatai' every month as long as I can remember. And they were just ah-mazing. And every time she baked these they were finished the same day. Though she always intended these cookies to last longer, it never happened! 😉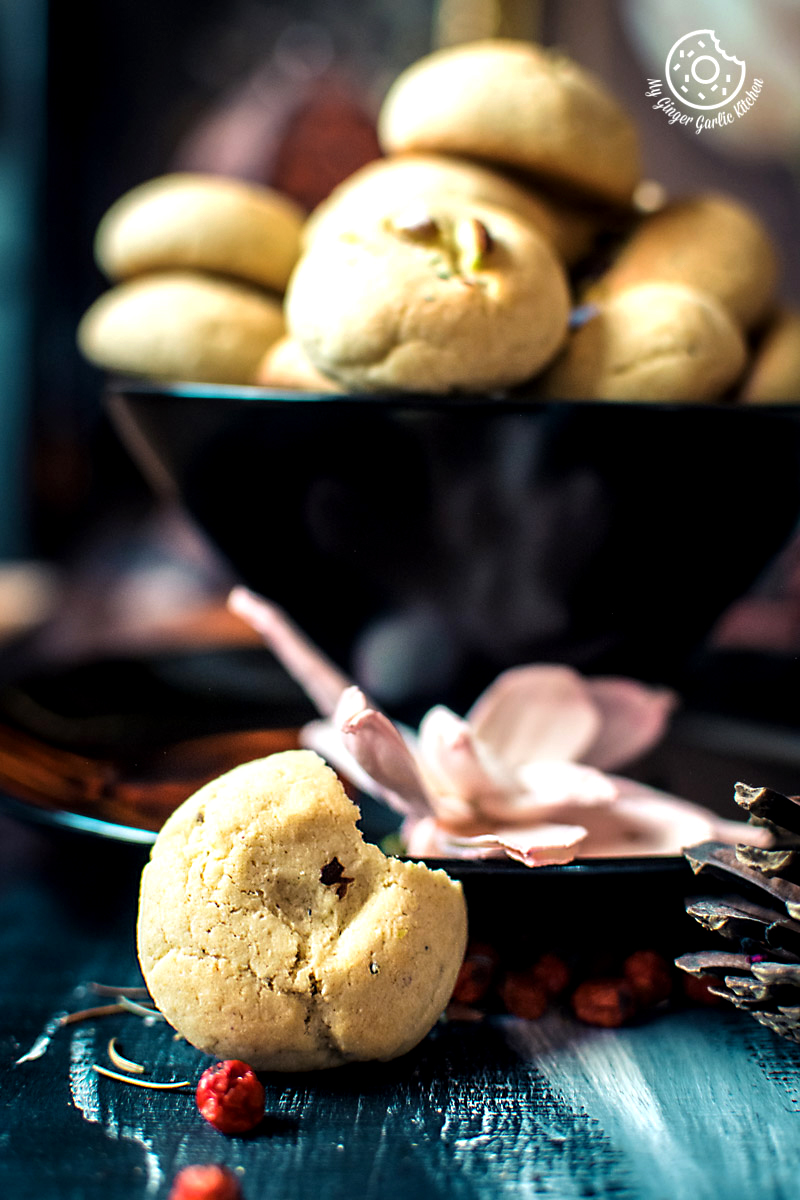 Related: Red Velvet Crinkle Cookies Recipe
Back Then, We Helped Granny In Making Cookies:
I don't know whether my Granny ever added vanilla to these cookies or not, but my Mom adds vanilla extract, so I do it too. I still remember that my sister and I were always so eager to help Granny while she made 'Nankhatai'. We loved to help her shaping dough balls when she made these cookies. And she always liked us doing that. Back then I didn't understand why she let us help in making cookies. Maybe the reason was that the extra help she was getting, or maybe she just loved us being around her. But I still miss the 'Nankhatai' she made.
Now, My Little One Helps Me:
Ado wants to help in shaping balls whenever I make cookies. And I also let her do that because I love when she is around. I love when I teach her what I know. 🙂 So now I guess, it was the same idea with my Granny too. Then, when the cookies were ready she served them with a glass of milk. My sister didn't have any issues so she liked these with plain white milk.
Related: Eggless Triple Chocolate Cookies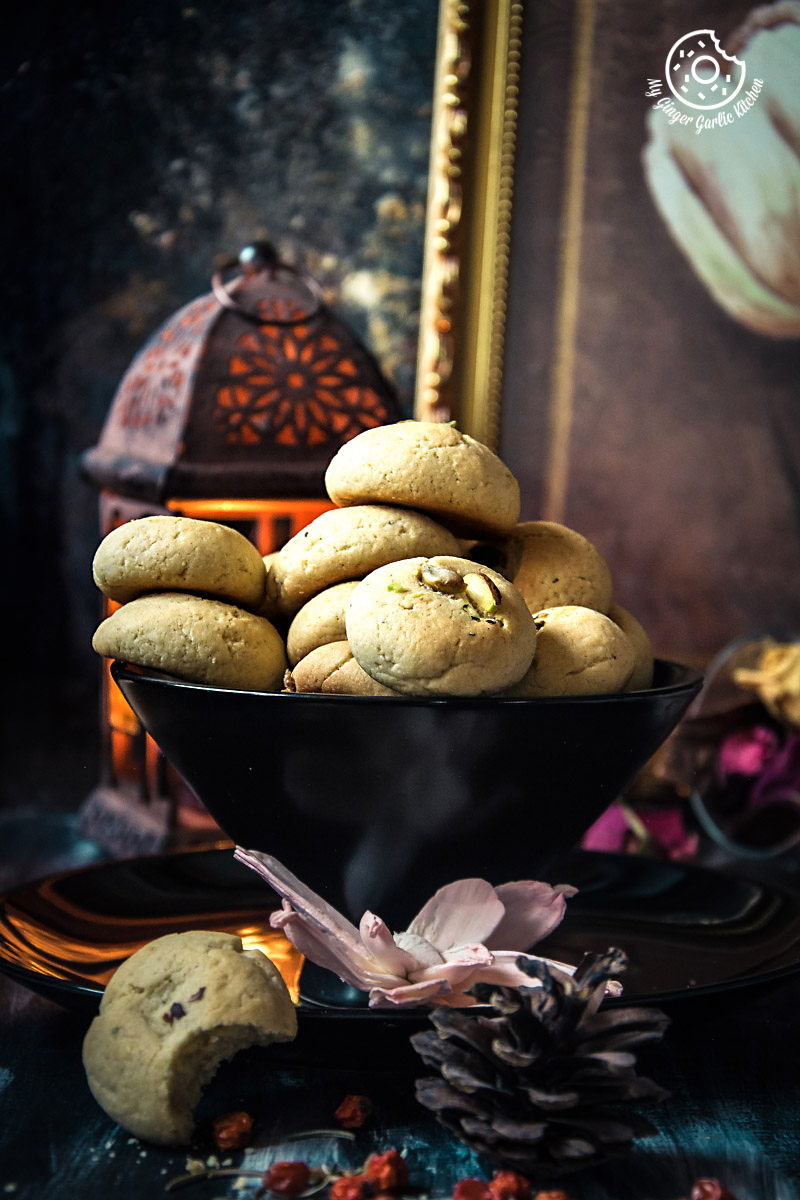 My Not-So-Lovely Relationship With White Milk:
My sis liked it, but I always opted for chocolate milk because I hated white milk, and I still do. Don't judge me. I just don't like plain white milk. Likewise, Ado doesn't like white milk, so every time I try to force her to drink white milk, my soul does not allow me. How can I preach her to do something which I do not practice myself? So I also let her drink flavored milk. Like Mommy like daughter. 🙂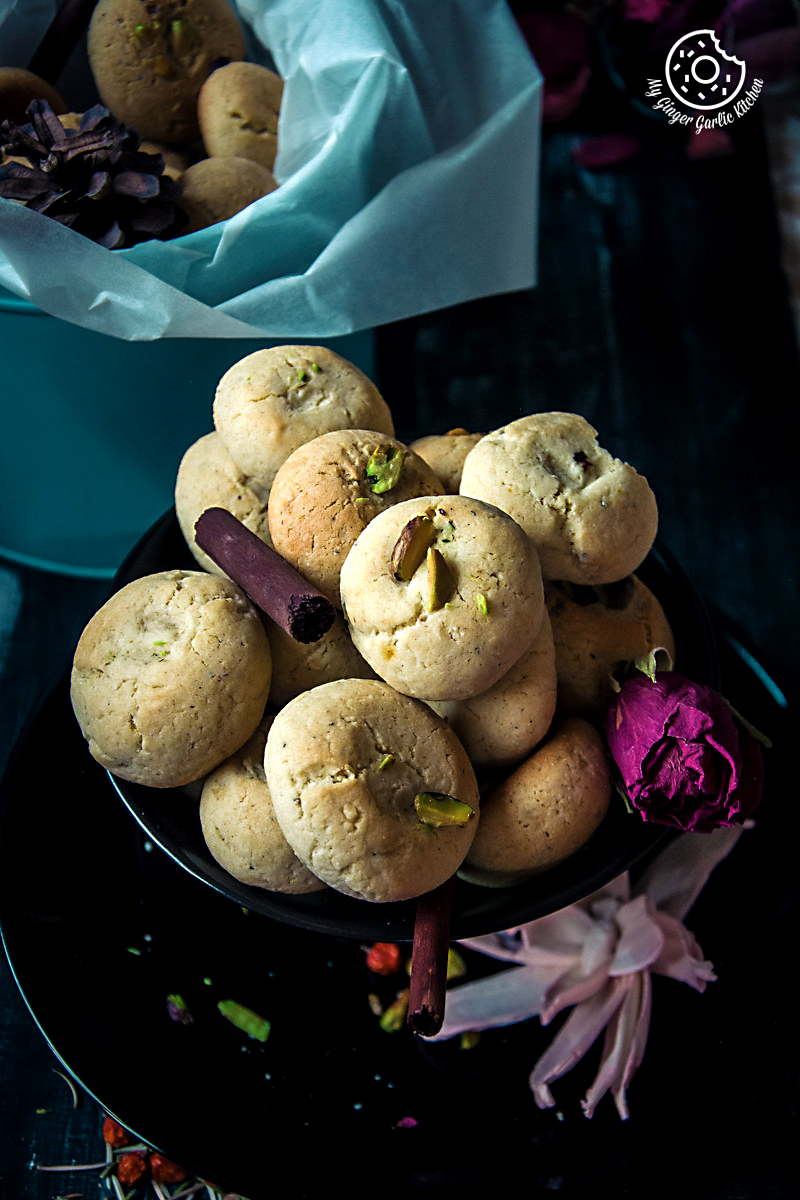 Related: Oatmeal Peanut Butter Chocolate Cookies 
How to serve nankhatai?:
Indian Ginger-Cardamom Tea or masala chai, and these cookies go so well together — that's how my Granny used to eat these cookies. So now whenever I make them, I pour Abhishek and myself a hot cup of masala tea and some warm chocolate milk to Ado. 🙂 Time to bake and enjoy these goodies!
Tips for Making the Best Nankhatai Recipe:
I have used ghee for this recipe, but you can also substitute ghee with butter.

You don't need to add any additional salt if you are using salted butter.

Make sure to add the same amount of salt with the dry ingredients if you are using unsalted butter.

If you are using butter in this recipe make sure to thaw it at room temperature for at least 30 minutes prior to baking. If you don't have enough time you can also microwave butter for 10-15 seconds.

Always use ghee which has the grainy texture and has a semi-solid consistency. Do not use completely melted ghee, otherwise, your cookies will turn flat.

If the cookie dough is very soft after kneading, then refrigerate it for 30 minutes prior to baking.

You can swap all-purpose flour with whole wheat flour. Or you can use the combination of whole-wheat flour and all-purpose flour (maida).

Don't overbake naankhatai. To prevent nankhatai from over-baking, keep an eye on nankhatai after about 15-minutes of initial baking.

The right temperature of the oven is very crucial when you are making nankhatai, so do not forget to preheat the oven for at least 10 minutes.

For flavoring, you could also use some nutmeg powder or cinnamon powder.

You can also add some chopped nuts to the cookie dough.

Do not overknead the dough.

Adding vanilla extract is optional.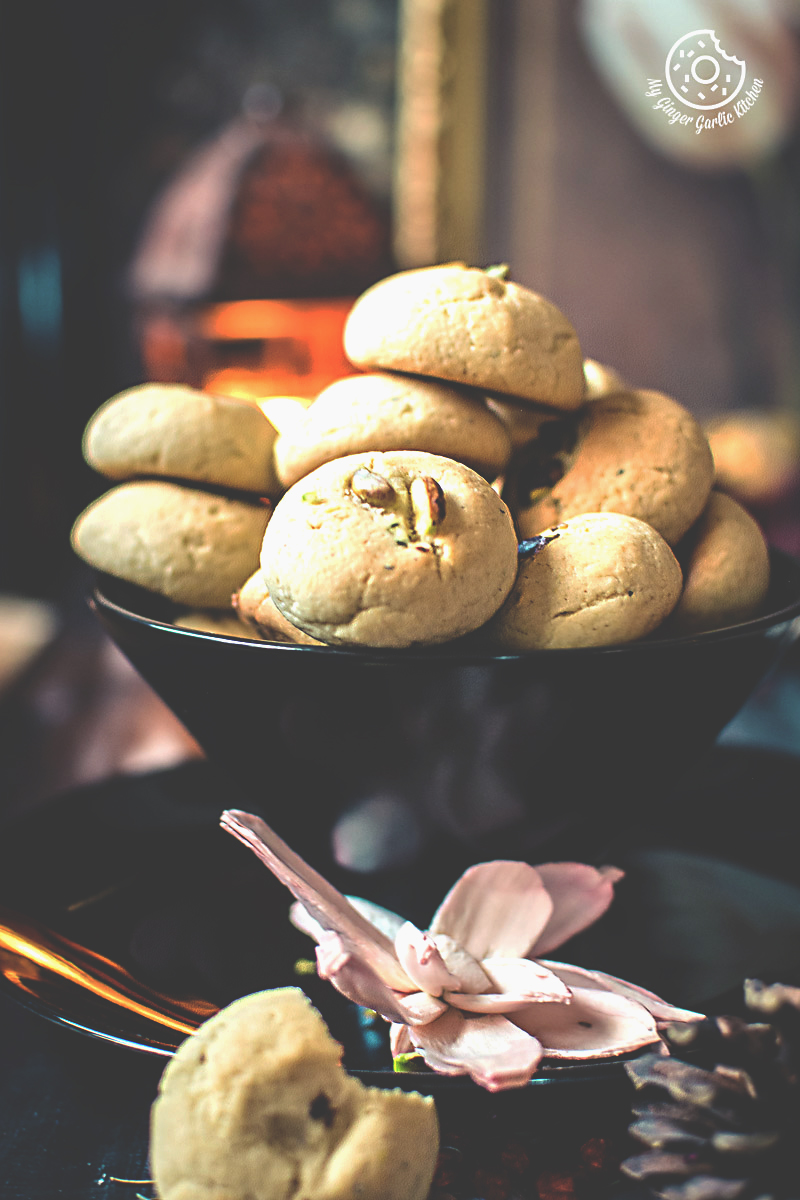 Related: Chocolate Dipped Whipped Shortbread Cranberry Cookies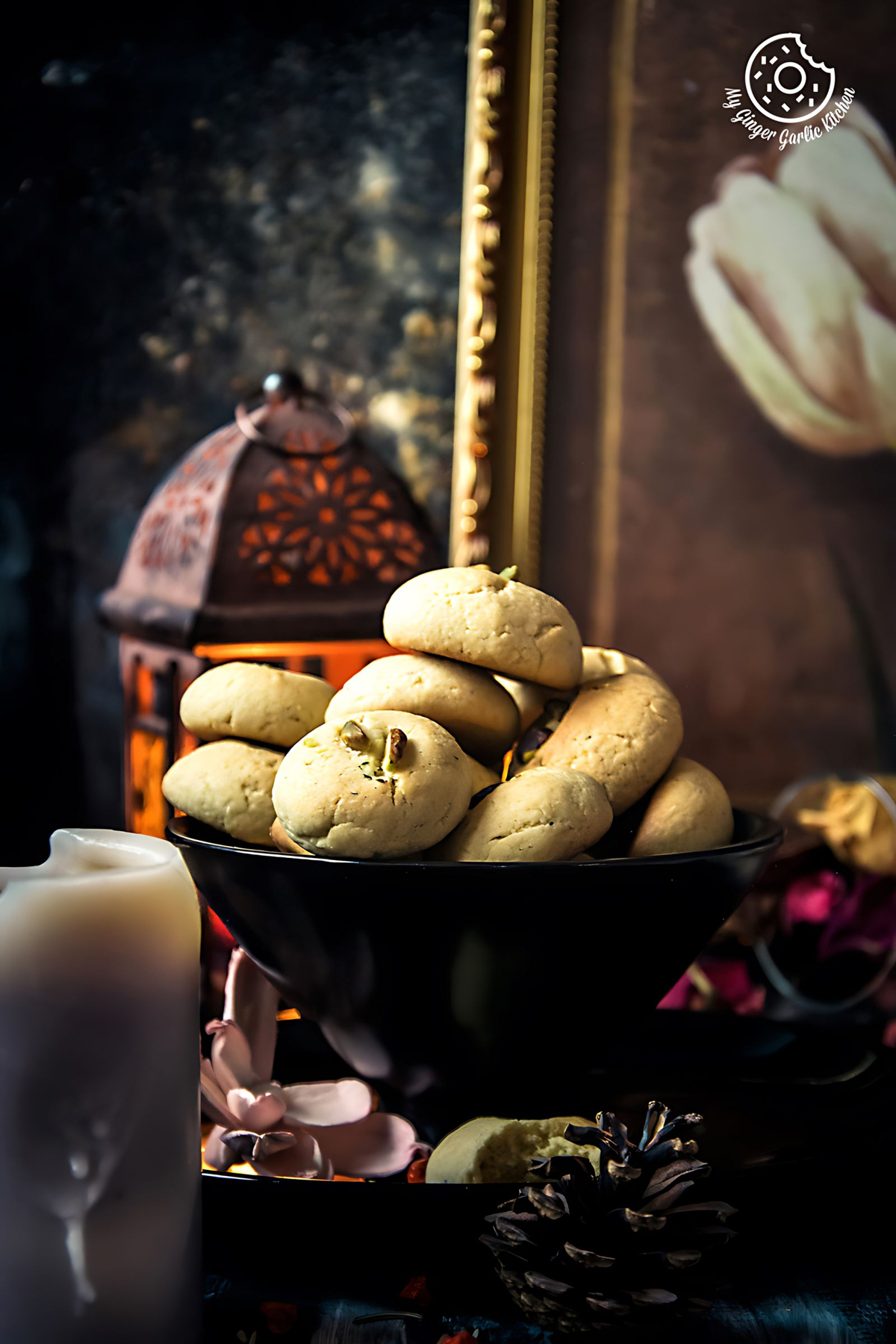 Nankhatai Recipe - Indian Shortbread Cookies

[Recipe]
Nankhatai is a delicious, melt-in-mouth cardamom flavoured eggless Indian shortbread cookie usually serve with tea. Make nankhatai with this video recipe.
---
★★★★✰
(Rating:
4.3
from
52
reviews)
---
| Prep time 🕐 | Cook time 🕐 | Total time 🕐 |
| --- | --- | --- |
| | | 20 mins |
| Category ☶ | Cuisine ♨ | Serves ☺ |
| Brunch | Indian | 28-30 |
| Nutrition Info ⊛ | | Serving size ⊚ |
| 46 calories | | 1 Cookie |
---
INGREDIENTS
For Nankhatai:
1 1/4 cups (160g) all-purpose flour (maida)
4 tablespoons semolina (rava/suji)
3 tablespoons natural yogurt, at room temperature
1/2 teaspoon baking powder
1/4 teaspoon salt
1/2 cup (115 ml) ghee
1/2 cup confectioners'/icing sugar, or according to taste
3/4 tablespoons cardamom powder
1 teaspoon vanilla extract
chopped pistachio, for garnishing
---
INSTRUCTIONS:
Making Nankhatai:
Preheat the oven to 175°C. Line a baking tray with the parchment paper.




Add ghee and sugar to a large bowl. Beat them using a wire whisk until smooth and soft.




Add yogurt and beat again until fluffy.




Add flour, baking powder, salt, cardamom powder, and vanilla.




Mix well and make a dough using the hand.




Add semolina and mix well again. (You can also add semolina with the flour, but I find adding it, in the end, gives it a nice crisp texture).




Divide the dough into 28-30 equal portions and make round shaped balls from it.




Press each ball with the index finger and top with chopped pistachio and press gently again.




Cookies will rise, so try to keep enough space in between each cookie. Place the baking tray in a preheated oven and bake at 175°C for 20-22 mins or until they turn light golden in color. (Once they are baked for about 18 mins, turn the heat to 150°C and bake for 2-3 more mins or more if needed.)




Cookies will be soft and firm at this stage. Remove them from oven and transfer cookies on a wire rack. They will be nice and crisp when they cool-down.



---
WATCH RECIPE VIDEO: Click the play button and video will load ...
---
NOTES:
You can store them in an airtight container or a cookies tin for up to 2 weeks.
---
If this recipe helped you, then please spread the word by sharing and
subscribing
to us on YouTube to get more such Recipe Videos.
---
Your feedback is so helpful for me and other MyGingerGarlicKitchen readers. So, for Facebook and Instagram, please mention
@MyGingerGarlicKitchen
or
#mygingergarlickitchen
. I would love to see your photos. :)
---
Author:
Anupama
Recipe Source Link:
https://www.mygingergarlickitchen.com/nankhatai-indian-shortbread-cookies-video-recipe/
Date Published:
2019-11-17
• • • • • • • • • •