Nankhatai Recipe - Indian Shortbread Cookies
Nankhatai is a delicious, melt-in-mouth cardamom flavoured eggless Indian shortbread cookie usually serve with tea. Make nankhatai with this video recipe.
---
« Go back
Print this recipe »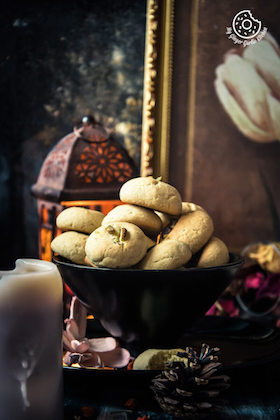 ---
Prep Time = 10 minutes
Cook Time = 10 minutes
Total Time = 20 minutes
Category = Brunch
Cuisine = Indian
Serves = 28-30
Nutrition Info = 46 calories
Serving Size = 1 Cookie
---
RECIPE INGREDIENTS
» For Nankhatai:
1 1/4 cups (160g) all-purpose flour (maida)
4 tablespoons semolina (rava/suji)
3 tablespoons natural yogurt, at room temperature
1/2 teaspoon baking powder
1/4 teaspoon salt
1/2 cup (115 ml) ghee
1/2 cup confectioners?/icing sugar, or according to taste
3/4 tablespoons cardamom powder
1 teaspoon vanilla extract
chopped pistachio, for garnishing
---
RECIPE INSTRUCTIONS
» Making Nankhatai:
Preheat the oven to 175°C. Line a baking tray with the parchment paper.
Add ghee and sugar to a large bowl. Beat them using a wire whisk until smooth and soft.
Add yogurt and beat again until fluffy.
Add flour, baking powder, salt, cardamom powder, and vanilla.
Mix well and make a dough using the hand.
Add semolina and mix well again. (You can also add semolina with the flour, but I find adding it, in the end, gives it a nice crisp texture).
Divide the dough into 28-30 equal portions and make round shaped balls from it.
Press each ball with the index finger and top with chopped pistachio and press gently again.
Cookies will rise, so try to keep enough space in between each cookie. Place the baking tray in a preheated oven and bake at 175°C for 20-22 mins or until they turn light golden in color. (Once they are baked for about 18 mins, turn the heat to 150°C and bake for 2-3 more mins or more if needed.)
Cookies will be soft and firm at this stage. Remove them from oven and transfer cookies on a wire rack. They will be nice and crisp when they cool-down.
Serve at room temperature with a hot cup of tea, or coffee.
---
RECIPE NOTES
You can store them in an airtight container or a cookies tin for up to 2 weeks.
---