Learn to make Spiced Kesar Chai | Spiced Saffron Tea Recipe Video | Kesar Masala Tea with a quick vifeo tutorial. Saffron tea is full of good health and helps you in relaxing. This tea can be made with the greatest of ease. Spiced Kesar Chai or saffron tea is a delightful tea blend. This one stands as a majestic royal drink.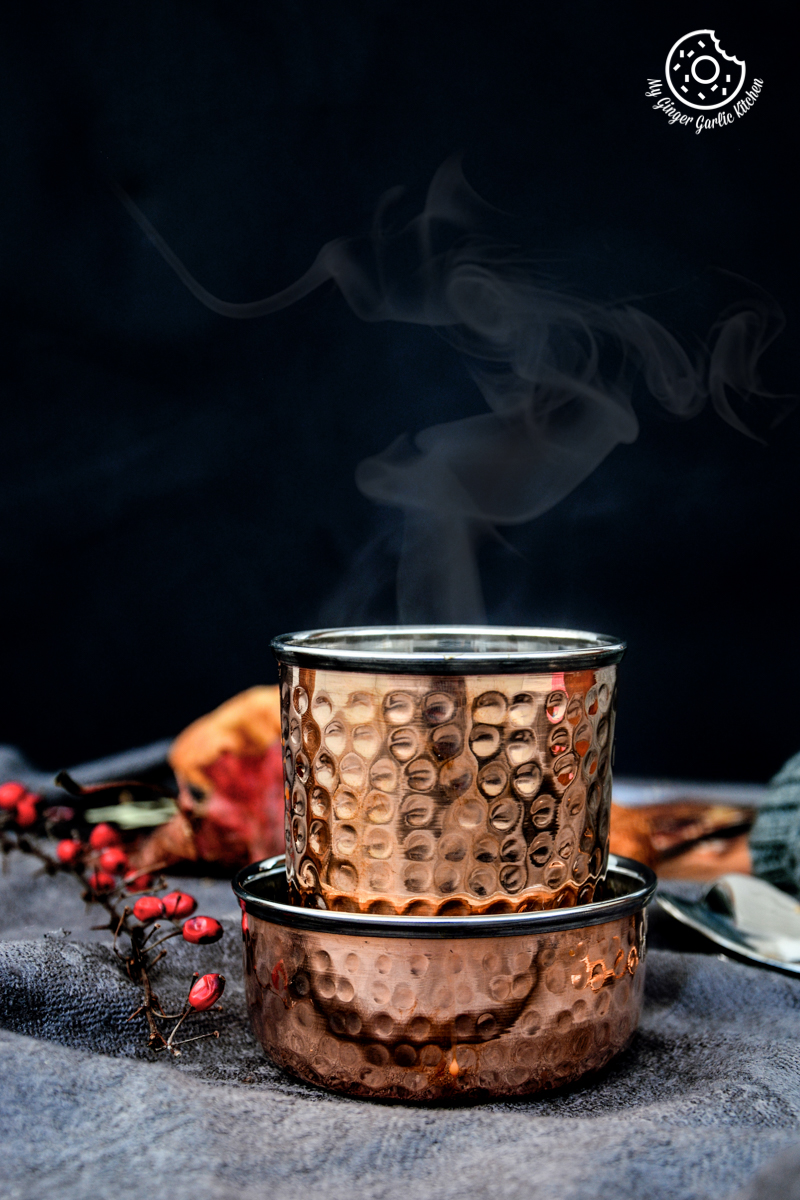 Friday is here again! Yes, we made it through the week!
And I have brought something warm to savor on this HAPPY and cold day. Or shall I say, it's kind of BETTER than all the warm drinks, because it has some excellent healing properties.
Now, it's your time to guess what that warm drink could be, which is also super delicious and full of good health.
Any speculations? Alright, I can tell you the name of this magical drink. The drink is 'Spiced Kesar Chai (Spiced Saffron Tea)'.
Oh, I LOVE tea. Basically, I love the smell of tea and coffee. Yes, I love both. As a matter of fact, it's hard to decide which one I love the most — tea or coffee. So let's say I love them equally. And I think that's a fair deal to give them both an equal share of likeness, because they both are unique, exclusive and best in their own terms.
Related: Kashmiri Pink Chai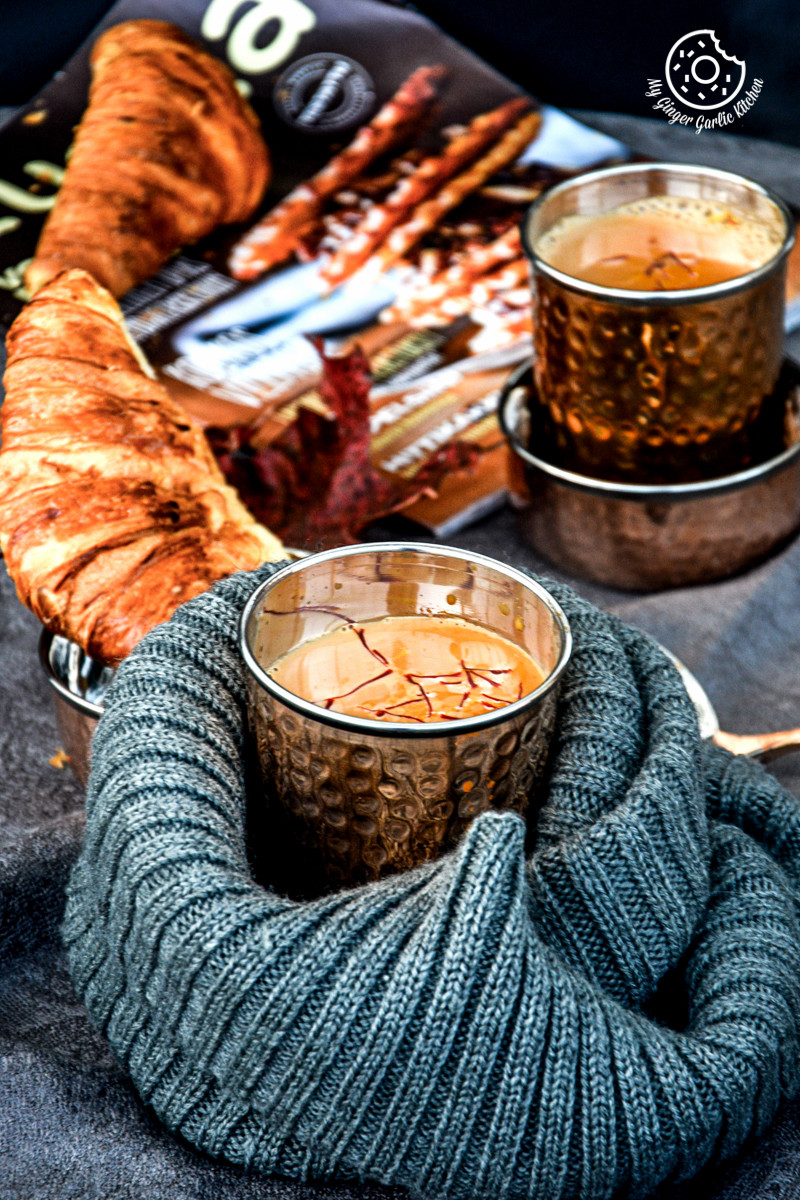 It's highly unlikely for me to say NO to a cup full of Indian tea. And it's also very rare when I say No to hot coffee. Yeah, I am always in that dilemma of which one is my favorite. Well, you can blame my Dad for loving tea and Mom for loving coffee. So I think loving them both equally is in my roots.
Related: How to Make Masala Chaas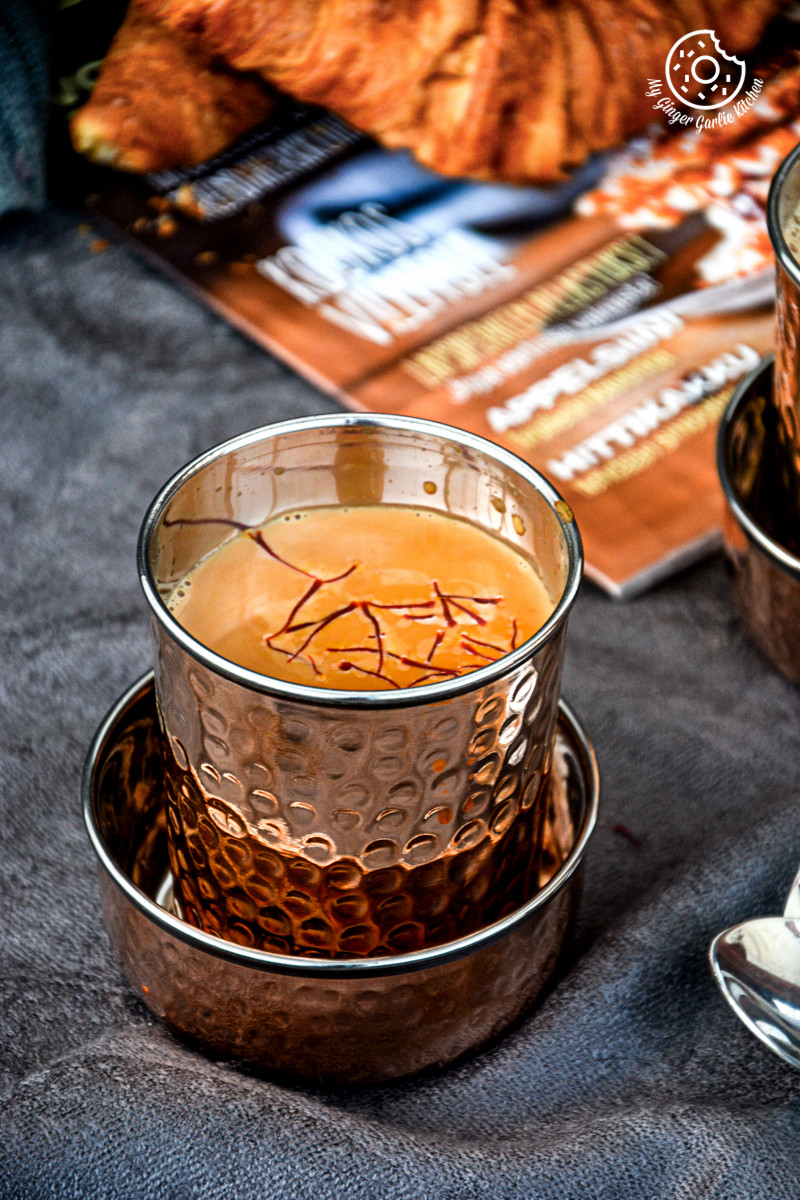 My Dad's morning always starts with a cup of Indian tea and my Mom's day starts with a hot coffee. Yup, and that means they both drink a cup or two (tea/coffee) during the morning hours.
My Dad is okay if he skips his tea by some reason, but my Mom can never skip her joe, and if she does, she gets headache. Seriously, coffee works as a medicine for her. It really helps her throughout the day.
On the other hand my Dad drinks coffee sometimes, but my has Mom never drinks tea. She never tasted the tea — not even a single sip. Would you believe that my Mom never had tea in her life. I don't know why the word 'TEA' does not have a place in her dictionary. No one could convince her to try a single sip of tea till today.
Related: How To Make Perfect Indian Summer Drink – Jal Jeera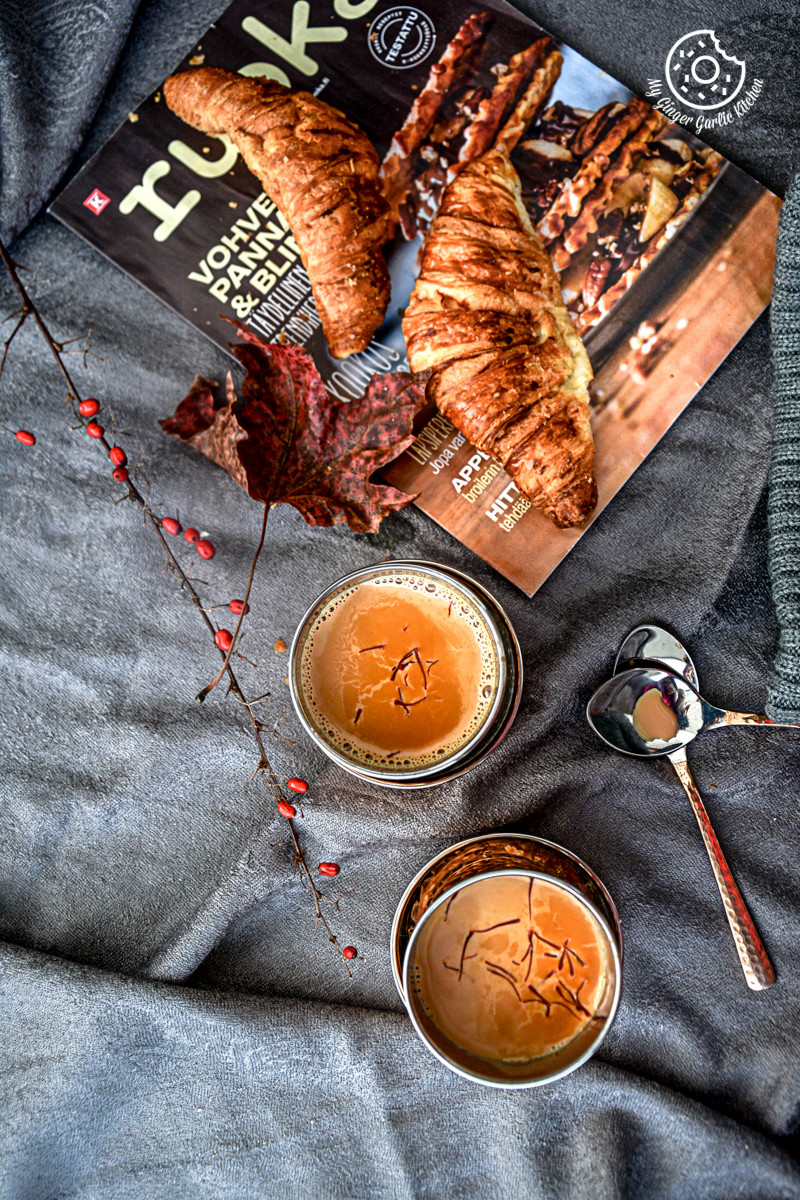 My Mom is a flexible lady in general, but if I have to pick up one thing in which my Mom is so rigid. This would be it  — not drinking any kind of tea. No matter what's flavor of tea, but if there is 'tea' involved in the name she would never touch that mug.
But apart from this not drinking tea habit, she has got a wonderful gift. She makes awesome tea. Yes, she makes one of the best teas I have ever had. And that makes her so special. I know I have told you this before, but whenever I talk about the best tea maker, my Mom takes the top spot. 🙂
Related: Chocolate Almond Milk with Frothy Coffee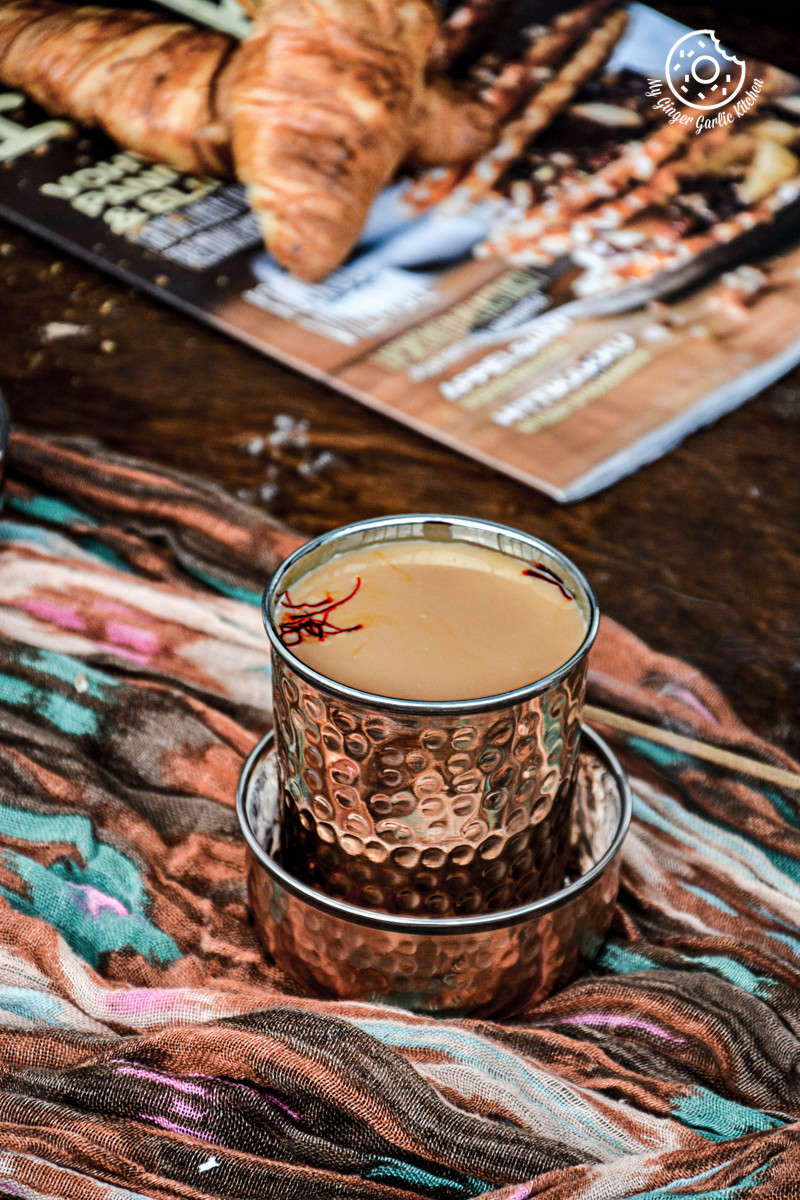 So the other day when it was super cold and snowy (-28°C — yeah that's a minus sign in front), and I was outside for about an hour, that really made me dream for some real nice and hot drink. A hot drink which can give me warmth inside out. And the first thought of that drink was 'Saffron tea'. Without any further delays, as soon I got home, I made it and had my first sip.
Related: Vanilla Iced Mocha With Coffee Ice Cubes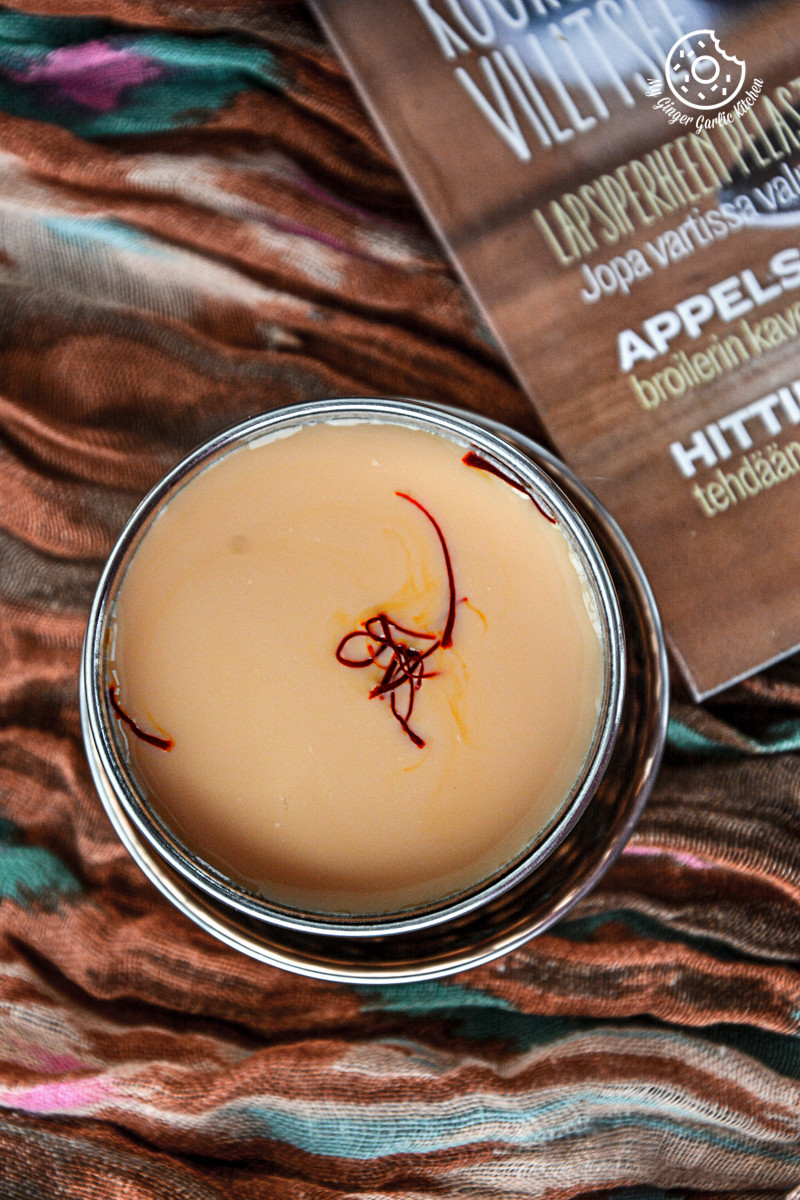 Oh! it was so comfy and relaxing. It was happening — I was having one of the most needed and most amazing drinks which I truly deserved after staying in such a harsh weather. Meanwhile Abhishek also reached home, and he was cold too. So naturally he also wanted something warm to drink. Then I asked him about some Saffron tea, and he promptly replied: "Wow!  A good deed needs no permission."
And this time I thought why not making a video, so you all can enjoy this nice and tasty hot drink with us. And that's why I made a video about this recipe.
Reated: Strawberry White Hot Chocolate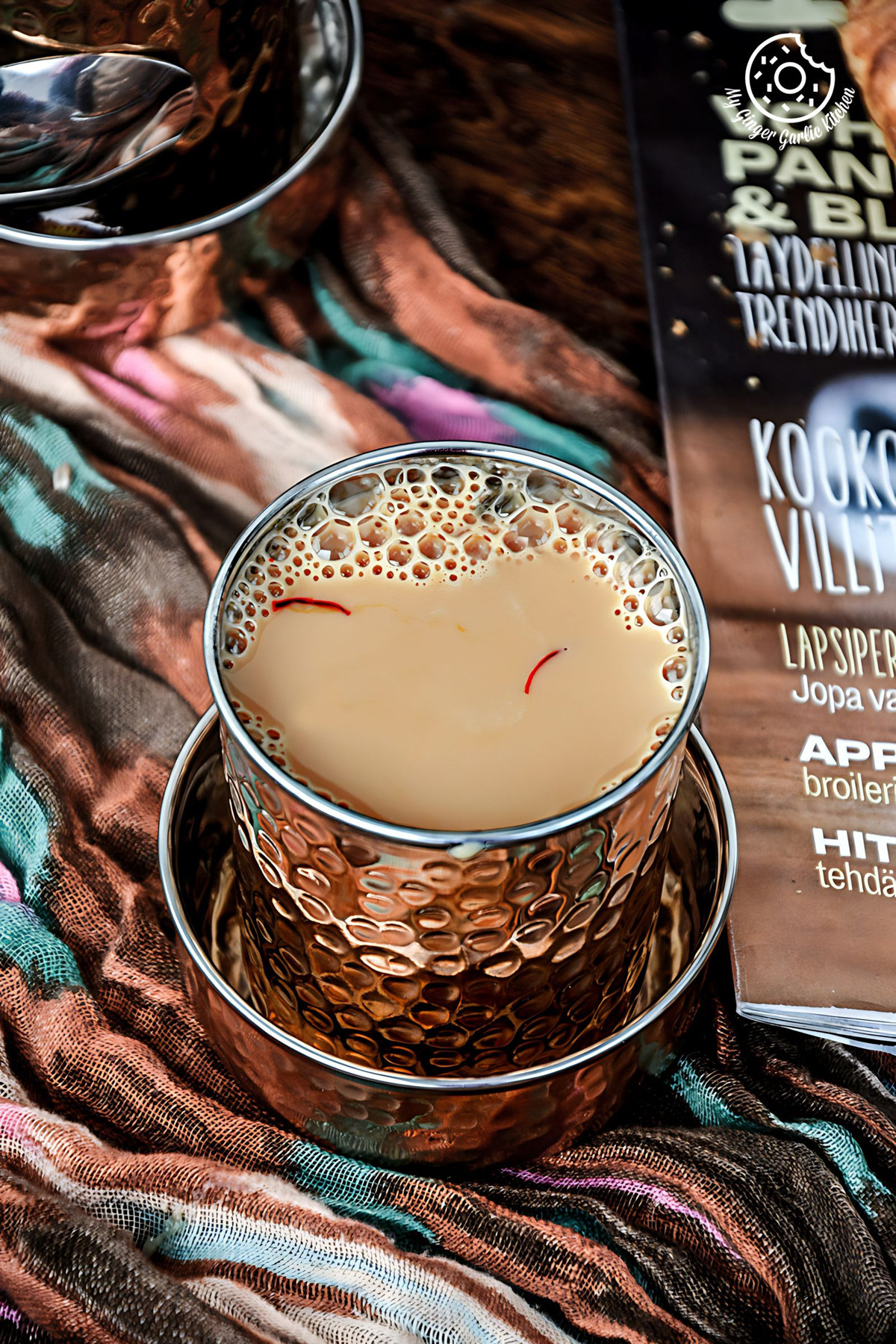 This tea is awesome and a perfect warm and cozy winter treat which is ready in about 10 minutes – it's just awesome for a Friday treat for sure!
So everyone, meet my family's favourite Spiced Kesar Chai aka Spiced Saffron Tea.
It's saffron-y, it's so nice and it's holistic. Yes, it's very holistic, because whenever there is saffron involved things should be either holistic or magistic. It's tea time — it's cozy time!
A basic Chai/Tea is a sweet, spiced and traditional Indian drink prepared with tea-leaves and milk. I have already wrote about a variety of Indian teas here.
Related: Beet Lemonade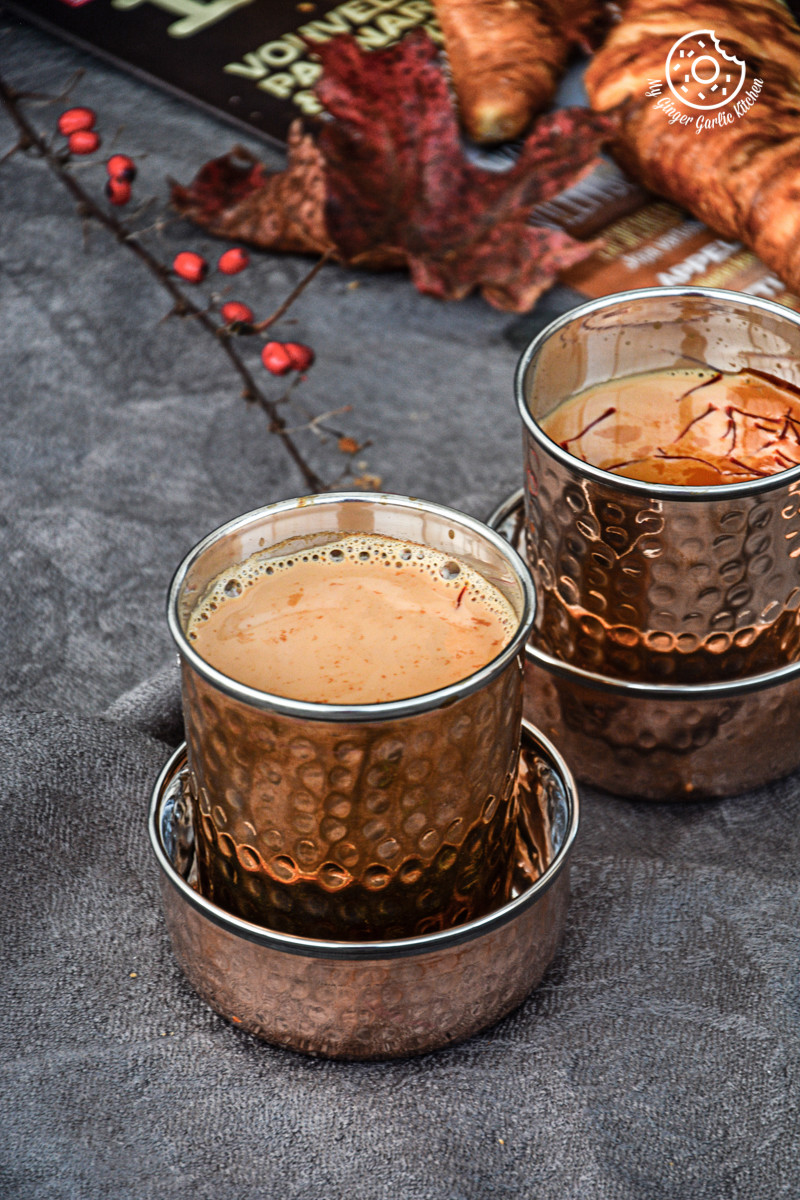 Saffron tea is full of good health and helps you in relaxing. Today I am sharing Kesar Chai with milk and spices. Soon I will share some other versions of saffron tea too.
We all know that this magical ingredient has so many health benefits. Consuming saffron is great during winter. Moderate quantities of Saffron is known to have useful for treating anxiety, depression & weight loss. Thus, saffron tea is also referred as an Indian healing beverage.
Related: Spiced Chai Pumpkin Smoothie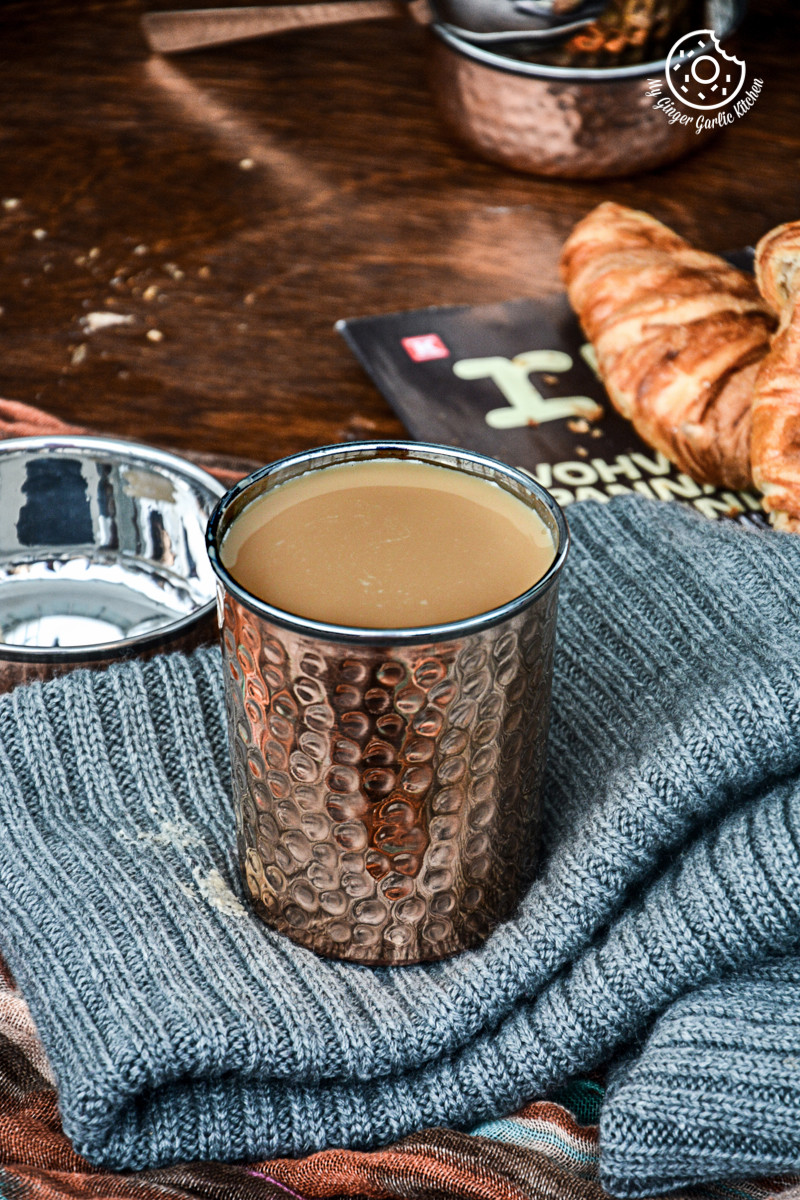 This tea can be made with the greatest of ease. Spiced Kesar Chai or saffron tea is a delightful tea blend. This one stands as a majestic royal drink. Mmmmmm, just imagine an exotic medley of pure saffron strands and spices in this tea, which would give you a flavor rush from the very first sip. This saffron tea has all the flavors to fill your senses with glee. You will get a combination of sweetness, spices and aroma with this. And after that you wouldn't want to drop your mug until the bottoms are up. Yes, this tea is that good and might be addictive too if you are a saffron + spice lover like me.
Related: Banana Coffee Shake
A sweet and spicy experience with every sip. A perfect hot drink to relax and relish with family or friends.Try this, and you will be amused by one of the most unique tea drinking experiences.
Related: Cherry-Berry Iced Tea With Lemon Mint Ginger And Honey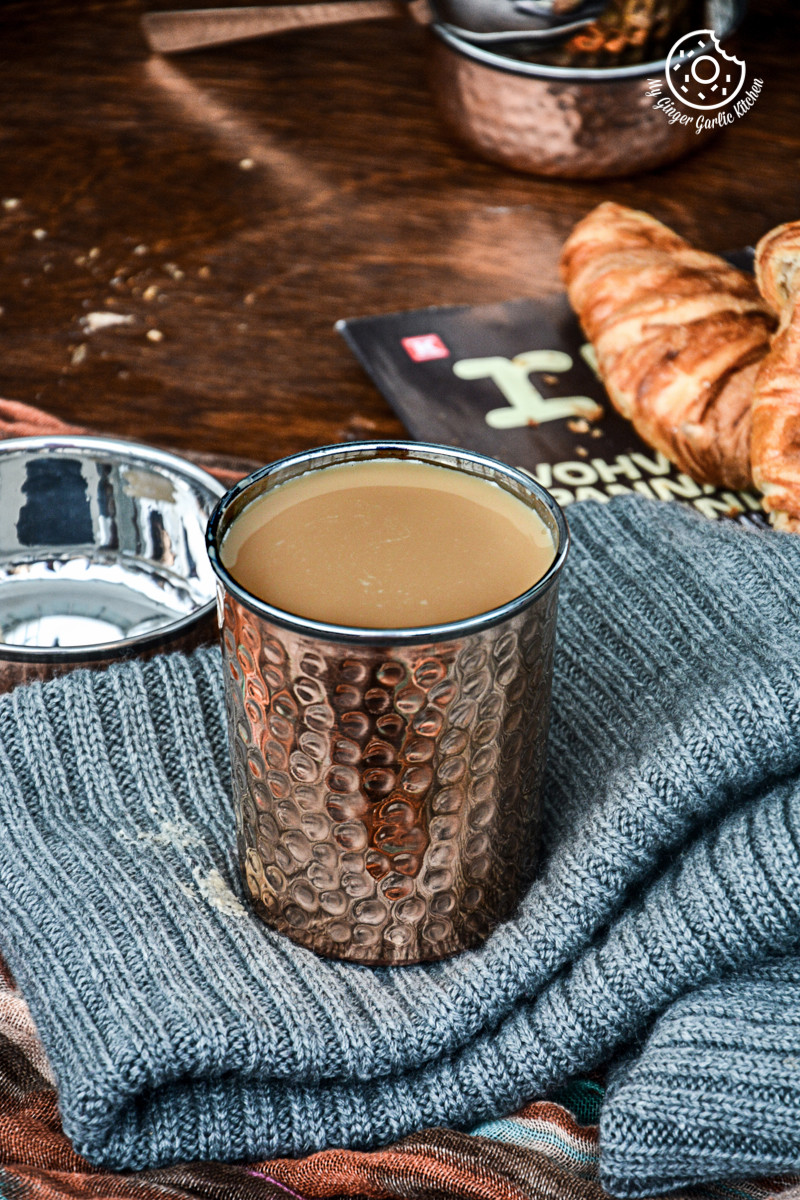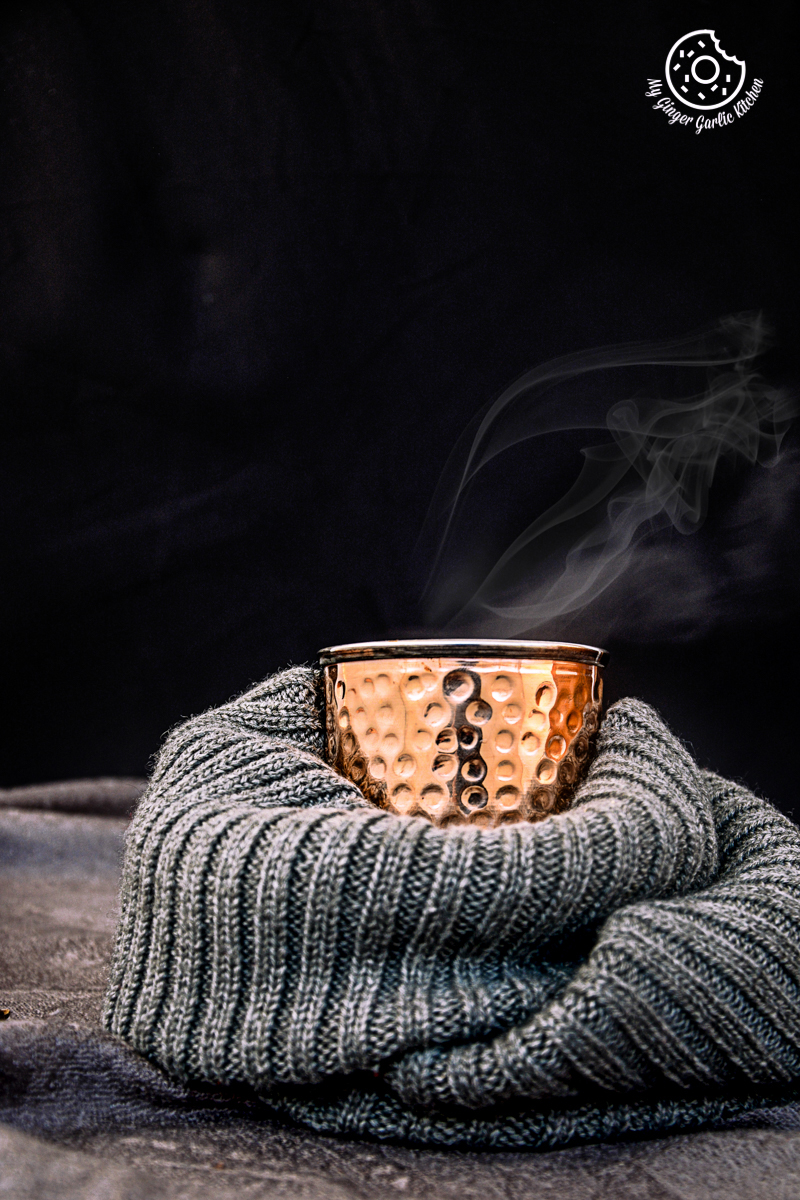 Kesar Chai - Saffron Tea - Kesar Masala Tea

[Recipe]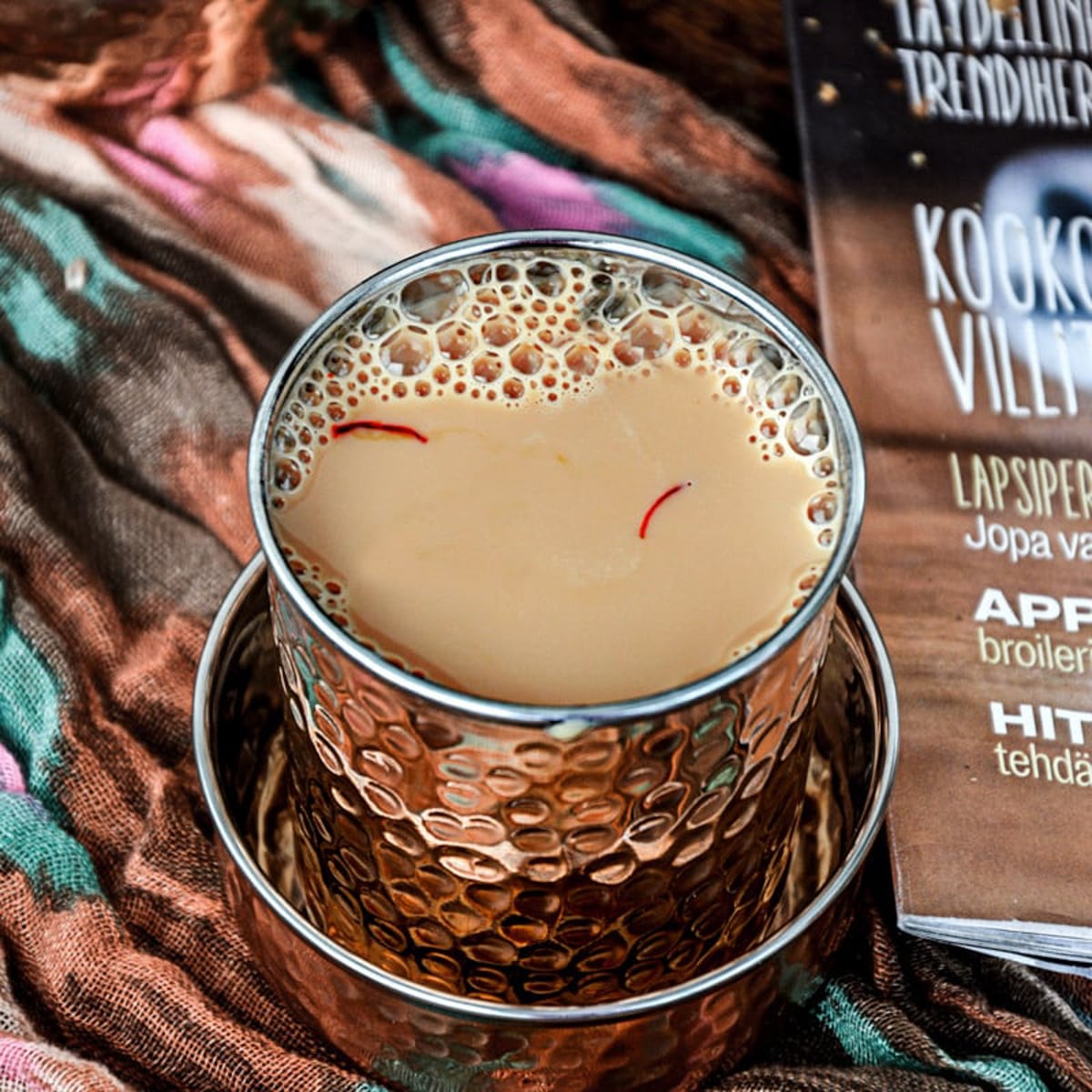 Saffron tea Kesar Chai is a milk tea that is full of good health and helps you in relaxing. This easy to make royal drink is best served as a morning tea.
---
★★★★✰
(Rating:
4.3
from
143
reviews)
---
| Prep time 🕐 | Cook time 🕐 | Total time 🕐 |
| --- | --- | --- |
| | | 15 mins |
| Category ☶ | Cuisine ♨ | Serves ☺ |
| Drinks | Indian | 2 |
| Nutrition Info ⊛ | | Serving size ⊚ |
| 57 calories | | 1 serving |
---
INGREDIENTS
For Kesar Chai/Saffron Tea:
1 cup water
1 1/2 cup milk
1 tablespoon black tea leaves (you can also use 2 black tea bags)
10 -12 saffron strands
1 inch cinnamon stick
1 teaspoon cardamom powder
1/2 teaspoon ground pepper
1 1/2 tablespoons sugar or as per taste
---
INSTRUCTIONS:
Making Kesar Chai/Saffron Tea:
Pour the water into a saucepan.




Add saffron strands, cardamom powder, pepper, cinnamon stick, and then bring it to a boil.




After that, add the tea leaves and boil for 3-4 minutes over medium-low heat.




Add milk to the saucepan.




Now, add sugar and stir well. Let it come to a rolling boil.




Turn the heat to low, and then boil for 7-8 minutes.




Once boiled, strain the tea into cups and sprinkle some saffron strands on top. Serve immediately with your favorite cookies.

---
WATCH VIDEO:
---
NOTES:
No notes for this recipe.
---
If this recipe helped you, then please spread the word by sharing and
subscribing
to us on YouTube to get more such Recipe Videos.
---
Your feedback is so helpful for me and other MyGingerGarlicKitchen readers. So, for Facebook and Instagram, please mention
@MyGingerGarlicKitchen
or
#mygingergarlickitchen
. I would love to see your photos. :)
---
Author:
Anupama
Recipe Source Link:
https://www.mygingergarlickitchen.com/spiced-kesar-chai-spiced-saffron-tea-video/
Date Published:
2020-09-23
• • • • • • • • • •