Kesar Chai - Saffron Tea - Kesar Masala Tea
Saffron tea Kesar Chai is a milk tea that is full of good health and helps you in relaxing. This easy to make royal drink is best served as a morning tea.
---
« Go back
Print this recipe »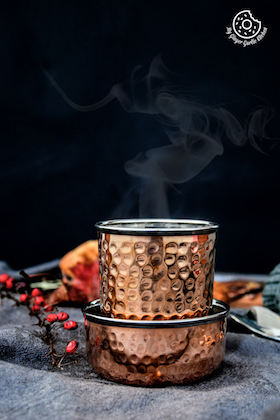 ---
Prep Time = 5 minutes
Cook Time = 10 minutes
Total Time = 15 minutes
Category = Drinks
Cuisine = Indian
Serves = 2
Nutrition Info = 57 calories
Serving Size = 1 serving
---
RECIPE INGREDIENTS
» For Kesar Chai/Saffron Tea:
1 cup water
1 1/2 cup milk
1 tablespoon black tea leaves (you can also use 2 black tea bags)
10 -12 saffron strands
1 inch cinnamon stick
1 teaspoon cardamom powder
1/2 teaspoon ground pepper
1 1/2 tablespoons sugar or as per taste
---
RECIPE INSTRUCTIONS
» Making Kesar Chai/Saffron Tea:
Pour the water into a saucepan.
Add saffron strands, cardamom powder, pepper, cinnamon stick, and then bring it to a boil.
After that, add the tea leaves and boil for 3-4 minutes over medium-low heat.
Add milk to the saucepan.
Now, add sugar and stir well. Let it come to a rolling boil.
Turn the heat to low, and then boil for 7-8 minutes.
Once boiled, strain the tea into cups and sprinkle some saffron strands on top. Serve immediately with your favorite cookies.
---
RECIPE NOTES
No notes for this recipe.
---