Learn How To Make perfect Indian summer drink Jal Jeera / Jal Jira recipe with step-by-step video tutorial. The unique flavor of this lemonade comes from the combo of 2 herbs — coriander and mint, and spices like roasted cumin powder, dry mango powder, ground black pepper, and black salt.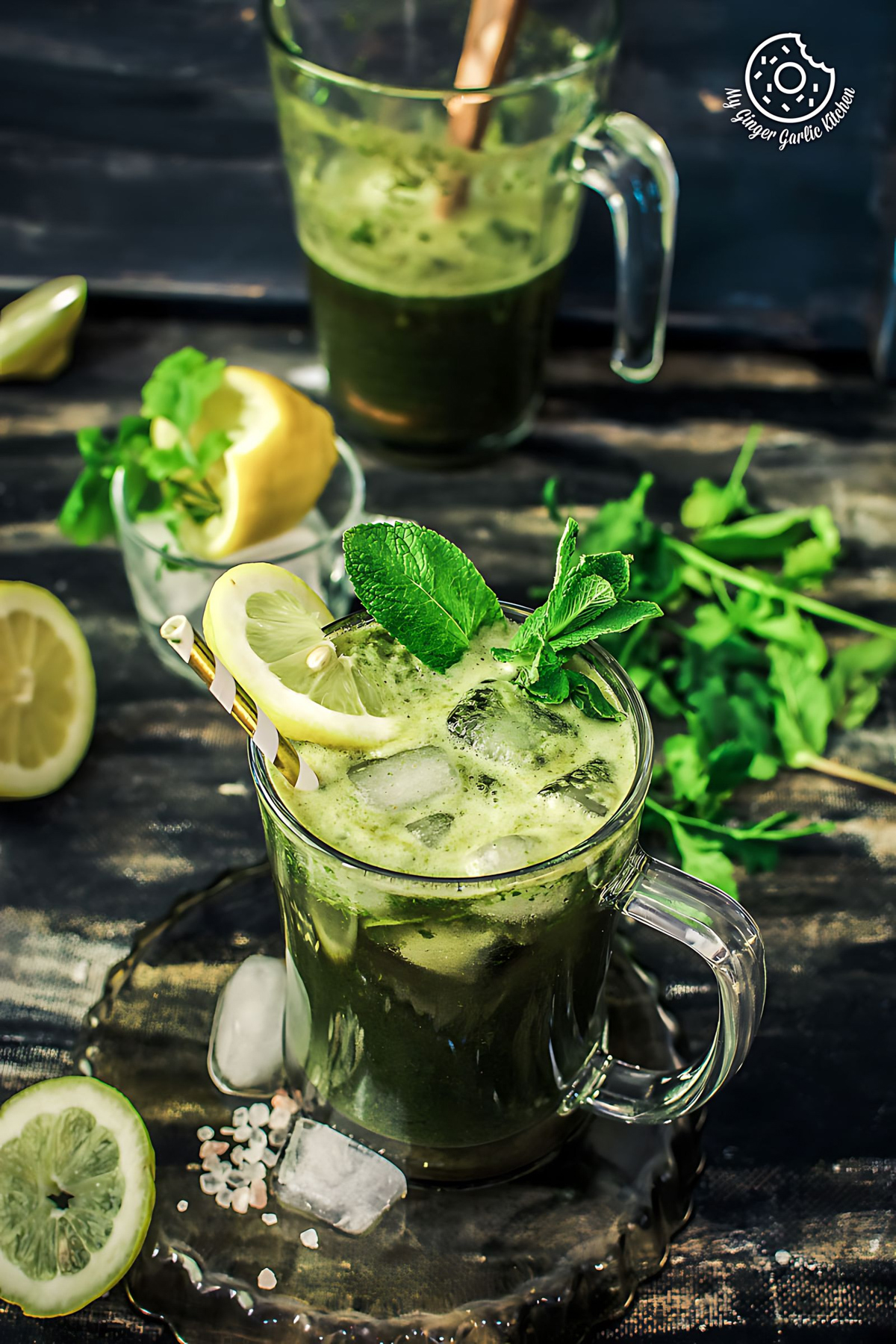 Outside it was warm and it almost felt like a lazy Spring/Summer when we had our picnic on the beach. This was the best part. And after that picnic, we all felt like having some chilled drinks. And that's why we got this awesomely chilled, delicious, and naturally dyed herbed drink.
JalJeera is perfect for hot weather:
In my last post last week, I told you something about the weather that it was sunny and Spring-like here. So as per the plan, we had a lovely outdoor time and we had our picnic too during the last weekend.
While we were enjoying our picnic, we chatted about the real Indian summer, and the food and drinks we used to drink during each summer during our time in India. Summer in India is really hot and it's getting even hotter every year. And in such a hot weather, no one likes to spend time in the kitchen. Because working in the kitchen would mean dealing with heat once again. So, no respite, inside or outside. That's the last thing one would like to do in such scorching weather.
Related: Beet Lemonade Recipe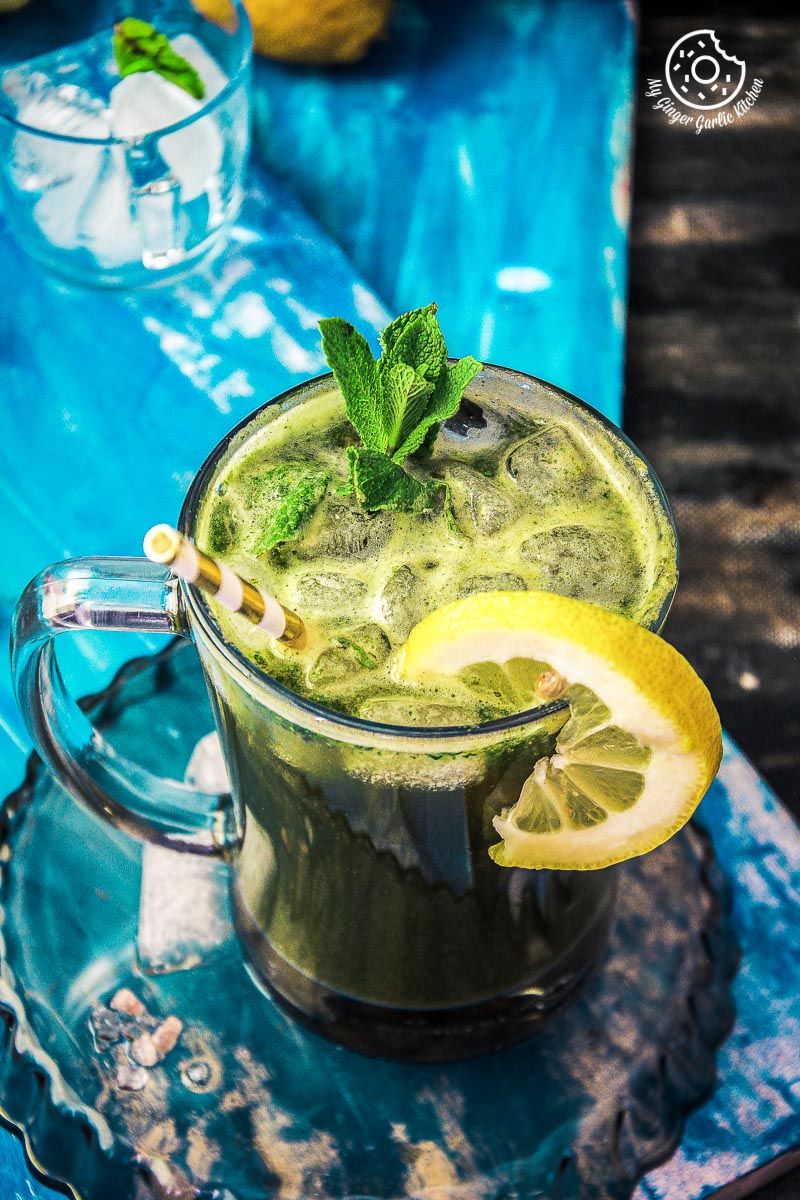 Refreshing and cooling:
So luckily to reduce the heat feel there are a large number of Indian summer drinks which help to fight those heat waves and keeps people's bodies cool from inside so that they can actually do some work. And while at the beach, the talk about the summer drinks which we grew up drinking made both of us nostalgic and we instantly craved for a glass of a herbed refreshment. Therefore, we decided that we will definitely enjoy at least one summer drink that day.
Related: How to Make Masala Chaas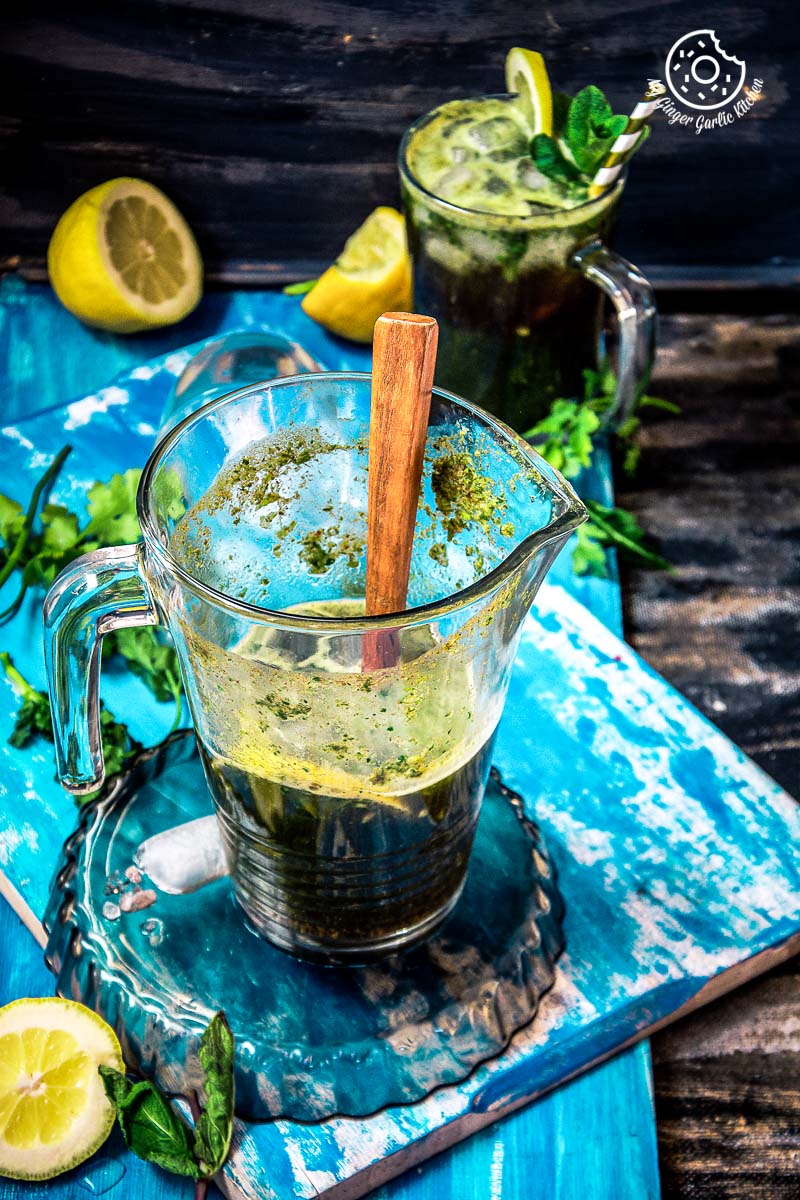 Sun and Fun:
Thus, while coming back home we headed to the grocery store and picked the desired herbs needed for the drink we were planning.
That evening, we had 'Jal Jeera' which is an instant cooling drink and is meant to beat the summer heat. Though here, it is not that summer heat really, but the cravings. Ah, you just can't control them sometimes. I am writing this post while witnessing a mild snowfall again. Beauty in those tiny white flakes. Nature is just miraculous. Now, you could totally imagine why I am so glad that we could enjoy our 48 hours of Spring-like weather.
Related: Vanilla Iced Mocha With Coffee Ice Cubes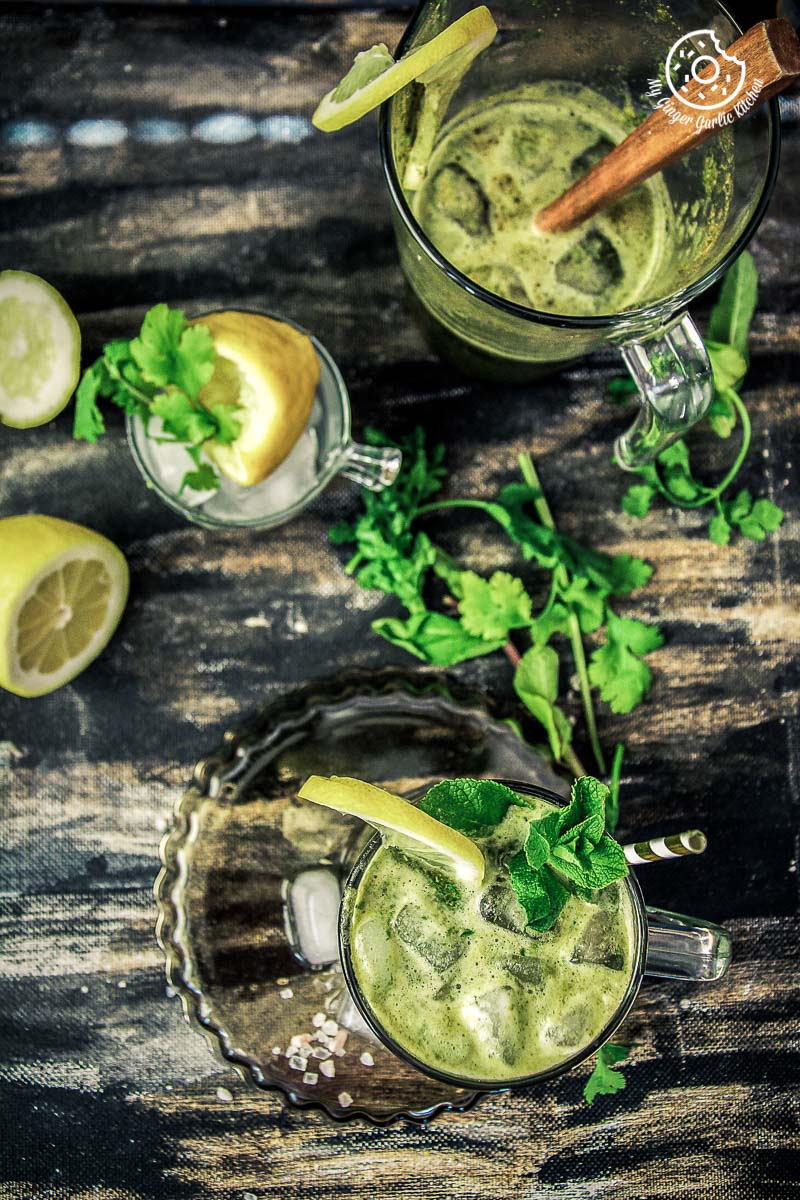 What is Jaljeera?
Jal-jeera, or Jal-Jira, is a popular Indian summer drink. 'Jal' is water in Hindi, and 'Jeera' is known as cumin. So this drink is the literal translation of cumin water. But don't confuse this with the usual cumin water. Because it is way too different than the cumin water you might have had.
This is more like a spiced lemonade. For making this drink, you can get spice mix in store-bought Jal-jeera packets at any Asian grocery store but they don't taste that good. Fresh ones are really good. This drink is known for its good digestive properties. That's why it is also served as an appetizer and also as an after-meal drink.
Jaljeera is the best summer drink.
Related: Strawberry Kiwi Sparkling Cooler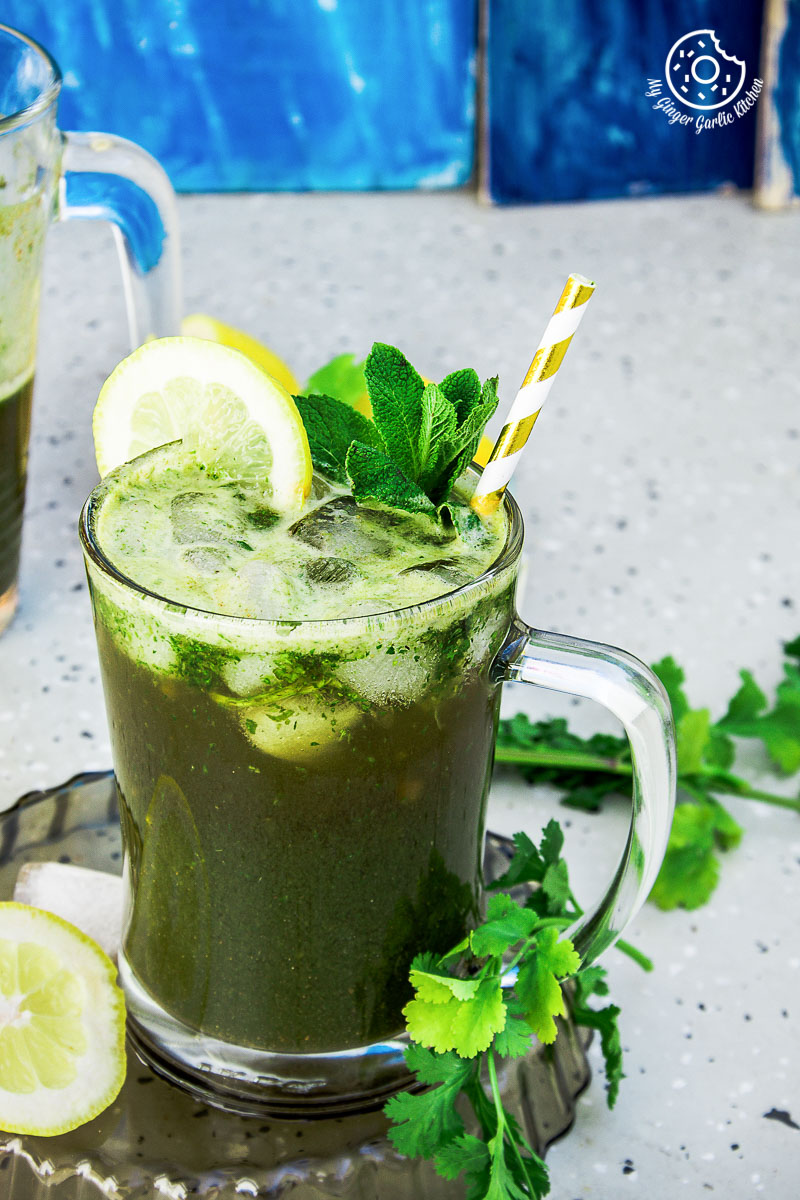 Tangy and Spicy:
My Jal Jeera = the bubbles, spices, citrus, and herbs. This herbaceous 'Jal Jeera' can be made in just 2 minutes. YES, IT JUST TAKES A COUPLE OF MINUTES. Every single sip of this chilled drink will take you on the joy ride to the herb land.  In the Northern part of India, you can get this drink at street kiosks during summer time.
Related: 4 – Ingredients Strawberry Cake Shake
My favorite:
This vibrant herbed Jal Jeera is awesomely refreshing. Some people also use tamarind pulp for making Jal Jeera. But I personally prefer lemon juice. Spicy 'boondi' aka 'Chickpea Flour Puffs' are also added to the drink for a nice crunch and taste. Unfortunately, I didn't have Boondi at home so I made my Jal Jeera drink without it.
Related: Pineapple Blueberry Raspberry Breakfast Layered Smoothie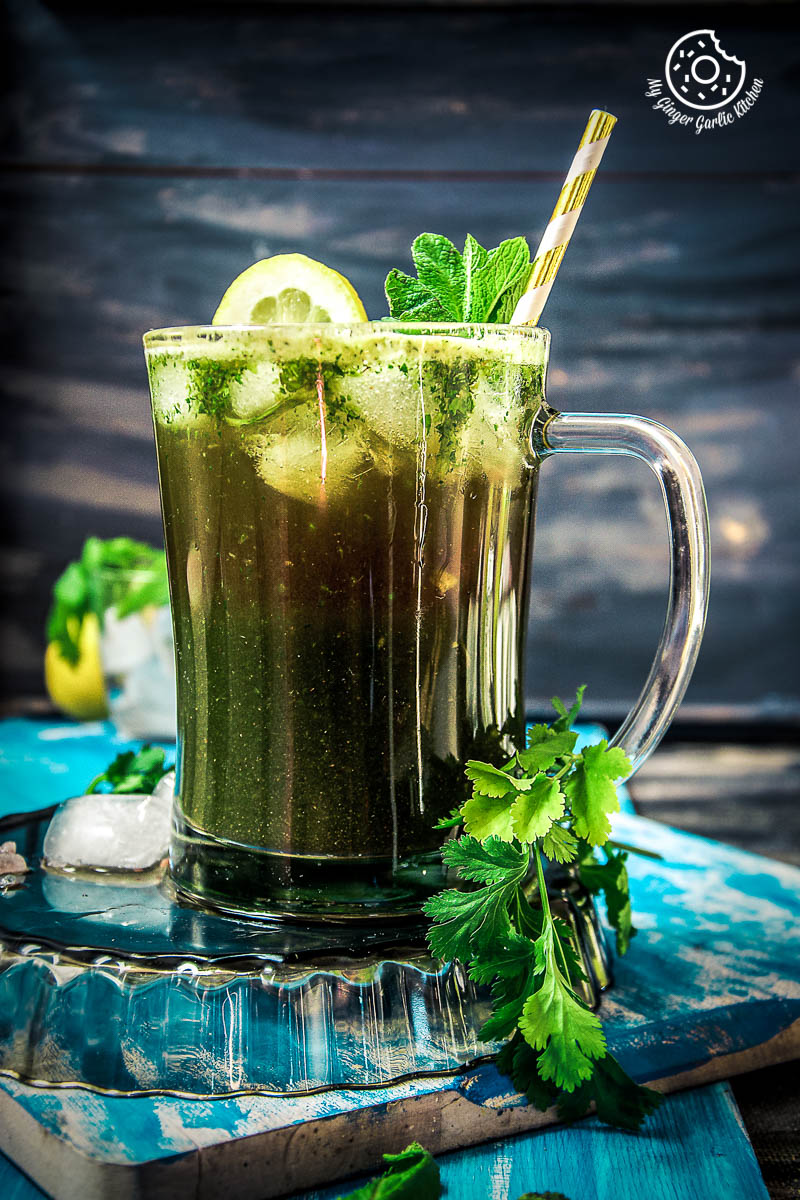 Have it with a meal or without:
Ingredients like coriander, mint, ginger, and lemon juice make this a delicious treat on a hot summer day. This refreshing green drink is perfect to enjoy outside with meals or even with snacks.
You can call it a delicious spiced up take on a lemonade.
Related: Blueberry Kiwi Cooler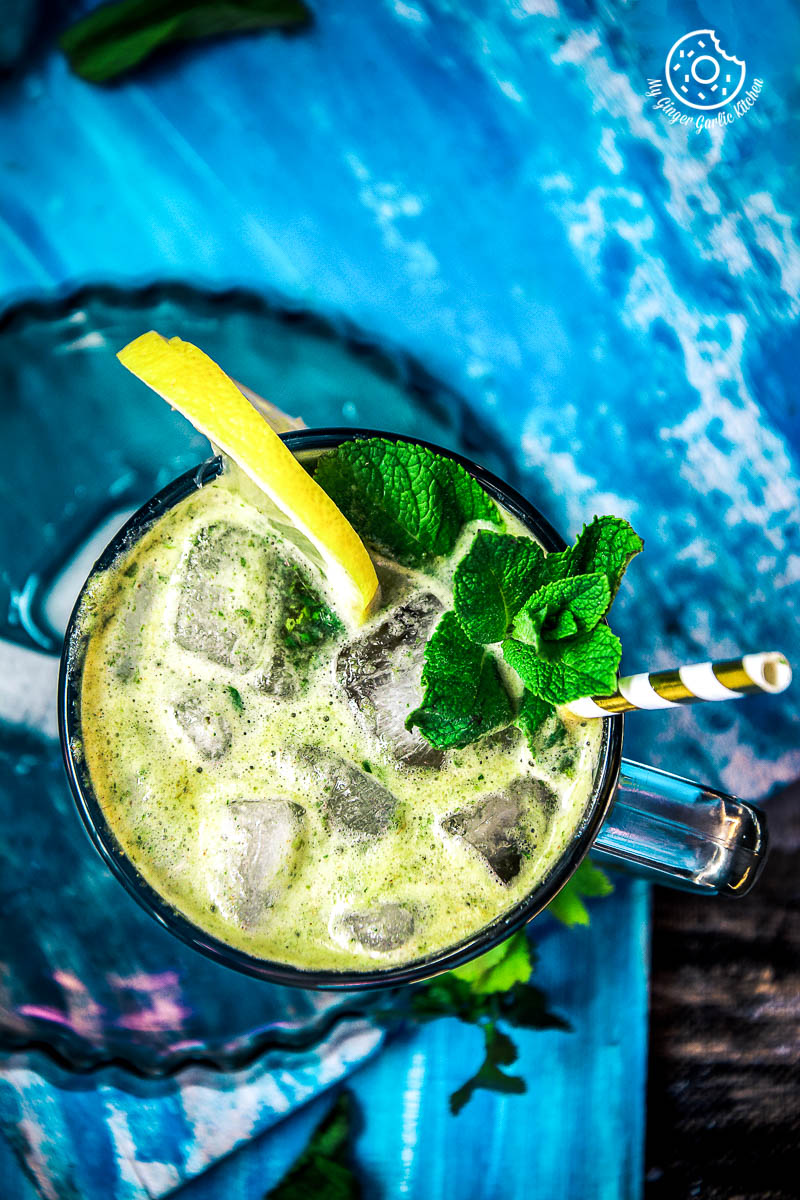 Make it in 2 minutes:
To make your own glass of this perfect summer refreshment, pick up mint, coriander, and ginger. Grind them into a smooth paste. Add lemon juice, some spices, ice and lemon/lime soda. Pour and enjoy.
Related: Strawberry Masala Chaas
Perfect Indian Summer Drink Jaljeera - Jal Jira Recipe

[Recipe]
Learn How To Make perfect Jaljeera recipe with step-by-step video tutorial. This is a non-alcoholic Indian drink made using fresh coriander, mint and spices.
---
★★★★✰
(Rating:
4.2
from
177
reviews)
---
| Prep time 🕐 | Cook time 🕐 | Total time 🕐 |
| --- | --- | --- |
| | | 4 mins |
| Category ☶ | Cuisine ♨ | Serves ☺ |
| Drinks | Indian | 4-6 |
| Nutrition Info ⊛ | | Serving size ⊚ |
| 15 calories | | 1 serving |
---
INGREDIENTS
For Jal Jeera:
4 tablespoons fresh mint leaves
4 tablespoons fresh coriander leaves
1 inch piece ginger
2 1/2 tablespoons lemon juice
2 teaspoons amchoor powder
1/4 teaspoon ground black pepper, (optional)
Black salt or regular salt to taste
1 tablespoon roasted cumin powder
Ice cubes
Chilled lemon soda or chilled water as required
Lemon slices for garnish
Fresh mint leaves for garnish
---
INSTRUCTIONS:
Make Jal Jeera:
Grind the ginger, mint leaves and coriander leaves with 1/4 glass water in the blender to make a fine paste.




Pour mint, coriander liquid into a jug. (You can pass it through the strainer to remove the herb remains, I like mine without straining.)




Add the lemon juice, amchoor powder, roasted cumin powder, black salt, black pepper powder and stir well the mixture.




Add ice cubes and lemon soda or water and stir again.




Add more ice cubes to serving glasses and pour 'Jal Jeera'.




Garnished with a slice of lemon and mint leaves. Serve immediately.



---
WATCH RECIPE VIDEO: Click the play button and video will load ...
---
NOTES:
No notes for this recipe.
---
If this recipe helped you, then please spread the word by sharing and
subscribing
to us on YouTube to get more such Recipe Videos.
---
Your feedback is so helpful for me and other MyGingerGarlicKitchen readers. So, for Facebook and Instagram, please mention
@MyGingerGarlicKitchen
or
#mygingergarlickitchen
. I would love to see your photos. :)
---
Author:
Anupama
Recipe Source Link:
https://www.mygingergarlickitchen.com/how-to-make-perfect-indian-summer-drink-jal-jeera-video-recipe/
Date Published:
2020-09-20
• • • • • • • • • •