Vanilla Iced Mocha With Coffee Ice Cubes is a coffee which is classic, creamy, cold, frothy, creamy, heavy on vanilla, and stronger on coffee taste, but still a bit sweeter due to milk. 3 simple things, coffee + milk + vanilla = an amazingly delish iced coffee.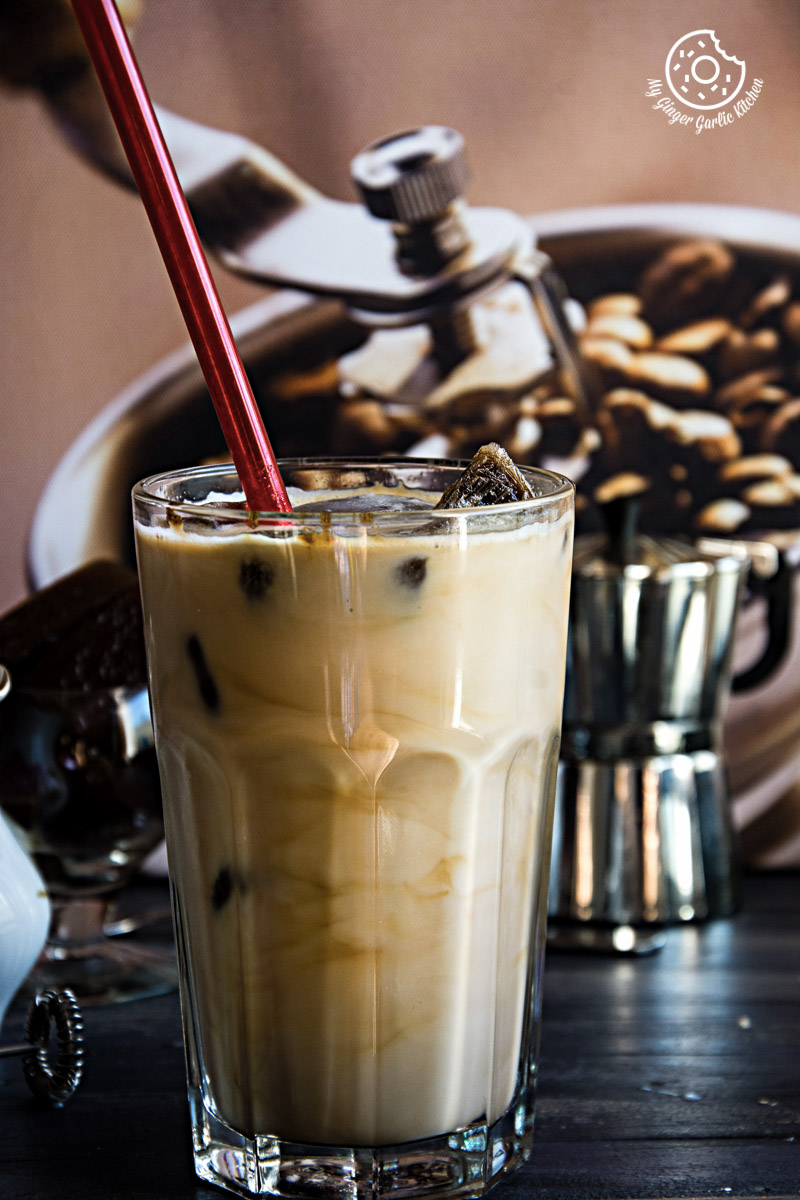 Hey-lo there! I am back! I am back! 🙂
Cruise was fun: I know what you want to know? How was my cruise? Right? It was so much fun and I did exactly what I planned to do, or may be what I always wanted to do. 😉 The trip was awesome and I sure am feeling rejuvenated after this little break on water.
Feels good to be back: Came few hours back, so couldn't transfer the pictures from camera. But I promise I will try post a couple of pictures in my next post!
If you know me, then you also know that I can't stay away from this blog for so long. So I can't stop myself from posting this Iced Mocha which I already had ready in my drafts folder. Mmmm, a Perfect Vanilla Iced Mocha With Coffee Ice Cubes.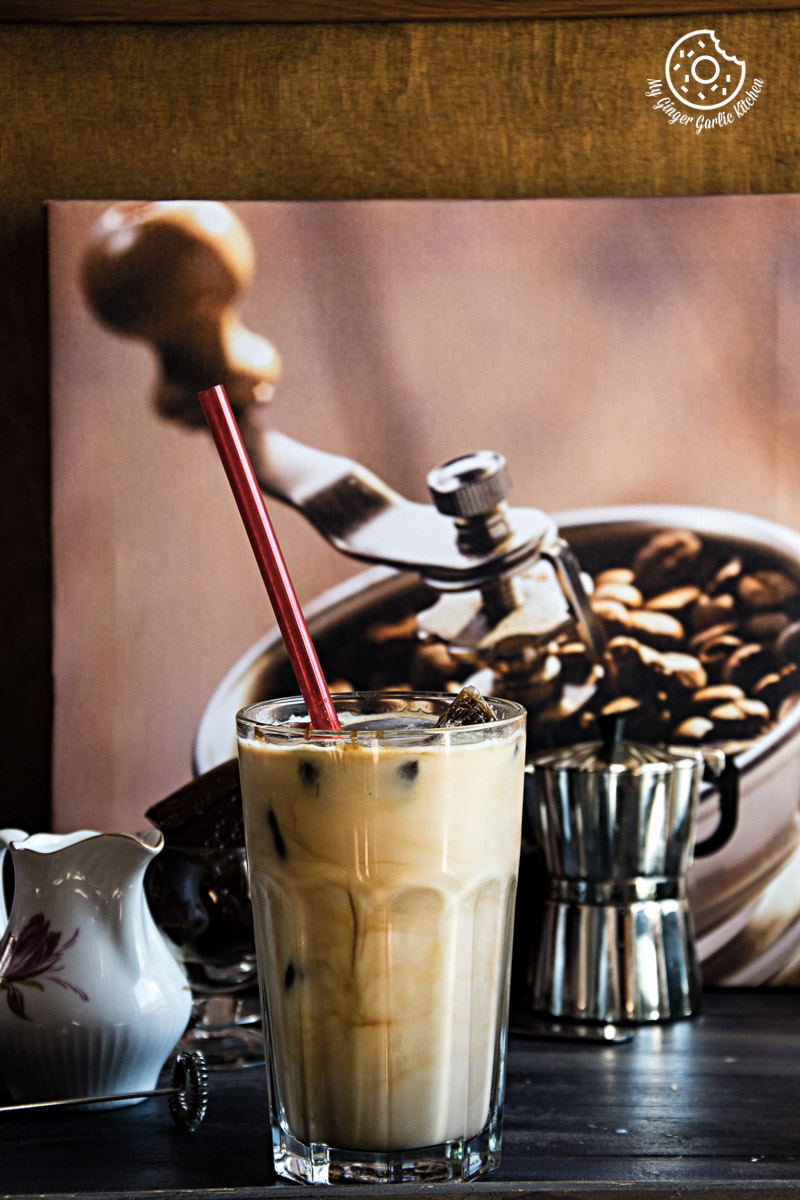 This coffee is all I need today, tomorrow and everyday after: This is the most yummy, required, desired, dreamed coffee that I need today right now, when I am a little tired plus energetic too. Energetic + tired? Does that sound weird? I know these two don't go well together. How could I feel such different feelings at the same time?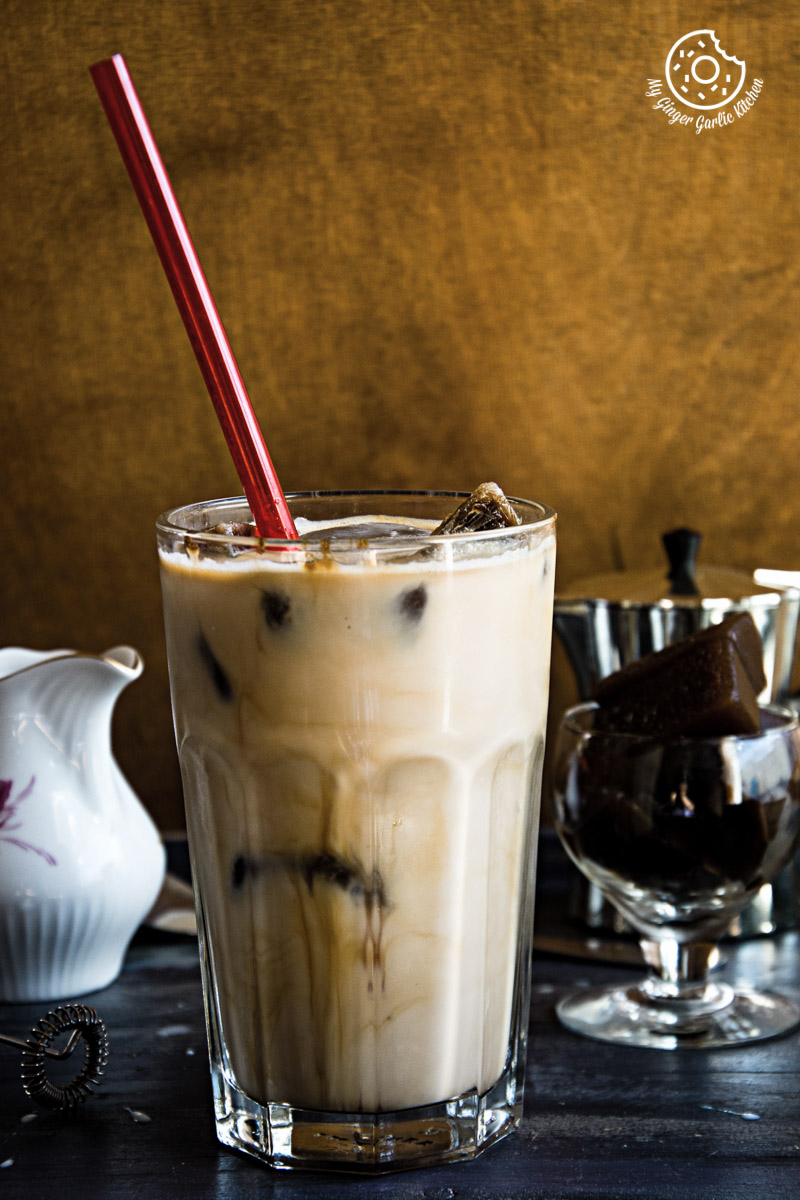 I know it sounds a little complicated. I am tired because of this 1000-kilometer travel but I am energetic because I enjoyed that travel. So basically this is a conflict between my mind and my body. 😉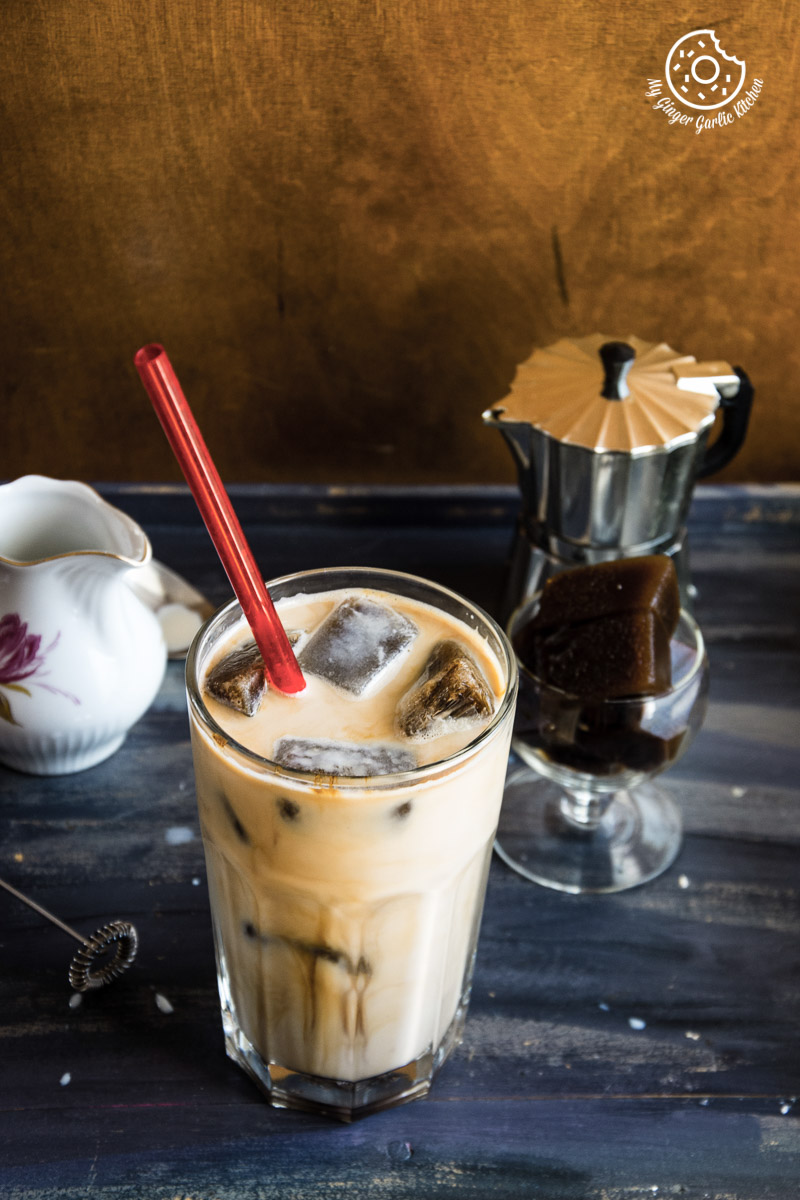 A perfect drink to charge you up: With mind and body conflict, one gives me sign that I am tired, and the other gives me sign that I am fully charged. Thus, I decided to have this drink one more time because it would fit best in both of these situations. If I am tired than Vanilla Iced Mocha With Coffee Ice Cubes would help me charge up. And if I am energetic than I sure need this to cheer up the wonderful time I just had. What say! And I am beyond excited to share this with you.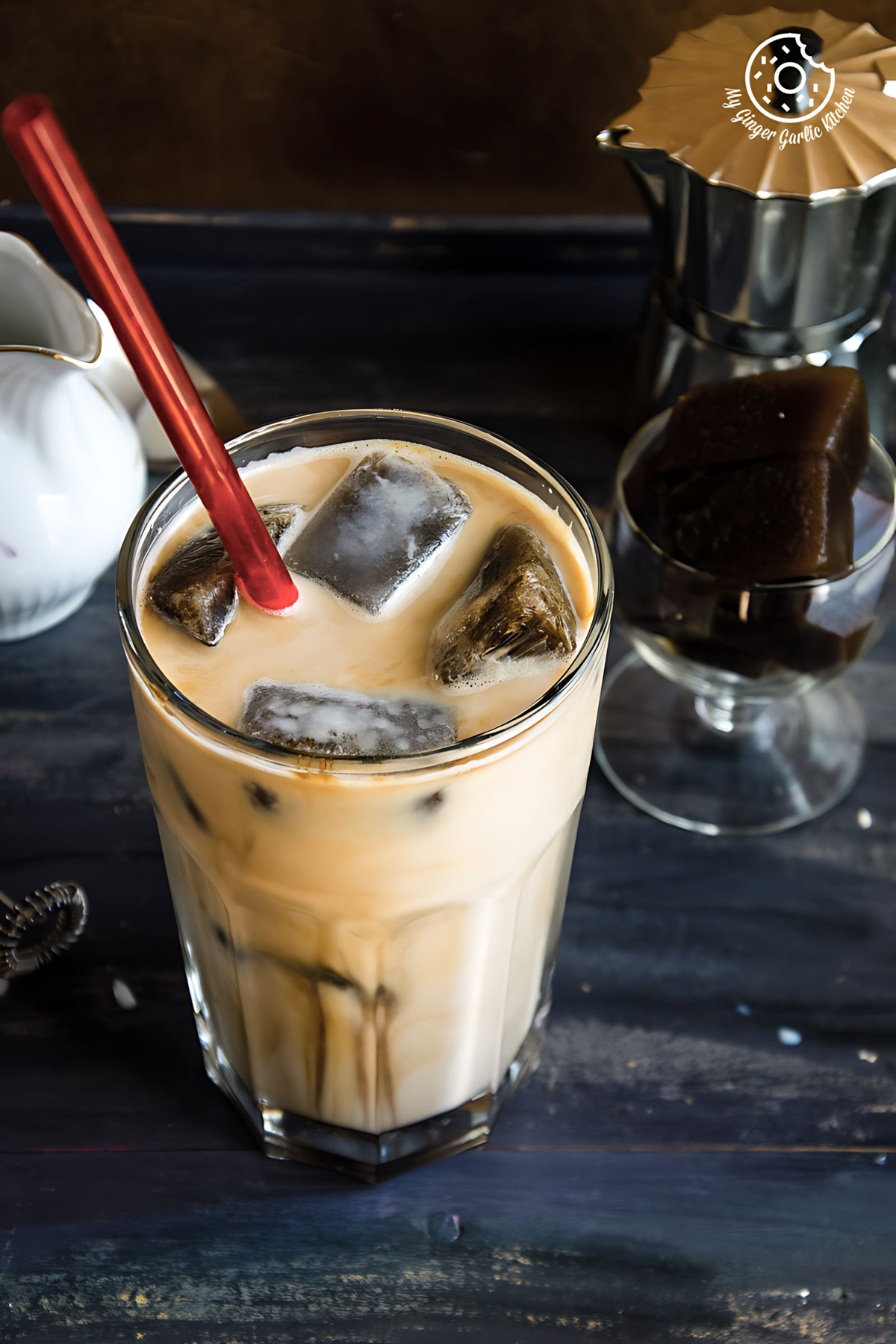 This would make summer time more good: So let me make it less complicated and simply tell you one thing — no matter what state of mind you are in, but if you love coffee then you sure gonna love this. This coffee is wonderful during this warm weather when we want everything chilled. Yes, everything chilled in summertime is just better.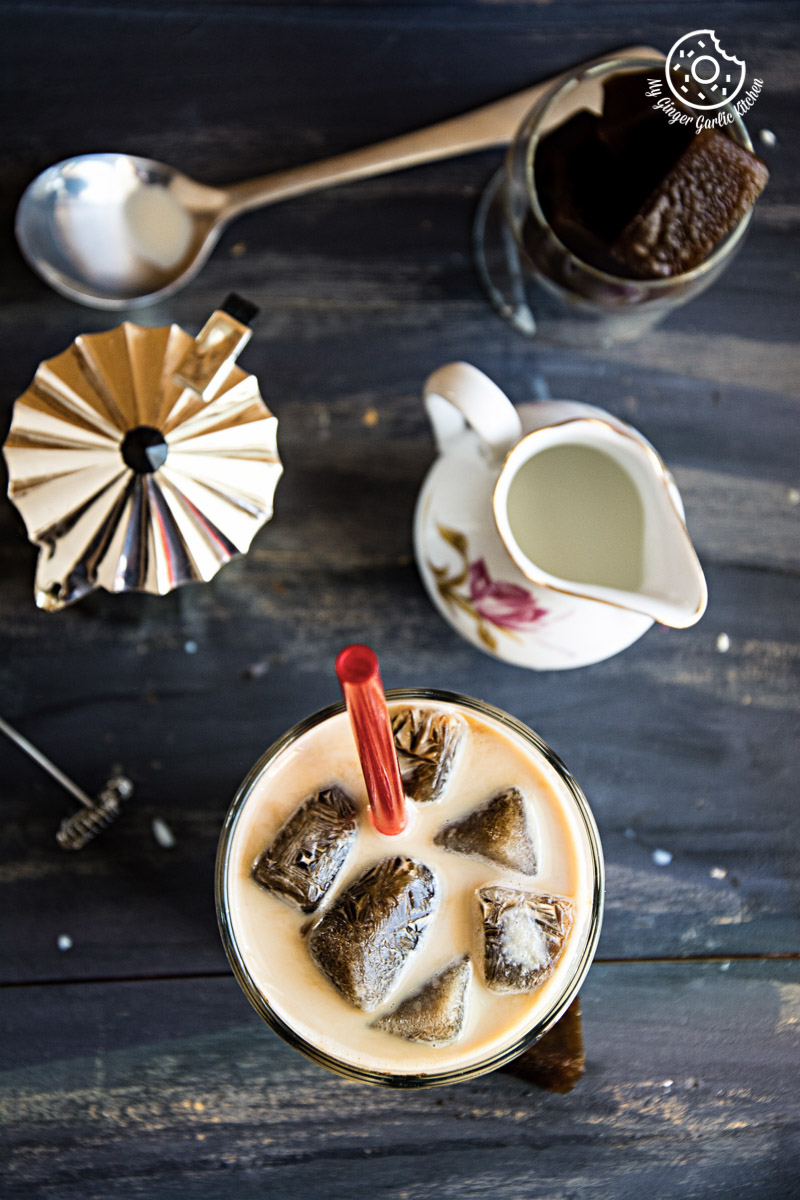 Now let me tell you about this Vanilla Iced Mocha with Coffee Ice Cubes.
My LOVE for coffee: So many times I have wrote here that I love anything coffee, so most of you know that I love COFFEE. No matter if it's steaming HOT, cold, dark 'n' strong — I would sip it.
It's awesome — sugar or no sugar: I don't really like sugar in my coffee, but it's different with smoothies. However it doesn't mean that I don't drink coffee with sweeteners at all, It's just that whenever there is an option, I go for sugar-free version. So the thing is that I did not add any sugar to this particular recipe but if you love sugar and coffee, and if you think that there's can't be any coffee without sugar, then you still can make this one.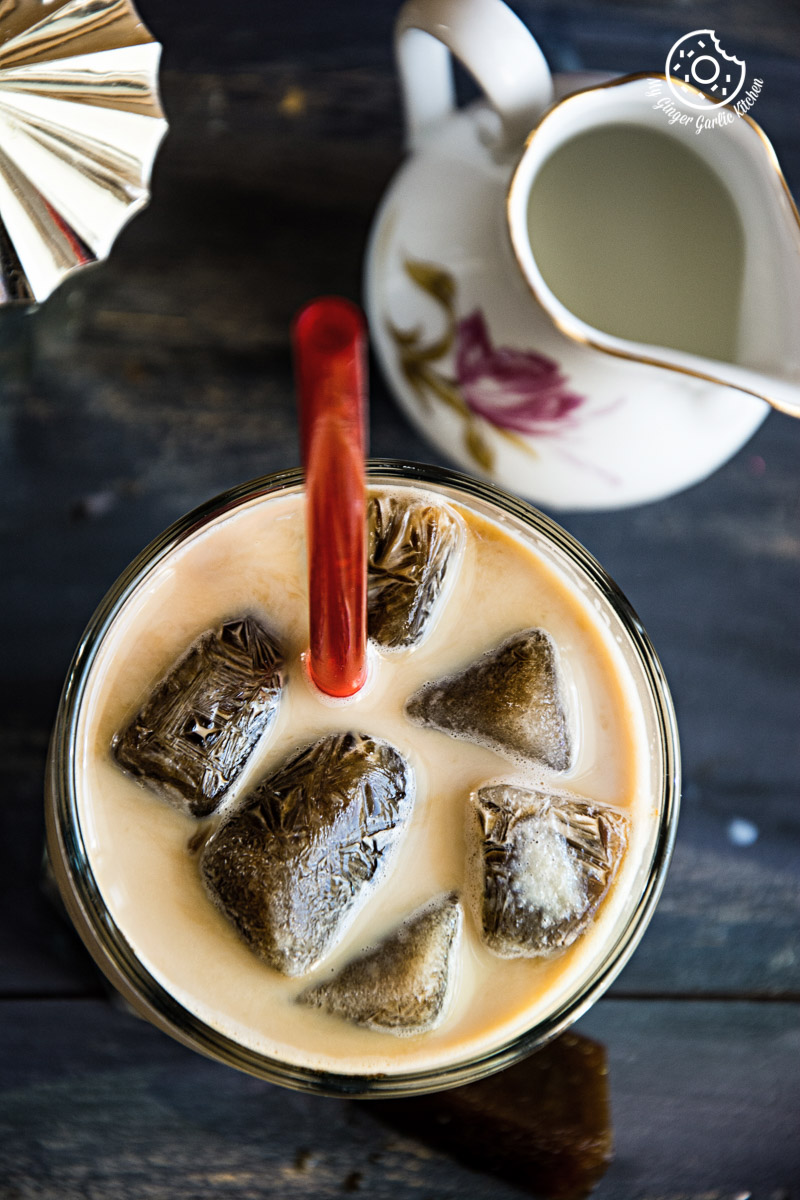 Easy and fast recipe: You just add sugar to instant coffee along with boiled water and give it a nice stir before freezing it. That's it. Imagine a coffee which is cold, frothy, creamy, heavy on vanilla, and stronger on coffee taste, but still a bit sweeter due to milk. I don't know about you but I find milk slightly sweet.
Brunch treat: For me this iced coffee can be consumed at anytime of the day, but the most preferable time is the brunch time when sun and temperature is still on a higher side. It's not really hot yet, so I still prefer my hot morning coffee. It helps me to start my day on a good note.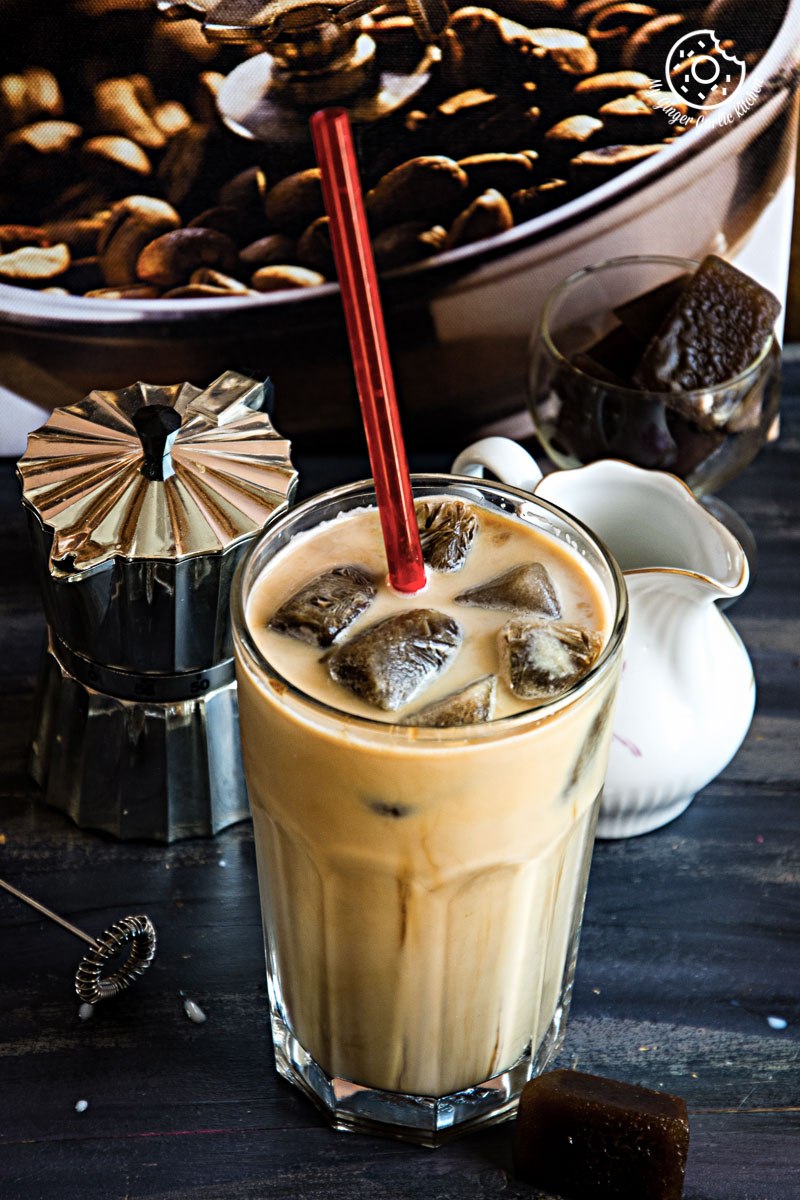 So take some brewed coffee or use instant coffee powder, both work fine. Again you can use vanilla bean instead of extract. Either way it gives this coffee that perfect vanilla flavor.
Multi-talented drink: Coffee ice cubes not only look beautiful, they also look super fancy and are super versatile too. You can add half water and half milk or cream. It's up to you. Or if you like it more creamy and frothy then do it like I do. I use 1.5% fat milk and no water at all. That's the way I like my Vanilla Iced Mocha With Coffee Ice Cubes. It takes only a few minutes to prepare it for freezing. And when you want it, it's ready in few minutes. Absolutely YUM. Other best thing is that it doesn't require so many ingredients. Only 3 ingredients + water.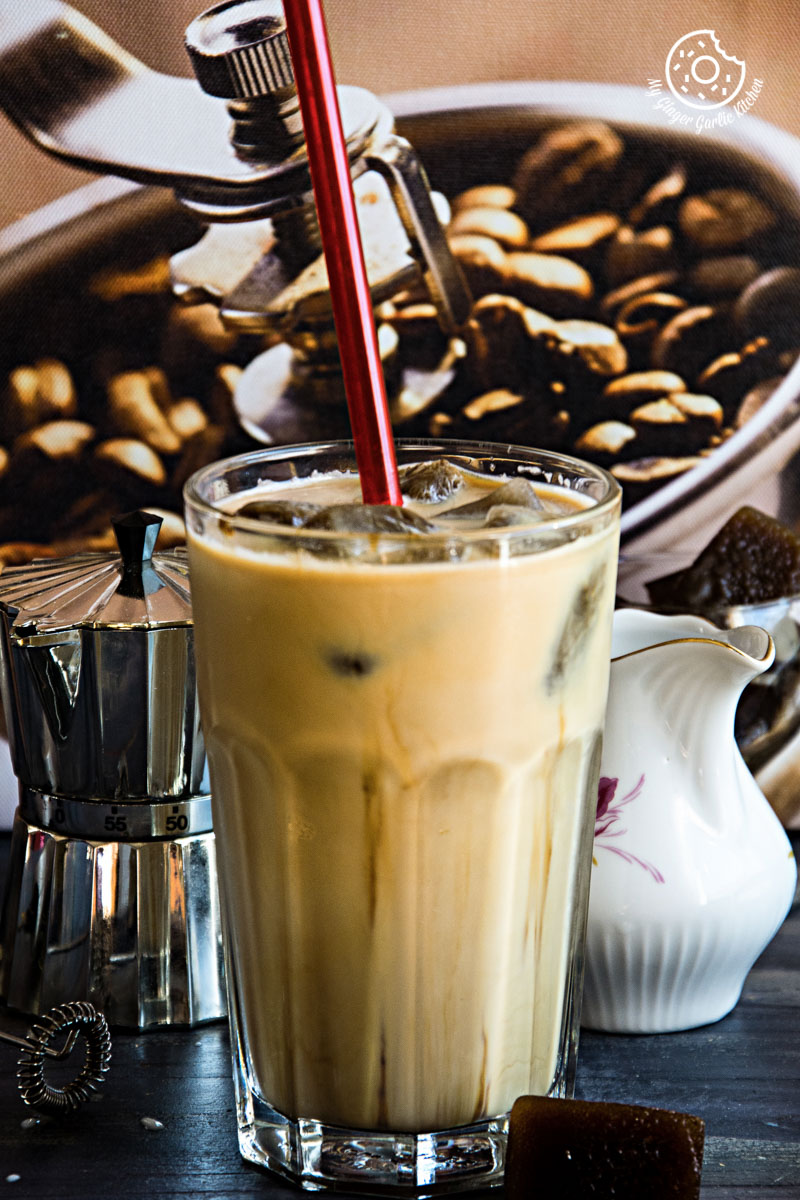 Just 3 ingredients, that's all you need: Three simple things = an amazingly delish iced coffee. Coffee + milk +vanilla. So when you have all those 3 basic ingredients in hand, then go for it. And I guess you can make this fantastic iced coffee even today itself.
Have I convinced you yet? I hope I did.
Enjoy: This coffee is creamy, classic, and packed with a good punch of vanilla flavor. Imagine yourself enjoying this cold drink outside in the green summer grass or in your very own backyard/balcony. 🙂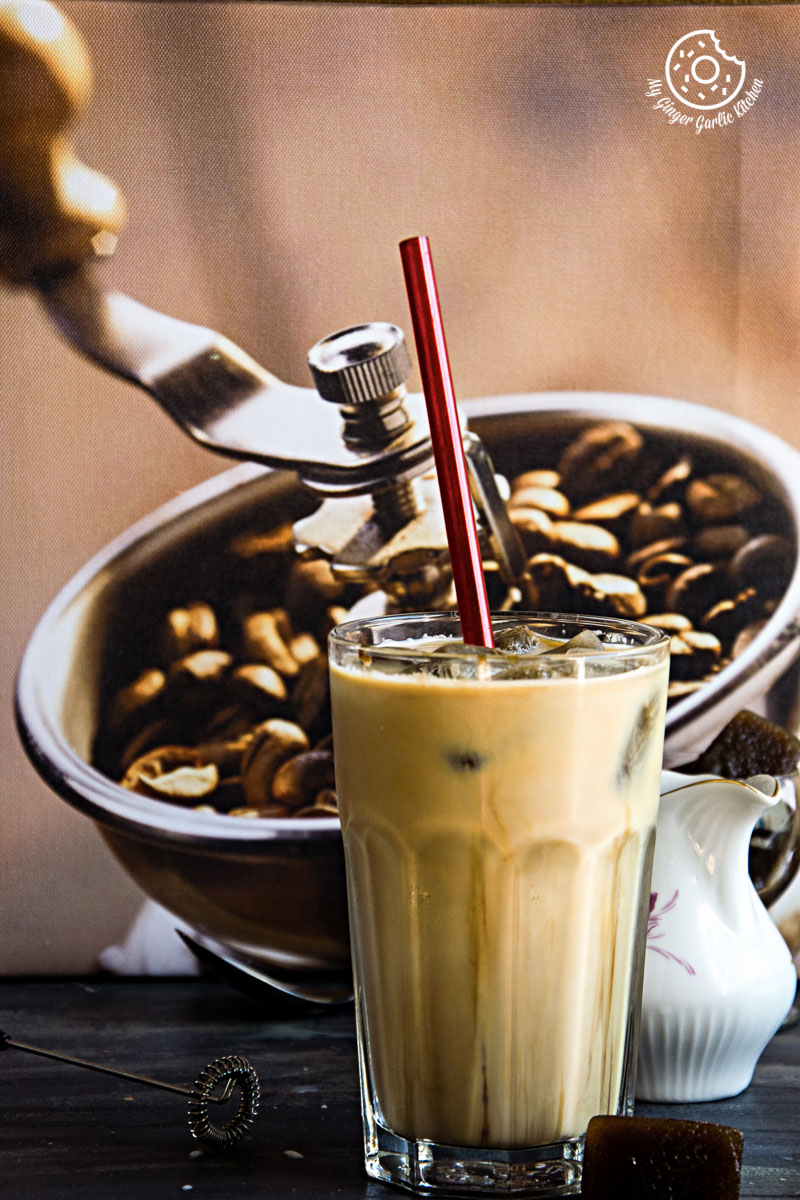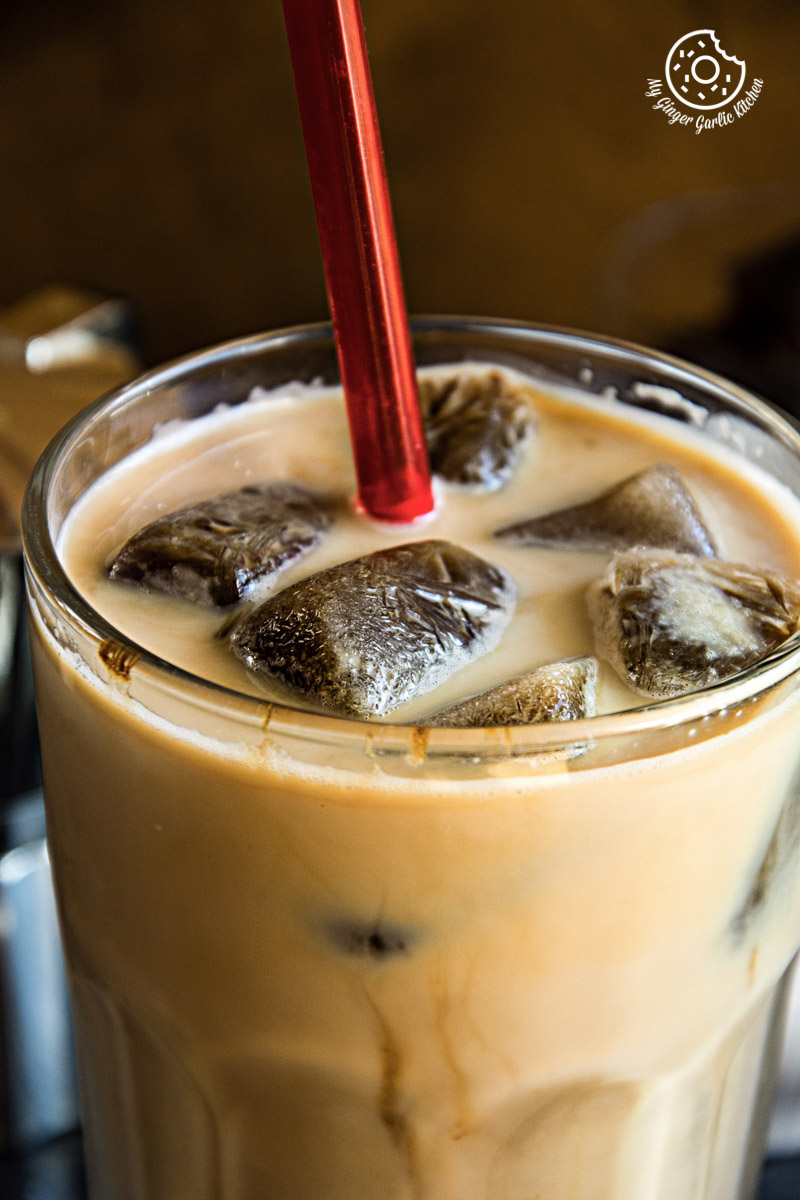 Vanilla Iced Mocha With Coffee Ice Cubes (Video)

[Recipe]
This Vanilla Iced Mocha with Coffee Cubes is a classic, creamy, cold coffee that is heavy on vanilla, stronger on coffee taste, but still sweeter due to milk.
---
★★★★✰
(Rating:
4.3
from
86
reviews)
---
| Prep time 🕐 | Cook time 🕐 | Total time 🕐 |
| --- | --- | --- |
| | | 5 mins |
| Category ☶ | Cuisine ♨ | Serves ☺ |
| Drinks | World | 3 |
| Nutrition Info ⊛ | | Serving size ⊚ |
| 197 calories | | 1 serving |
---
INGREDIENTS
For Vanilla Iced Mocha With Coffee Ice Cubes //
4 tablespoons instant coffee powder
2 cups boiled water
1 tablespoon vanilla extract
1.5 glass cold milk, I used 1.5% fat
---
INSTRUCTIONS:
How to Make Vanilla Iced Mocha With Coffee Ice Cubes //
Combine coffee, boiled water in a glass and stir well.




Let coffee cool a bit and pour into the ice tray. Let the ice set in the freezer.




Add milk and vanilla to a jar.




Hold your frother and put it inside the pitcher and deep in the milk (just before touching the bottom of the pitcher).Turn on your frother, and froth until foamy.




Fill your glass with coffee ice cubes.




Pour your frothy vanilla milk over top.




Stir and drink chilled!



---
WATCH RECIPE VIDEO: Click the play button and video will load ...
---
NOTES:
Use coconut milk to make it vegan.
---
If this recipe helped you, then please spread the word by sharing and
subscribing
to us on YouTube to get more such Recipe Videos.
---
Your feedback is so helpful for me and other MyGingerGarlicKitchen readers. So, for Facebook and Instagram, please mention
@MyGingerGarlicKitchen
or
#mygingergarlickitchen
. I would love to see your photos. :)
---
Author:
Anupama
Recipe Source Link:
https://www.mygingergarlickitchen.com/vanilla-iced-mocha-coffee-ice-cubes-video/
Date Published:
2019-10-18
• • • • • • • • • •