Chocolate Almond Milk with Frothy Coffee – dairy-free, gluten-free, and vegan. A silky, creamy drink which is packed with a good dose of chocolate flavor. This drink is a chocolate lover's delight, and a coffee lover's life.

You guys know why I love the weekend, right? So weekend is almost here and a cheers to that. But this time I would cheer you up with a coffee.
Why coffee?
First, can we call it an International Coffee Day? I know, it's no way near, but today I feel like having coffee all day. It's because I have been drinking coffee all day so may be I thought I should declare this a 'coffee day'. 😉 Yeah! I have dumped 3 cups of coffee already since morning and thinking about some more.
Second, COFFEE, COFFEE, and only COFFEE is all in my mind.
Let's chat: So how about we start out this chat with a drink which includes coffee? I think a morning drink can't get any better! Do I really need to say anything more?
And how about if I say that you will also have chocolate milk with some coffee. Mmmmm, that's icing on the cake.
Delight for vegans: Now what if I say that this chocolate milk is kind of towards healthier side for those who are afraid of drinking dairy milk in general. What would you say then? Would you say, "Bring it on"?
And if I say that anyone who loves milk and almonds would love this. Then would you say, "Come on, bring it to the coffee table now? Can't wait anymore." At least I would do that! 🙂
It has chocolate and no dairy: We all know how awesome the chocolate milk is. Right? But do you know what this chocolate milk doesn't have? Dairy. YUP!
How about a coffee with some almond chocolate milk? Would you still be there?
Okay, so we all are ready to give BIG thumbs up to a coffee which has some almond chocolate milk in it. Ain't we? 🙂 Ahh, relaxed to know that you are still interested. Because now I know you are gonna love this for sure. For me coffee with chocolate is loved and desired in all ways possible.
Deeper and richer flavour: Now let me tell you about this chocolate almond milk. This has the deeper and richer chocolate flavor and sweetness it just perfect. The good news is that it doesn't have any thickeners and preservatives. The milk does separate a bit, and the chocolate settles to the bottom. But not to worry — all you need to do is a good little mixing before drinking — it does the trick.
My new favourable morning drink: I should definitely make sure to tell you that this Chocolate Almond Coffee is my new favorite thing to have in the mornings. It seriously has got it going on in the flavor section.
I used readymade almond milk and added unsweetened cocoa to it. Then blended well. Mmmm, that unsweetened cocoa powder gives an extra punch of antioxidants.
Freeze coffee: I froth my coffee separately and freeze it for 10-12 hours. A scoop of frozen coffee, and pour chilled chocolate almond milk and top with some cocoa and you are done! You'll be ready to take on the busy morning and the rest of the day in no time!
Believe me, when you add coffee scoop to this chocolate almond milk it makes the best chilled choco-coffee ever. Chocolate as the base for this coffee enhances the awesome flavor.
Easy peasy: I am proud to call this coffee a 'get and go' drink! You freeze your coffee and make chocolate almond milk in advance, and just make it right before you drink. Give it a nice stir and it's ready.
Because not only does it have a coffee + chocolate kick, but it's also made with only five ingredients. And this makes it super easy and handy. So are you ready for Chocolate Almond Milk with Frothy Coffee? 🙂
I am a big fan of this. One reason is that there are not very many delicacies which involve non-dairy milk. BTW, what is your favorite non-dairy milk?
Chocolate Almond Milk with Frothy Coffee
Chocolate Almond Milk with Frothy Coffee - dairy-free, gluten-free, and vegan. A silky, creamy drink which is packed with a good dose of chocolate flavor. This drink is a chocolate lover's delight, and a coffee lover's life.
Ingredients
For frothy coffee:
Instant Coffee Powder - 4 tbsp
Sugar - 2 tbsp or more
Boiled water - ¼ cup
For chocolate almond milk:
Almond milk chilled - 3.5 cups
Unsweetened cocoa powder - ⅓ cup + more for sprinkle
Vanilla/Almond extract - 1 tbsp
Instructions
Combine coffee, sugar boiled water in a bowl and froth until foamy or until the mixture has tripled in volume.
Freeze for 10-12 hours.
Combine chilled almond milk, cocoa, and vanilla/almond extract to a jar.
Blend on high until smooth and creamy, about 1 minute.
Scoop 1 tbsp frozen coffee in a serving cup.
Pour almond chocolate milk (shake well before pouring).
Sprinkle cocoa powder and enjoy!
If you cook this dish, be sure to tag your photo with this hashtag: #mggk
Happy Cooking & Keep Sharing! 🙂
If you like this coffee then you will these other coffee drinks too.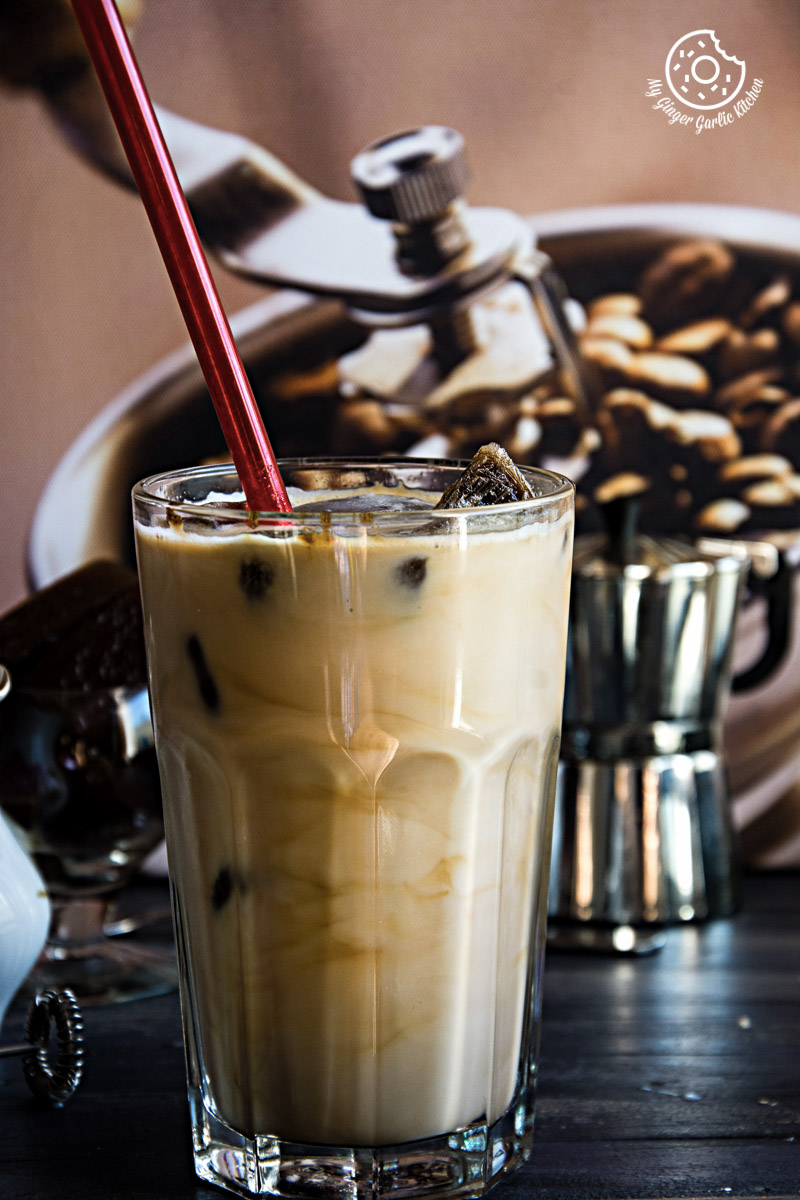 BANANA COFFEE SHAKE