Chocolate Almond Milk with Frothy Coffee (Video Recipe)
Chocolate Almond Milk with Frothy Coffee is dairy-free, gluten-free, and vegan. A silky, creamy drink which is packed with a good dose of chocolate flavor.
---
« Go back
Print this recipe »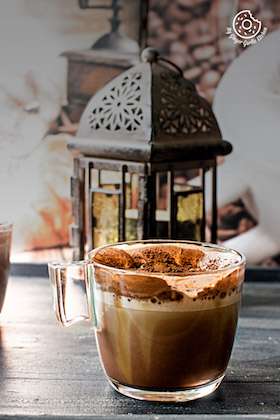 ---
Prep Time = 5 minutes
Cook Time = 2 minutes
Total Time = 7 minutes
Category = Drinks
Cuisine = World
Serves = 4
Nutrition Info = 263 calories
Serving Size = 1 serving
---
RECIPE INGREDIENTS
» For frothy coffee //
4 tablespoons instant coffee powder
2 tablespoons sugar, more if needed
1/4 cup boiled water
For chocolate almond milk //
3.5 cups Almond milk, chilled
1/4 cup unsweetened cocoa powder + more for sprinkle
1 tablespoon vanilla/almond extract
---
RECIPE INSTRUCTIONS
» Step by step instructions below //
Add coffee, sugar boiled water to a bowl.
Froth using a milk frother until foamy or until the mixture has tripled in volume. Freeze for 10-12 hours.
Combine chilled almond milk, cocoa, and vanilla/almond extract in a jar.
Blend on high until smooth and creamy, about 1 minute.
Scoop 1 tablespoon frozen coffee in a serving cup.
Pour almond chocolate milk (shake well before pouring).
Sprinkle cocoa powder.
Enjoy with your favourite snacks.
---
RECIPE NOTES
If you don't want to use almond milk, then you can replace it with any of your favorite milk.
---