No Bake Almond Flowers [Video Recipe]
---
Happy Monday!
It's half way through the November.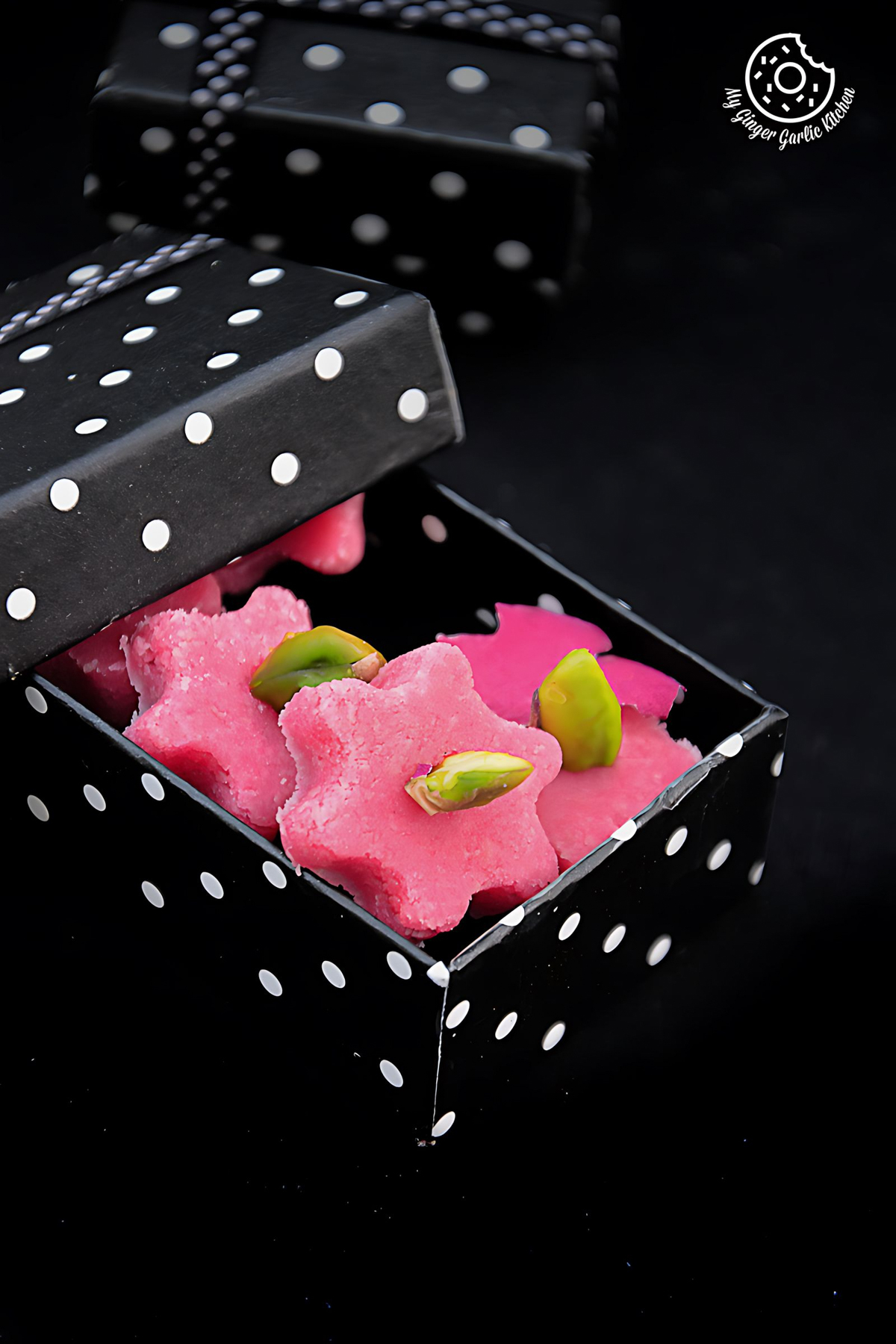 We now have only 1 month and 8 days remaining to be exact until Christmas. Wow, only 38 days left to go until the big day. See, I am enjoying counting days these days. May be this a new adventurous thing which gives me an adrenaline rush! Hahaha! 🙂
But seriously, I am super thrilled these days. First my countdown to India trip and then Christmas and then New year. Yeah, so many things to love and cherish.
Soon there will be Thanksgiving — festivity is all in the air. And festive treats call for something sweet. So I say Monday means it's time to enjoy some 'Almond Flowers'. Why? Because they are super easy and no cooking required, except 30 seconds which is practically nada in my opinion. So I decided to call these 'No Bake Almond Flowers'!
I want to write so many awesome things about these. You know what, I feel like each and every post needs some love and significance. But there are two reasons why I am keeping this post quite short.
#First: Adoria is sick since Friday. First she got this stomach flu and then fever. Till yesterday night, I thought I will skip today's post. But since morning, she is feeling a bit better, so decided not to skip post completely, instead I decided to write a short post.
#Second: As it's Monday, and I know some of us get Monday blues, so I will let you live in the momentum of working. And keep this post short, so that you can try these flowers without giving a single thought. And by doing that you can simply jump right into the flowers. They are so tiny and adorable. And they will sure make up everyone's mood.
These flowers are inspired by an Indian sweet known as 'Badam Katli (almond fudge)'.
Traditional method of making badam katli is time taking. It needs boiling and peeling almonds, then make it into a paste. Sauteed in ghee and sugar, and then rolling and cutting.
'
But with this version you don't need to do all the above things. These almond flowers are somethings which is on a whole new level. I added a magical ingredient to it, and that is 'Rosewater'. That adds such an awesome aroma to everything. YUM.
Another plus, this is vegan, dairy-free and gluten-free too! 🙂
These would also make a delicious Thanksgiving or any other festive dessert. These cute little flowers are adorably tiny and making them is as easy as pie – kids would simply love these. Perfection!
You need almond flour, powdered sugar, rosewater, warm water. And also some red food color, but that is completely optional. I use it, because it makes flowers look more appealing, just like the real roses.
Knead the dough with all the above ingredients. And roll it into a thin circle. And then cut flowers with cookie cutter. Decorate with pistachio, and you DONE.
Let's learn to make 'No Bake Almond Flowers'.


Add almond flour to a mixing bowl. Add food color and mix well. Add rose water and mix well. Microwave this mixture for 30 seconds. Add sugar and mix well. Add only 2-3 tsp of water at a time to knead the dough. Add more water if needed.


Apply little ghee to the dough and roll it into a ball. Grease your palms with ghee and transfer this dough onto a parchment paper. Roll into 1⁄2 cm thick circle. Take flower cookie cutter and cut into flower shapes.
Decorate with pistachio and serve.
No Bake Almond Flowers
Author:
Prep time:
Total time:
These No Bake Almond Flowers make a quick and easy dessert. These cute little flowers are adorably tiny and making them is as easy as pie – kids would simply love these.
Ingredients
<ul class="ingredients">
  <li class="ingredient">
    Almond flour - 2 cup
  </li>
  <li class="ingredient">
    Powdered sugar - 1 cup
  </li>
  <li class="ingredient">
    Rose water - 1 tbsp
  </li>
  <li class="ingredient">
    Warm water for kneading dough
  </li>
  <li class="ingredient">
    Few drops of red food color (optional)
  </li>
  <li class="ingredient">
    Ghee for greasing
  </li>
  <li class="ingredient">
    Pistachio for garnish
  </li>
  <li class="ingredient">
    Flower cookie cutter
  </li>
</ul>

Instructions
<div class="instructions">
  <ol>
    <li class="instruction">
      Add almond flour to a mixing bowl.
    </li>
    <li class="instruction">
      Add food color and mix well. Add rose water and mix well.
    </li>
    <li class="instruction">
      Microwave this mixture for 30 seconds. Add sugar and mix well.
    </li>
    <li class="instruction">
      Add only 2-3 tsp of water at a time to knead the dough. Add more water if needed.
    </li>
    <li class="instruction">
      Apply little ghee to the dough and roll it into a ball.
    </li>
    <li class="instruction">
      Grease your palms with ghee and transfer this dough onto a parchment paper.
    </li>
    <li class="instruction">
      Roll into 1/2 cm thick circle. Take flower cookie cutter and cut into flower shapes.
    </li>
    <li class="instruction">
      Decorate with pistachio and serve.
    </li>
  </ol>
</div>

If you cook this dish, be sure to tag your photo with this hashtag: #mggk
Happy Cooking & Keep Sharing! 🙂
---