Learn to make Atta Biscuits | Whole Wheat Indian Cookies Recipe with easy and quick video tutorial. These everyday Atta Biscuits aka Whole Wheat Indian Cookies are popular tea time cookies in India. They are so easy, eggless and crispy and scented with a good amount of cardamom.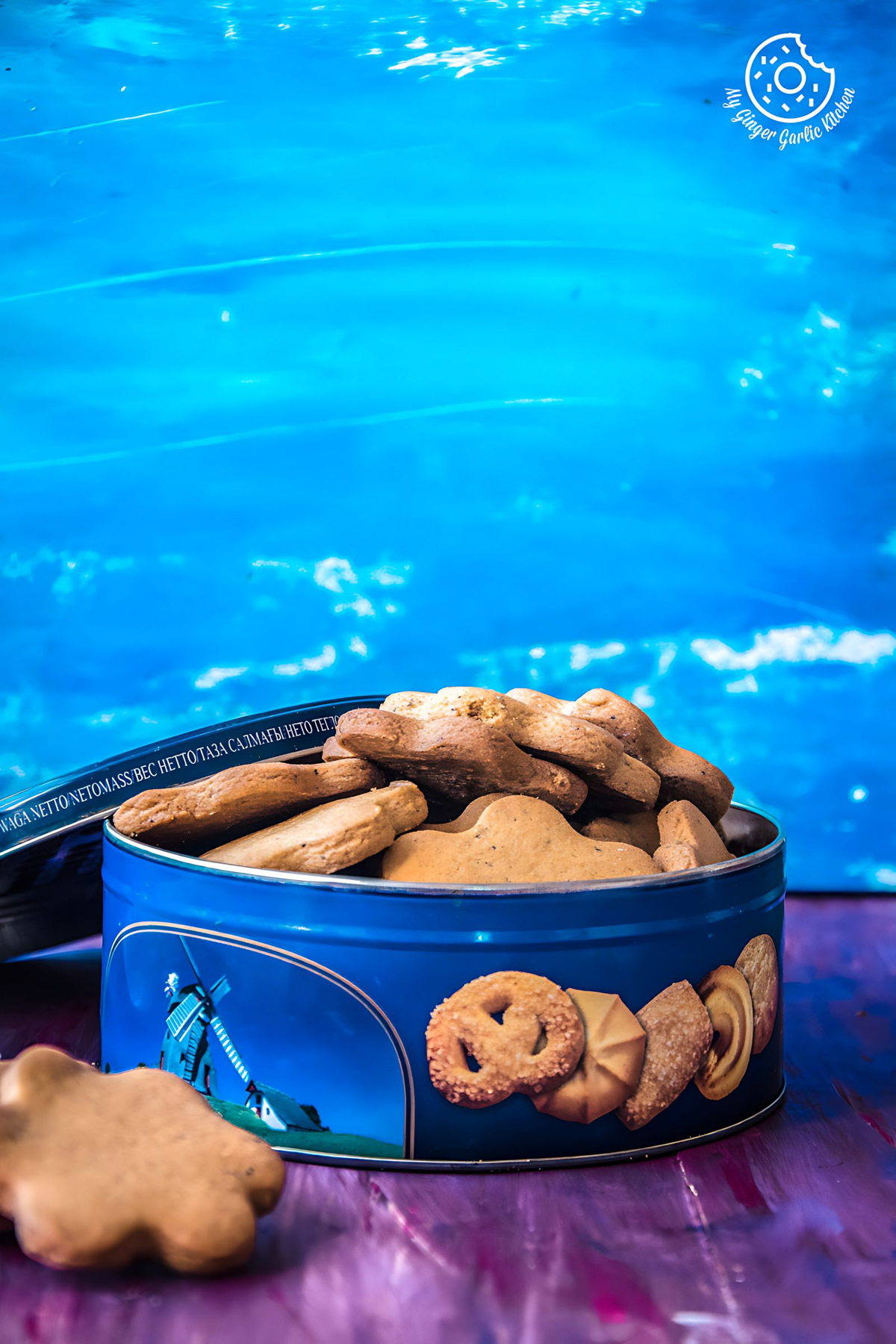 Hello Chaps,
Hope this weekend treated you well. For us here, it was super entertaining and perfectly hot — just the way a summer-time weekend should be. So much relishing this summer-y winds. 😉 Beach and outdoor trips are into full swing, and for us, going out daily is an obligation these days. I am loving the glowing charm on everyone's face around here. People are loving this long awaited summer, and everyone is wishing for it to stay for a longer time.
Related: Jeera Biscuits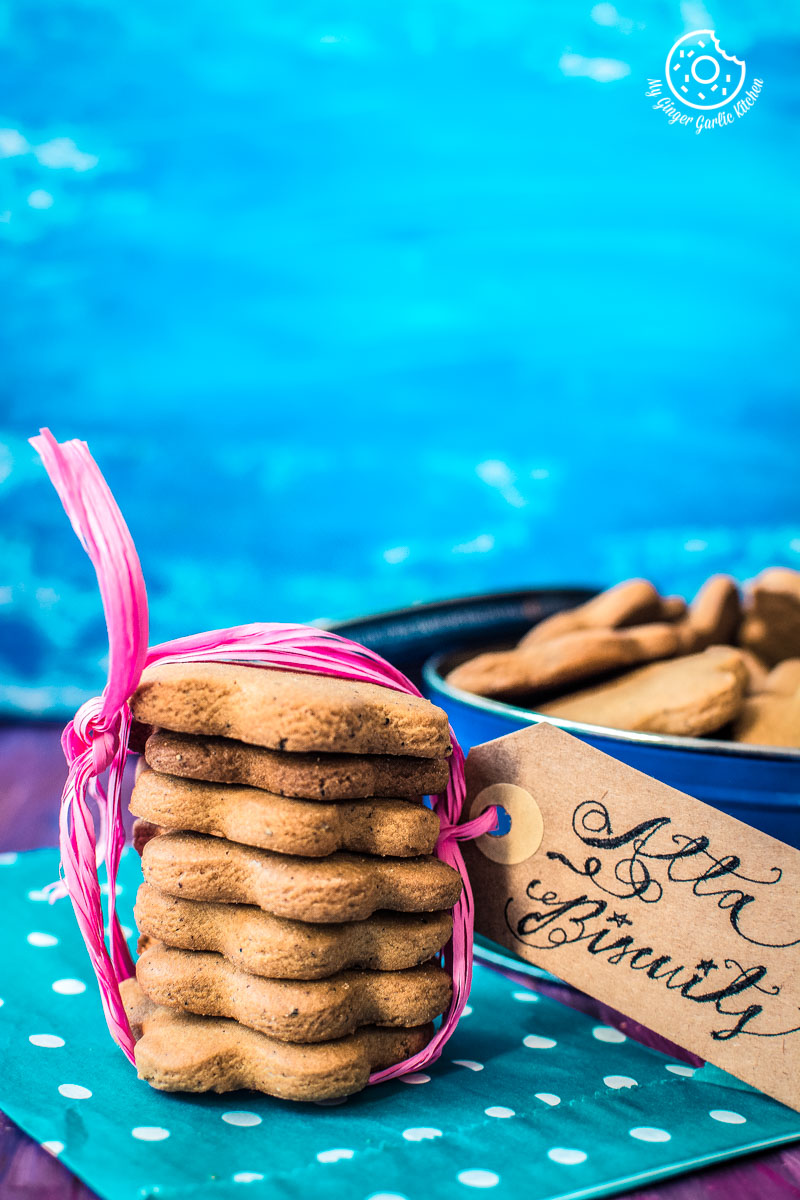 Remember, I mentioned that July is little 'A's summer holiday month. And when you have a little one at home it's kinda hard to concentrate on other things. This is exactly what is happening here — little 'A' is nearby all the time and her cutesy chats are never ending, including she doesn't like to take a nap anymore.
Related: Eggless Triple Chocolate Cookies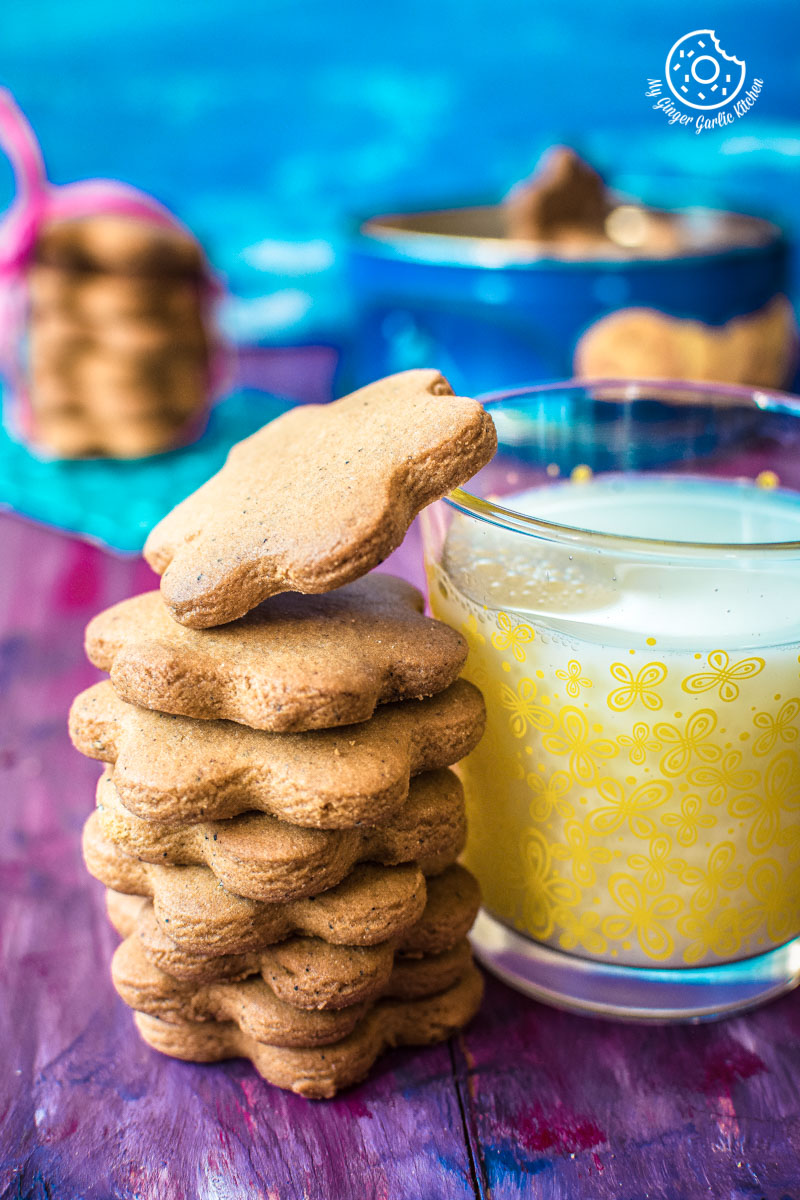 Now you can imagine that I am barely able to concentrate on blogging these days. Although I am absolutely loving the fact that I am able to spend some classic time with her. I told you that she loves to talk all the time, and I sometimes she really does the mature talking that I even feel like she has already grown up. Time does fly with these little bundles of joy. Our Mommy-daughter cooking/baking is on full throttle. Whenever we are not going out, we are either baking/cooking, or snacking picnics with her toy gang. 😉
Related: Nankhatai | Indian Shortbread Cookies
These Indian style Atta Biscuits I am sharing today are the ones I bake often. Little A and I once again made these on Saturday evening, but the video I am sharing was made earlier. I was planning to share it earlier, but I had so many other recipes lined-up, so I didn't get a chance to share this one. But when I saw this video in my drafts recently, it felt like this video was Godsent, since I am not making any videos in this month of July.
My video shooting speed has slowed down, but I am on a cooking-spree. I am so pleased that I could share this recipe today. I believe in the present, so can't rely on tomorrow.
Related: Chocolate Dipped Whipped Shortbread Cranberry Cookies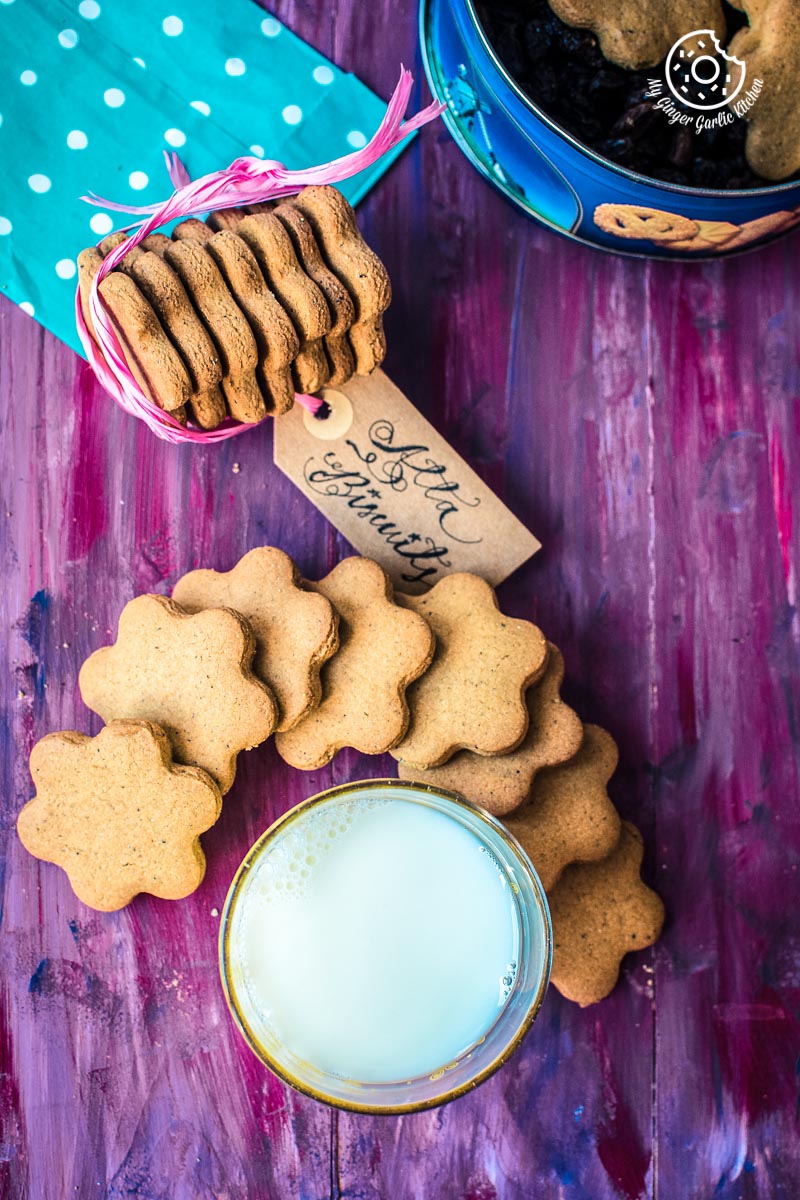 What are Atta Biscuits?
These Atta Biscuits are very typical Indian cookies which are savored during morning and evening tea-times. Knowing that they are tea time cookies, you probably would have figured out that they go delightfully well with Indian Style Milk Chai. It could be Masala Chai or something like ginger-cardamom tea. Tea and biscuits are one of the best combinations for Tea time snacks in India. And this combo is one thing which is common in almost every Indian household.
Related: Red Velvet Crinkle Cookies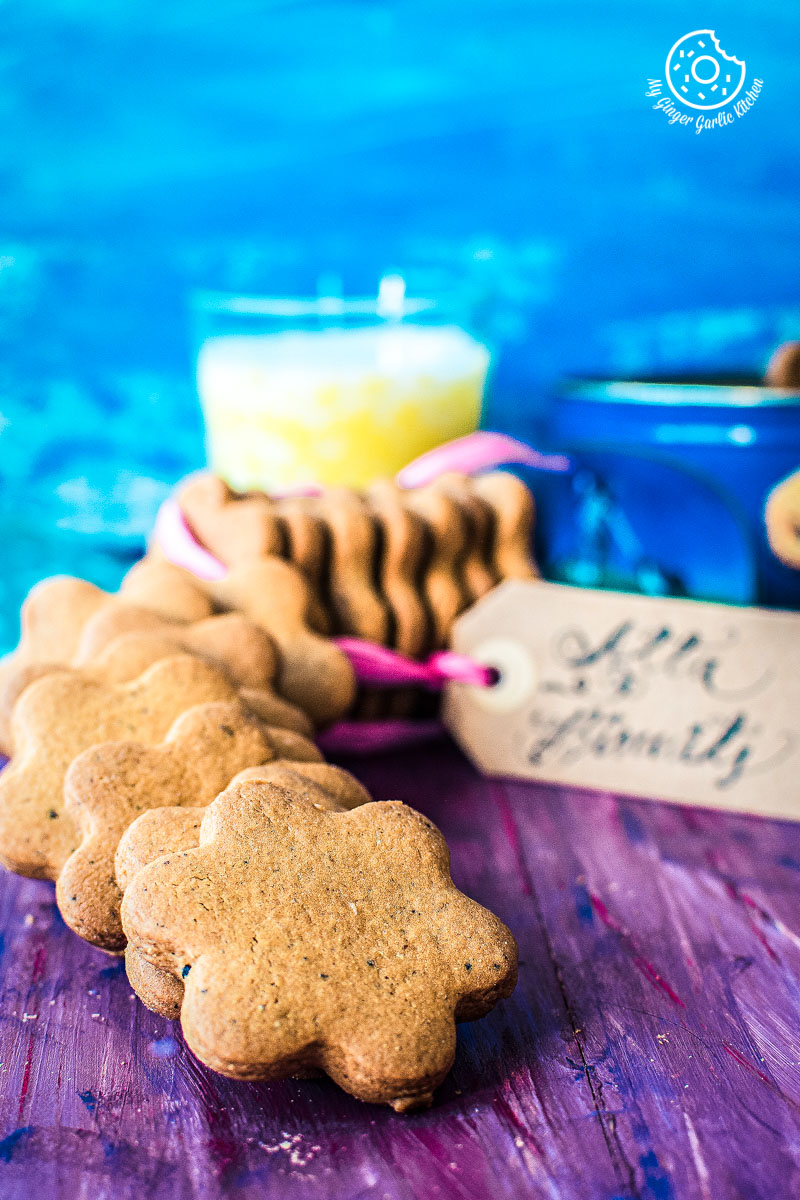 In India, mornings start with tea and biscuits in most of the families. And people drink up to 2-3 cups of milk tea daily. I know that sounds too much, but believe me, the Indian milk tea is kinda addictive — you just can't resist it. During my India visits, I make sure to drink tea every time it is made and biscuits/cookies are a must with that. Just love spiced Indian tea.
Related: Oatmeal Peanut Butter Chocolate Cookies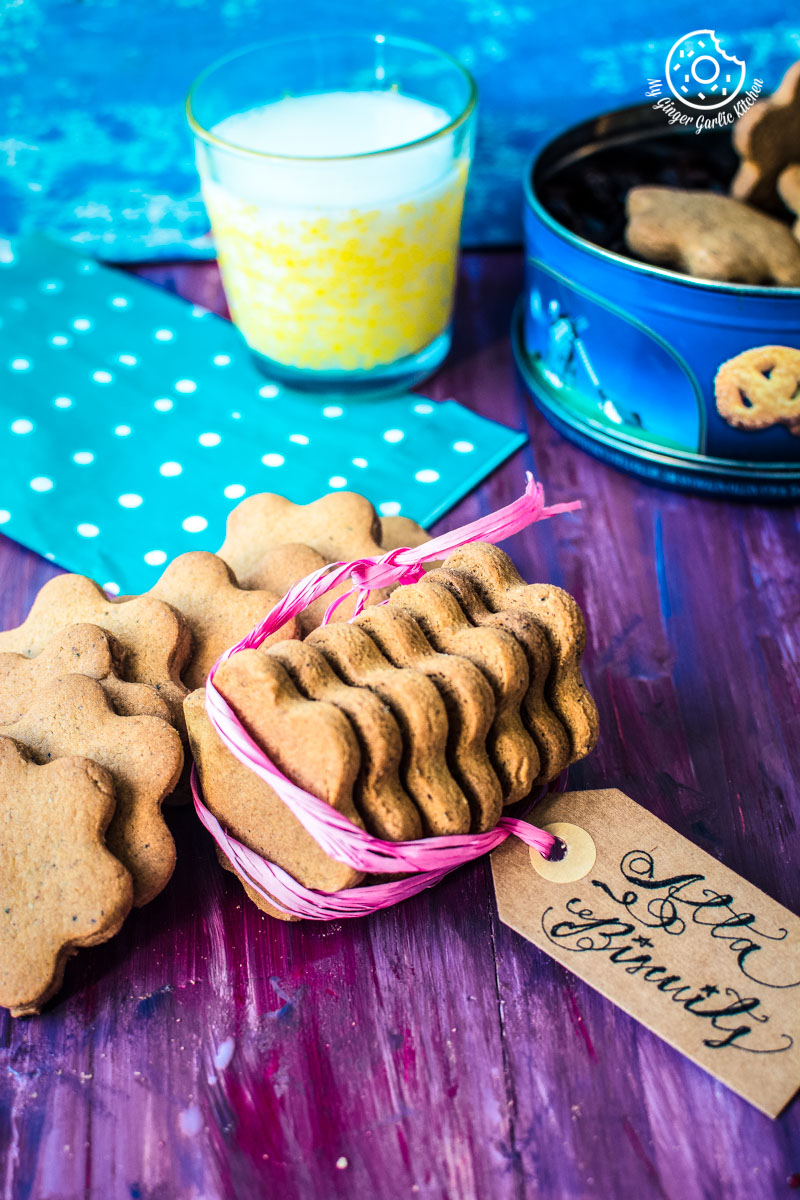 Here in Europe, I don't drink tea every day, but whenever I make Indian style chai, I pair it with some biscuits/cookies — be it jeera biscuits, Nankhatai or these atta biscuits. And then I dip them in my tea and enjoy the deliciousness. Dipping cookies in tea may sound unique, but it is just out of this world. Old habits die hard. 😉
Related: Luscious Oat Blueberry Pie Crust Cookies
This atta cookie is one of the simplest and easiest cookies you will ever make. You don't need a mixture or any other special equipment for making these everyday cookies; just a handful of ingredients and 30 minutes. Yes, you can make these cookies under 30 minutes from start to finish. Plus, they have no eggs and made only with whole wheat flour. So we can say, they are nourishingly breathtaking.
Related: Oat Almonds Cookies With The Flavour Of Coconut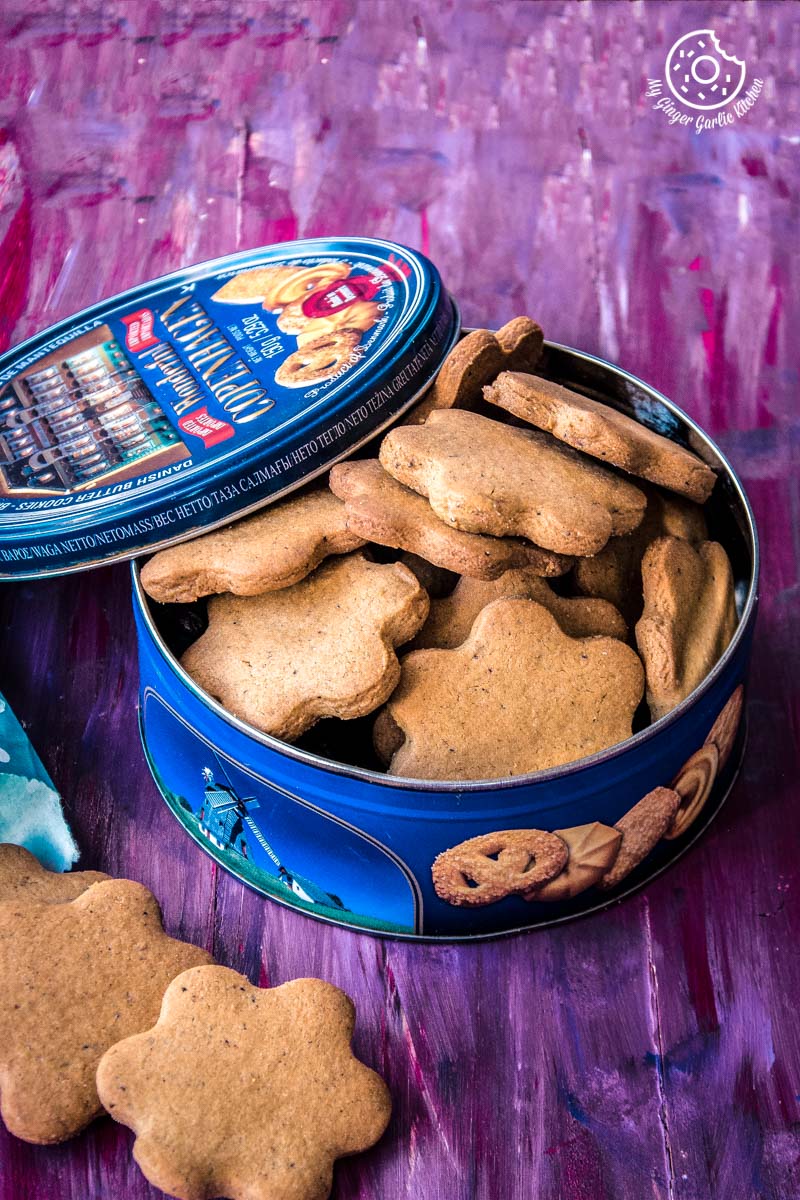 You may also like these other recipes:
Atta Biscuits - Whole Wheat Indian Cookies Recipe

[Recipe]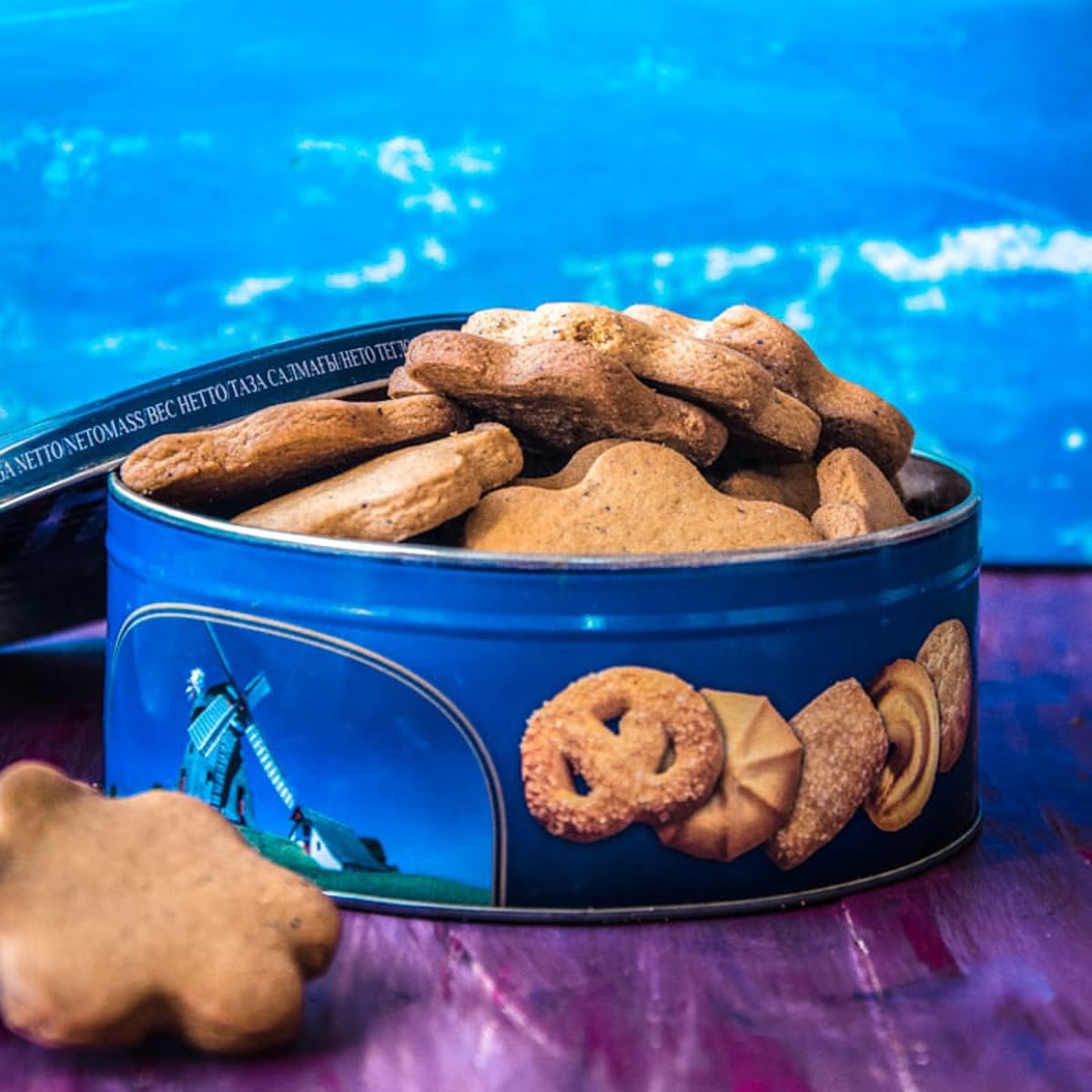 These everyday Atta Biscuits aka Whole Wheat Indian Cookies are popular tea time cookies in India. Easy, eggless, crispy and scented with cardamom.
---
★★★★✰
(Rating:
4.2
from
71
reviews)
---
| Prep time 🕐 | Cook time 🕐 | Total time 🕐 |
| --- | --- | --- |
| | | 30 mins |
| Category ☶ | Cuisine ♨ | Serves ☺ |
| Main | Indian | 25-30 |
| Nutrition Info ⊛ | | Serving size ⊚ |
| 45 calories | | 2 biscuits |
---
INGREDIENTS
For Atta biscuits:
200 g (1 1/2 cups) whole wheat flour (gehun ka atta)
113 g (1/2 cup) salted butter, chilled and cut into pieces (use margarine for vegan version)
43 g (1/3 cup) powdered sugar, or as per taste
1 tablespoon cardamom powder (elaichi powder)
5 tablespoons chilled milk, or as required (use almond milk for vegan version)
1/4 teaspoon baking powder
1/4 teaspoon baking soda
---
INSTRUCTIONS:
Making Atta biscuits:
Preheat the oven to 160°C/325 F. Line a baking tray with parchment paper and keep it aside. In a bowl whisk together atta (whole wheat flour), sugar, baking soda, baking powder, and cardamom powder.




Add chilled butter and mix with fingertips till the mixture resembles breadcrumbs.




Add cold milk to the mixture.




Knead lightly to form a dough. Do not over knead.




Dust some flour on the countertop.




Using a rolling pin roll out the dough to 1/4 inch thickness.




Using a cookie cutter cut out the biscuits.Roll again the remaining dough and cut out the biscuits.




Arrange the biscuits on a prepared baking tray.




Bake them in a preheated oven at 160°C for 20-25 minutes or till they are light brown in color.




Let them cool on a wire rack and cool and store in airtight cookie tins.



---
WATCH VIDEO:
---
NOTES:
No notes for this recipe.
---
If this recipe helped you, then please spread the word by sharing and
subscribing
to us on YouTube to get more such Recipe Videos.
---
Your feedback is so helpful for me and other MyGingerGarlicKitchen readers. So, for Facebook and Instagram, please mention
@MyGingerGarlicKitchen
or
#mygingergarlickitchen
. I would love to see your photos. :)
---
Author:
Anupama
Recipe Source Link:
https://www.mygingergarlickitchen.com/atta-biscuits-whole-wheat-indian-cookies-video-recipe/
Date Published:
2019-10-27
• • • • • • • • • •