Oatmeal Peanut Butter Chocolate Cookies. A cookie which is filled with chocolate chunks, which has oats, peanut butter, and Nutella too. They are a little gooey and messy when they are warm, and crisp when they are cooled.
Today is the day which I was talking about here in my earlier post. Yes, it is Raksha Bandhan today. For those who celebrate it, to them, I would like to wish a very Happy Raksha Bandhan.
As it is a festival celebrated by siblings, I wish I was with my brother and sister today in India. Missing you a lot on this Raksha Bandhan. Sending my wishes from far away. With lots of love and care. We don't always get what we want in life, but I believe in this philosophy of life: You can get everything in life, but not at the same time. Just like Oprah Winfrey once said: "You can have it all. Just not all at once."
So what if I am far away from home, I still can celebrate it, right? I can celebrate it with whatever dessert I like. Afterall, this is a festival, and festivals are never complete without sweet stuff. Is it me talking or the festival taking over me. Or is it because a foodie can always give you an excuse when it comes to eating? Well, it can be any of the above reasons, or maybe all of them! 😉
Even though I am not at the same place as my siblings today, I still wanted to do something which would give me a feeling as if I am with them. That's why I asked my siblings about what they would have wanted me to cook on Rakhi. My brother said: 'Phrini', and my sister said: 'Rasmalai'. And only for today, their wish is my command! 🙂 So my plan for today is that I will make these two very popular Indian desserts 'Phirini' and 'Rasmalai' which my siblings would have wanted me to make for them.
When I was browsing my site, I found out that I haven't shared both of them on my blog yet. Yayyyy! That means two new awesome desserts would be here! What do you say?
And in the morning when I was telling Adoria about this festival, she only listened to the sweet stuff eating part! Anything else I said was just noise in her opinion. 😉
So my today's recipe is something sweet too. So what am I sharing today? Here is a little hint for you. They are peanut buttery, they are chocolatey, and they are oaty too. Any guesses now?
If you have guessed this right, then here's a big hug for you <3 . But if you couldn't guess, then let me help you. They are 'Oatmeal Peanut Butter Chocolate Cookies'. It's because sometimes, you want nothing but just a cookie. Isn't it?
A cookie which is filled with chocolate chunks, which has oats, peanut butter, and Nutella too. They are a little gooey and messy when they are warm, but I love these gooey warm cookies. Little soft, if they are warm, and crisp when they are cooled. I prefer warm cookies along with a glass of milk. Or maybe those warm cookies dipped in milk. For me, anything chocolate is pure deliciousness.
And also because sometimes simple is really what we want. Because simple = pretty awesome.
I made these cookies last week when the weather was gloomy and dark again. That time I wanted to eat cookies and I didn't have any at home. Other reason which motivated me to make these was that I haven't made cookies in a while and baking cookies felt just so right on that day. Anyways, the idea of baking cookies is always so right, because they are super easy, quick and mess free. Also, you guys would be happy to know that these cookies are healthy too because of oats. 🙂
These cookies are also as simple as they can get. One bowl. All ingredients. Mixing. Baking. Done. Then you can eat.
So how about a warm Oatmeal Peanut Butter Chocolate Cookie today? Or maybe two. Or three or more! 🙂
Happy weekend! Bake cookies. And eat cookies. 😀
Oatmeal Peanut Butter Chocolate Cookies (Video Recipe)

[Recipe]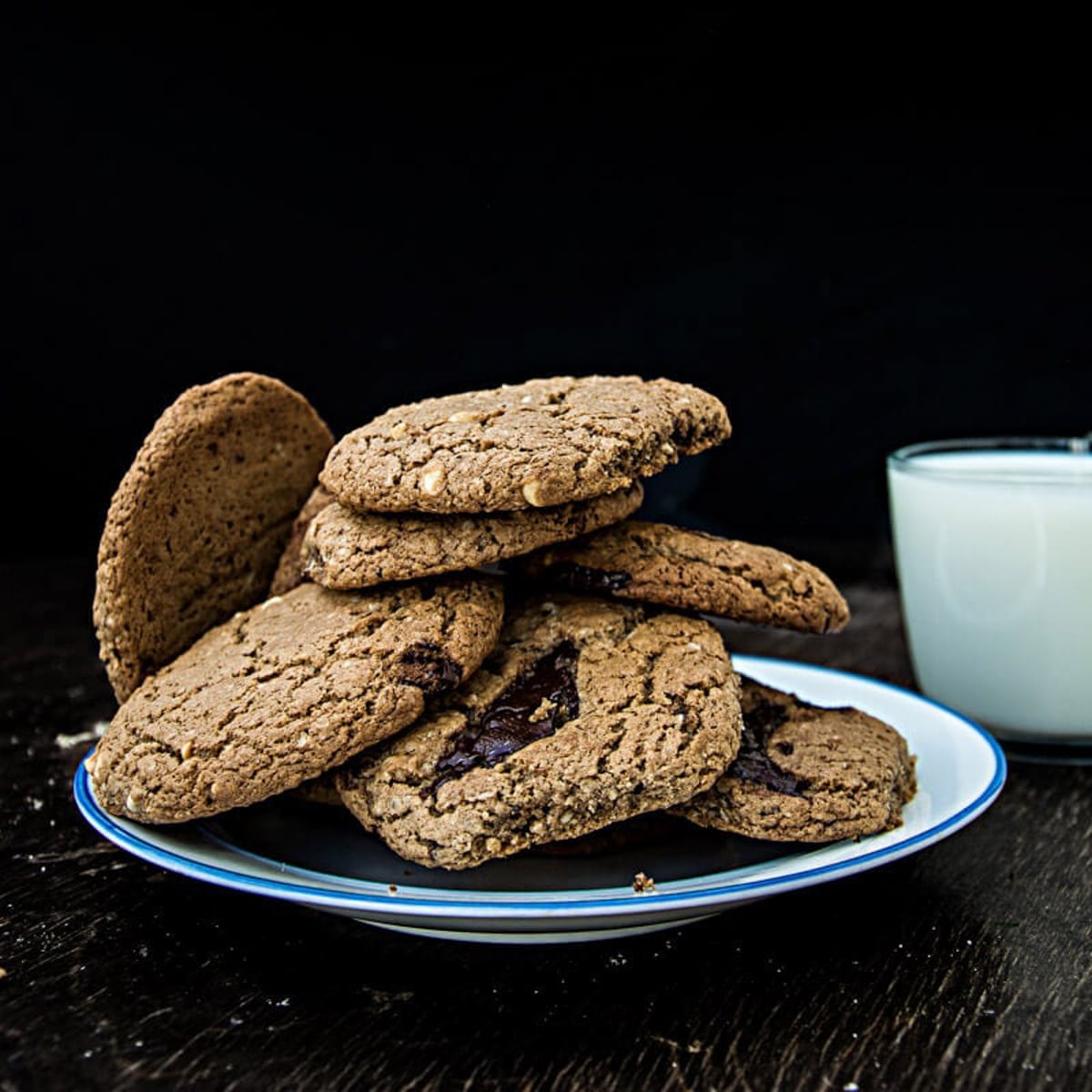 These Cookies are filled with chocolate chunks, which have oats, peanut butter, and Nutella. A little gooey and when they are warm, and crisp when cooled.
---
★★★★✰
(Rating:
4.4
from
33
reviews)
---
| Prep time 🕐 | Cook time 🕐 | Total time 🕐 |
| --- | --- | --- |
| | | 17 mins |
| Category ☶ | Cuisine ♨ | Serves ☺ |
| Breakfast | World | 20 |
| Nutrition Info ⊛ | | Serving size ⊚ |
| 160 calories | | 1 serving |
---
INGREDIENTS
For Oatmeal Peanut Butter Chocolate Cookies
Rolled oats - 100g (3/4 cup) plus 20 grams more
All­-purpose flour - 100 grams (3/4 cup)
Powder sugar - 50 gramas (1/2 cup)
Baking soda - 1 teaspoon
Salt - 1/4 teaspoon
Vegetable oil - 1/2 cup (or use a little more, if dough seems is dry)
Eggs - 2 medium
Vanilla extract - 3 teaspoons
Crunchy peanut butter - 3/4 cup
Dark chocolate chunks - 3/4 cup (I used 84%)
Nutella - 2 tablespoons
---
INSTRUCTIONS:
How to Make Oatmeal Peanut Butter Chocolate Cookies //
Preheat the oven to 175°C/350°F.




Line a baking sheet with a parchment paper.




In a large mixing bowl add the oatmeal, flour, vanilla, sugar, baking soda, salt, vegetable oil, peanut butter, nuttela and eggs.




Beat until the dough is moist and all the ingredients are combined.




Add chocolate chunks and 20g rolled oats and mix well.




The dough should be little crumbly.




Use your hands to divide the dough into lemon sized balls.




Place them on prepared baking sheet.




Bake for 10 -12 minutes or until they are golden.




Allow cookies to cool on baking sheet for 5 minutes before transferring to a wire rack to cool completely.




Let them cool on wiring rack for few more minutes. Enjoy!




You can store them in an air-tight container for up to 5 days.



---
WATCH VIDEO:
---
NOTES:
No notes for this recipe.
---
If this recipe helped you, then please spread the word by sharing and
subscribing
to us on YouTube to get more such Recipe Videos.
---
Your feedback is so helpful for me and other MyGingerGarlicKitchen readers. So, for Facebook and Instagram, please mention
@MyGingerGarlicKitchen
or
#mygingergarlickitchen
. I would love to see your photos. :)
---
Author:
Anupama
Recipe Source Link:
https://www.mygingergarlickitchen.com/oatmeal-peanut-butter-chocolate-cookies-video-recipe/
Date Published:
2019-10-08
• • • • • • • • • •