Learn to make No-Bake Oats and Chia Energy Balls Recipe — Energy Bites with step by step video tutorial. These balls are loaded with oats, shredded coconut, chia seeds, vanilla, honey, peanut butter, white chocolate, dark chocolate, and flax seeds. In other words, you can call these balls a healthy, protein-packed breakfast or snack.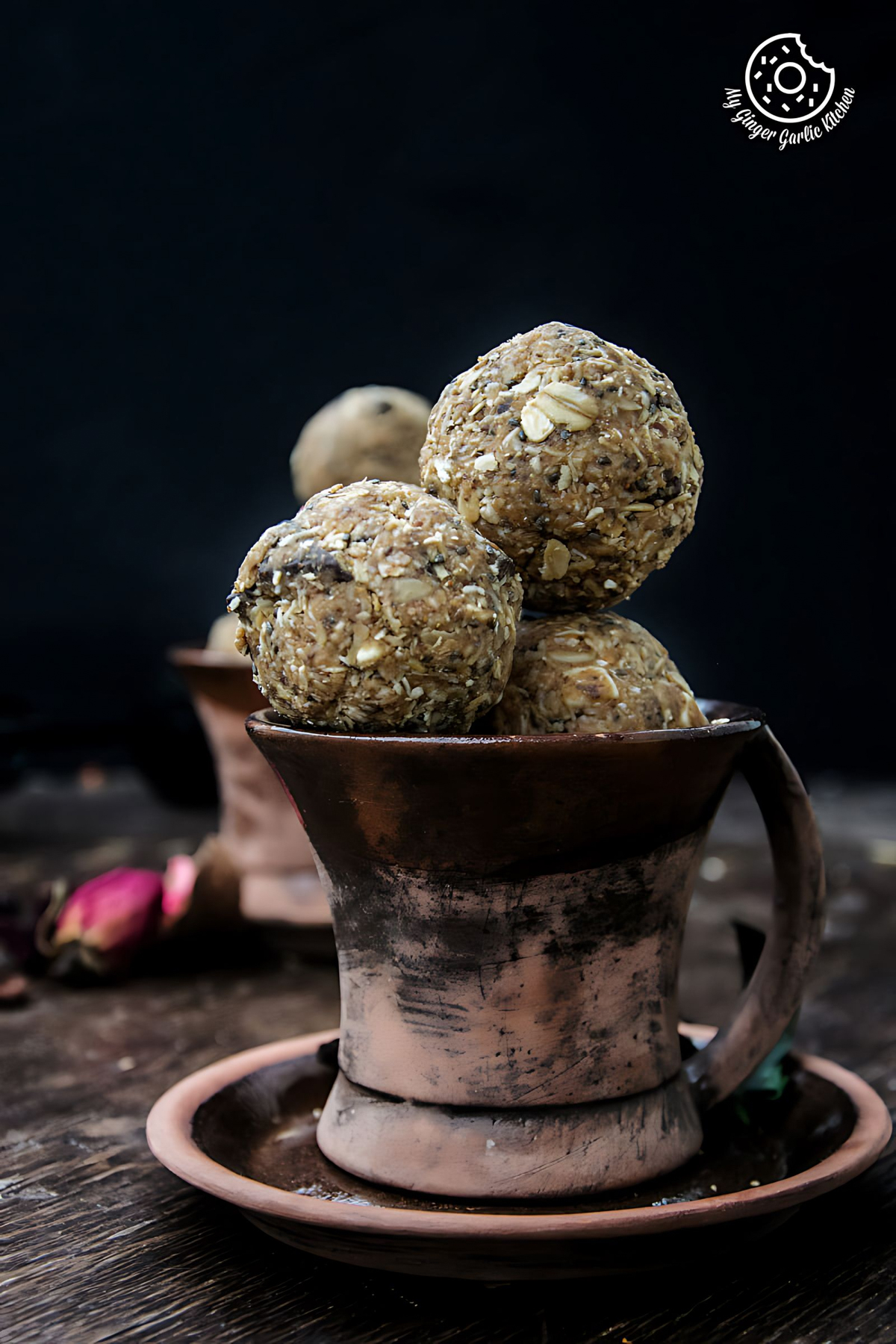 BIG BANG: Beginning of my Mommyverse:
When I was little, my mom was my only universe. So, that was my Mommyverse. And like our universe, my mommy was also born. That is why today is a little special for me, as this is my Mom's birthday today. And I have something today which she loves. She is far away in India, but I still wanted to celebrate her birthday, so I asked her about what she wants me to make towards the celebration of her Birthday. She said, "Nariyal Burfi (Indian Coconut Fudge)".
I know she loves anything coconutty, so Coconut Fudge it is today. So I made it and sent her pictures. She got very happy to see that! 🙂 Sometimes happiness is nothing more than making a little effort for someone you love. And that smile on their faces makes us happy too. Isn't it? I will share the Coconut Fudge recipe soon.
Related: 3-Ingredients No-Bake Gingerbread Truffles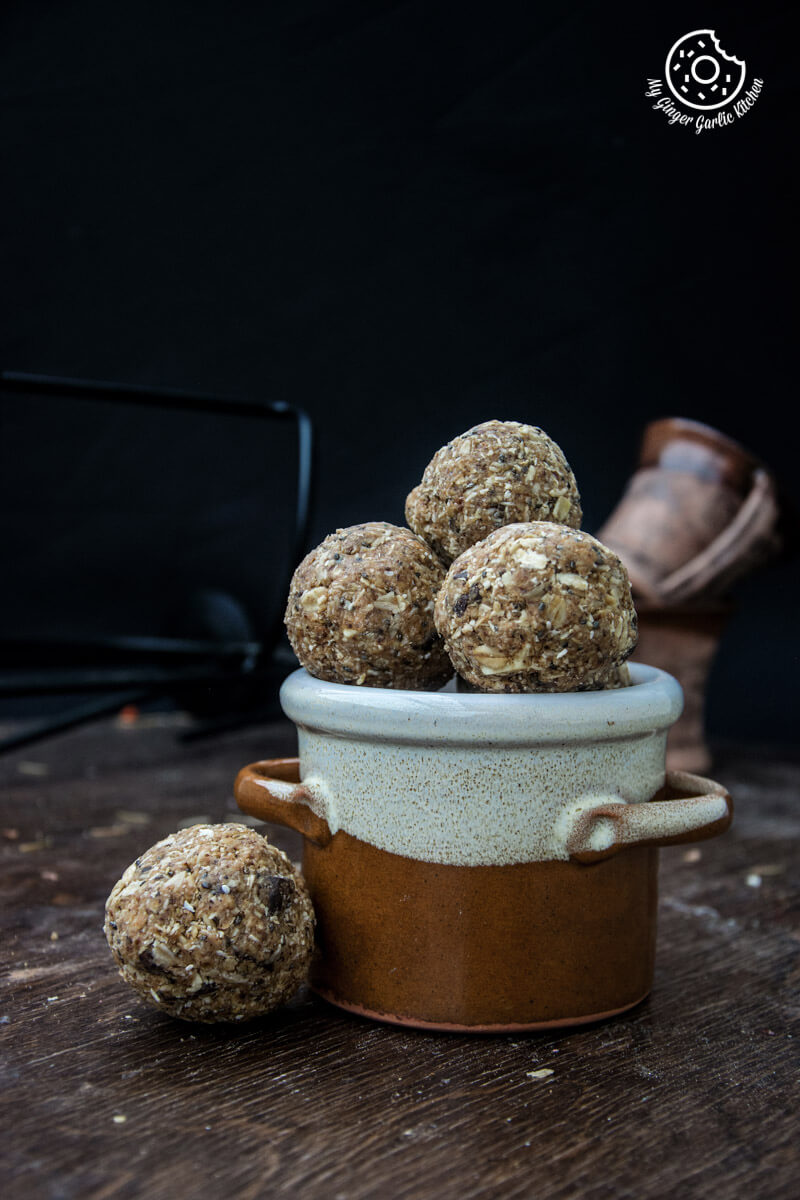 Healthy goodness:
I have something really good today to share with you. It's a mix of oats, chia seeds, and coconut rolled into balls for a healthy, energy-boosting snack. What could be a better way to pack some real good power and vigor which can carry you through a hectic morning than these — no-bake energy balls. They are full of oats and chia and some more good things.
Related: No Bake Strawberry Cheesecake Bites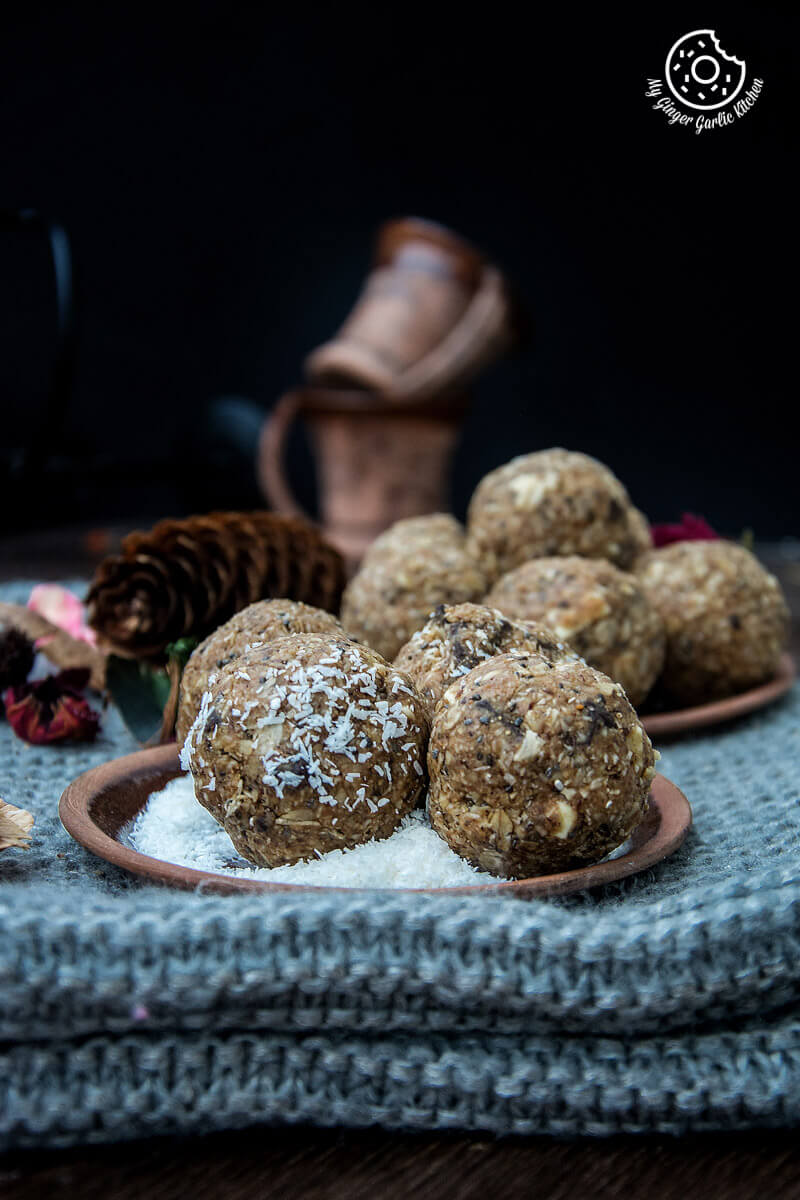 Energy boosters:
These balls are very easy and simple to make. Also, they are so full of health and energy boosting ingredients. Your little ones and you would surely love to eat these. The good thing is that they will satisfy your sweet cravings too. One ball for breakfast and you are all set for the day. I am telling you from my personal experience that whenever I have one of these balls and a cup of coffee, I don't crave for carbs so much.

Related: No Bake Almond Flowers

Forget those quick protein-bars in stores:
These days we see tons of protein bars in stores, and they are usually expensive. So, being a foodie, I have been thinking about its replacement for a long time. Just a little bit of digging on the internet, and I got the idea of making my own taste-specific energy-rich balls.
Related: No-Bake Cream Cheese Lemon Mousse
They are pretty good right after your workout:
Even though I am usually not much into energy bites as I am not a very physical person who exercises a lot. So I usually feel somewhat heavy after eating energy bites. But for the past few days, I have been feeling a little heavier after having lots of sinful delicacies during holidays. So I started off this new year with some running, and now I can tell that I am seriously enjoying these balls. They provide me with an instant energy boost.
Related: No-Bake Zebra Cheesecake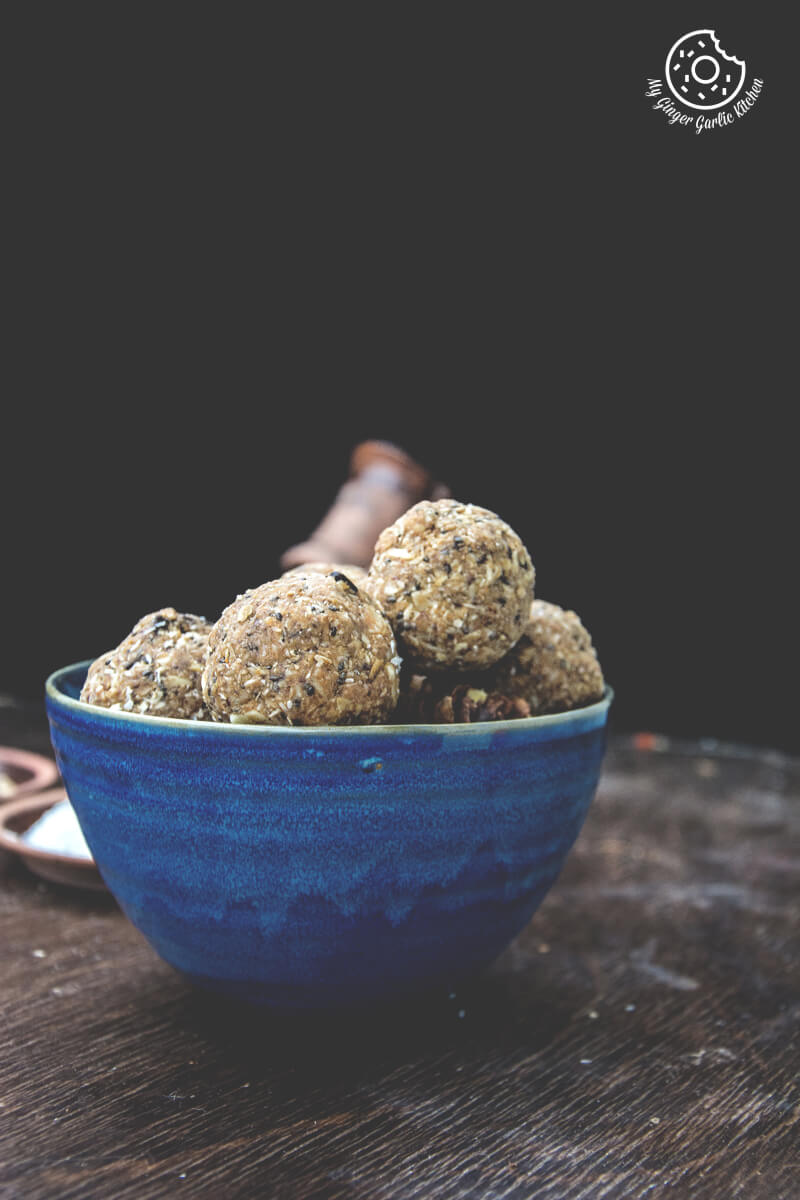 Have them for breakfast, snack or even dessert:
I made a big batch of these little guys last week, and now Adoria and I are having them as breakfast, a quick snack, and also as a sweet dessert. Yeah, these balls could easily pass as a dessert for sweet-toothed. To me, they taste more like a dessert, so I can live on them for as I love desserts. Not to mention that my last batch lasted less than 48 hours. 😉 I am in love with these. 🙂 Because I have added double chocolate. Double chocolate = double YUM for me.
To make these No-bake energy balls, you just need to stir all the ingredients together until they are combined well. Then refrigerate, shape, and refrigerate again.

Related: No-Bake Mini Strawberry Nutella Cheesecake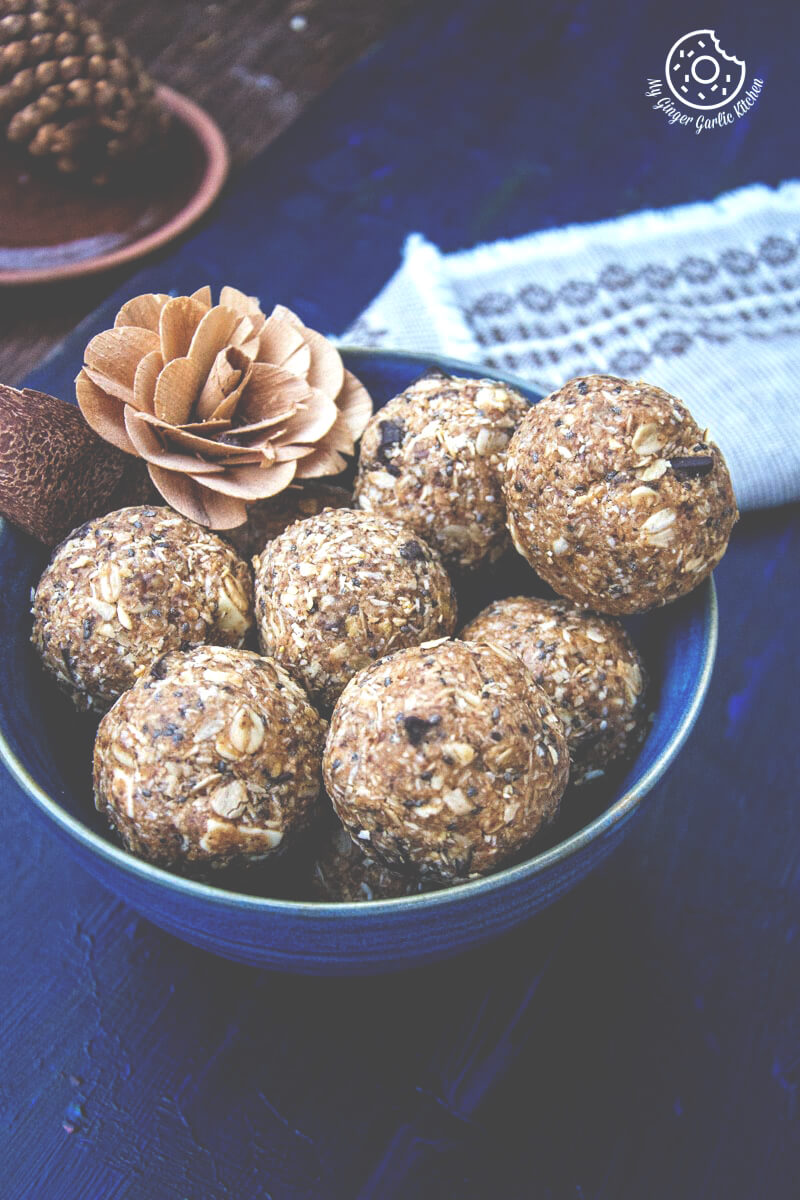 This recipe requires these healthy ingredients:
*Rolled Oats = Boost Your Strength Energy
*Shredded Coconut – Easy To Digest
*Chia Seeds – Full Of Fiber
*Vanilla Extract – Flavor
*Honey – Sweetener & Healer
*Peanut Butter – Good Fat
*White Chocolate – Reduction In LDL (Bad) Cholesterol
*Dark Chocolate – Full Of Antioxidants
*Ground Flax Seeds – Weight Loss
You can keep them in the refrigerator for up to one week.
No-Bake Oats and Chia Energy Balls (Video)

[Recipe]
These No-Bake Energy Balls are loaded with oats, shredded coconut, chia seeds, vanilla, honey, peanut butter, white chocolate, dark chocolate, and flax seeds.
---
★★★★✰
(Rating:
4.3
from
81
reviews)
---
| Prep time 🕐 | Cook time 🕐 | Total time 🕐 |
| --- | --- | --- |
| | | 15 mins |
| Category ☶ | Cuisine ♨ | Serves ☺ |
| Snacks | World | 20 |
| Nutrition Info ⊛ | | Serving size ⊚ |
| 204 calories | | 1 serving |
---
INGREDIENTS
For No-Bake Oats and Chia Energy Balls
1 cup rolled oats
1 cup desiccated coconut (unsweetened)
1/2 cup ground flax seed
4 tablespoons chia seeds
100 g dark chocolate chopped
100 g white chocolate chopped
1/4 cup peanut butter
1/4 cup honey or maple syrup (for vegan version)
1 teaspoon vanilla extract, (optional)
---
INSTRUCTIONS:
How to Make No-Bake Oats and Chia Energy Balls//
Combine oats, desiccated coconut, ground flax seed, chia seeds, dark chocolate, white chocolate, peanut butter, honey, and vanilla extract together in a large bowl.




Cover and chill dough in the refrigerator 30-40 minutes.




Remove dough from refrigerator and roll into about 1-inch diameter balls.




Store them in the fridge, and eat whenever you need a quick energy boost.



---
WATCH VIDEO:
---
NOTES:
You can refrigerate them for up to 1 week.

You can also roll these balls in desiccated coconut.
---
If this recipe helped you, then please spread the word by sharing and
subscribing
to us on YouTube to get more such Recipe Videos.
---
Your feedback is so helpful for me and other MyGingerGarlicKitchen readers. So, for Facebook and Instagram, please mention
@MyGingerGarlicKitchen
or
#mygingergarlickitchen
. I would love to see your photos. :)
---
Author:
Anupama
Recipe Source Link:
https://www.mygingergarlickitchen.com/no-bake-oats-and-chia-energy-balls-video-recipe/
Date Published:
2019-10-18
• • • • • • • • • •