No-Bake Oats and Chia Energy Balls (Video)
These No-Bake Energy Balls are loaded with oats, shredded coconut, chia seeds, vanilla, honey, peanut butter, white chocolate, dark chocolate, and flax seeds.
---
« Go back
Print this recipe »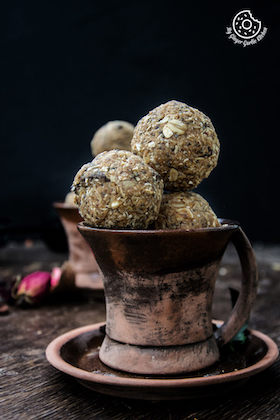 ---
Prep Time = 5 minutes
Cook Time = 10 minutes
Total Time = 15 minutes
Category = Snacks
Cuisine = World
Serves = 20
Nutrition Info = 204 calories
Serving Size = 1 serving
---
RECIPE INGREDIENTS
» For No-Bake Oats and Chia Energy Balls
1 cup rolled oats
1 cup desiccated coconut (unsweetened)
1/2 cup ground flax seed
4 tablespoons chia seeds
100 g dark chocolate chopped
100 g white chocolate chopped
1/4 cup peanut butter
1/4 cup honey or maple syrup (for vegan version)
1 teaspoon vanilla extract, (optional)
---
RECIPE INSTRUCTIONS
» How to Make No-Bake Oats and Chia Energy Balls//
Combine oats, desiccated coconut, ground flax seed, chia seeds, dark chocolate, white chocolate, peanut butter, honey, and vanilla extract together in a large bowl.
Cover and chill dough in the refrigerator 30-40 minutes.
Remove dough from refrigerator and roll into about 1-inch diameter balls.
Store them in the fridge, and eat whenever you need a quick energy boost.
---
RECIPE NOTES
You can refrigerate them for up to 1 week.
You can also roll these balls in desiccated coconut.
---