Instant Oats Rava Dhokla | Oats Suji Ka Dhokla is a savory steamed cake recipe which is suitable for breakfast, brunch or teatime snack. It is a tempting, soft, and spongy healthy and filler dish made with oats and rava or suji. It includes quick cooking with very little oil, and at the same time, it's quite easy to make.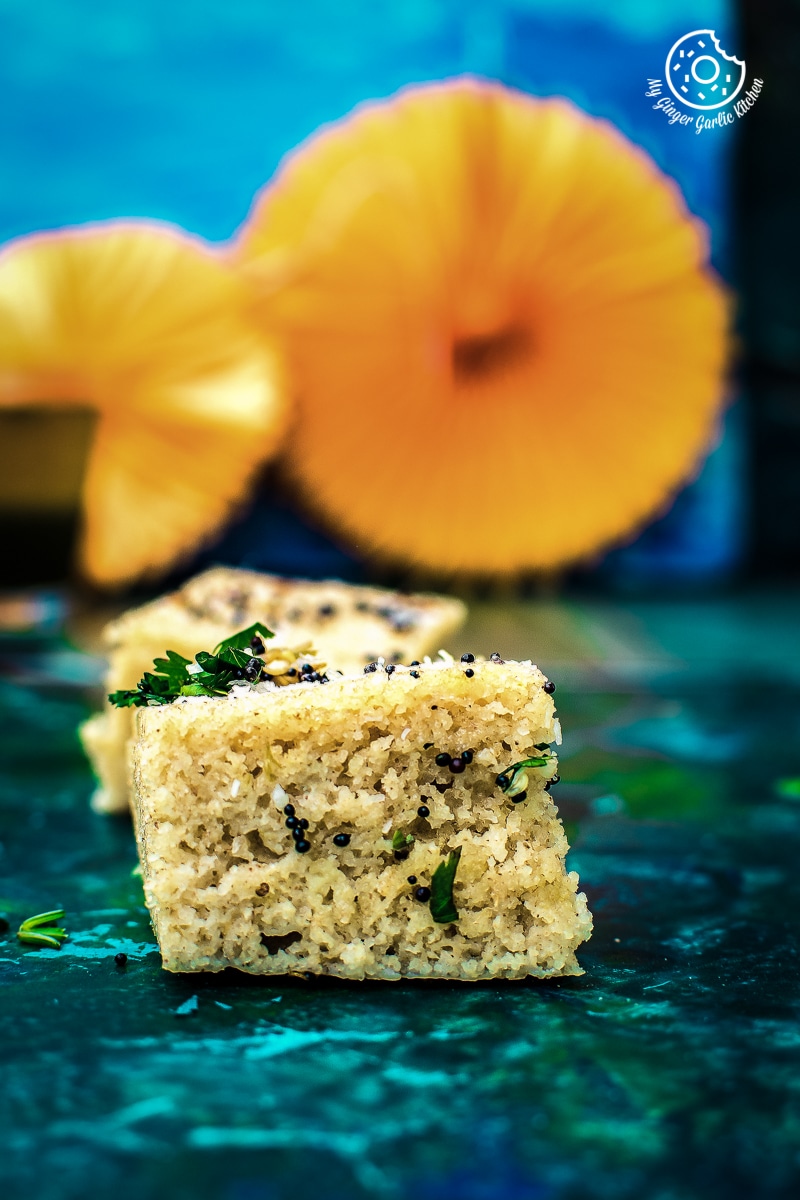 Hello hello,
"Sunshine is delicious, rain is refreshing, wind braces us up, snow is exhilarating; there is really no such thing as bad weather, only different kinds of good weather." – John Ruskin
You know what, I am certainly one of those people whose communication either starts with climate. There would be something about the weather in my talks. It's because I find the weather here so magical and mesmerizing.
I talk about the weather even when I talk to my Mom which is quite often. And my initial question to her has been eternally like this: "How's the weather there?" And surprisingly, she always tells me everything in details and after her answer, she continues the conversation with the same question. "How's the weather there?" And then I tell her about it and then we move on to our regular woman-talk. 🙂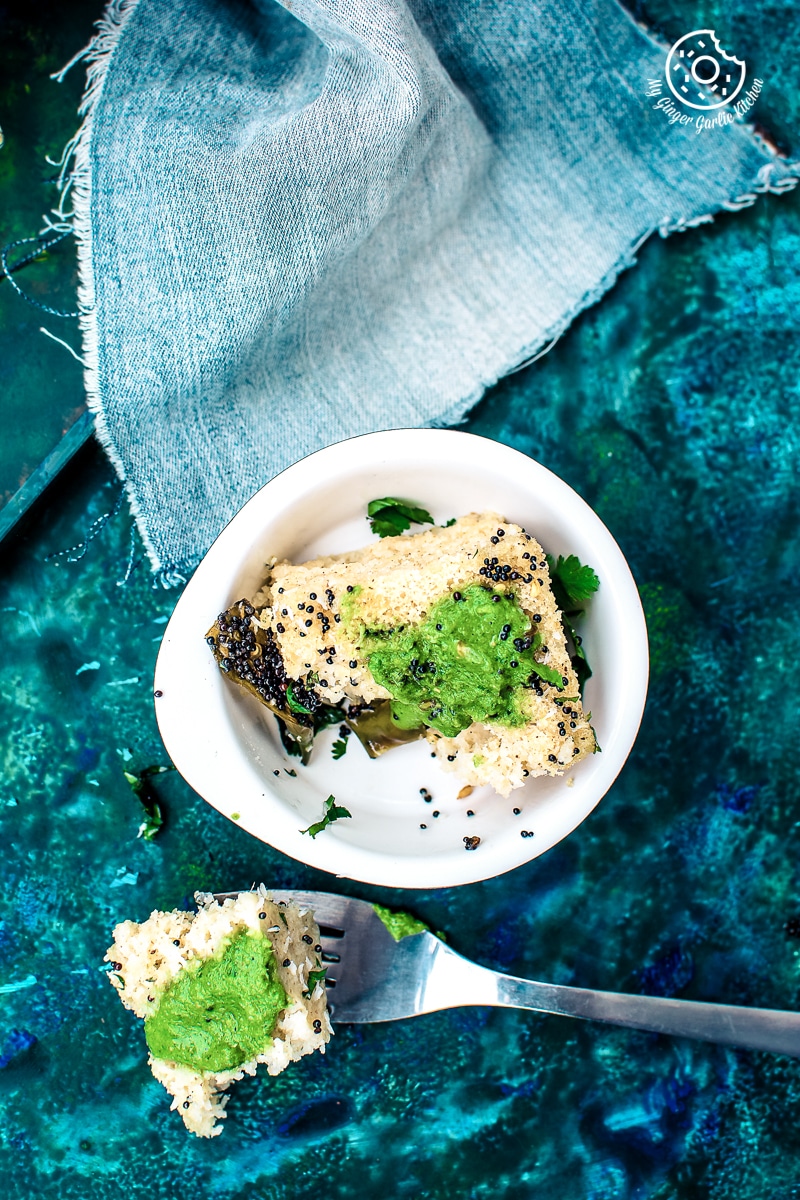 So, guys, the point of mentioning this to you was that I wanted to ask you, "How's the weather in your part of the world?" 🙂 I know you guys would undoubtedly let me know in the comments, and I also know that you would ask me the same. So before you ask, I will tell it to you anyway. 🙂
Climate was pretty good during the last two days — sunny and little warm. It was so warm yesterday that little 'A' even asked if we could go for a beach picnic, and I said yes to her for the picnic today, without checking the weather forecast. My bad, now she wouldn't stop nagging, and I would have to answer her 100s of times, and she won't stop asking 'why' every single time. And to make it up, I would have to bribe her with something she likes.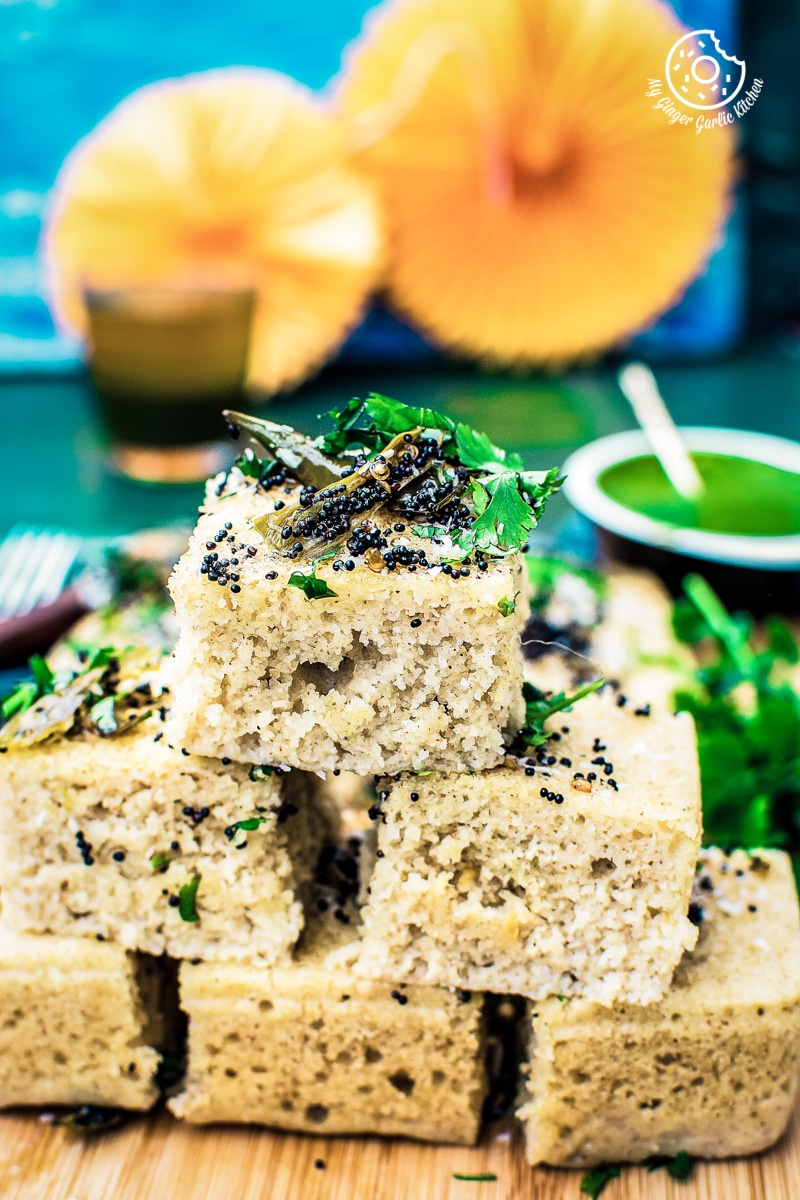 But hey, I was talking about the weather. Right? So, now it's cold, dark and rainy again, pretty close to 10°C, and it's gonna be like this today and tomorrow. Because it's cold, so I really wanted something healthy and warm for breakfast. Thus I decided to end up with this healthy, warm and delicious oats in the form of Dhokla.
What is Dhokla?
Dhokla is a breakfast dish which originated from the Indian state of Gujarat. If you are aware of Dhokla then you might have tried different varieties of dhoklas. There are many different versions of Dhokla and this oats dhokla is a healthified version of Rava Dhokla aka Suji Ka Dhokla.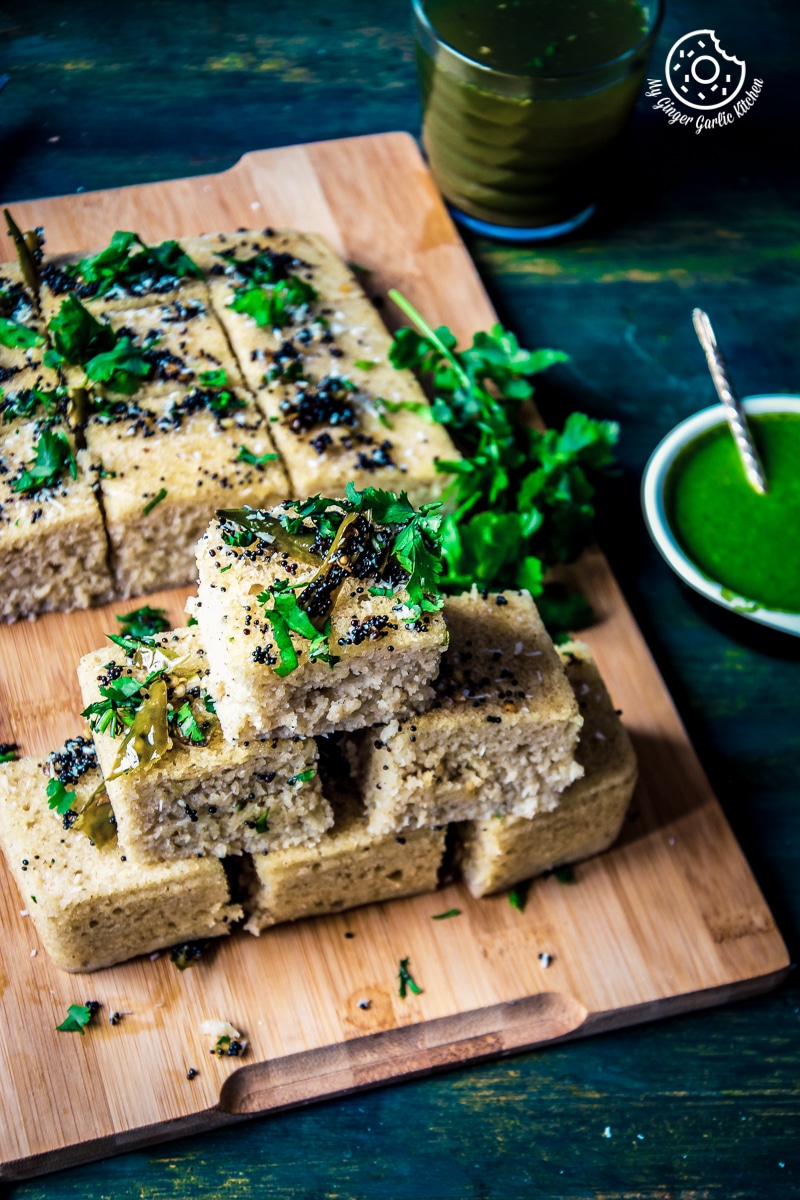 Love oats?
Do you love eating oats for breakfast? Tired of eating regular oat smoothies or porridge? Then this oats rava dhokla recipe is surely calling your name.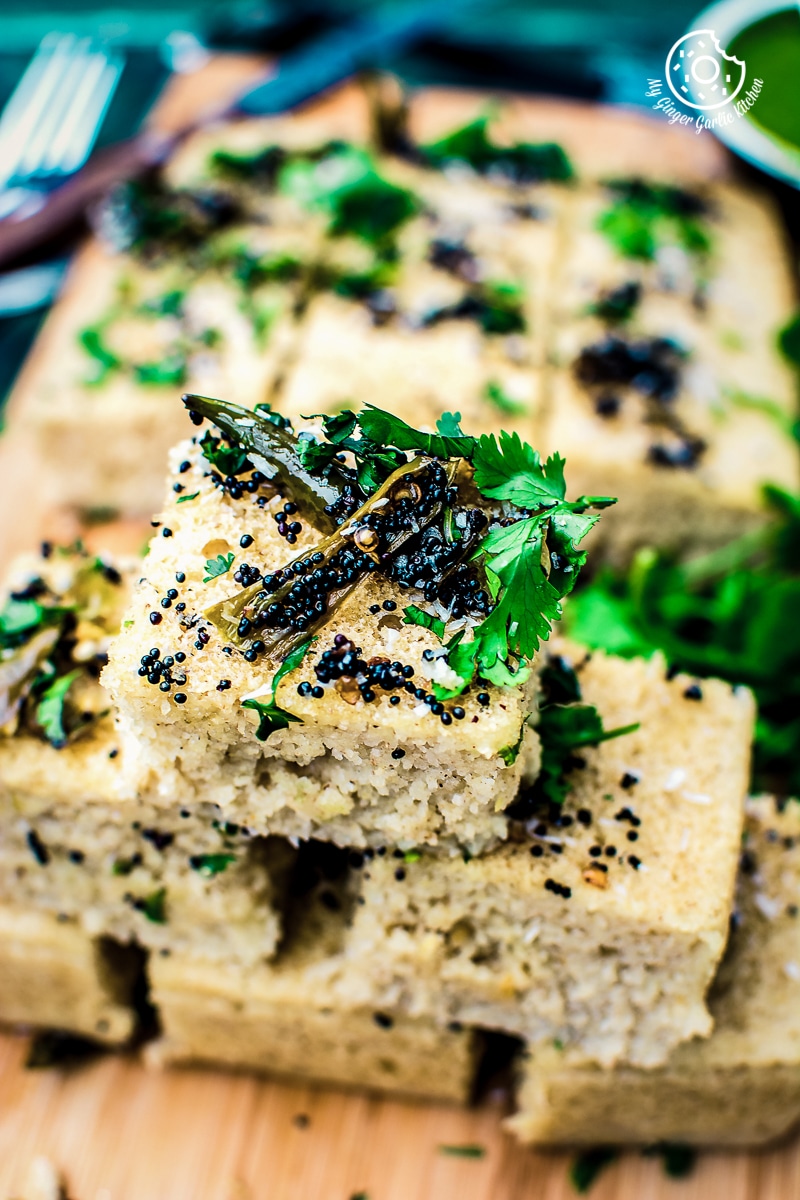 Is oats rava dhokla healhty?
Oats Rava Dhokla is absolutely healthy. We all know that oats are one of the best ingredients when it comes to overall health. But there are some of us who don't like oats at all. If you know someone who doesn't like oats, then serve this 'oats rava dhokla' to them without telling that there are oats in this dish. They won't be able to figure out that this Dhokla has oats. I have personally tried it, it works. 🙂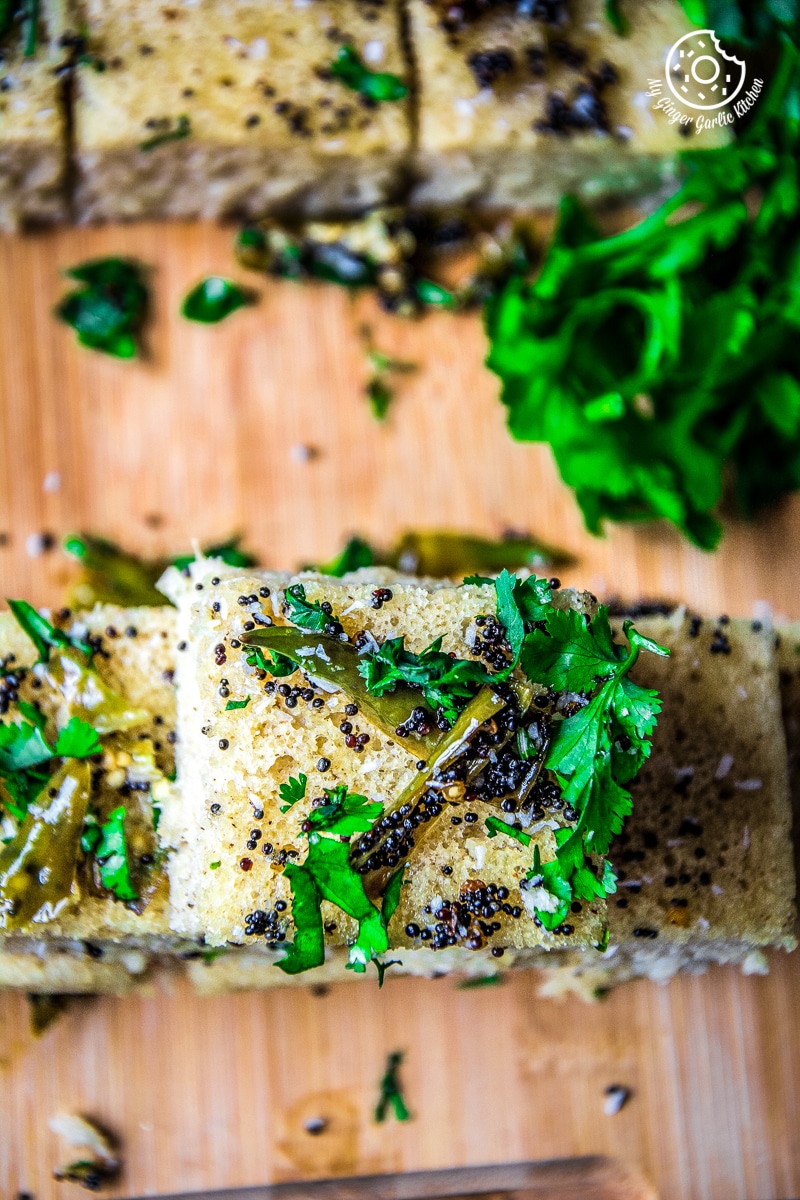 What is Instant Oats Dhokla Recipe?
This recipe makes an instant dhokla which doesn't require any soaking. The use of baking soda or 'Eno' fruit salt does everything to make them rise quickly. Hence you can make these soft and fluffy dhoklas in no time.
This soft and spongy oat Dhokla is cooked with quick oats, semolina, yogurt, and seasoned with green chili and mustard tempering. This is a healthy, fibery, nutritious, and low-calorie food, which is very light on the stomach as well.
How do you serve Oats Rava Dhokla?
Oats Rava Dhokla recipe is best served with green chutney or coconut chutney, but you can have these with any ketchup of your choice. A hot cup of hot Masala Chai and these dhoklas are the best friends.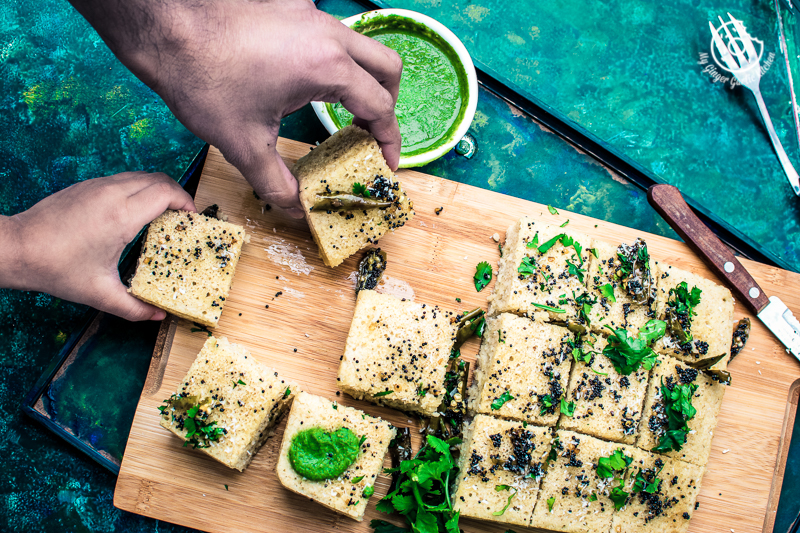 You may also like these other Dhokla recipes.
Gujarati Khaman Dhokla Recipe in 2 Styles
Instant Rava Dhokla - Steamed Semolina Snack
Instant Oats Rava Dhokla Recipe - Oats Suji Ka Dhokla

[Recipe]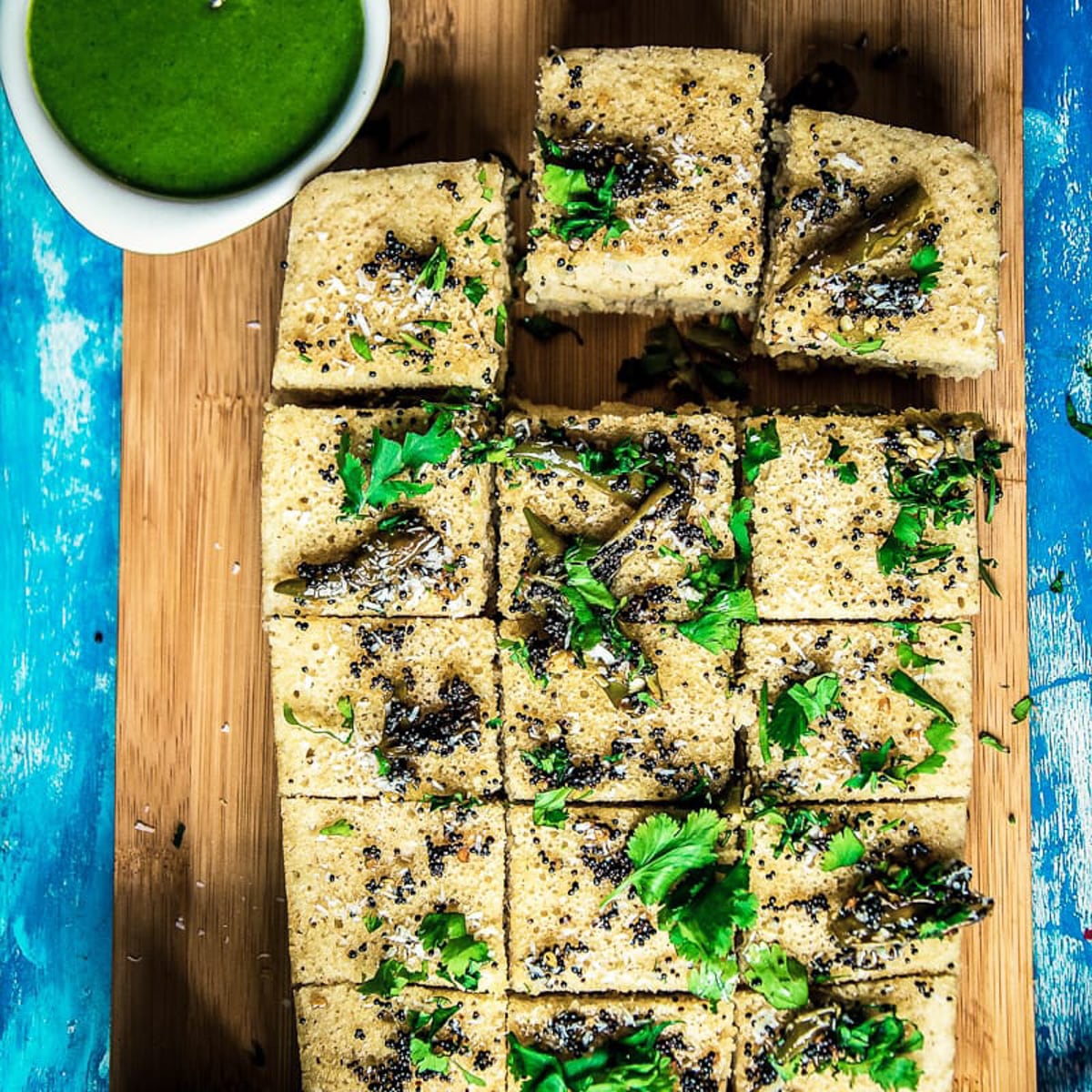 Oats Suji Ka Dhokla is a savory steamed cake recipe that is suitable for breakfast, or teatime snack. It is a healthy and filler dish made with oats and rava.
---
★★★★✰
(Rating:
4.3
from
62
reviews)
---
| Prep time 🕐 | Cook time 🕐 | Total time 🕐 |
| --- | --- | --- |
| | | 30 mins |
| Category ☶ | Cuisine ♨ | Serves ☺ |
| Snack | Indian | 6 |
| Nutrition Info ⊛ | | Serving size ⊚ |
| 189 calories | | 1 serving |
---
INGREDIENTS
For Dhokla:
1.5 cups quick-cooking or rolled oats (this would make 3/4 cup oats flour)
1 cup semolina (rava / sooji)
3/4 cup low-fat or fat-free plain yogurt (dahi)
2 teaspoons grated ginger
Salt to taste
3/4 teaspoons baking powder or Eno fruit salt
2 + 2 teaspoons lemon juice
For Tempering/Tadka:
2 tablespoons cooking oil
1 tablespoon mustard seeds (rai)
5-6 green chilies, slit
For Serving:
Freshly grated or desiccated coconut
Cilantro (coriander) leaves, chopped
---
INSTRUCTIONS:
Making Oats Rava Dhokla Batter:
Dry roast oats for 5 minutes.




Transfer them to a bowl, and let them cool completely.




Grind into a fine powder. Oats flour is ready.




Combine the oats flour, semolina, yogurt, ginger, lemon juice and mix well.




Add water and mix again to make a smooth paste.




Set it aside for 10 minutes.




Add salt and mix well. Add more water if needed, we need a batter of dropping consistency.



Steaming Oats Rava Dhokla:
Boil water in a large pot/pan or a steamer. If you are steaming in a pot/pan then put a stand on it as shown in the video.




Add the fruit salt/baking soda and 2 teaspoons lemon juice to the batter just before steaming and mix lightly until the batter is light and fluffy.




Brush a thali or a container (heat-safe container) with oil.




Pour the batter immediately into the prepared thali or container and tap it to spread the batter in an even layer. (Fill the container 3/8, as we do for cake baking.)




Arrange the container in the boiling water. - Cover the pan with the lid, and steam for 12-15 minutes or till the dhoklas are cooked.




Insert a toothpick to check if Dhaka is cooked if it comes out clean then dhokla is ready. If not, steam for a few more minutes. Keep it aside.



Making Tempering:
Heat the oil in a small non-stick pan and add the mustard seeds.




When the seeds crackle, add the green chilies, and sauté on medium heat for 2-3 minutes. Remove Tempering from the heat.



Serving Oats Dhokla:
Pour the hot tempering over the prepared dhokla and spread it evenly.




Garnish with desiccated coconut and coriander.




Cut into pieces and serve immediately with Green Chutney, Red chutney, or Coconut Chutney.

---
WATCH VIDEO:
---
NOTES:
No notes for this recipe.
---
If this recipe helped you, then please spread the word by sharing and
subscribing
to us on YouTube to get more such Recipe Videos.
---
Your feedback is so helpful for me and other MyGingerGarlicKitchen readers. So, for Facebook and Instagram, please mention
@MyGingerGarlicKitchen
or
#mygingergarlickitchen
. I would love to see your photos. :)
---
Author:
Anupama
Recipe Source Link:
https://www.mygingergarlickitchen.com/instant-oats-rava-dhokla-oats-suji-ka-dhokla-video-recipe/
Date Published:
2019-10-09
• • • • • • • • • •