Chocolate Cheesecake | Video Recipe
---
Chocolate cheesecakes are best for this festive season. So for this chocolate cheesecake, I can say one thing — Season no bar, only chocolate is the limit! Chocolate in, chocolate out = Deliciousness. 🙂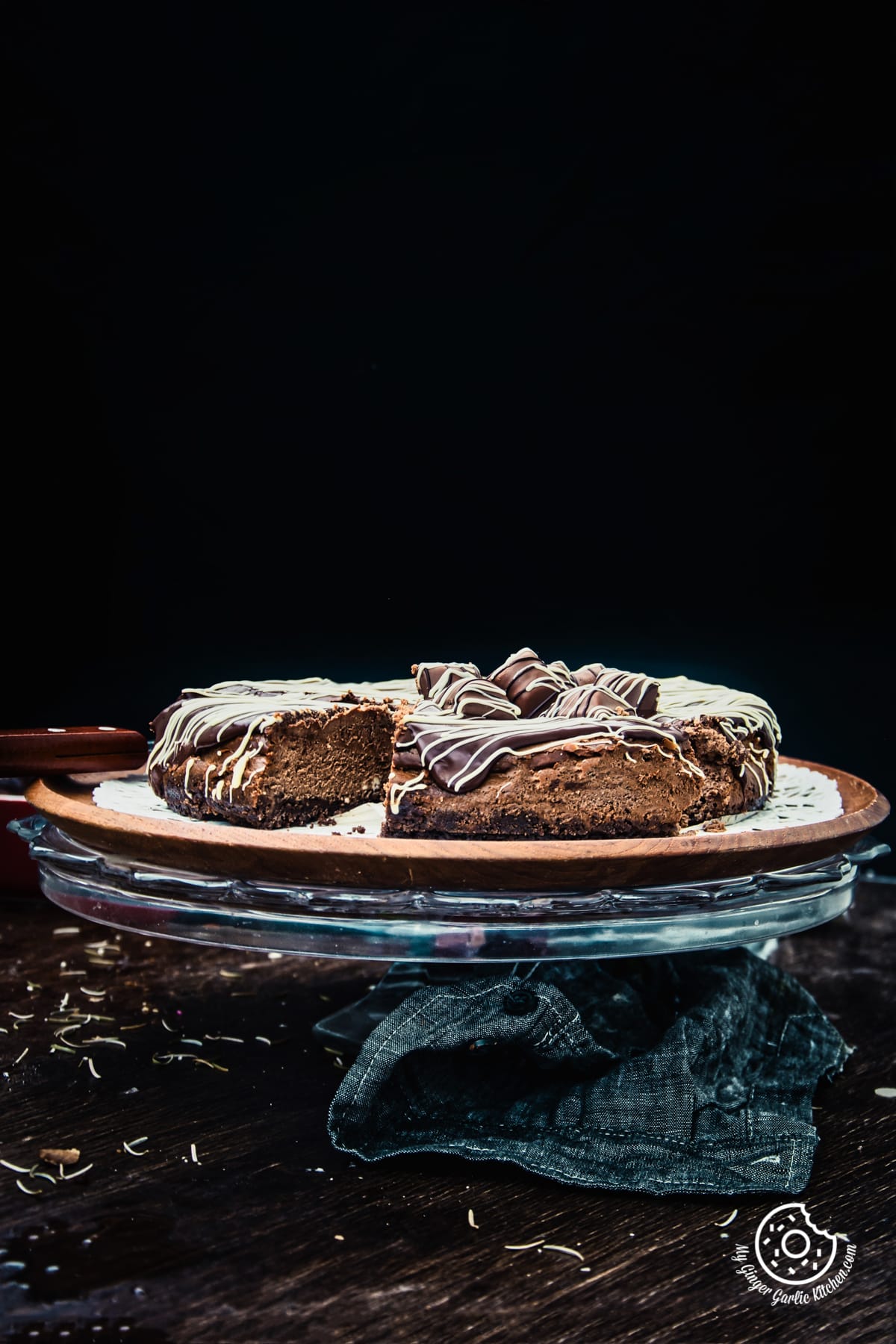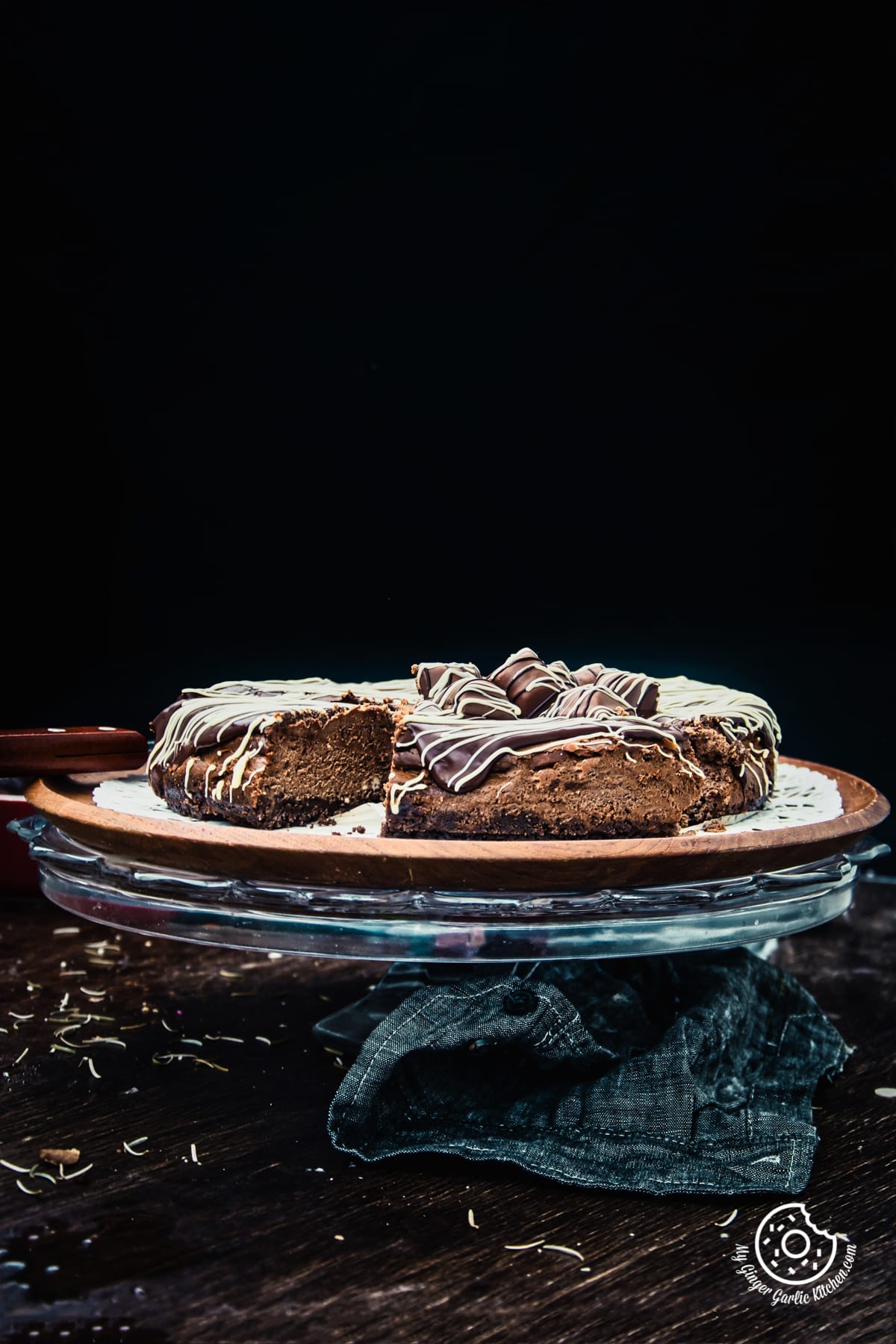 Holiday season is finally here. And that means happy times are here again. I mean cake season is here again.
Chocolates and cheesecakes are best for this festive season, or I should rather say, they are the BEST in any season. By any season, I mean:
Any season when you crave something sweet.

Any season when you want something sinfully delish.

Any season when you throw dinner parties.

Any season when you want to sit by the fire and watch a Christmas movie along with some delicate chocolate dessert.

Any season when you just want to sit on a couch and have something chocolicious.
This chocolate cheesecake fits in all of the above mentioned seasons.
So for this chocolate cheesecake, I can say one thing — Season no bar, only chocolate is the limit! 🙂
Time to keep the customs alive:
During Christmas times, my mom always baked or bought a chocolate cake instead of a spiced Christmas cake. It was because I just loved chocolate cake. So till this time, I try to keep that 'mini me' alive and bake some chocolate cake every year around Christmas.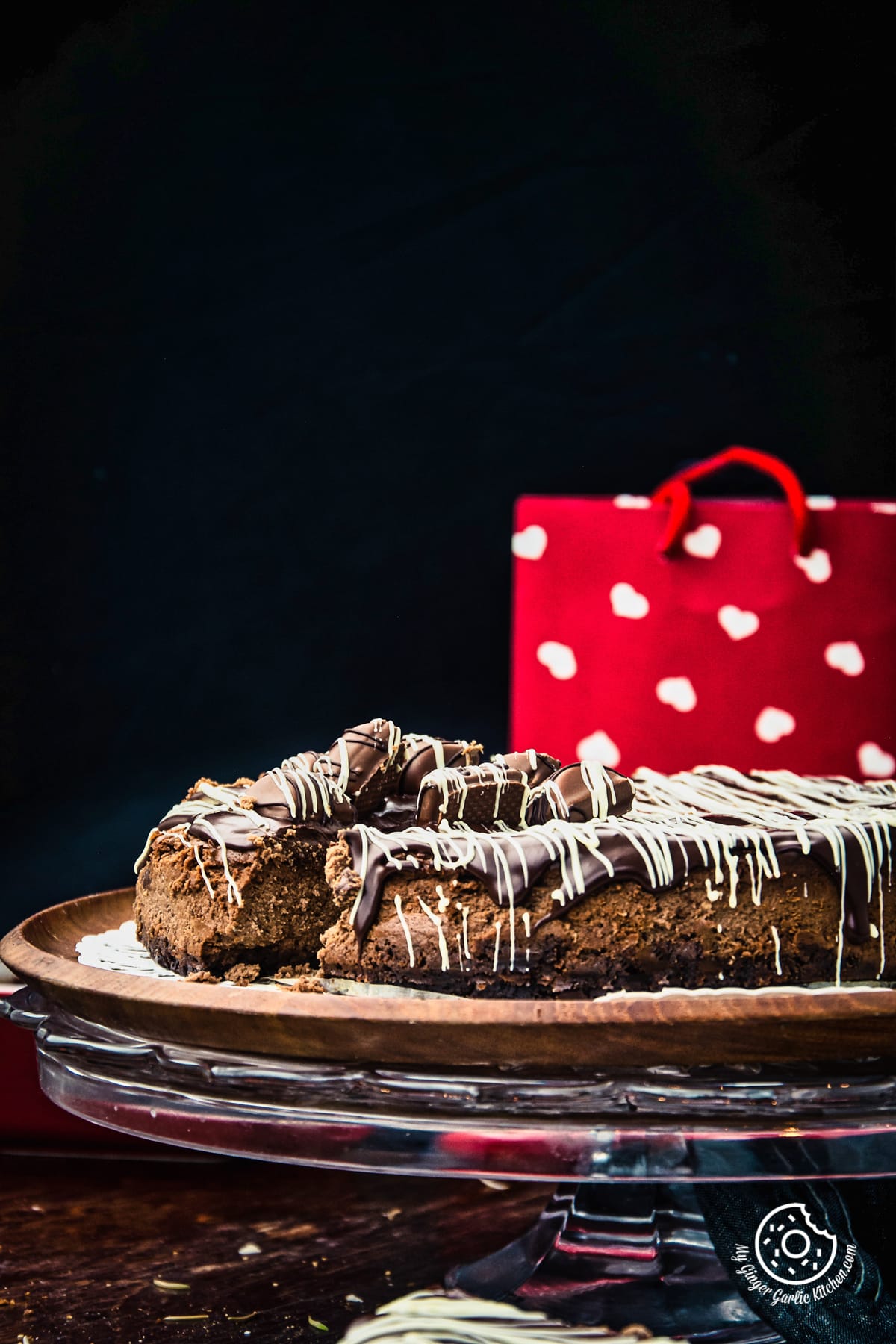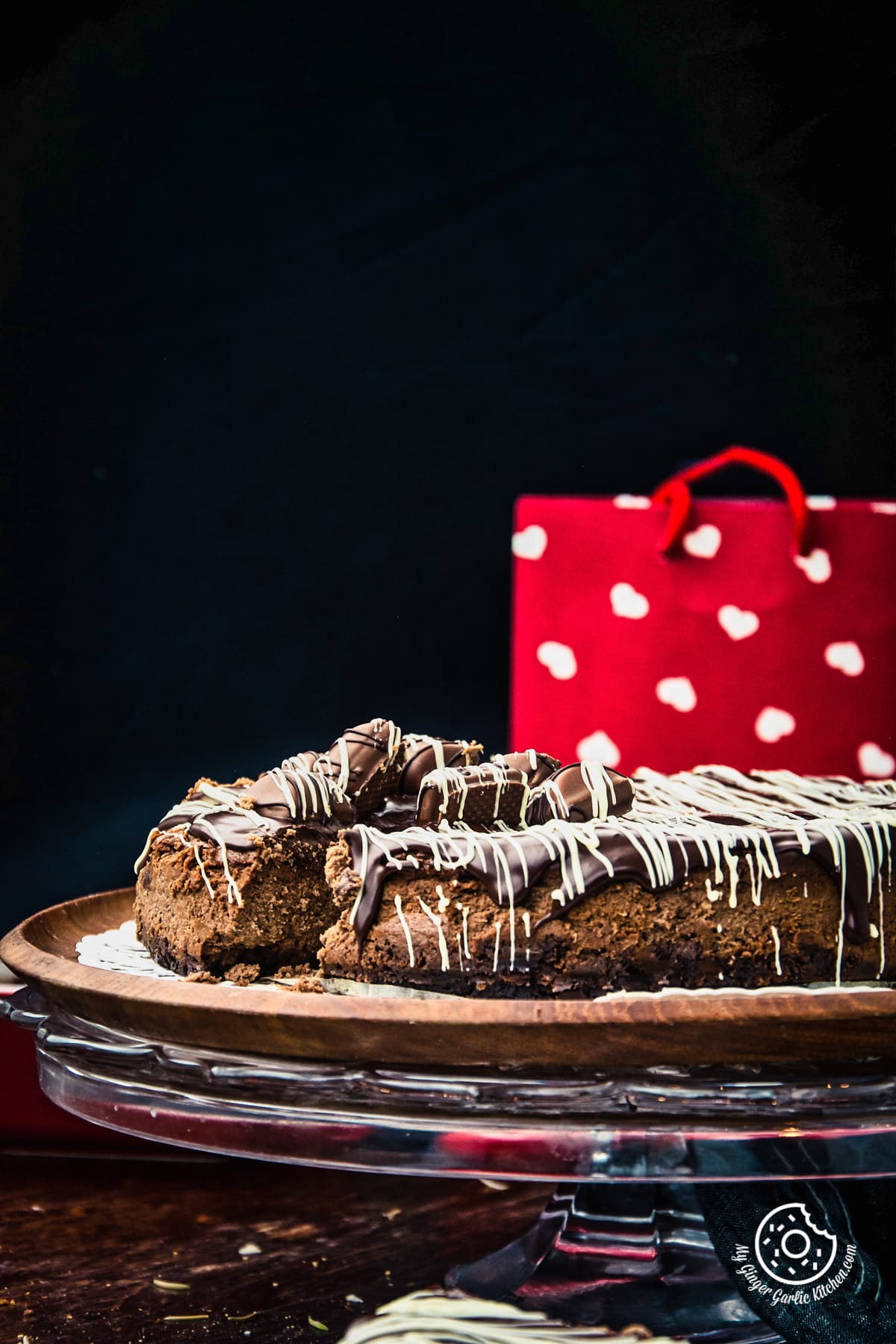 Chocolate Cakes are always sinful: But that's all we want in a chocolate cake. Right? Chocolate cake should/cannot be guilt-free. Feel free to dive into this ocean of chocolate decadence. I would never tell you to finish a whole chocolate cheesecake in a day. NEVER. Share it with family and friends and enjoy this delicacy with everyone. That sounds just the right way to indulge.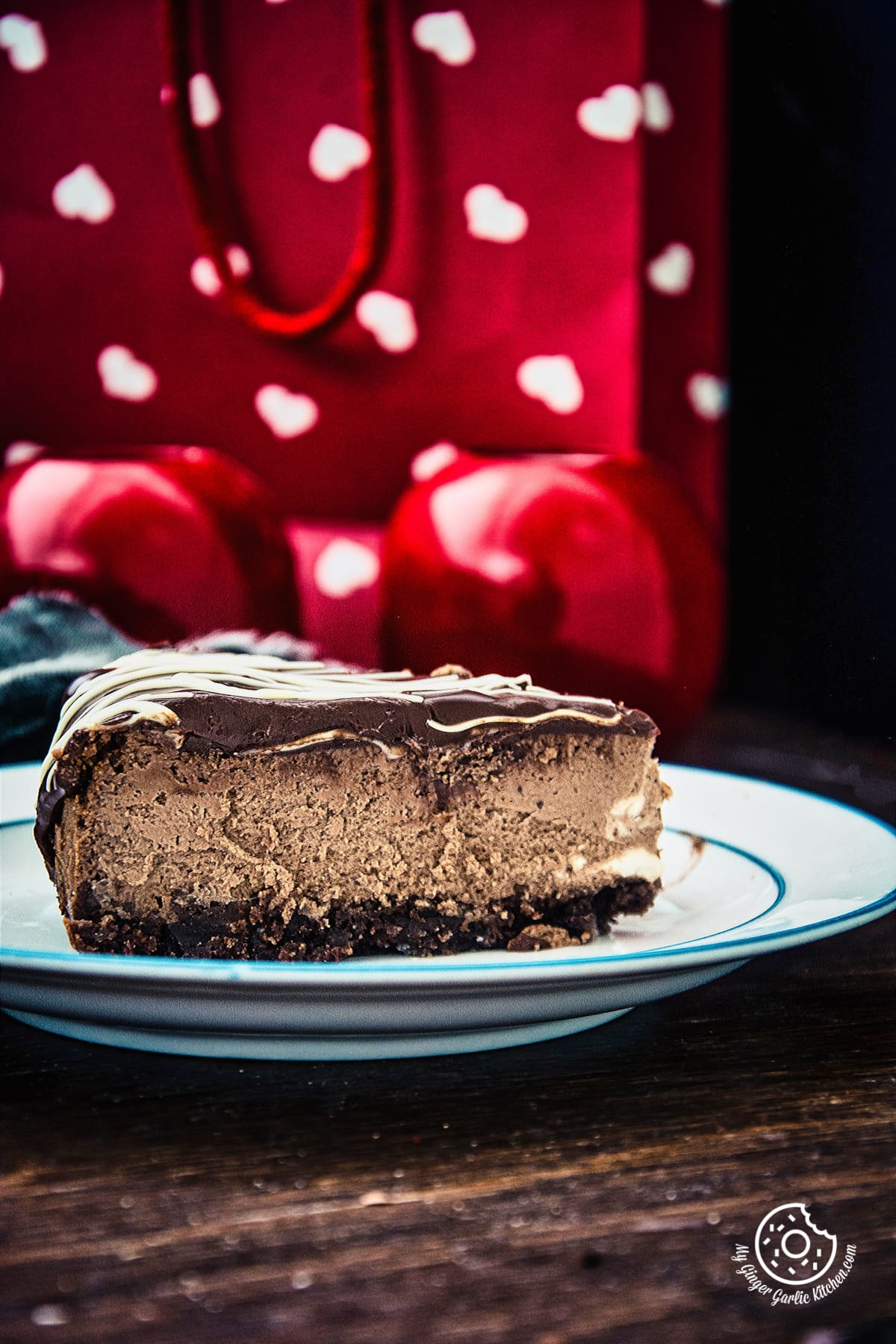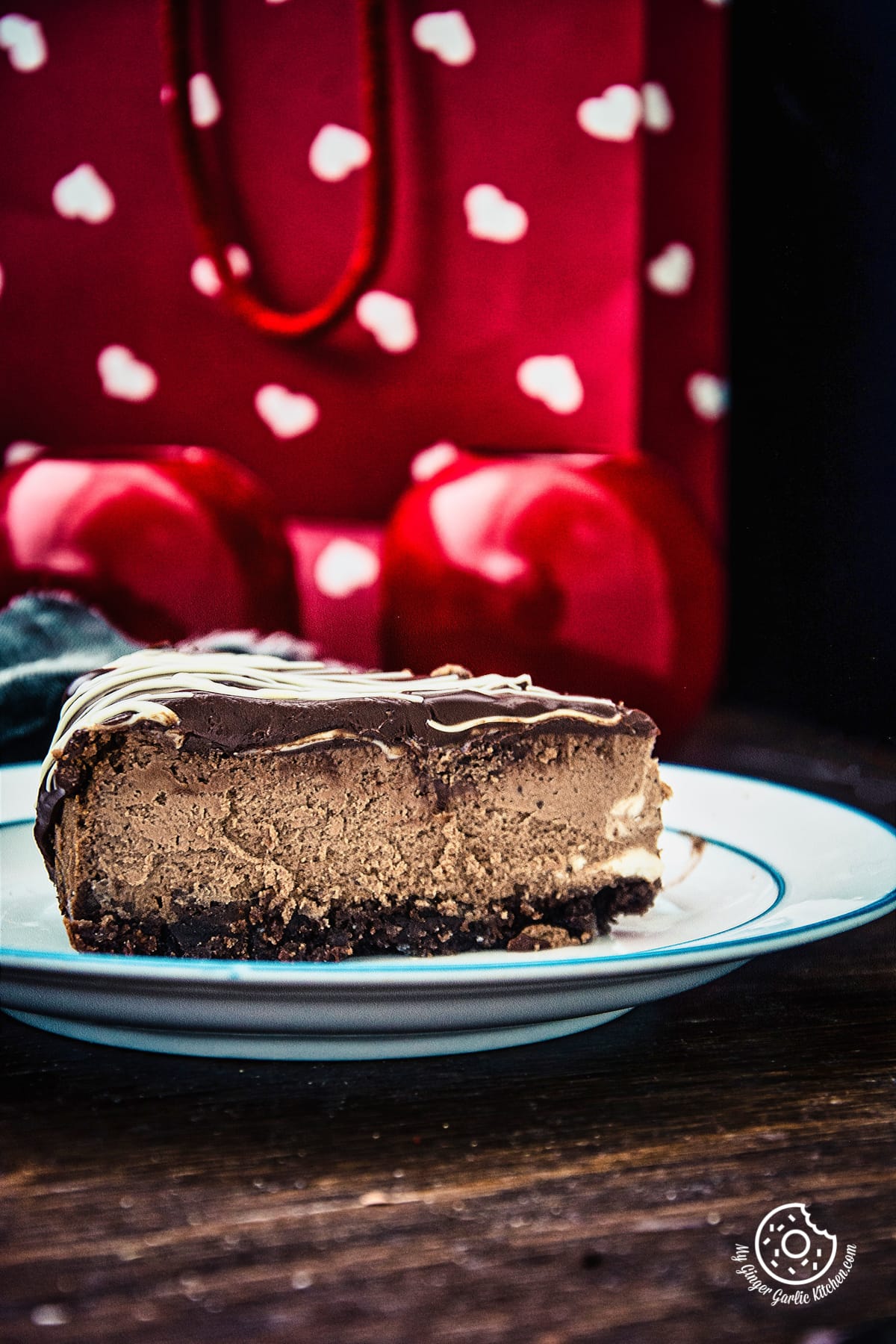 Chocolate everywhere:
This grandeur chocolate cheesecake is astonishingly mouth-watering, perfectly sweet and wonderfully rich. I topped it with real dark chocolate ganache which balances the flavors. Again I have added some instant coffee in this cheesecake because as always I would say: "Coffee brightens the chocolate flavor."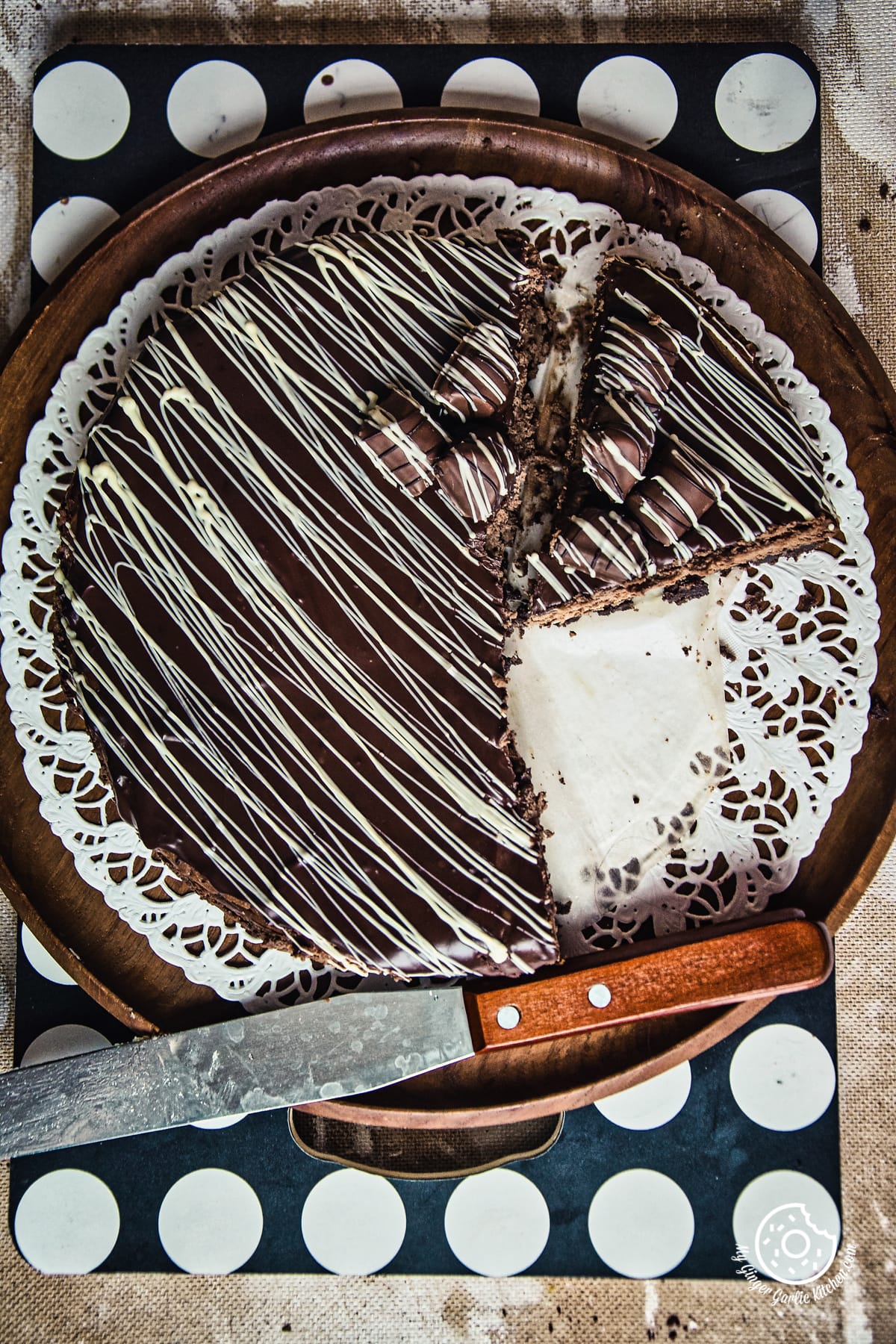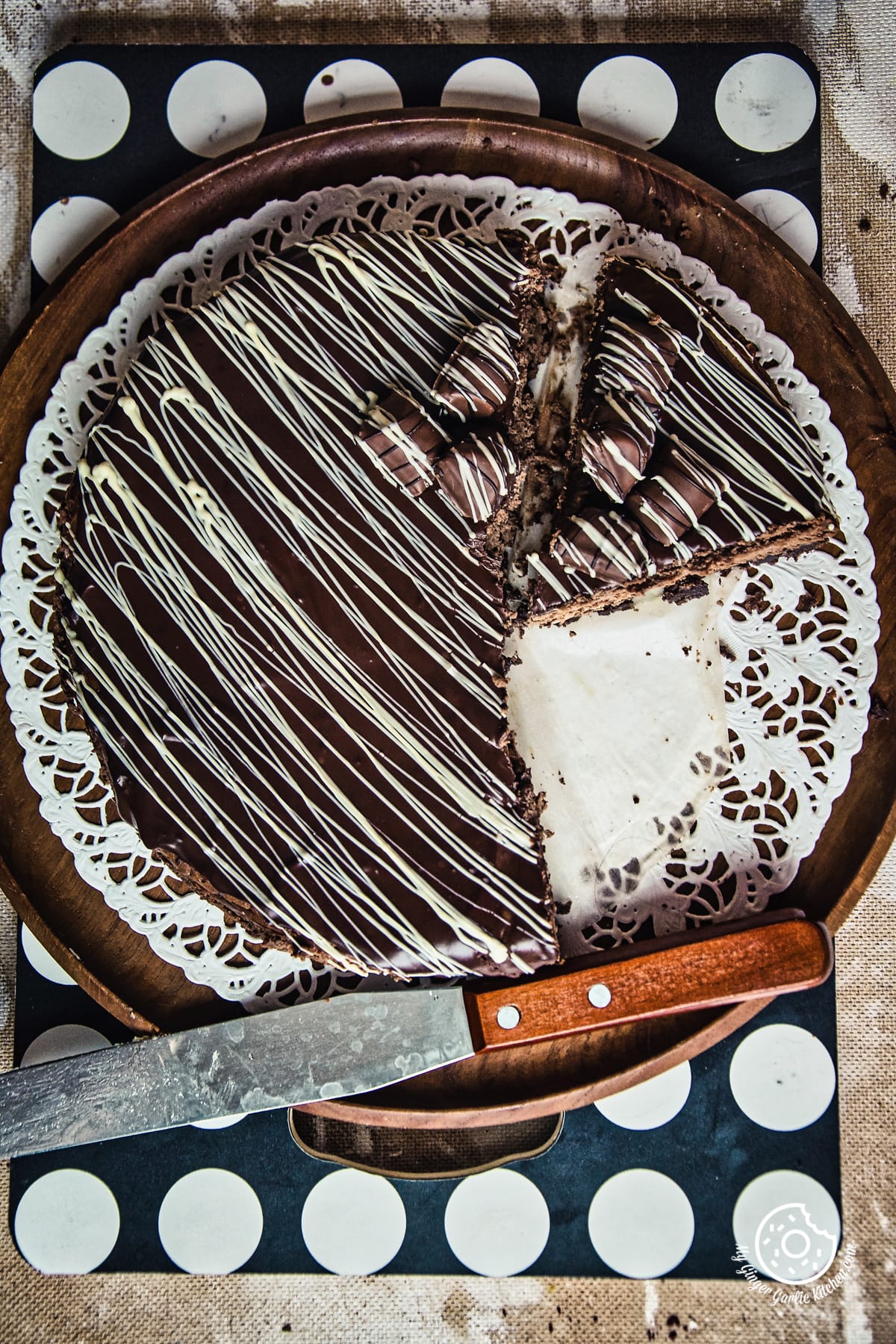 Methinks that the only thing which could make even chocolate dishes better is a little addition of coffee. Chocolate and coffee are a great marriage. They never fail to impress.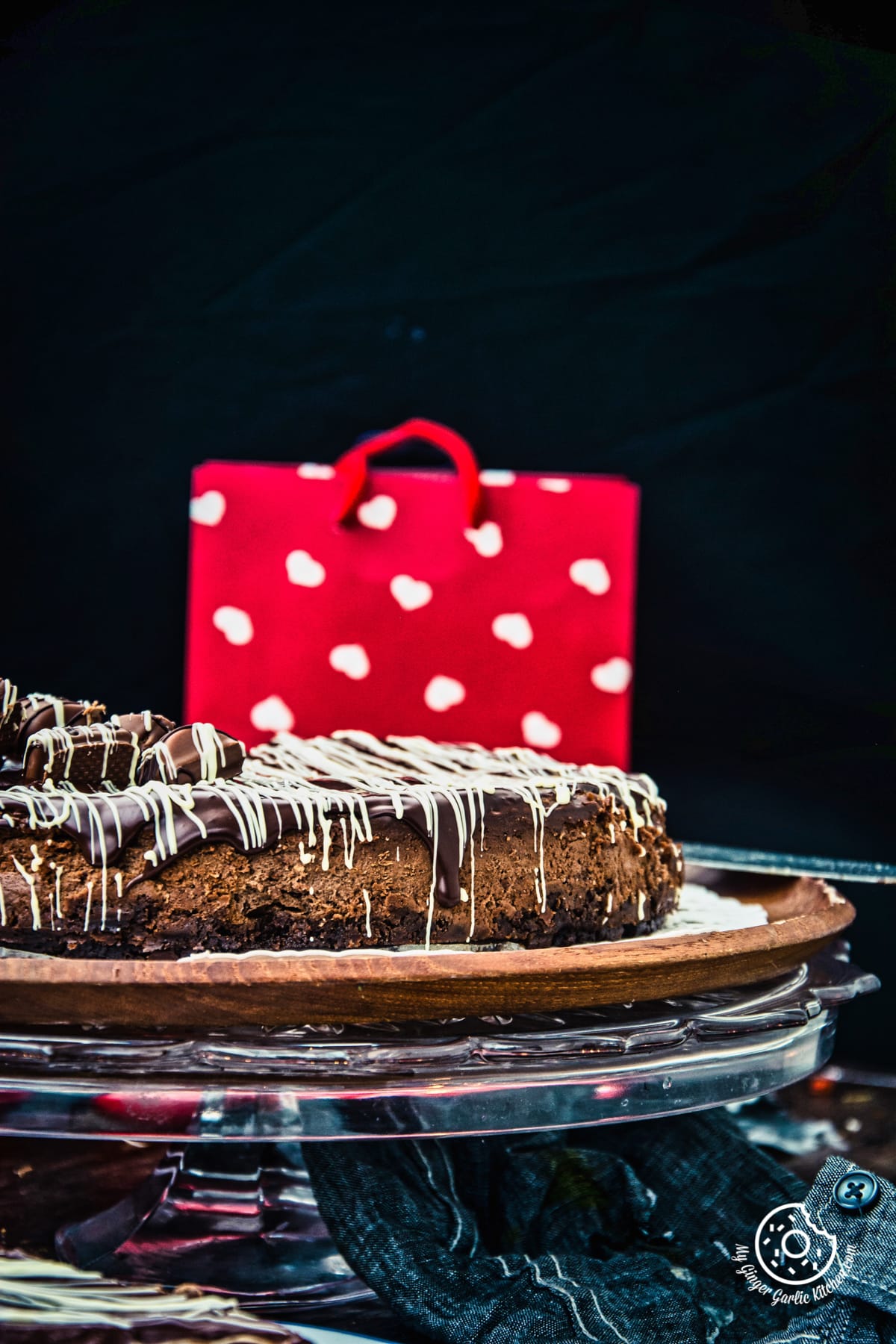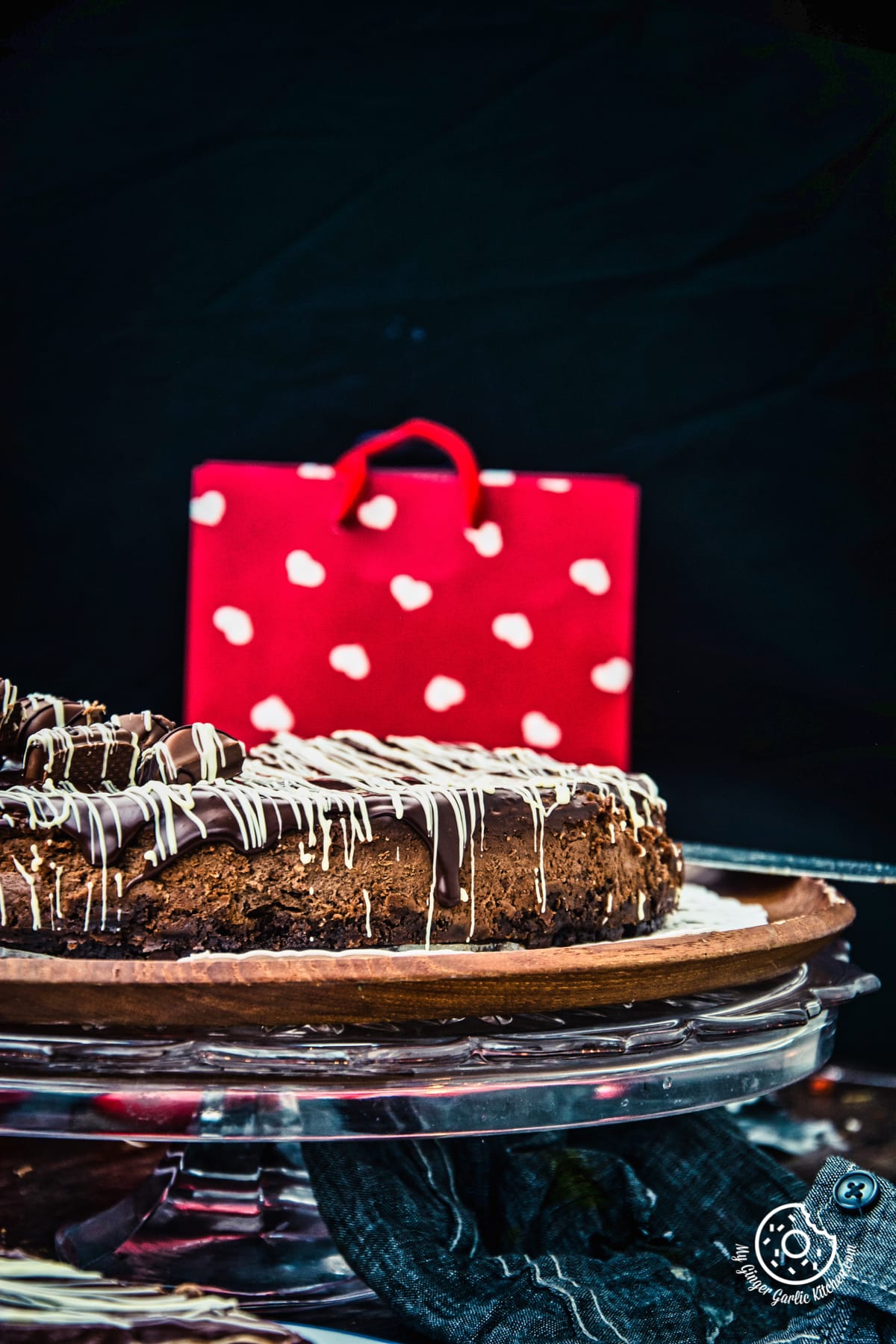 Let your festive feelings ride on you:
I was feeling celebratory, so I adorned my cheesecake with some chocolate candies and some white chocolate. Chocolate in and chocolate out = that's my thing. However, feel free to use any decorations you like. You can even eat it without any ganache or any other decoration. A simple icing sugar dusting would work too.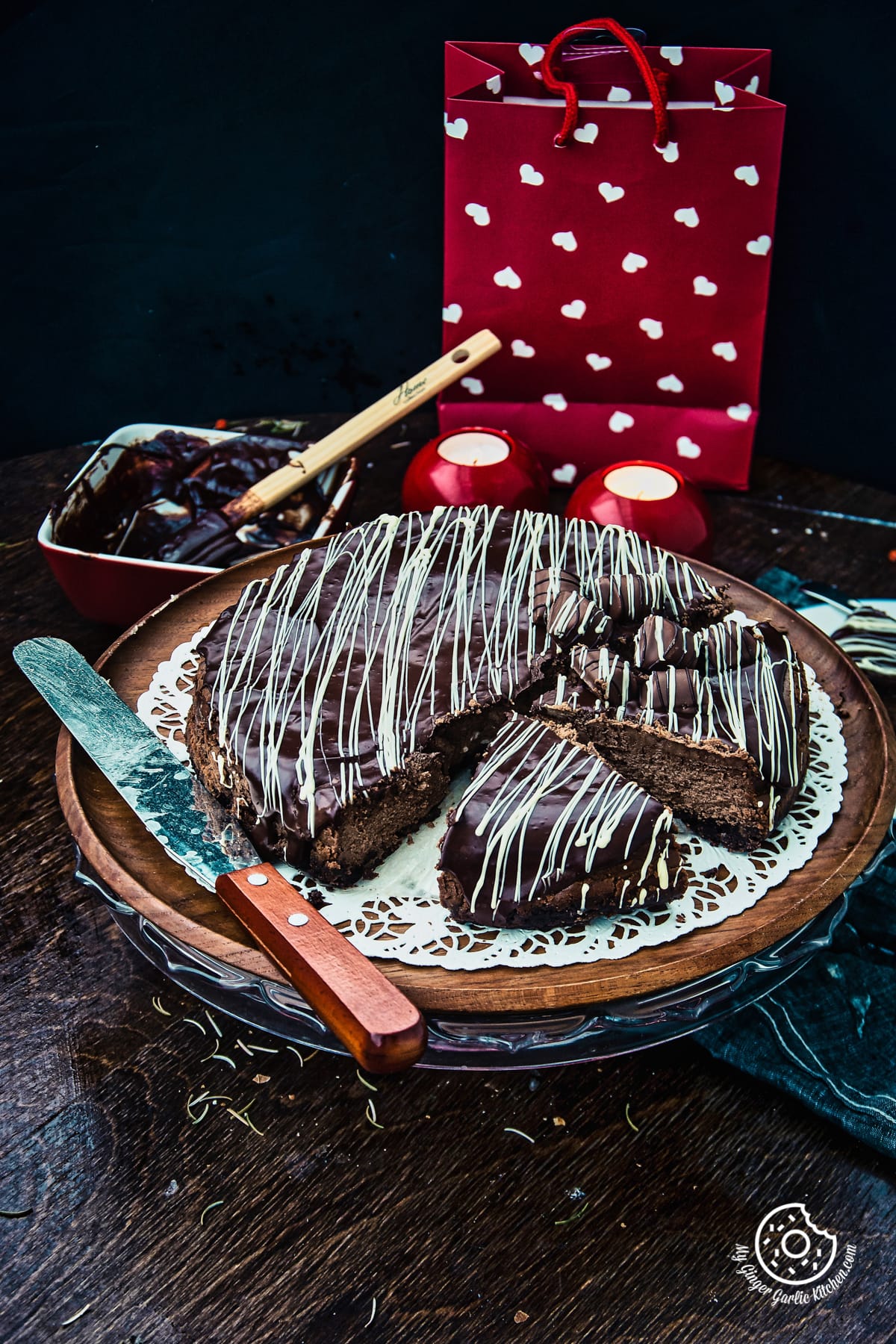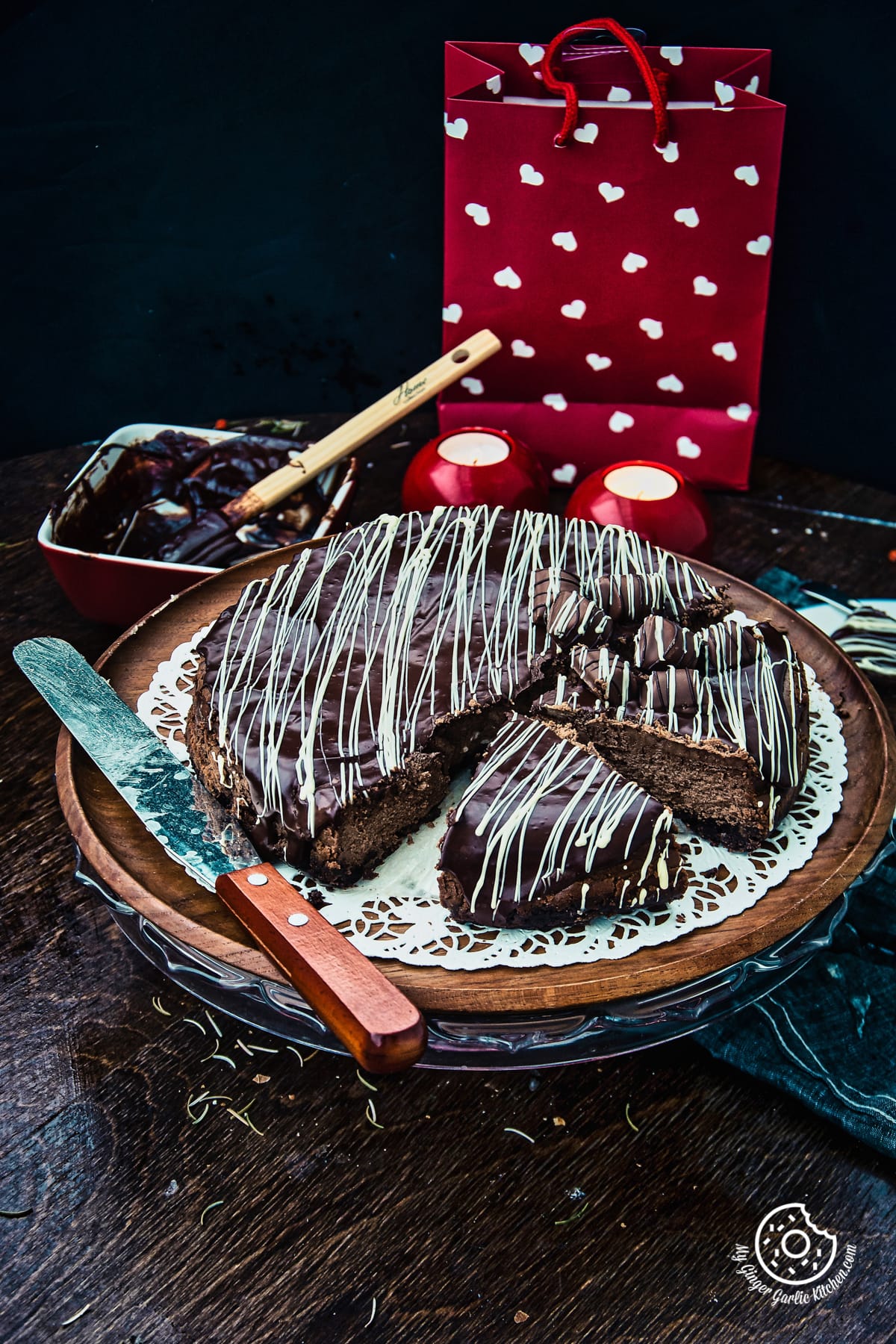 Want to feel happy? Just take a slice:
I can instinctively tell you that any chocolate lover would love this chocolate cheesecake. Bake and slice. Eat, share and REPEAT. Yumminess overloaded. So the thing is that, we need a chocolate cake because this satisfies our sweet cravings and makes us happy. And we all love a sinful dessert once in awhile! 🙂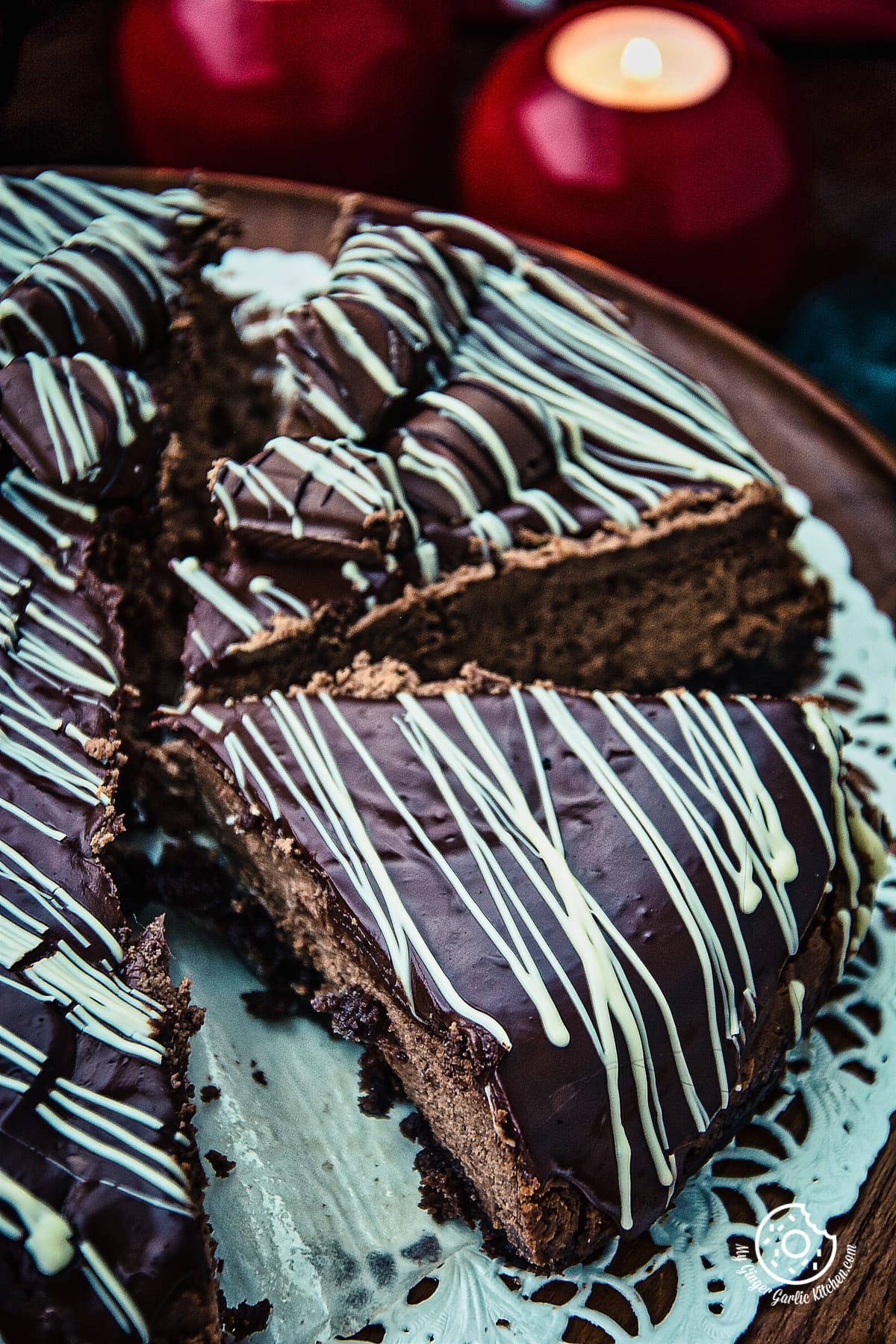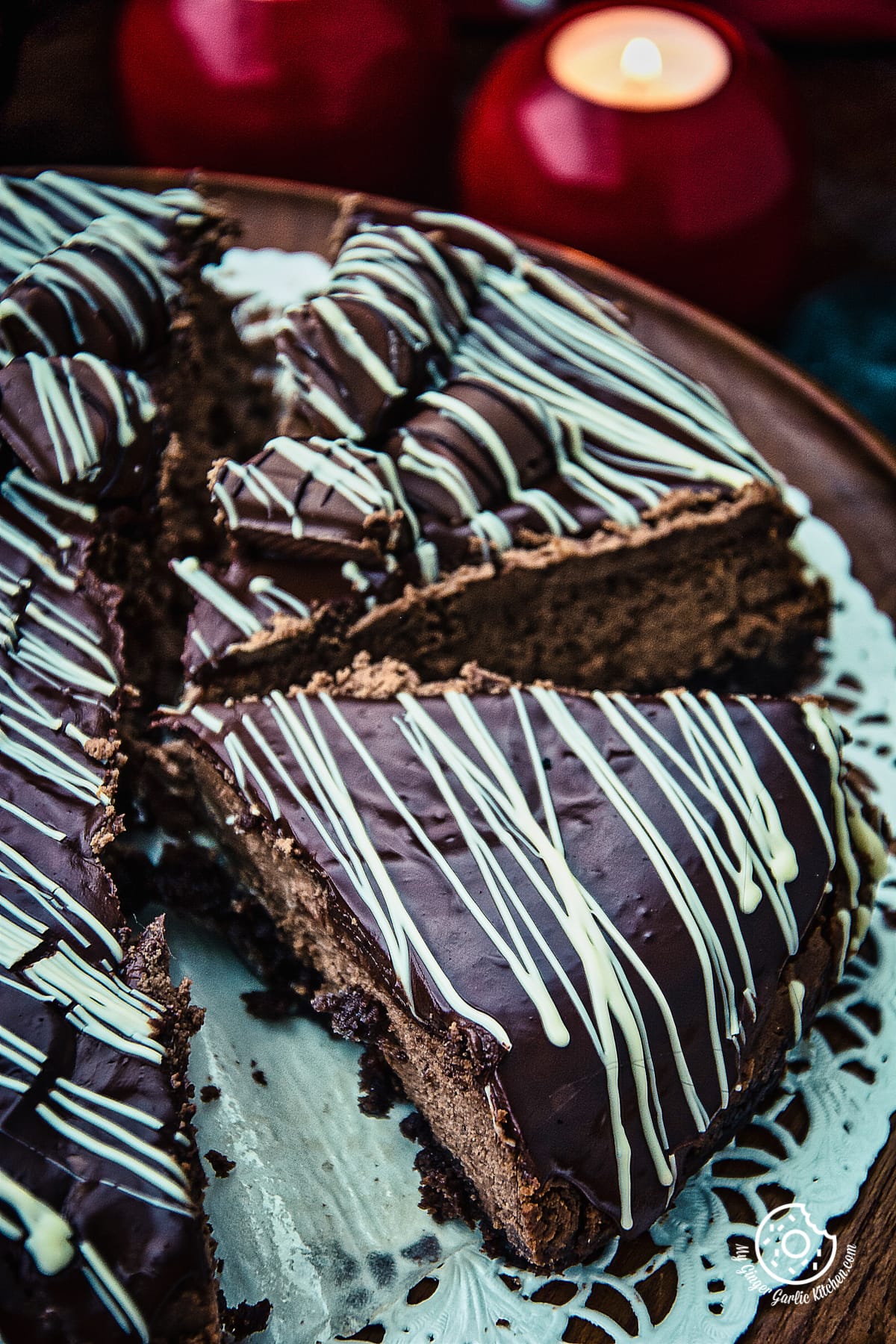 It's the time of the celebration of new beginnings, so that's why we should let ourselves go all out on a cheesecake treat. Let's make the chocolatiest cake of them all. To sum it all, it's really chocolatey and really palatable.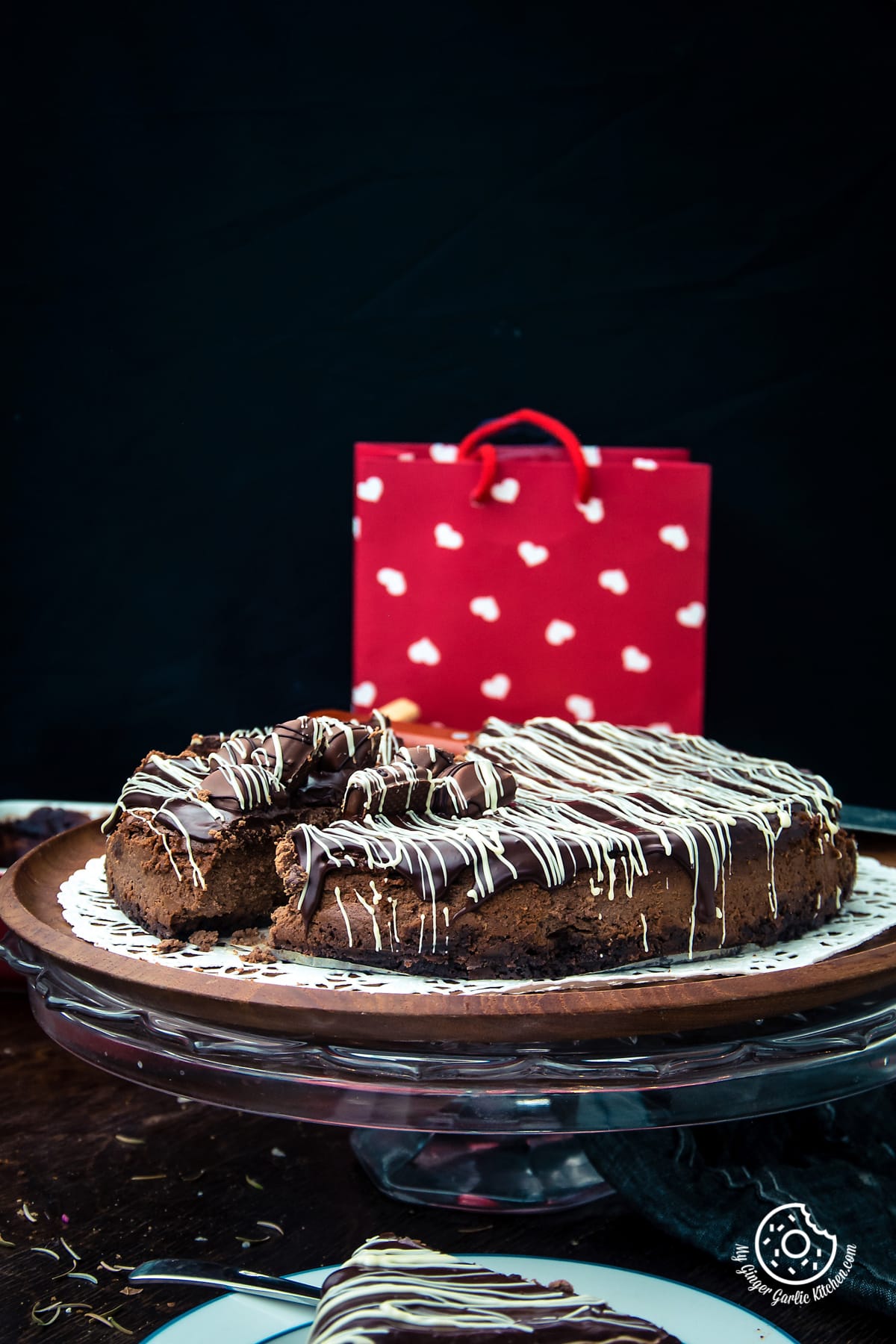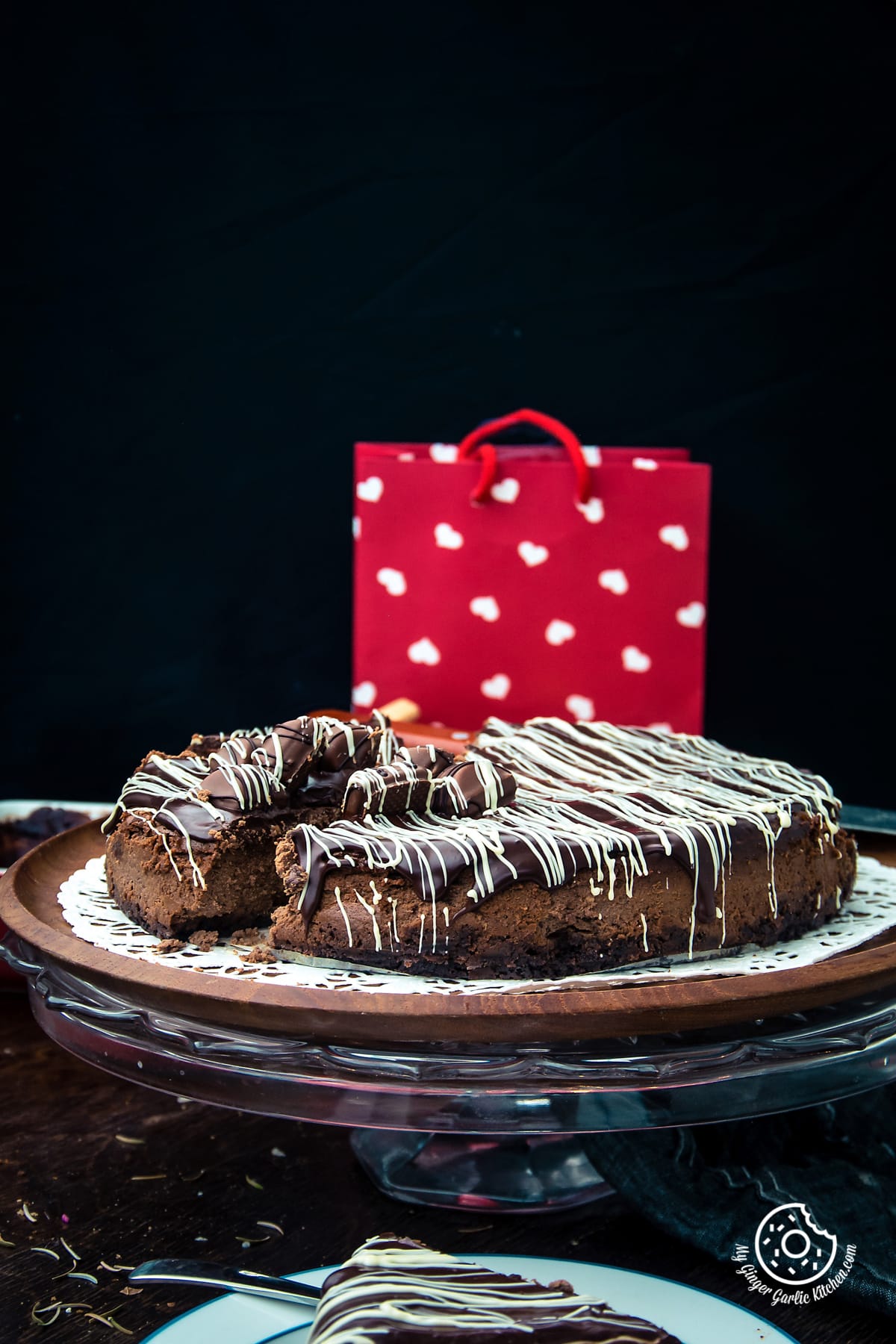 Chocolate Cheesecake
Author:
Prep time:
Cook time:
Total time:
Chocolate cheesecakes are best for this festive season. So for this chocolate cheesecake, I can say one thing — Season no bar, only chocolate is the limit! Chocolate in, chocolate out = Deliciousness. 🙂
Ingredients
<ul class="ingredients">
  <li class="ERSeparator">
    For Chocoalte Cookie Crust:
  </li>
  <li class="ingredient">
    Whole Dark Chocolate Cookies Or Oreo Cookies - 18-20
  </li>
  <li class="ingredient">
    Melted Butter - 1/4 Cup
  </li>
  <li class="ERSeparator">
    For Chocolate Cheesecake
  </li>
  <li class="ingredient">
    Whipping Cream (Warmed For 1 Minute In Microwave) - 200ml
  </li>
  <li class="ingredient">
    Baking Chocolate Bar (Mine Had 62% Cocoa) - 250g
  </li>
  <li class="ingredient">
    Condensed Milk - 396g (14oz)
  </li>
  <li class="ingredient">
    Cream Cheese Softened To Room Temperature - 500g
  </li>
  <li class="ingredient">
    Vanilla Extract - 1 1/2 Tsp
  </li>
  <li class="ingredient">
    Eggs - 4
  </li>
  <li class="ingredient">
    Instant Coffee Powder - 1 Tbsp Diluted In 1 Tbsp Hot Water
  </li>
  <li class="ERSeparator">
    For Chocolate Ganache:
  </li>
  <li class="ingredient">
    Dark Chocolate (I Used 82%) - 200g
  </li>
  <li class="ingredient">
    Whipping Cream - 200ml
  </li>
  <li class="ERSeparator">
    For Decoration:
  </li>
  <li class="ingredient">
    Chocolate Candies, For Garnish
  </li>
  <li class="ingredient">
    Melted White Chocolate For Drizzle
  </li>
</ul>

Instructions
<div class="instructions">
  <div class="ERSeparator">
    For [b] Chocolate Cookies Crust[/b]:
  </div>

  <ol>
    <li class="instruction">
      Crush cookies until fine crumbs form.
    </li>
    <li class="instruction">
      Add butter and stir well until crumbs are completely coated and moist.
    </li>
    <li class="instruction">
      Brush a (∅ 25 cm or 9 inches) cake pan with butter and line the base with baking paper.
    </li>
    <li class="instruction">
      Press mixture evenly and firmly in bottom of the dish.
    </li>
  </ol>

  <div class="ERSeparator">
    For [b] Cream Cheese Filling[/b]:
  </div>

  <ol>
    <li class="instruction">
      Preheat oven to 150°C/300°F.
    </li>
    <li class="instruction">
      In a bowl add baking chocolate and microwave at high for 1-2 minutes or until melted.
    </li>
    <li class="instruction">
      Keep stirring at 30-second intervals.
    </li>
    <li class="instruction">
      Add warm whipping cream and stir well into melted chocolate until combined well.
    </li>
    <li class="instruction">
      In a large bowl using a hand mixer, beat cream cheese until smooth.
    </li>
    <li class="instruction">
      Add sweetened condensed milk, vanilla and beat until well combined.
    </li>
    <li class="instruction">
      Add eggs one at a time, beating at medium speed until it blends well between each addition.
    </li>
    <li class="instruction">
      Add diluted coffee, chocolate mixture and beat until blended well.
    </li>
    <li class="instruction">
      Pour cheesecake filling over prepared crust.
    </li>
  </ol>

  <div class="ERSeparator">
    For [b] Baking[/b]:
  </div>

  <ol>
    <li class="instruction">
      Bake at 150°C for 75 minutes or until well set in the center.
    </li>
    <li class="instruction">
      Turn off the oven and remove cheesecake.
    </li>
    <li class="instruction">
      Cool it completely on a wire rack. Refrigerate cheesecake for 8 hours or overnight. Stirring constantly until the sauce is smooth.
    </li>
  </ol>

  <div class="ERSeparator">
    For [b] Ganache[/b]:
  </div>

  <ol>
    <li class="instruction">
      Place dark chocolate in a microwave safe bowl. Pour whipping cream and microwave at high for 1-2 minutes or until melted. Keep stirring at 30-second intervals.
    </li>
  </ol>

  <div class="ERSeparator">
    For [b] Decoration[/b]:
  </div>

  <ol>
    <li class="instruction">
      Remove sides of cake pan. Pour warm ganache over chilled cheesecake.
    </li>
    <li class="instruction">
      Decorate with chocolate candies and drizzle with white chocolate.
    </li>
    <li class="instruction">
      Chill 30 mins before serving to let the ganache topping set.
    </li>
    <li class="instruction">
      Slice and enjoy.
    </li>
  </ol>
</div>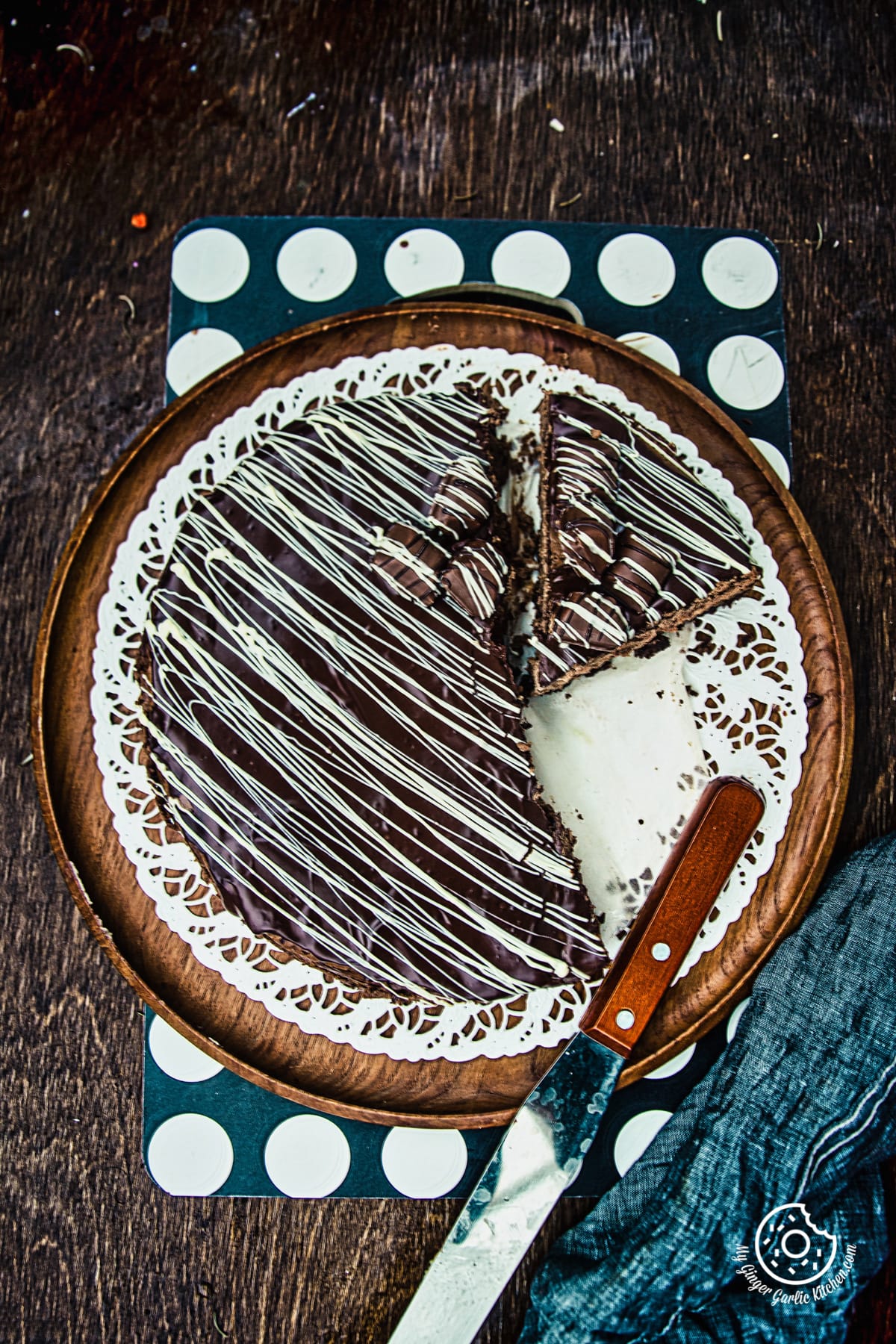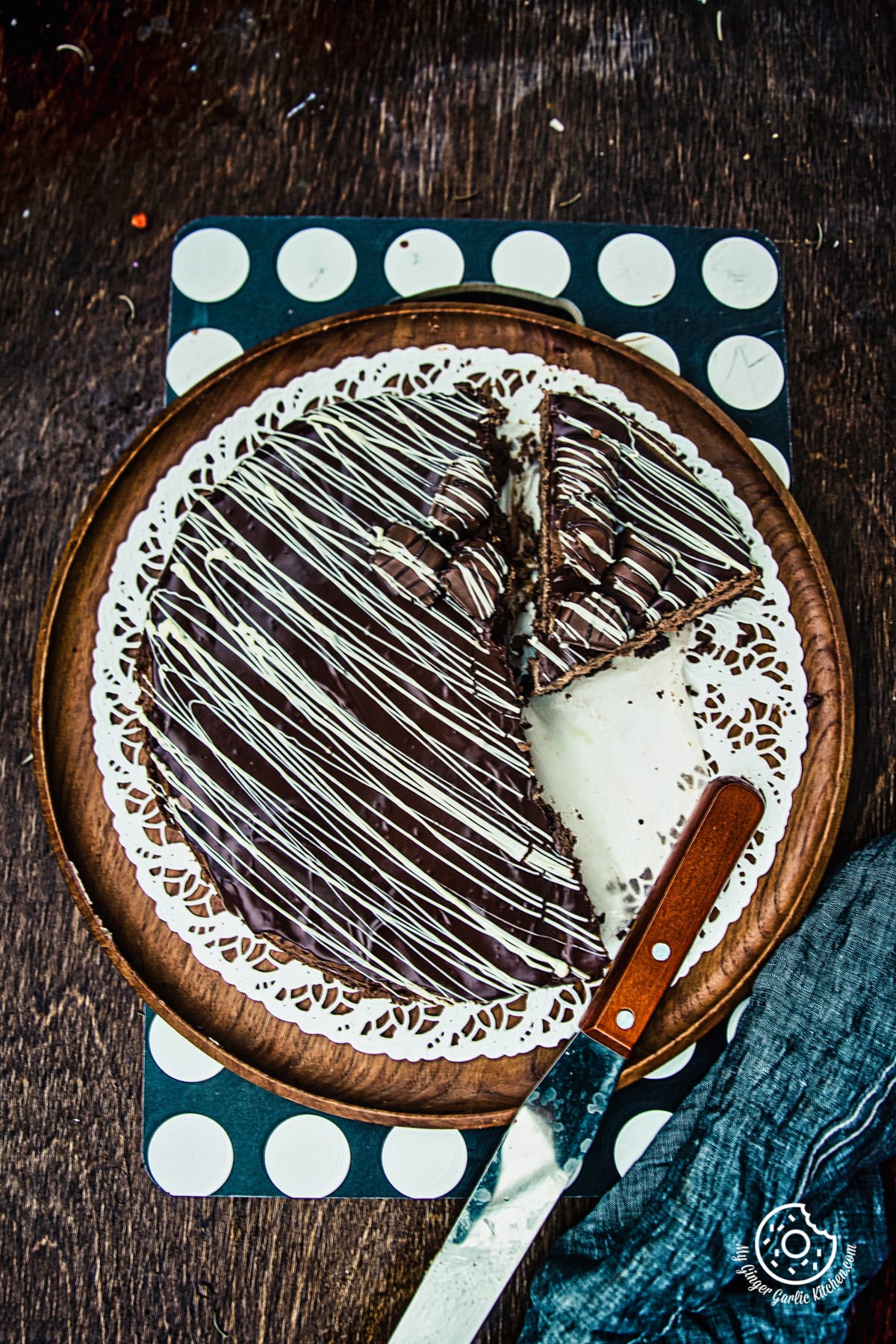 If you enjoyed this recipe, then please further help me by FOLLOWING me on:
Instagram // Facebook // Pinterest // Twitter // Google+ // YouTube
If you cook this dish, be sure to tag your photo with this hashtag: #mggk
Happy Cooking and Keep Sharing! 🙂
---