Chocolate Cheesecake
This chocolate cheesecake is rich, moist, dense, and chocolate. Chocolate cheesecakes are best for any season. Season no bar, only chocolate is the limit.
---
« Go back
Print this recipe »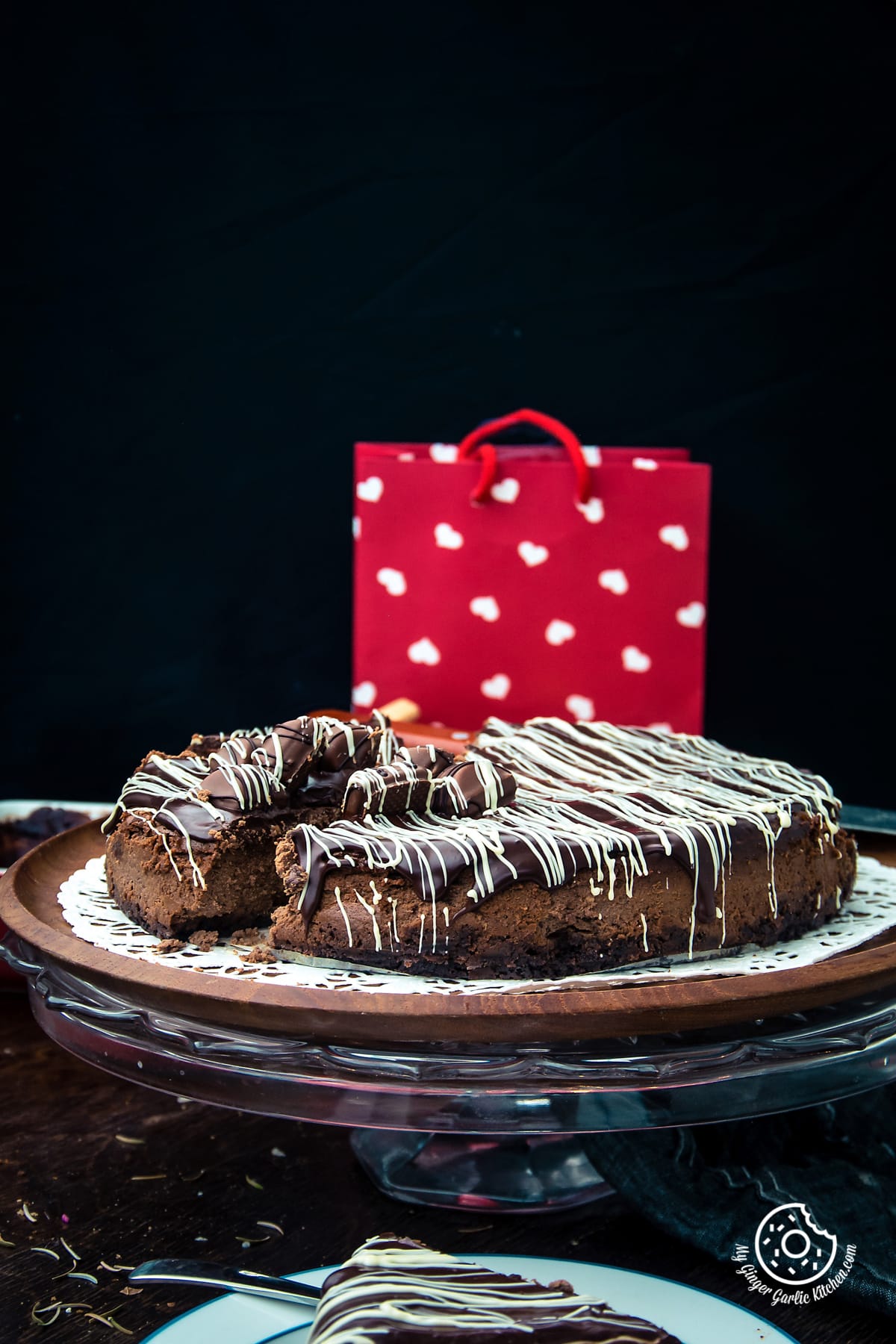 ---
Prep Time = 10 minutes
Cook Time = 75 minutes
Total Time = 1 hour(s) 25 minutes
Category = Desserts
Cuisine = World
Serves = 1 Cake
Nutrition Info = 276 calories
Serving Size = 1 serving
---
RECIPE INGREDIENTS
» For Chocolate Cookie Crust //
18-20 whole dark chocolate cookies or oreo cookies
1/4 cup melted unsalted butter
» For Chocolate Cheesecake
200 ml whipping cream (warmed for 1 minute in microwave)
250 grams baking chocolate bar (mine had 62% cocoa)
396 grams (14oz) condensed milk
500 grams cream cheese softened to room temperature
1 1/2 teaspoons vanilla extract
4 eggs
1 tablespoon instant coffee powder diluted in 1 tablespoon hot water
» For Chocolate Ganache //
200 grams dark chocolate (I used 82%)
200 ml whipping cream
» For Decoration //
Chocolate candies, for garnish
Melted white chocolate for drizzle
---
RECIPE INSTRUCTIONS
» Making Chocolate Cookies Crust //
Add chocolate cookies to a bowl and crush cookies until fine crumbs form.
Add butter and stir well until crumbs are completely coated and moist.
Brush a (? 25 cm or 9 inches) cake pan with butter and line the base with baking paper.
Add cookie mixture to the cake pan.
Press mixture evenly and firmly in bottom of the dish.
Once done, keep it aside.
» Making Cream Cheese Filling //
Preheat oven to 150°C/300°F. In a bowl add baking chocolate and microwave at high for 1-2 minutes or until melted.
Keep stirring at 30-second intervals.
Add warm whipping cream and stir well into melted chocolate until combined well.
In a large bowl using a hand mixer, beat cream cheese until smooth.
Add sweetened condensed milk, vanilla and beat until well combined.
Add eggs one at a time, beating at medium speed until it blends well between each addition.
Add diluted coffee, chocolate mixture and beat until blended well.
Pour cheesecake filling over prepared crust.
» Baking //
Bake at 150°C/300°C for 75 minutes or until well set in the center.
Turn off the oven and remove cheesecake. Cool it completely on a wire rack.
Refrigerate cheesecake for 8 hours or overnight.
» Making Ganache //
Place dark chocolate in a microwave safe bowl. Pour whipping cream and microwave at high for 1-2 minutes or until melted.
Keep stirring at 30-second intervals.
» For Decoration //
Remove sides of cake pan.
Pour warm ganache over chilled cheesecake.
Decorate with chocolate candies and drizzle with white chocolate.
Chill 30 mins before serving to let the ganache topping set.
Slice chocolate cheesecake and enjoy with a cup of coffee or tea.
---
RECIPE NOTES
No notes for this recipe.
---