These Eggless Banana Peanut Butter Chocolate Brownies have a beautifully dense, soft, chewy texture. They are also chocolatey and pea-nutty. Plus, they are easy and healthy and absolutely indulging. Trust me your kids are gonna love these brownies.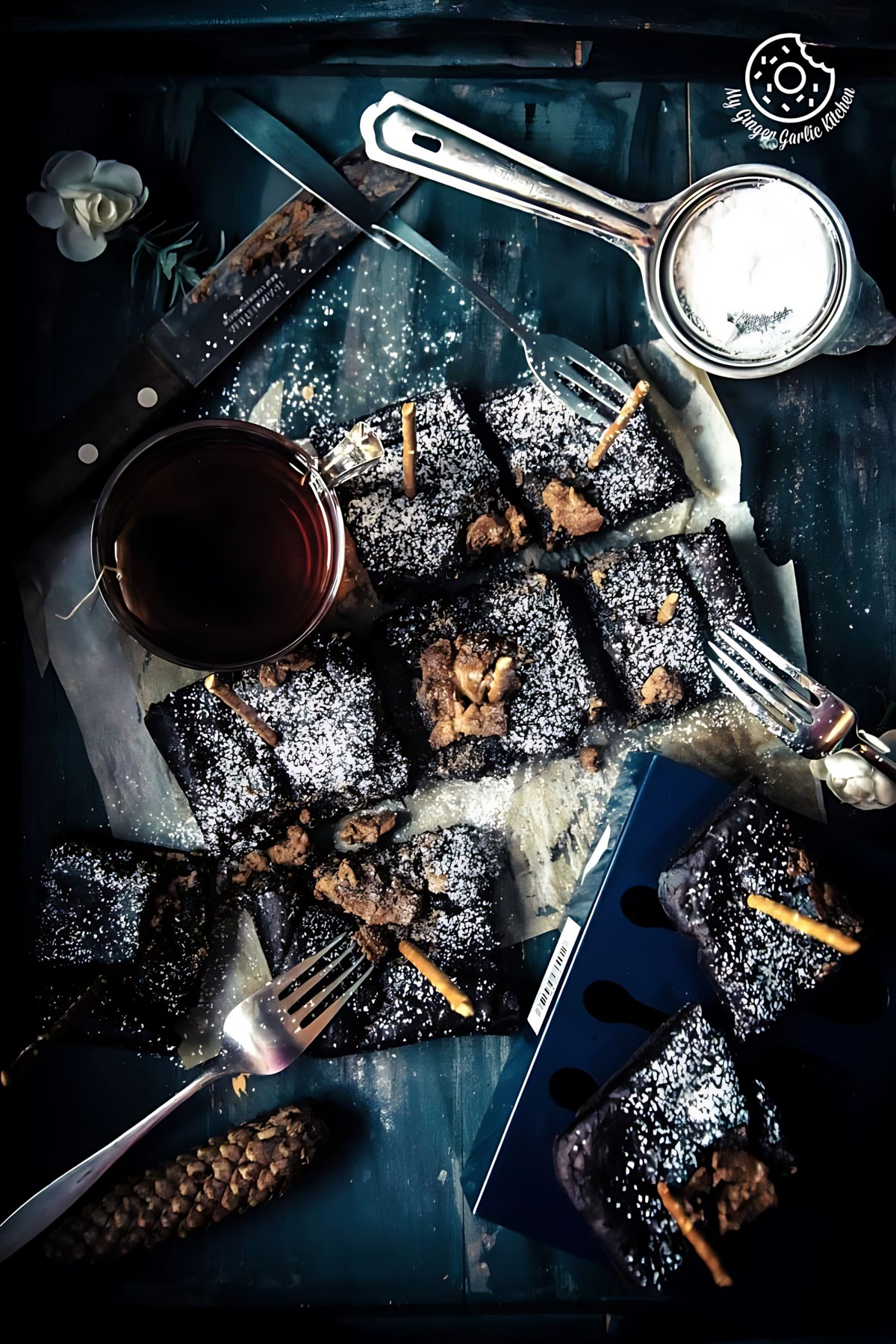 A short love story of these brownies
Well, let me tell you some interesting facts about how these brownies came to life. I had some overripe bananas last week and obviously my first intention was to make a banana bread. It was a weekend and I was about to bake the banana bread but then someone stopped me.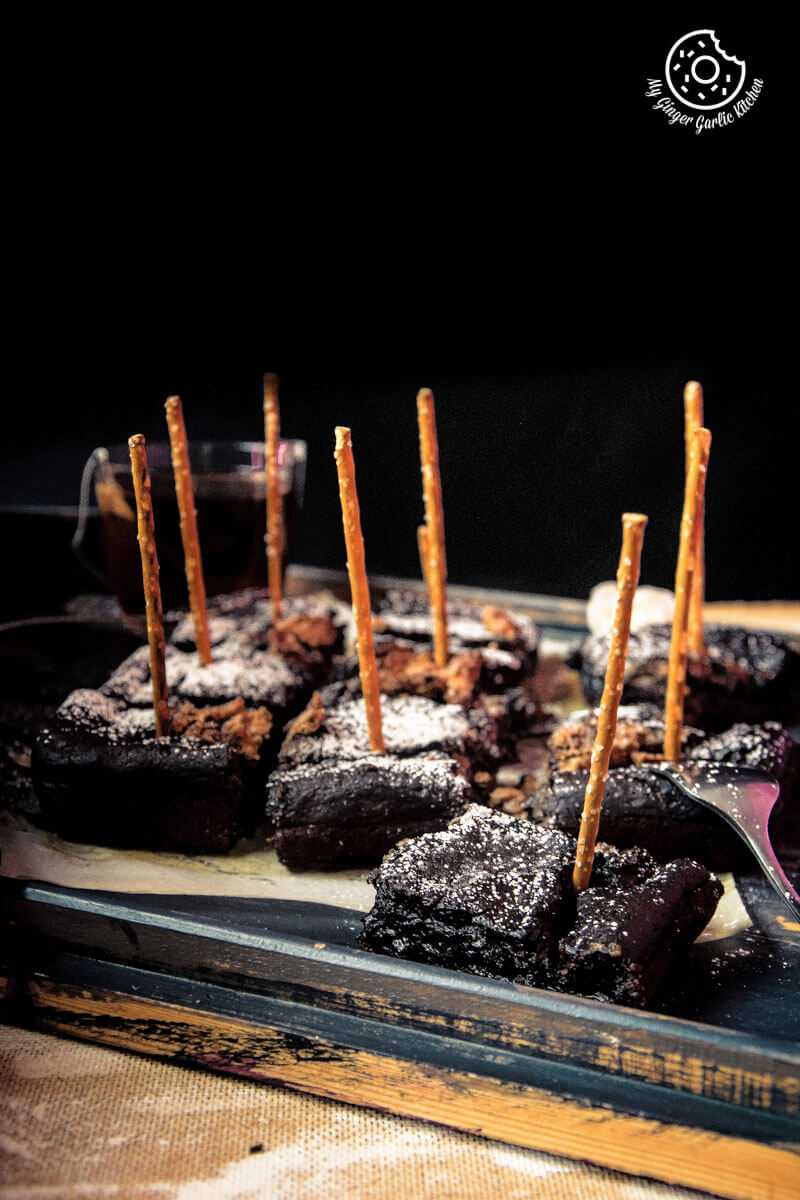 Who stopped me from baking banana bread? Who doesn't like banana bread in my house?
I think you might have already guessed the name of the person who came between me and my banana bread. Yes, it was Ador.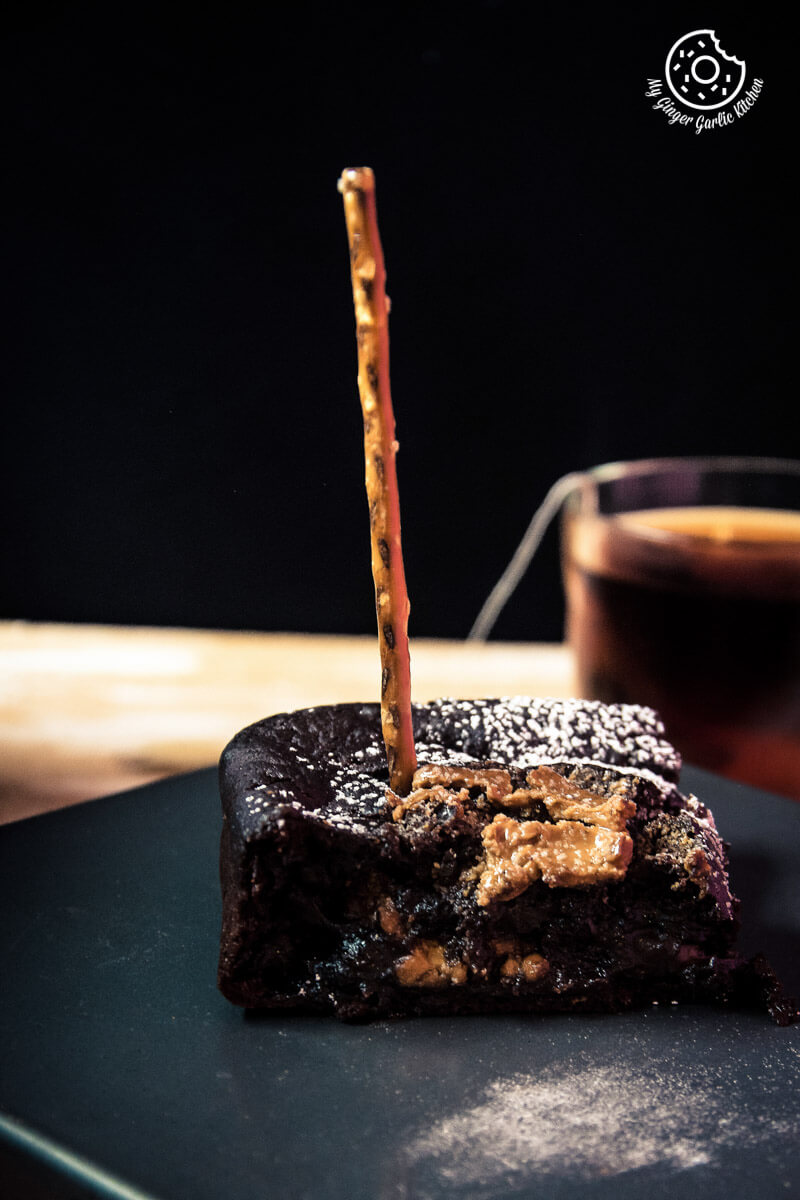 *************************
She said: "Mommy, why are you making bread. I don't like banana bread. Can you bake a chocolate cake?"
Me: No, I have to use up some overripe bananas so I will make bread.
Ado: "Please Mommy! But can you make brownies then?"
I just love anything chocolate so couldn't say no to her.
Me: "Should I really make some brownies?"
Ado: "Yeah, you should because I like brownies. Yum yum, they are D-LICIOUS."
Me: Okay, then let's make some brownies."
And that's how these brownies were invented. 🙂
*************************
So the brownies were something like "what happens when a banana bread meets chocolate cake".
I can tell in the case of these brownies that I didn't get what I expected but I got much more than that. I got something even better. 🙂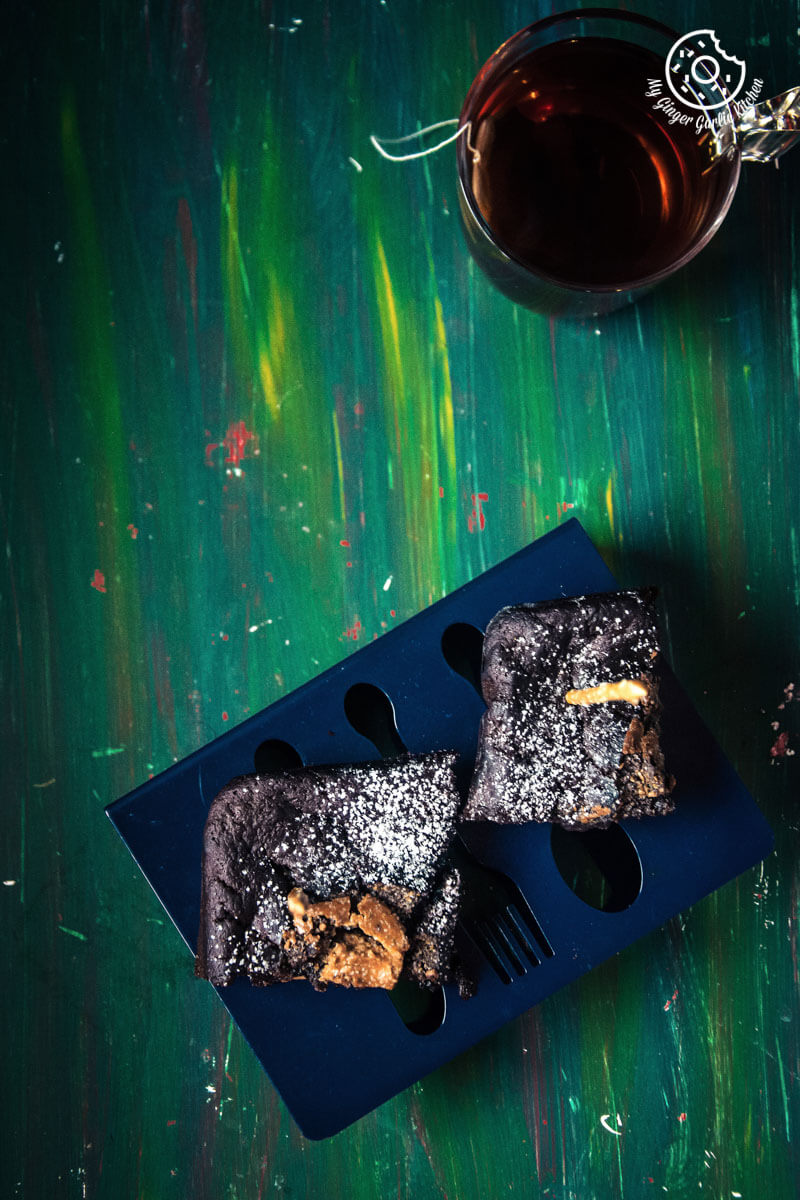 These best banana peanut butter brownies are made with simple ingredients:
These brownies have simple ingredients and I knew they would be a winner at home. For sweetening, I used bananas and brown sugar just to be sure that it hits the perfect sweet spots.
These Chocolate Peanut Butter Brownies are Foolproof
For these brownies, I opted for wheat flour but you can also use white flour, fine oatmeal or may be buckwheat or any other gluten-free flour to make them gluten-free.
I have made these brownies so many times with little variations each time, so I can tell that the above-mentioned approach works fine. You can even call them foolproof brownies because nothing can go wrong with these.
Yogurt and coffee shine the flavors of these brownies
For these brownies, I used fat-free greek yogurt and some freshly brewed coffee which boosted the chocolate intensity level. I used cocoa powder for that chocolatey flavor.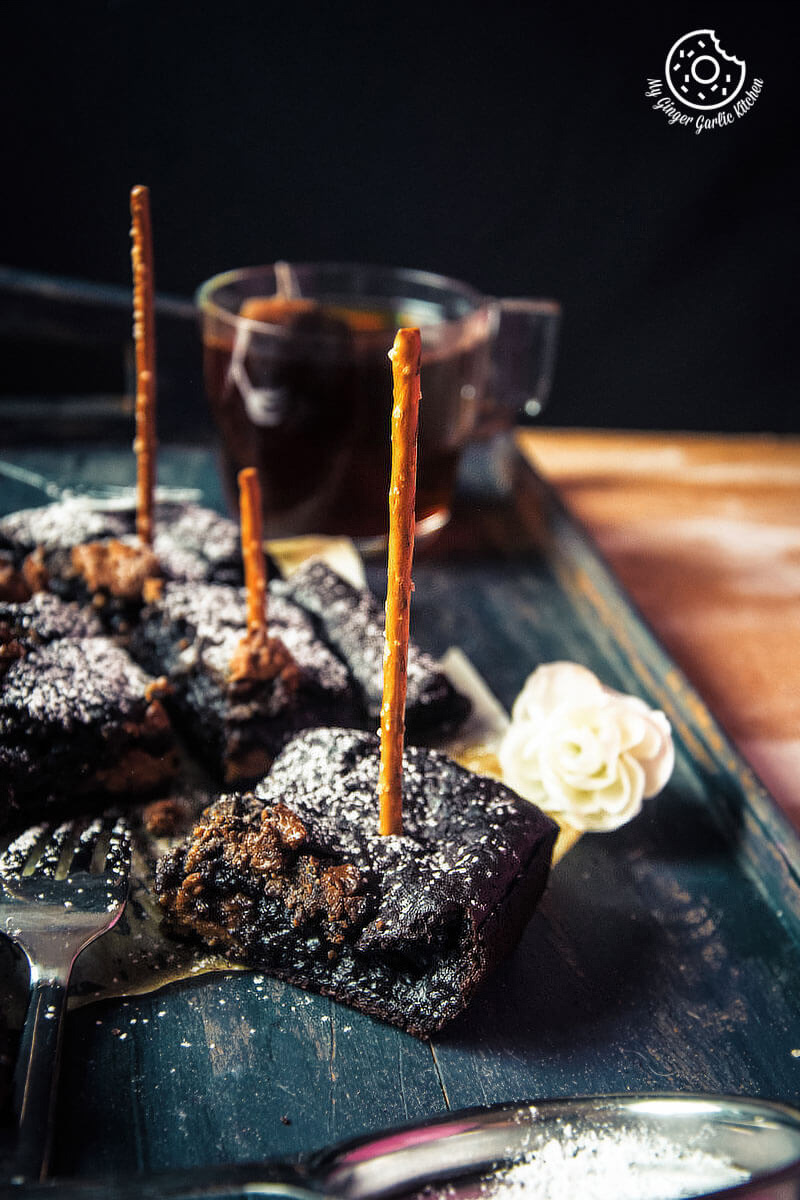 Baked goods made with yogurt and the chocolate go so well together. These brownies are soft and chewy, tender, chocolatey and pea-nutty.
Some other brownie recipes I have shared on this blog: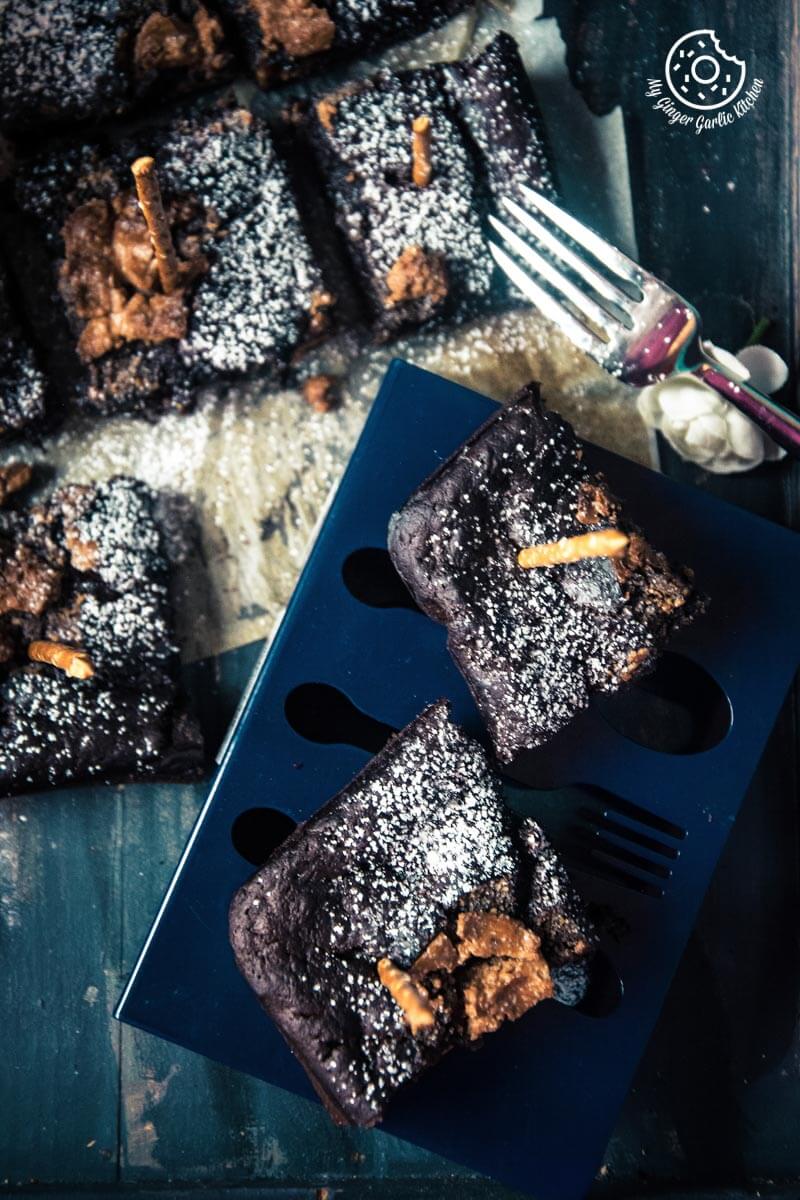 Peanut butter steals the show
At the end, I added peanut butter and that made these brownies even more divine. Mmmm — banana, peanut butter and chocolate. Isn't it a match made in heaven? These brownies are a perfect marriage of these three awesome ingredients.
You can also replace Peanut Butter with the same amount of Nutella. That will work just as good. 🙂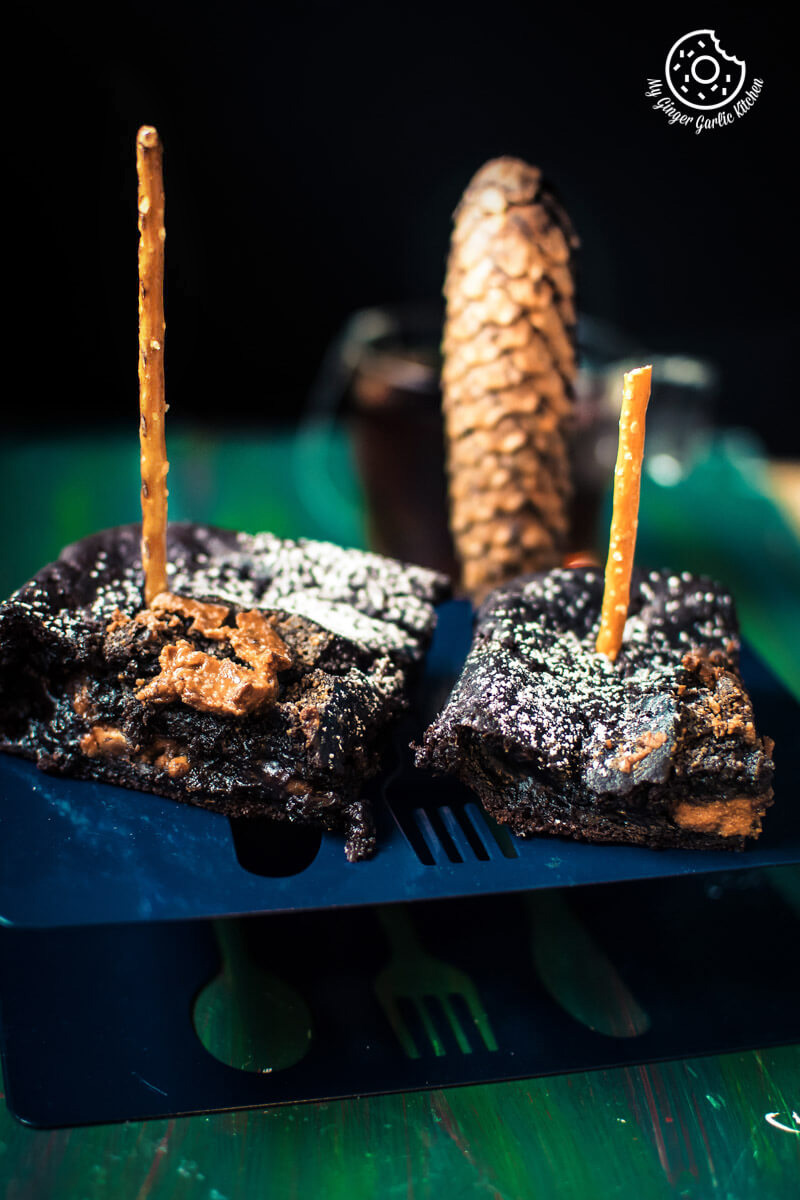 Eggless Banana Peanut Butter Chocolate Brownies

[Recipe]
These Brownies have a beautifully dense, soft, chewy texture. They are also chocolatey and pea-nutty, healthy and indulging. Your kids would love these.
---
★★★★✰
(Rating:
4.3
from
34
reviews)
---
| Prep time 🕐 | Cook time 🕐 | Total time 🕐 |
| --- | --- | --- |
| | | 50 mins |
| Category ☶ | Cuisine ♨ | Serves ☺ |
| Main | Continental | 9 brownies |
| Nutrition Info ⊛ | | Serving size ⊚ |
| 85 calories | | 1 brownie |
---
INGREDIENTS
For Eggless Banana Peanut Butter Chocolate Brownies:
1 cup (128 g) whole-wheat flour
1/2 cup (110 g) brown sugar
3 medium-sized overripe bananas peeled
50 ml hot water
5 tablespoons vegetable oil
2 tablespoons freshly brewed coffee
1 teaspoon baking powder
1/4 cup (32 g) unsweetened cocoa powder
1/4 teaspoon salt
1 teaspoon vanilla extract
5 tablespoons fat-free greek yogurt (use vegan yogurt for vegan version)
5-6 tablespoons smooth peanut butter
For Serving:
---
INSTRUCTIONS:
Making Eggless Banana Peanut Butter Chocolate Brownies:
Preheat oven to 350°F/175°C. Lightly grease an 8×8 inch baking pan and then line with parchment paper.




In a bowl mash overripe bananas.




In a separate bowl, whisk oil, fat-free greek yogurt, freshly brewed coffee, brown sugar, vanilla extract, salt and hot water.




Add mashed bananas.




Sift together flour, unsweetened cocoa powder and baking powder.




Whisk till all combines together and pretty smooth.




Evenly distribute the batter into the lined pan.




To the brownie pan, add dots of the peanut butter.




Bake for about 30-35 minutes or till a toothpick inserted in the center comes out clean.




Remove from oven and let it cool down for 5-7 minutes and then remove from pan.




Cutt into pieces.




Drizzle with icing sugar.




Enjoy with a glass of milk or some hot tea. Store in an airtight container for up to a few days or keep them in the refrigerator and slightly warm them up before eating.

---
WATCH RECIPE VIDEO: Click the play button and video will load ...
---
NOTES:
If the batter appears too thick, add some more hot water.
---
If this recipe helped you, then please spread the word by sharing and
subscribing
to us on YouTube to get more such Recipe Videos.
---
Your feedback is so helpful for me and other MyGingerGarlicKitchen readers. So, for Facebook and Instagram, please mention
@MyGingerGarlicKitchen
or
#mygingergarlickitchen
. I would love to see your photos. :)
---
Author:
Anupama
Recipe Source Link:
https://www.mygingergarlickitchen.com/eggless-banana-peanut-butter-chocolate-brownies-video-recipe/
Date Published:
2019-10-19
• • • • • • • • • •