This Eggless Chocolate Hazelnut Ice Cream recipe doesn't require any eggs. You can easily make this delectable, rich and creamy ice cream in your ice cream maker.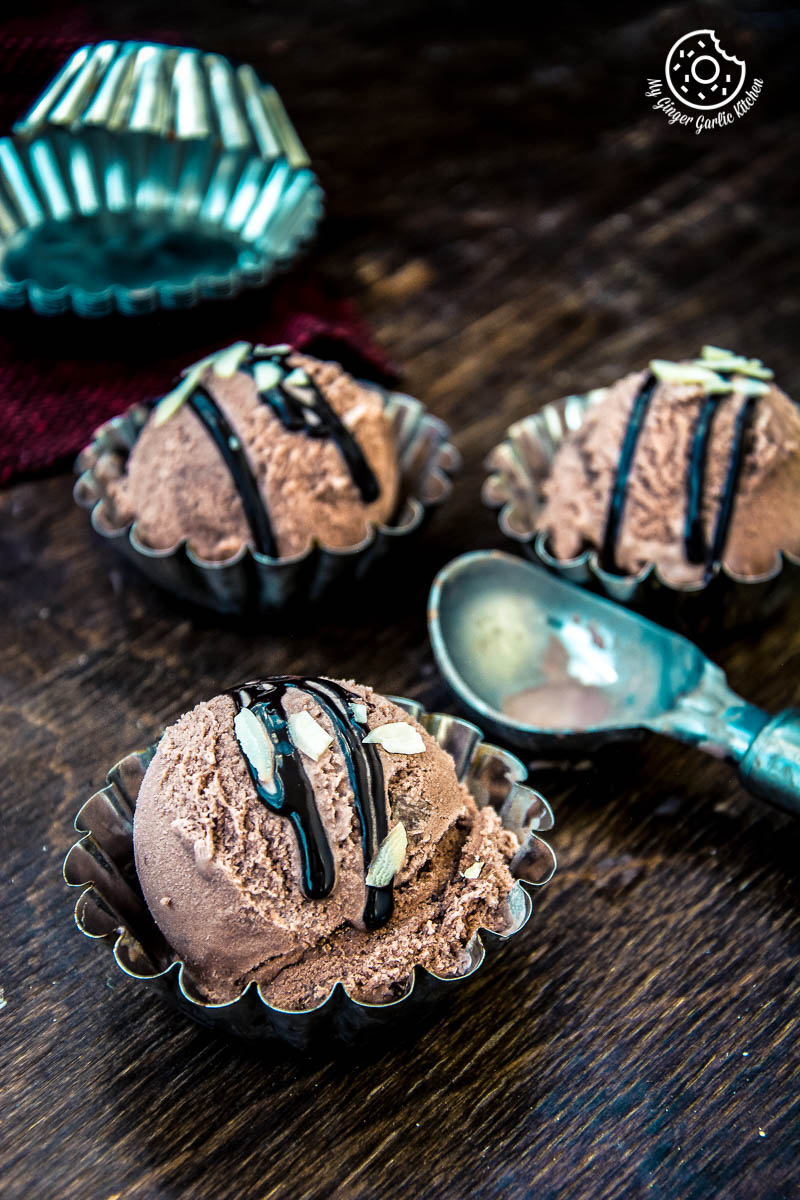 When I was about to write this post I got a wonderful book of quotes which I ordered online last week. So what else could be a better way to start a Monday than a quote with a cup of coffee. So here I am with some impressive dose of wisdom.
Whenever I read quotes from any book, I read them randomly. It's because wisdom is not linear, it's eternal and applicable at all times. Thus, it does not need to have any sequence. So, the very first random quote I read from that book is this one. This quote from Paul Harvey says it all.
"Like, what you do, if you don't like it, do something else."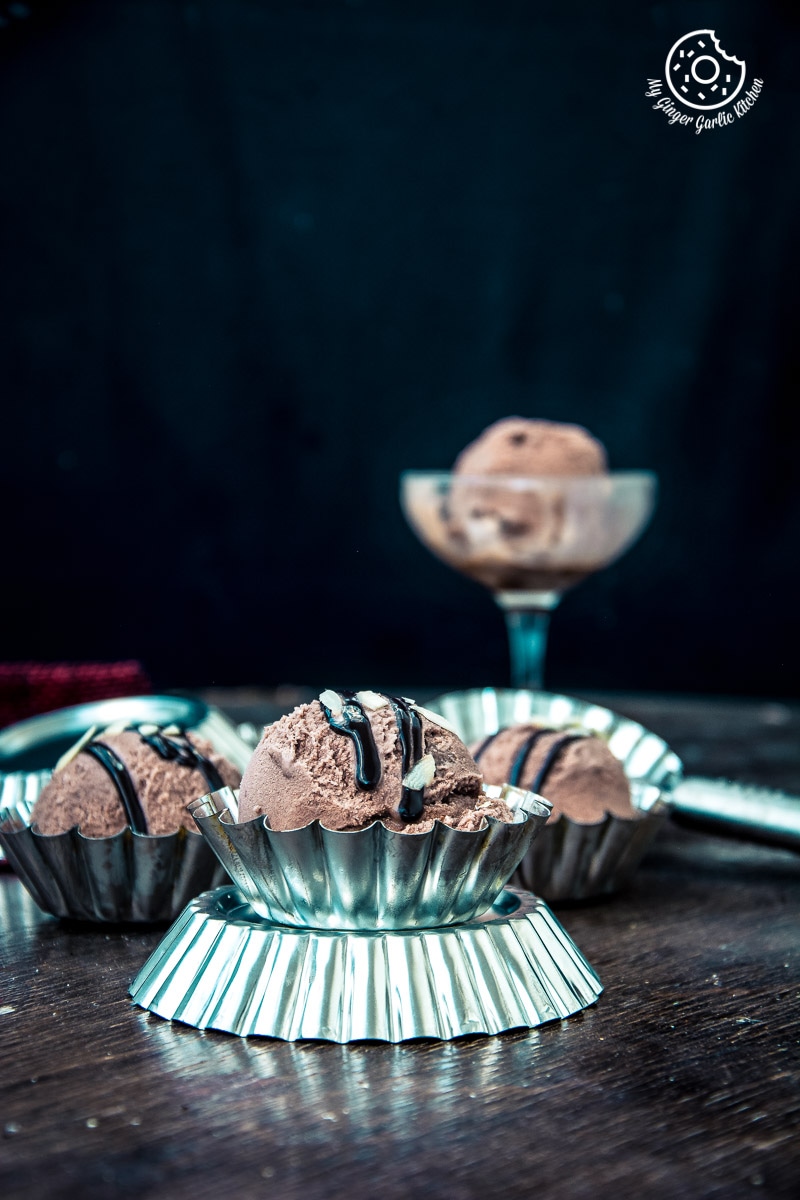 I personally agree to this to the core. In fact, that is the one and only reason I blog here. This is true me. This is the true expression of myself. Edward Everett Hale said it beautifully.
"I am only one,
But still, I am one.
I cannot do everything,
But still, I can do something."
So…..
*I love making good food.
*I love taking pictures of food.
*I love making videos of food.
*I love sharing food with friends in real life.
*I love writing about food.
*I love sharing posts about food with others.
*I love talking to and meeting with like-minded people.
Anyone who comes here, comes here to know about food that they like. Isn't it?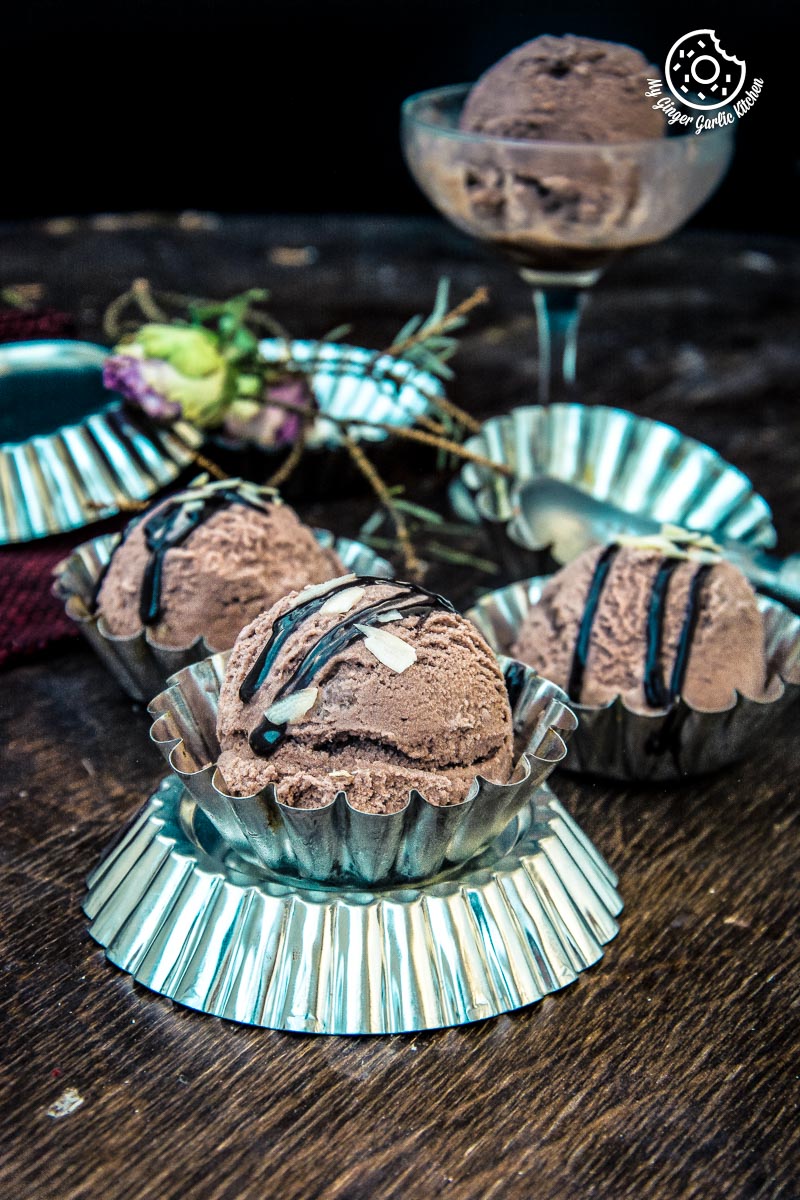 So let's admit that we all are foodies. And we should all do what we are good at. So let's all talk about the food, food, food and only good food. That's why we are here for. That's what connects us all. Right?
The food item I am about to talk today is this 'Eggless Chocolate Hazelnut Ice Cream'. But I guess I am short of words for this. It's because when I am talking about the goodness of this ice-cream, it's like showing a flickering flame to the light of the sun'.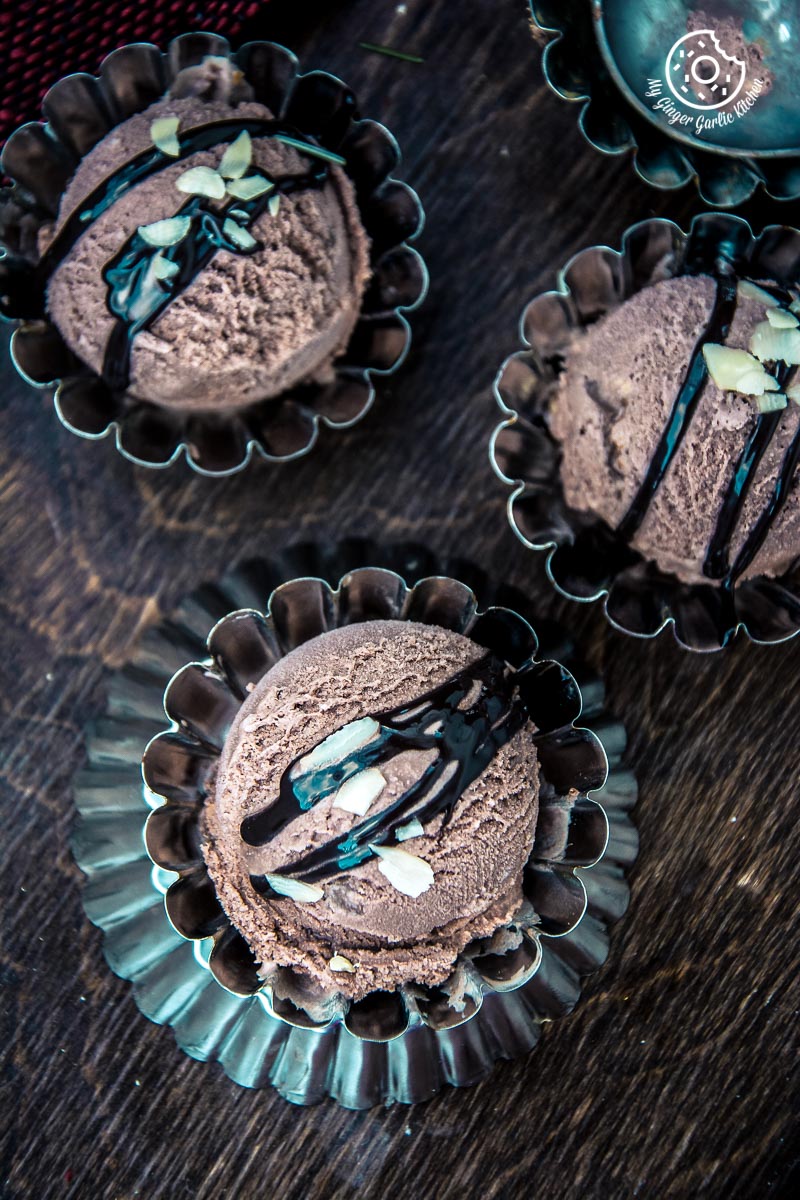 Creamy and dreamy:
This ice cream is just that good. But if you still want to know more about its goodness in my words, then here you go:
The combination of Chocolate and hazelnut need no introduction, Right? The classic pairing of these two humble ingredients can make any type of brownies, cookies, desserts or ice-creams more desirable. Whenever I go to an ice-cream parlor I often order chocolate hazelnut ice cream. This is certainly one of my favorite flavors. And I am sure it would become your favorite too.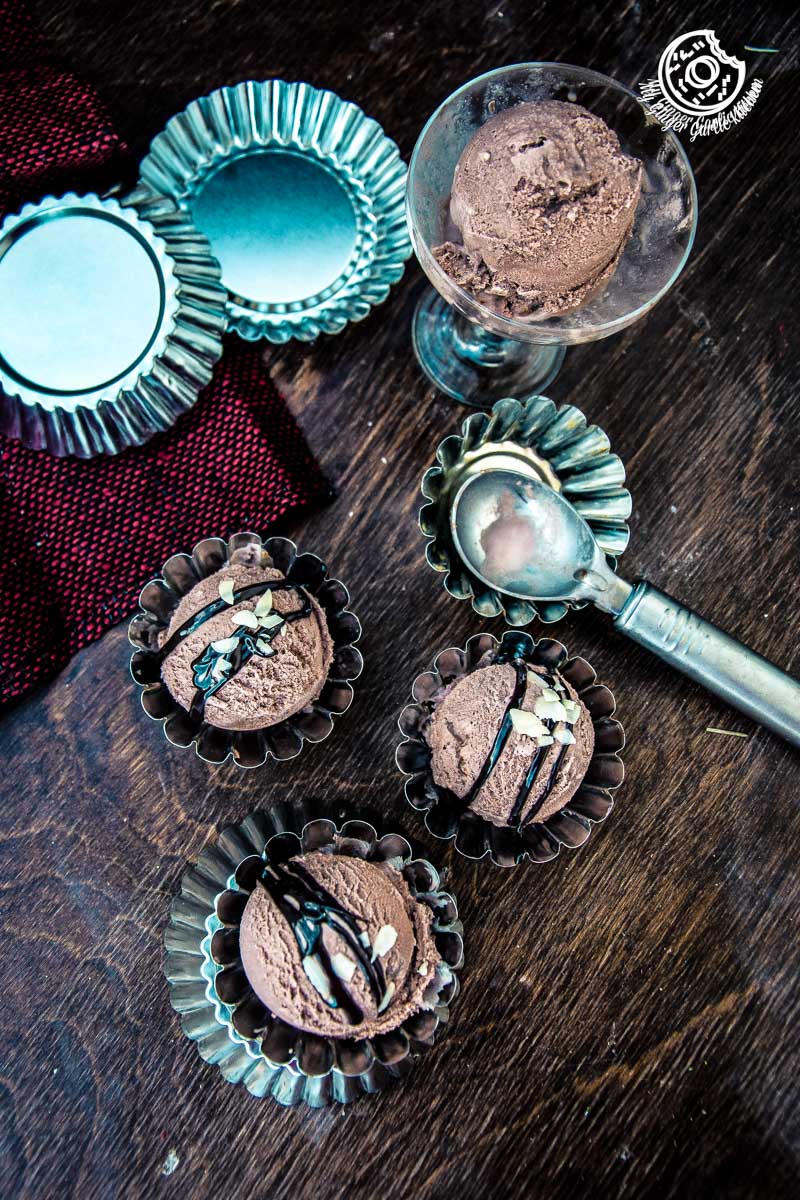 This ice cream is very soft, creamy and full of deliciousness. I wanted a more intense chocolate flavor so rather than using chopped hazelnut I opted for hazelnut chocolate candies. The more chocolate the better. The candies give a perfectly desired nutty crunch to this ice cream.
So I started my post with some wisdom, and I want to end my post with some wisdom as well. It was offered by Oscar Hammerstein II.
"If you don't have a dream, how are you going to make a dream come true?"
And now I am dreaming of enjoying this ice-cream which I made on Saturday. So, now I want to get up right away, go home and fill a bowl with at least 3 scoops of this choco-nutty goodness. How about you? 🙂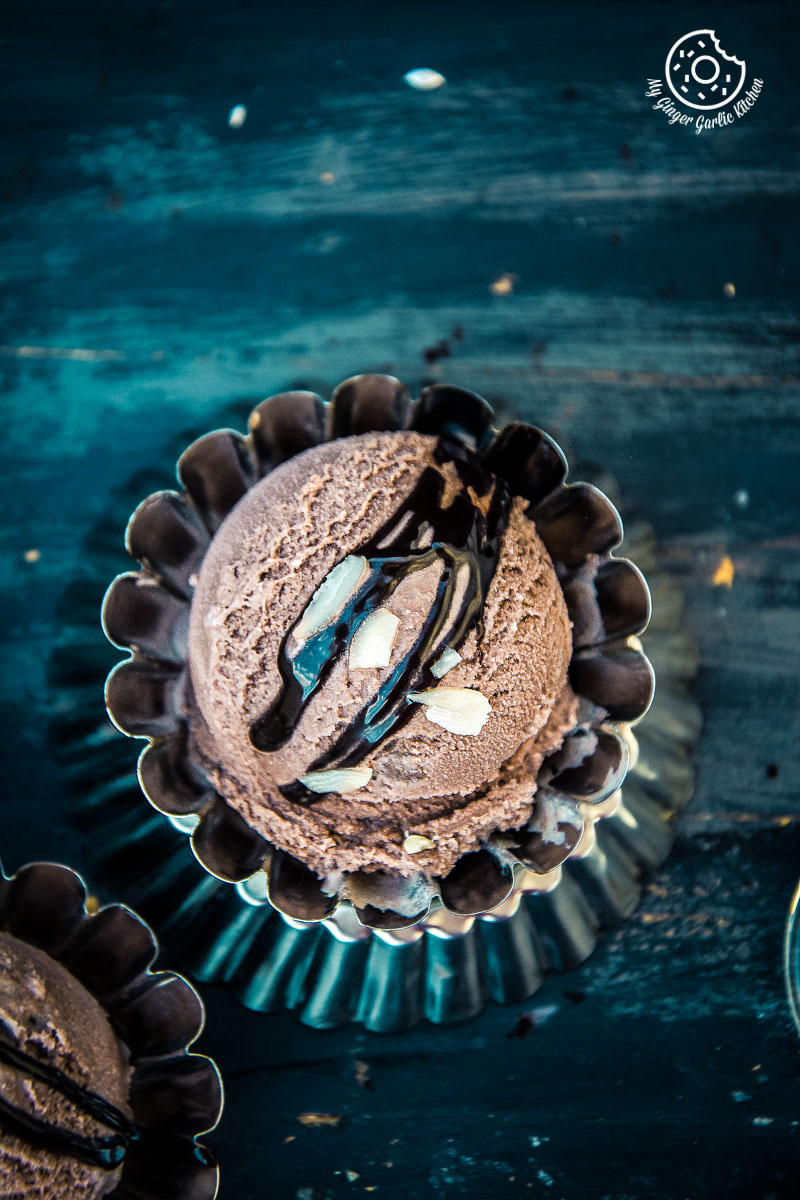 You may also like these ice cream recipes:
Eggless Chocolate Hazelnut Ice Cream

[Recipe]
This Eggless Chocolate Hazelnut Ice Cream is a rich and delectable ice cream made in an icecream maker. This is a pure heaven in a bowl for chocolate lovers.
---
★★★★✰
(Rating:
4.6
from
26
reviews)
---
| Prep time 🕐 | Cook time 🕐 | Total time 🕐 |
| --- | --- | --- |
| | | 40 mins |
| Category ☶ | Cuisine ♨ | Serves ☺ |
| Dessert | World | 8 |
| Nutrition Info ⊛ | | Serving size ⊚ |
| 435 calories | | 1 serving |
---
INGREDIENTS
Eggless Chocolate Hazelnut Ice Cream:
2 cups whole milk
2 cups Heavy cream or whipping cream
300 grams sweetened condensed milk, or as per taste
5-6 tablespoons Cocoa powder
1 cup hazelnut candies, chopped
2-3 tablespoons chocolate syrup
---
INSTRUCTIONS:
Eggless Chocolate Hazelnut Ice Cream:
In a large bowl or jug, add unsweetened cocoa powder and sweetened condensed milk.




Whisk well to combine.




Add heavy or whipping cream, milk, and whisk well.




Pour mixture into the container of an ice-cream maker and freeze according to the manufacturer's instructions.




Once done. pour 3/4th of the ice cream mixture into a freezer-safe tin or container.




Sprinkle 1/2 cup of chopped hazelnut candies.




Top with remaining ice cream.




Add chopped hazelnut candies.




Drizzle the chocolate syrup.




Swirl the mixture using a knife.




Cover and place in the freezer for 2 hours.




Scoop out the ice-cream in a cup or cone. Enjoy.



---
WATCH RECIPE VIDEO: Click the play button and video will load ...
---
NOTES:
No notes for this recipe.
---
If this recipe helped you, then please spread the word by sharing and
subscribing
to us on YouTube to get more such Recipe Videos.
---
Your feedback is so helpful for me and other MyGingerGarlicKitchen readers. So, for Facebook and Instagram, please mention
@MyGingerGarlicKitchen
or
#mygingergarlickitchen
. I would love to see your photos. :)
---
Author:
Anupama
Recipe Source Link:
https://www.mygingergarlickitchen.com/eggless-chocolate-hazelnut-ice-cream-video-recipe/
Date Published:
2019-11-13
• • • • • • • • • •