Best Carrot Cake Cupcakes with Lemon Ricotta Frosting
These awesomely fun, light, soft, moist and seductive Carrot Cake Cupcakes with Lemon Ricotta Frosting can make anyone drool. Perfect for dessert or brunch!
---
« Go back
Print this recipe »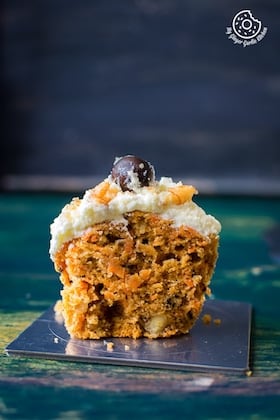 ---
Prep Time = 10 minutes
Cook Time = 22 minutes
Total Time = 32 minutes
Category = Dessert
Cuisine = Western
Serves = 22
Nutrition Info = 335 calories
Serving Size = 1 serving
---
RECIPE INGREDIENTS
» For Carrot Cake Cupcakes:
2 cup (225 grams) wheat flour or plain flour
2 large eggs, at room temperature
1 teaspoon ground cinnamon
2 1/2 cups peeled and grated carrots
1/2 cup chopped walnuts
1 teaspoon baking powder
1 teaspoon baking soda
1/2 teaspoon salt
4 tablespoons raisins (optional)
1/2 cup (100 grams) powdered sugar
1 cup vegetable oil (i used canola or rapeseed oil)
chopped walnuts and chocolate eggs for decoration (optional)
1 teaspoon vanilla extract
» For Frosting:
200 grams skim ricotta
200 grams greek yogurt
1/2 teaspoon lemon juice
1 teaspoon lemon zest
1/4 cup honey
---
RECIPE INSTRUCTIONS
» Making Carrot Cake Cupcakes:
Preheat oven to 180°C // 355°F. In a large mixing bowl, whisk together eggs, granulated sugar, oil, and vanilla.
Using a wire whisk or an electric hand mixer, whisk until slightly pale.
Add shredded carrots, chopped walnuts, and mix well until combined.
In the same mixing bowl, sift together flour, baking soda, baking powder, salt, and cinnamon.
Mix well until combined.
Add raisins and toss in the batter until evenly combined.
Pour batter into paper-lined muffin cups, filling each cup about ¾ full.
Bake in a preheated oven at 180°C for about 20-24 minutes.
Do a toothpick test; if the toothpick inserted into the center of a cupcake comes out clean they are ready. Let them cool slightly in the muffin tray for a few minutes. Then transfer them to a wire rack and let them cool completely.
» Making Whipped Ricotta Lemon Frosting:
Using an electric mixer whip together ricotta and yogurt on medium speed until lightly smooth and fluffy.
Add the honey and grated lemon zest and fold together well.
» Frosting Carrot Cupcakes:
Frost the cupcakes with lemon ricotta frosting.
Garnish with chocolate candies, and chopped walnuts.
Serve with a glass of milk or coffee.
---
RECIPE NOTES
No notes for this recipe.
---