Creamy Sweet Potato Carrot Soup | A warming vegan, gluten-free soup with an appealing golden color. This soup is so full of vitamin A, and it's bursting with hearty ingredients which would give you a comfy feeling with awesome deliciousness.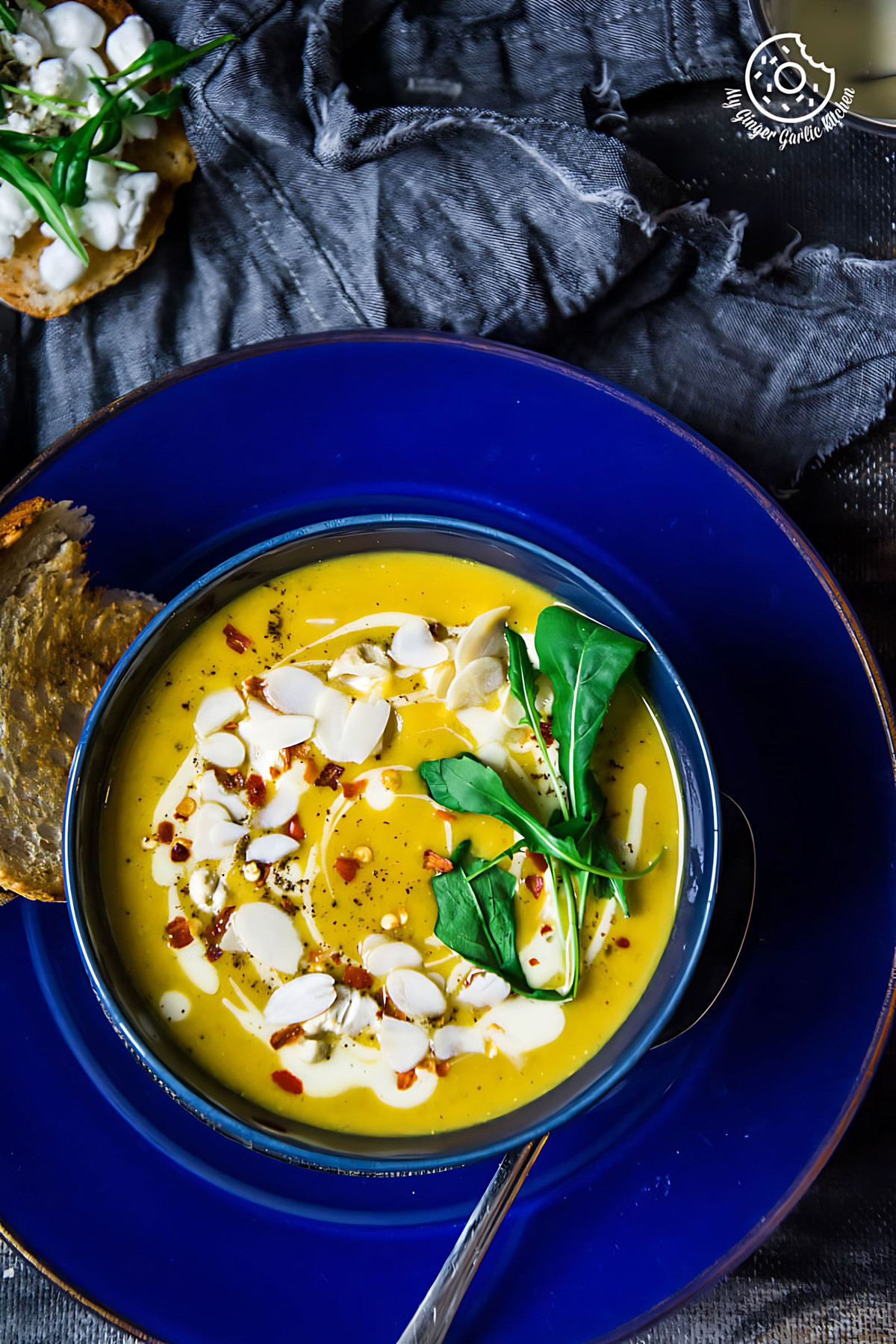 I woke up to a magical, bright, and warm sunshine yesterday morning. Still, it was cold and there's a lot of snow outside. But that illusion of warmth made me feel that spring is really arriving.
Bright summer-like sunshine is a rare phenomenon in Scandinavia. This is especially true in winter months. So the first thing Ado asked after waking up yesterday was: "Mommy, why it is morning already today. Are we late?"
Me: "No, we are on time."
Ado: "But why it is so bright already? Is it summer time?"
Pin it to your DINNER BOARD to SAVE IT for later!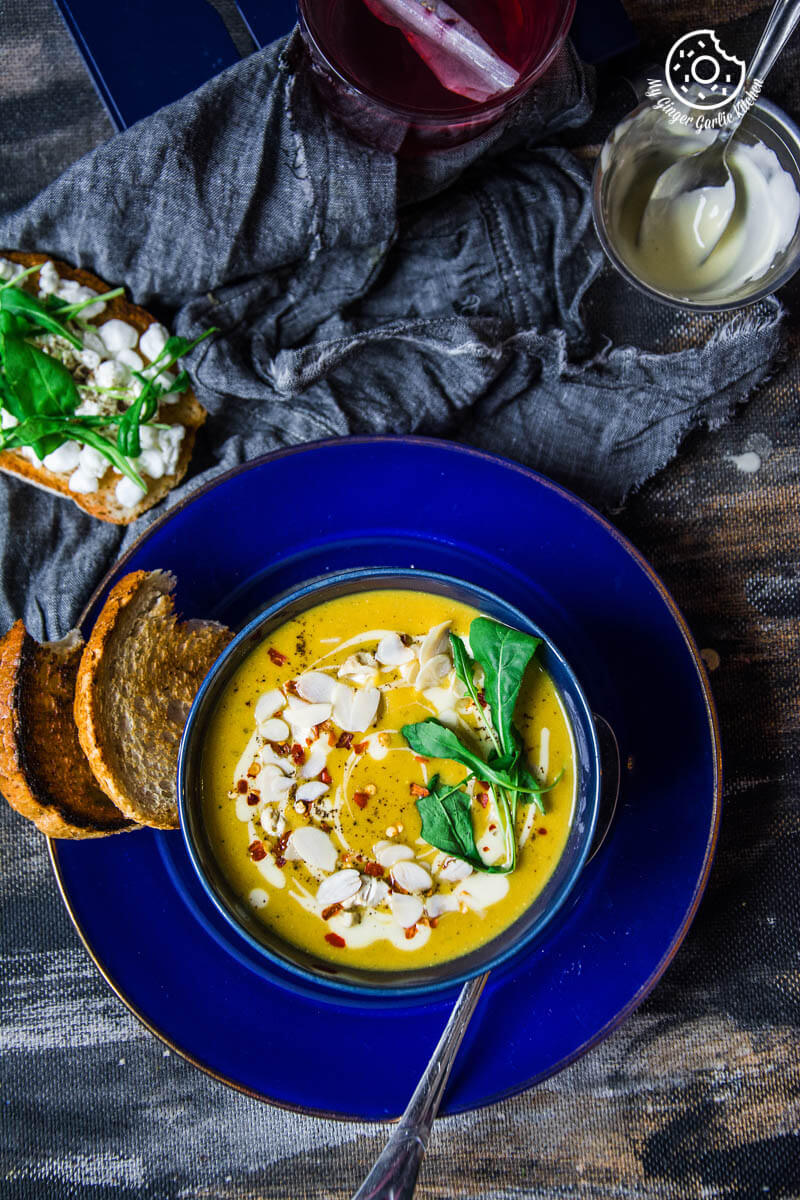 Now you might be thinking what she means by that. The thing is that winter months are really dark and long here in Finland. We go out to work when it's dark in the mornings, and we come back home, again in dark. And during these days when we wake up early in the mornings, it's dark, and by the time we get ready it is morning already.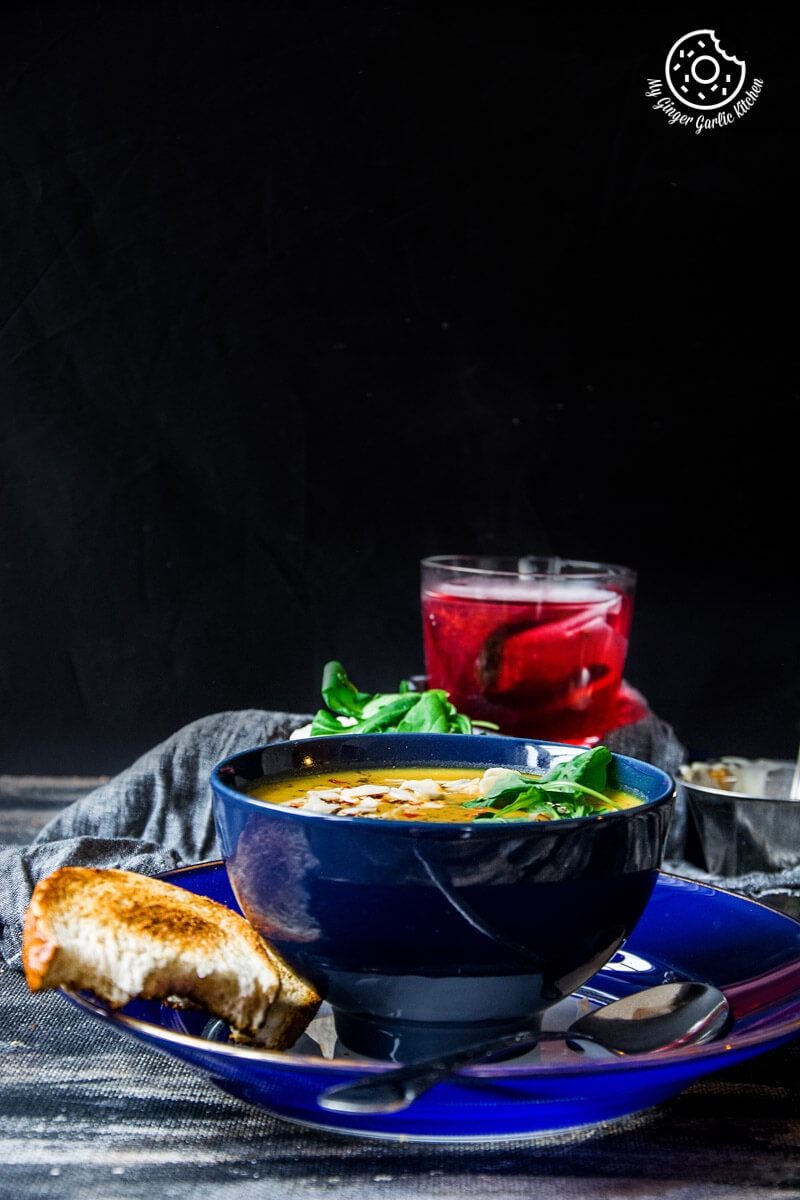 But there rarely is a gleaming sight like today. So it was really surprising for her to see sunlight at the time she woke up. Not to mention that sunlight made us both feel very ecstatic.
Oh, and at such special blissful times, all I want is to drink a glass of sunlight every morning to illuminate my inner self. Happy mood leads to happy creations. And my happy mood landed me to this mildly spiced and flavor bursting 'Creamy Sweet Potato Carrot Soup'.
Is it too late for a soup in your dictionary? Well for me, it's never too early or too late when it comes to a comfy bowl of soup. As you know we are still having some cold weather here with sub-zero temperatures, and this golden yellow soup sounded like just the best fit for yesterday's dinner.
What you get is a sweet, spicy, creamy and rich soup when you combine carrots and sweet potato. And it is more of a gift when some spices are blended with a rich and flavorful ingredient — coconut milk.
The natural sweetness of the sweet potatoes + carrots and coconut milk gives this soup a surprising intense sweet flavor twist. And spices help in balancing that sweet flavor. I also added some cashews and almonds for that nice crunchy touch.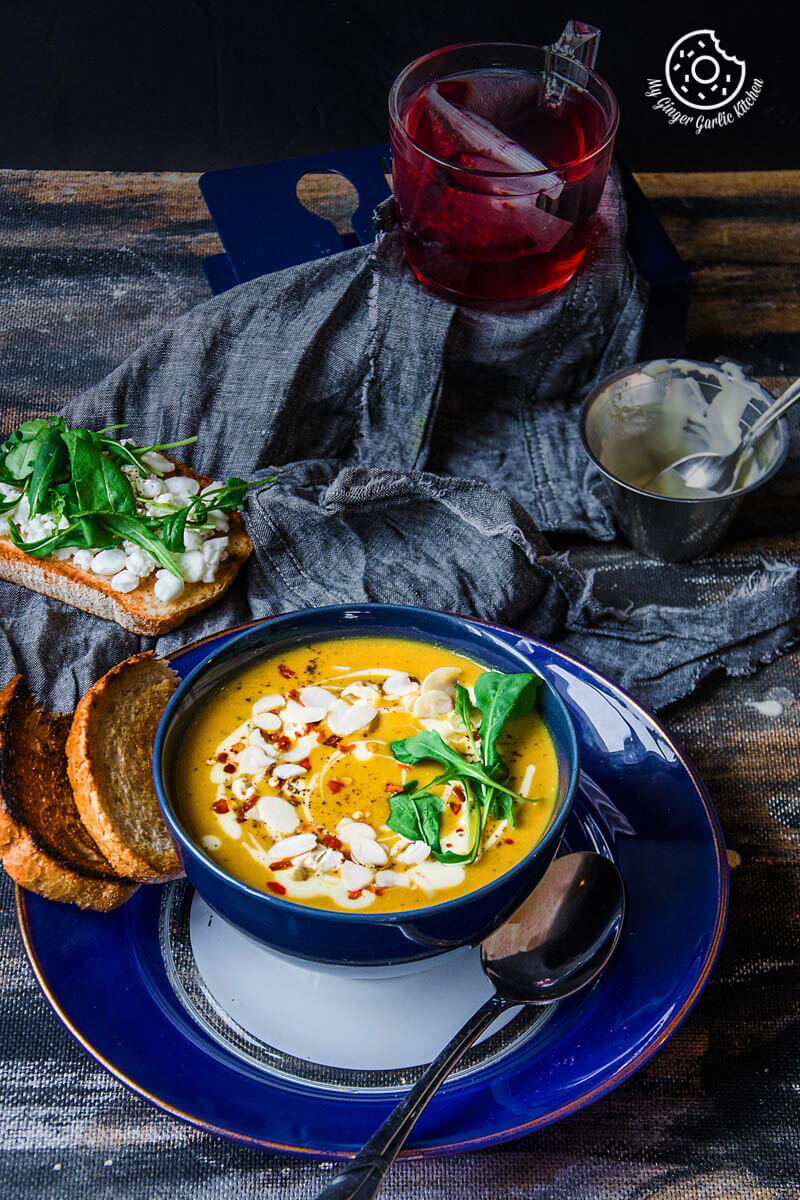 This thick, creamy, and bright soup makes an easy, quick and comforting bowlful for everyday meal — all on its own. For a complete meal, I would suggest you to add a slice of bread with some salad or have it with some rice or noodles. And yes, don't forget a splash of lime/lemon juice at the end for that extra flavour punch.

So try this very nutritious, spiced carrot and sweet potato soup. Dark or no dark, winter or no winter, this soup delight will surely warm you up.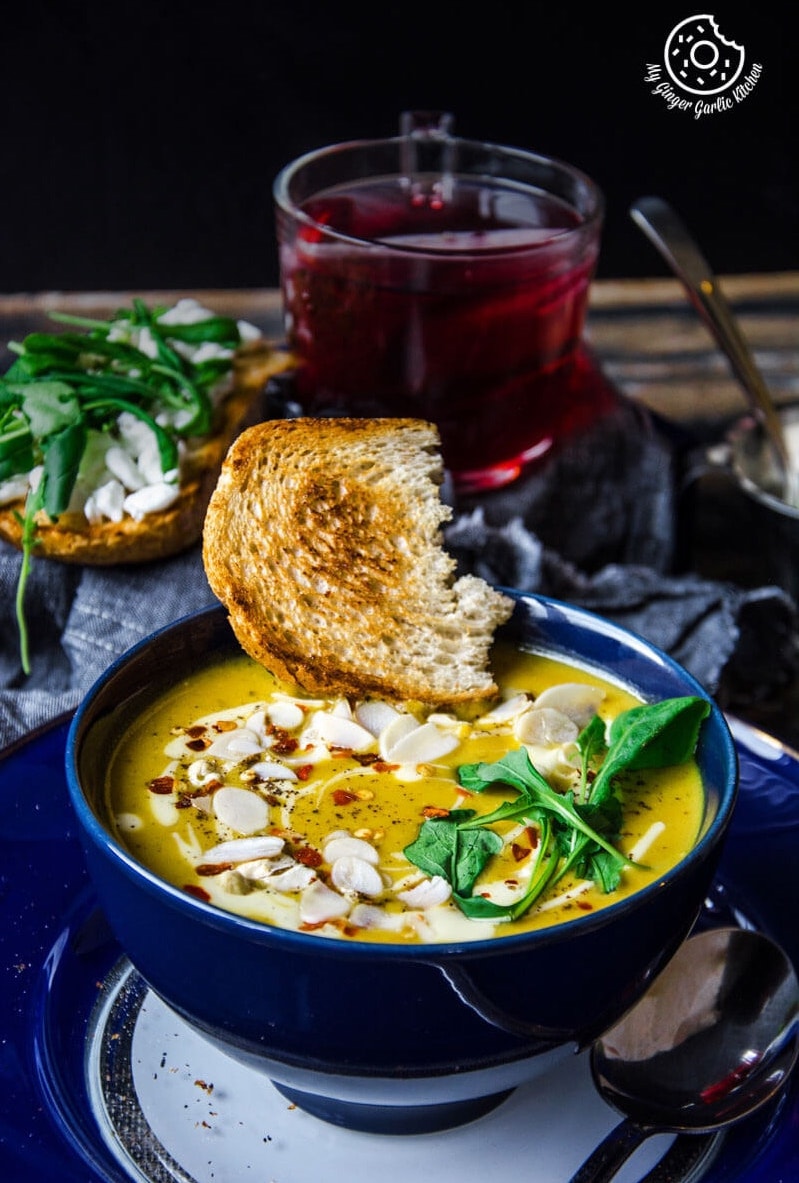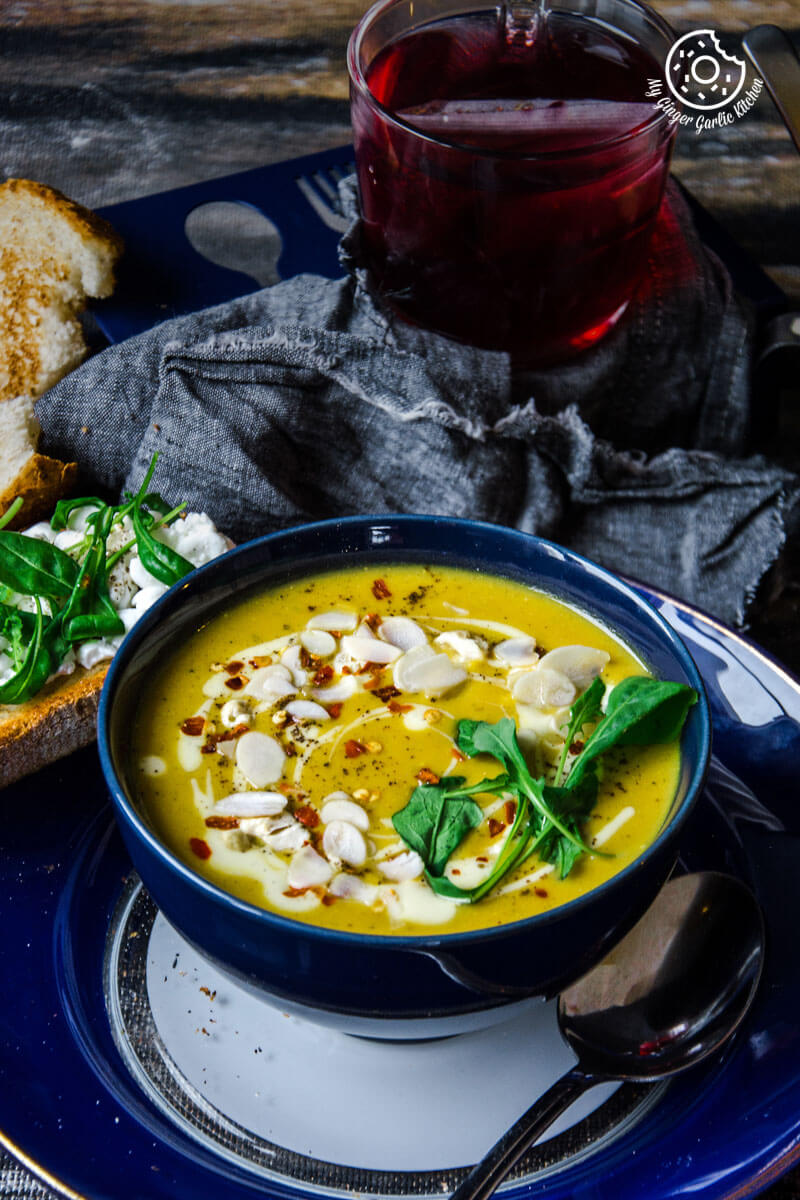 Creamy Sweet Potato Carrot Soup

[Recipe]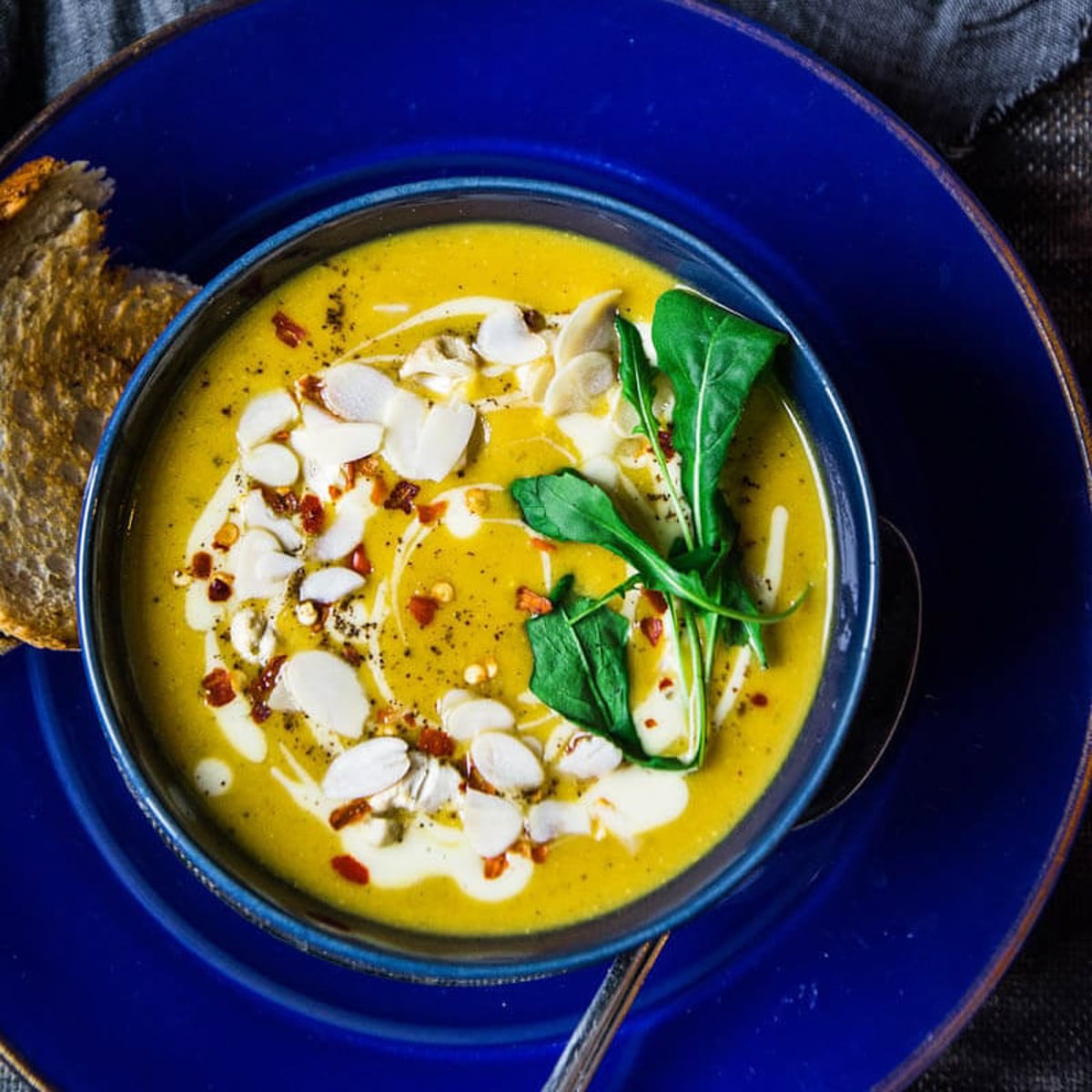 This nutritious, silky smooth, super versatile, vegan, and gluten-free golden soup is a perfect side or starter for dinner party. Serve with toasted bread.
---
★★★★✰
(Rating:
4.1
from
43
reviews)
---
| Prep time 🕐 | Cook time 🕐 | Total time 🕐 |
| --- | --- | --- |
| | | 50 mins |
| Category ☶ | Cuisine ♨ | Serves ☺ |
| Main | International | 4-6 |
| Nutrition Info ⊛ | | Serving size ⊚ |
| 215 calories | | 1 serving |
---
INGREDIENTS
Creamy Sweet Potato Carrot Soup //
1 tablespoon oil (vegetable or coconut)
1 large-sized yellow onion, diced
1 tablespoon ginger, diced
1 tablespoon garlic, diced
1 teaspoon ground cinnamon
2 teaspoons ground pepper, or as per taste
1/2 teaspoon himalayan sea salt, or as per taste
2 teaspoons roasted cumin powder
2 large-sized diced peeled carrots
2 cups diced peeled sweet potatoes
a bunch of coriander with stems
3 cups vegetable stock, plus more if needed
1 1/2 cups coconut milk
For Serving //
Chili Flakes
Ground black pepper
Fresh herbs for garnish
Almonds, cashews
---
INSTRUCTIONS:
Creamy Sweet Potato Carrot Soup //
In a large pot, heat the oil over medium-high heat.




Add the ginger, garlic, and onion and sauté for 3 to 5 minutes, until the onion is slightly browned.




Add carrots, sweet potatoes, coriander, cinnamon, ground pepper, roasted cumin powder, and pink salt and sauté for 5-7 minutes.




Add the vegetable stock to the pot and stir well to combine. Reduce the heat to medium-low.




Cover and simmer for 30 minutes, until the sweet potatoes and carrots are tender. (Vegetables should be very tender.)




Let it cool completely.




Using a stick blender or food processor, blend the soup directly in the pot until the soup is completely smooth.




Add coconut milk and stir well. Cook for 5-7 minutes.




Add some more vegetable stock if you think the soup is too thick for your preference. (I like it thick and rich)




Ladle soup into serving bowls.




Drizzle with some coconut cream, sprinkle chili flakes, ground pepper.




Garnish soup with arugula or coriander, if desired. Enjoy!



---
WATCH VIDEO:
---
NOTES:
You can also add a splash of lemon/lime juice.
---
If this recipe helped you, then please spread the word by sharing and
subscribing
to us on YouTube to get more such Recipe Videos.
---
Your feedback is so helpful for me and other MyGingerGarlicKitchen readers. So, for Facebook and Instagram, please mention
@MyGingerGarlicKitchen
or
#mygingergarlickitchen
. I would love to see your photos. :)
---
Author:
Anupama
Recipe Source Link:
https://www.mygingergarlickitchen.com/creamy-sweet-potato-carrot-soup-video-recipe/
Date Published:
2019-10-22
• • • • • • • • • •