Potato Roses | Potato Gratins | Video Recipe
---
Watch the video below (please wait for a couple of seconds for loading).
Potato Roses | Potato Gratins. What could be a better present for your loved one other than the mighty roses? Roses which are crafted with so much love and affection. These potato roses make a lovely dish for Valentine's Day dinner.
Pin it to your DINNER BOARD to SAVE IT for later!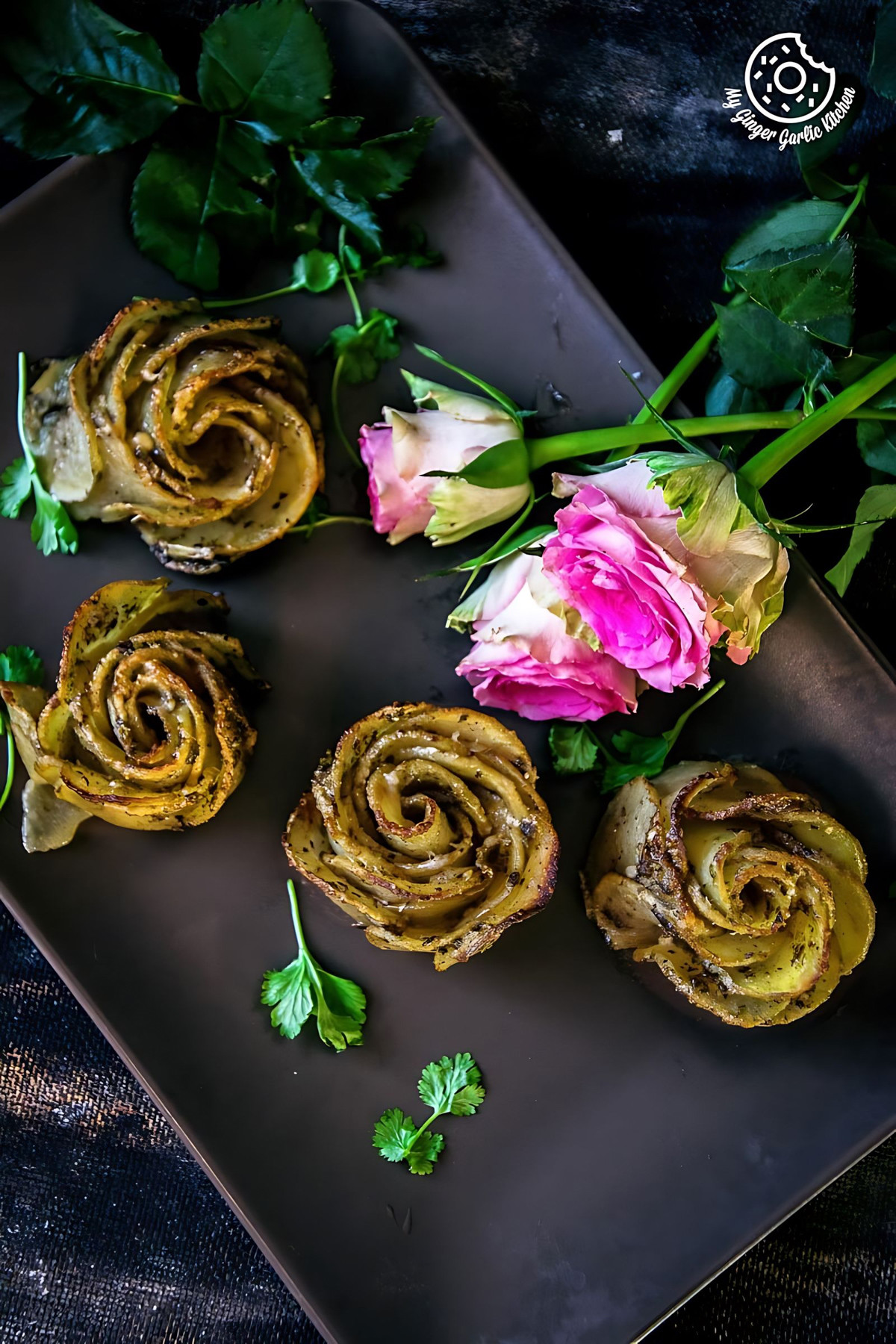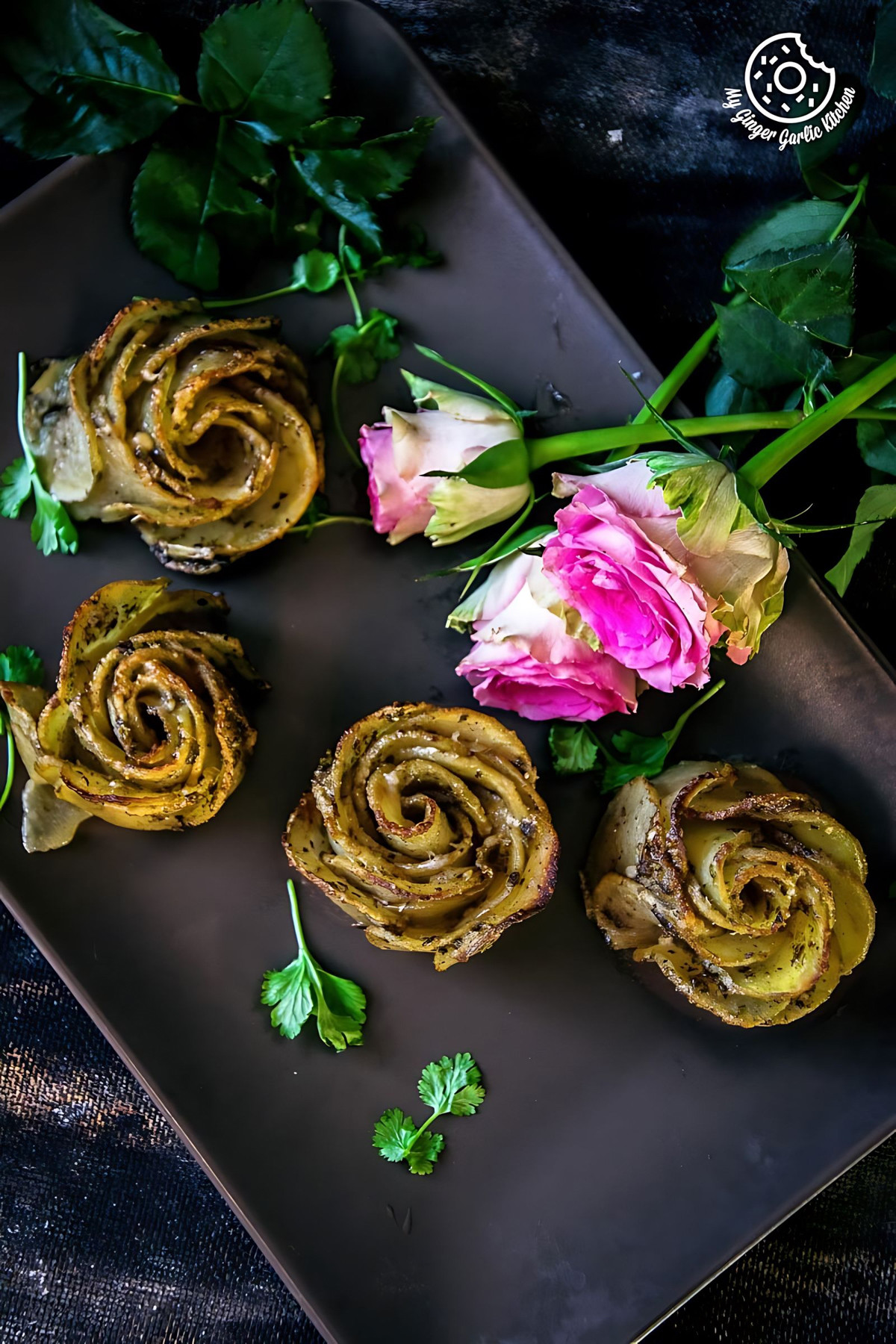 The Valentine's day will be here soon. So, seeing it so near, I think the season of love could already start. There are only a few times every year when we can appreciate the value of our loved ones by our sides. So thinking about the special ones in my life, I feel blessed. This Valentine, I would just like to say a big and bold 'THANK YOU' to my special ones for choosing me.
I know I could write everything in a private letter to them, but I am feeling so overwhelmed by the feelings of bliss that I certainly can't keep them private. I feel like writing it here. I feel like sharing it with everyone. I think it's the season of love which making me so utterly happy.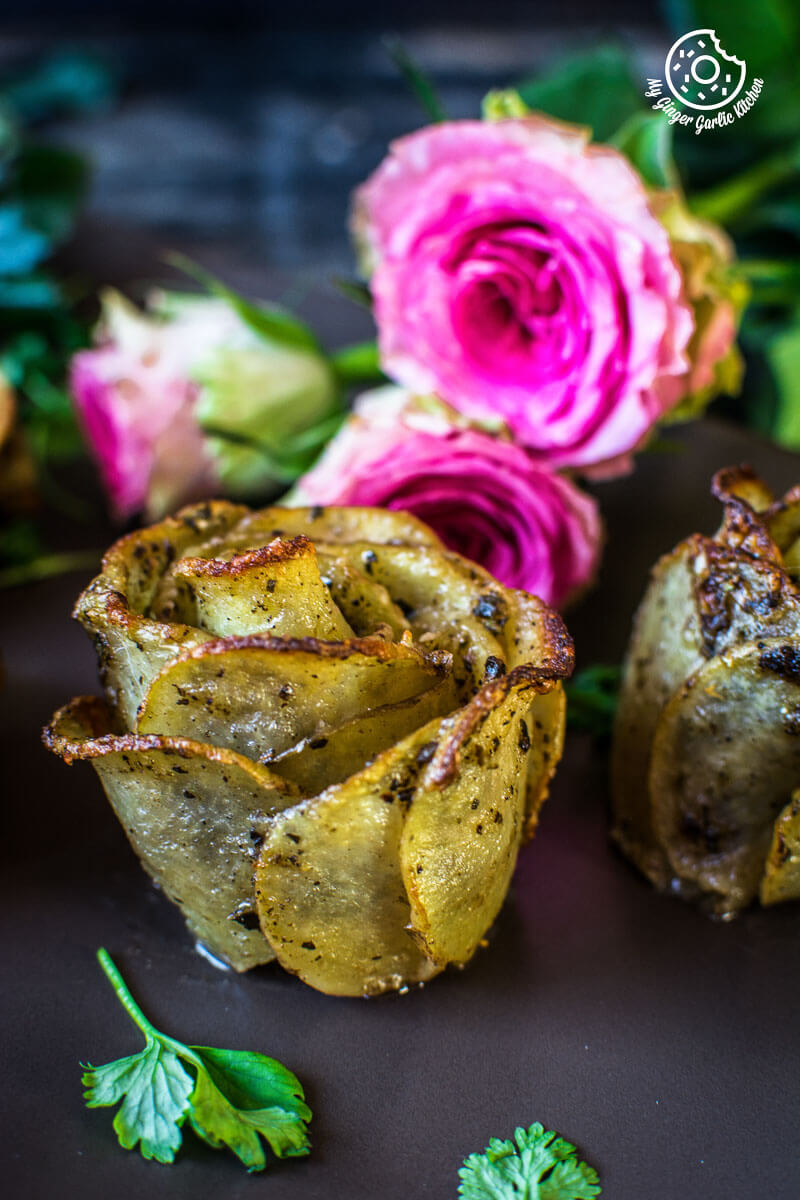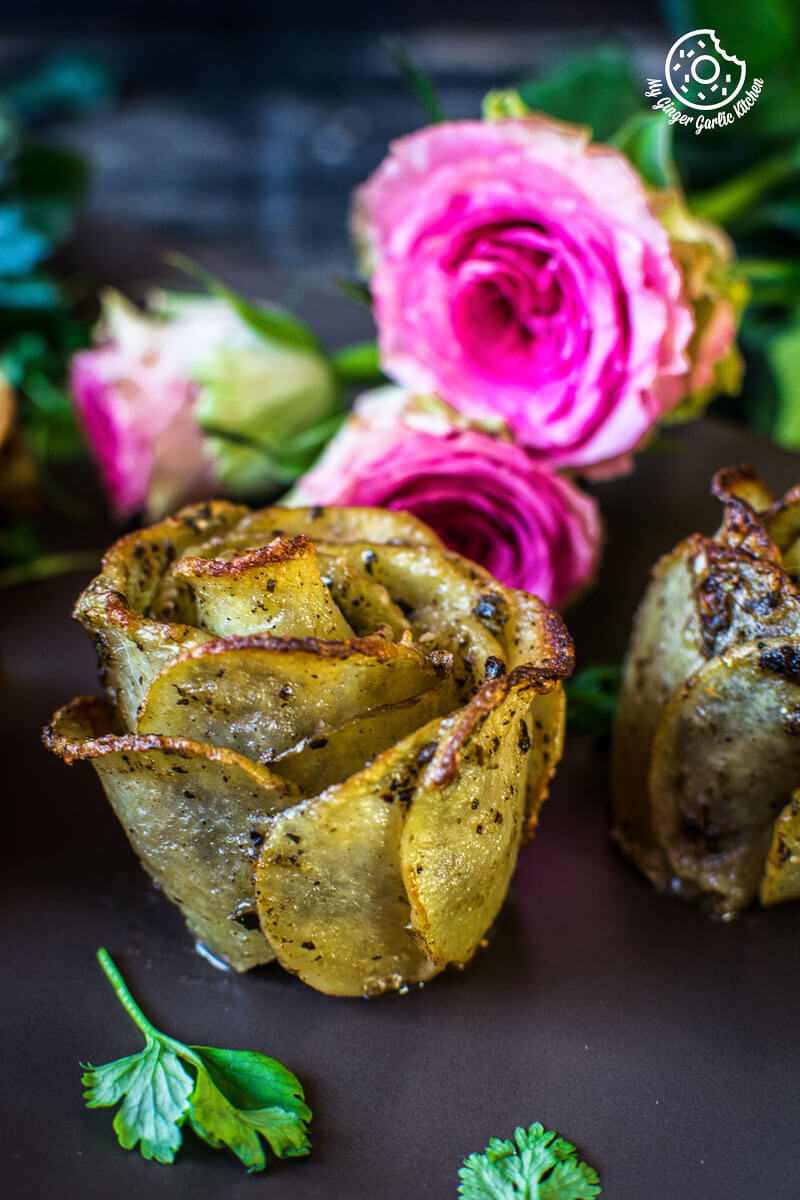 An open letter for my two Valentines:


To My love, my darling, my Abhi,
We are a couple for about a decade now and were boyfriend and girlfriend for a decade before that. So, it's been about 20 years since we first saw each other. We have seen each other growing up, literally. We have seen so many ups and downs. And after these many years, I still get that spark when I see you. I start my day in your arms, and you make my heart skip a beat the moment I see you again at the end of the day. I need you more and more each day as I got addicted to you, and I always want to be under that intoxication of your love.
You make me laugh in a way no one else can. You read my every expression which no one else can. You are the first thing I always want to see when I open my eyes in the morning and the last thing before I close my eyes to sleep in the night.
The time we talk feels like minutes, even if it's hours. I love when we discuss for long hours about the meaning of life, the philosophy of being, during the late hours of the night when there is no noise. Just you and me and our endless talks.
Loving you and living in your company is a constant companion that I carry in my heart. It surrounds me like time itself, and everything I see is through this filter of love. There has never been an awake moment which went by without you and Adoria on my mind. How I wish that I had a magical power to control my dreams. If I had that power I would have dreamt only of you and our little angel. During the whole day when we are apart, I crave to lay my head on your chest, to hug you so tight that I can feel you fully.
I felt so complete when I first found you. The void in my life, the missing piece of the puzzle took the perfect shape of you. You made me complete, loved, cherished.
I lose myself in you and then, I also find myself in you. 24/7 you occupy my heart and my brain, and I am so happy about it. <3 <3 <3
To my precious sunshine, Adoria:
The moment you laid on my chest for the first time, the moment I held you in my arms for the first time, a million pieces inside me started singing together in a perfect symphony. You made me Mommy, you made me feel alive. You gave my life a whole new meaning.
I long to be with you in the evenings after your daycare. I want to inhale your scent, run my hands through your hair, and I long for you to rest your head in my lap while I am doing all this. I so want to nibble your nose when you wrinkle it in a disappointment when you don't like something — and you know what, you look so adorable when you do it.
When I come to pick you up from the Kindergarten, my eyes only look for you. I fail to see how many kids are playing there. I don't see any other details the moment my eyes find you, then they simply follow you.
You make me angry sometimes and then I shout at you. And then the worst thing happens — you get angry and the moment you get angry or sad, you stop talking to me, and then I so realize that I want to speak to you again.
There are no days and nights anymore, there are only moments in my life which runs around you and your daddy. Everything else has kinda ceased to matter.
I crave to hold you tight in my arms, and I would be happy if I could stay that way for the rest of my life. I stare at your pictures, and I watch your videos of the time when you were just a baby. I try to memorize every little detail on your face. I want to soak your precious cuteness in my eyes so that I know my little one is always there. If happiness could be measured, the joy I felt when I heard your voice for the first time was easily a million dollar moment for me.
I thank you so much for choosing me as your companion. And for this honour, I have a present for both of you. For my darlings, I have these beautiful potato roses which you will surely love. I think this is the best gift which I can give to you. Here it is.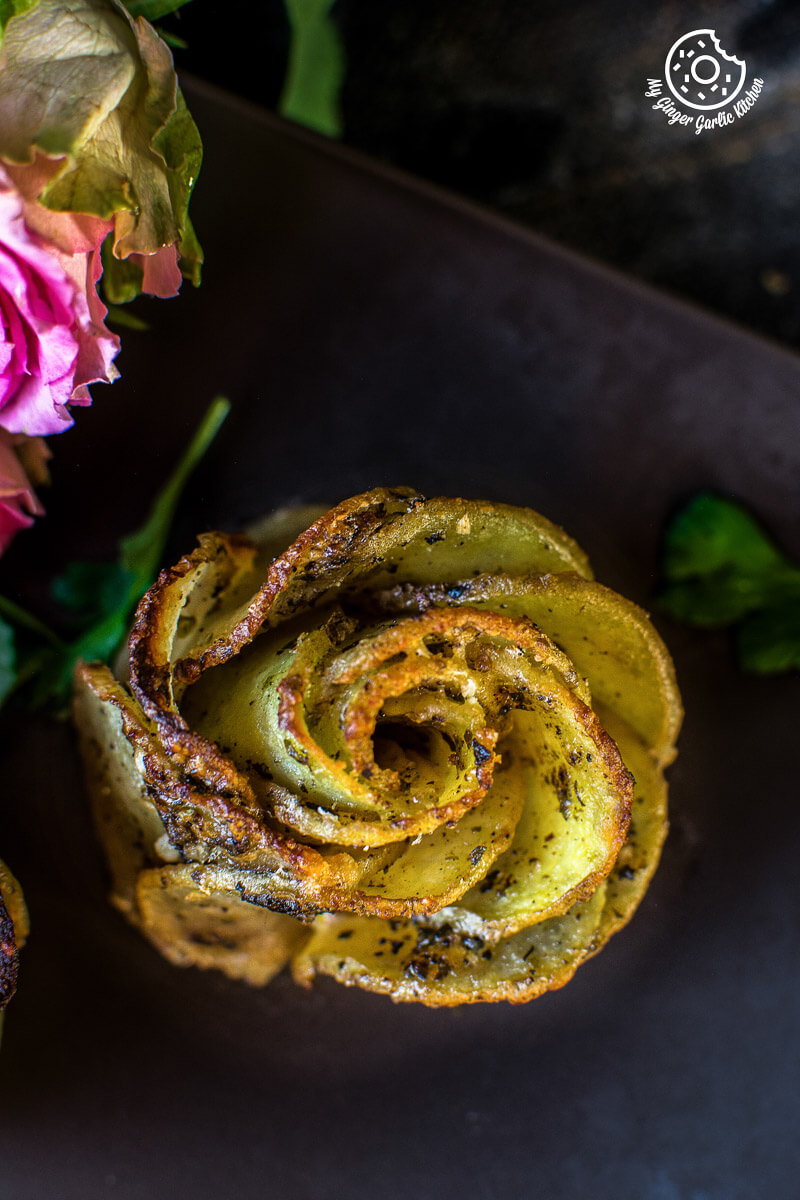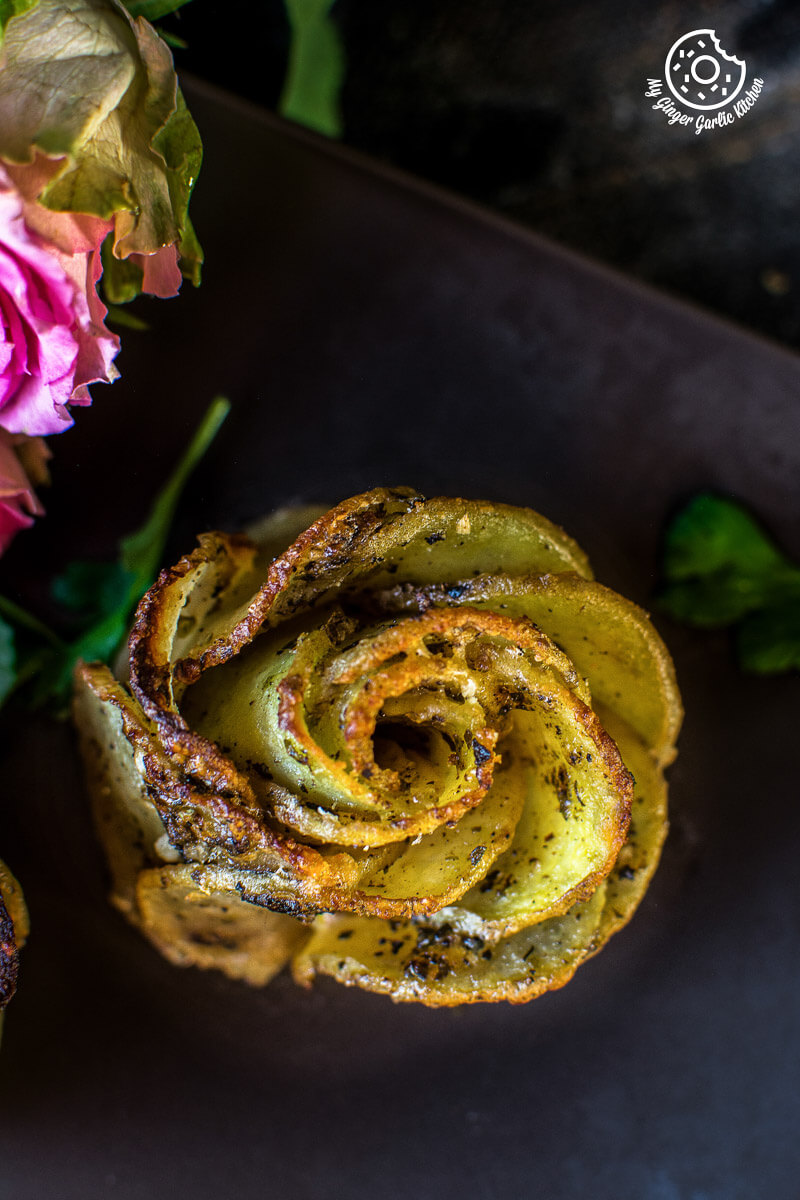 Flowers are the best:
Valentine's day and flowers are made for each other. So what could be a better present for your loved one other than the mighty roses? Roses which are crafted with so much love and affection. Roses which are edible. Plus, you don't have to buy the real roses. These are the ones that you craft in your very own kitchen.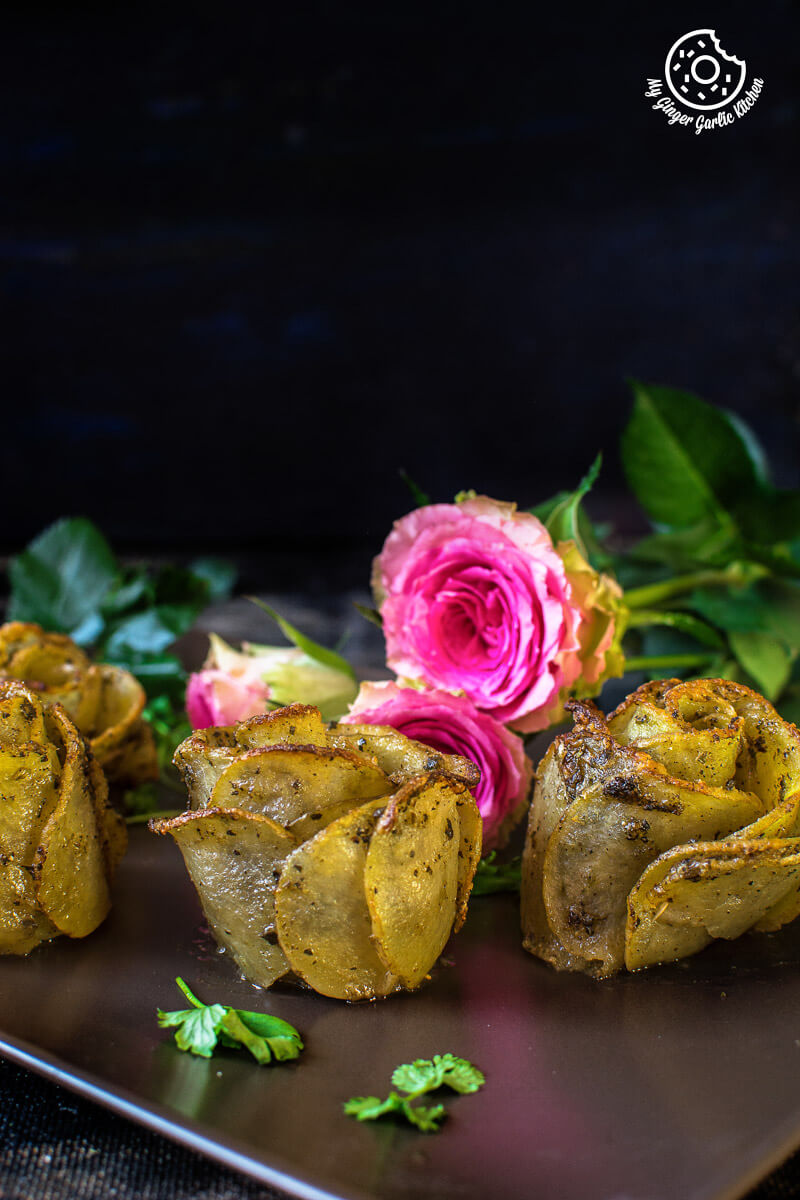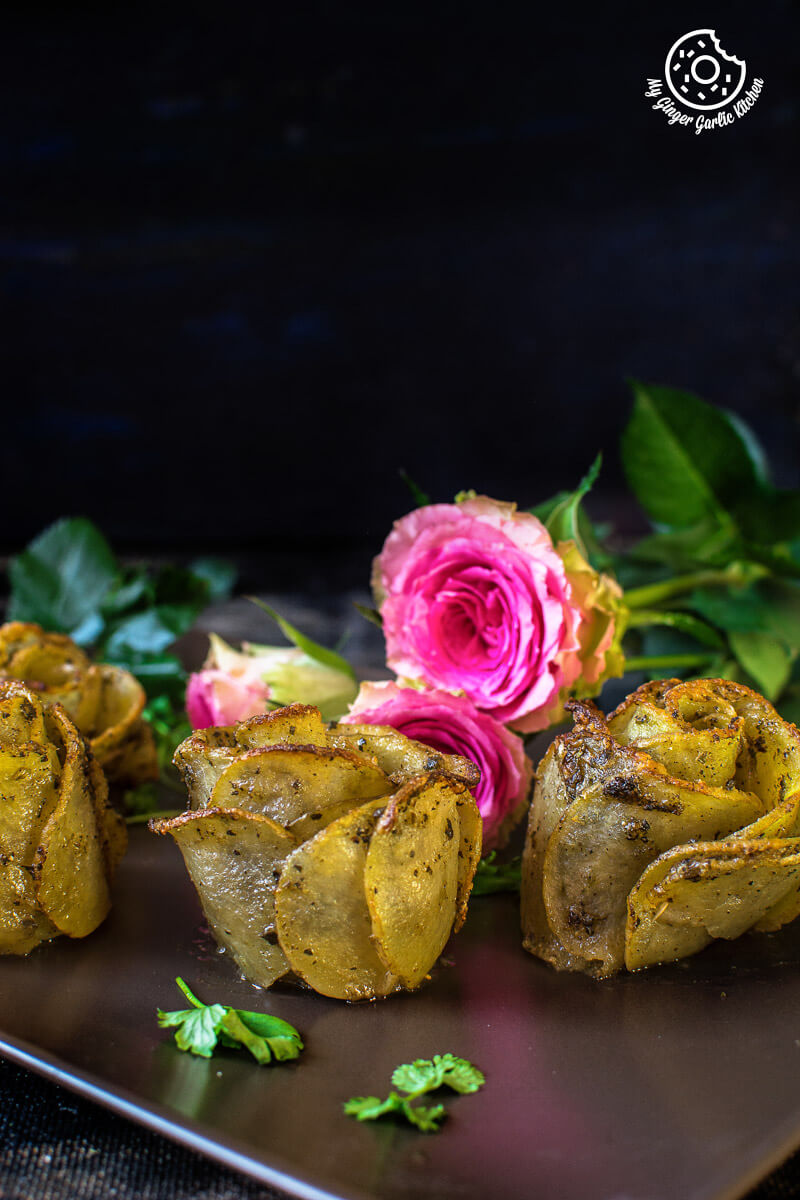 So, what else could be better than an edible potato rose/potato gratin? You bake these potato roses, gift them first and eat them later. They are a gift which can be eaten — 2 in 1.
If you don't have time to bake them for your romantic evening, then make them ahead of time and pop them in the oven or simply reheat them in a pan just before serving. Baking these beautiful roses don't require very many fancy ingredients.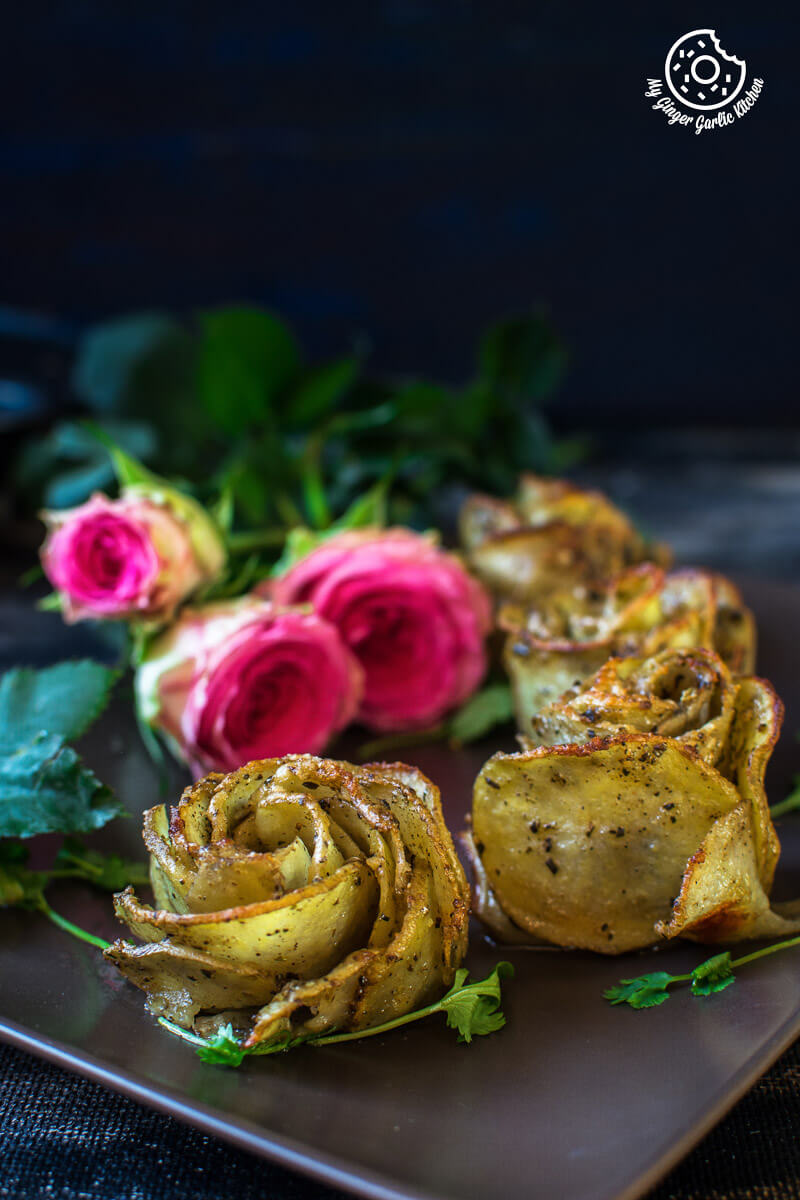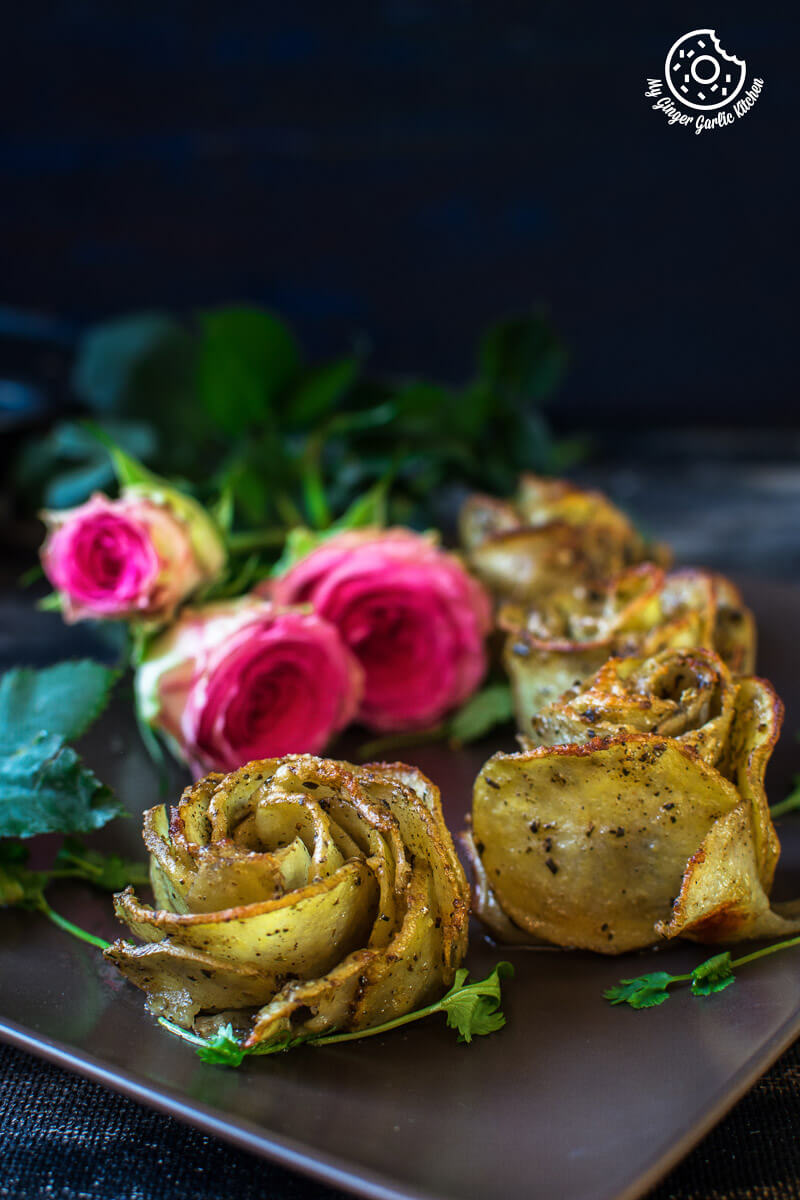 The technique is pretty simple too. This same technique is also used by me in this post about Apple Rose Mini Tartlets. Not to mention that they will also make a great tea time snack for this Valentine's day.
Potato Roses | Potato Gratins | Video Recipe
Author:
Prep time:
Cook time:
Total time:
Potato Roses | Potato Gratins. These potato roses make a lovely dish for Valentine's Day dinner.
Ingredients
<ul class="ingredients">
  <li class="ingredient">
    Yellow/gold potatoes - 4 medium
  </li>
  <li class="ingredient">
    Garlic Olive Oil - 4-5 Tbsp (Or Use Olive Oil + 1 Tbsp Garlic Powder)
  </li>
  <li class="ingredient">
    Italian Seasoning - 1 Tbsp
  </li>
  <li class="ingredient">
    Kosher Salt - 1 Tsp Or As Per Taste
  </li>
  <li class="ingredient">
    Ground Black Pepper - ½ Tsp
  </li>
  <li class="ingredient">
    Grated Parmesan Cheese - ¼ Cup + 2 Tbsp
  </li>
</ul>

Instructions
<div class="instructions">
  <ol>
    <li class="instruction">
      Preheat the oven to 190°C/375F.
    </li>
    <li class="instruction">
      Use a food processor or a mandolin slicer to slice the potatoes.
    </li>
    <li class="instruction">
      Generously grease a muffin tin with melted butter and set it aside.
    </li>
    <li class="instruction">
      Place potato slices in a bowl and add <g class="gr_ gr_179 gr-alert gr_spell gr_run_anim ContextualSpelling ins-del multiReplace" id="179" data-gr-id="179">italian</g> seasoning, garlic oil, ¼ cup parmesan cheese, salt and black pepper. Drizzle in the remaining melted butter.
    </li>
    <li class="instruction">
      Toss with your hands until all the potatoes are coated well, it would take about 1-2 minutes.
    </li>
    <li class="instruction">
      On a board; arrange 10-11 potato slices partially overlapped in a row. Starting with the first slice, Start at one end and carefully roll them up, you have a rose shape.
    </li>
    <li class="instruction">
      If needed, you can add a few more slices to make a bigger rose.
    </li>
    <li class="instruction">
      Hold the rose tightly between your fingers and place it in a greased muffin cup.
    </li>
    <li class="instruction">
      Sprinkle with some more parmesan cheese on top.
    </li>
    <li class="instruction">
      Bake at 190°C for around 55-60 minutes until the edges are cooked, golden and crispy.
    </li>
    <li class="instruction">
      Loosen the edges of potato roses with a fork to lift out.
    </li>
    <li class="instruction">
      Arrange in a serving dish and enjoy.
    </li>
  </ol>
</div>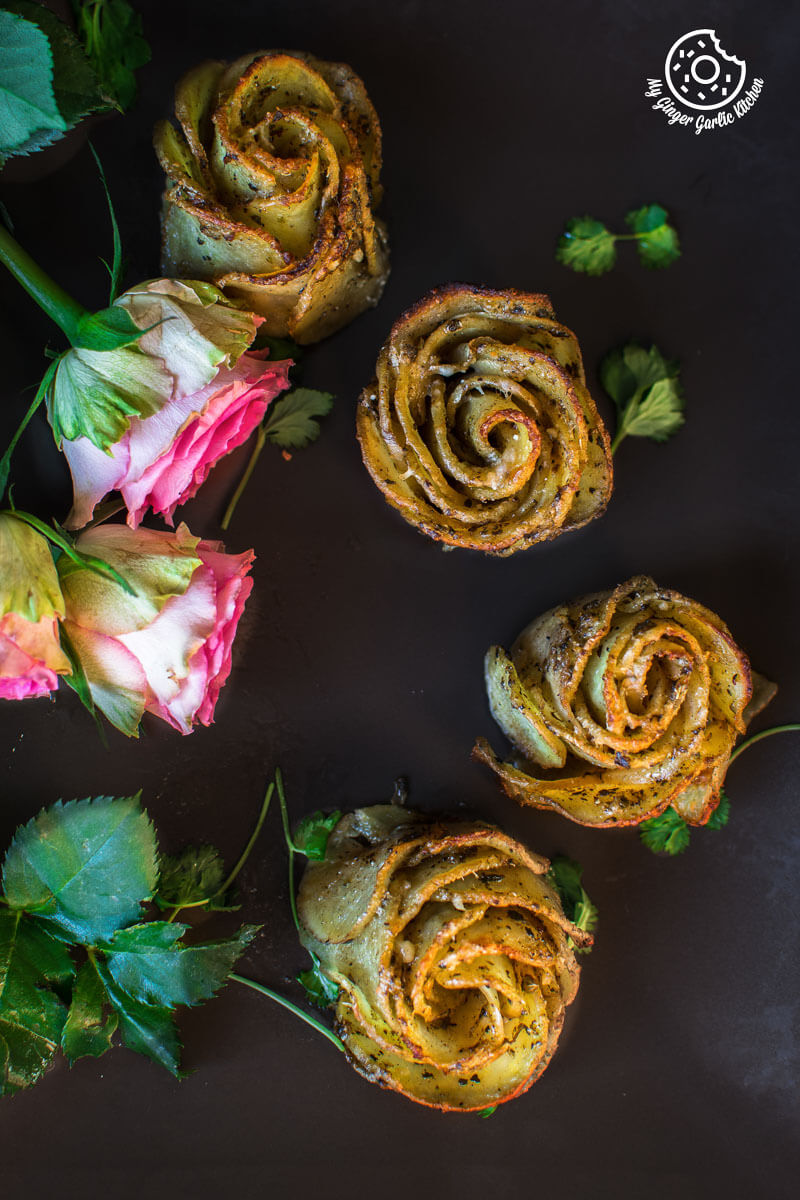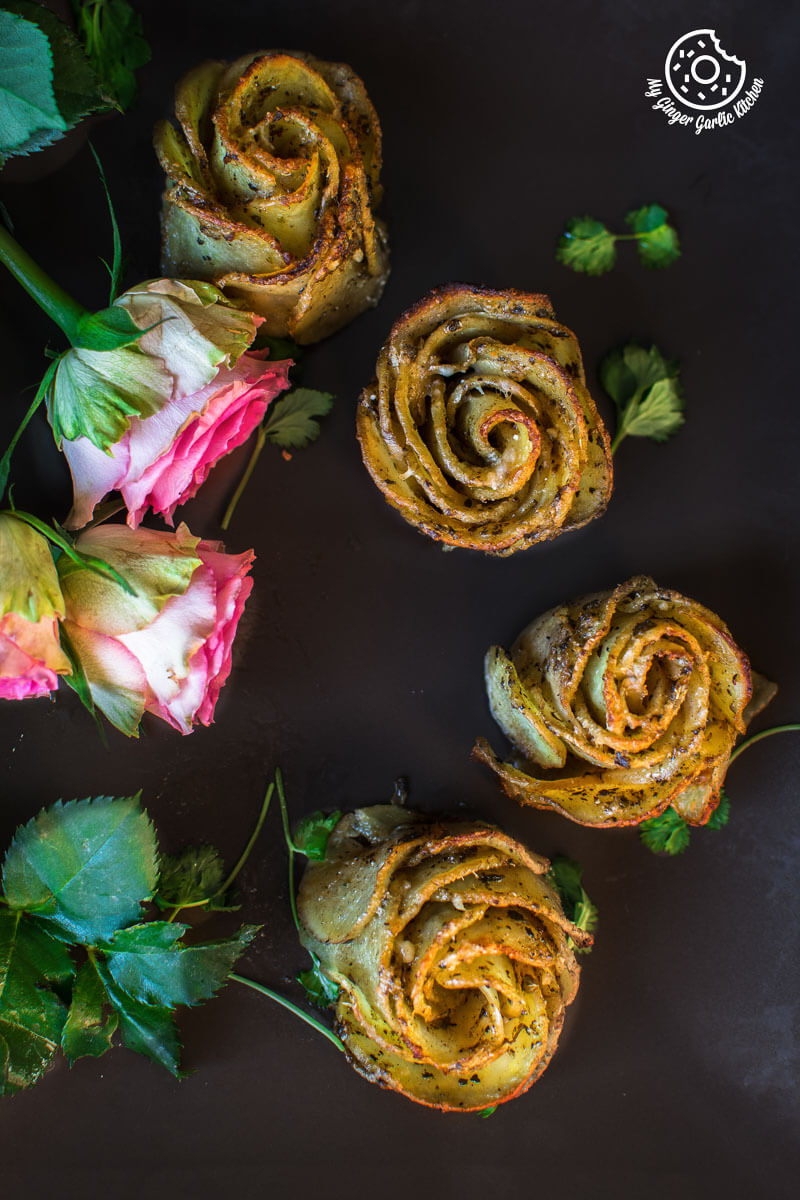 If you enjoyed this recipe, then please further help me by FOLLOWING me on:
Instagram // Facebook // Pinterest // Twitter // Google+ // YouTube
If you cook this dish, be sure to tag your photo with this hashtag: #mggk
Happy Cooking and Keep Sharing! 🙂
---
Filed under: All-Recipes, Baking Recipes, Dinner Recipes, Festival Recipes, Gluten Free Recipes, Healthy Recipes, Kids Recipes, Lunch Recipes, Party Recipes, Potato Recipes, Video Recipes restaurant valentine menu
---