Potato Roses - Potato Gratins (Video)
Delicious and elegant potato roses or potato gratins would make a lovely dish for dinner party. You can make them ahead and re-gheat in the pan or oven.
---
« Go back
Print this recipe »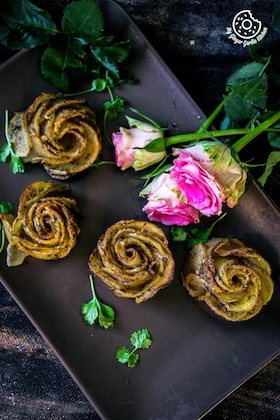 ---
Prep Time = 10 minutes
Cook Time = 55 minutes
Total Time = 1 hour(s) 5 minutes
Category = Side Dish
Cuisine = French
Serves = 7
Nutrition Info = 218 calories
Serving Size = 1 serving
---
RECIPE INGREDIENTS
» For Potato Roses - Potato Gratins
Yellow/gold potatoes - 4 medium
Garlic Olive Oil - 4-5 Tablespoons (Or Use Olive Oil + 1 Tablespoon Garlic Powder)
Italian Seasoning - 1 Tablespoon
Kosher Salt - 1 Teaspoon Or As Per Taste
Ground Black Pepper - 1/2 Teaspoon
Grated Parmesan Cheese - 1/4 Cup + 2 Tablespoons
---
RECIPE INSTRUCTIONS
» How to Make Potato Roses - Potato Gratins //
Preheat the oven to 190°C/375F.
Use a food processor or a mandolin slicer to slice the potatoes.
Generously grease a muffin tin with melted butter and set it aside.
Place potato slices in a bowl.
Also, add italian seasoning, garlic oil, ¼ cup parmesan cheese, salt and black pepper. Drizzle in the remaining melted butter.
Toss with your hands until all the potatoes are coated well, it would take about 1-2 minutes.
On a board; arrange 10-11 potato slices partially overlapped in a row.
Starting with the first slice, Start at one end and carefully roll them up, you have a rose shape. If needed, you can add a few more slices to make a bigger rose.
Hold the rose tightly between your fingers and place it in a greased muffin cup.
Sprinkle with some more parmesan cheese on top.
Bake at 190°C for around 55-60 minutes until the edges are cooked, golden and crispy.
Loosen the edges of potato roses with a fork to lift out.
Arrange in a serving dish and enjoy.
---
RECIPE NOTES
No notes for this recipe.
---