Creamy Sweet Potato Carrot Soup
This nutritious, silky smooth, super versatile, vegan, and gluten-free golden soup is a perfect side or starter for dinner party. Serve with toasted bread.
---
« Go back
Print this recipe »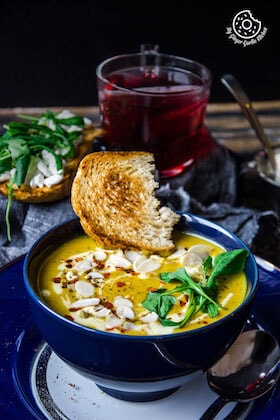 ---
Prep Time = 10 minutes
Cook Time = 40 minutes
Total Time = 50 minutes
Category = Main
Cuisine = International
Serves = 4-6
Nutrition Info = 215 calories
Serving Size = 1 serving
---
RECIPE INGREDIENTS
» Creamy Sweet Potato Carrot Soup //
1 tablespoon oil (vegetable or coconut)
1 large-sized yellow onion, diced
1 tablespoon ginger, diced
1 tablespoon garlic, diced
1 teaspoon ground cinnamon
2 teaspoons ground pepper, or as per taste
1/2 teaspoon himalayan sea salt, or as per taste
2 teaspoons roasted cumin powder
2 large-sized diced peeled carrots
2 cups diced peeled sweet potatoes
A bunch of coriander with stems
3 cups vegetable stock, plus more if needed
1 1/2 cups coconut milk
» For Serving //
Chili Flakes
Ground black pepper
Fresh herbs for garnish
Almonds, cashews
---
RECIPE INSTRUCTIONS
» Creamy Sweet Potato Carrot Soup //
In a large pot, heat the oil over medium-high heat.
Add the ginger, garlic, and onion and sauté for 3 to 5 minutes, until the onion is slightly browned.
Add carrots, sweet potatoes, coriander, cinnamon, ground pepper, roasted cumin powder, and pink salt and sauté for 5-7 minutes.
Add the vegetable stock to the pot and stir well to combine. Reduce the heat to medium-low.
Cover and simmer for 30 minutes, until the sweet potatoes and carrots are tender. (Vegetables should be very tender.)
Let it cool completely.
Using a stick blender or food processor, blend the soup directly in the pot until the soup is completely smooth.
Add coconut milk and stir well. Cook for 5-7 minutes.
Add some more vegetable stock if you think the soup is too thick for your preference. (I like it thick and rich)
Ladle soup into serving bowls.
Drizzle with some coconut cream, sprinkle chili flakes, ground pepper.
Garnish soup with arugula or coriander, if desired. Enjoy!
---
RECIPE NOTES
You can also add a splash of lemon/lime juice.
---