Watch the Gajar Ka Halwa | Carrot Halwa video below (please wait for a couple of seconds for loading).



How to Make Gajar Ka Halwa | Carrot Halwa. This is a chewy halwa which is bursting with awesome cardamom-y flavor and nutty texture.
Monday is gone. Tuesday is gone. And now it's Wednesday already. Where have I been to? Well, I had plans for this week's post, but then something unexpected happened and I couldn't post any recipe.
On Monday, I was feeling a little light, so I thought I will skip posting. And on Tuesday morning I was all set for the post, but then again, couldn't post due to some other issues.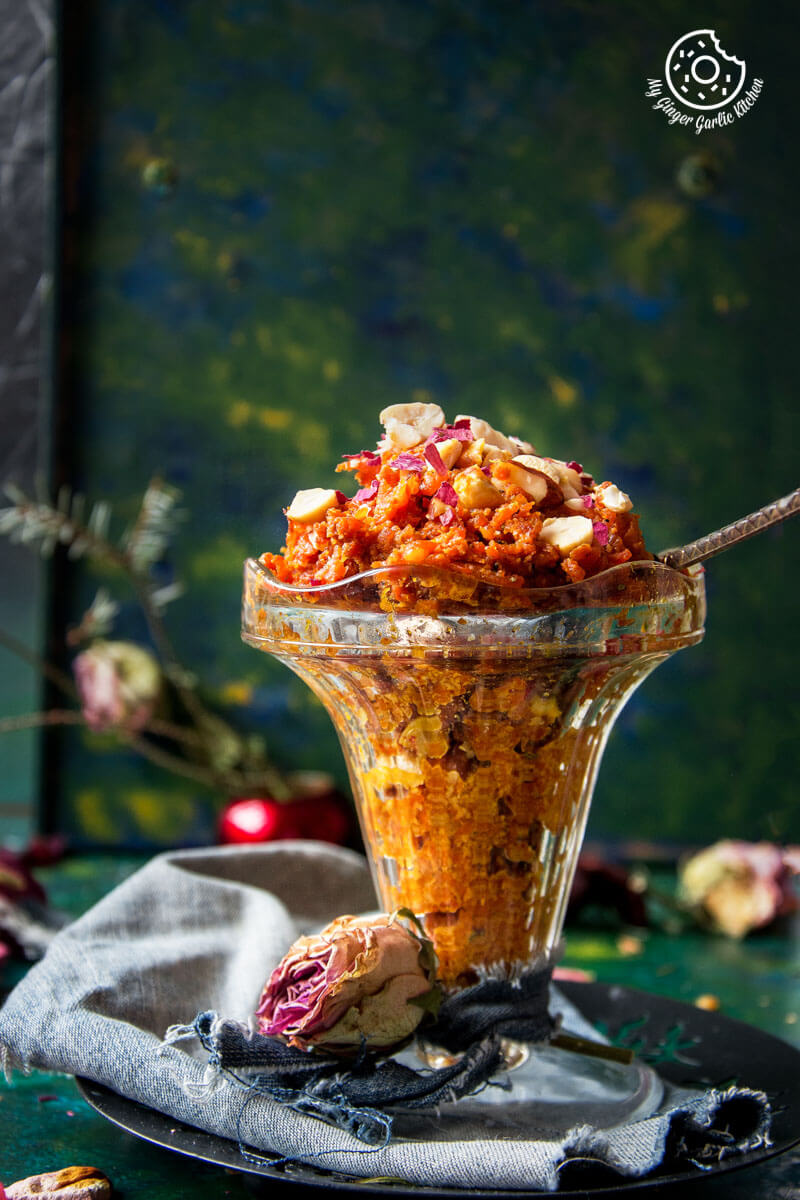 Now everything is back on track, and I am here to share a dessert recipe to start this week's posting on a sweeter note. Today's recipe is one of the most popular Indian desserts — 'Gajar Ka Halwa'. This 'Gajar Ka Halwa' is the queen of Indian desserts. Gajar is a Hindi word which means carrot, and halwa stands for a pudding made with milk, sugar, and ghee. Making this halwa is simple and the outcome is absolutely divine.
This popular Indian halwa is prepared at least 3-4 times in every North Indian Household during winter time. Also, it is one of those desserts which is always present on special occasions, such as weddings, get togethers, and parties.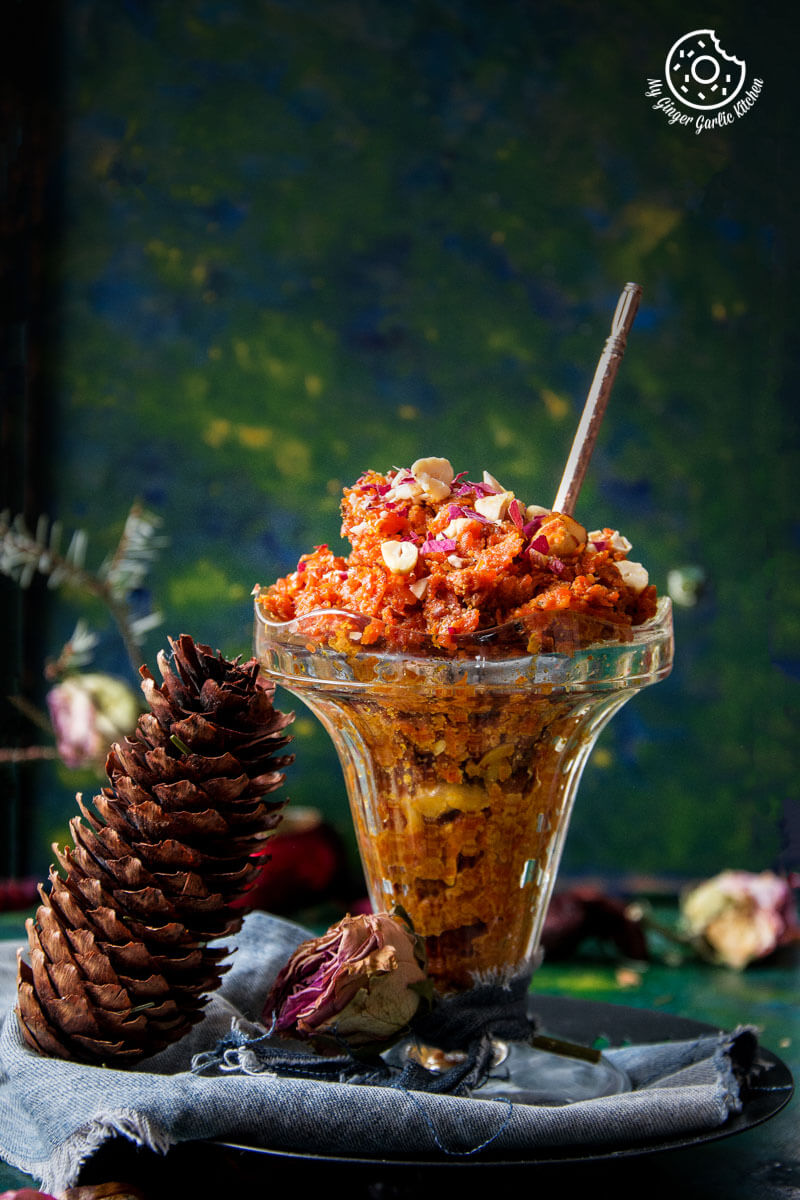 Though winter in India is almost gone, but here, we still have traces of white winter. So I made this modest halwa last week on the occasion of the colorful festival of Holi.
Carrots are caramelized slowly in ghee first and then cooked with milk in an open pan. So all in all, you just have to sauté grated carrots in ghee and then, stir and cooked together with milk and sugar for about an hour. Lastly, nuts are added to enhance the deliciousness.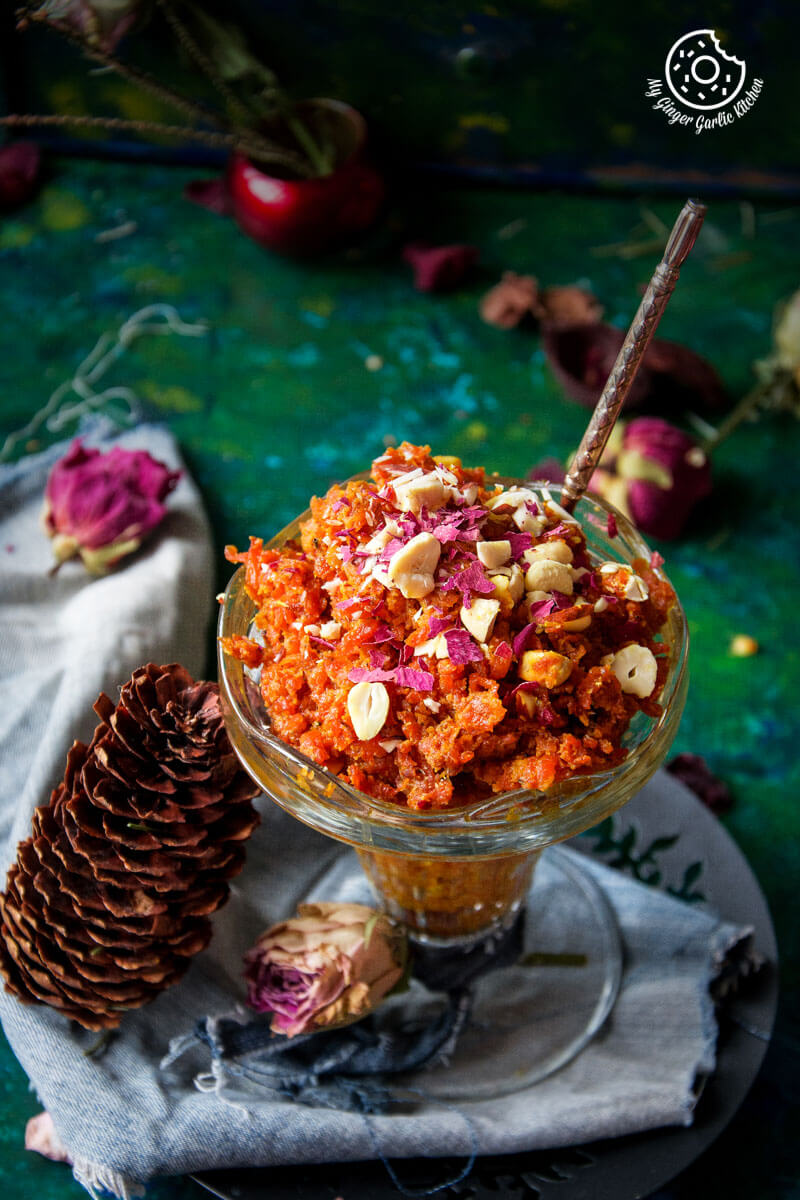 Would you believe that this heavenly dessert can be prepared with very less number of ingredients? Yes, it only needs very few ingredients which are easily available in any kitchen pantry.
The delightful taste of this halwa could impress anyone. So make it for the weekends gatherings, get-togethers or parties. Your guests will go gaga over this halwa. Not only the kids but adults would love it as well.
This can be served cold or warm. I personally love to eat it warm. Are you ready to enjoy this chewy halwa which is bursting with awesome cardamom-y flavor and nutty texture.

How to Make Gajar Ka Halwa | Carrot Halwa | Video Recipe
How to Make Gajar Ka Halwa | Carrot Halwa | Video Recipe
Ingredients
hee (Clarified Butter) Or Unsalted Butter - 2 Tbsp + 1 Tbsp
Whole Milk - 2 Cup ( 300 Ml)
Sweetened Condensed Milk - 200g (Feel Free To Add More If You Like It Sweeter) Or Sugar - ¼ Cup
Cardamom Powder - 1 Tsp
Cashews, Chopped - 1 Tbsp
Almonds, Sliced - 1 Tbsp
More Chopped Nuts For Garnish
Instructions
Wash the carrots and trim their edges.
Peel the skin and shred them using a grater or a food processor. Keep it aside.
Heat 2 tbsp ghee or unsalted butter in a heavy-bottomed pan on medium heat.
Once the ghee is hot, add the shredded carrots and sauté for about 10-12 mins or till the carrots changes in color slightly and there moisture is evaporated completely. Keep stirring occasionally. (The raw smell of the carrots would have been completely gone by now.)
Add the whole milk to the cooked carrots and stir well.
Let the carrots cook in the milk till the entire mixture becomes dry again or till all of the milk is absorbed.
Keep stirring in between to avoid the carrots sticking to the bottom of the pan. This whole process should take about 15-20 mins.
Now add the condensed milk/sugar and mix well. (If you are adding sugar, this halwa would become watery again.)
Stir well and cook for 5 mins if you are adding condensed milk. (If you are adding sugar, then cook till the sugar is absorbed and halwa becomes dry again.)
Now add cardamom powder and chopped nuts and mix well.
Add 1 tbsp ghee and cook for 2 mins. The halwa would leave the sides on the pan.
Garnish with chopped nut and serve hot, warm or cold.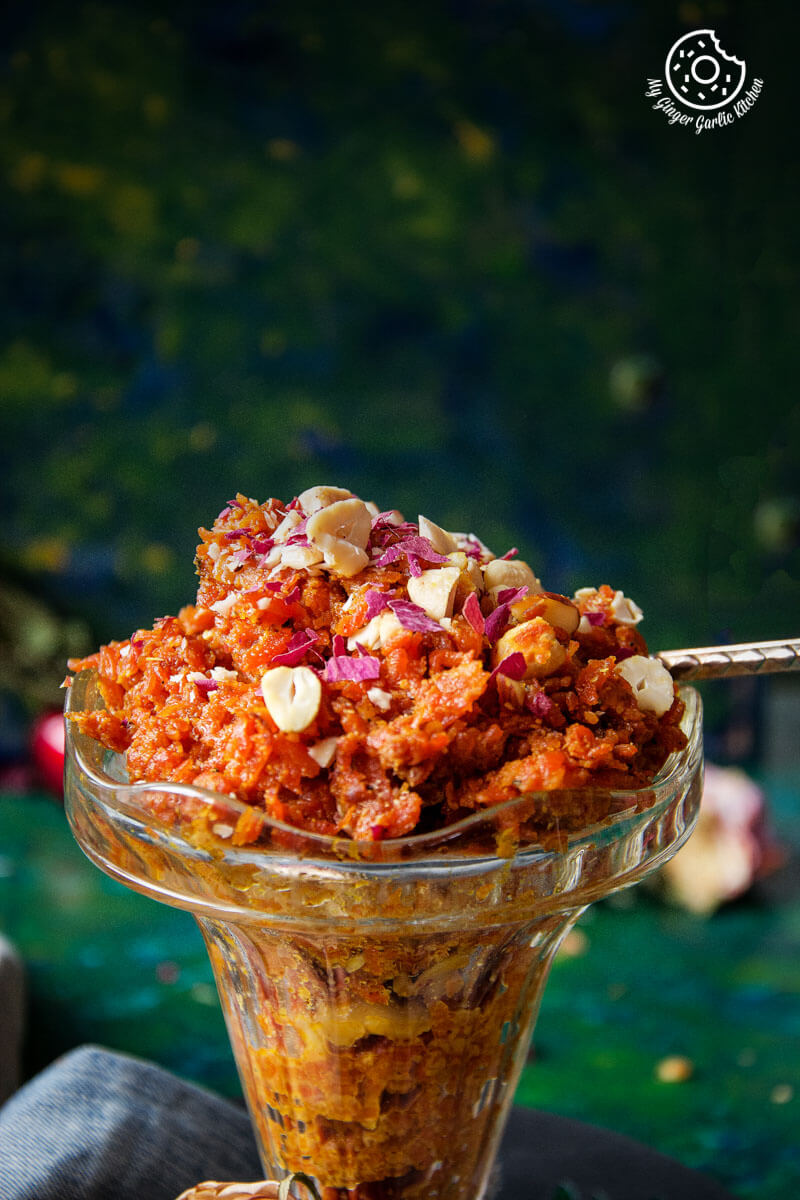 If you enjoyed this recipe, then please further help me by FOLLOWING me on:
Instagram // Facebook // Pinterest // Twitter // Google+ // YouTube
If you cook this dish, be sure to tag your photo with this hashtag: #mggk
Happy Cooking and Keep Sharing! 🙂