How to Make Halwa Chana Poori Ashtami Prashad. Learn to make Sooji (suji) Halwa Recipe | Sookha Kala Chana Recipe and Poori / Puri Recipe with a step-by-step video tutorial.
Almost the whole country of India is celebrating Navratri these days. But what is Navratri you might be wondering? It's a Hindu festival. Let's talk about this Hindu festival of Navaratri today.
Whata is Navaratri?
Navaratri or Navarathri is a Sanskrit word which means nine nights. Thus, this is a nine-day or nine-night Hindu festival which is celebrated in the honor of the divine goddess Devi Durga. This Navaratri celebration happens two times a year. It's because there are two Navaratris in a year. First is Chaitra Navaratri which is celebrated in April and the second one is Sharad Navaratri which is celebrated in October. You can read more about Navratri on Wikipedia.
Related: How to make Poori Bhaji
Currently we are celebrating Chaitra Navratri and today is the 7th day of this festival which is called Saptami (सप्तमी). And tomorrow is Kanjak Ashtami (अष्टमी). Ashtami is a very auspicious day during the 9 days of Navratri festival.
Kanjak Pooja is done on the 8th day of Navratri. 'Kanjaks' are the little girls who are 10 years and younger. My sister and I as little girls always look forward to Kanjak. The Halloween reminds me exactly of this Kanjak festival. We also looked forward to this Kanjak Ashtami as the kids look forward to Halloween. 🙂
Related: How To Make Palak Poori | Spinach Puri
So the thing is that if you know someone who's raised in Northern part of India, he/she would be aware of the tradition of Kanjak – the 8th day of Navratri and he/she'd know all about what I meant.
It was the day when we as little kanjaks got dressed in colorful and adorable clothes.
I remember me and my sister got invitations from every house of the neighborhood. And my mom invited other girls, visa versa. So the kid's gang used to go together in every house to have Prashad (auspicious food). Memories of that day are so special because as kids, we got worshiped in every house in the neighborhood on that special day, as we were considered an incarnation of the Goddess herself.
Related: Moong Daal Halwa
What is Ashtami Prasad?
This Ashtami Prasad always includes at least three dishes: Halwa, chana, Poori. Sometimes there is also aloo bhaji in the prasad. Even though the dishes are the same, but the method of cooking them differently makes them taste different at every house. It is very exciting for kids because of the personal touch.
As a kid you obviously can't eat everything. So in every home where we went, we used to say, "Give us only tiny one thing", and all those aunties really understood and gave us the very tiny amount of food to celebrate.
Related: How to Make Gajar Ka Halwa
When the Prashad was consumed, they used to touch our feets to seek blessings and give us some gifts. Touching feet of tiny girls for blessing sounds kinda awkward, right? I've got you covered. I used to ask the same question to my Granny and she used to tell me, that the people believe that the little girls are Avatar of goddess during these 9 days, and that's why we seek those little kids' blessings.
Today I am sharing my Mom's Halwa chana poori recipe which she used to make for this Ashtami prasad. And you know what, she still invites little girls at home on the Ashtami during every Navaratri.
Related: Aloo Ka Halwa
It's really hard to follow all rituals and family traditions these days due to busy lives. So I can't say that I could invite 8 little girls here, but I make this feast for my own little Goddess — Adoria. And I find myself so lucky when she shows the fondness and enjoys this food. I just remind her that tomorrow is Halwa Chana Poori day and she gets over thrilled.
So let's make it. 🙂
Related: Exotic Pumpkin Tofu Halwa
Related: CHEESY BLUEBERRY HALWA
You may also like these chana recipes:
How to Make Halwa Chana Poori – Ashtami Prashad

[Recipe]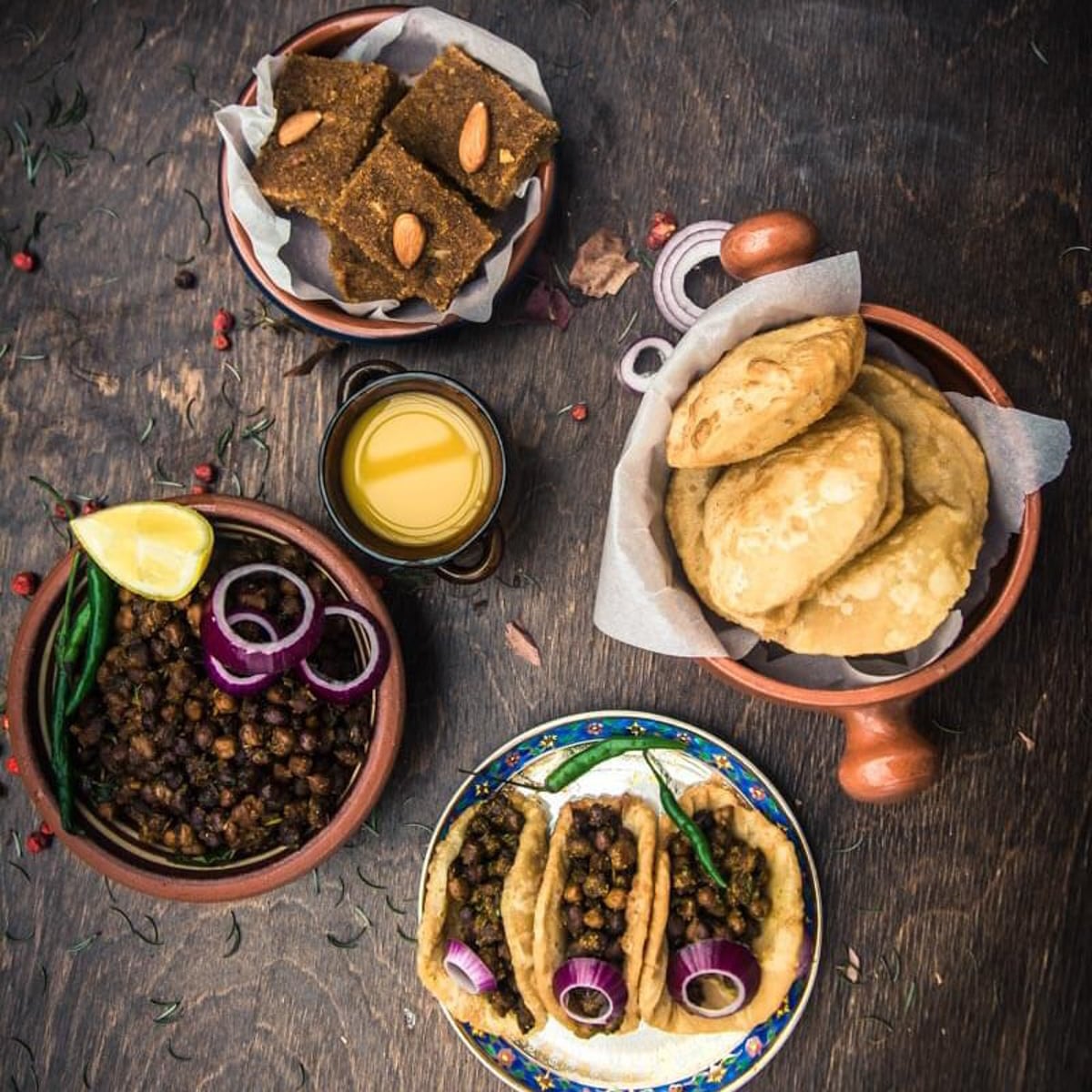 This step-by-step Halwa Chana Poori video tutorial post shows you how to make Sooji Halwa Recipe, Sookha Kala Chana Recipe and Poori for Ashtami Prashad.
---
★★★★✰
(Rating:
4.2
from
361
reviews)
---
| Prep time 🕐 | Cook time 🕐 | Total time 🕐 |
| --- | --- | --- |
| | | 1 hours 15 mins |
| Category ☶ | Cuisine ♨ | Serves ☺ |
| Main | Indian | 6 |
| Nutrition Info ⊛ | | Serving size ⊚ |
| 602 calories | | 1 serving |
---
INGREDIENTS
For Sookha Kala Chana (Black Chickpea):
1 cup black chickpeas (kale chane), soaked overnight
2 tablespoon oil (tel)
1 teaspoon cumin seeds (jeera)
1 teaspoon mustard seeds (rai)
a pinch of asafetida
2 teaspoon ginger, sliced
4 small green chili (hari mirch), sliced
1 teaspoon red chili powder (lal mirch powder)
1/2 teaspoon turmeric powder (haldi powder)
2 teaspoons coriander powder (dhania powder)
2 teaspoons amchoor (dried mango powder)
Salt to taste
For Sooji Halwa:
1 cup semolina (suji/sooji)
8 tablespoons ghee (clarified butter) or more to moisten the sooji
1/2 cup sugar or as per taste
1 tablespoon raisins (kismish)
2 tablespoon chopped almonds (badam)
1 teaspoon rose water (gulabjal), optional
2 teaspoon cardamom (elaichi) powder
Almonds or cashews, for garnish
For Poori/Puri:
1 cup whole wheat flour (gehun ka atta)
2 tablespoon oil
Salt to taste
Oil for deep-frying pooris
---
INSTRUCTIONS:
Make Kale Chane:
Soak the kale chane / black chickpeas overnight in enough water. The next morning, drain the water and rinse well.




Add rinse chana with 2 cups of water and salt to a pressure cooker.




Cover with the lid and pressure cook for 2-3 whistles on high heat. Alternatively, boil in a pan until soft and cooked, boiling in a pan would take about 30 minutes.




Let the pressure cool off completely before opening the lid. Once cooled, open the lid.




Heat oil in a broad pan over medium heat.




To check doneness, take cooked chickpeas and press it between thumb and index finger. If chickpea is soft and tender, then chickpeas are cooked. If not, then cook covered for 5 minutes over medium heat. and set it aside.




Once hot, and add cumin seeds, mustard seeds, and asafetida.




When the seeds start to splutter add green chilies and ginger. Stir well and cook for about 2 minutes.




Turn the heat to low. Now add the chili powder, turmeric powder, coriander powder, and dried mango powder.




Mix well and sauté for 2 minutes over low heat.




Add cooked chana with water. Turn the heat to medium.




Mix well and cook for 5 minutes.




Add chopped coriander and mix well.




Remove from heat and transfer to a serving dish. Your kale chane are ready.



Make Sooji Halwa:
Heat the ghee in a broad pan (preferably non-stick).




Add the semolina/suji and mix well.




Sauté on medium-low heat for about 8-10 minutes or until it is dark brown in color. You will have to keep stirring the sooji continuously to prevent it from burning and to ensure it gets roasted evenly.




When suji is roasted, add 2½ cups of boiled water and mix well. Let the halwa cook in the water till the entire mixture becomes dry again or till all of the water is absorbed. This would take about 3-4 minutes. Remember to keep stirring continuously.




Once the mixture is dried, add the sugar, raisins, almond and mix well and cook till the sugar is absorbed and halwa becomes dry again.




Add rose water and add mix well. Cook for 1 minute and remove from heat.




You can serve halwa at this stage. If you want bars like I made then transfer the mixture into the lined pan and spread it evenly using a flat ladle. I used a 7x7 inch here.




Garnish with almonds and press lightly.




Let it cool completely for 30 mins. Cut into the desired shapes and serve.



Make Poori/Puri:
Combine the whole wheat flour, salt, and 2 tablespoons of oil and mix well.




Add water and knead into a stiff dough using enough water.




Cover the dough with a damp cloth and let it rest for 30 minutes.




Divide the dough into 3 equal portions and roll out each portion into a thin log as shown in the video.




Cut each log into ½ inch pieces.




Roll each piece into small rounds of 4-5 inches in diameter.




Heat enough oil in a pan for frying. Once hot, drop one rolled out poori/puri into the hot oil.




Lightly press it with a spatula so that it puffs up.




Fry them till they turn golden brown in color from both sides.




Drain fried puris with a slotted spoon, and transfer onto a kitchen towel. Fry all the pooris.




Serve hot pooris with Sookha Kala Chana and Halwa.



---
WATCH VIDEO:
---
NOTES:
To check if the oil is hot enough, add tiny dough pieces to the oil, if it rises up immediately then the oil is ready.
---
If this recipe helped you, then please spread the word by sharing and
subscribing
to us on YouTube to get more such Recipe Videos.
---
Your feedback is so helpful for me and other MyGingerGarlicKitchen readers. So, for Facebook and Instagram, please mention
@MyGingerGarlicKitchen
or
#mygingergarlickitchen
. I would love to see your photos. :)
---
Author:
Anupama
Recipe Source Link:
https://www.mygingergarlickitchen.com/halwa-chana-poori-ashtami-prashad-video-recipe/
Date Published:
2020-09-21
• • • • • • • • • •