How to Make Halwa Chana Poori - Ashtami Prashad
This step-by-step Halwa Chana Poori video tutorial post shows you how to make Sooji Halwa Recipe, Sookha Kala Chana Recipe and Poori for Ashtami Prashad.
---
« Go back
Print this recipe »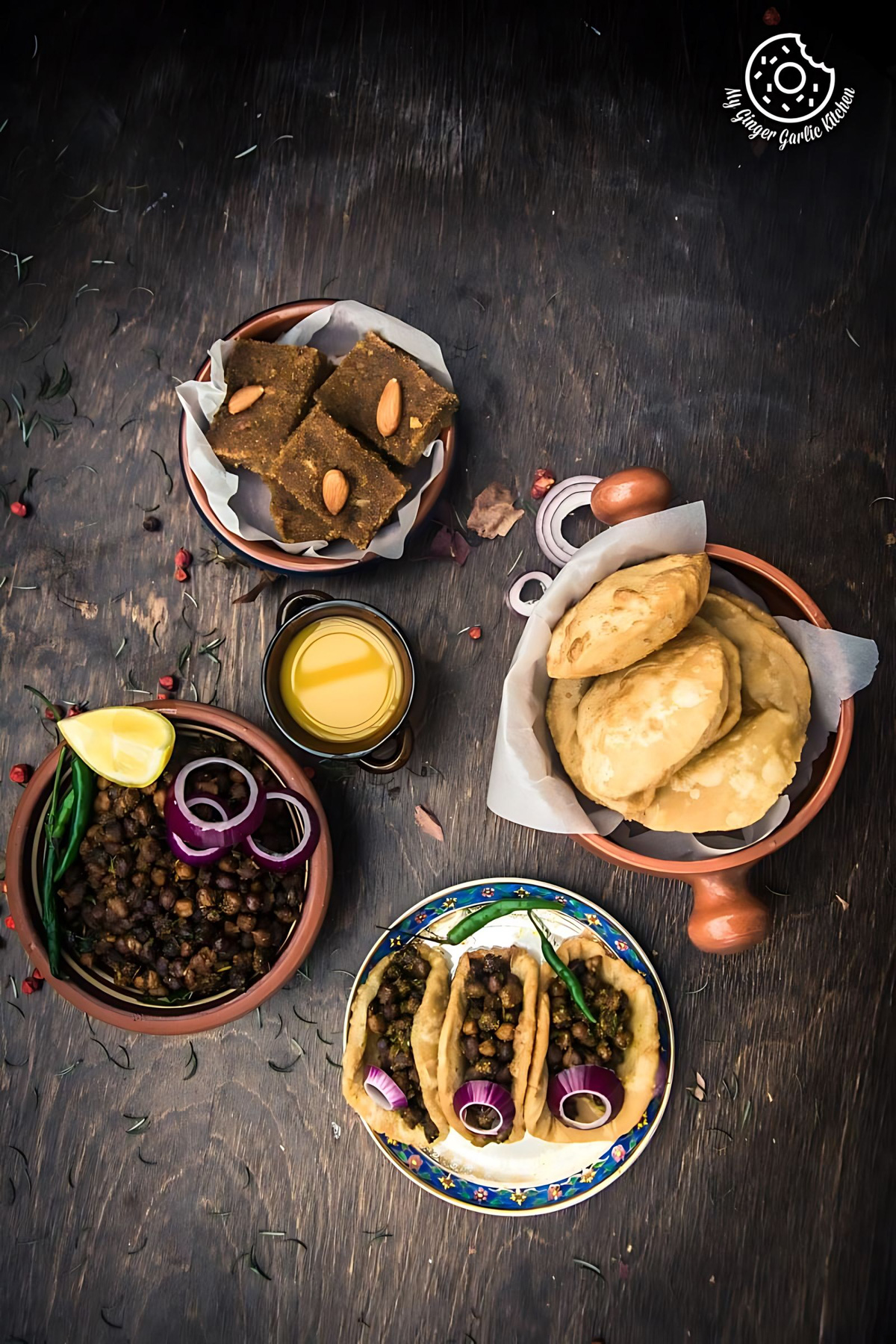 ---
Prep Time = 15 minutes
Cook Time = 60 minutes
Total Time = 1 hour(s) 15 minutes
Category = Main
Cuisine = Indian
Serves = 6
Nutrition Info = 602 calories
Serving Size = 1 serving
---
RECIPE INGREDIENTS
» For Sookha Kala Chana (Black Chickpea):
1 cup black chickpeas (kale chane), soaked overnight
2 tablespoon oil (tel)
1 teaspoon cumin seeds (jeera)
1 teaspoon mustard seeds (rai)
a pinch of asafetida
2 teaspoon ginger, sliced
4 small green chili (hari mirch), sliced
1 teaspoon red chili powder (lal mirch powder)
1/2 teaspoon turmeric powder (haldi powder)
2 teaspoons coriander powder (dhania powder)
2 teaspoons amchoor (dried mango powder)
Salt to taste
» For Sooji Halwa:
1 cup semolina (suji/sooji)
8 tablespoons ghee (clarified butter) or more to moisten the sooji
1/2 cup sugar or as per taste
1 tablespoon raisins (kismish)
2 tablespoon chopped almonds (badam)
1 teaspoon rose water (gulabjal), optional
2 teaspoon cardamom (elaichi) powder
Almonds or cashews, for garnish
» For Poori/Puri:
1 cup whole wheat flour (gehun ka atta)
2 tablespoon oil
Salt to taste
Oil for deep-frying pooris
---
RECIPE INSTRUCTIONS
» Make Kale Chane:
Soak the kale chane / black chickpeas overnight in enough water. The next morning, drain the water and rinse well.
Add rinse chana with 2 cups of water and salt to a pressure cooker.
Cover with the lid and pressure cook for 2-3 whistles on high heat. Alternatively, boil in a pan until soft and cooked, boiling in a pan would take about 30 minutes.
Let the pressure cool off completely before opening the lid. Once cooled, open the lid.
Heat oil in a broad pan over medium heat.
To check doneness, take cooked chickpeas and press it between thumb and index finger. If chickpea is soft and tender, then chickpeas are cooked. If not, then cook covered for 5 minutes over medium heat. and set it aside.
Once hot, and add cumin seeds, mustard seeds, and asafetida.
When the seeds start to splutter add green chilies and ginger. Stir well and cook for about 2 minutes.
Turn the heat to low. Now add the chili powder, turmeric powder, coriander powder, and dried mango powder.
Mix well and sauté for 2 minutes over low heat.
Add cooked chana with water. Turn the heat to medium.
Mix well and cook for 5 minutes.
Add chopped coriander and mix well.
Remove from heat and transfer to a serving dish. Your kale chane are ready.
» Make Sooji Halwa:
Heat the ghee in a broad pan (preferably non-stick).
Add the semolina/suji and mix well.
Sauté on medium-low heat for about 8-10 minutes or until it is dark brown in color. You will have to keep stirring the sooji continuously to prevent it from burning and to ensure it gets roasted evenly.
When suji is roasted, add 2½ cups of boiled water and mix well. Let the halwa cook in the water till the entire mixture becomes dry again or till all of the water is absorbed. This would take about 3-4 minutes. Remember to keep stirring continuously.
Once the mixture is dried, add the sugar, raisins, almond and mix well and cook till the sugar is absorbed and halwa becomes dry again.
Add rose water and add mix well. Cook for 1 minute and remove from heat.
You can serve halwa at this stage. If you want bars like I made then transfer the mixture into the lined pan and spread it evenly using a flat ladle. I used a 7x7 inch here.
Garnish with almonds and press lightly.
Let it cool completely for 30 mins. Cut into the desired shapes and serve.
» Make Poori/Puri:
Combine the whole wheat flour, salt, and 2 tablespoons of oil and mix well.
Add water and knead into a stiff dough using enough water.
Cover the dough with a damp cloth and let it rest for 30 minutes.
Divide the dough into 3 equal portions and roll out each portion into a thin log as shown in the video.
Cut each log into ½ inch pieces.
Roll each piece into small rounds of 4-5 inches in diameter.
Heat enough oil in a pan for frying. Once hot, drop one rolled out poori/puri into the hot oil.
Lightly press it with a spatula so that it puffs up.
Fry them till they turn golden brown in color from both sides.
Drain fried puris with a slotted spoon, and transfer onto a kitchen towel. Fry all the pooris.
Serve hot pooris with Sookha Kala Chana and Halwa.
---
RECIPE NOTES
To check if the oil is hot enough, add tiny dough pieces to the oil, if it rises up immediately then the oil is ready.
---