Aloo Ka Halwa | How to Make Potato Halwa. This is a very undemanding, easy and gluten-free dessert.
I wasn't very fond of Indian sweets when I was little. But that doesn't mean that I didn't eat them at all. I ate only a few Indian sweets and one of my favorite sweets was 'Potato Halwa'. Potato is also known as 'aloo' in Hindi. Thus the Hindi name for this dish is 'Aloo ka Halwa'.
Pin it to your DESSERT BOARD to SAVE IT for later!
Follow My Ginger Garlic Kitchen on Pinterest for even more great ideas and deliciously appealing recipes!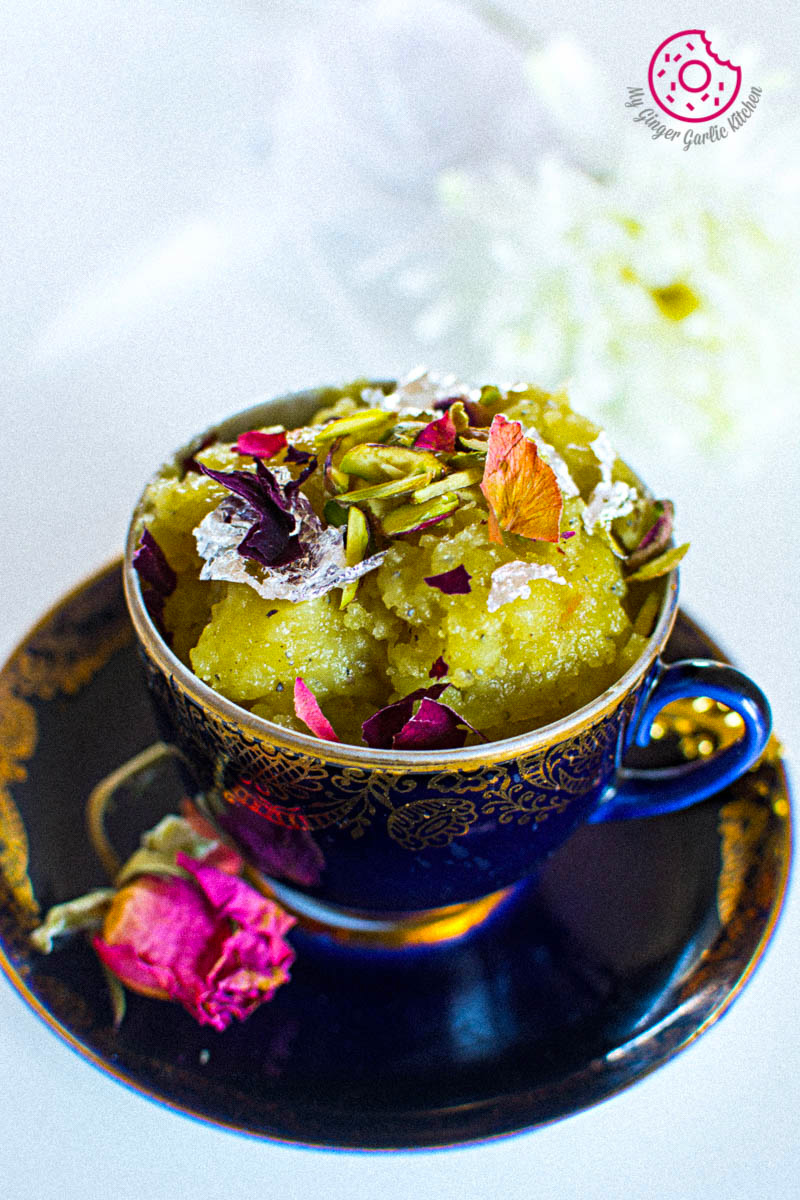 During childhood whenever I got sick and I wasn't in the mood of eating anything then this halwa always came as a rescuer.
Especially in such times when my mom used to ask: "What do you want to eat?", and my usual response was: "Nothing. I don't feel like eating anything."
Mom: "You know, you need some strength to fight this sickness. And to gain that strength you need to eat something. Right?"
Me: "Yes, Mom but I don't want anything right now."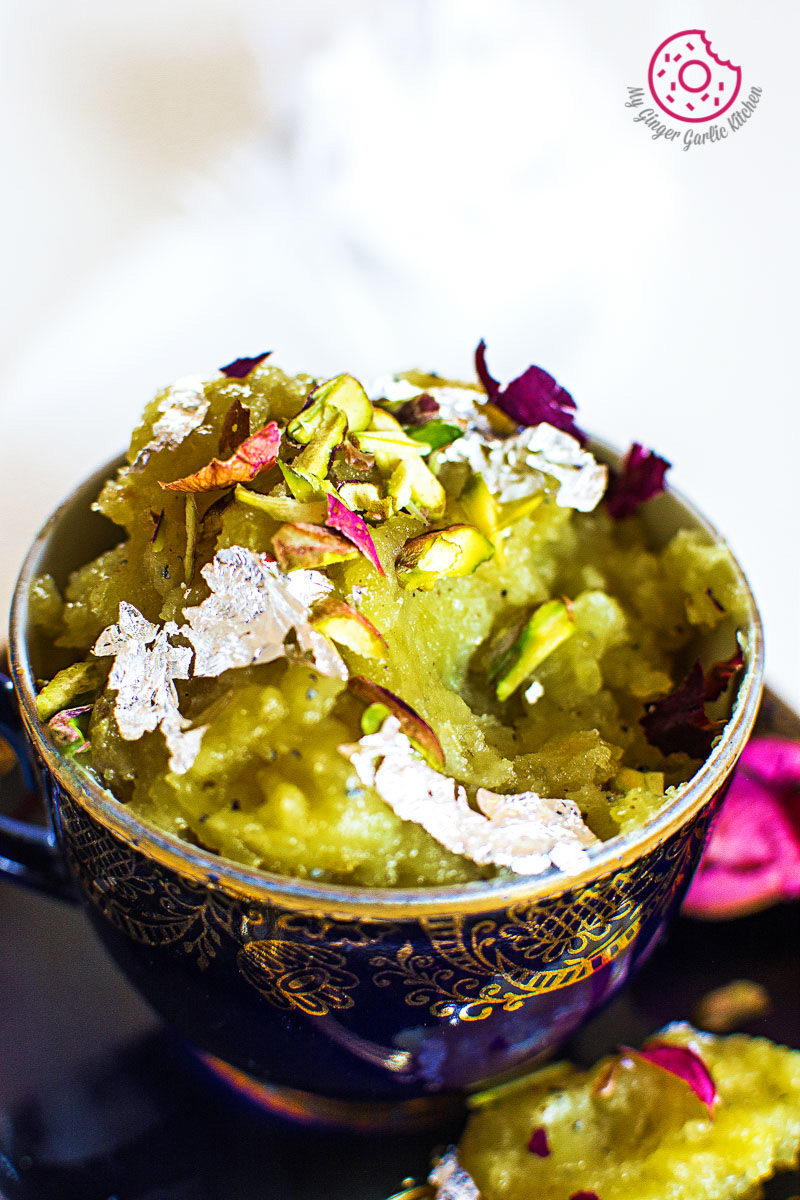 Mom: "Okay, how about I give you little soup first and some potato halwa afterwards. Would you like to have some soup then?"
And this halwa prize-bit always worked with me. No matter how sick I was, I always tasted this potato halwa which my Mommy made for me. I still love this halwa, but I just don't make it often.
So during our last trip to India, my Mom asked if Ado also loves aloo ka halwa like I did. I said: "I don't know Mom. I am yet to make potato halwa for her."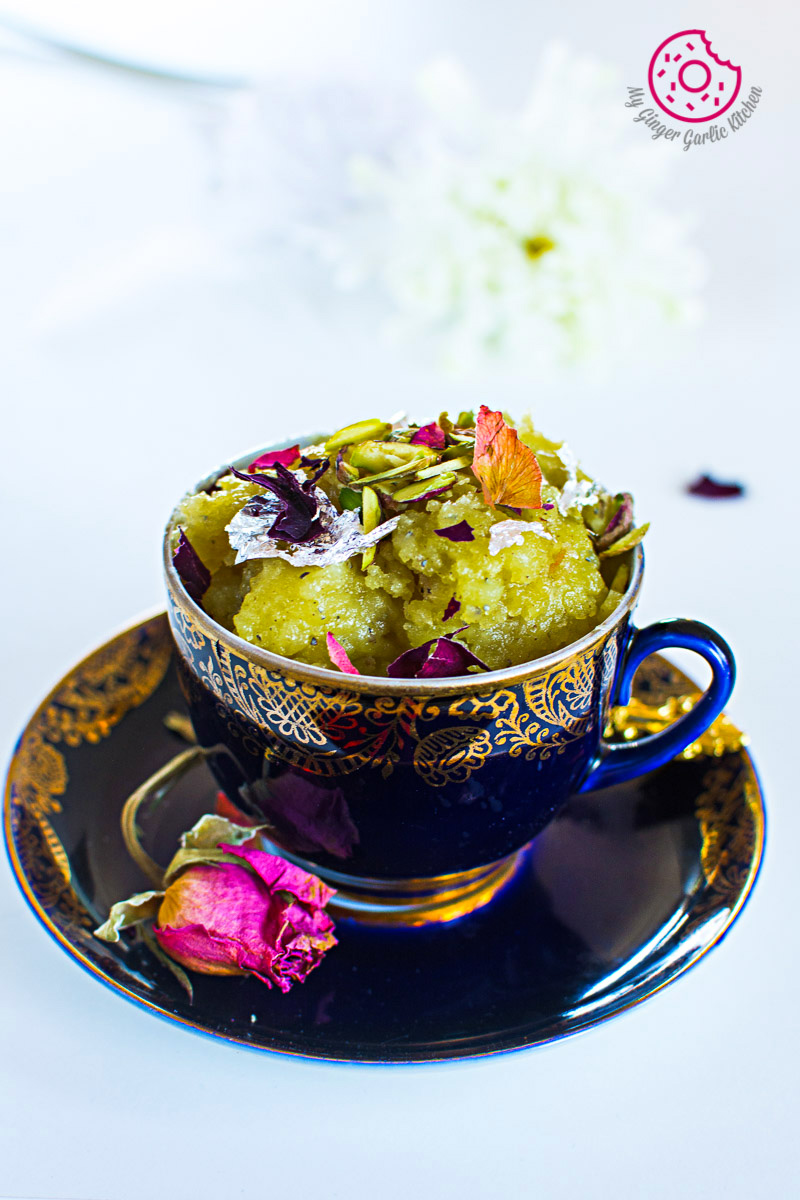 Mom: "Why haven't you made it? You should have. I will make it for her and you right now. And I am sure she will love this like her Mommy."
Mom made this halwa and I devoured it entirely. And when Mom fed halwa to Ado, she started dancing in joy right after the first spoonful of halwa touched her tongue.
Ado said: "Mmmmmm, yummy. Nani, I love this potato halwa. Can you make it again for me?" (Nani means maternal grandmother in Hindi.)
Mom: "Yes, of course. When do you want to eat it again".
Ado said thoughtfully: "Mmmmm, let me think. How about … tomorrow?"
Mom: "Okay, let's make it tomorrow then."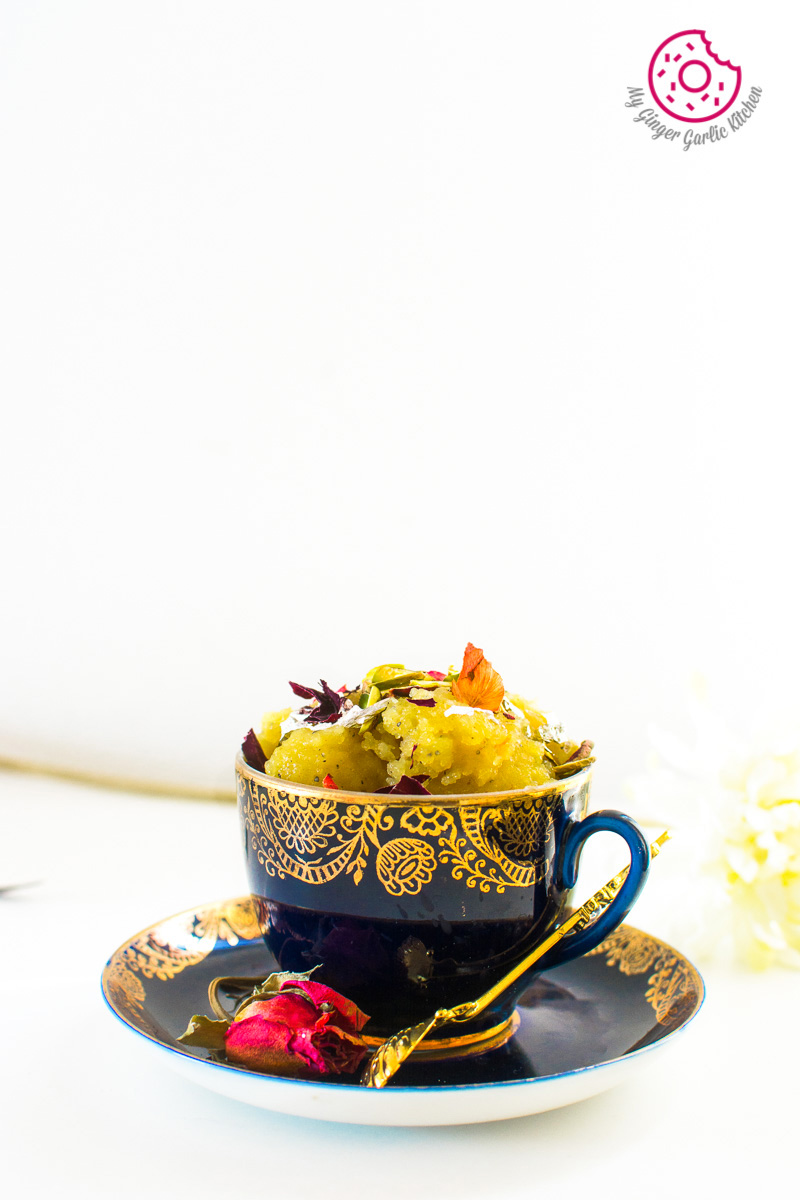 Being a mommy myself, that was such a pleasant sight for me to watch that bonding between a grandmother and a granddaughter. I am sure Ado was also imprinting these beautiful moments in her life-story book to cherish them forever.
And after that day Ado's Potato-Halwa love affair started. Most of the times I also try to fulfill her demand of making this halwa exclusively for her. And in return, she gives me a thousand watts of smile, hugs, kisses and so many I LOVE YOU's. Everyone's happy 🙂
Whenever I am done with halwa cooking and try to taste it, she says: "Mommy, you said this halwa is only for me, so don't eat it."
But when I don't eat, then she comes to me and asks if I want to eat halwa from her hands. And when I ask her back, "Why do you want to give it to me." She says: "Mommy, sharing is good. We all should share, that's why I am sharing this with you." #PreciousMoments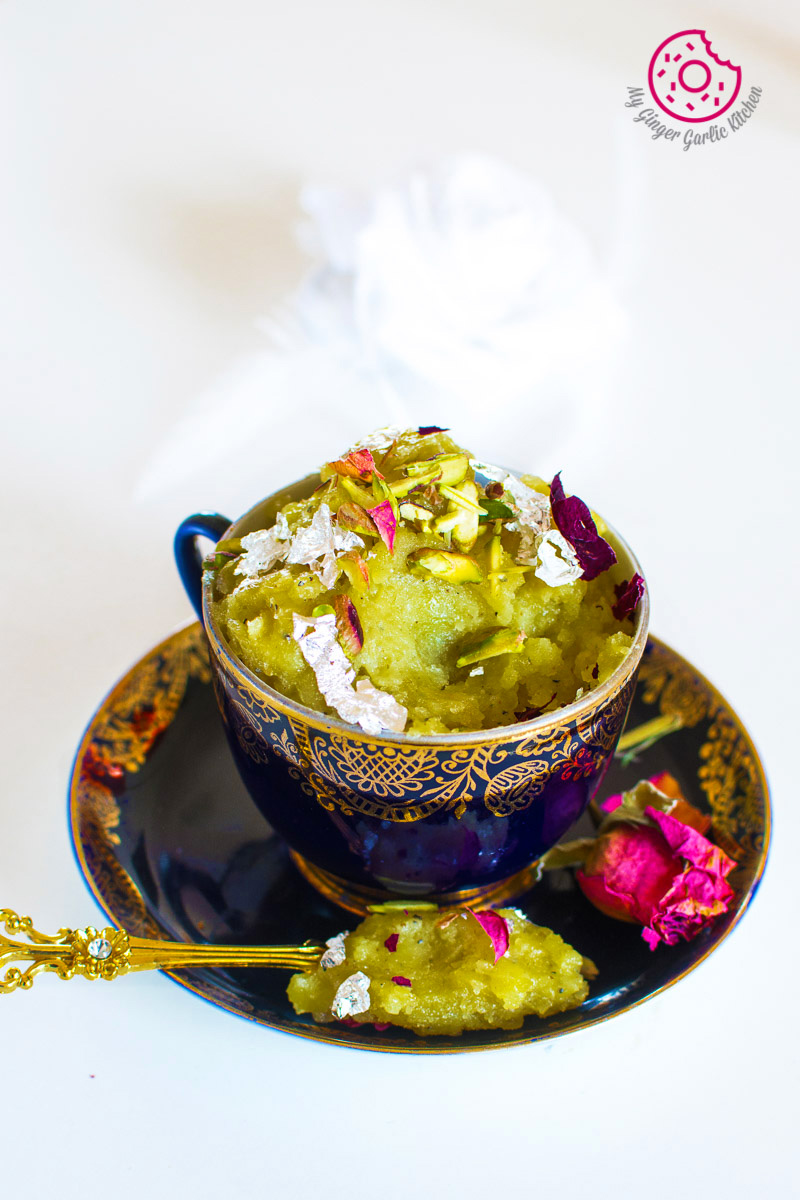 What is Aloo ka Halwa?
Aloo ka halwa is a very undemanding, easy and gluten-free dessert. Well, I certainly don't think that any potato lovers out there need any excuse for cooking this halwa, but if you still need a reason, then the following should help:
You can make this easy halwa in a jiffy if you have guests coming over.
Or you can make it when you have sudden cravings for something sweet.
This also makes an ideal falahari, saagari or fasting recipe during fasts.
What are ingredients you need for making aloo ka halwa?
Preparing this halwa is very painless and it only requires a few ingredients which are easily available in any kitchen.
These ingredients are:
Ghee
Boiled And Mashed Potatoes
Milk
Sugar Cardamom
Some Chopped Nuts
Can I make this aloo ka halwa using butter?
Yes, you can surely use butter instead of ghee. Although the ghee gives more authentic taste and a very desirable caramelized flavor to this halwa.
Can I make this halwa using sweet potato?
Definitely, you can. In fact, there is a similar version of 'falaahari ' or fasting halwa recipe which uses sweet potato aka 'shakakandi'. And this halwa is known as 'shakarkandi' ka halwa.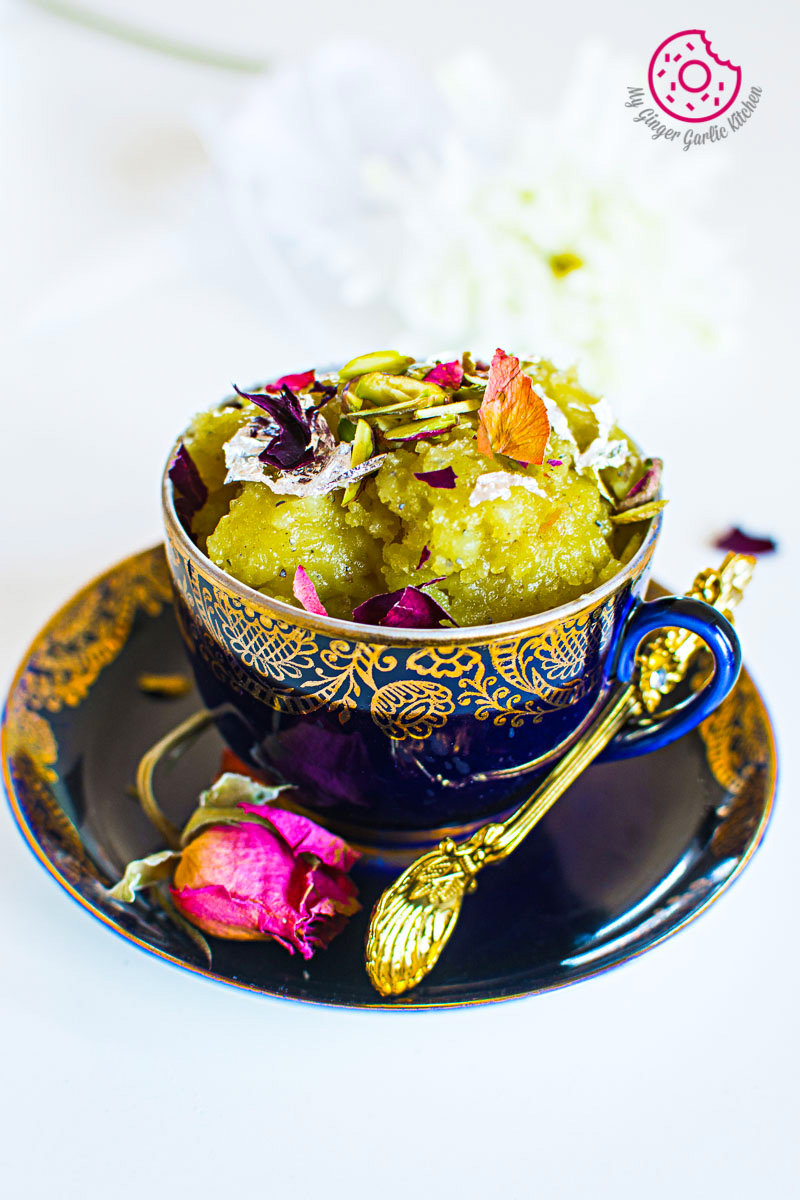 Aloo Ka Halwa- Potato Halwa (Recipe Video)

[Recipe]
Aloo Ka Halwa is a very tasty, easy and gluten-free dessert is cooked with boiled mashed potatoes, ghee, and sugar. You can serve it anytime as a dessert.
---
★★★★✰
(Rating:
4.1
from
131
reviews)
---
| Prep time 🕐 | Cook time 🕐 | Total time 🕐 |
| --- | --- | --- |
| | | 20 mins |
| Category ☶ | Cuisine ♨ | Serves ☺ |
| Dessert | Indian | 4 |
| Nutrition Info ⊛ | | Serving size ⊚ |
| 207 calories | | 1 serving |
---
INGREDIENTS
For Aloo Ka Halwa:
4 medium sized Potatoes, boiled, peeled and mashed (or use mashed potatoes 1 cup)
1/2 cup milk
1/3 cup sugar or as per taste
1/2 teaspoon ground cardamom
4 tablespoons ghee
2 tablespoons Cashew nuts, almonds, and pistachio chopped
For serving:
1 tablespoons chopped nuts for garnishing
1 teaspoon dried rose petals for garnishing, (optional)
---
INSTRUCTIONS:
Make Aloo Ka Halwa:
Heat ghee in a non-stick pan. Once hot, add boiled, peeled and mashed potatoes to the pan.




Sauté on low heat for 8-10 minutes till this turns slightly golden in color.




Add in milk, sugar, cardamom powder and mix well to combine. There should not be any lumps.




Stir continuously until halwa turns dry again.




Add chopped almonds, chopped cashews, and chopped pistachios.




Mix well and cook for 1 more minute.




Garnish Aloo Ka Halwa with nuts and rose petals and serve hot or warm.



---
WATCH VIDEO:
---
NOTES:
No notes for this recipe.
---
If this recipe helped you, then please spread the word by sharing and
subscribing
to us on YouTube to get more such Recipe Videos.
---
Your feedback is so helpful for me and other MyGingerGarlicKitchen readers. So, for Facebook and Instagram, please mention
@MyGingerGarlicKitchen
or
#mygingergarlickitchen
. I would love to see your photos. :)
---
Author:
Anupama
Recipe Source Link:
https://www.mygingergarlickitchen.com/aloo-ka-halwa-how-to-make-potato-halwa-video-recipe/
Date Published:
2020-09-21
• • • • • • • • • •