Motichoor Ladoo or Motichur Laddu is a round-shaped sweet dish made with saffron-coloured fine and tiny chickpea flour pearls or balls. These chickpea flour droplets aka boondi are prepared by frying chickpea flour batter into hot oil/ghee. These mesmerizing pearl-like balls are then mixed with sugar syrup, and they are then molded into ladoos or round balls.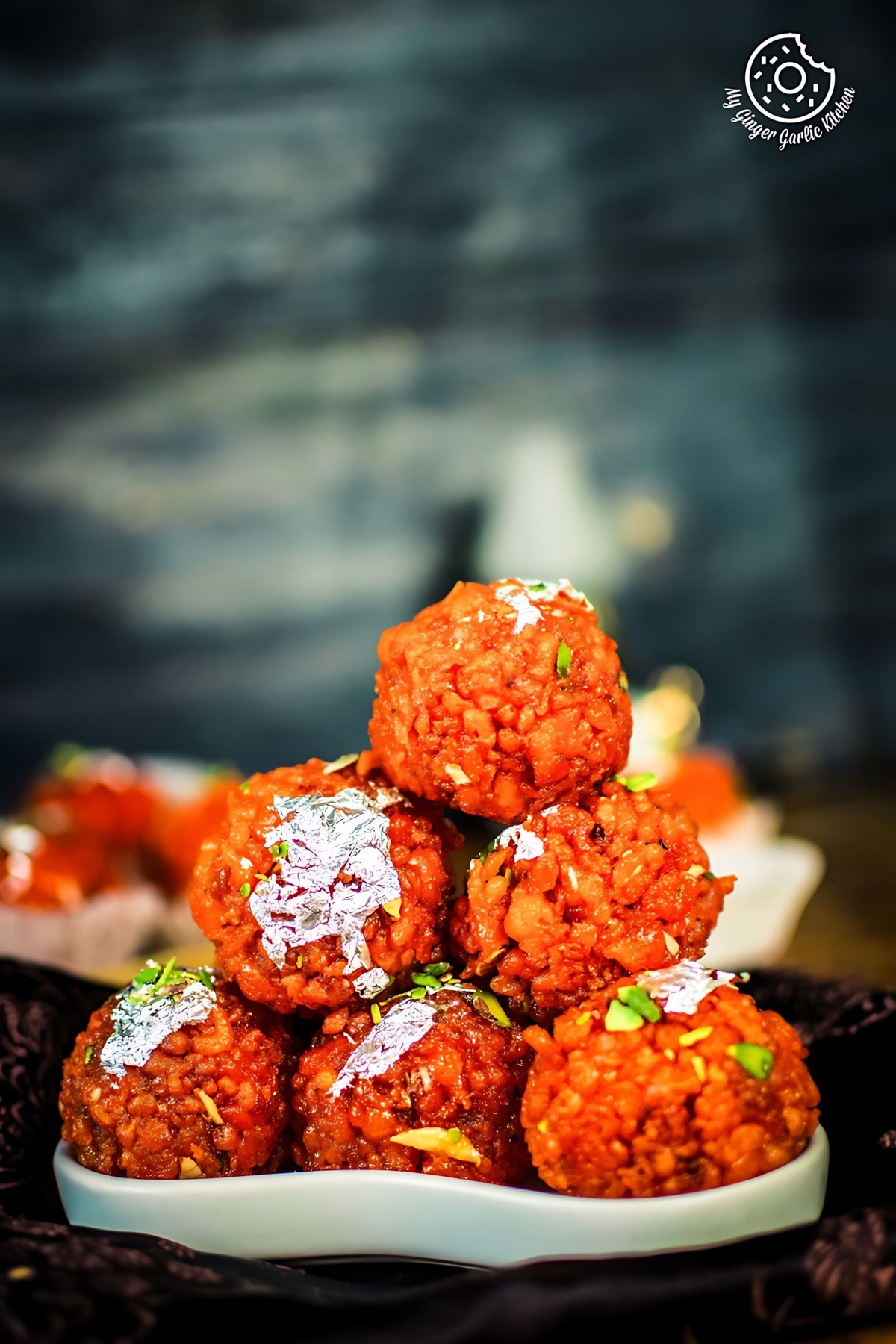 Motichoor Ladoo originates from the Northern part of India, but this sweet has its fame and popularity across the country. Motichoor Ladoo has now transformed into an inherent part of every Indian festivity. 
Ladoos in general are syndicated with all things festivities, happiness, and delightfulness. Hence, this sweet dish is offered to Indian Gods and Goddesses during festivals on auspicious days. These ladoos are addictive — just take 1 bite of a motichur laddu, and you won't be able to stop just at one. :) 
These ladoos have a long shelf life and they stay fresh for many days. It is believed by Indian people that in ancient times, people used to carry motichoor ladoos on their long journeys with them.
What is the best time to make Motichoor Ladoos?
Motichoor ladoos are often made as a prasad to offer Gods during religious occasions and served to devotees. You can make these ladoos as prasad for any pooja, festivals, get togethers, or even when you have guests coming over for dinner. 
What does MotiChoor mean?
The word 'motichoor' is a combination of 2 words — 'Moti' and 'Choor/Chur'. In Hindi language Moti is known a pearl and Choor is known as crumbled or crushed. Thus, 'crushed pearls' or 'crumbled pearls' is the exact translation of this sweet delicacy MotiChoor. This dish is called crushed pearls because before molding ladoos, the pearl and sugar syrup mixture is pressed with even pressure and crumbled between fists.
What is Motichoor Ladoo?
Motichoor Ladoo is a sphere made out of smooth and tiny boondi (pearls of fried besan) which is clutched together with a cardamom flavored sugar syrup. They were prepared in the same way as Boondi Ladoo. It has slowly made its way as one of the most loved sweets in the country.
Many times it is believed that making motichoor ladoo at home is nearly impossible because these laddos are made with chickpea flour pearls, and many folks don't know how to make chickpea flour pearls () at home. However, making these laddoos at home from scratch is fairly easy. Follow along to learn how.
These Motichoor Ladoos:
Have a velvety, and melt in mouth texture 
Are super soft, delicious, and perfectly balanced in taste
Are perfect for any festivals or celebrations
Are simple and easy to make
Contains simple ingredients which are easily available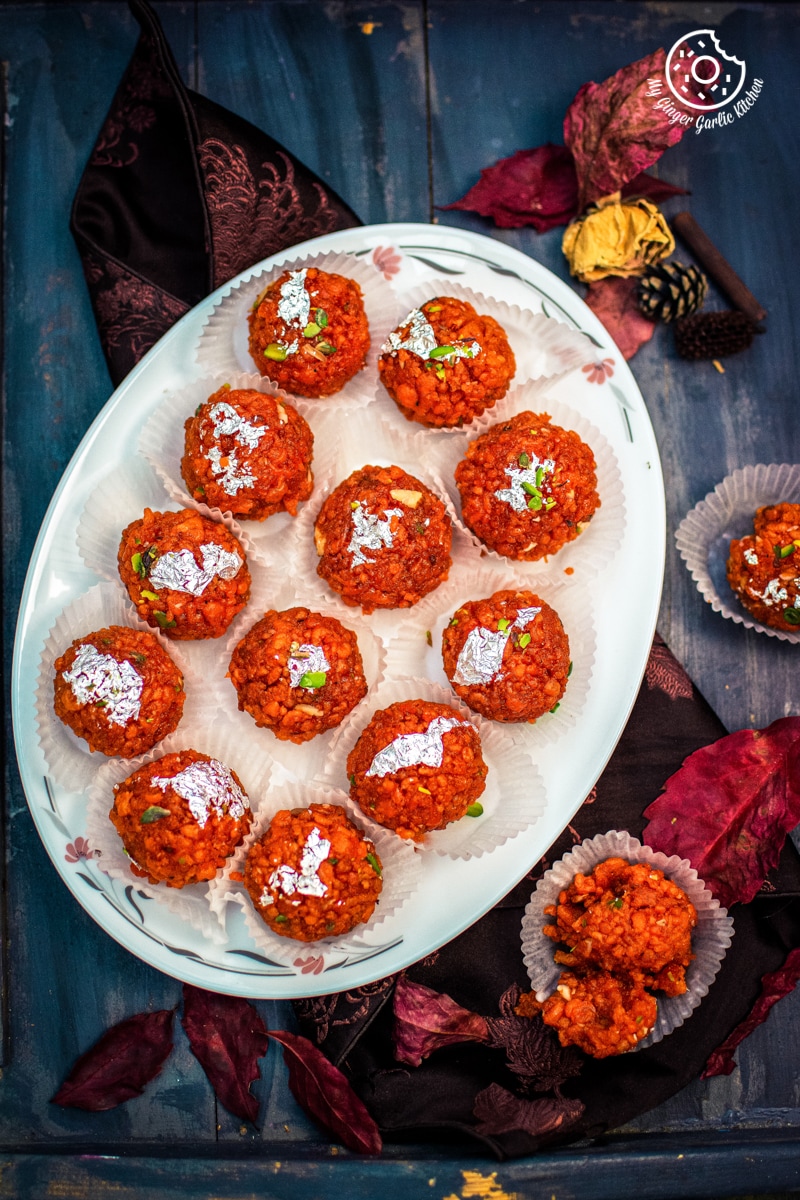 What are the ingredients of Motichoor Ladoo?
Motichoor ladoos or motichur Laddu are made with simple and basic everyday ingredients which are available in any kitchen. These ingredients are:
Besan / Chickpea Flour 
Water
Ghee
Oil Or Ghee For Frying
Sugar
Cardamom Powder (Ilaichi Powder)
Kewara Or Rose Water (Optional)
Deep Orange Food Color (Optional)
Sliced Almonds And Sliced Pistachios
For garnish: Edible silver leaf & Sliced pistachios
How do you make moti (pearl) for motichoor ladoo?
The traditional 'halwai (confectioner) style' motichoor ladoos are prepared with a large skimmer spoon or strainer ladle which is made with iron and has tiny holes in it. This spoon is called as 'Jhar' or 'Jhara' in hindi, which means a strainer.
For making motichoor ladoos at home, you can use any one of the below mentioned tools:
You can either use a regular slotted spoon with holes
Or a grater/shredder with the tiny holes 
Or a stainless steel strainer
Or a steamer with tiny holes
Or use a DIY perforated foil box strainer. You can make it by poking tiny holes in the base of tin with a simple toothpick. You can see the video on this page for reference.
How to make Motichoor Ladoo (or Motichur Laddu)?
To make Motichoor Ladoo first you need to make the batter. 
How to make batter for motichoor ladoo:
Add sieved besan to a large mixing bowl. Next, add ghee, and orange food color. Add a little water and whisk to form a lump-free and smooth batter.
Once the batter is smooth, slowly pour in the water, whisking all the time until you have a smooth flowing consistency batter. It should be the of the pourable consistency. Keep the batter aside for 30 minutes. The batter will puff up and thicken up after resting. If after standing, the batter has thickened too much add a little water to thin it. Next, we will fry boondis.
How to fry boondi (chickpea flour pearls):
Add oil/ghee in a pan and heat it. Check the oil temperature before frying by dropping a pea-sized batter drop in the hot oil. If it drifts right back up, that means oil is ready for frying. Now start frying boondis by holding the shredder or strainer right above the pan. The shredder should neither be too low, nor too high. 
Pour batter into the shredder/strainer and keep tapping the strainer or with the help of the back of a spoon.
Once you drop the batter, you would see small drops of boondi falling in the hot oil. Fry them over medium to high heat for about 1 minute. Once done, remove boondis from oil and place them on a paper napkin lined plate to absorb the excess oil. Keep them aside. Let them cool down for a couple of minutes.
How to Make Sugar Syrup:
In a pan, take sugar and water. Stir well and add ½ teaspoon lemon juice. Boil for 4-5 minutes. Add deep orange food color, cardamom powder, and mix well. Next, add kewara or rose water to it. Keep boiling it until it has reduced in quantity and has reached one string consistency. It will take 5 to 6 minutes. Turf the heat to low.
How to Make Motichoor Ladoos:
Add prepared boondi and sliced almonds, sliced cashews into the warm sugar syrup. Mix them very well. Let it sit for 15 minutes. When it is comfortable to touch, apply some ghee on your palm and start shaping the ladoos. Garnish it with pistachios and saffron. Enjoy. 
How to check sugar syrup consistency for Motichoor Ladoo?
For making motichoor ladoos, we need 1-thread or single string consistency in sugar syrup. So keep boiling the sugar syrup until it reaches one-thread consistency. 
To check sugar syrup thickness, spill a drop of sugar syrup in a plate or bowl. Allow it to cool for a few seconds. Touch the syrup with forefinger and then touch your thumb and forefinger together and gently pull apart. If the syrup forms 1 thread then your syrup is ready.
Is adding food color necessary to Motichoor Ladoo?
No, it is not. I have added deep orange food color to the batter and the sugar syrup. The addition of orange color only makes them look elegant and presentable, and it has no impact on the taste. Thus, adding food color is entirely optional, you can either skip it or swap it with some crushed saffrons for natural food color. With color or without color, these ladoos always turn out delightful.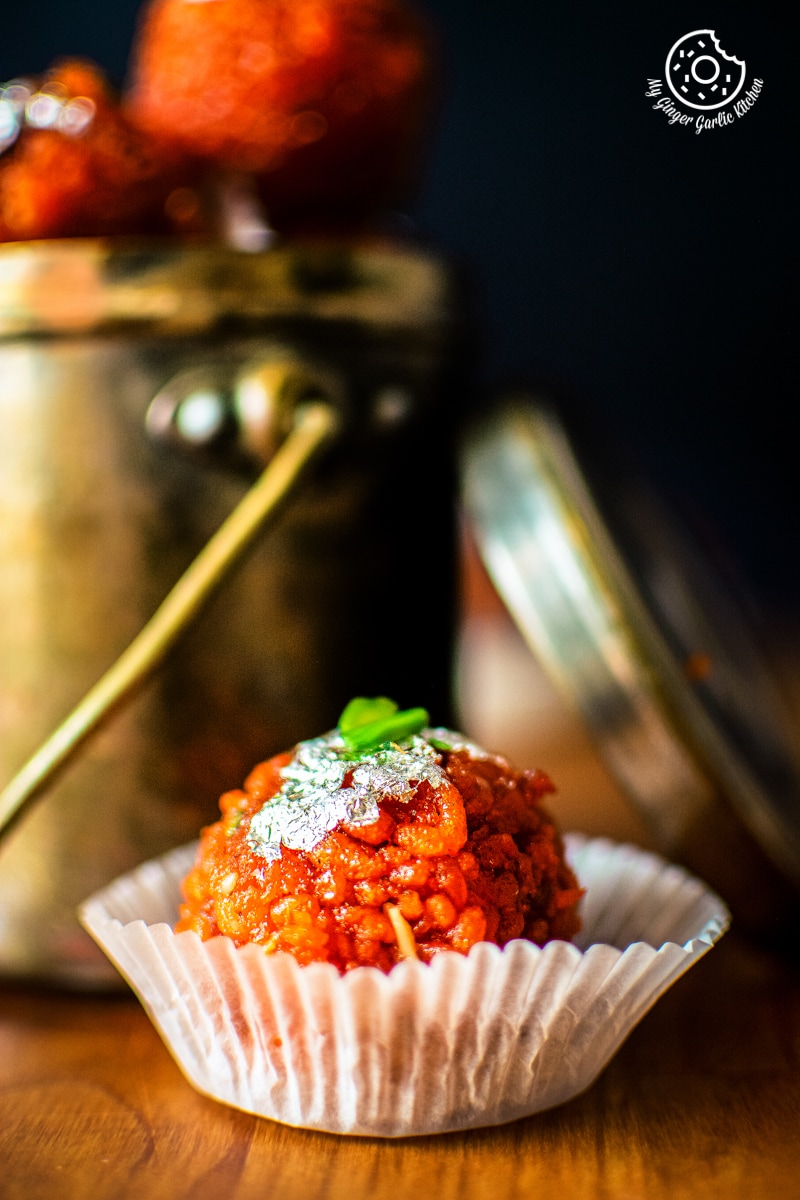 How To prevent boondis from turning flat?
Frying boondi is simple if you have the right consistency of batter and perfect temperature of oil.  Here are some simple tips to get perfectly puffed up boondis. These tips would keep away boondis (chickpea pearls) from turning into flat shapes.
Make sure that the besan batter is lump free and is of pourable consistency. The batter should neither be too thick nor too thin. 
Oil should be hot for frying boondis. So always check the oil temperature before dropping the boondi.
Hold the strainer above the kadhai/frying pan as this will result in small round boondis
Do not over-fry the boondis, or else they will turn too crisp.
How to store Motichoor Ladoo?
You can store motichoor ladoo for up to 10 days when kept in an air-tight container. 
If you have fried your motichoor ladoos in oil, then you can keep them covered in refrigerator. They would stay fresh.
If you are frying them in ghee, then it is best that you keep them at room temperature. Do not put them in the refrigerator, they won't retain their melt-in-mouth soft texture. This is because the large amount of ghee in ladoos will solidify and this would make ladoos hard in texture. 
Are boondi ladoo or motichoor ladoo the same?
No, boondi ladoos and motichoor ladoos are not the same. They have almost identical looks and made using similar ingredients. Method of cooking is also very similar.
What is the difference between boondi ladoo and motichoor ladoo?
Motichoor Ladoo and boondi ladoo both are sphere shaped sweets made with similar processes.
They both are made with boondi aka gram flour globules and they both are sweetened with sugar syrup (chashni). Just like Boondi Laddoo, Motichoor Ladoo also has a great shelf-life.
Only difference is in the size of boondi and the consistency of sugar syrup. The boondi which is used in boondi ladoo is bigger in size and has 2-string consistency sugar syrup.  Whereas in motichoor ladoo, tiny sized of boondi is used and it is made with 1-string consistency sugar syrup.  
Boondi ladoos are slightly bigger than the motichoor ladoos.
Motichoor ladoo has a soft and melt-in-mouth texture, and boondi ladoos have a slightly harder texture.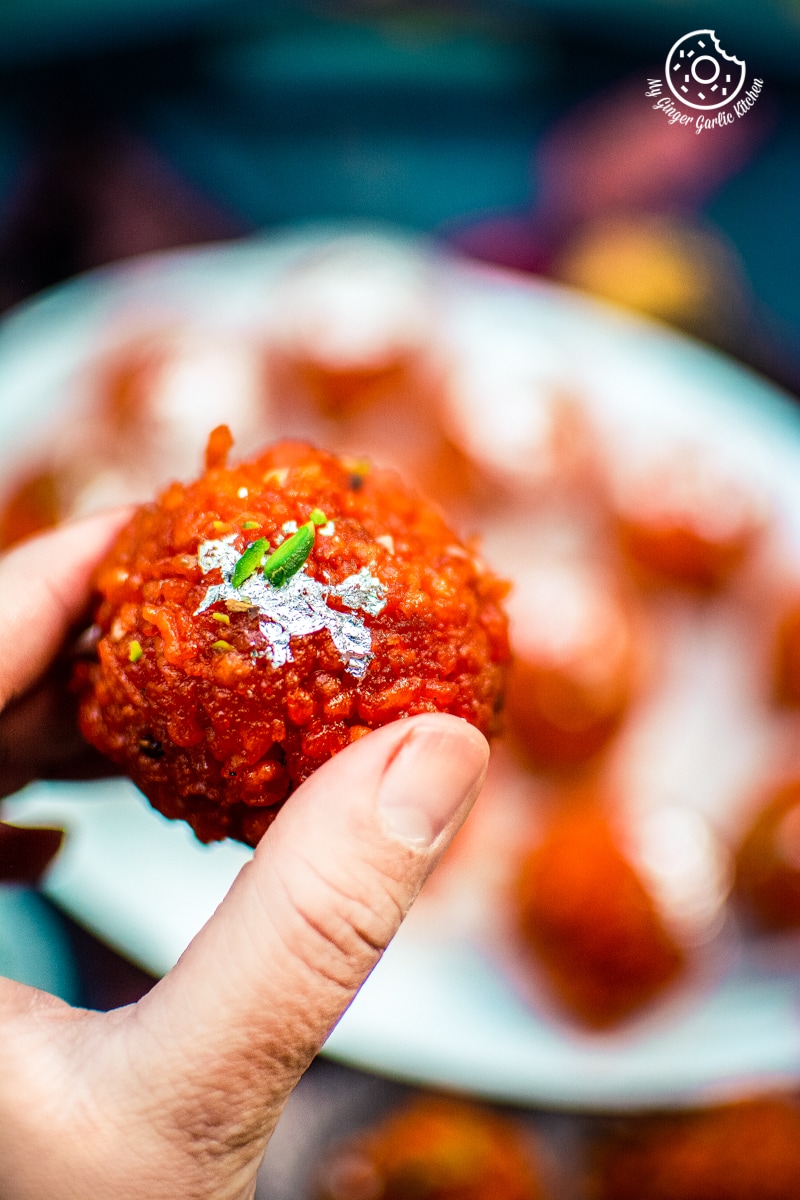 What are some important tips and variations to know while making Motichoor Laddu?
Making motichoor ladoo is not complicated at all. You can master them with a little practice and diligence. Just follow these tips correctly and you will be able to make your best motichoor ladoos at home. It takes some time to prepare boondis, but the overall preparation of motichur ladoo is super easy.
I don't prefer pulsing fried boondis. But you can absolutely pulse the boondis if you like. Pulse only half of the boondis to get a finer texture in ladoos. Only pulse them for a few seconds, or else they would turn into powder and they won't taste like motichoor ladoo at all.
For frying boondis, oil/ghee should be fairly hot. So make sure your oil is hot enough before pouring the batter in it.
Gram flour batter should be really smooth, lump free and of flowing consistency. It should not be too thick, or too thin. A pourable consistency of batter is ideal for making boondis. 
The amount of water always differs with different varieties of gram flour used in the recipe. So adjust the amount of water according to the variety of your gram flour.
To make a smooth pourable batter, frist make a lump free thick batter. Once, the batter is smooth and lump-free add more water to it. Keep adding water until you get a runny consistency of batter.
Fry the boondi (gram flour balls) till they become golden. It would only take about a minute to fry 1 batch of perfect boondis. Don't over-fry boondis. If you over-fry them, they would become crispy. And, if the boondis are too crispy, then they won't be able to absorb the sugar syrup properly and would remain hard. And making balls out of hard boondi is really a tough job.
Use a strainer or a slotted spoon for collecting fried boondis. 
Always drain fried boondi onto a tissue paper lined plate to make sure that extra oil is absorbed off the boondi. 
Before adding boondis to sugar syrup, discard the big pieces from the fried boondi. If you want, you can lightly pulse big pieces and then add them to the boondi.  
If  for some reason your boondis are a bit crisp after resting in syrup, then you can add 1-3 tablespoons of milk or water to it. They will turn moist and soft. 
Some store-bought laddo have melon seeds in it. So for a slightly changed nutty variation, you can also add some melon seeds or kharbuje ke beej (magaz).
I fried boondis in neutral vegetable oil, but you can use either ghee or oil for frying motichoor ladoos. You can also use a combination of ghee and oil for frying boondi.
Mold ladoos only when the mixture is warm. 
I have added 1 teaspoon ghee to the ladoo mixture. This addition of ghee helps in binding ladoos and they hold and retain their shape.