Kaju Pista Roll Recipe - Cashew Pistachio Fudge (काजू पिस्ता रोल)
---
Kaju Pista Roll or Cashews Pistachios Fudge is a classic and popular Indian dessert or sweet dish (mithai) laden with sweet and nutty flavors from cashews and pistachios. This cashew-based confection is jammed with sweetened pistachio mixture and flavored with cardamom and rose water.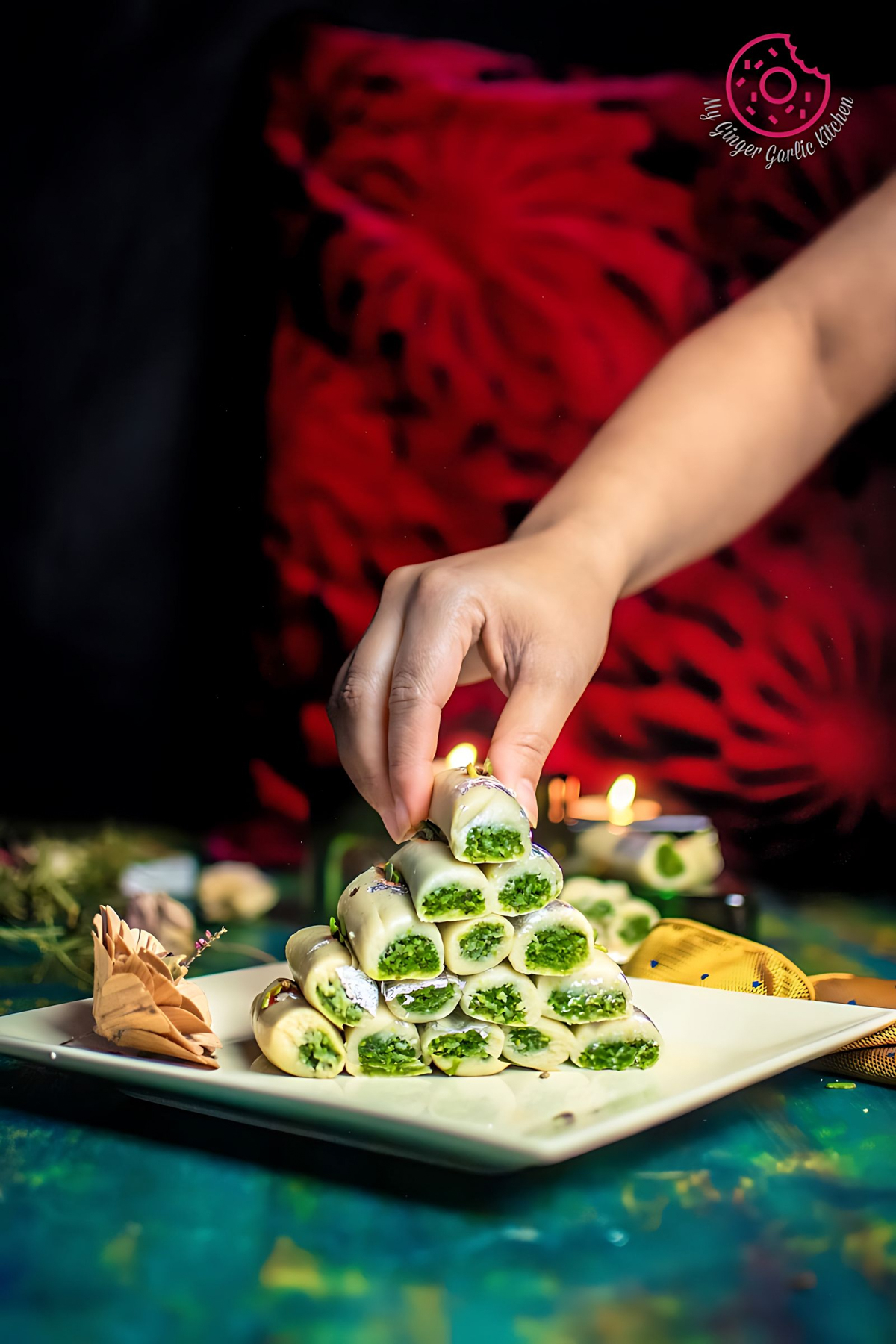 This dish is outstandingly delicious cashew and pistachio fudge bursting with a nutty texture and sweet aromatic flavors shaped into rolls. These rolls are a perfect delicacy for nut lovers and anyone who is sweet-toothed. 
These silky, velvety, smooth, melt-in-mouth nut rolls not only look delicious but they taste awesome too. The recipe is simple and easy, and also it does not take a lot of time. The homemade version of Kaju Pista roll is worth trying, and I can assure you that after trying this homemade recipe you would never want to buy Kaju Pista Rolls from the shop. 
Mithai or sweets are an indispensable part of Indian culture and traditions, and thus like many other authentic Indian sweets, this Kaju Pista Roll or Cashew Pistachio Roll is generally made during festivals like or , and also on special occasions such as weddings and parties. This is also common as a festival gift for friends and relatives during festivals.
What is Kaju Pista Roll?
Kaju Pista rolls are Indian desserts or sweets which are very scrumptious and rich in taste. This is one of those sumptuous and glittering Indian sweets which are the showstoppers at every sweet shop (mithai-wallas) and restaurants. And why not, everyone easily gets drawn to these beautiful looking rolls.
Similar to , this traditional Indian sweet never gets old and loses its charm. And who wouldn't love sweet, delicate and delicious nut-based lavish mithai? This sweet can jazz up and embellish any festival or celebration — yes, it has that power. :)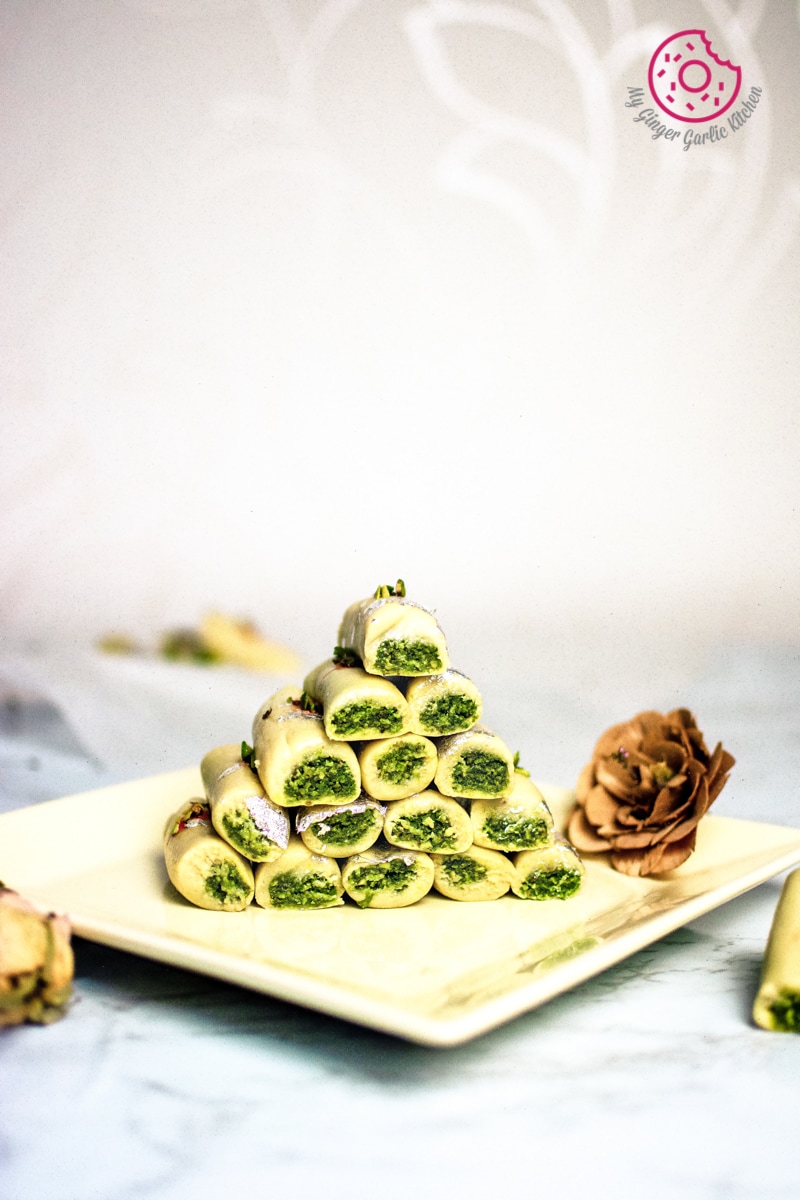 What are the ingredients for making Kaju Pista Roll?
Making Kaju Pista roll uses kaju and pista as base ingredients, and it requires very little ingredients to get the perfect homemade Kaju Pista rolls.
Here are the ingredients you will need for making these nutty rolls:
Essential ingredients:
Cashew nuts
Pistachios
Powdered sugar or icing sugar
Cardamom powder
Milk or water
Ghee (clarified butter)
Optional ingredients:
Few drops of green food color
Kewra water or rose water
Edible silver leaf (chandi ka warq)
Orange food color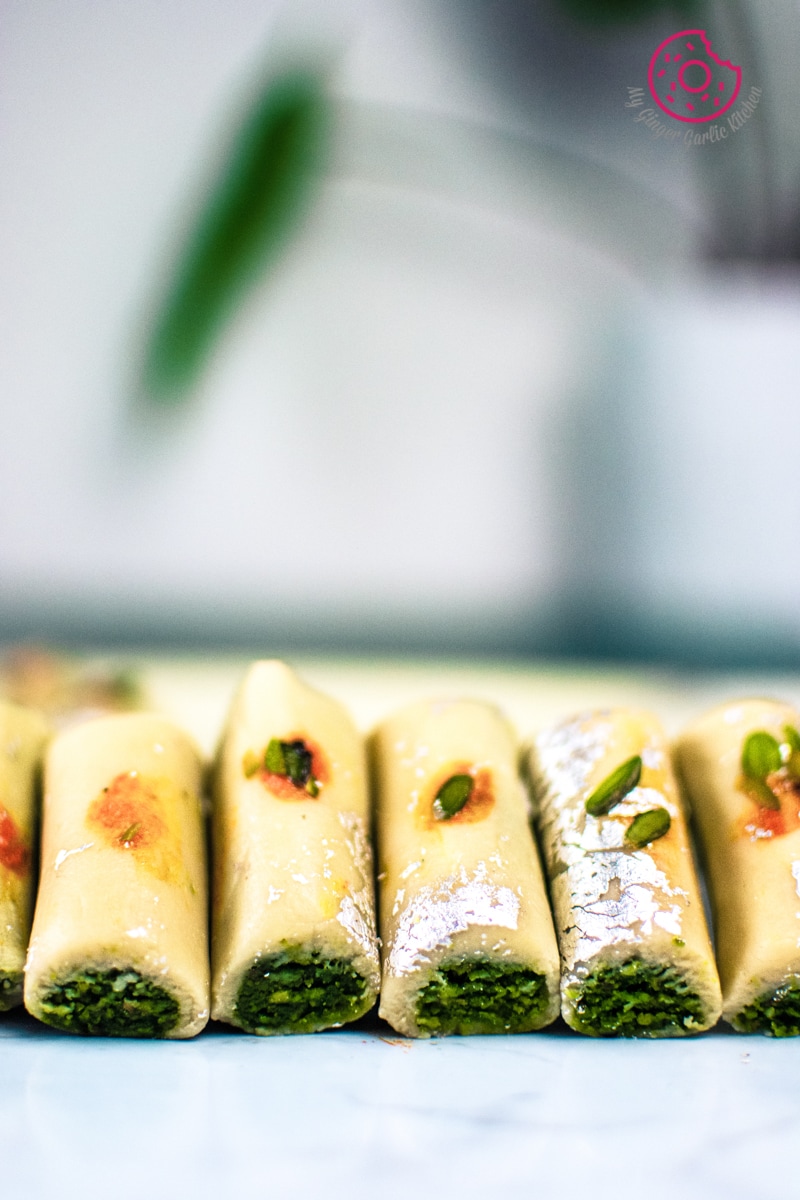 How do you make Kaju Pista Roll?
Making this Kaju Pista rolls from scratch is very simple and it takes about 40 minutes from start to finish.
First, you make a smooth dough by combing pistachio powder, sugar, cardamom powder, and milk. Then divide the dough into 2 portions and then turn each portion into thin logs.
Next, powdered cashews are cooked with sugar syrup to make a cashew smooth dough which then is rolled into a thin circle like a flatbread. This circle makes the outer cover of this dish.
This circle is then divided into 2 pieces. Then a log made of pistachio powder is kept over the edge of half circle. Then you tightly start rolling and folding cashew circle inwards until the half dough circle is used and cashew outer cover is rolled like a log. After that, you seal the edges by rolling it further. 
Finally cut the edges and cut each log into about 1.5-inch long cylinders. These would look like white colored cylinders with bright green inners. TADAA, your rich and delish festive sweets are ready.
If you want to go a step further then you can do some decorations to beautify them. You can also decorate them with edible silver warq, ghee mixed orange color, and pistachio slices.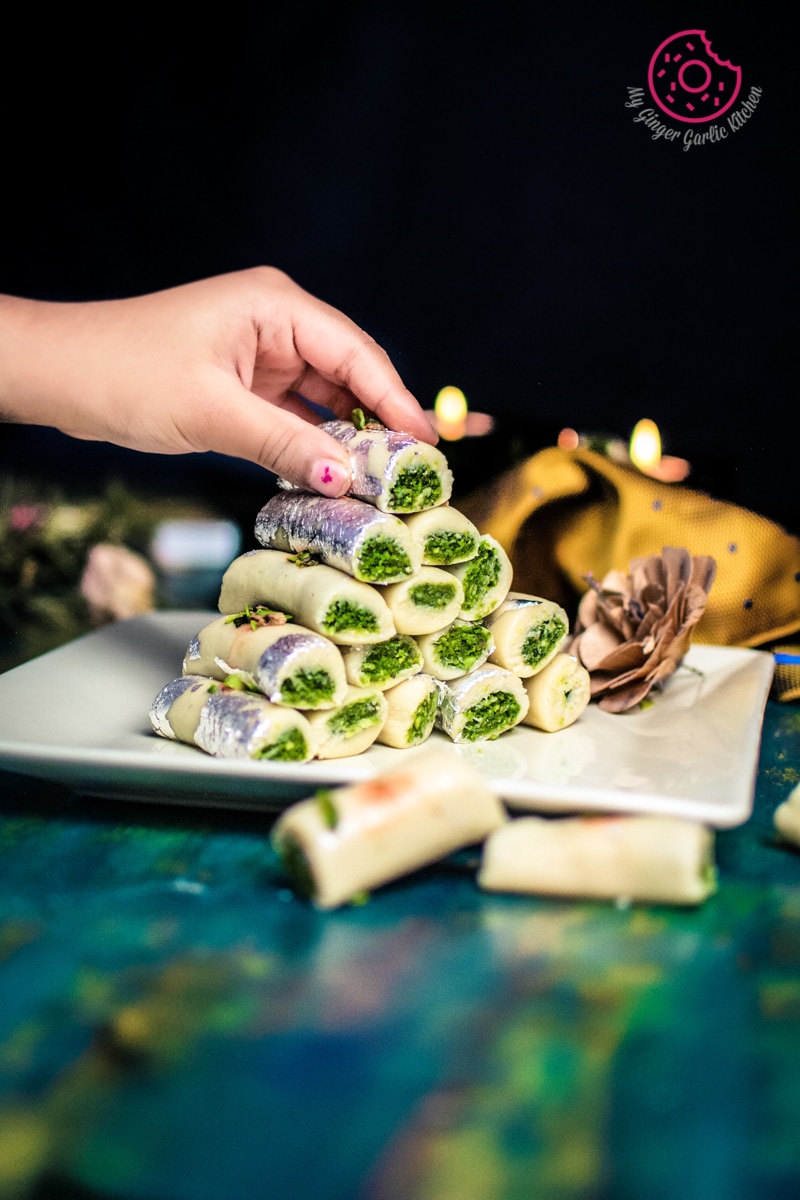 How to serve Kaju Pista Roll?
You can serve them along with some fried snacks such as Moong Dal Namkeen, Chana Dal Namkeen, or serve as an after meal desserts along with Indian meal of , , and .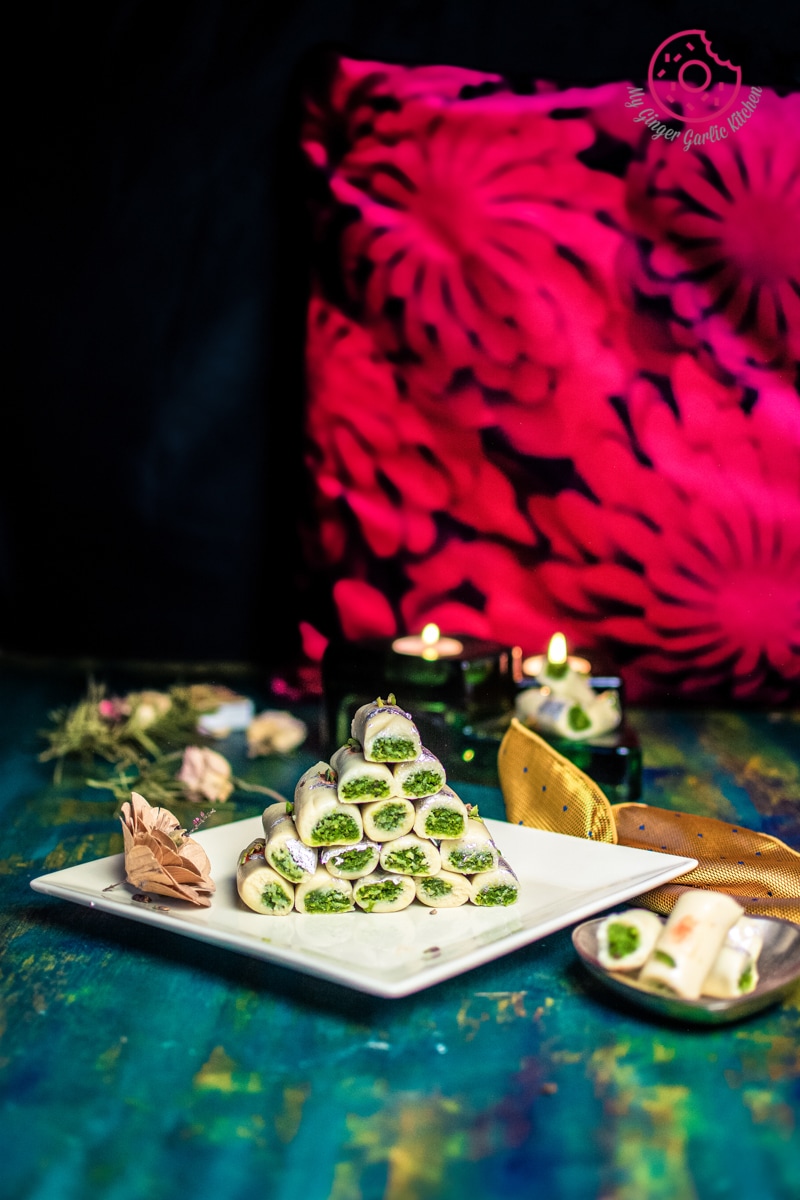 How to store Kaju Pista Roll?
For storing, transfer them into an air-tight container and store these kaju pista rolls for up to 15 to 20 days in the refrigerator.
What is the best time to make Kaju Pista Rolls?
Everytime is a right time for making Kaju Pista Rolls, because you can make them anytime your heart fancies. But if you still want some excuse for making and relishing these rolls then there may be some good enough reasons for you:
Just make it for festivals such as Diwali, Holi, or Rakshabandhan. 
You can make them when you have guests coming over and you want to impress them with your culinary skills. 
Make it when your family or you want to indulge in something exotic and luxurious. 
Make them when you simply can't resist your cravings for sweets. 
Not to mention that these kaju pista rolls also make a great holiday gift. So make it in huge batches when a festival is coming.
Is Kaju Pista Roll a Vegan dish?
Kaju pista roll is not entirely vegan because some ghee (clarified butter) is added to this recipe. To make it completely vegan you can swap ghee with vegan butter, vegetable oil or margarine. Milk can be replaced with cashew milk or water.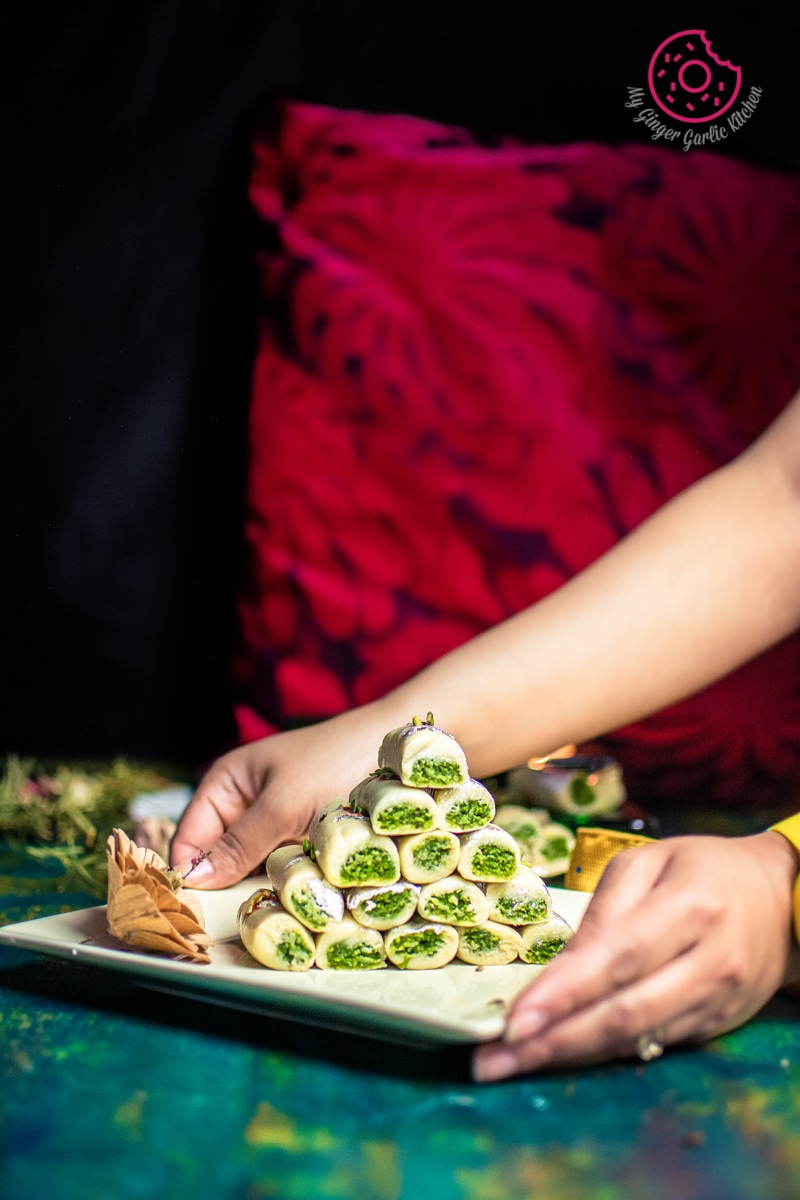 What are some of the best tips and variations for making perfect Kaju Pista Roll?
I would not say that making 'halwai-style' or 'restaurant-style' melt-in-mouth kaju roll recipe at home is a piece of cake because it's not. However, it is not that complicated either. Making Kaju Pista Roll in not so tricky if you cautiously follow all the following tips for this 'no-fail recipe'. 
I have added some flavoring of rose water in my cashew dough. You can also add some kewara water or essence. Or you can totally omit any flavorings. These rolls would still turn out droolicious.
One-string consistency syrup is required for making kaju pista rolls. So once the syrup gets one-thread consistency, immediately turn heat to lowest settings and add cashew powder. This would ensure that your kaju mixture would not harden. 
I have added some green food color for pistachios powder, but this is completely optional This does not make any difference in taste, so if you do not feel comfortable in adding food color then you can simply omit it. 
After transferring it to a bowl make sure you add some ghee to the dough and keep mixing it using a spoon. This step would make sure that your dough would stay softer and would not have any cracks on it while rolling. 
We need a warm (which is a little hot to touch) and smooth cashew dough for rolling, so once you transfer it to a parchment paper then keep folding it with your hands until you get a soft, smooth dough.
If you think your dough is a little hard while folding on the parchment paper, then you can add 1-2 tablespoons of hot milk or water to it and then fold it until you get a smooth dough.
I have decorated kaju rolls with edible silver leaf (aka chandi ka warq), because they look so pretty, festive and presentable with silver leaf — just the similar kind we get at our favorite mithai wallas or sweet shops. You can either add a golden leaf or you can simply omit any leaves. The choice is up to you.
Use parchment paper or a baking sheet for rolling and folding cashew mixture log. This makes the shaping process very effortless and fuss-free.
Always double-check that the cashew dough doesn't cool down too much while rolling, or else it will harden and it would be challenging to fold them into rolls.
You need to make a fine powder of cashews, but do not powder cashews too much, or else they will turn into a paste. So keep a close eye when grinding cashews.
Pass the cashew powder through a sieve to make sure that there are no big pieces in the cashew powder. Straining the powder would make the powder-fine and your rolls would turn out smoother.
Do try this easy sweet and pretty looking mithai (sweet) for this festive season. Get ready to hear some WOWS from your family and friends for your culinary skills. Do not forget to share your feedback if you try this delectable homemade kaju pista roll recipe.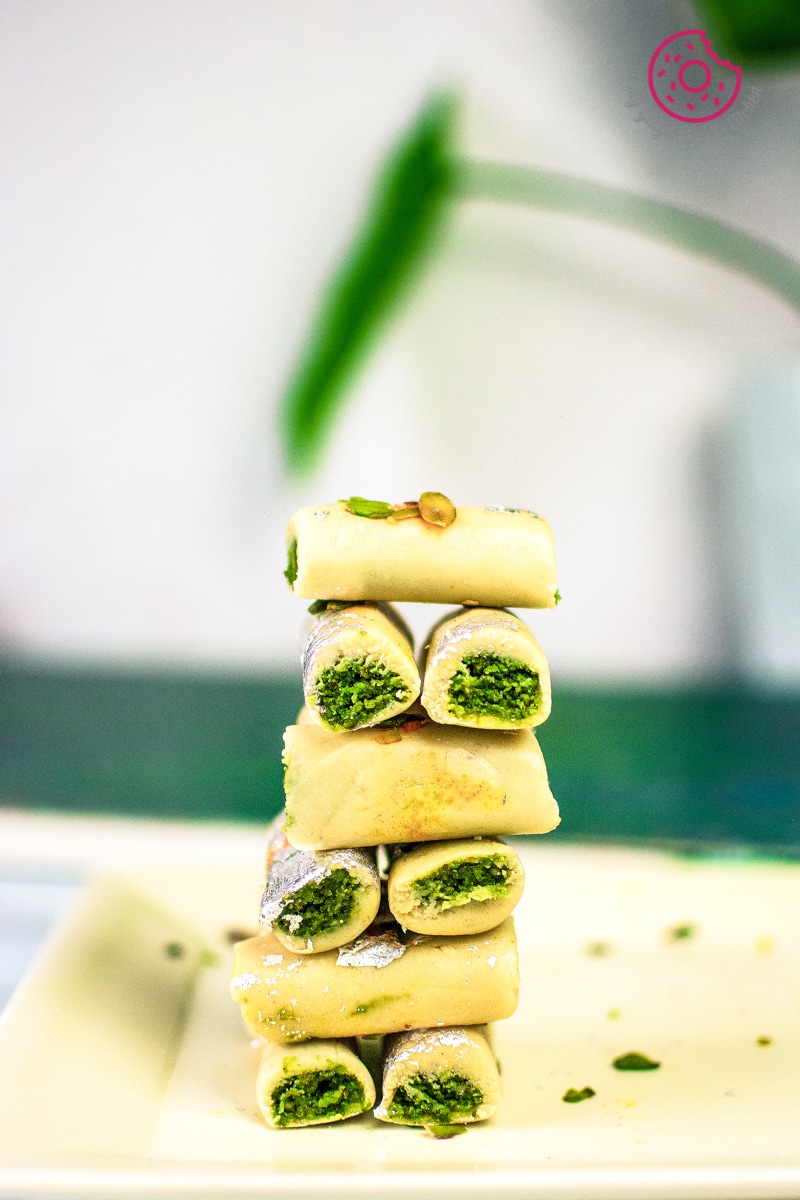 ---