Learn to make Khaman Dhokla Recipe | How To Make Instant Soft and Spongy Dhokla with step by step video tutorial. Instant Khaman Dhokla is a healthy, nutritious, vegan, gluten-free and mouth-watering snack hailing from the Indian State of Gujarat.
This Instant Dhokla recipe can also be served as an appetizer when you have guests coming over for dinner. So all in all, this savory, sweet, tangy and softly spiced steamed cake makes a wonderful breakfast.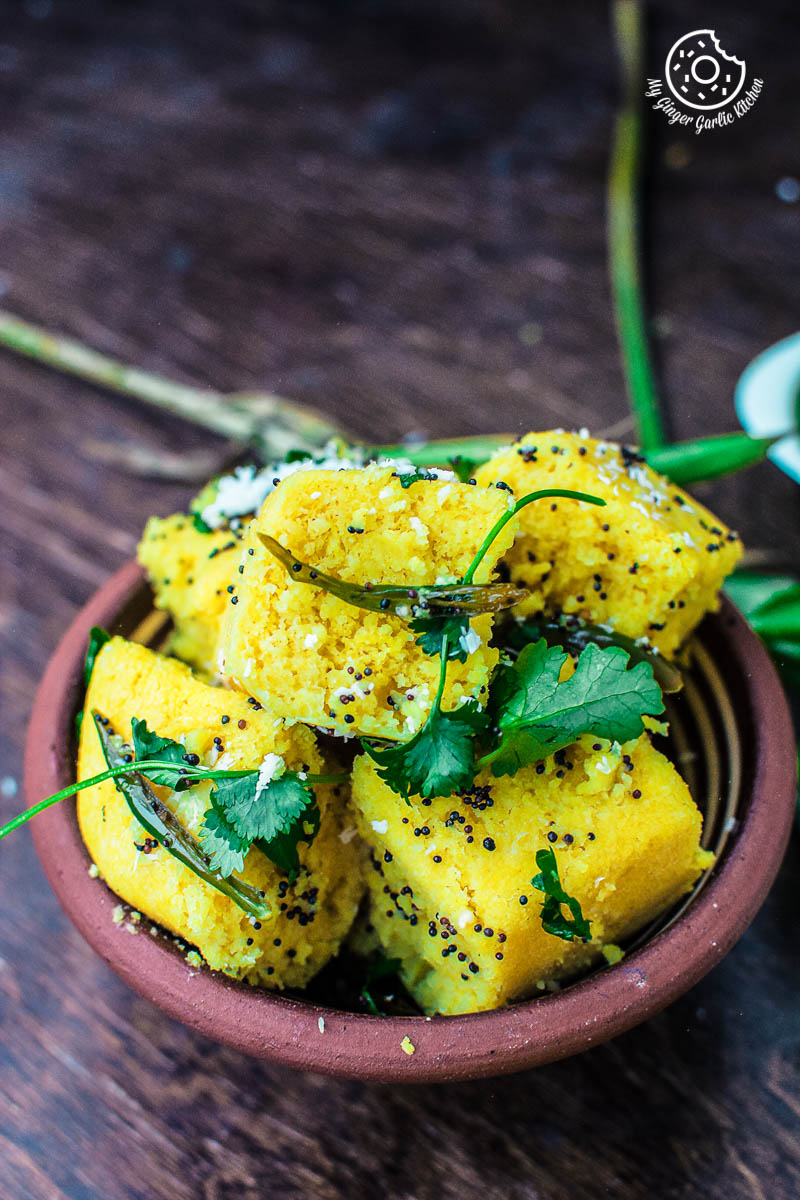 Dhoklas are prepared with chickpea flour. The texture of khaman dhoklas is so delicate and spongy. They look very seductive. Plus, this recipe is super simple, that anyone can easily make at home.
This hearty, healthy Khaman Dhokla is full of my favorite things. This is a steamed recipe, so it is very low in calories. Which means it has health benefits too.
Realated: Gujarati Khaman Dhokla Recipe in 2 Styles
Instant Khaman dhokla is a perfect breakfast to warm you up on a cold winter morning especially on a Monday. I know, we've all been there – it is really hard to get out of the bed during winter mornings. In my case, my body and mind play the games.
At every alarm, my mind says, "Come on get up. I am telling you, that you are so gonna regret this 10 mins of EXTRA sleep.
And then my body says: "Don't worry snooze the alarm and sleep for 10 more mins. Nothing will change if you will wake up 10 mins late so listen to me and sleep."
And 95% of the times I listen to my body and the remaining 5%, I listen to my mind. On the days when I listen to my mind I have sufficient time to make good and filler breakfast in the morning.
Related: Instant Oats Rava Dhokla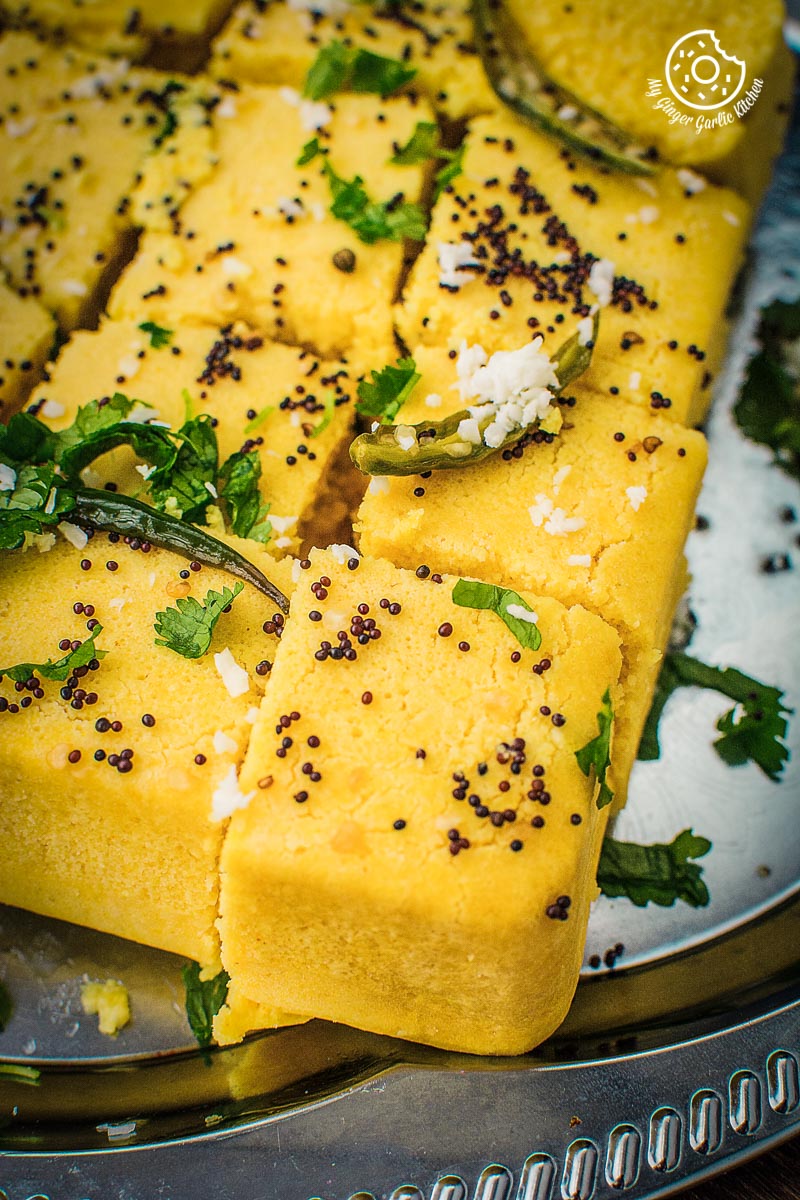 And on such days, I often make this Instant Dhokla which can be ready in 20 mins. A hot cup of tea/coffee along with this dhokla and chutney and you are all set to go on a beautiful journey. Believe me, it couldn't be simpler than this. Sometimes, when I plan for this dhokla for mornings, I prepare tadka and chutney in the night and then I simply warm the tadka before pouring over the dhoklas. This saves a lot of time. It can't get any simpler than this. Just prepare the batter and steam it and pour the tadka. Another benefit is that while the dhoklas are steaming, you can get dressed for work or do other chores. 🙂
Related**: Moong Dal Dhokla**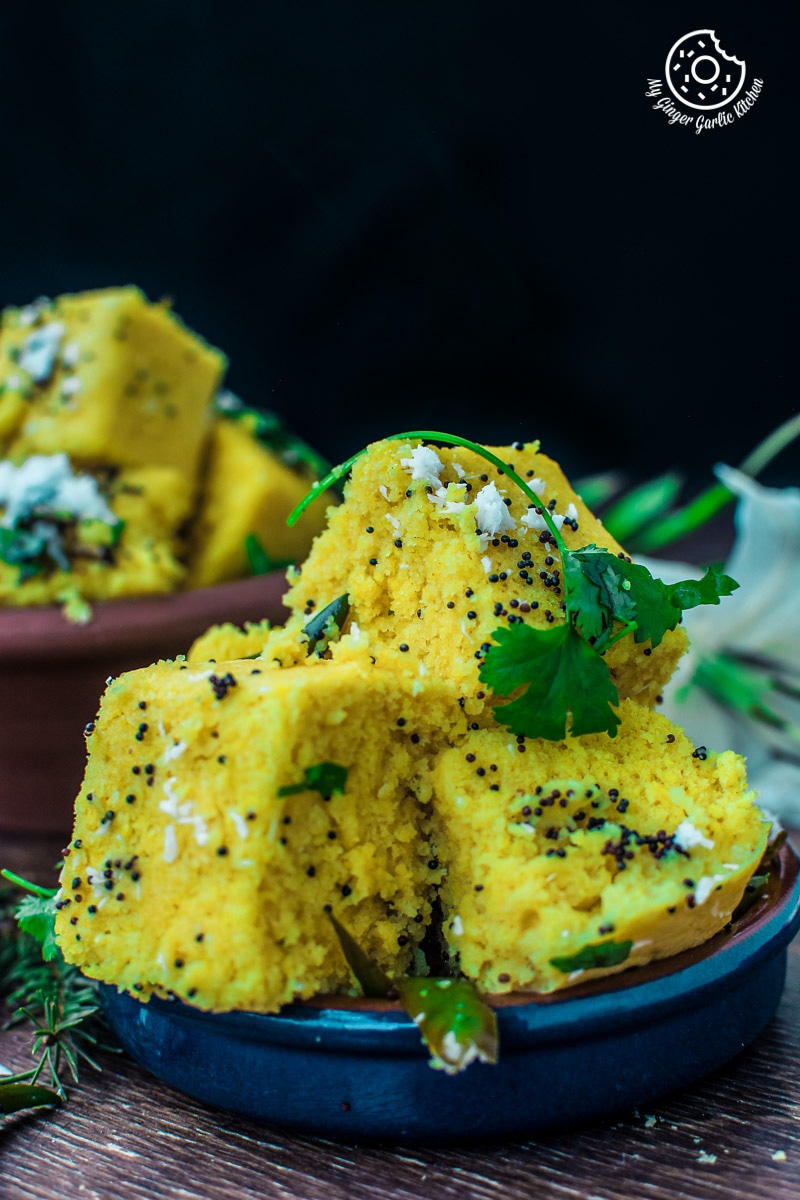 So all I want to say, that this humble dhokla always comes to the rescue whenever I crave for something quick and easy for breakfast or snack. All the ingredients we need for making this are easily available in the kitchen.
This particular recipe includes the addition of fruit salt, citric acid to the batter, and water to the tempering.
Related: INSTANT RAVA DHOKLA – STEAMED SEMOLINA SNACK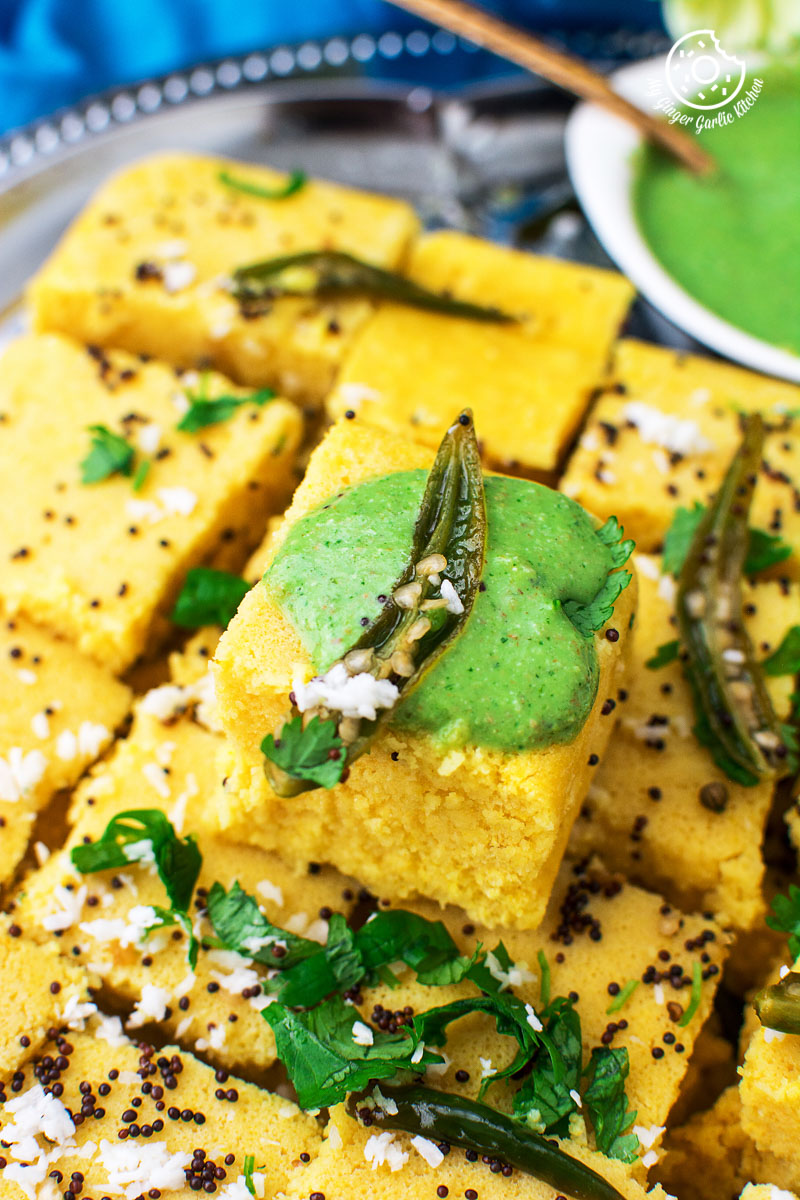 These are only a few main factors which make the super-soft and spongy dhokla. The most important one is to add the tempering 5 minutes before serving, so the dhokla soaks the tempering and gets fluffier.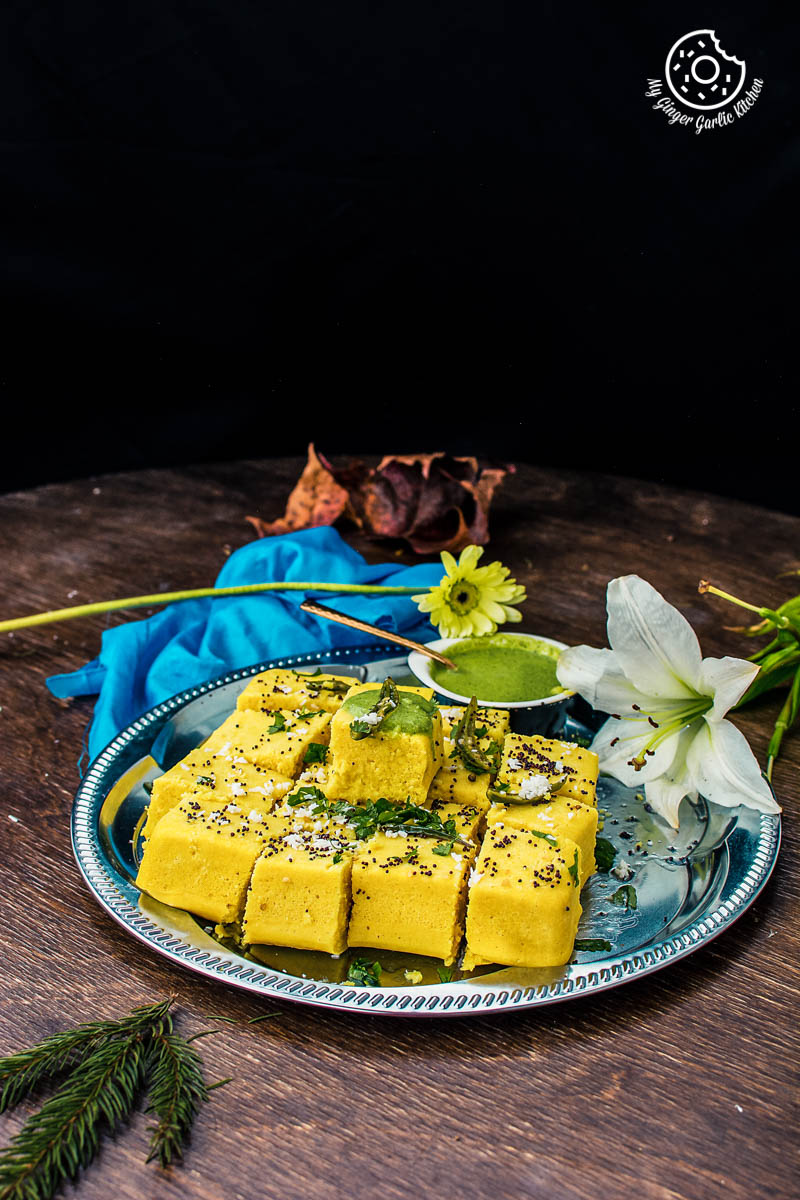 With this recipe, you can learn how to make Dhokla at home with a quicker method in an easier way. They are instant and you can make these Dhoklas in less than 20 minutes — no fermentation is needed. Making khaman dhokla is very quick and almost fuss-free. Plus, it tastes heavenly.
This Instant Dhokla recipe can also be served as an appetizer when you have guests coming over for dinner. This recipe I am sharing today is inspired from one of my Mom's friends' recipe. She belongs to the Indian state of Gujarat. My Mom learnt this authentic recipe from her and eventually, I got this recipe from my Mom. So I can guarantee that this recipe is 100% authentic. Also this is a 100% fail-proof recipe. Those who know how real dhoklas taste, they would surely give you 10/10 if you will make this for them.
Related: Green Coriander Chutney – 3 Ways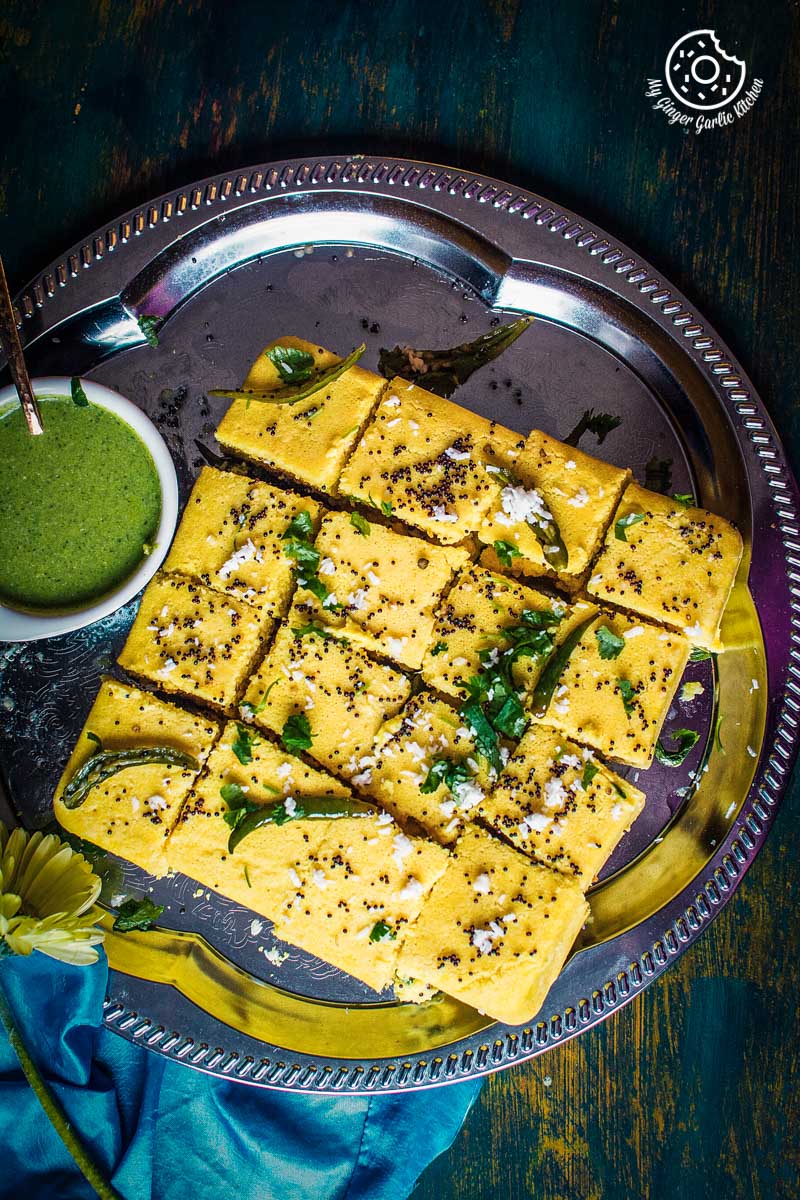 I am sharing steamer recipe today, but you can also make this dhokla in the microwave. If you are running out of time then microwave dhoklas are the best.
For microwave method: You just have to pour the batter in a microwave-safe bowl and cook in the microwave for 2-3 minutes. That's it. I personally prefer the steaming method, because dhoklas turn out much softer and spongy when you steam them.
If you think that your dhoklas don't turn out soft, this dhokla recipe will surely help you. This is very easy recipe, just follow these basic steps and read the following tips, and you have the most delightfully tasting dhoklas at your hand. 🙂
Related: Masala Mathri- 2 Ways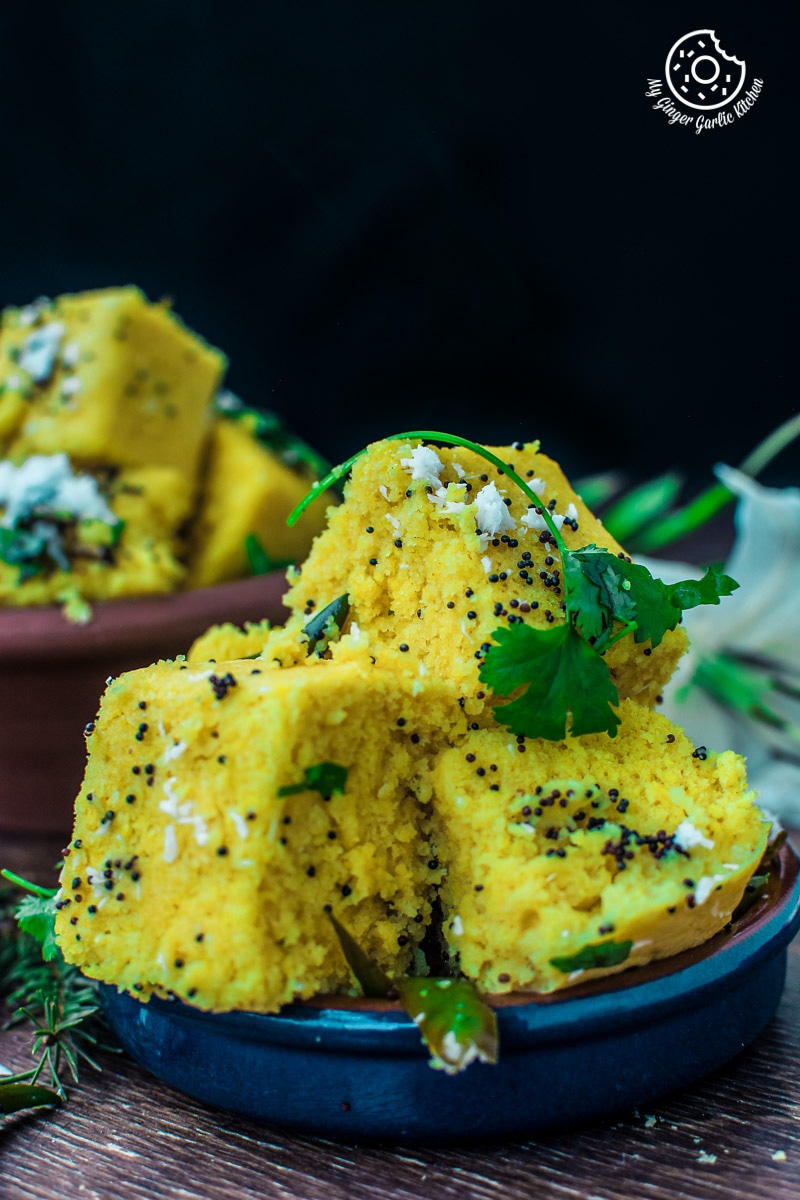 Some important tips:
Always steam the dhoklas over medium heat. High heat will cause the dhoklas rise fast, and they won't cook properly from inside.
I would recommend using the Eno fruit salt for making dhoklas, they give perfect sponge.
If you are using baking soda instead of Eno fruit salt, then try not to add any turmeric powder. Sometimes, these two ingredients may react and you'll get red-ish dhoklas. You can use some yellow food color, but that is completely optional.
Always try to use the Eno sachet to make sure that you are using with a fresh batch of Eno — this will ensure that your dhoklas would rise well, and they won't turn hard and flat.
Keep your steamer ready before you add the rising agent to the batter. Start beating fast as soon as you add the Eno/soda to the batter. A good beating leads to a fluffy khaman. The fluffier batter would give the fluffier dhoklas.
After beating batter with Eno, pour the batter instantly to the baking tin. And then it should go to the steamer right away.
You can substitute citric acid with the double amount of lemon juice. I personally find that citric acid works great.
Instant Khaman Dhoklas are best served with green coriander chutney. You may also like the other dhokla recipes I have shared earlier: Oats Dhokla, Rava Dhokla, Moong Dal Dhokla, Capsicum Dhokla.
Khaman Dhokla Recipe | How To Make Instant Soft and Spongy Dhokla | [RECIPE]
Learn to make Khaman Dhokla Recipe | How To Make Instant Soft and Spongy Dhokla with step by step video tutorial.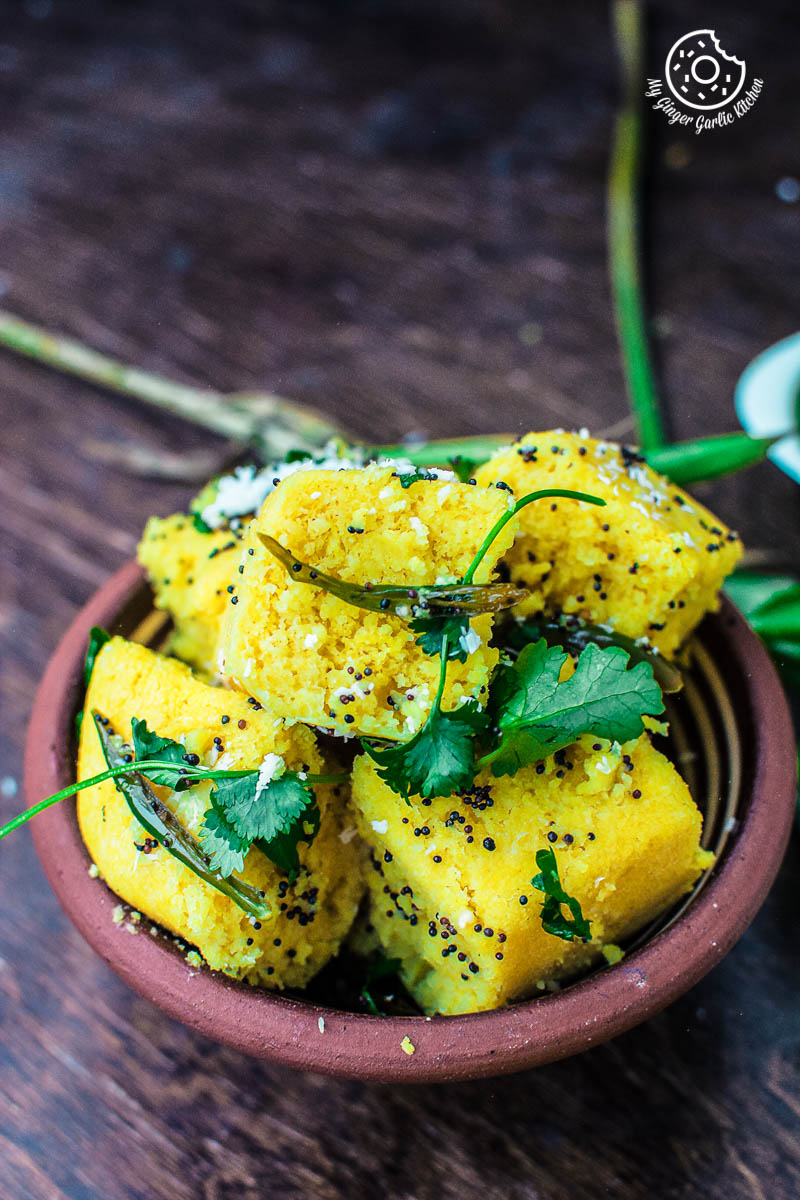 ♥ ♥ ♥ ♥ ♥
(Rating: 5 from 1 reviews)
INGREDIENTS
For Khaman Dhokla:
• Gram Flour – 1 Cup (200g)
• Semolina – 2 Tablespoons
• Salt To Taste
• Ginger, Grated – 1 Teaspoon
• Sugar – 3 Teaspoon
• Turmeric Powder – 1/2 Teaspoon
• Citric Acid – 1/2 Tsp Or Lemon Juice (1 Tsp)
• Oil – 1 Tablespoon
• Water For Batter
• Eno Fruit Salt – 1 Teaspoon
For Tadka:
• Oil – 2 Tablespoons
• Lemon Juice – 1 Tsp
• Sugar – 1 1/2 Tbsp
• Salt – 1/4 Tsp
• Mustard Seeds – 1 Teaspoon
• Green Chilies, Slit – 5-6 Small
• Curry Leaves – 4-5
For Serving:
• Fresh Coriander Leaves Chopped – 2 Tablespoons
• Grated Coconut – 2 Tablespoons
• Green Chutney
---
| 🕐 Prep time | 🕐 Cook time | 🕐 Total time |
| --- | --- | --- |
| | | |
| ☶ Category | ♨ Cuisine | ☺ Serves |
| Snacks | Indian | 16-20 pieces |
---
Servings:4-6
INSTRUCTIONS:
For Khaman Dhokla:
1. Take 1 cup besan and pass it through to sieve.
2. Add 2 tbsp suji and pass it through a sieve.
3. Add turmeric powder, salt, sugar and citric acid. Whisk everything well.
4. Add 1 cup of warm and make a smooth lump free batter. Add more water if needed.
5. Add oil, grated ginger and mix well again.
6. Leave it aside to ferment for 10 minutes.
7. Arrange a stand in a large pan or steamer.
8. Add 1 1/2 water, cover and boil for 10 mins.
9. Brush a thali or a container heat safe container) with oil.
10. Add Eno fruit salt, 1 tsp water and whisk briskly clockwise for about 1 minute or until double in size.
11. Pour the batter immediately into the prepared thali or container and tap it to spread the batter in an even layer.(Fill the container 3/8, like we do for cake baking.)
12. Place it in the pan or steamer.
13. Steam for 12-15 minutes or till the dhoklas are cooked.
14. Insert a toothpick to check if Dhokla is cooked if it comes out clean then dhokla is ready. If not, steam for few more minutes.
15. Take out the plate from the steamer and let it cool for few minutes.
16. When a little cool, flip the dhokla onto a plate and Cut into square pieces.1.
For Tadka:
2. Heat the oil in a non-stick pan and add the mustard seeds.
3. When the seeds crackle, add the green chilies and curry leaves, and sauté on a medium heat for 2-3 minutes.
4. Add water and let it boil for 3 minutes.
5. Add salt, sugar, lemon juice and stir well.
6. Let it boil for 3-4 minutes.
7. Remove from heat. Let it cool for a few minutes.
---
NOTES:
1. You can replace Eno with the same amount of baking soda.
2. If you do not have citric acid, then add 1 tsp of freshly squeezed lemon juice.
---