Masala Mathri - 2 Ways | Fried & Baked Masala Mathri | Spicy Indian Crackers. Mathris or Matthis are Indian style crispy and spicy fried crackers which are a very popular snack in the northern part of the India. These mathris make a wonderful teatime snack for anyday. Just pair them with a masala chai or coffe and your brunch is sorted.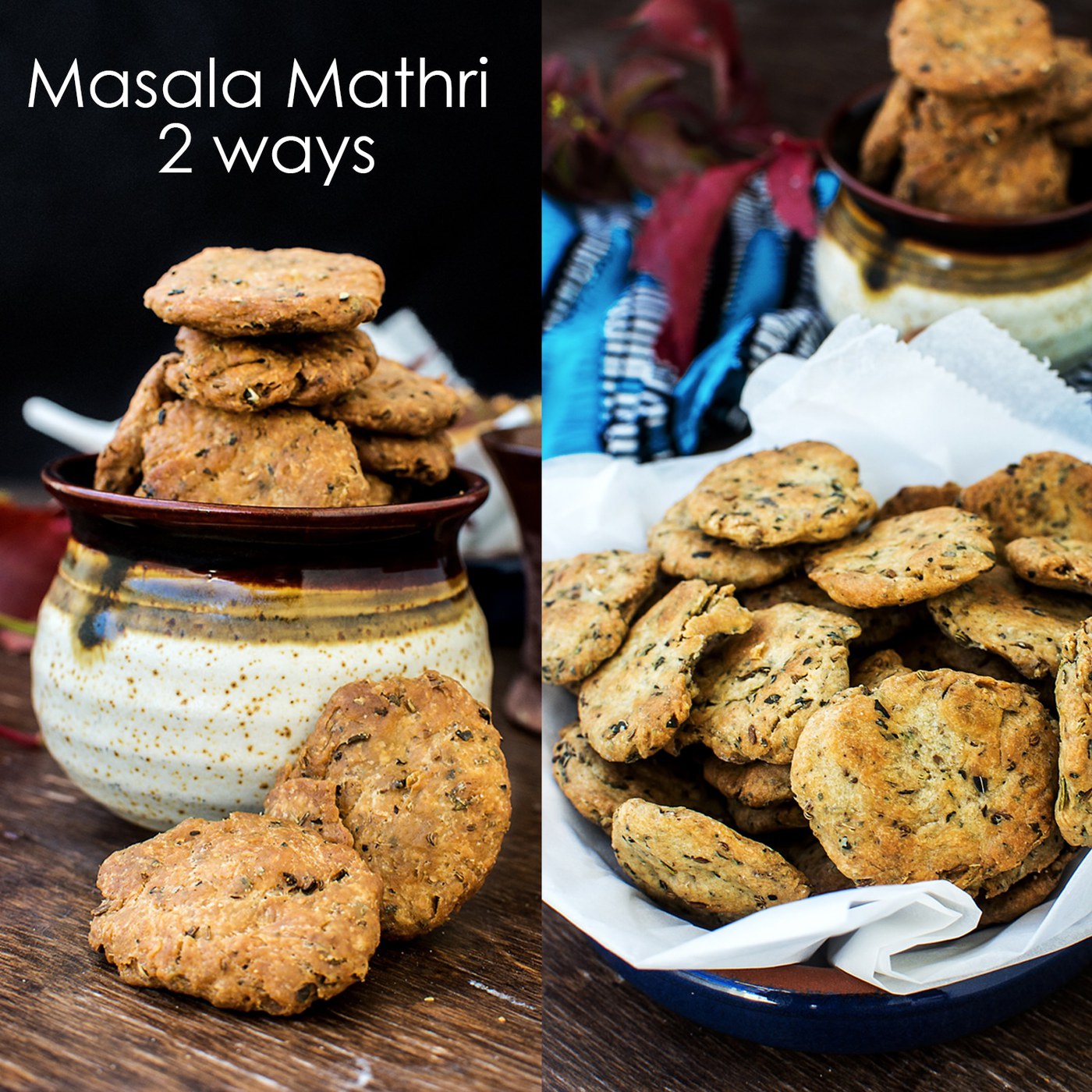 Mathris (spicy Indian crakcers) also make a great festive snack, thus it is made during festivals such as Diwali and Holi. Festivals for many are incomplete without these mathris. They are simply perfect for family gatherings and get togethers.
Making these crispy, crunchy and flavorful Masala Mathris is very easy and quick. They only need ingredients which are easily available in any kitchen.
I hope you would also love them as much as I do. You can also check out some other festive recipes.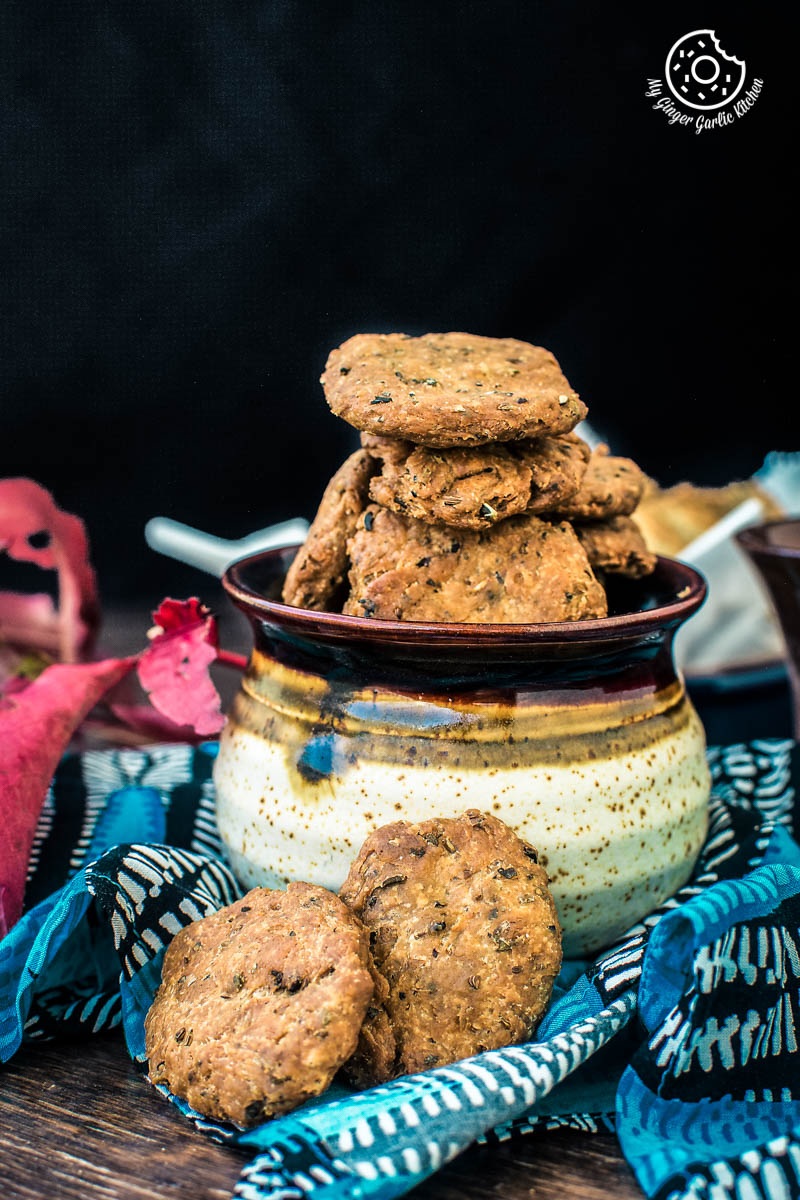 What is Masala Mathri?
Masala Mathri or Matthi is an Indian style crispy and spicy fried cracker which is a very popular snack in the northern part of India. Any festival such as Diwali and Holi are incomplete without these Mathris. These homemade spicy mathris are something I grew up eating.
They were my grandmother's favorite snacks. For any kind of festive season, she made sure that these masala mathris were there. She just loved these.
Today I am sharing the traditional authentic recipe which my Granny used to make. I am sure you would love my Granny's classic masala mathri. It has just the right amount of spices and everything which makes a mathri divine.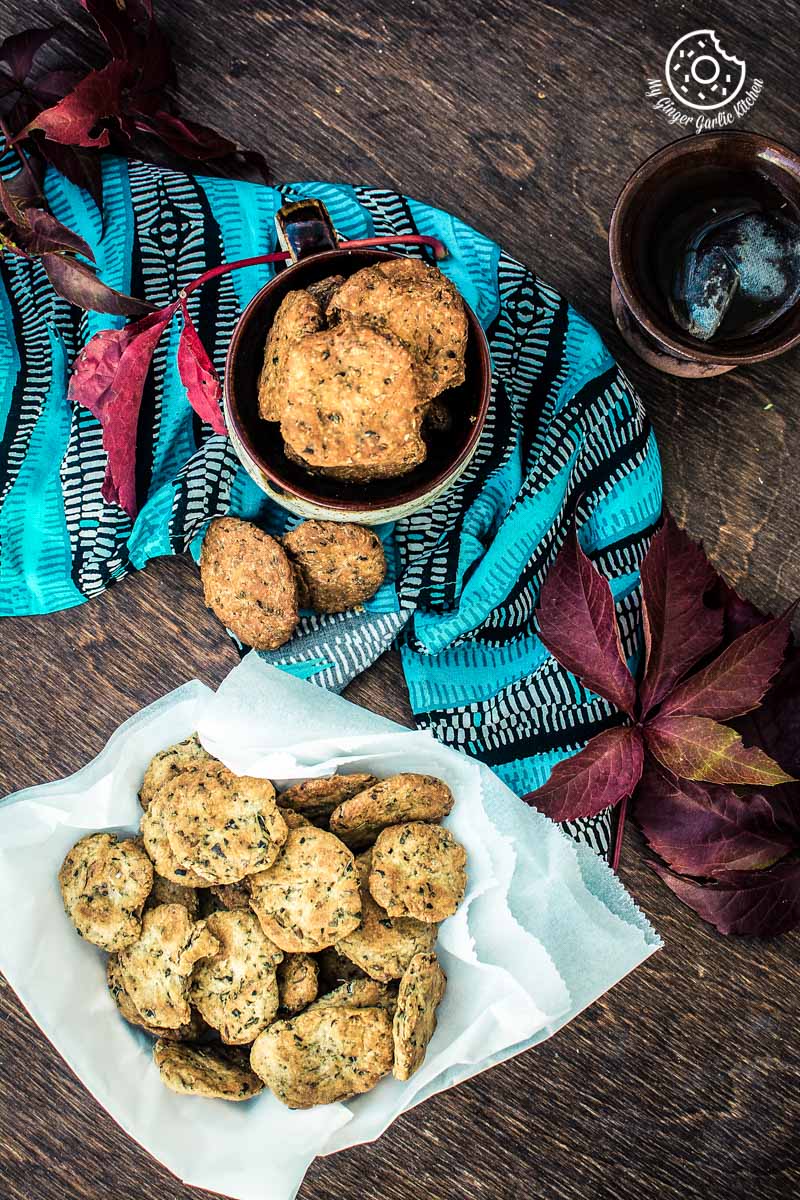 Can I add some other flavours to Masala Mathri?
Yes, you can. In fact, I have already shared a tweaked flavored version of this Beet Mathri earlier which you might like to try. Feel free to go with any flavours you like.
What are the ingredients for Masala Mathri?
Making these flaky, crispy, and spicy mathris are super easy. And you only need some basic ingredients to make these flaky and crispy mathris such as flour, salt, ghee/oil, and a combination of spices.
These spices include carom seeds (ajwain), fennel seeds (saunf), black pepper (kali mirch), dry fenugreek leaves (kasuri methi), asafeotida (hing) and cumin seeds (jeera).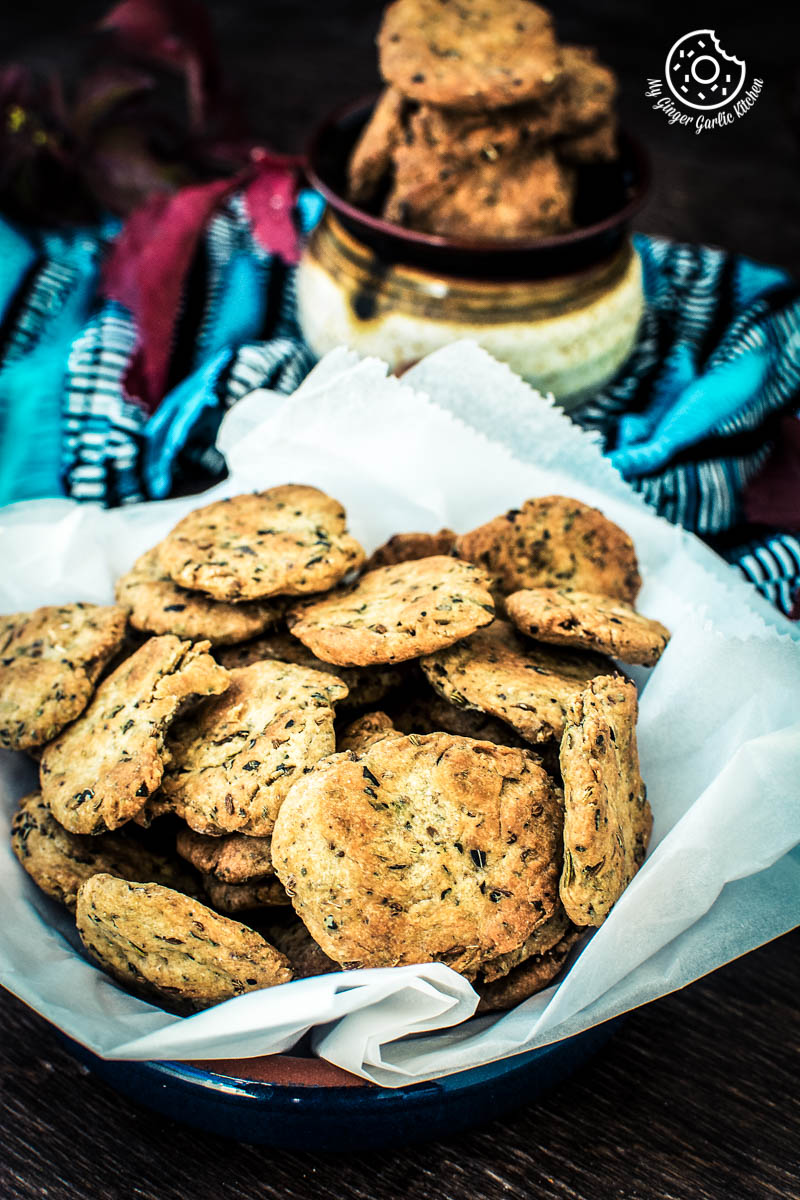 How to serve Masala Mathri?
The spicy crackers (Masala Mathris) are truly amazing on their own. They also go perfecly well along with a hot tea or coffee. They are very popular as a tea time snack. If you want more flavours, then you can serve them with any kind of pickle, chutney or sauce.
How to store Masala Mathri?
Storing masala mathri is very simple. Good thing about these mathris is their longer shelf life. After frying or baking, you can simply store them in an air-tight container. And they would stay fresh for up to 2-3 weeks. Savour them with your evening tea or coffee.
Can I Bake Masala Mathri?
Yes, you certainly can. Many people including me are kind of health conscious when it comes to fried snacks. So I always prefer eating baked snacks whenever there's an option. Thus, in this post, I am sharing both fried and baked method for these Mathris.
For baking mathris, I always rely on a good baking pan, because a good pan can create wonders. No wonder the traditional deep fried mathris taste so good. But if you are someone who adores anything baked, then you would definitely love the baked masala mathris too.
What are some important tips and variations to make your Best Masala Mathri?
Always fry mathris on medium-low heat, or else they will not come out crisp. Frying perfect flaky and crispy mathris take some time, but all the patience is worth it.
Also, If you deep fry mathris on high heat, then they will turn golden faster from the outside and they would remain uncooked from insdie.
While frying mathris, do not overcrowd the pan.
You can store these mathris in an airtight container at room temperature for about 2-3 weeks.
Masala mathris make great snack for travelling. So remember to pack these masala mathris next time when you are planning a road trip.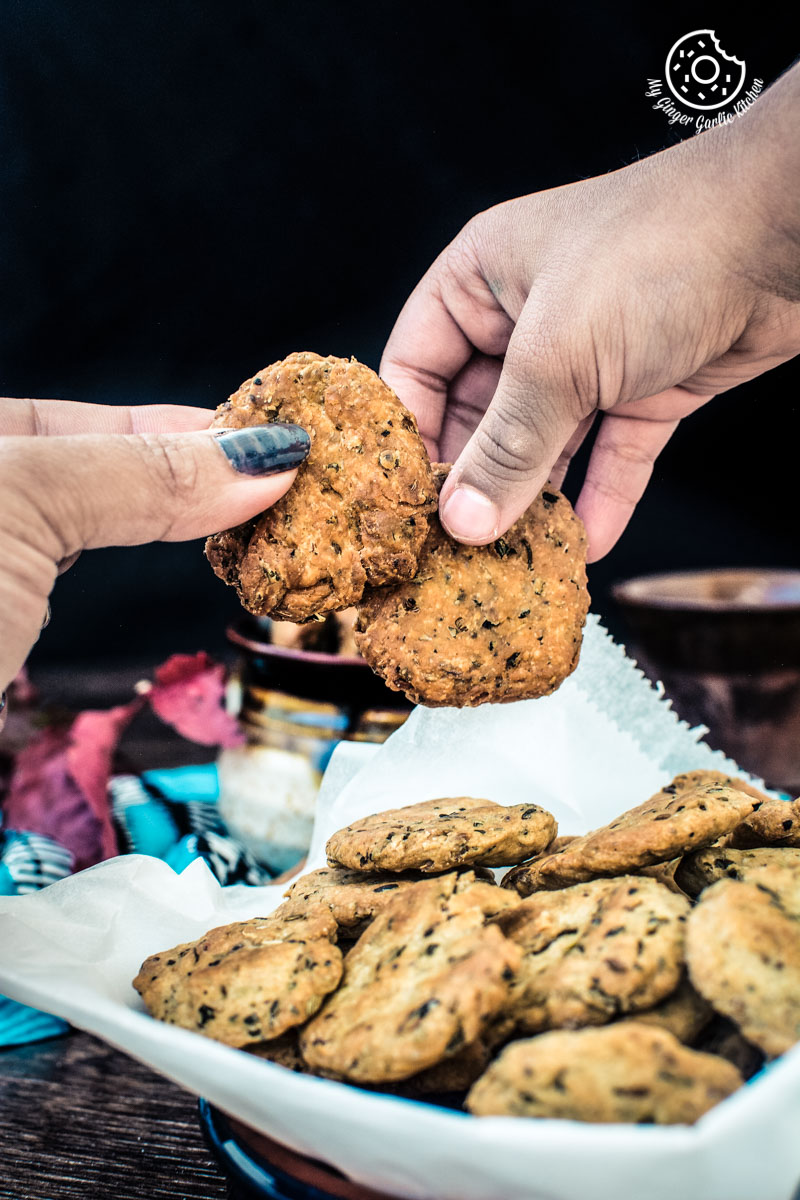 If you are looking for more 'Diwali Snacks' recipes, then do check the following:
How To Make Baked Samosa with Chocolate Tamarind Chutney
Gujarati Khaman Dhokla in 2 Styles
Jaipuri Pyaaz Ki Kachori Recipe
How To Make Punjabi Chole Bhature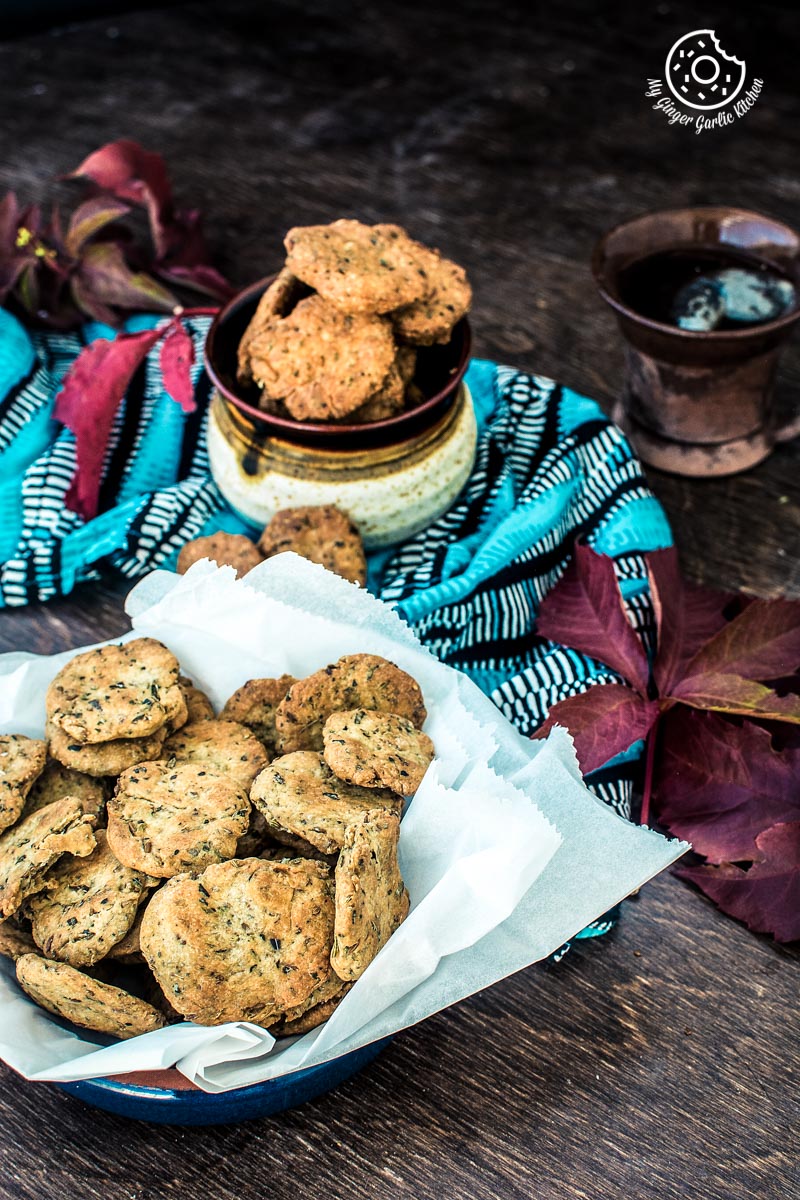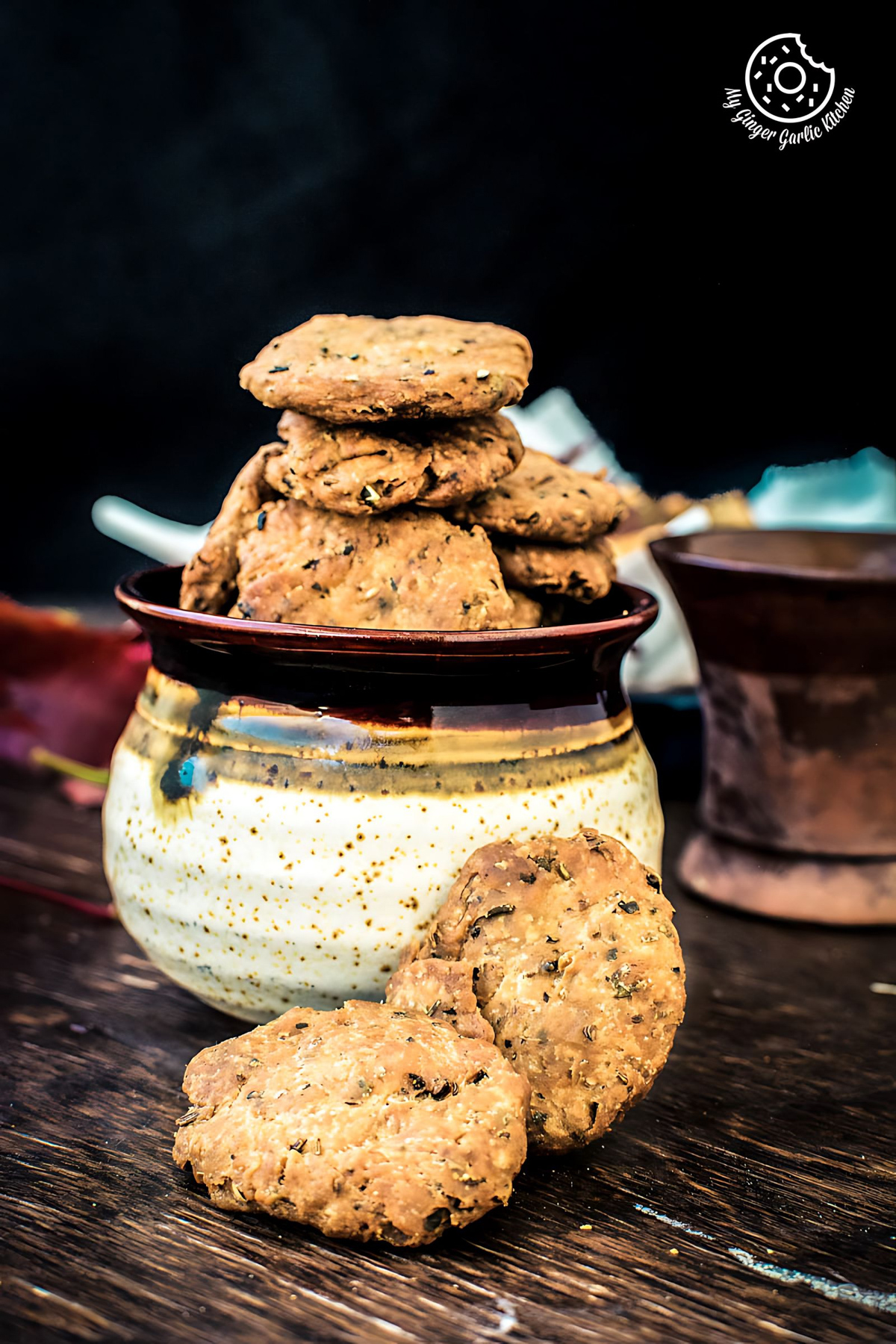 Masala Mathri - Spicy Indian Crackers (Fried and Baked)

[Recipe]
Masala Mathri are popular North Indian style crispy and spicy fried crackers. They are often made during festivals such as Diwali and Holi.
---
★★★★✰
(Rating:
4.1
from
131
reviews)
---
| Prep time 🕐 | Cook time 🕐 | Total time 🕐 |
| --- | --- | --- |
| | | 1 hours 10 mins |
| Category ☶ | Cuisine ♨ | Serves ☺ |
| Snacks | Indian | 40 Mathris |
| Nutrition Info ⊛ | | Serving size ⊚ |
| 20 calories | | 1 mathri |
---
INGREDIENTS
For Masala Mathri:
2 cups maida/all-purpose flour, (I am using 250 ml cup)
2 cups whole wheat flour (atta)
5-6 tablespoons hot oil or ghee for moyan
6-7 tablespoons warm water or as required
1 tablespoon cumin seeds (jeera)
1 tablespoon coriander seeds (ajwain)
1/2 tablespoons carom seeds (ajwain)
1 teaspoon fennel seeds (saunf)
1 teaspoon black pepper (kali mirch)
4-5 clove (laung)
1/4 cup dried fenugreek leaves (kasuri methi)
A pinch of asafetida (hing)
1/4 teaspoon baking soda (optional)
Salt to taste
Oil for deep frying
---
INSTRUCTIONS:
How to Make Mathri Dough:
Add coriander seeds, fennel seeds, black peppercorns, and clove to a grinder.




Pulse them together for 30 seconds to make a coarse mixture. (You can also use mortar-pestle.)




Add whole wheat flour, all-purpose flour, ground whole spices, carom seeds, cumin seeds, salt, and baking soda, and to a large mixing bowl.




Stir with a spoon/fork to mix it well.




Now, add asafetida and mix well.




Add in hot oil or ghee and mix everything until well combined. (At this stage this mixture should look like breadcrumbs)




Now add some warm water and knead to make a stiff dough. Add a little water at a time. You will have to knead for about 7-8 minutes. You don't need to knead the dough very smoothly.




Cover and set it aside for 30 minutes.




Pinch very small portions from the dough.




Take a pinched portion of the dough and roll it lightly in between your palms to even them. Don't smoothen the edges, we want jaggy edges.




Flatten each ball between your palms to shape them into discs of about ⅓-inch thickness. (You can also use rolling pin/belan.)




Shape all the mathris and arrange them in a tray or plate. Cover with a cling wrap, and set them aside while oil or oven is heating up.



How To Fry Mathri:
Heat oil in a pan broad pan on high heat. Once the oil is hot, switch the heat to medium-low when oil is medium hot. Add mathris to the oil one by one.




Deep fry them on medium-low heat until they turn nicely crisp and golden.




Once golden, drain them with a slotted spoon.




Transfer fried mathris on an absorbent paper and let them cool. Once cooled store them in an airtight container.



How To Bake Mathri:
Preheat the oven to 335°F/180°C. Line a baking pan with the parchment, and place the mathris on it.




Prick each mathri 3 or 4 times on the top with the tines of a fork.




Bake in 355⁰F/180⁰C pre-heated oven for 13-15 minutes until lightly browned.




Flip them and bake again for 13-15 minutes until lightly browned.




Let them cool on a wire rack and store in an air-tight container.



---
WATCH RECIPE VIDEO: Click the play button and video will load ...
---
NOTES:
You can keep these mathris at room temperature for up to 4 weeks.

Baking soda is only required for baking mathirs. So you can omit baking soda if you are only frying mathris.

Feel free to adjust the amount of spices.
---
If this recipe helped you, then please spread the word by sharing and
subscribing
to us on YouTube to get more such Recipe Videos.
---
Your feedback is so helpful for me and other MyGingerGarlicKitchen readers. So, for Facebook and Instagram, please mention
@MyGingerGarlicKitchen
or
#mygingergarlickitchen
. I would love to see your photos. :)
---
Author:
Anupama
Recipe Source Link:
https://www.mygingergarlickitchen.com/masala-mathri-2-ways-baked-masala-mathri-recipe-video-spicy-indian-crackers/
Date Published:
2020-11-04
• • • • • • • • • •