Masala Mathri - Spicy Indian Crackers (Fried and Baked)
Masala Mathri are popular North Indian style crispy and spicy fried crackers. They are often made during festivals such as Diwali and Holi.
---
« Go back
Print this recipe »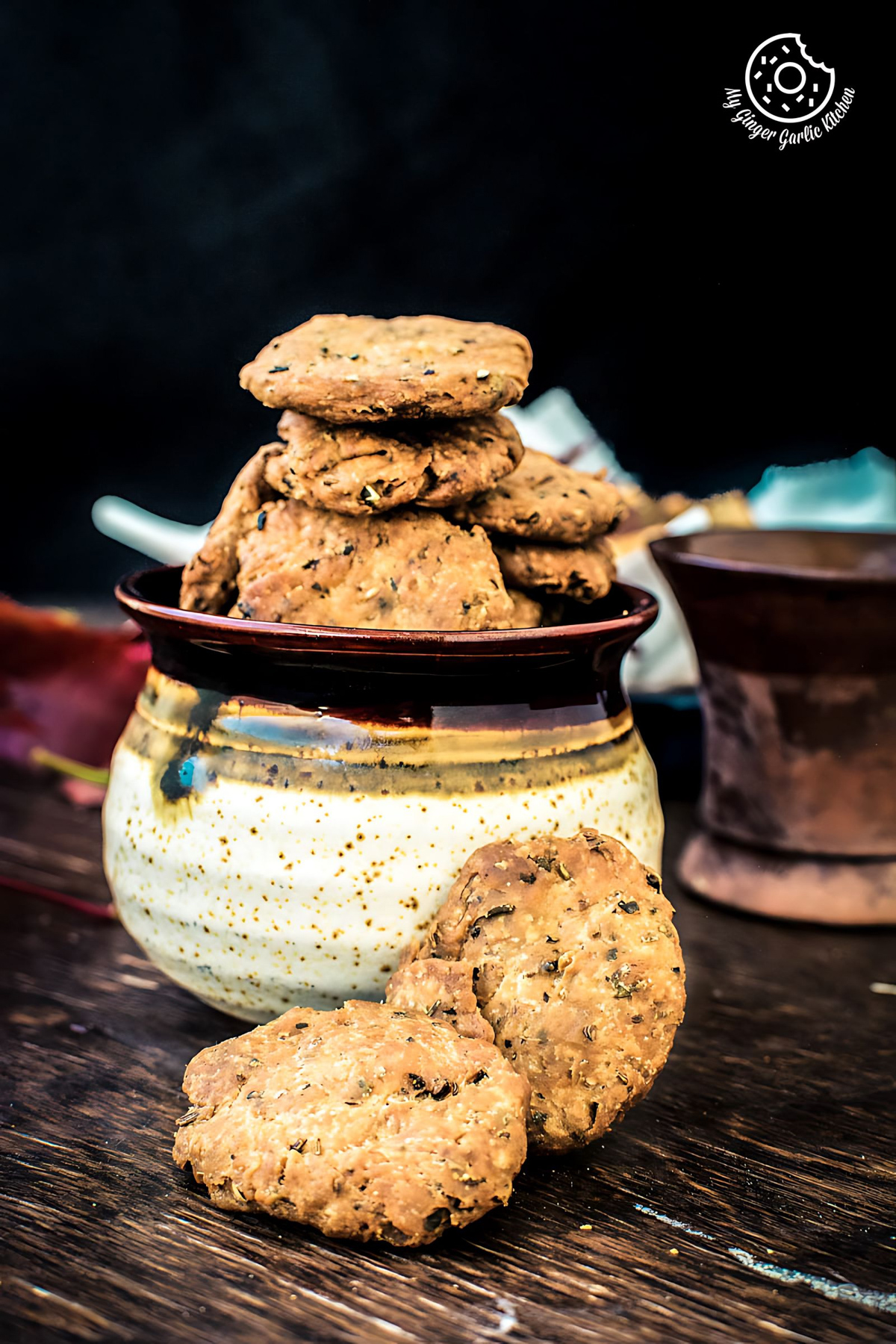 ---
Prep Time = 30 minutes
Cook Time = 40 minutes
Total Time = 1 hour(s) 10 minutes
Category = Snacks
Cuisine = Indian
Serves = 40 Mathris
Nutrition Info = 20 calories
Serving Size = 1 mathri
---
RECIPE INGREDIENTS
» For Masala Mathri:
2 cups maida/all-purpose flour, (I am using 250 ml cup)
2 cups whole wheat flour (atta)
5-6 tablespoons hot oil or ghee for moyan
6-7 tablespoons warm water or as required
1 tablespoon cumin seeds (jeera)
1 tablespoon coriander seeds (ajwain)
1/2 tablespoons carom seeds (ajwain)
1 teaspoon fennel seeds (saunf)
1 teaspoon black pepper (kali mirch)
4-5 clove (laung)
1/4 cup dried fenugreek leaves (kasuri methi)
A pinch of asafetida (hing)
1/4 teaspoon baking soda (optional)
Salt to taste
Oil for deep frying
---
RECIPE INSTRUCTIONS
» How to Make Mathri Dough:
Add coriander seeds, fennel seeds, black peppercorns, and clove to a grinder.
Pulse them together for 30 seconds to make a coarse mixture. (You can also use mortar-pestle.)
Add whole wheat flour, all-purpose flour, ground whole spices, carom seeds, cumin seeds, salt, and baking soda, and to a large mixing bowl.
Stir with a spoon/fork to mix it well.
Now, add asafetida and mix well.
Add in hot oil or ghee and mix everything until well combined. (At this stage this mixture should look like breadcrumbs)
Now add some warm water and knead to make a stiff dough. Add a little water at a time. You will have to knead for about 7-8 minutes. You don't need to knead the dough very smoothly.
Cover and set it aside for 30 minutes.
Pinch very small portions from the dough.
Take a pinched portion of the dough and roll it lightly in between your palms to even them. Don't smoothen the edges, we want jaggy edges.
Flatten each ball between your palms to shape them into discs of about ?-inch thickness. (You can also use rolling pin/belan.)
Shape all the mathris and arrange them in a tray or plate. Cover with a cling wrap, and set them aside while oil or oven is heating up.
» How To Fry Mathri:
Heat oil in a pan broad pan on high heat. Once the oil is hot, switch the heat to medium-low when oil is medium hot. Add mathris to the oil one by one.
Deep fry them on medium-low heat until they turn nicely crisp and golden.
Once golden, drain them with a slotted spoon.
Transfer fried mathris on an absorbent paper and let them cool. Once cooled store them in an airtight container.
» How To Bake Mathri:
Preheat the oven to 335°F/180°C. Line a baking pan with the parchment, and place the mathris on it.
Prick each mathri 3 or 4 times on the top with the tines of a fork.
Bake in 355?F/180?C pre-heated oven for 13-15 minutes until lightly browned.
Flip them and bake again for 13-15 minutes until lightly browned.
Let them cool on a wire rack and store in an air-tight container.
Serve these flaky and crispy mathris with some hot tea, or coffee.
---
RECIPE NOTES
You can keep these mathris at room temperature for up to 4 weeks.
Baking soda is only required for baking mathirs. So you can omit baking soda if you are only frying mathris.
Feel free to adjust the amount of spices.
---