Potato Stuffed Bread Rolls are quick, easy and flavor-bursting snacks. Crispy from the outside, and soft and spicy from the inside. Bread with spicy potato filling makes it a mouthwatering VEGAN snack and goes perfectly well with your favorite tea or coffee.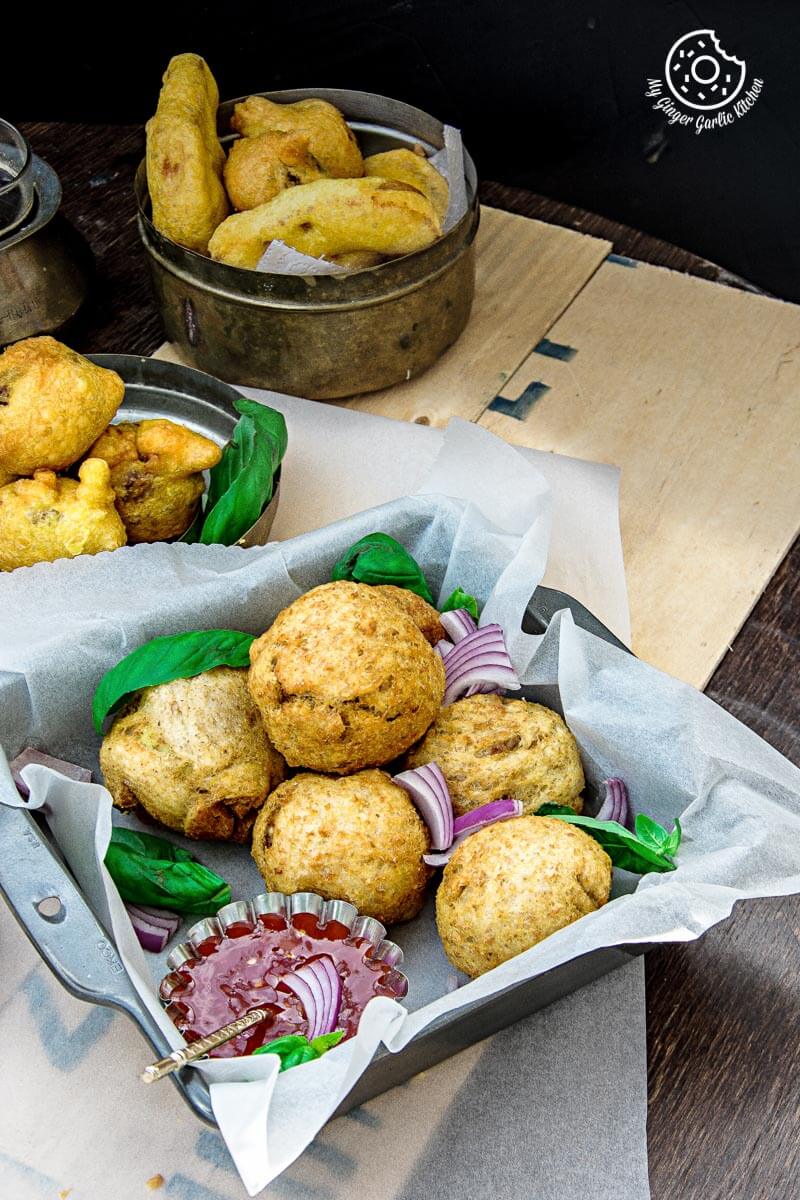 Hello guys, hope you all had a lovely weekend. Well, if I tell you about my weekend, it wasn't really good. A nasty virus caught me, and I was sick throughout this weekend. And still, I am not feeling really well. So my this week's only agenda will be to get well and that too soon.
Blogging calendar: I usually post on Mondays and Thursdays, but this time, I am posting on Wednesday. I don't know about you guys but for me, blogging is a rhythmic cycle. My mind starts beeping around Mondays and Thursdays! 😉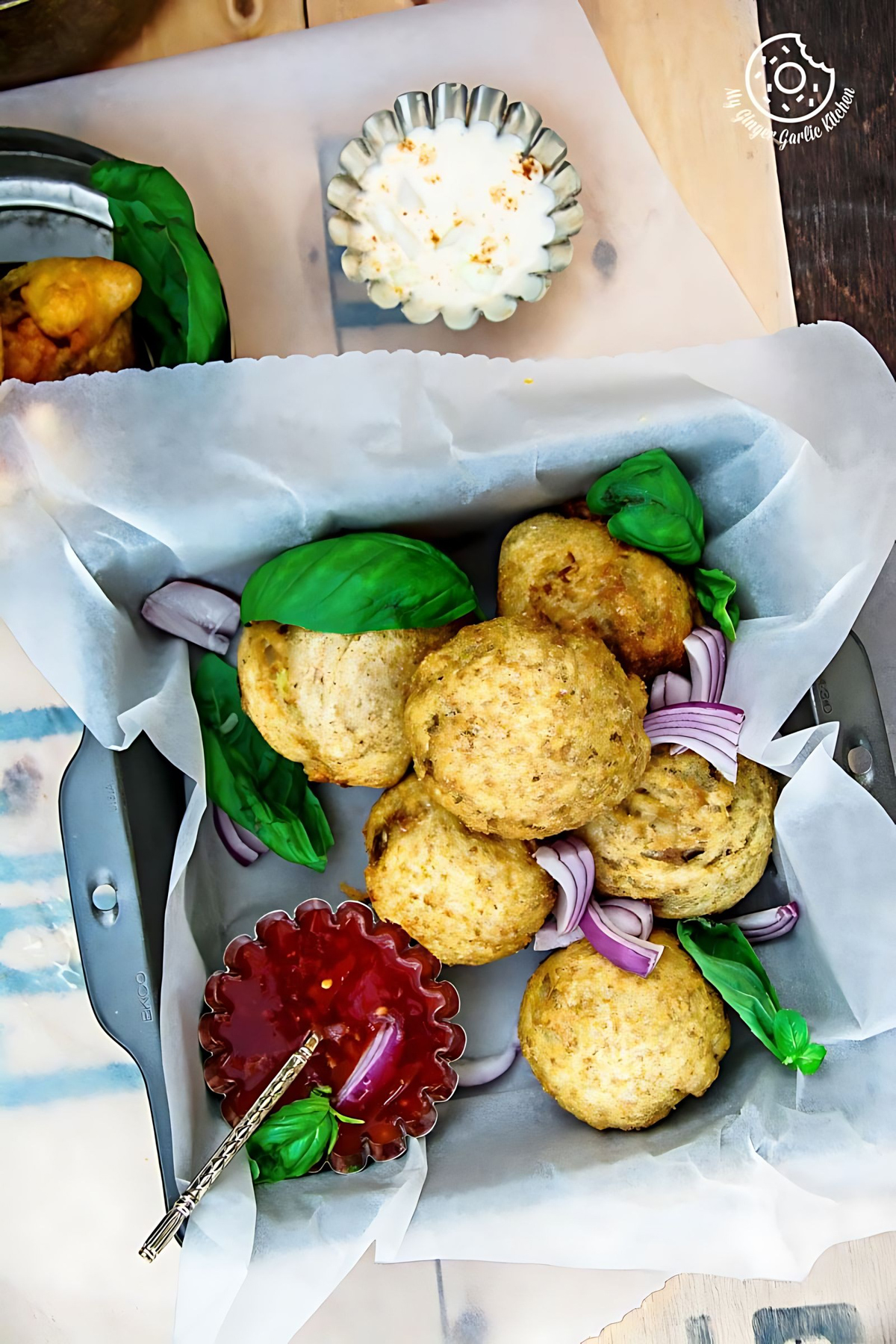 Missing my blog: Initially, I thought I will take a break this week because I don't have that energy to create an entirely new post. But then it felt a like it's been ages since I am away from my blog, and that thought didn't let me sleep. But still cooking, shooting videos, clicking pictures and editing video and photographs sounded like a herculean task to me.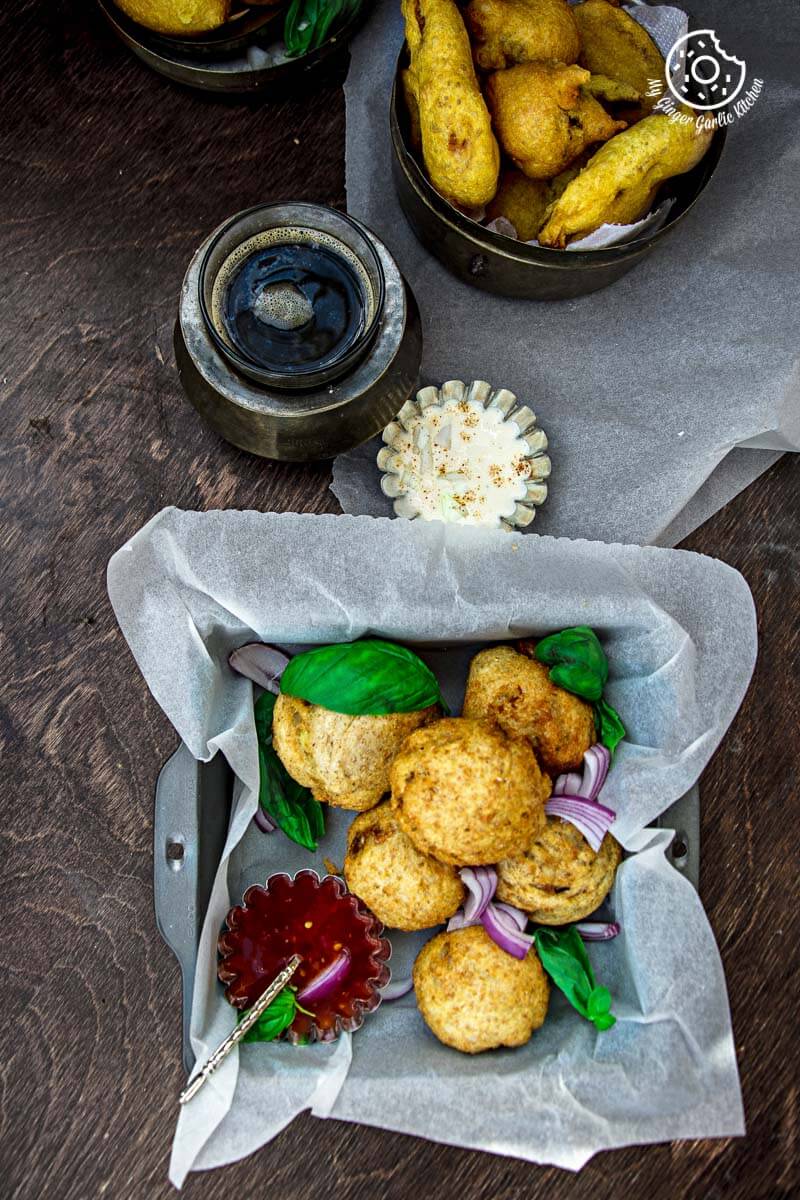 Too much of work — however I still wanted to share something. Maybe this is because my body is telling me to rest and my heart wants me to do something which I love. May be that acts as a medicine.
Work now enjoy later: Creating a new post was an impossible idea. But then I found this Potato Stuffed Bread Roll post video, which I already edited at a time when I made and shared Mirchi vada recipe last month. Both of these snacks have the same stuffing, so I shot both of the videos together. And now I am so happy that I made them together so I got a chance to share it today. I feel it many times that recipes I find in the drafts folder are god sent. Even though I did everything by myself, but just because I didn't use that at that time, so it feels like I am getting it as a reward for my good Karma! 🙂 It happens with me many times, and I guess it's a good feeling.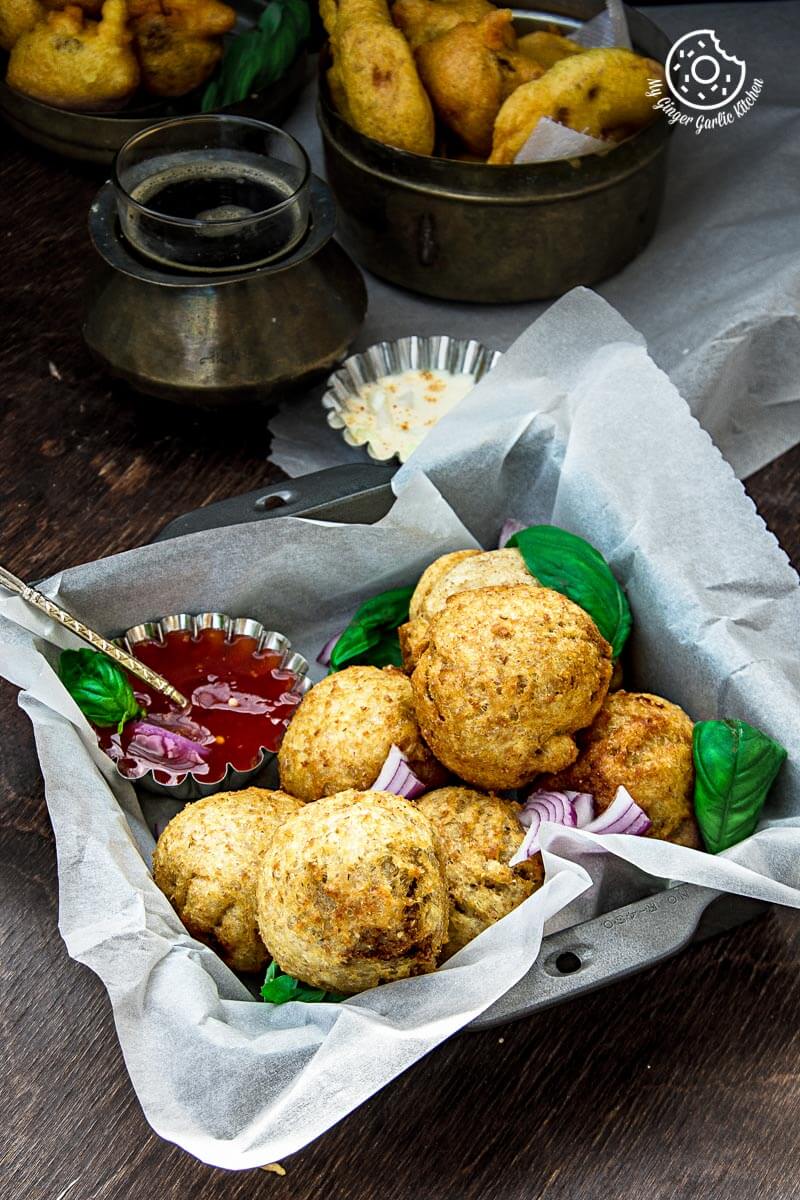 So let's talk about these Potato Stuffed Bread Rolls.
These stuffed bread rolls are simple, crisp and delicious. I guarantee you that they won't last long once they are out of the pan!
Nostalgia: My mom always made bread-rolls whenever she made Mirchi vadas, because they have the same stuffing and we got two dishes to enjoy. I just love those days when my mom made these two snacks. However, times have changed, I don't live with my mom anymore so she can't pamper me. But I can pamper myself and my family, right? So just like my mom I always make these two snacks together, and my family loves them both. 🙂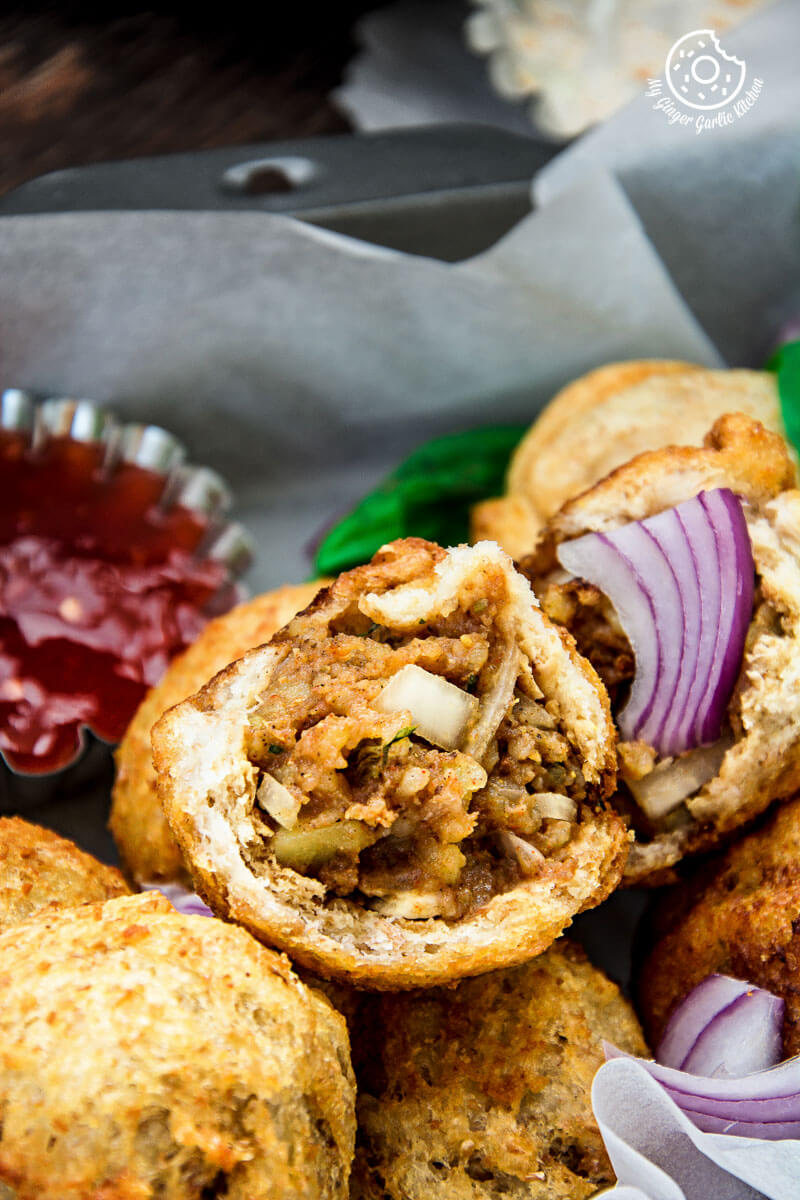 Perfect perfect perfect: They would make a great breakfast, snack or brunch. These are also great for lunchboxes and goes perfectly well with some tea or coffee.
They are crispy on the outside, and soft and spicy and bursting with awesome flavors from the inside. The spicy potato stuffing makes it a tempting and a delicious tea-time snack.
How are they made? I have used multi-grain bread slices but you can also use white bread. Boil potato. Add spices and mash. Add onions and raisins and mash again. Shape them into balls. Cut edges of the bread slices. Dip into water. Squeeze out extra water and stuff with spicy potato ball. Roll into a ball. Deep fry. Done.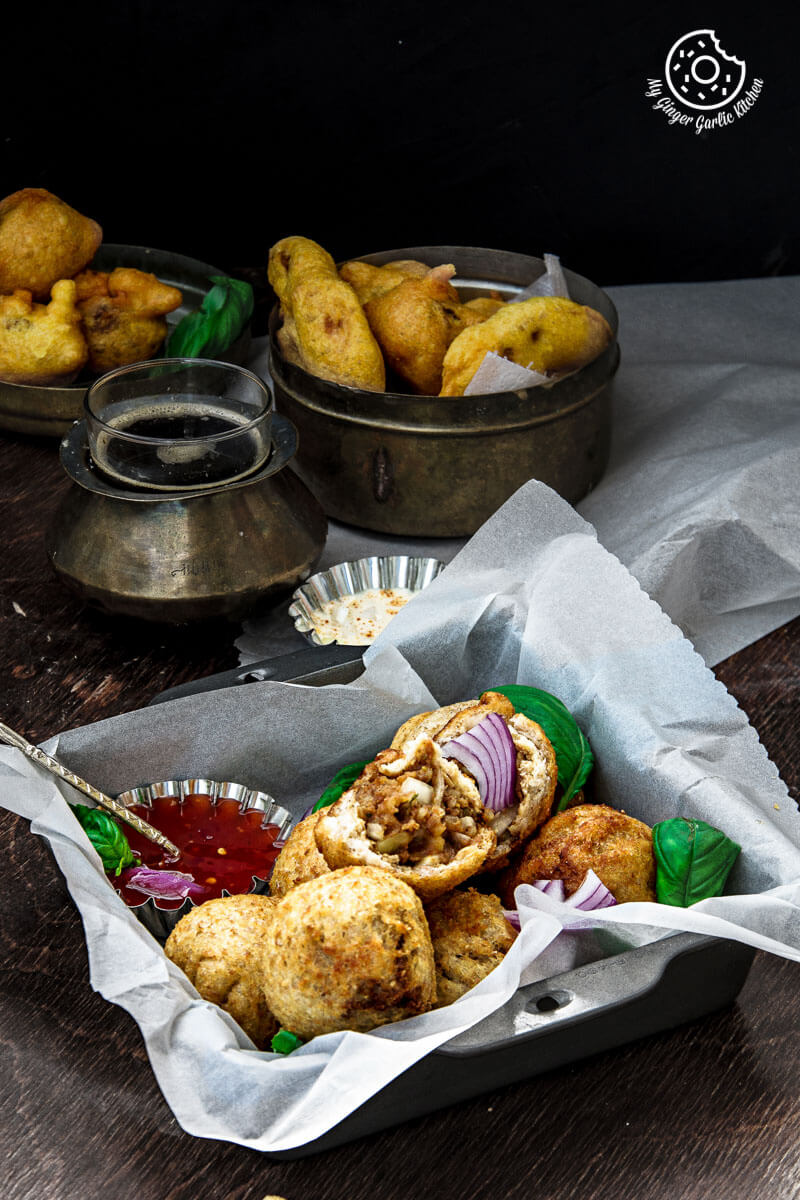 If you enjoyed this recipe, then please further help me by FOLLOWING me on:
Instagram // Facebook // Pinterest // Twitter // Google+ // YouTube
If you cook this dish, be sure to tag your photo with this hashtag: #mggk
Happy Cooking and Keep Sharing! 🙂
You may also like these recipes: