Bread Roll (Video)
Bread rolls are crispy Indian snacks where bread is stuffed with potato filling and then deep-fried . Best recipe to make Bread Rolls at home. Serve with tea.
---
« Go back
Print this recipe »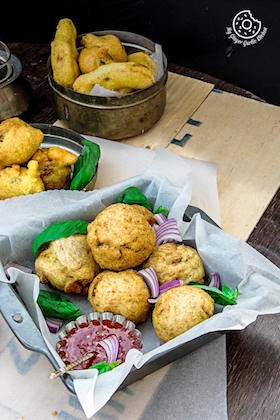 ---
Prep Time = 5 minutes
Cook Time = 20 minutes
Total Time = 25 minutes
Category = Snacks
Cuisine = Indian
Serves = 8
Nutrition Info = 220 calories
Serving Size = 1 serving
---
RECIPE INGREDIENTS
» For Bread Rolls Filling //
Medium sized potatoes, boiled and peeled - 4-5
Finely chopped coriander - 1 tbsp
Red chili powder - 2 tsp or according to your taste
Garam masala powder - ½ tsp
Dried mango powder - 1 tsp
Salt to taste
Fennel seeds - 1 tsp
Coriander seeds - 1 tsp
Onions, chopped - 1
Raisins - 8-10
» For Bread Rolls //
Bread slices - 6-8 (I have used multi-grain)
Water for soaking bread
Oil for deep frying
---
RECIPE INSTRUCTIONS
» Make Bread Roll Filling //
Heat a pan; add coriander seeds and fennel seeds and toast.
Remove and slightly crush them.
In a plate; add boiled potatoes, chopped coriander, red chili powder, garam masala powder, dried mango powder, toasted and crushed coriander seeds and fennel seeds and salt.
Mash well to make a mixture.
After that, add onions and raisins and mix well again.
Divide mixture into 6-8 small to medium balls of the filling depending on the size of the bread and how many you are going to use. Taste and add more salt or spice powders if required.
» Making Bread Rolls //
Cut the edges of bread slices.
Dip one slice of bread in water. Take out and press between palms to squeeze out excess water.
Place on stuffing ball in the center of the bread.
Close the edges and roll again to make into a ball. Repeat with the reaming bread slices.
Refrigerate them for 30 minutes.
Heat oil in a pan and deep them till they are crisp and golden.
Drain on an absorbent paper.
Serve piping hot with any chutney or sauce.
---
RECIPE NOTES
No notes for this recipe.
---