Rajasthani Mirchi Vada is a very famous street food of Rajasthan, which was originated from the city of Jodhpur. Thus, they are also known as Jodhpuri Mirchi Vada. They are chili peppers stuffed with spicy potato filling and then dipped in gram flour batter and deep-fried. Their hot flavors and extremely piquant taste is simply out of this world.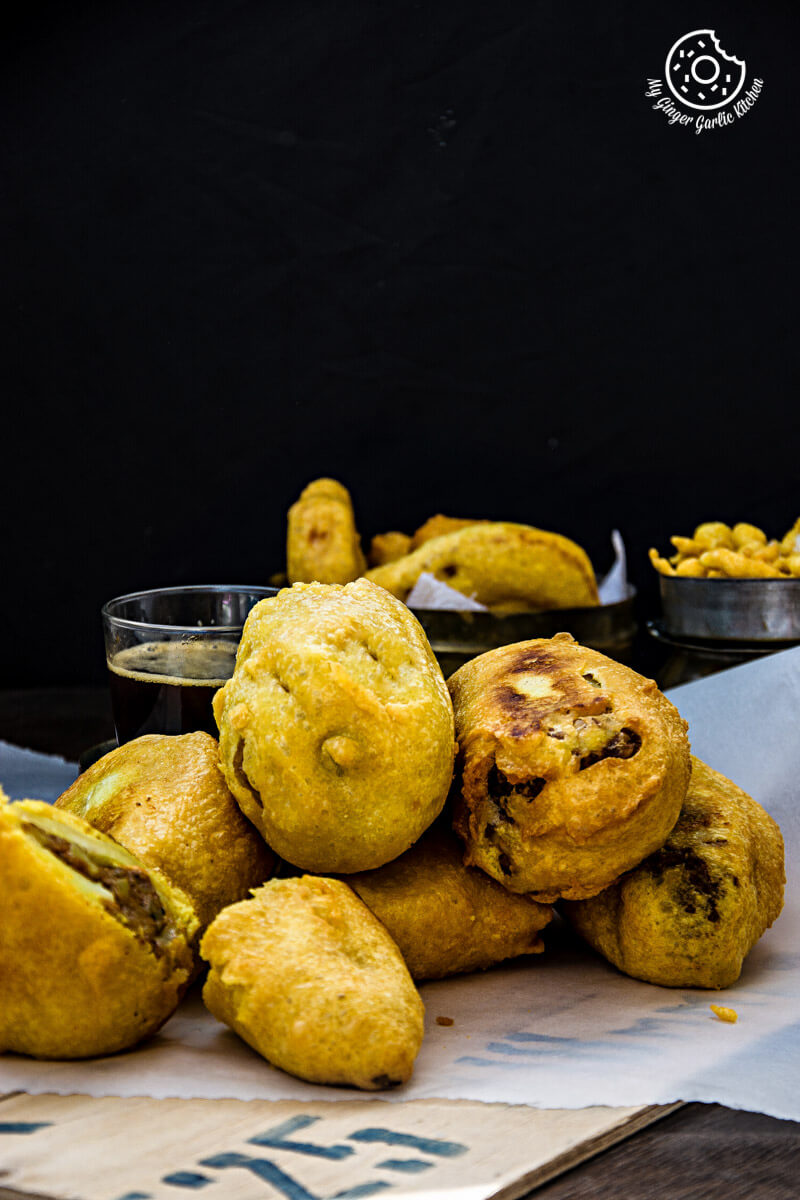 Today, it's the celebration of the Independence day in India. So, to all my Indian friends, I would like to wish you all a very Happy Independence day. I hope everyone had a relaxing weekend.
Weather chit chat: Weekend here was cold and dark again, so we didn't really feel like going out. On saturday, Adoria and I did some cleaning and laundry and some cooking. Yeah, she is a good helper, or I should say this is the foremost way of keeping her busy, otherwise, she would keep asking 'What should I do now mommy'. And I usually don't have a long list of todo's for her! 😉 So this is the optimal way to keep her busy. And the good thing is that she adores helping me — this way she feels responsible and that's a good way of learning new things. 😀
Cook what you like: So what did we cook? We made 'Apricot Galette' together which would be here soon. And I also cooked some pakoras to support the idea of nature. Idea of nature? Well, it was raining most of the weekend, and for us Indians, rain gives us a craving for some pakoras with tea. Sometimes I follow my heart and eat pakoras and this weekend was that 'sometime'. I guess eating fried stuff once in a while is just fine.
Related: RAJASTHANI TOMATO MUSTARD GARLIC CHUTNEY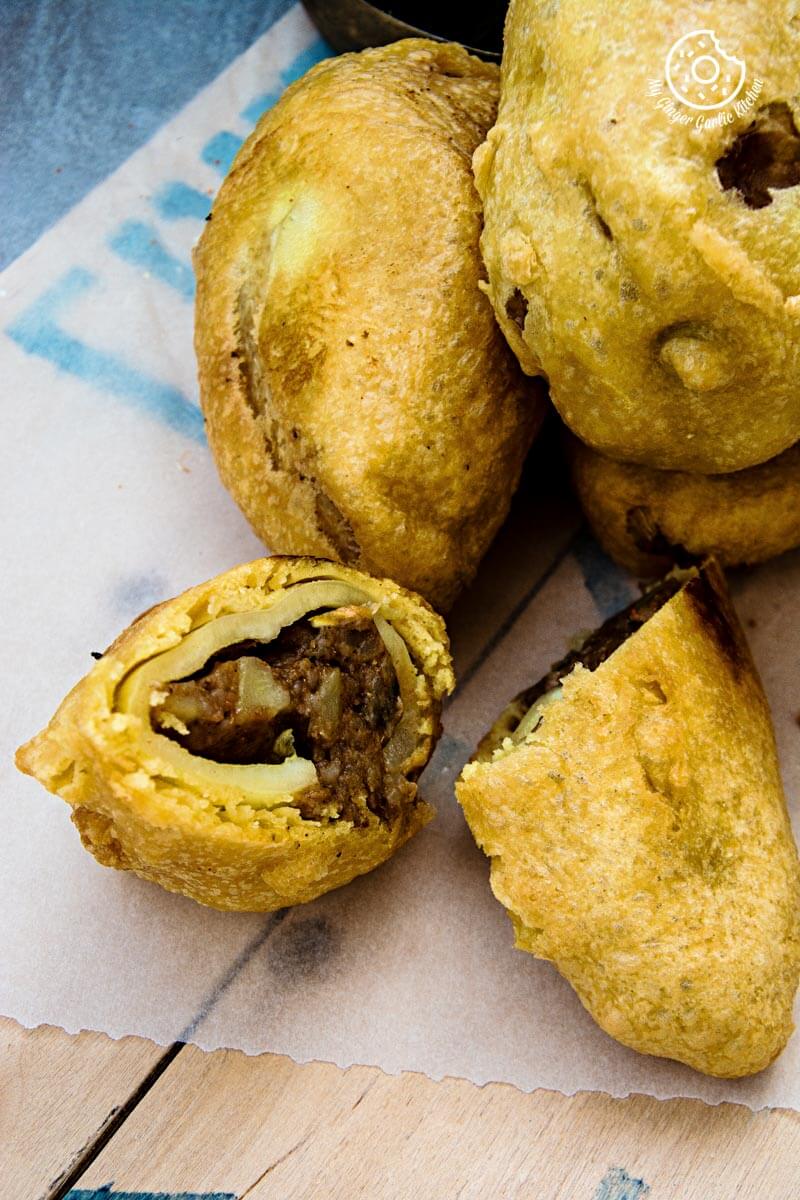 Rajasthani Mirchi Vada: Today I am sharing an inviting recipe, which is Rajasthani Mirchi Vada. This is the dish I made during the weekend. Rajasthani Mirchi Vada is a very famous street food of Rajasthan, which was originated from the city of Jodhpur. Thus, they are also known as Jodhpuri Mirchi Vada. Initially, they were made only in Jodhpur but as they were super delectable, they got spread all over Rajasthan over time. Their hot and extremely piquant taste is simply out of this world.
Mirchi vadas are a popular breakfast in Rajasthan. Yes, that's right. I wrote fried food for breakfast. Many people love to have it for breakfasts, including me! 😉
Related: ROYAL RAJASTHANI GATTA PULAV [RECIPE+STORY]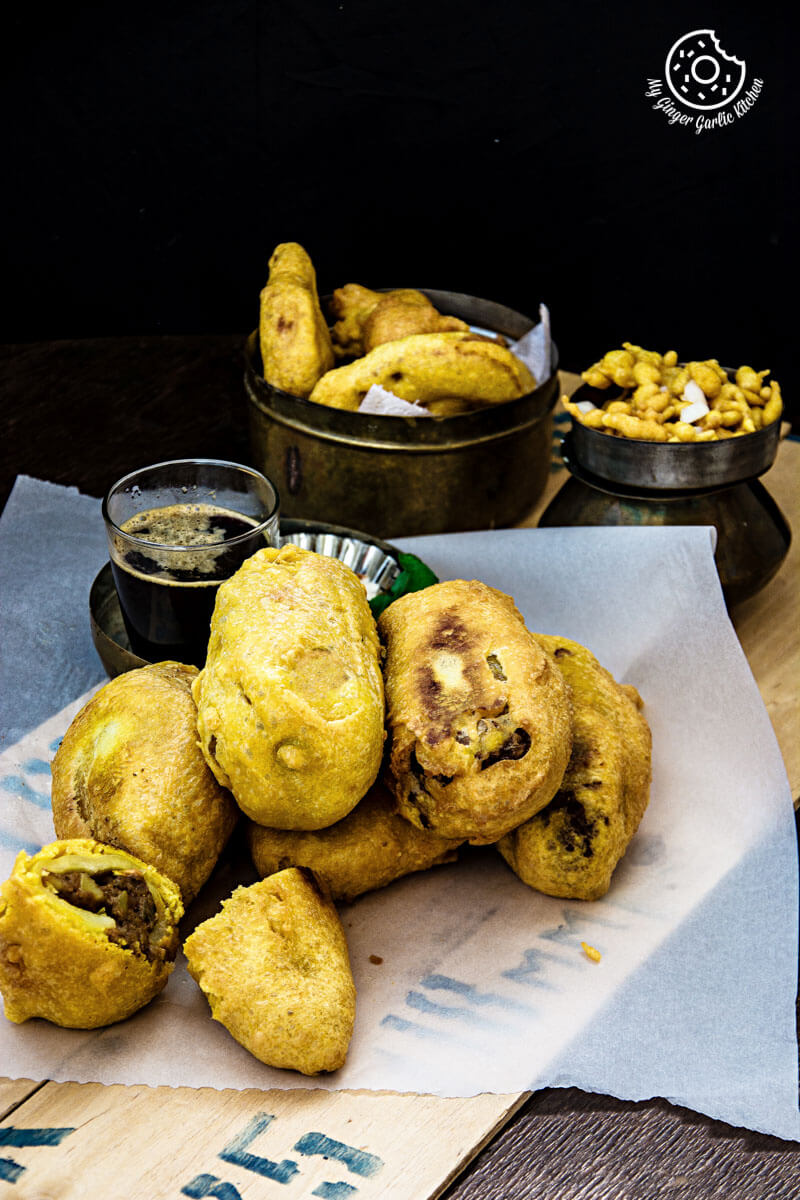 What exactly are these mirchi vadas? They are basically Indianized version of chili poppers. They are stuffed with spicy potato filling and then dipped in gram flour batter and deep-fried.
Stuffing is the key here: The spicy potato stuffing is the key ingredient here. A bite of piping hot mirchi vada can tantalize your taste buds. Many people say that these are perfect for Monsoon, but what I personally saw and felt is something different. People just don't wait for the monsoon to eat them, they eat it for breakfast, or brunch on any day. And it includes hot days also. You know, taste is the king. It rules us all, whether we know it or not.
Related: JAIPURI PYAAZ KI KACHORI – ONION FILLED SPICY SNACK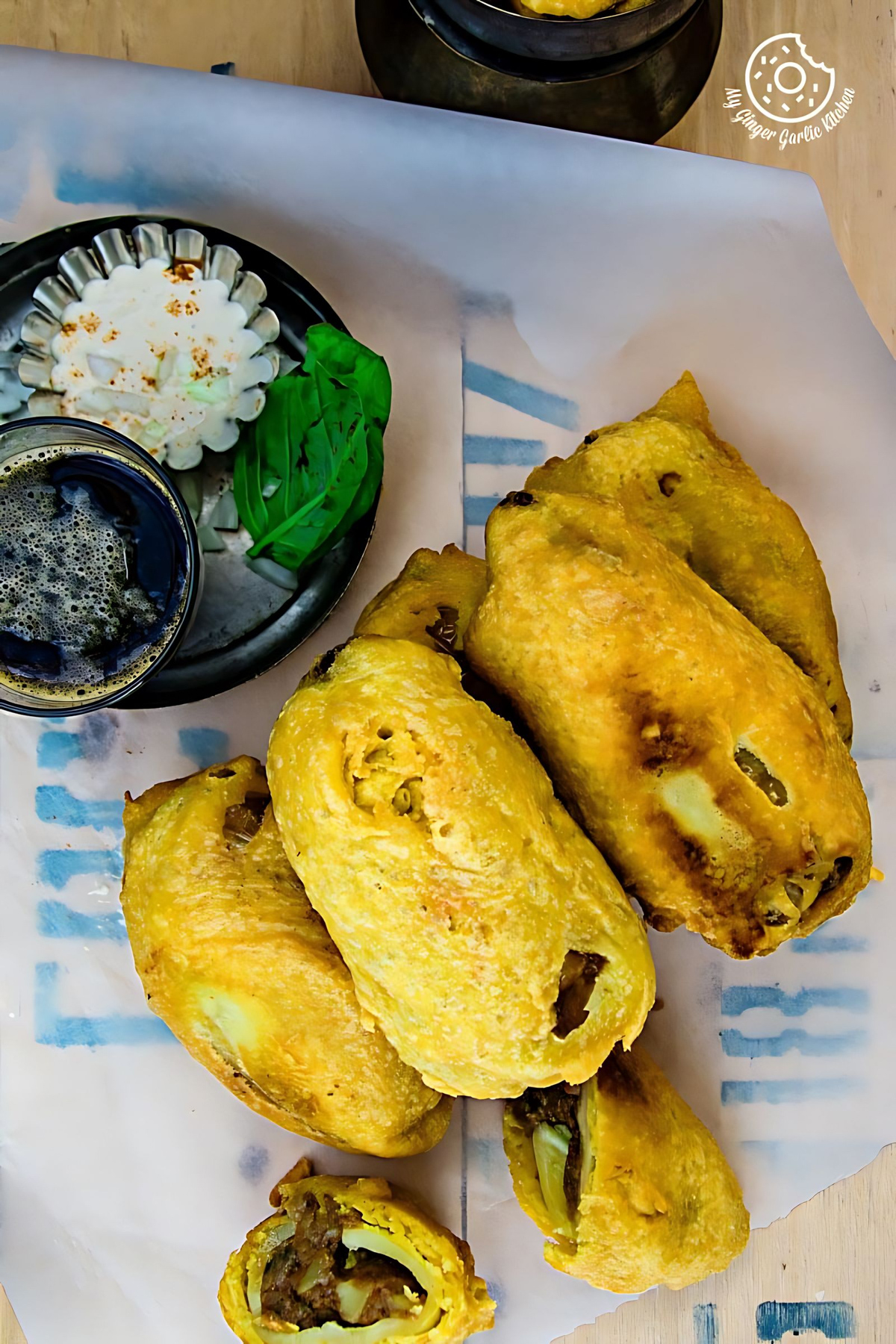 Traditionally, mirchi vada is made using green chili peppers which are deseeded and stuffed with seasoned potatoes. Oh those tantalizing spices. There's just something which we all love in these mirchi vadas.
Mirchi vada is an old friend: I have so many awesome childhood memories associated with these literally hot beauties. I can still recall my school days when we used to eat these vadas everyday. Yes, you got it. We ate it everyday. Me and one of my BFF Ruby used to eat them everyday along with our lunches. Back then, it was a must have addition for the two of us with our lunches.
Related: BESAN GATTE KI SABZI – GATTA CURRY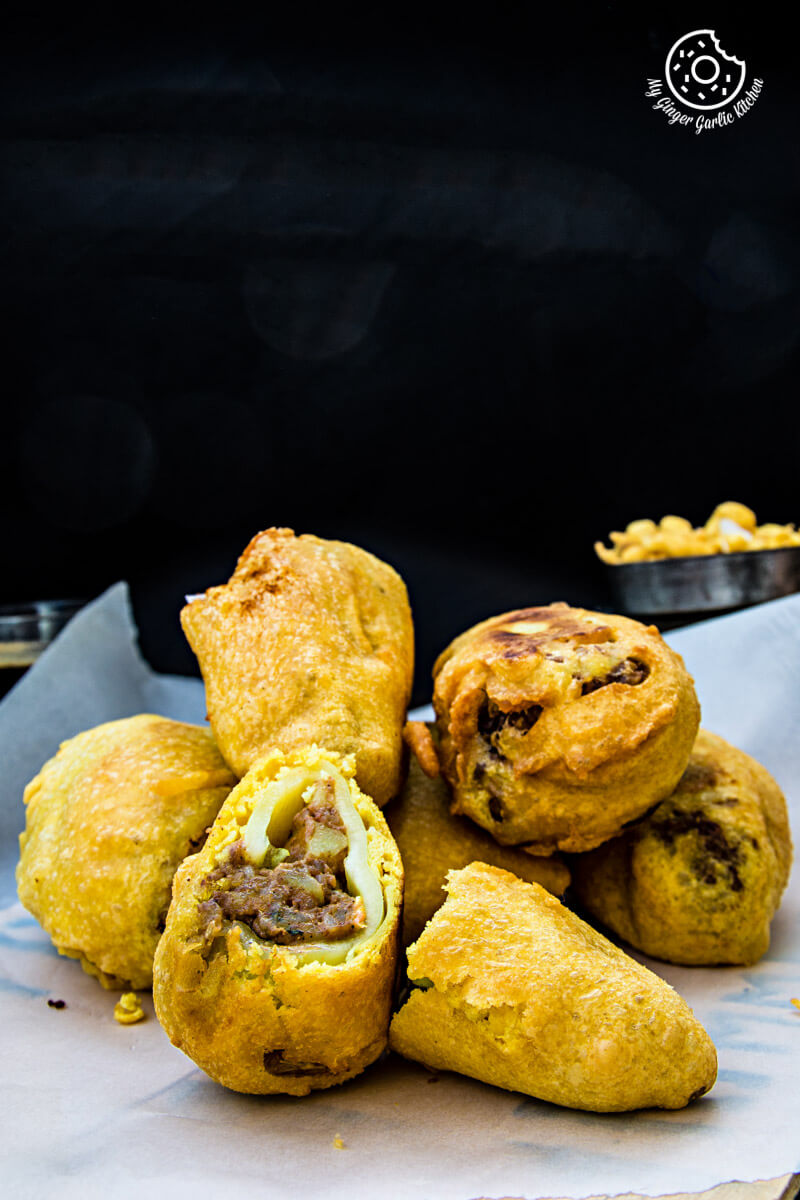 Now as a grown up, I realized that it was way too much of food for little girls. And the strange thing is that we never felt that we got bored of them. This vada eating ritual went for a few years until the 'canteen wala' (a man who runs the canteen) changed. Sadly, this new 'canteen wala' didn't serve any mirchi vadas! And that's how we had to stop devouring mirchi vadas after our lunches. 🙁
We seriously needed a replacement: After that stopped, succumbing to our cravings, we started looking for it's replacement. So we started eating Samosa Chaat instead. This canteen love affair never ended during my school years. My friend and I always thought that there's something wrong with us. How could we eat so much of fried stuff everyday! And later we got to know that people like us are called foodies! My friend and I are born foodies and we are proud of that. 😉
Related: 5 INGREDIENT PUMPKIN FRITTERS – PUMPKIN GULGULA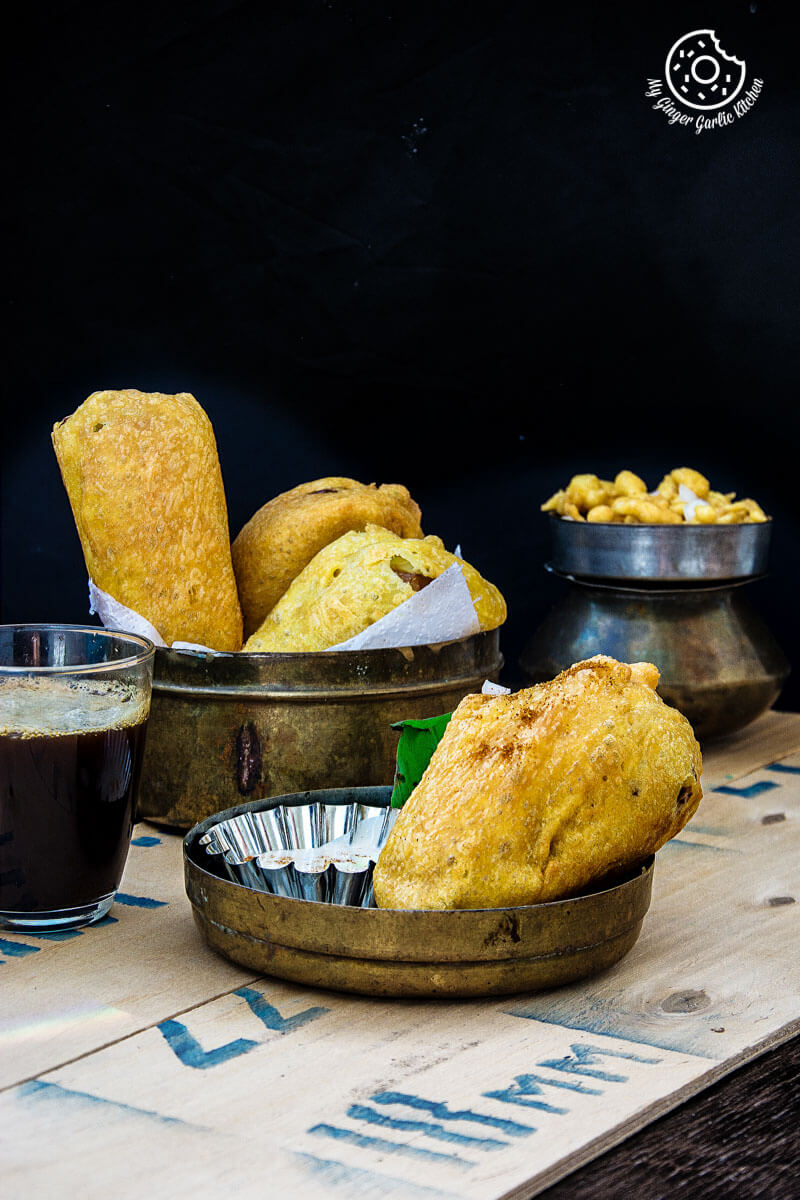 Things have changed a bit now: Now as grown-ups, we don't eat fried stuff everyday, but whenever I visit Jaipur and meet her, we make damn sure that we eat out together to celebrate our foodie lifestyle. And that particular outing always involves mirchi vadas. Everytime we eat mirchi vadas anywhere, we say the same thing — "The mirchi vadas which we had at school times were the BEST ever". I think the taste of those mirchi vadas during school time had some serious effect on your tastebuds. I know Ruby is reading this post, and she would know what I mean by the 'BEST ever'! 🙂
Now, let me show you how these finger-licking, hot and spicy Rajasthani Mirchi vadas are made.
The process: To reduce the hotness of the chilies, people discard chili seeds and boil them for 5 mins in salted water. If you have really hot chilies, then you can boil them, but mine were white peppers which are not too hot. So I skipped boiling part here.
Related: DAL BAATI CHURMA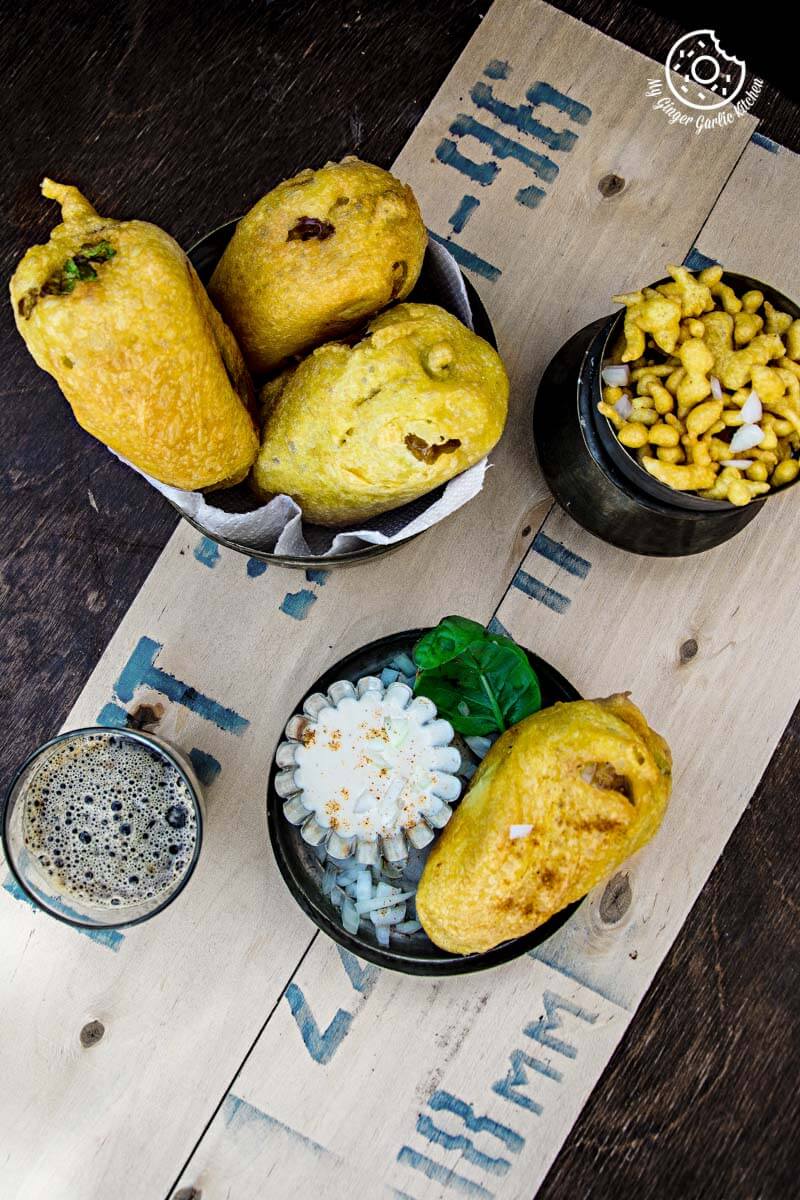 The stuffing here is made with spiced mashed potatoes. And the good news is that this same stuffing is used for another very famous Indian snack, "Potato Stuffed Bread Roll' and that is my next recipe. 🙂
Toasted and crushed fennel and coriander seeds are added in the mashed potatoes, which add a unique texture and flavor. They are vegan and gluten-free too. 🙂
Serving: These mirchi vadas are served with tamarind chutney and green chutney. But you can serve them with any sauce you want. I personally go for mayonnaise or tomato ketchup. In Jodhpur, people also eat these mirchi vadas as sandwich stuffing by putting them between the bread slices.
I personally like to eat them as they are. But people love that too, so you can try them that way also. Either way, these make a wonderful mouthwatering snack. They are simply a delight for people who love hot and spicy food. Just my kind! YUMMY!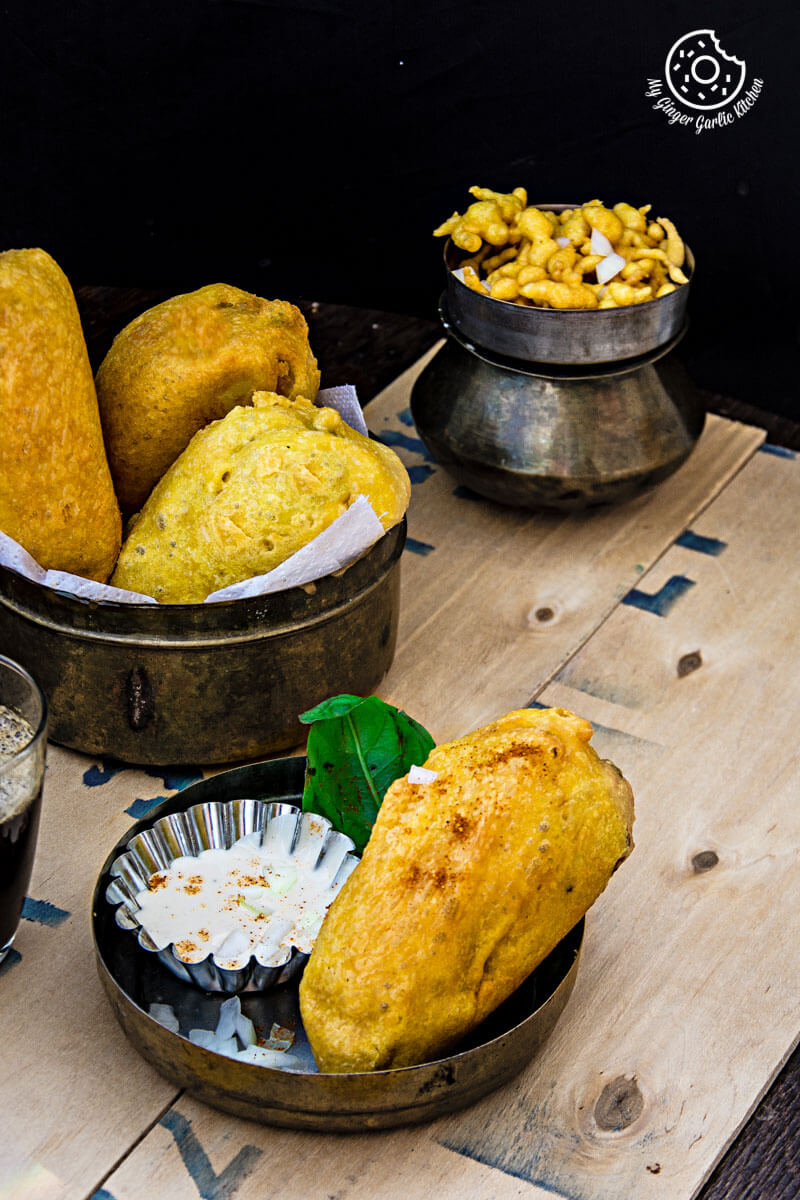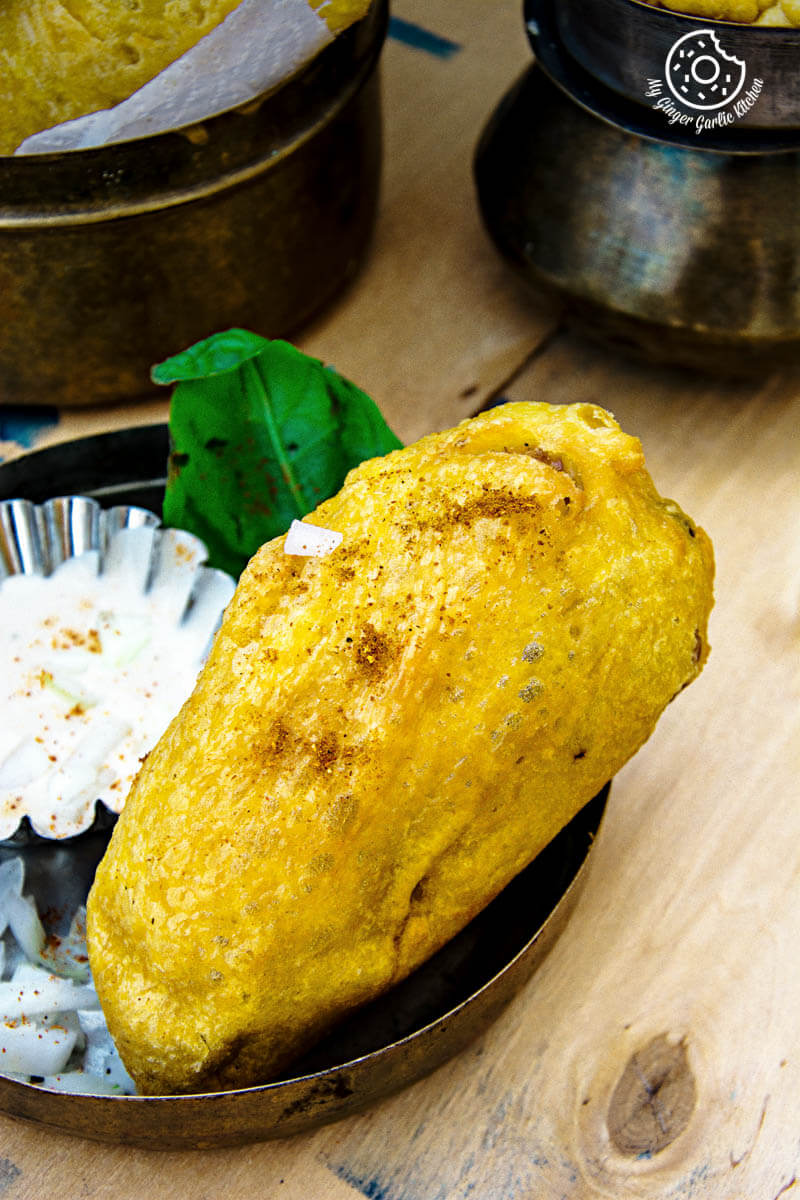 Rajasthani Mirchi Vada - Potato Stuffed Chili Peppers

[Recipe]
Rajasthani Mirchi Vada is a famous street food of Rajasthan. They are chili peppers stuffed with potato and then dipped in gram flour batter and deep-fried.
---
★★★★✰
(Rating:
4.2
from
76
reviews)
---
| Prep time 🕐 | Cook time 🕐 | Total time 🕐 |
| --- | --- | --- |
| | | 28 mins |
| Category ☶ | Cuisine ♨ | Serves ☺ |
| Snacks | Indian | 6 |
| Nutrition Info ⊛ | | Serving size ⊚ |
| 264 calories | | 1 serving |
---
INGREDIENTS
For potato stuffing //
4-5 medium-sized potatoes, boiled and peeled
1 tablespoon finely chopped coriander
2 teaspoons red chili powder, or according to your taste
1/2 teaspoons garam masala powder
1 teaspoons dried mango powder
Salt to taste
1 teaspoons fennel seeds
1 teaspoons coriander seeds
for batter //
2 cups gram flour
1/2 teaspoon salt
1/4 teaspoon baking soda
oil to deep fry
for pakoras //
6 chili peppers (mirchi) (i used yellow, you can use any other peppers)
---
INSTRUCTIONS:
Make Stuffing //
Heat a pan; add coriander seeds and fennel seeds and toast.




Remove them from the pan and slightly crush them using a mortar and pestle.




To a plate, add boiled potatoes, chopped coriander, red chili powder, garam masala powder, dried mango powder, toasted and crushed coriander seeds, and fennel seeds, and salt.




Mash well to make a mixture. Keep it aside



Make Batter //
In a bowl, add gram flour, add 1 teaspoon salt.




Add enough water, and whisk well to prepare a thick batter.




Add baking soda and whisk well again.



How to Make Mirchi Vada //
To scoop out the seeds from the mirchis (peppers), slit the pepper lengthwise and discard the seeds.




Rinse the peppers well.




Dry them with a muslin cloth.




Stuff the peppers with the potato mixture. Keep them aside




Now, heat oil in a pan.




After that, coat the mirchis (peppers) with the batter.




Shake off excess batter and drop mirchis into the hot oil.




Deep fry Mirchi Vadas till they are crisp and golden.




Once golden and crispy, drain them on an absorbent paper.



---
WATCH RECIPE VIDEO: Click the play button and video will load ...
---
NOTES:
No notes for this recipe.
---
If this recipe helped you, then please spread the word by sharing and
subscribing
to us on YouTube to get more such Recipe Videos.
---
Your feedback is so helpful for me and other MyGingerGarlicKitchen readers. So, for Facebook and Instagram, please mention
@MyGingerGarlicKitchen
or
#mygingergarlickitchen
. I would love to see your photos. :)
---
Author:
Anupama
Recipe Source Link:
https://www.mygingergarlickitchen.com/rajasthani-mirchi-vada-video-recipe/
Date Published:
2019-11-29
• • • • • • • • • •