Rajasthani Mirchi Vada - Potato Stuffed Chili Peppers
Rajasthani Mirchi Vada is a famous street food of Rajasthan. They are chili peppers stuffed with potato and then dipped in gram flour batter and deep-fried.
---
« Go back
Print this recipe »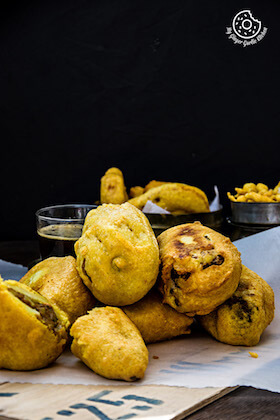 ---
Prep Time = 8 minutes
Cook Time = 20 minutes
Total Time = 28 minutes
Category = Snacks
Cuisine = Indian
Serves = 6
Nutrition Info = 264 calories
Serving Size = 1 serving
---
RECIPE INGREDIENTS
» For potato stuffing //
4-5 medium-sized potatoes, boiled and peeled
1 tablespoon finely chopped coriander
2 teaspoons red chili powder, or according to your taste
1/2 teaspoons garam masala powder
1 teaspoons dried mango powder
Salt to taste
1 teaspoons fennel seeds
1 teaspoons coriander seeds
» for batter //
2 cups gram flour
1/2 teaspoon salt
1/4 teaspoon baking soda
oil to deep fry
for pakoras //
6 chili peppers (mirchi) (i used yellow, you can use any other peppers)
---
RECIPE INSTRUCTIONS
» Make Stuffing //
Heat a pan; add coriander seeds and fennel seeds and toast.
Remove them from the pan and slightly crush them using a mortar and pestle.
To a plate, add boiled potatoes, chopped coriander, red chili powder, garam masala powder, dried mango powder, toasted and crushed coriander seeds, and fennel seeds, and salt.
Mash well to make a mixture. Keep it aside
» Make Batter //
In a bowl, add gram flour, add 1 teaspoon salt.
Add enough water, and whisk well to prepare a thick batter.
Add baking soda and whisk well again.
» How to Make Mirchi Vada //
To scoop out the seeds from the mirchis (peppers), slit the pepper lengthwise and discard the seeds.
Rinse the peppers well.
Dry them with a muslin cloth.
Stuff the peppers with the potato mixture. Keep them aside
Now, heat oil in a pan.
After that, coat the mirchis (peppers) with the batter.
Shake off excess batter and drop mirchis into the hot oil.
Deep fry Mirchi Vadas till they are crisp and golden.
Once golden and crispy, drain them on an absorbent paper.
Serve piping hot Mirchi Vada with your favorite chutney and tea/coffee.
---
RECIPE NOTES
No notes for this recipe.
---