Baked Tart with Chickpea Curry and Tamarind Chutney is warm, buttery, crisp, filled with chickpea curry, and comes with the sweet-spicy-fragrant flavors.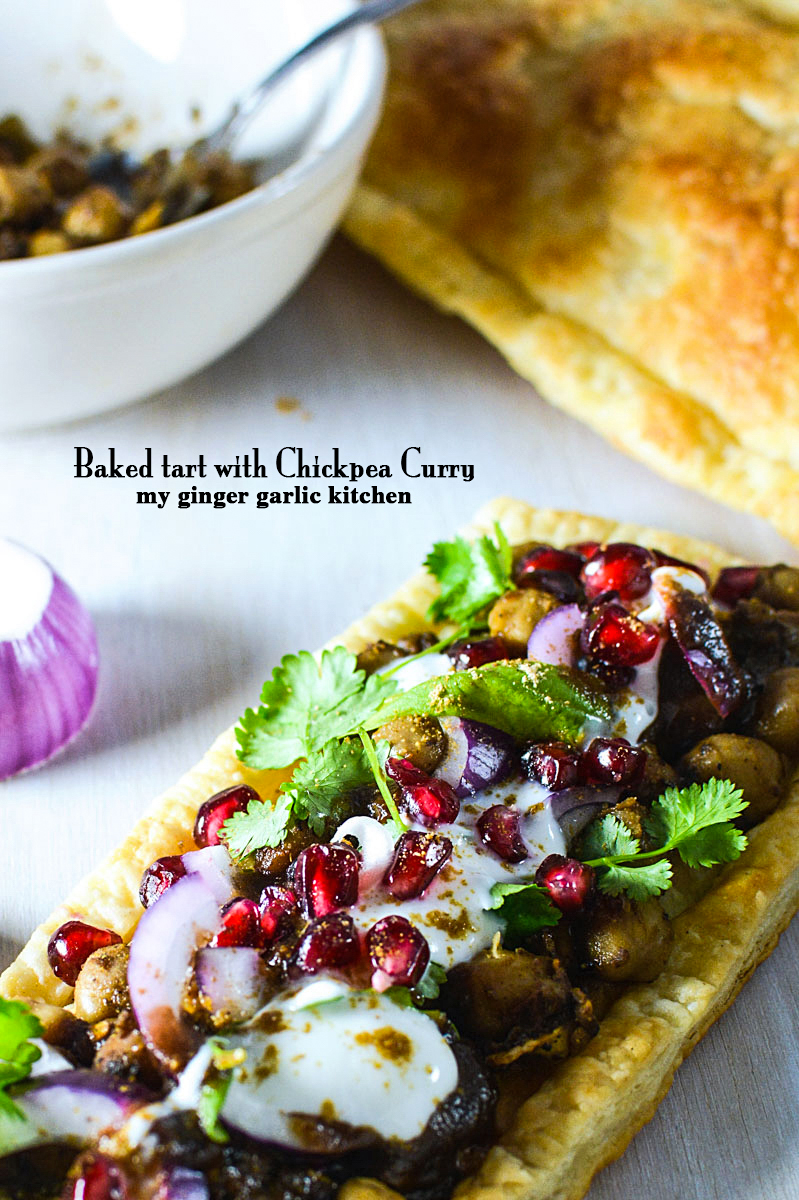 Dear friends, in my earlier post I told you about Ado's adventure of 'BABY COMING.' 🙂 Well, I have something mind-blowing to unfurl today. Ado's law of attraction (you'd remember it from the movie, THE SECRET) worked, and we finally have a newborn BABY in my in-laws family..
Husband's only brother got blessed with their first baby—a cute little baby girl. So she is Ado's first cousin in her paternal family.
Ado is the first grandchild to my in-laws, and now this little princess has come to our alluring world a couple of days back. Everyone is super-duper EXCITED about this AMAZING news.
My Hubby (Abhishek) showed newborn's photographs to Ado, and introduced her to her little sister. Believe me, she was so THRILLED. She stared at the photos for a while and started saying 'baby crying, baby sleeping'—and she was entirely right, as the baby was either napping, or sobbing in most of the pictures. 🙂 Awww, little ones are so adorable, really.
Can you believe that Ado would turn '3' this year? I am still blown away by this fact, I mean seriously. Time flies way too fast! I still think she is my little girl, who just came to this WORLD.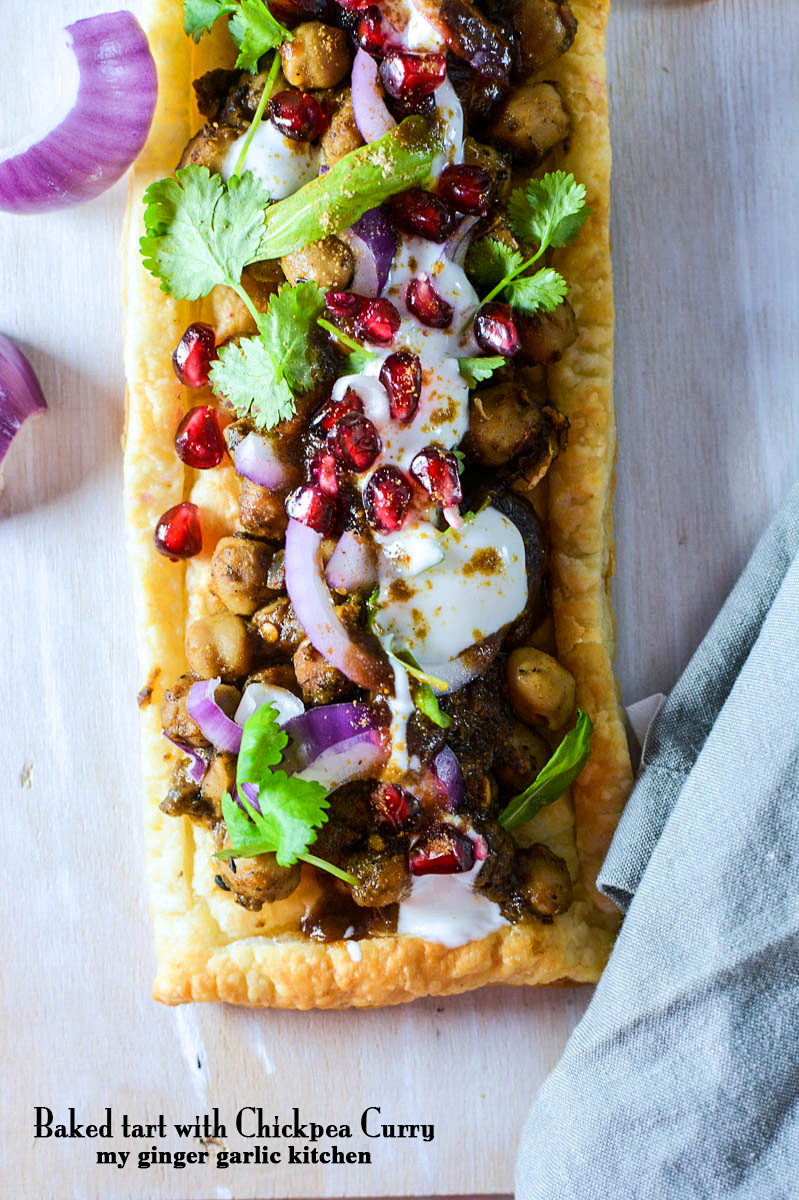 So, this weekend called for a family CELEBRATION, as we a have a new little family member—it was time to raise the toast. We planned this celebration day to be on Saturday and it was kind of a BIG CHEER–we ate almost till mid-night. Abhishek and I both love to have appetizers/snacks with our Wines.
If you ask me my favorite is always Chilean wines—they are the BEST with the spicy foods. So if you want to bring something for me, please bring Chilean wine. I would be more than happy.;-) Abhishek is very well aware of my weakness and he brings it every time whenever we want to get lost in the PRESENT MOMENT, and celebrate LIFE itself.
About snacks, it had to be something very NEW and unique, as it was a CELEBRATION on the arrival of little PRINCESS. So many appetizers—because appetizers are clearly the best for this purpose. It was satisfying beyond words.
It feels me up with great pleasure to think that I have been developing recipes for more than a decade now.
Every time when I create something new, it's often a challenge and is always very satisfying. I also think about many simpler days where I cook something off the top of my head. Most of the times it is with five or six ingredients at best, cooked and put together very organically, without any measuring cups and spoons. I don't usually share those recipes, but someday I would like to share some of those with you.
Oh, and this snowy weather is asking me to create a similar organic dish. Yep, especially during the weeks of cold February. No need for complication or stressing over food. I just want to say an easy, mouthwatering recipe and everything will be good. And today's recipe is extremely simple, and delicious.
But, oh my gosh, this was SO good! So flipping good! A recipe SO DELICIOUS and SIMPLE? Yeah!!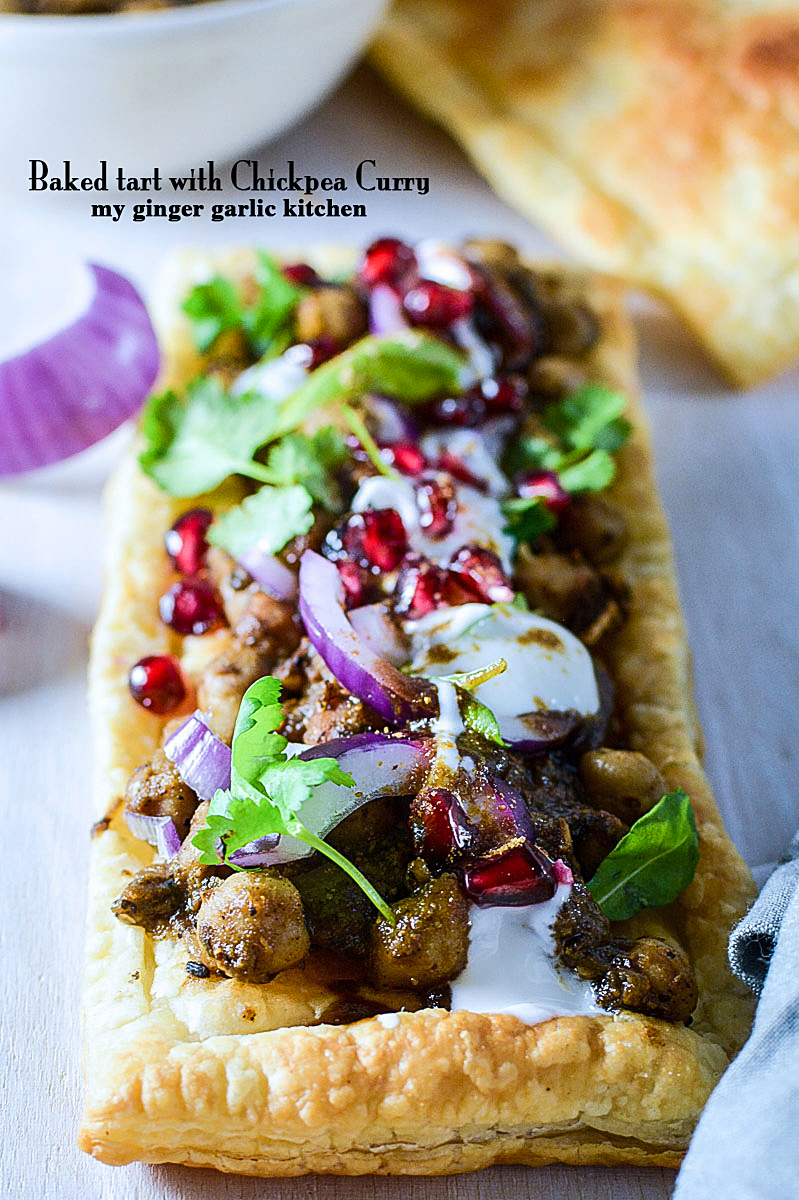 I named this recipe 'Baked Tart with Chickpea Curry and Tamarind Chutney'. Of course, I will totally be remaking these aromatic-tangy-pungent-sweet tarts again. Reason ONE—the gorgeous colors! Reason TWO—full of flavors! Reason THREE— spicy chickpea curry. I don't think I needed any more reasons to make it as an appetizer for celebration. This was AMAZING. And I did it on purpose, it was just not only SERENDIPITOUS. 😉
This tart is warm, buttery, crisp, filled with chickpea curry, and comes with the sweet-spicy-fragrant flavors. Fresh charming red pomegranate arils are in abundance at the moment with the weather getting colder all the time.
This dish is topped with my all time favorite pomegranate arils!!! Plus red onions was an addition to the crunchiness. Now, not a second thought that I will be making these again this coming weekend.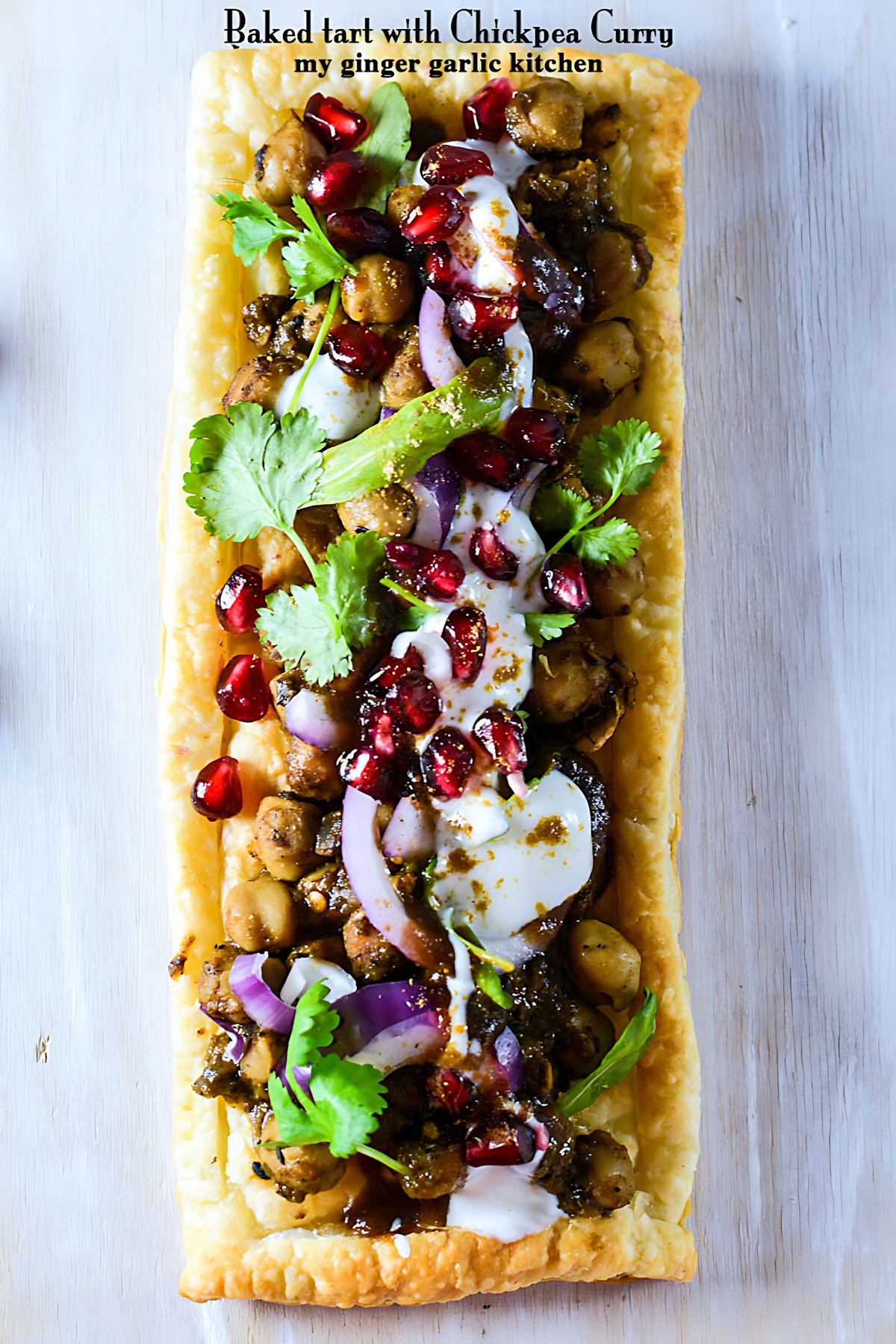 You can even call this recipe 'beginner proof', as it is so easy! Yes, you CAN, you CAN!!
Having natural yogurt with luncheon is a ritual in most Indian families. It could be a condiment or or plain yogurt. If you are making a Chaat, it is one of the main ingredients which provides the distinct flavour. I wanted to give my tart a touch of chaat, so I added natural yogurt to it. Mmmmm, APPETIZING CLASSIC RICH CREAMY.
You just need a few sheets of puffs pastry, some yogurt, some chickpea curry, and tamarind chutney. And red onions, cilantro, cumin powder, chaat masala as topping is a MUST. Just don't forget my favorite pomegranate arils on top- 🙂 As simple as that.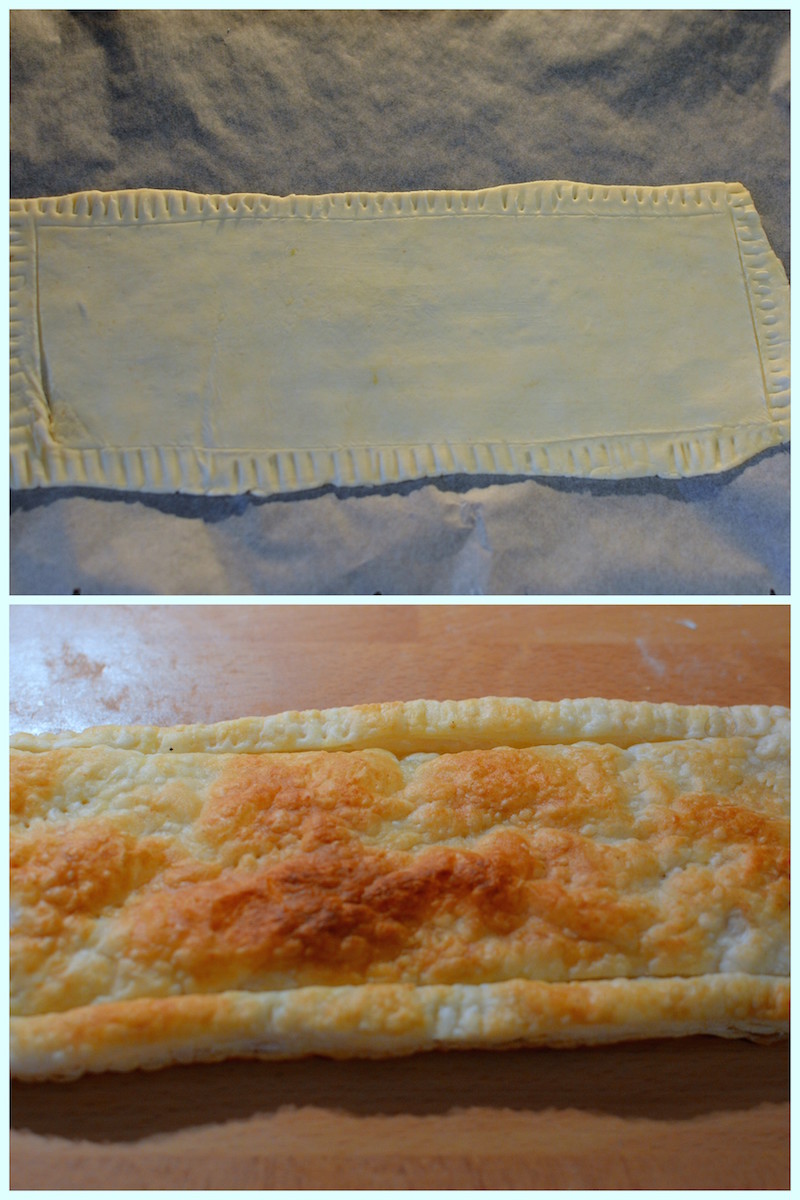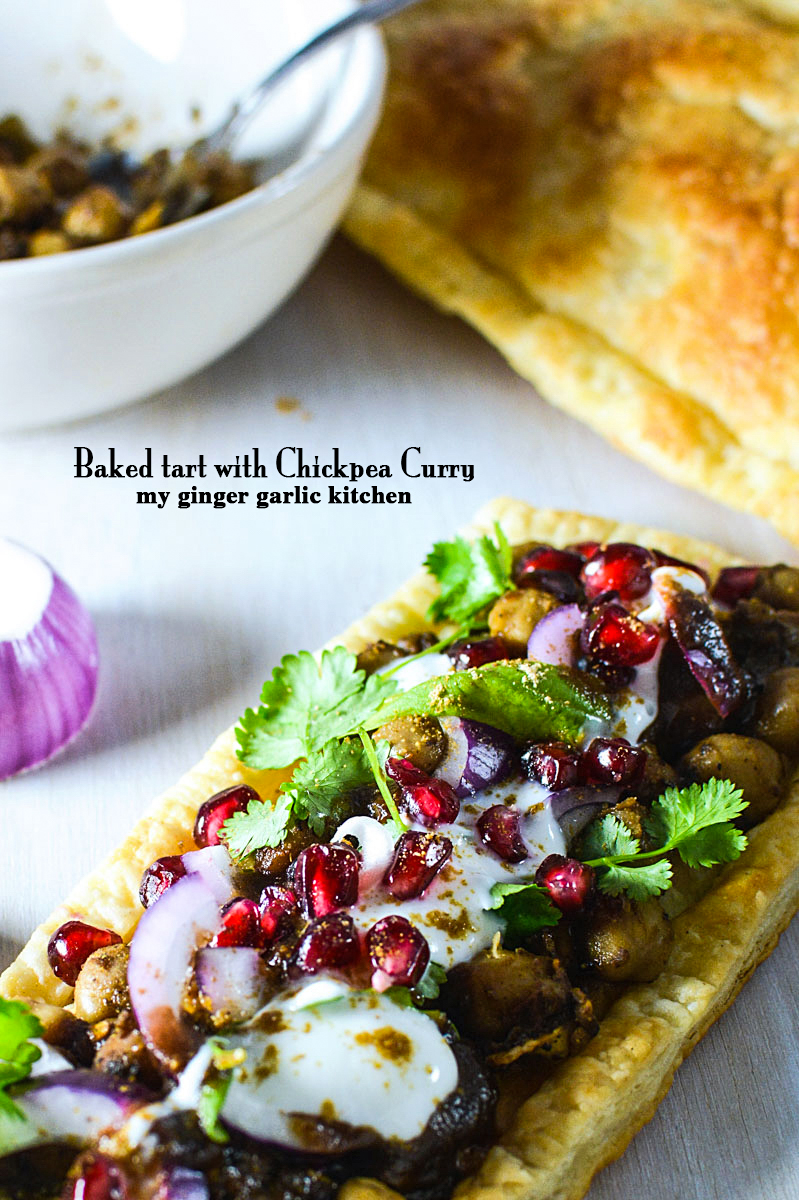 Baked Tart with Chickpea Curry and Tamarind Chutney

[RECIPE]

Baked Tart with Chickpea Curry and Tamarind Chutney is warm, buttery, crisp, filled with chickpea curry, and comes with the sweet-spicy-fragrant flavors.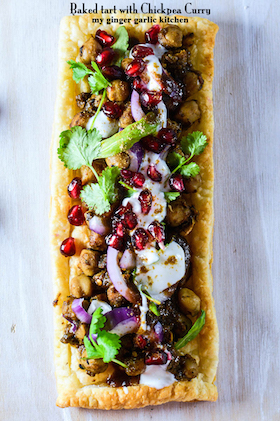 ♥ ♥ ♥ ♥ ♥
(Rating:
4.3
from
32
reviews)
INGREDIENTS
Ingredients
• puff pastry sheets - 4
• chickpea curry - 1 cup (see recipe here)
• tamarind chutney - 4 tbsp
• red onion, chopped - 1
• pomegranate arils - ¼ cup
• cumin powder - 1 tsp
• cilantro leaves - 2 tbsp
• natural yogurt - ¼ tsp
• chaat masala - 1 tsp
---
| 🕐 Prep time | 🕐 Cook time | 🕐 Total time |
| --- | --- | --- |
| | | |
| ☶ Category | ♨ Cuisine | ☺ Serves |
| Appetizer | Indian | 4 |
---
Nutrition Info:
292 calories
//
Servings:
1 serving
INSTRUCTIONS:
Step by step instructions below:
Preheat oven at 200°c. Roll out the pastry sheet into a rectangle of approximately 16x25cm. Mark 1cm border at the edge.
Bake the tart for about 15-20 minutes, or till it turn golden brown.
Spread curry on the tart. Spread 2 tbsp of yogurt, 1 tbsp tamarind chutney, chopped onions, pomegranate arils, cilantro leaves. Finish with a pinch of cumin powder, and a pinch of chaat masala. Repeat the same process with remaining sheets.
Serve hot.
---
NOTES:
No notes.
---