Puff Pastry Apricot Galette with Almond Topping. This is puff pastry filled with fresh tangy apricots, sugar, cornstarch, cardamom and cinnamon. Cinnamon and cardamom provide a subtle background flavor which works wonderfully with the tart and apricots. The topping of almond on pastry and on the top is what makes it more desirable. Some sprinkle of cinnamon sugar at the end. It can be eaten hot, warm or cold with a dollop of ice-cream or may be without the ice-cream.
Does it still feel like summer? Nope! Is Summer at the end? Yes. I know how it feels when you know that summer is ending. Oh! Summer please don't go so soon! What if I can make you feel as if it's still summer? I hope this galette can make you feel summerish.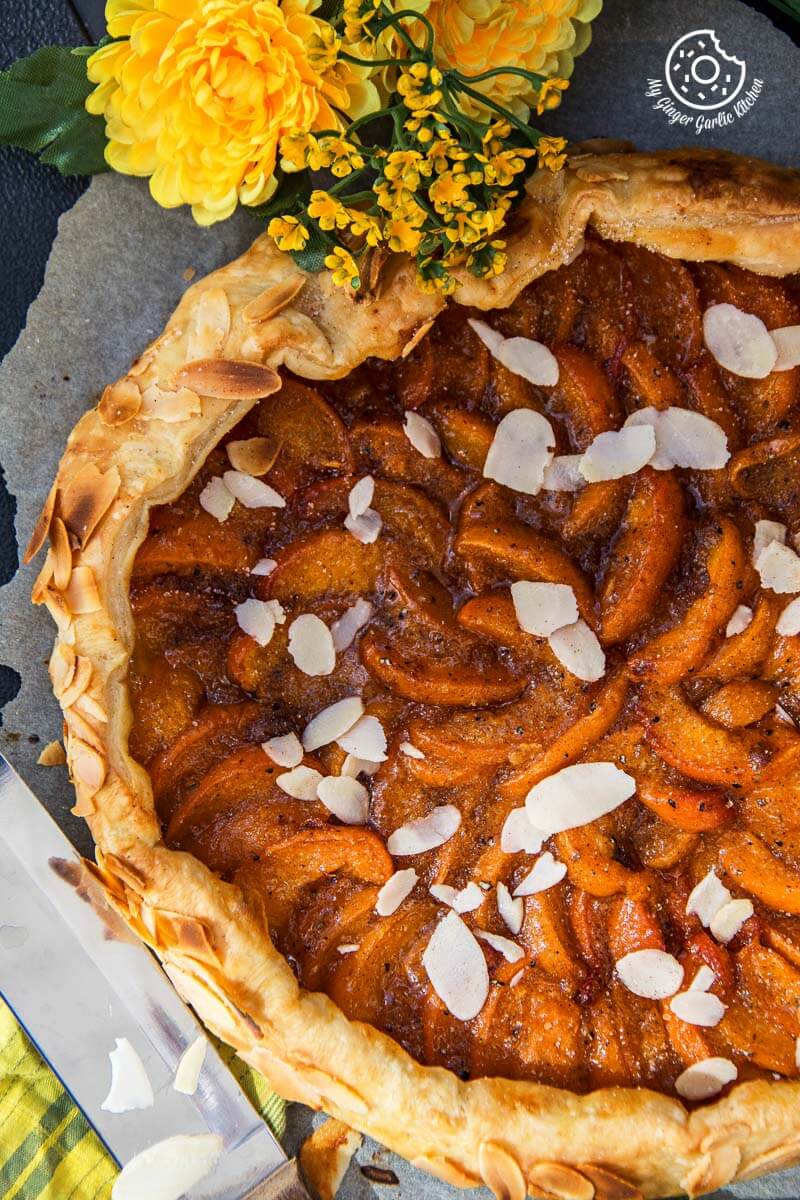 Quick Puff Pastry Apricot Galette: My today's post is about a real quick Puff Pastry Apricot Galette with Almond Topping! What did I just say? Puff pastry Galette? Doesn't that sound awesome? I know it's so pretty. I love this one for its warm and soothing colors, and of course for flavor and deliciousness too. Yeah, that means it was delicious. I would love it just for its colors, but thankfully it tastes just as great. Anyways who wouldn't love a dish when it looks pretty and tastes awesome too? For me anything which looks good and tastes good = One of the most delicate dishes ever. 🙂
A little story, coming soon: Soon, I will tell you a little story about this Apricot Galette with Almond Topping. Well, it has everything to do with this stunning looking galette, and I just cannot wait to tell you all.
Related: Raspberry Crème Fraîche & Cookies Puffs
Galettes are none other than our delicious pies, and they don't need any expertise. That's why you need to know this: these are so easy to make that you don't need to be a professional cook to make these.
Our baking adventure: The other weekend Ado wanted me to bake something. I told you here about how we both had a cooking day together. On that day, we made galette together.
Anyone can make them: By anyone I mean anyone who knows how to roll a dough (not perfectly, just rolling in any shape is fine) and who knows how to turn on the oven. 😉 And I guess most of you who are reading this fit in that criteria. Isn't it?
Child's play: I can tell you this with the conviction because even my 4-year old can make a galette. She can do rolling. Just the only thing is that she cannot bake by herself because I don't let her go near the oven. She only has the permission to turn-on and turn-off the switch. Other than that she's gotten pretty good at making a galette.
Related: 4-Ingredient Cheesy Garlicky Pesto Puff Pastry Swirls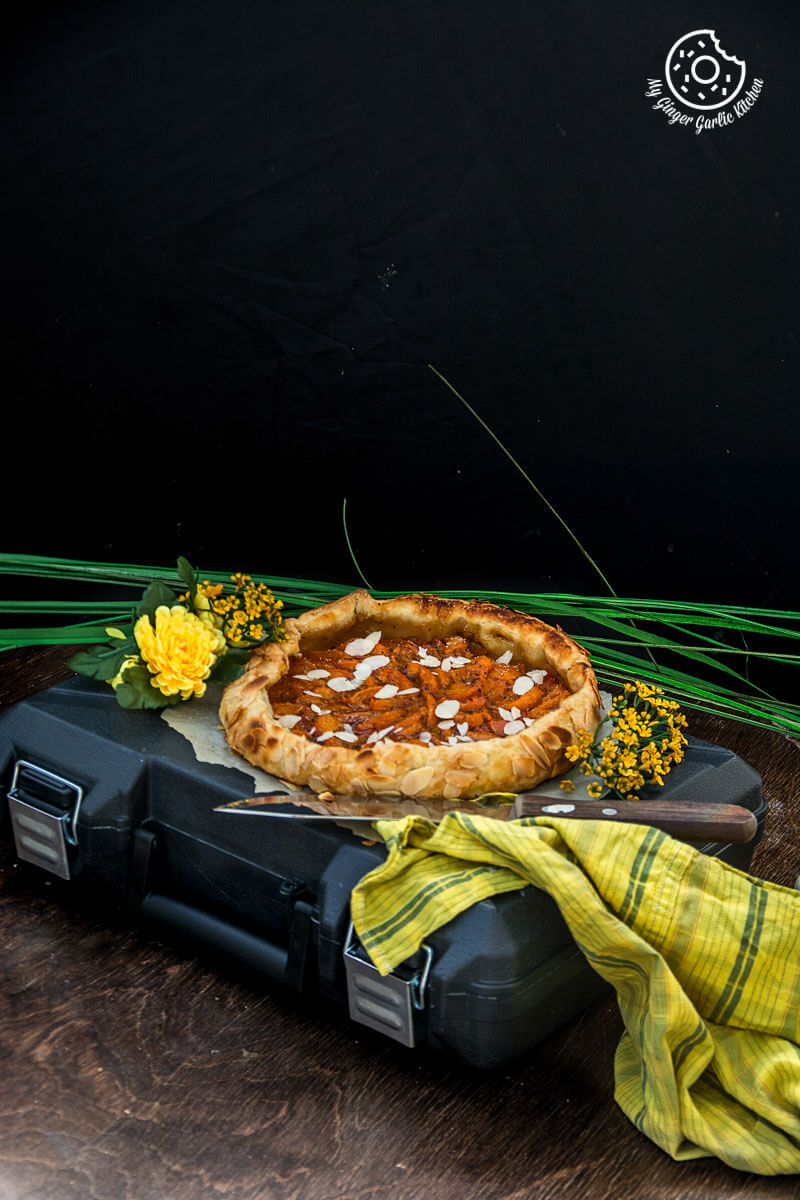 No need to make the dough: The only tough part for Ado is to make the dough. But hey, I have an easy solution for that. You don't have to knead the dough, you can use puff pastry dough. That's what Ado and I did the other day when we made it.
Unlimited fun: Wait, the fun didn't end after we made the galette. Because then, there was photographing to be done for this beautiful galette. Yes, Ado also made a baby galette for herself, and she also took pictures of the galette she made with her toy-camera. And she didn't let me take pictures of her galette. She said: "No, mommy. You take your pictures and I will take mine".
Related: Braided Strawberry Cream Cheese Pastry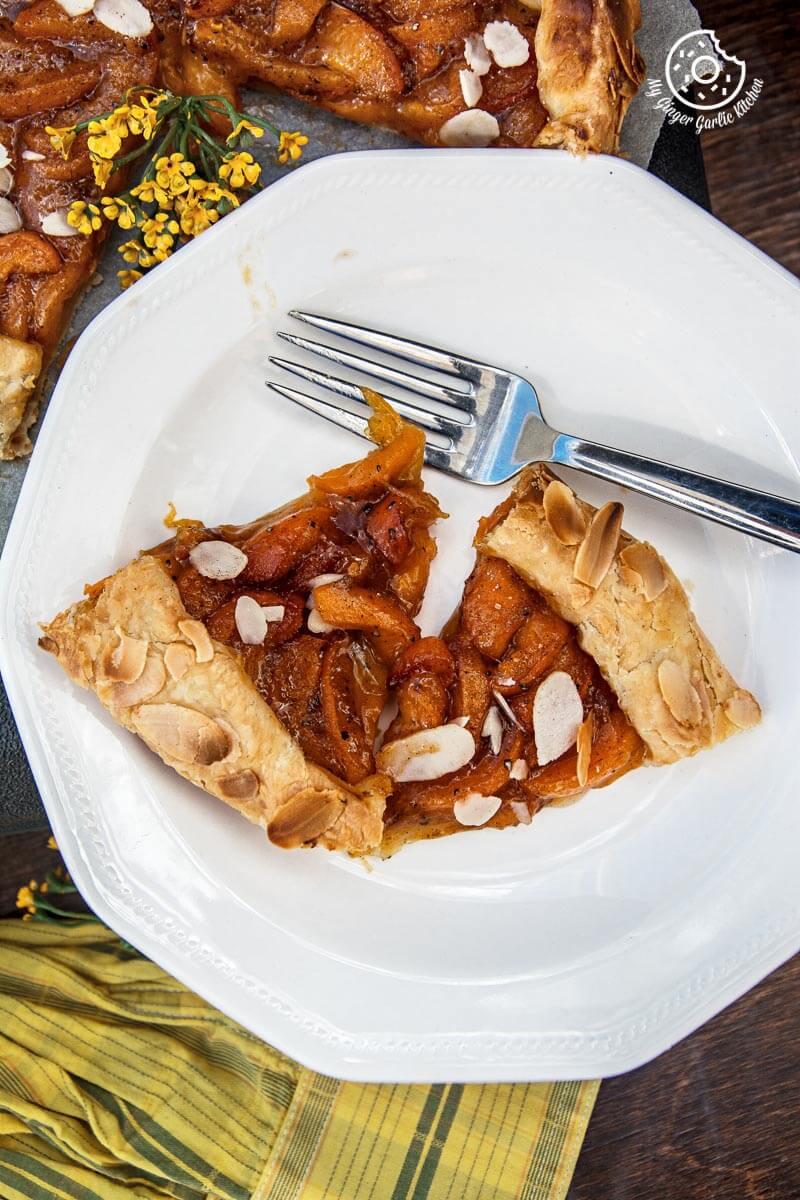 Pictures and more pictures: By the time we were done taking pictures, temptation got even harder to resist. You could understand the patience of a 4-year old and also a foodie which is a kid at heart! 🙂 But to tell you, it was all worth it. We polished-off a slice together of this galette right after we were done with photography. It was so good and was so easy and fun to make.
Even though she did not let me take any photo of her galette, but Ado still served the baby galette which she made to her daddy and me. #proudparent
Related: Caramelized Peach Pesto Tart with Blueberries and Pistachio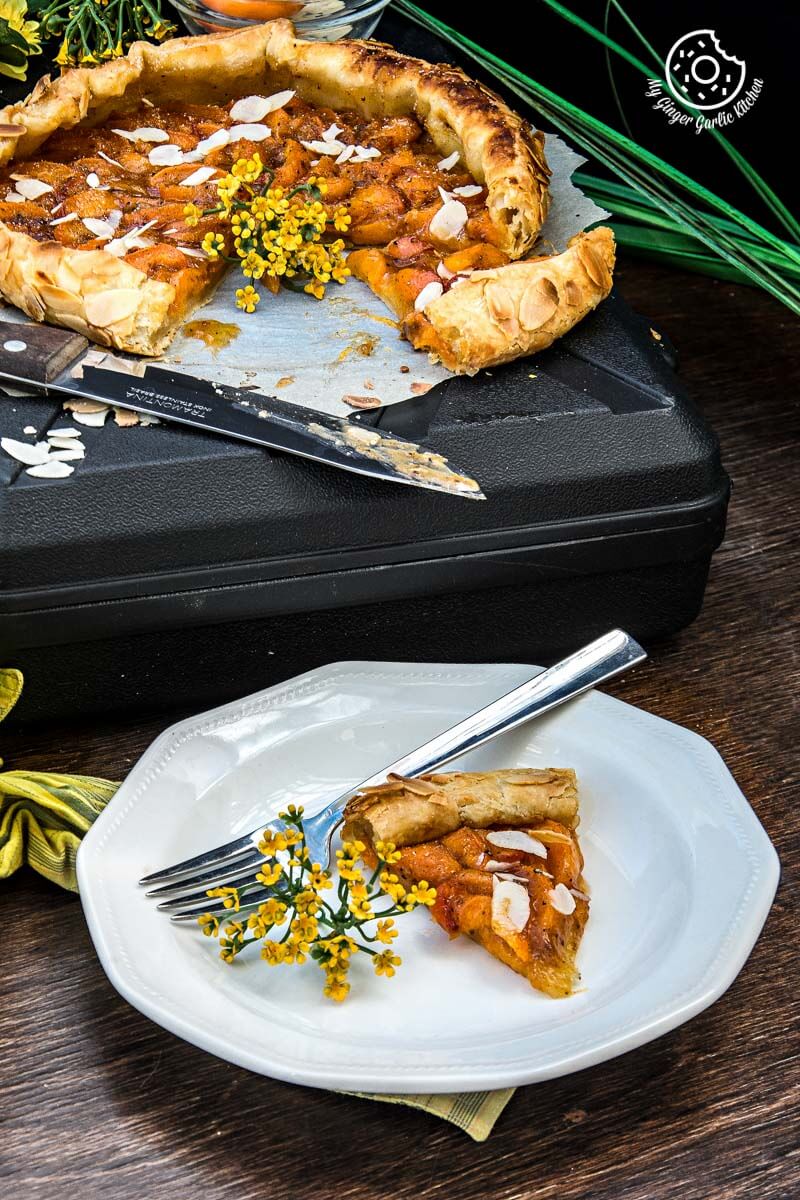 She loves serving us her pretend food all the time and this time it was real food and she was so thrilled. She first asked her Daddy.
Ado: "How's it? Did you like it? Is it yummy? Is it pretty? I made it for you."
Daddy: "Yes, it's the best galette ever. You made it so yummy. It's even better than Mummy's. Thank you so much sweety." And they both hugged tightly.
Ado: "Wait, Daddy, Don't finish it. I will bring coffee for you."
And then she came to me, Mamma I want to make coffee for daddy. I said: "No darling, it's dangerous for you, you might burn yourself. So let's do one thing, I make coffee and you can help me in serving. Is it okay?"
Ado: "Yes, please."
I made coffee and Ado handed coffee tray to Daddy with my help. And daddy was overjoyed seeing this. He hugged Ado and said thank you so much my darling. Now, what do you want Daddy should do for you?
Related: Apple Rose Mini Tartlets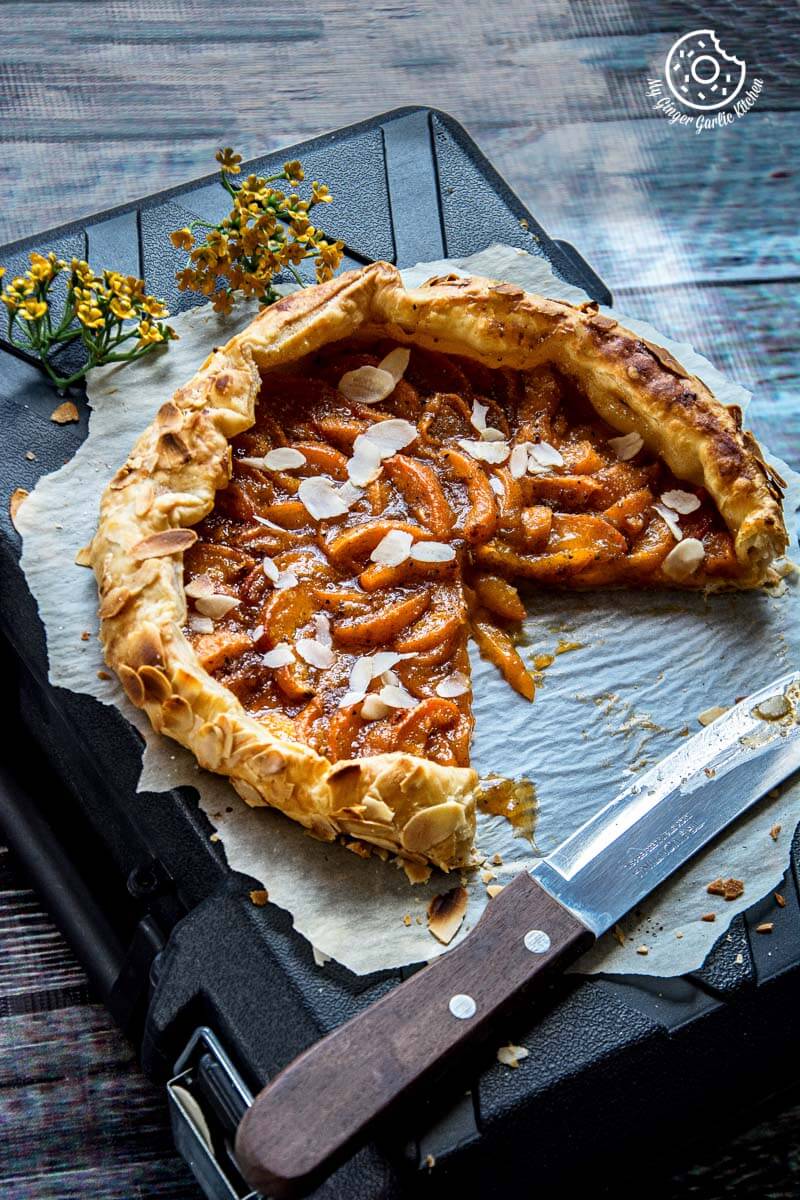 Ado said without any delay: "I want you to become a horse. And then I want to sit on your back and ride."
Daddy: "Aaaaaa, sure, let me finish my coffee and then I am all yours."
Ado chirped: "Okay, Daddy." 🙂
Is making your own galette easy? Yes, they are pretty easy. The crust is flakey and topped with sliced almonds. You can also sprinkle cinnamon sugar if you wish.
I love fruity desserts: The apricot filling is just AWESOME. I filled mine with sliced apricots, sugar, cornstarch, cinnamon, and cardamom. This is so yum — rustic and beautiful.
You could make this galette for any weekend, or any other day. You can serve this along with a dollop of ice-cream. But I like to eat it warm just the way it is! 🙂 This will make a perfect weekend dessert or a weekday-evening dessert.
Related: Baked Tart with Chickpea Curry and Tamarind Chutney
Puff Pastry Apricot Galette with Almond Topping

[Recipe]
Puff Pastry Apricot Galette is filled with fresh tangy apricots, sugar, cornstarch, cardamom and cinnamon. Serve hot, warm or cold with a dollop of ice-cream.
---
★★★★✰
(Rating:
4.2
from
33
reviews)
---
| Prep time 🕐 | Cook time 🕐 | Total time 🕐 |
| --- | --- | --- |
| | | 40 mins |
| Category ☶ | Cuisine ♨ | Serves ☺ |
| Dessert | French | 6 |
| Nutrition Info ⊛ | | Serving size ⊚ |
| 145 calories | | 1 serving |
---
INGREDIENTS
Puff Pastry Apricot Galette Filling //
Salted butter, melted - 2 tbsp
Apricots, halved, pitted, and cut into wedges - 2 cup
Sugar - 4 tbsp or as per taste
Ground cardamom - ¼ tsp
Ground cinnamon - ½ tsp
Cornstarch or arrowroot - 1 tbsp
Lemon juice (Use if apricots are sweet) - ½ tsp
Milk or cream - 3 tbsp
Sliced almonds - ⅛ cup
Puff Pastry Apricot Galette //
Frozen Puff pastry dough, thawed - 8‐ounce/0.5 lb
All‐purpose flour, for dusting
For Topping //
Sliced almonds - 2 tbsp
Cinnamon sugar - 1 tbsp for sprinkling
---
INSTRUCTIONS:
How to Make Puff Pastry Apricot Galette //
Add all of the filling ingredients to a medium bowl and gently stir until everything is combined and the apricots are evenly coated.




Set aside for 10 minutes.




Preheat the oven to 375°F. Line a baking sheet with parchment paper and set aside.




On a lightly floured surface, roll the dough into about a 12/14-inch diameter and ⅛ inch thick circle. It does not have to be perfect.




Transfer the rolled sheet to the center of the prepared baking sheet.




Arrange the apricot filling in the middle of the circle leaving about 2 inches around the edge empty.




Gently bring up the edges of the dough, folding and creasing a little along the way towards the center of the galette.




Lightly brush the edges with milk or cream.




Press the almonds all over the sides of the galette then brush again with the milk. Bake for 25-30 minutes until the edges are golden brown.




Remove it from the ove and cool for 20 minutes to serve warm, or cool for 1-2 hours to serve at room temperature.




Sprinkle with cinnamon sugar and sliced almonds. Slice and serve.



---
WATCH RECIPE VIDEO: Click the play button and video will load ...
---
NOTES:
No notes for this recipe.
---
If this recipe helped you, then please spread the word by sharing and
subscribing
to us on YouTube to get more such Recipe Videos.
---
Your feedback is so helpful for me and other MyGingerGarlicKitchen readers. So, for Facebook and Instagram, please mention
@MyGingerGarlicKitchen
or
#mygingergarlickitchen
. I would love to see your photos. :)
---
Author:
Anupama
Recipe Source Link:
https://www.mygingergarlickitchen.com/puff-pastry-apricot-galette-with-almond-topping-video-recipe/
Date Published:
2019-10-04
• • • • • • • • • •