Masaledar Jau Ki Papdi aka Spicy Barley Crackers are super duper scrumptious snacks, easy to make and healthy too. Make them if you have friends coming over for brunch. They will definitely adore it.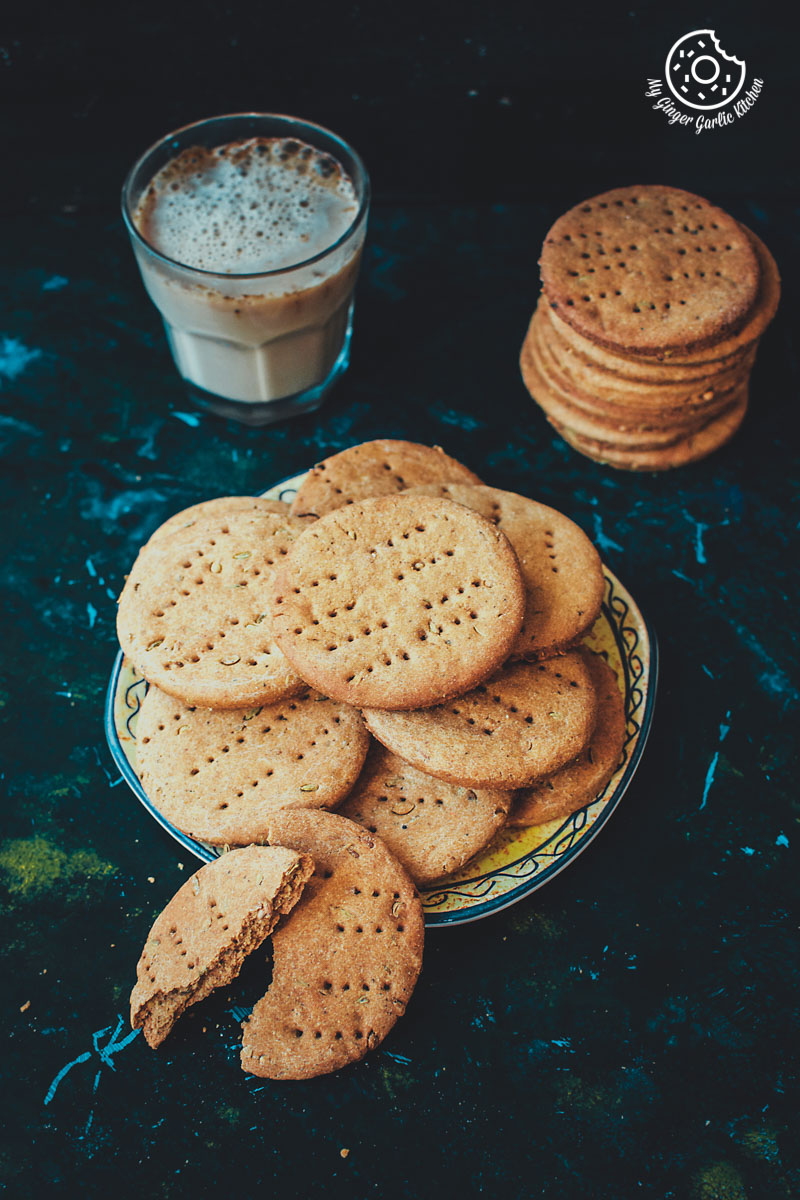 Happy Labour Day guys
So How was the weekend? My weekend is still on. Remember I told you about the Labour day holiday in my last post. I don't know how many of you have a holiday today, but we have it here, and it is going pretty good.
Baking is on:
Sun is shining and we are baking, and enjoying this long weekend with some awesome drinks. We expected that it's gonna be warm today. It is relatively warmer but not as we expected. Initially, we had a plan for the picnic, but now we just postponed it for some other sunny warm day.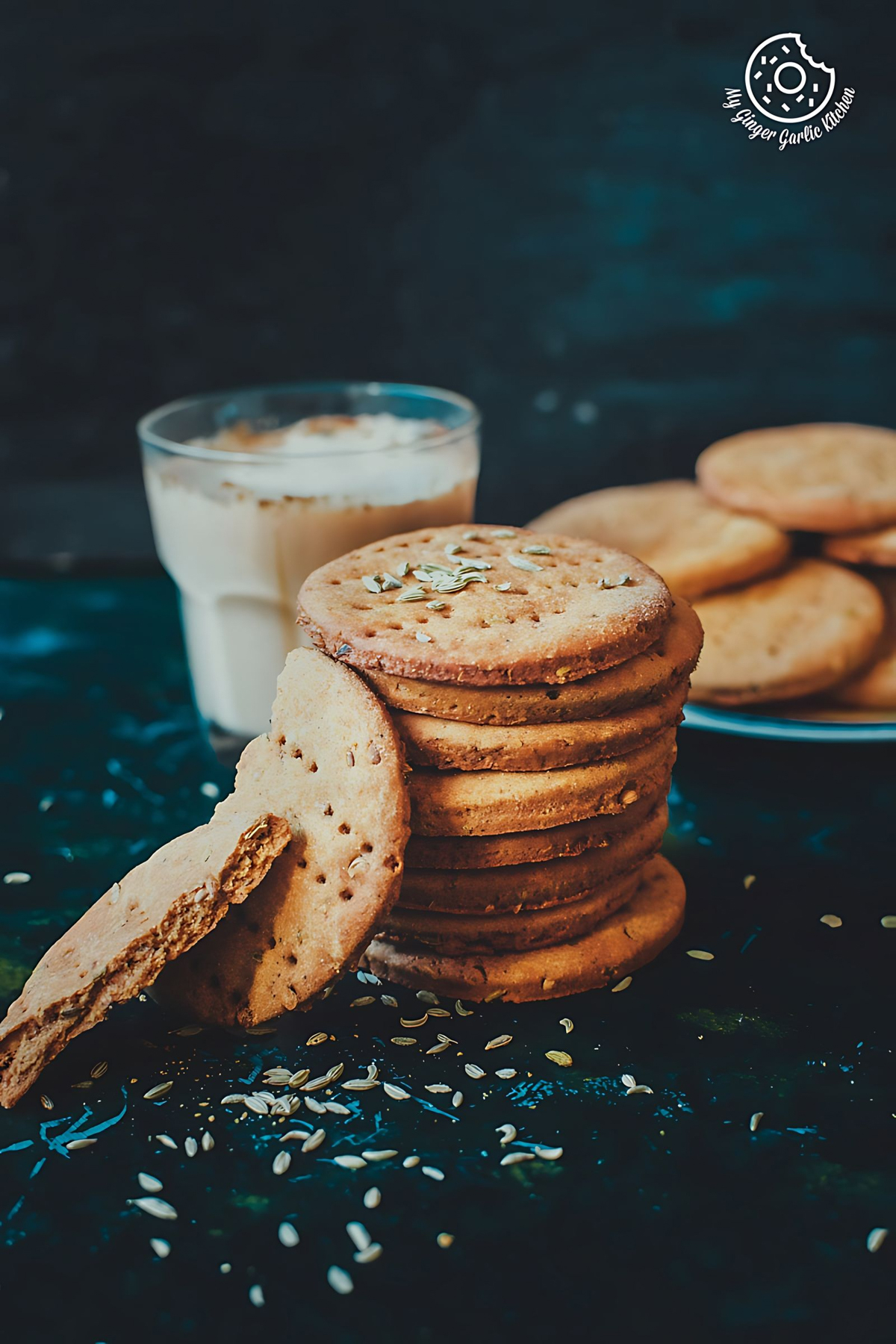 Family Recipe:
So Ladies and Gentlemen, time for a family recipe. It's Masaledar Jau Ki Papdi, aka Spicy Barley Crackers. This is my Granny's one of the very popular recipes. 'Jau' is Barley in Hindi. Crackers are known as papdi. So the Spicy Barley Crackers are a literal translation of Masaledar Jau ki Papdi.
I can still recall many of my relatives asking about this recipe from her and writing down every single ingredient with so much care. My Grand mother was a tea drinker and these spicy crackers were her favorite tea-time snacks.

This light and bright chaat on your way:
The only difference in her recipe which I made is that, I healthified them by baking them instead of deep frying. By saying healthified I don't want you to misunderstand that these crackers using the original recipe were unhealthy. Nope, they are not. Using baking is just a bit of calorie-conscious approach. Anyways, how could they be unhealthy when they are made with three healthy flours. And those spices, ahhhh, they are the backbone of these crackers. You just can't afford to miss any single one of them.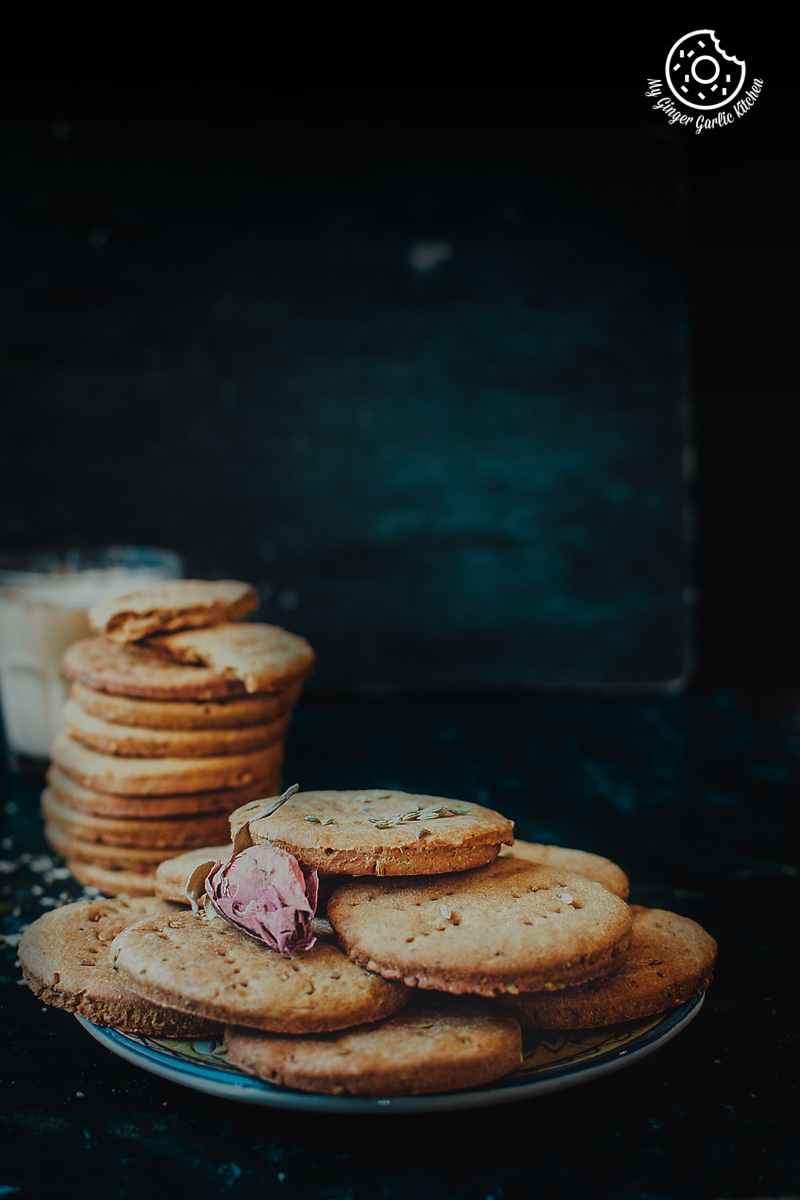 Every spice is a must:
Every single ingredient here makes a big difference. So I can't say that you can omit a few spices to make them more suitable for your tastebuds. If you really want to go on a joyride on this spice crunch, you will have to add all of them. And the best part is that you can adjust the amount of spices according to your tastes here. What say?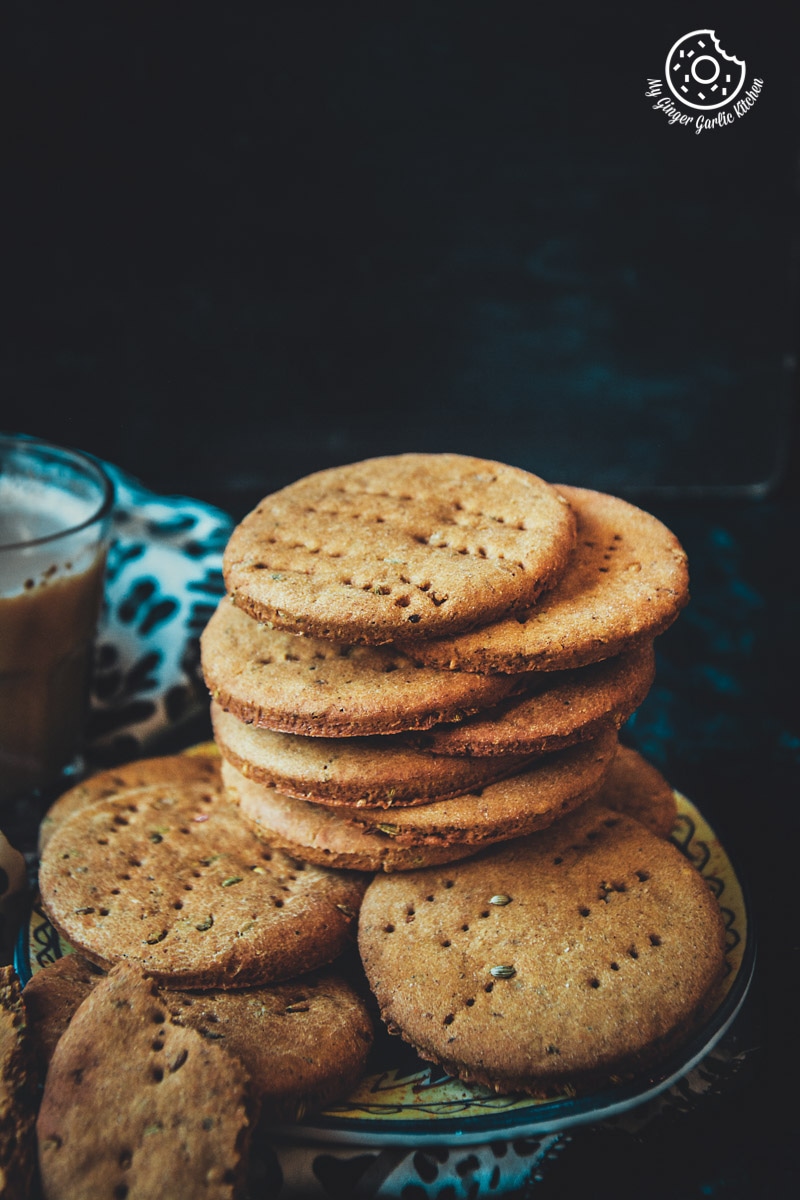 Baking them is an easy task:
You'll only need a mixing bowl, a cookie cutter, a fork, and a baking tray. And that's it.
I love them. Not only because this is a treasure, but because they taste really fabulous and they are so addictive. Every time I bake them I think they last at least a week, but they never make it more than 2-3 days, for obvious reasons ;-). For me, it is also a lazy meal sometimes.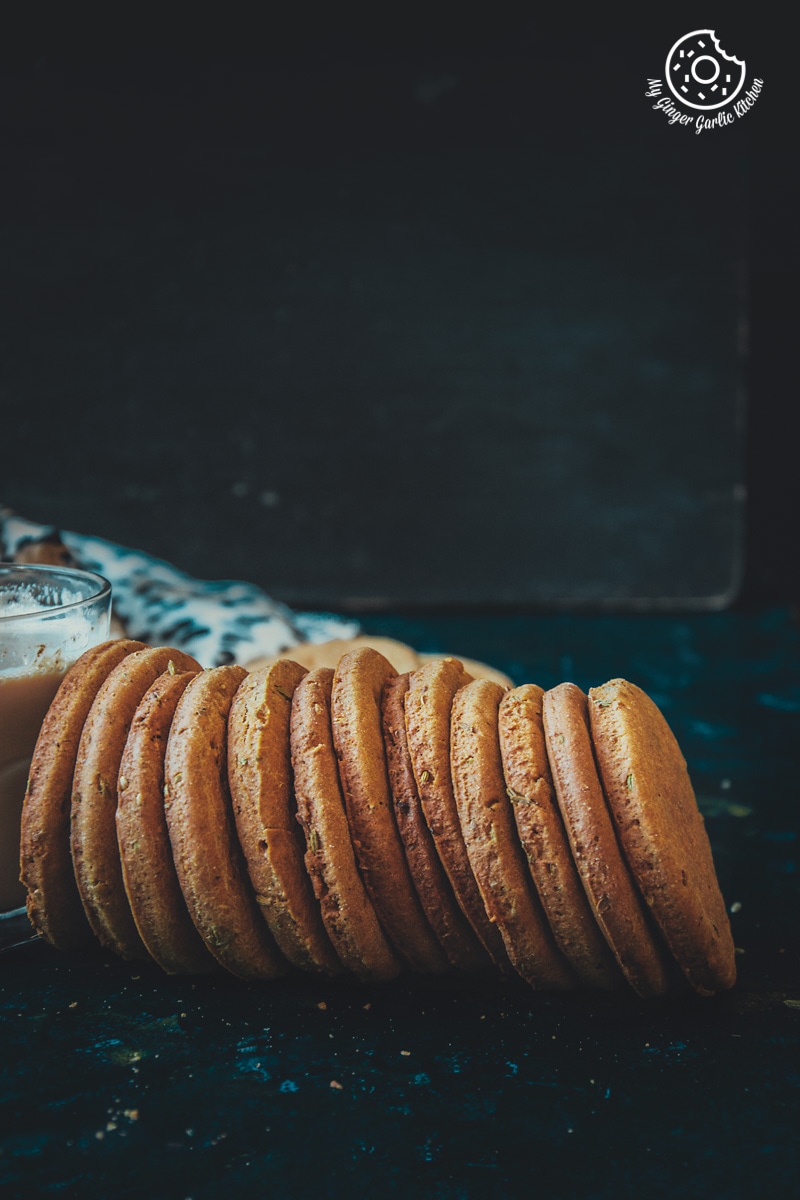 It feels good to be like her:
This recipe is the memory of my Grandmother's favorite food. Like her, for me too, it's lunch, snack, and brunch for me. All in all my Granny's recipe is a real treasure. Make them if you have friends coming over for brunch. They will definitely adore it.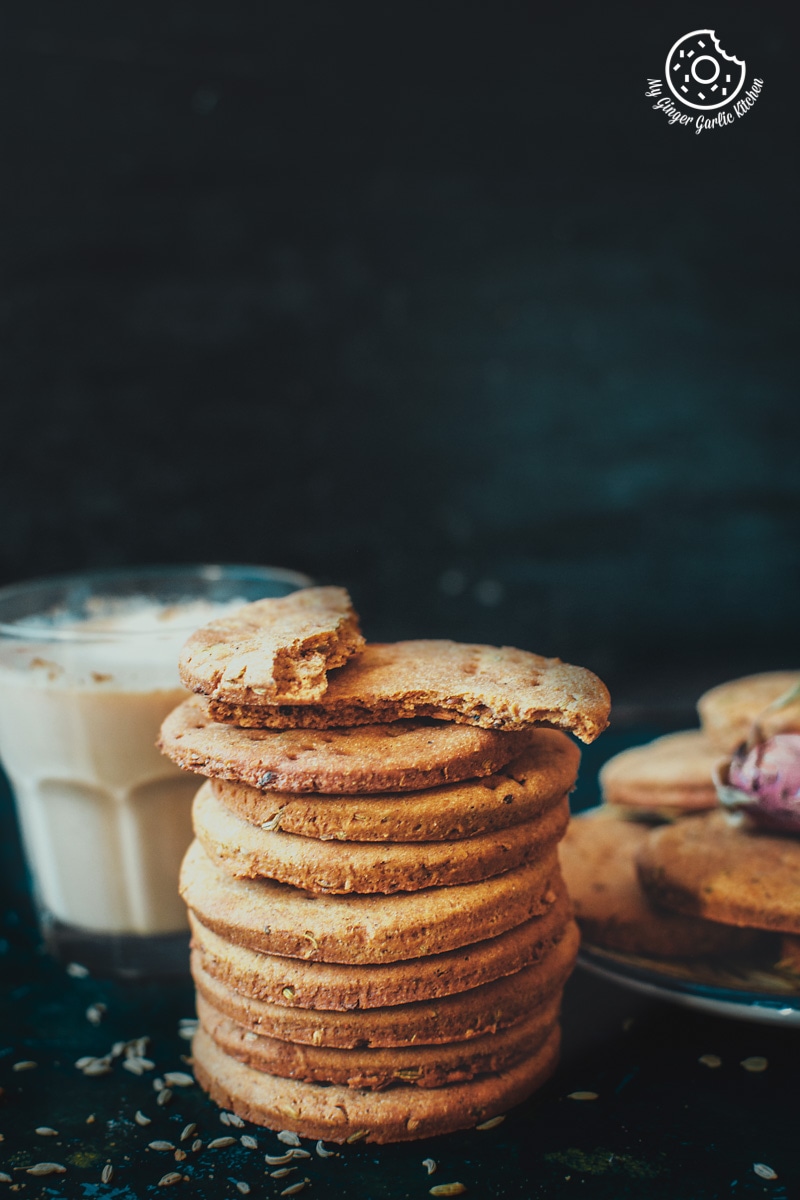 They can be whipped up in a flash. Yes, I mean it. And you can eat them just like that. But if you want to fancify them more, then you can smear them with some ricotta, cream cheese, salted butter, pickle or even some jam. Jam? Yes, I know jam sounds unusual here, but mark my words — do try it, they are a pure joy when they are combined with sweet jam. Spicy + sweet is a delicious pairing.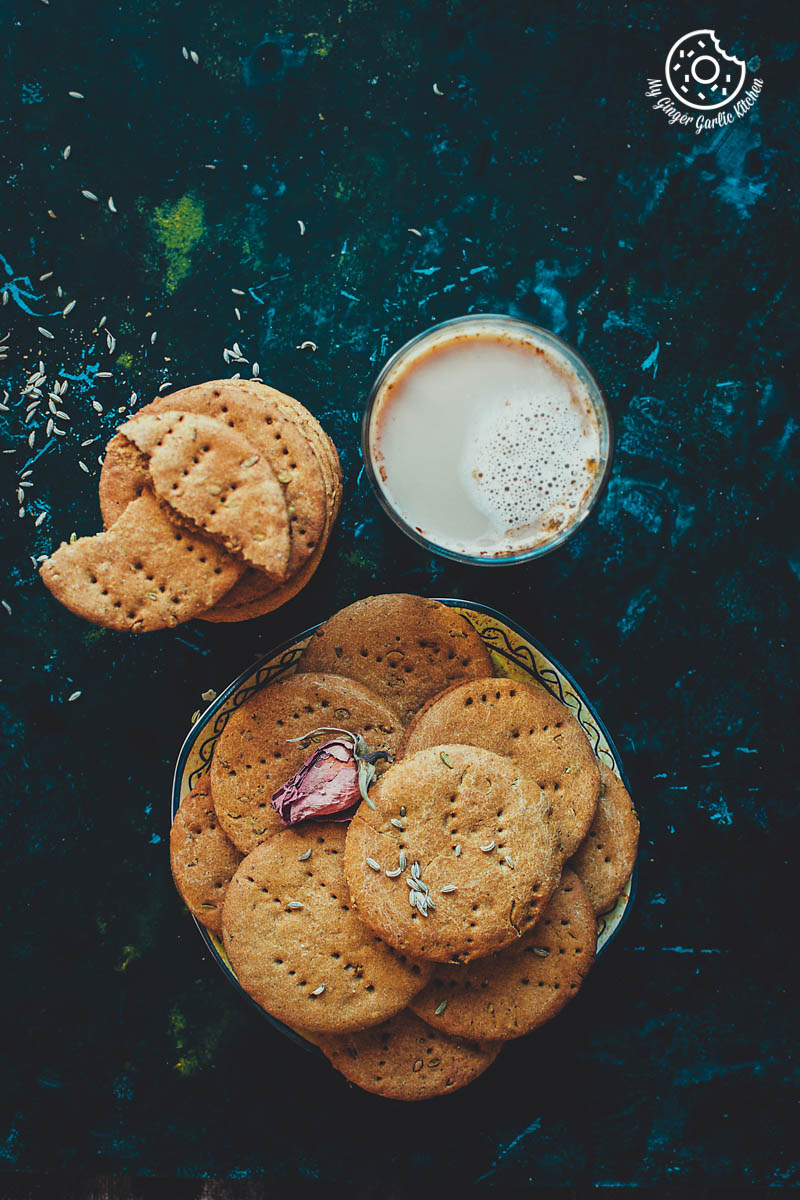 Not to mention these are the perfect complement to your breakfast.
So let's get started.
Masaledar Jau Ki Papdi | Spicy Barley Crackers

[RECIPE]

Masaledar Jau Ki Papdi aka Spicy Barley Crackers are super duper scrumptious snacks, easy to make and healthy too. Make them if you have friends coming over for brunch. They will definitely adore it.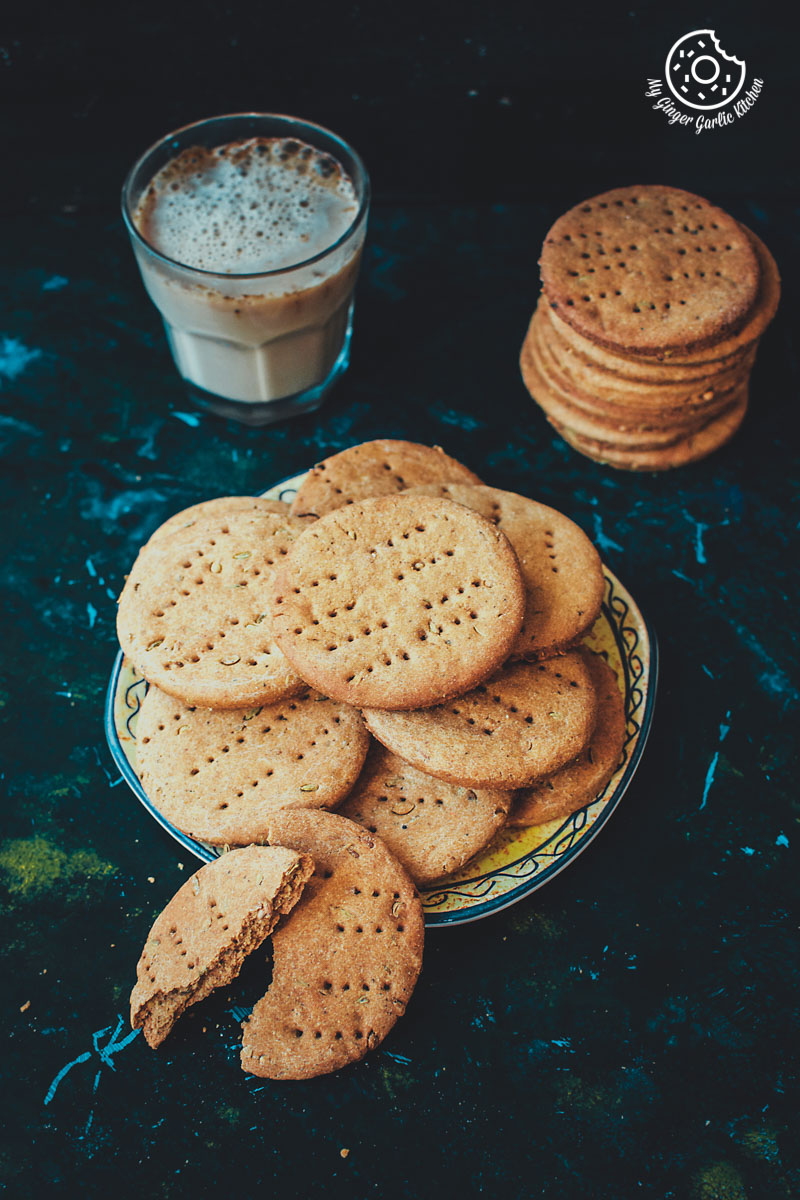 ♥ ♥ ♥ ♥ ♥
(Rating:
4.8
from
19
reviews)
INGREDIENTS
• Barley Flour – 1 Cup
• Whole Wheat Flour – 1 Cup
• Chickpea Flour / Besan – 1/2 Cups
• Baking Soda – 1 Tsp
• Salt – 1 Tsp Or As Per Taste
• Warm Water – 1/4 Cup Or More If Needed
• Vegetable Oil – 6 Tbsp
• Peppercorns – 7-8
• Fennel Seeds / Saunf – 1 Tbsp
• Cumin Seeds / Jeera – 1 Tbsp
• Ground Pepper – 174 Tsp (Optional)
• Red Chili Powder – 1 Tsp (Optional)
• Roasted Cumin Powder – 1 Tbsp
• Asafetida / Hing – 1/2 Tsp (Diluted In 2 Tbsp Water)
• Dry Flour For Dusting (I Used Barley)

---
| 🕐 Prep time | 🕐 Cook time | 🕐 Total time |
| --- | --- | --- |
| | | |
| ☶ Category | ♨ Cuisine | ☺ Serves |
| Snacks | Indian | 25 |
---
Nutrition Info:
5 calories
//
Servings:
1 serving
INSTRUCTIONS:
1. Preheat the oven to 335°F/180°C.
2. Line a baking pan with the parchment.
3. Put fennel seeds, cumin seeds, and peppercorns in a mortar pestle and grind them together to make a coarse mixture.
4. Put barley flour, whole wheat flour, chickpea flour, ground whole spices, red chili powder, black pepper, salt, baking soda, asafetida water, and oil in a large mixing bowl.
5. Stir with a spoon/fork to mix it well.
6. Add enough water to make a stiff dough. You will have to knead for about 7-8 minutes.
7. Dust the dough ball on a board with flour and roll the dough out to about 1/3-inch thick.
8. Use a cookie cutter to cut out the crackers into desired shapes.
9. Prick each cracker 4 or 5 times on the top with the tines of a fork.
10. Place the crackers on a lined baking tray and repeat the steps number 7, 8, 9 and 10.
11. Bake in 355⁰F/180⁰C pre-heated oven for 12-15 minutes until lightly browned. (You can also deep fry them on medium-low heat)
12. Let them cool on wire rack and store in an air-tight container.
13. You can keep these crackers at room temperature for about 10 days.
14. Serve them with some hot tea/coffee.
---
NOTES:
---