Khaman Dhokla Recipe - Instant Soft and Spongy Dhokla
Learn to make Khaman Dhokla Recipe | How To Make Instant Soft and Spongy Dhokla with step by step video tutorial. Instant Khaman Dhokla is a healthy snack.
---
« Go back
Print this recipe »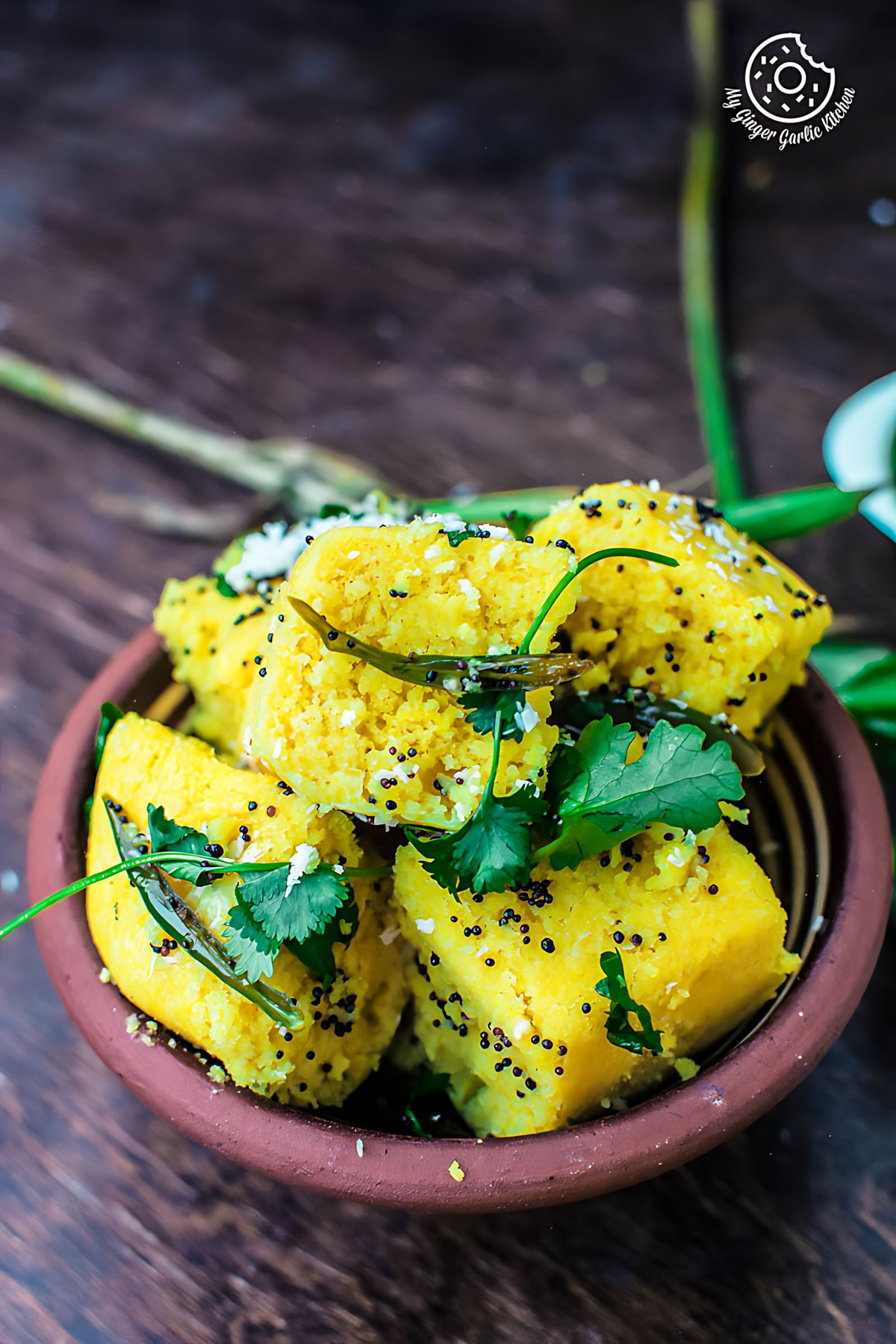 ---
Prep Time = 05 minutes
Cook Time = 15 minutes
Total Time = 20 minutes
Category = Snacks
Cuisine = Indian
Serves = 16-20 pieces
Nutrition Info = 78 calories
Serving Size = 1 piece
---
RECIPE INGREDIENTS
» For Khaman Dhokla Batter:
1 cup (250 grams) gram flour (besan)
2 tablespoons semolina (suji/rava)
Salt to taste
1 teaspoon ginger, grated
3 teaspoons sugar
1/2 teaspoon turmeric powder
1/2 teaspoon citric acid, or 1 teaspoon lemon juice
1 tablespoon oil
3/4 to 1 cup water for batter
1 teaspoon eno fruit salt
» For Tempering/Tadka:
2 tablespoons oil
1 teaspoon lemon juice
1 1/2 tablespoons sugar
1/4 teaspoon salt
1/4 teaspoon mustard seeds (rai)
5-6 small green chilies, slit
6-7 curry leaves
» For Serving:
2 tablespoons fresh cilantro (coriander) leaves chopped
2 tablespoons grated coconut
Green chutney
---
RECIPE INSTRUCTIONS
» Make Khaman Dhokla:
Take 1 cup besan and pass it through to sieve.
Add 2 tablespoon suji and pass it through a sieve.
Add turmeric powder, salt, sugar, and citric acid. Whisk everything well.
Add 1 cup of warm and make a smooth lump-free batter. Add more water if needed.
Add oil, grated ginger, and mix well again.
Leave it aside to ferment for 10 minutes.
Brush a thali or a heat-safe container with oil.
Arrange a stand in a large pan or steamer. Add 1 1/2 water, cover, and boil for 10 minutes.
Add Eno fruit salt, and 1 teaspoon water.
Whisk briskly clockwise for about 1 minute or until double in size.
Pour the batter immediately into the prepared thali or container and tap it to spread the batter in an even layer. (Fill the container 3/8, as we do for cake baking.)
Place the container in the pan, pressure cooker, or steamer.
Cover and steam for 12-15 minutes or till the dhokla is cooked.
Insert a toothpick to check if Dhokla is cooked if it comes out clean then dhokla is ready. If not, steam for a few more minutes.
Take out the plate from the steamer and let it cool for a few minutes.
When a little cool, flip the dhokla onto a plate.
Cut into square pieces.
» Make Tadka/Tempering:
Heat the oil in a non-stick pan and add the mustard seeds.
When the seeds crackle, add the green chilies and curry leaves, and sauté on medium heat for 2-3 minutes.
Add water and let it boil for 3 minutes.
Add salt, sugar, lemon juice, and stir well.
Let it boil for 3-4 minutes. Remove from heat, and let it cool for a few minutes.
» Serving:
Pour the tempering over the prepared dhokla and spread it evenly.
Garnish with grated coconut and coriander.
Serve with Green Chutney, Red chutney, or Coconut Chutney.
---
RECIPE NOTES
You can replace Eno fruit salt with the same amount of baking soda.
If you do not have citric acid, then add 1 teaspoon of freshly squeezed lemon juice.
Always steam dhokla over medium heat.
If cooking in a pressure cooker then make sure to remove the whistle before closing the lid.
Always make sure that water is boiling, before placing the batter filled container to the steamer.
---