Kopra Pak | Nariyal Ki Burfi | Khopra Pak is a very sophisticatedly and delicately flavored coconut sweet/mithai. It has intense coconut flavor and an amazing texture. There really are no words for this, other than it is incredibly delish, super nutty and perfectly sweet to satisfy your sweet cravings. Coconut lovers, this one is for you.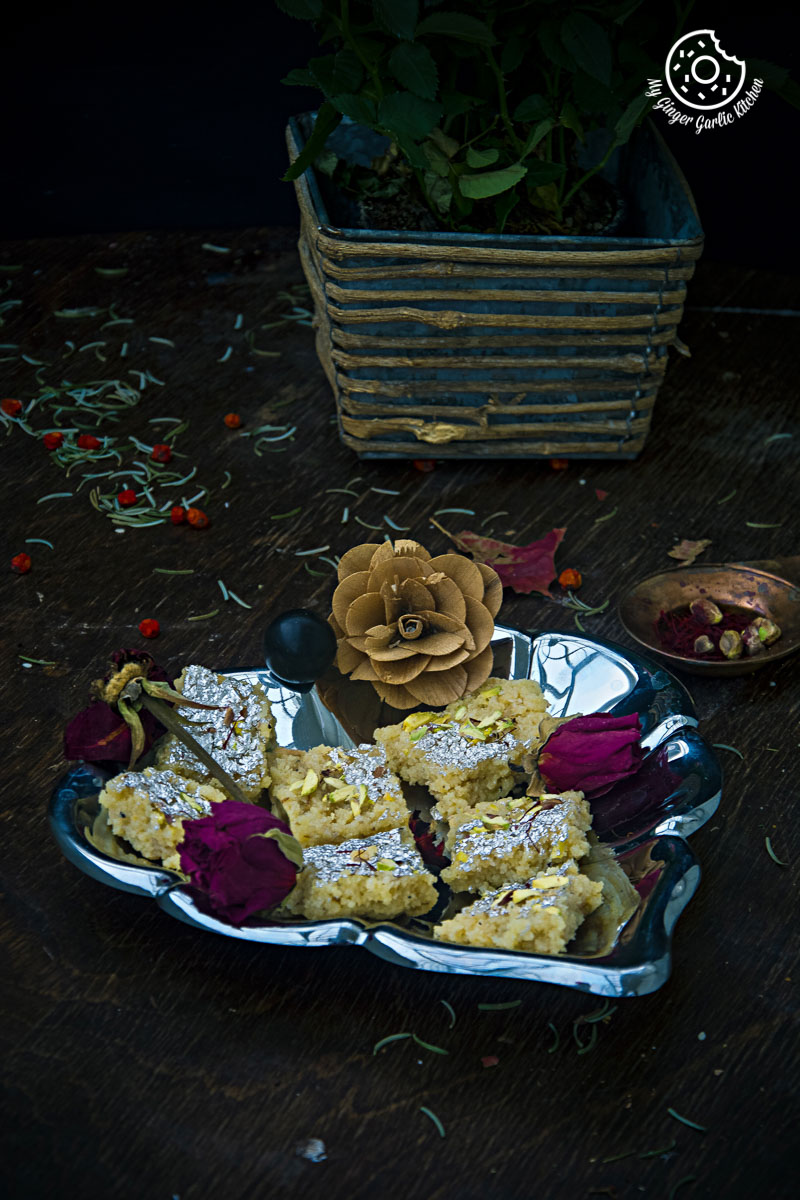 Hello, you lovely people. Ready for the coming weekend? Well, I always am. 🙂
Many of you might have read about that it was my mom's Birthday on Monday, January 5th when I wrote in this post that I made coconut fudge on her birthday. And I also promised that I will soon share the recipe with you all. So here I am. My mom doesn't like so many desserts which are very sweet in taste. Mildly sweet things are best for her. And this coconut fudge was her favorite since her childhood and it still is. No matter how full she is, but you offer her a slice of this kopra pak she just can't say no.
Story of my Mom's life:
My mom lost her Mom at very young age and my Grandpa didn't want to get married again. So the only mother figure for my mom was her aunt, who raised her and her siblings. Mommy used to tell us her childhood stories that she and her siblings were raised by their aunt who didn't have any children. She was a Principal at a local school. That is why naturally she was quite strict with all of them, but also very loving at the same time.
She loved those children as her own. My mom tells that whenever her aunt made some treats for kids, she kinda used a trading system. Aunt used to say to children that if they'd finish one chore, such as learning something, teaching others, or going out and buy some stuff, they'd get the treat.
And they all did the chores because they seriously believed that they wouldn't get any treat if they won't do it. It was a kind of reward for finishing things while learning discipline. Surprisingly, this trading thing always worked with them. 😉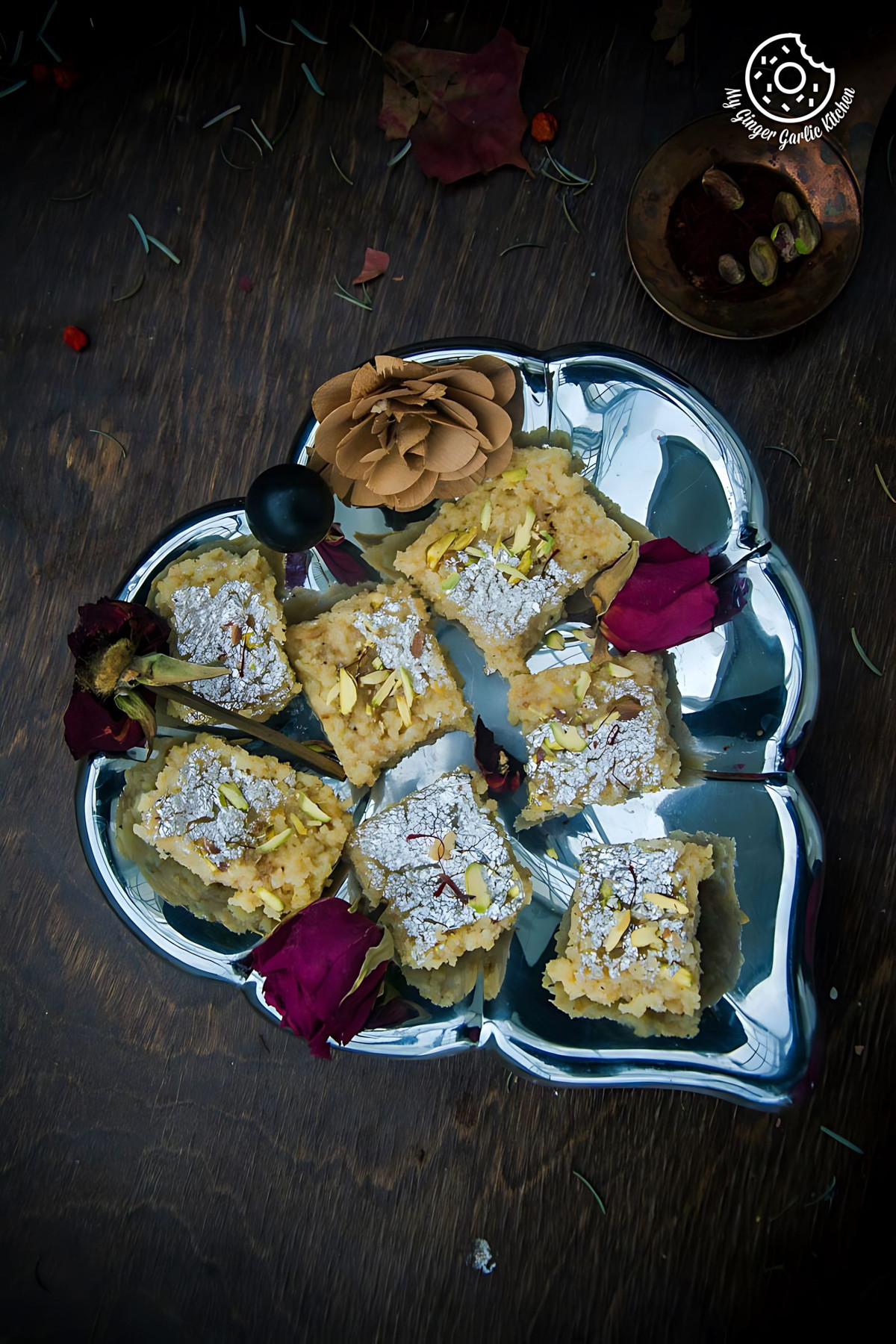 And when I was a little child, it is the the same thing my mom tried with me and my siblings during our summer holidays. She used to say: "Come closer, I want to tell you something very good." And then she used to whisper that if we'd learn a particularly intriguing task by that evening then we all would go out. Sometimes this reward included going on a holiday, or an ice-cream, or a toy, or something to eat.
And you know what, this trading trick always worked with us all as well. We loved this game. It always felt like we have earned the bounty. 🙂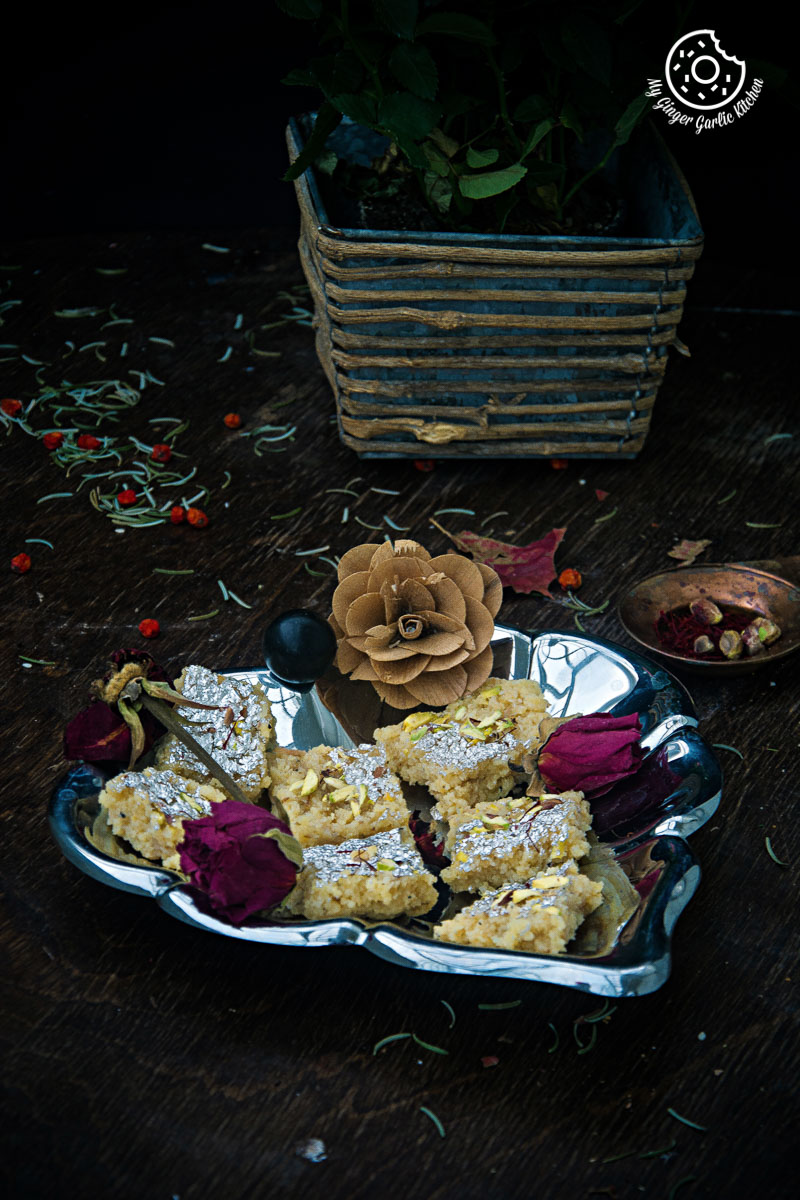 Recipe Legacy:
Let's come to the kopra pak again. I have already told you that my mom loves kopra pak and her favorite kopra pak was the one which her aunt used to make.
And my mom learned that kopra pak from her aunt, and I learnt from her. I am also planning to teach this recipe to Adoria, so it's gonna be a family recipe legacy! 🙂
Khopra pak is a Gujarati sweet. This is a very sophisticatedly and delicately flavored coconut sweet/mithai. It has intense coconut flavor and an amazing texture. This traditional sweet has a very rich nutty flavour and a seductive texture. And I will have to warn you that this is really addictive if you are planning it ahead of time for a dinner party, so hide it in a place where no one can reach. Telling it you from my own personal experience. 🙂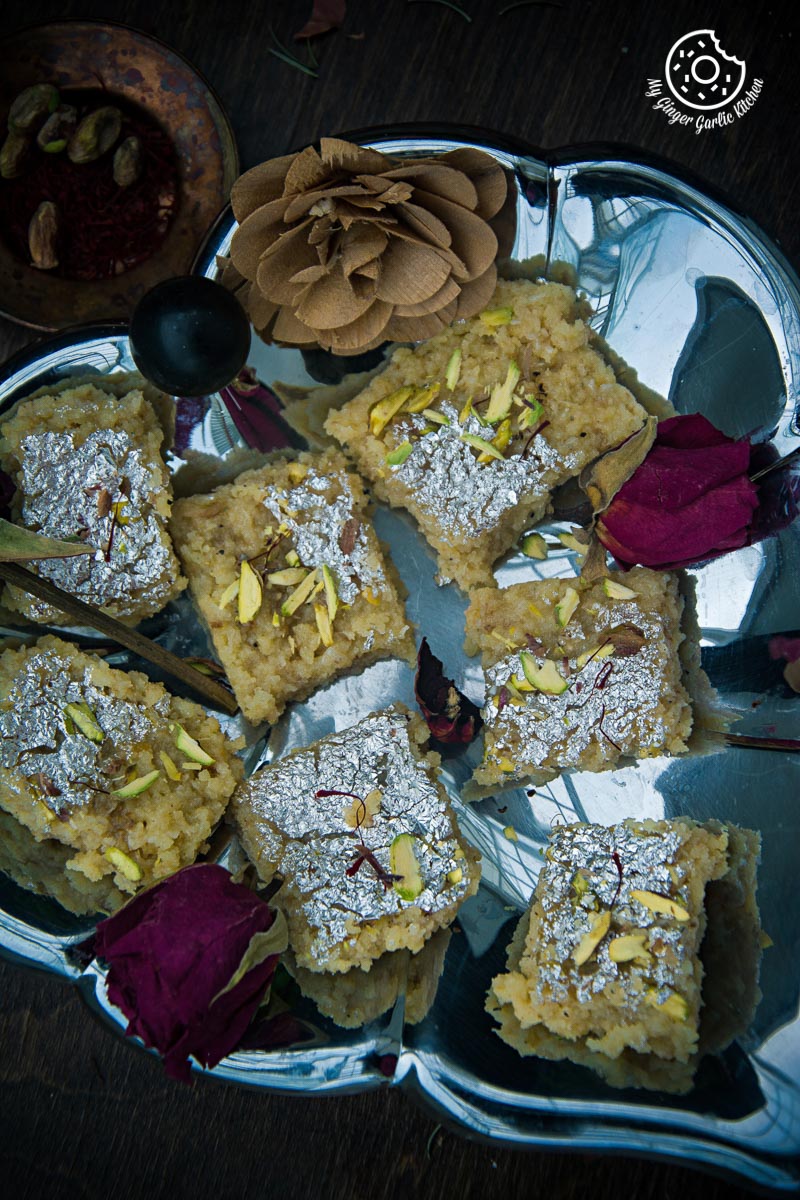 This recipe calls for desiccated coconut, mawa, milk, sugar and cardamom. The key ingredient here is mawa (मावा). Mawa helps in binding the kopra pak (खोपरा पाक ) and gives it a perfect texture. Cardamom gives it a pleasant aroma. I adorned this with edible silver leaf. You can also use edible gold or you can completely skip this part. It is only for the aesthetic value.
Process:
Making Kopra pak is very simple and easy. The dessert is ready in one pan. You throw everything in a pan and cook till it gets thick and lumpy. Then transfer it into a tray. Let it rest to set. Cut. Enjoy. Isn't it super simple, easy and mess-free! If you love anything coconut, then this recipe is for you.
This fudge also makes a great festive dessert. Usually, this is served as a mithai (indian sweet) during on Indian festivals like Diwali, Holi, rakhi, and bhaidooj. This also makes a wonderful holiday gift.
Storage:
Kopra Pak can be stored in an airtight container for up to 4-5 days at room temperature or keep it in in the refrigerator for up to two weeks.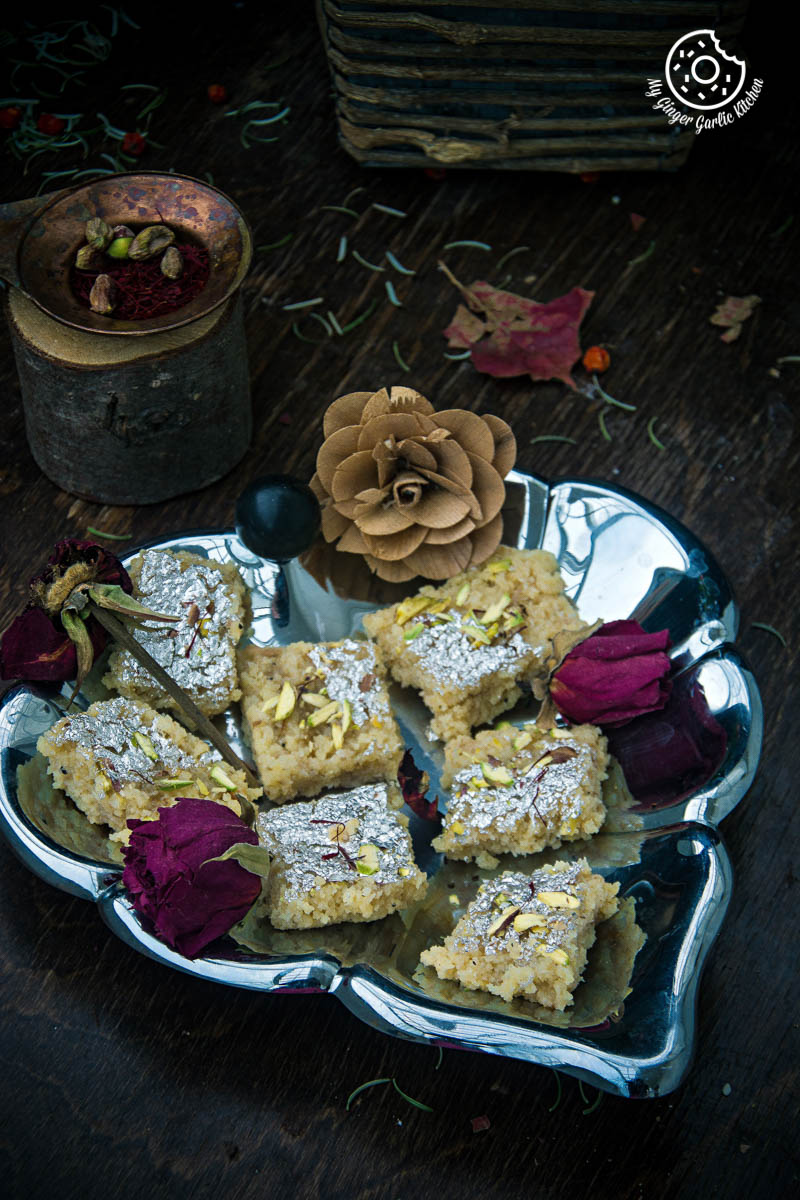 Kopra Pak - Nariyal Ki Burfi - Khopra Pak Video Recipe

[Recipe]
Khopra Pak is a very sophisticatedly and delicately flavored coconut fudge. This sweet has intense coconut flavor and an amazing texture.
---
★★★★✰
(Rating:
4.1
from
93
reviews)
---
| Prep time 🕐 | Cook time 🕐 | Total time 🕐 |
| --- | --- | --- |
| | | 30 mins |
| Category ☶ | Cuisine ♨ | Serves ☺ |
| Dessert | Indian | 16 |
| Nutrition Info ⊛ | | Serving size ⊚ |
| 247 calories | | 1 serving |
---
INGREDIENTS
Kopra Pak - Nariyal Ki Burfi //
---
INSTRUCTIONS:
Step by step instructions below //
Heat a pan over medium heat.




Once hot, add coconut and dry roast it for 2-3 minutes.




After that, add crumbled mawa and sauté it for 3-4 minutes.




Now, add milk and cook for 5 minutes stirring continuously.




After that, addd sugar and cook for 5-7 minutes or till the mixture is almost thick and lumpy as shown in the video.




Now add ghee and cardamom.




Mix well and cook for 2 minutes while stirring continuously. Remove it from the heat.




Grease a pan with ghee.




Then transfer the mixture into the pan and spread it evenly using a flat ladle. I used a 7x7 inch here.




Garnish with chopped pistachio and press lightly.




Decorate kopra pak with edible silver leaf. This step is completely optional.




Let it cool completely for 45-60 minutes.




When cooled, cut kopra pak into square pieces.




Serve or store in an air-tight container.



---
WATCH RECIPE VIDEO: Click the play button and video will load ...
---
NOTES:
No notes for this recipe.
---
If this recipe helped you, then please spread the word by sharing and
subscribing
to us on YouTube to get more such Recipe Videos.
---
Your feedback is so helpful for me and other MyGingerGarlicKitchen readers. So, for Facebook and Instagram, please mention
@MyGingerGarlicKitchen
or
#mygingergarlickitchen
. I would love to see your photos. :)
---
Author:
Anupama
Recipe Source Link:
https://www.mygingergarlickitchen.com/kopra-pak-nariyal-ki-burfi-video-recipe/
Date Published:
2019-10-13
• • • • • • • • • •