Mix Veg Pakoras are an easy to make Indian starter or snack or appetizer which are prepared with chickpea flour and spices.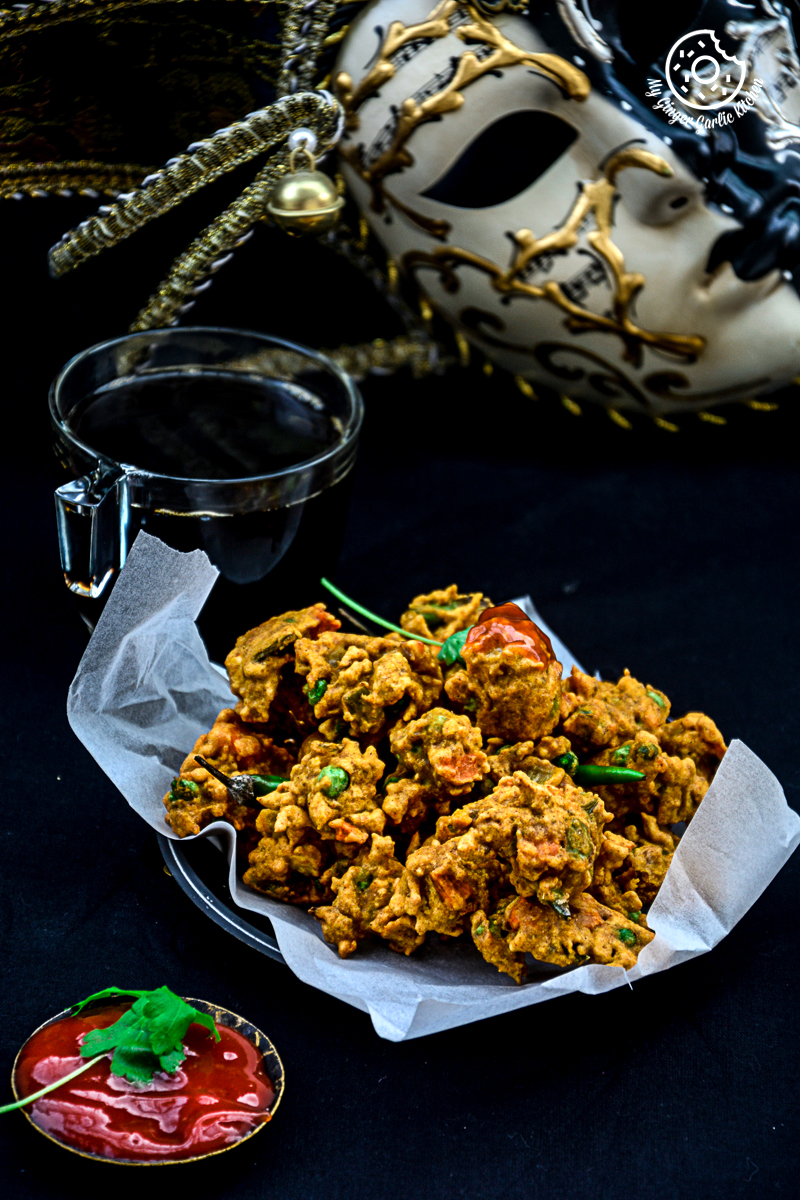 A very Happy New Year 2019 everyone!
I know, I know, that I am a bit late in wishing New Year. But hey, good wishes are welcome anytime. Agree? I am 100% sure that's what you want to say too 🙂
So, big cheers to the New Year and also to my first post of 2016!! Most of you are aware that I was on a month long holiday. And it was so so good — a well deserved break I must say. I enjoyed every single day of my holidays to the core. Ate so many goodies and Mom's homemade food. Mmmmmm!
I was lucky enough to tick every single thing on my to-do list which I made for this trip (yes, that included a visit to the monument of love — Taj Mahal too). Oh gosh! I still can't believe that holidays are over. I am still so in holiday mood.
Trying to settle down. This part is usually the toughest and roughest thing after a trip. I don't know about you, but for me, it's always a bit rough when holidays end. Getting back to the regular things and daily routine takes time (at least a week or so). That's me.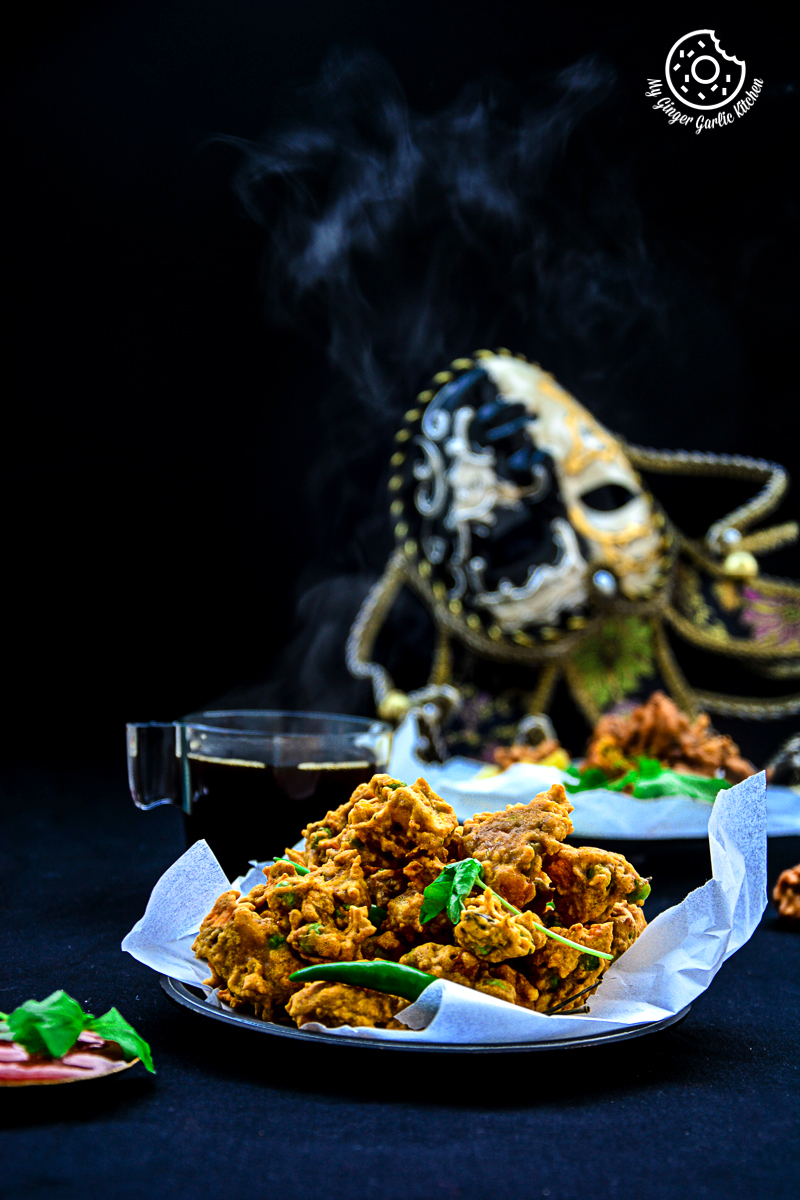 But at the same time, I also assume that I am not the only one who thinks this way. Some of you might also feel the same, and why not. Holidays are so much fun and getting back to regular routines without any roughness is such an insult to the fun we have during the holidays. But I also agree that I am happy to be back to business. All in all these holidays were truly great. 😀
I so feel like that we haven't really chatted for so long. Thus, I feel like we shall chat a lot now. I have so many things to share. But may be that's way too much for this first post in the New year, so I will keep this post short and to the point. So, here's what I plan to do — I will share so many interesting stories one by one in my upcoming posts.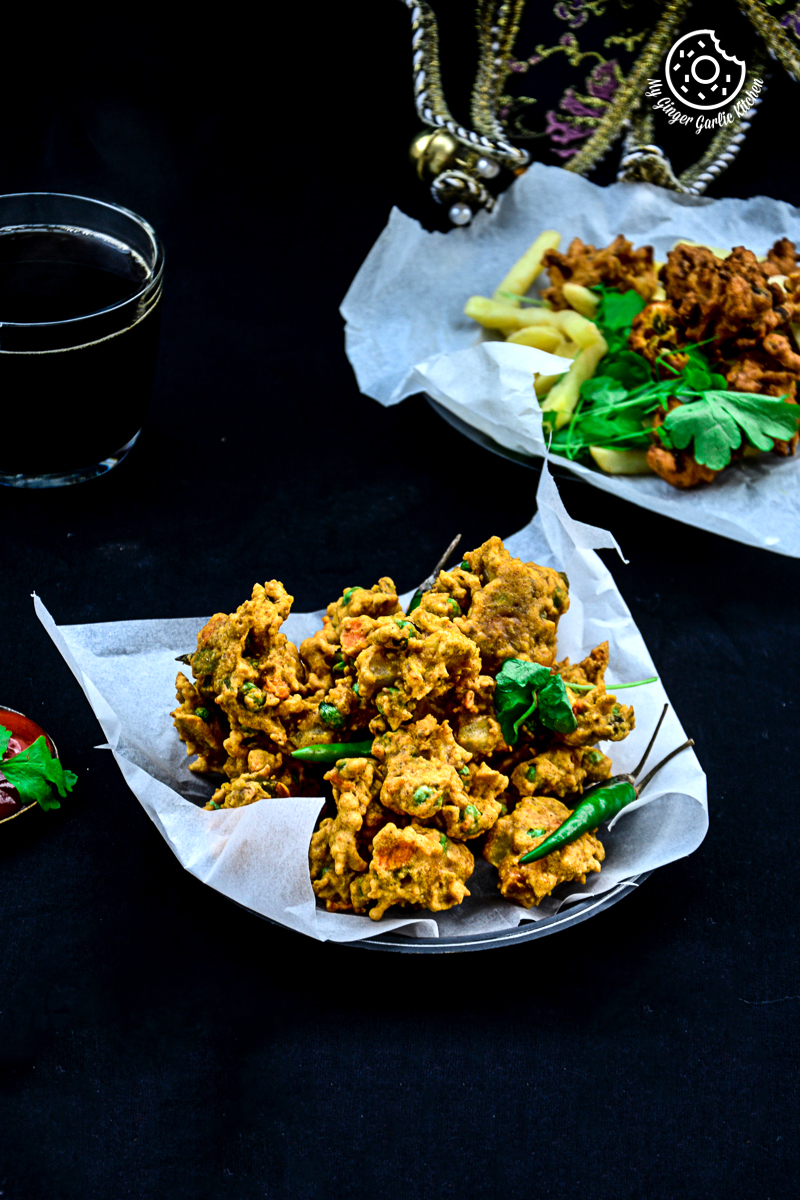 Whoa! We are already half way through the post, and still no mention about my time at Taj Mahal. Yeah, after a long time, after so many years, we also went to Taj Mahal during this India trip. Yeah, the mighty Taj Mahal. It's such a beautiful piece of architecture, simply spellbinding. No wonder, why it's one of the wonders of the world. Alright, you still don't believe that I was there. Let me show you. Here's the proof that I was there! 😉
Now, let's come to the recipe I am sharing today. It's Mix Vegetable Pakora. I found this recipe in my drafts folder, which I had planned to share earlier already last year, but couldn't. Now when I searched for some un-shared recipes I found this Mix Vegetable Pakora. And immediately decided to share it. Basically, there were two reasons why I instantly gave green flag to this dish.
#1. I love pakoras.
#2. A nice starter in the beginning of new year sounded so good.
I certainly have a set of some colorful and delicious and awesome recipes in my mind, which I am planning to share this month. Literally, can't wait to share those with you. But first, these pakoras are little something to catch up with you!
So, are you guys ready for these Mix Veg Pakoras?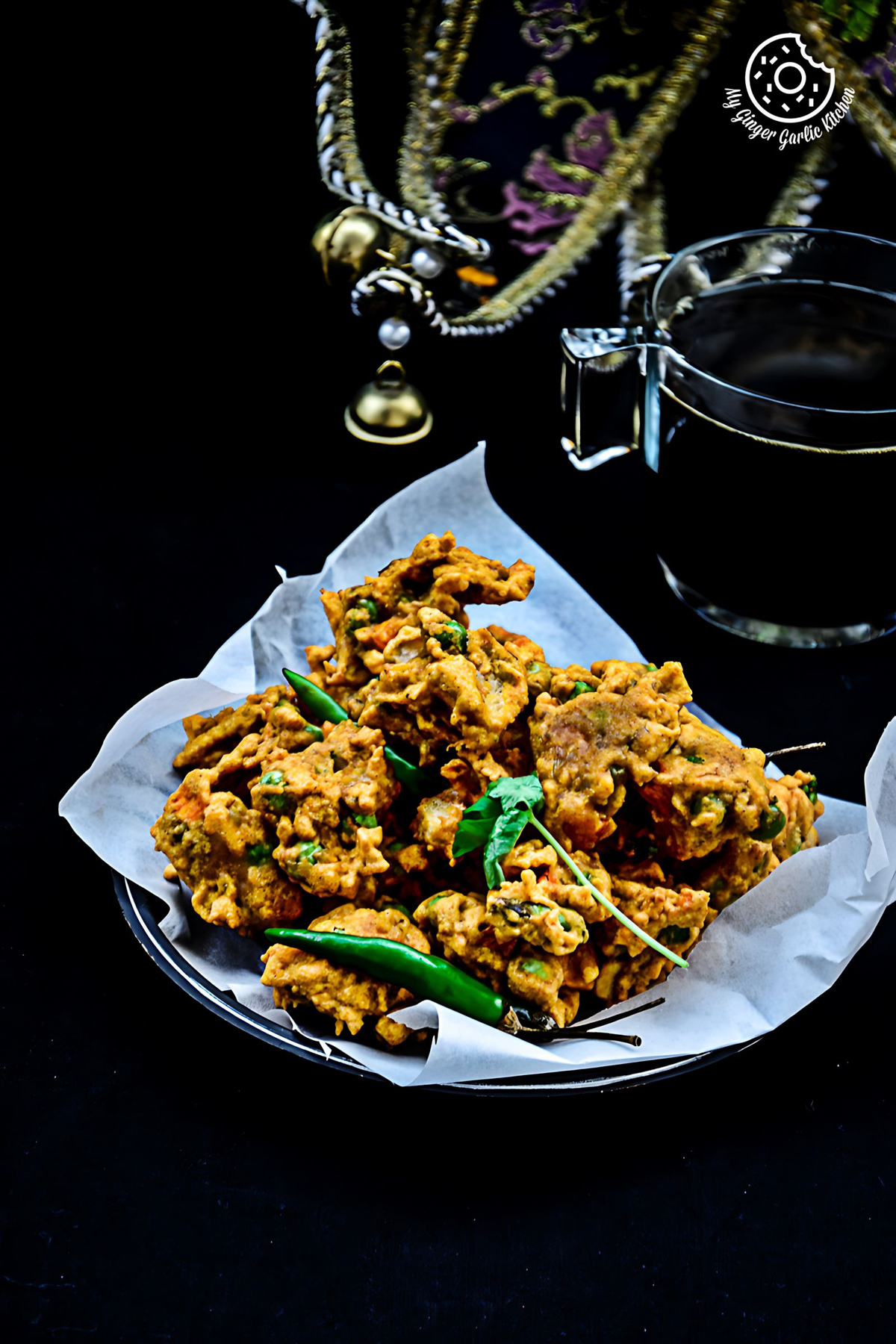 Whenever I feel like I am ready to get back to a little yumminess in my life I opt for pakoras. Or whenever I crave for some spicy fried snack, I make these mix vegetable pakoras — they are just beyond awesome. Basically, I make pakoras all the time. 😉 I just LOVE everything about these — I love how delicious and flavorful they are. Trust me.
Most of you are already aware of what pakora is. But a little intro for those who don't know about pakoras. Pakoras are also known as bhajias or bhajji. Pakoras are an easy to make Indian starter/snack/appetizer which are prepared with chickpea flour and spices.
These are one of my favorite Indian snacks. Everyone just love pakoras because of their endless variations. These tiny bites literally can make everyone happy.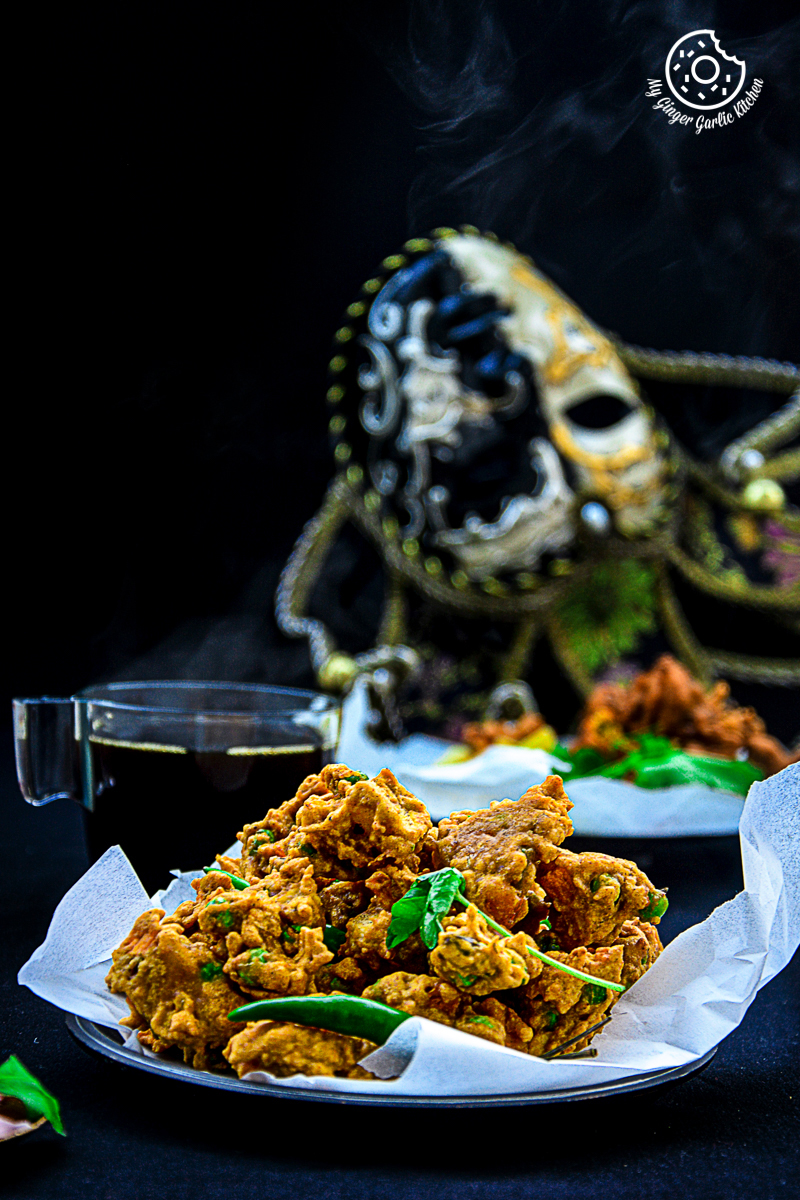 Mix vegetable pakoras are made with a variety of vegetables. They are perfect for freezing cold or a rainy day. They are best when paired with some chutney and with a hot cup of Ginger Cardamom Tea or Indian Spiced Coffee.
Previously I have also shared Stuffed Bread Pakoras which you might also like.
A marriage of veggies with spices and chickpea flour makes these pakoras an out of this world experience. They are super easy and quick too. Crispy, crunchy, spicy and yummy pakoras are just 15 minutes away.
Snow or no snow, cold or no cold, they will always be a superhit. So what are you waiting for? Go and treat yourself with this delicacy loaded with absolute YUM factor.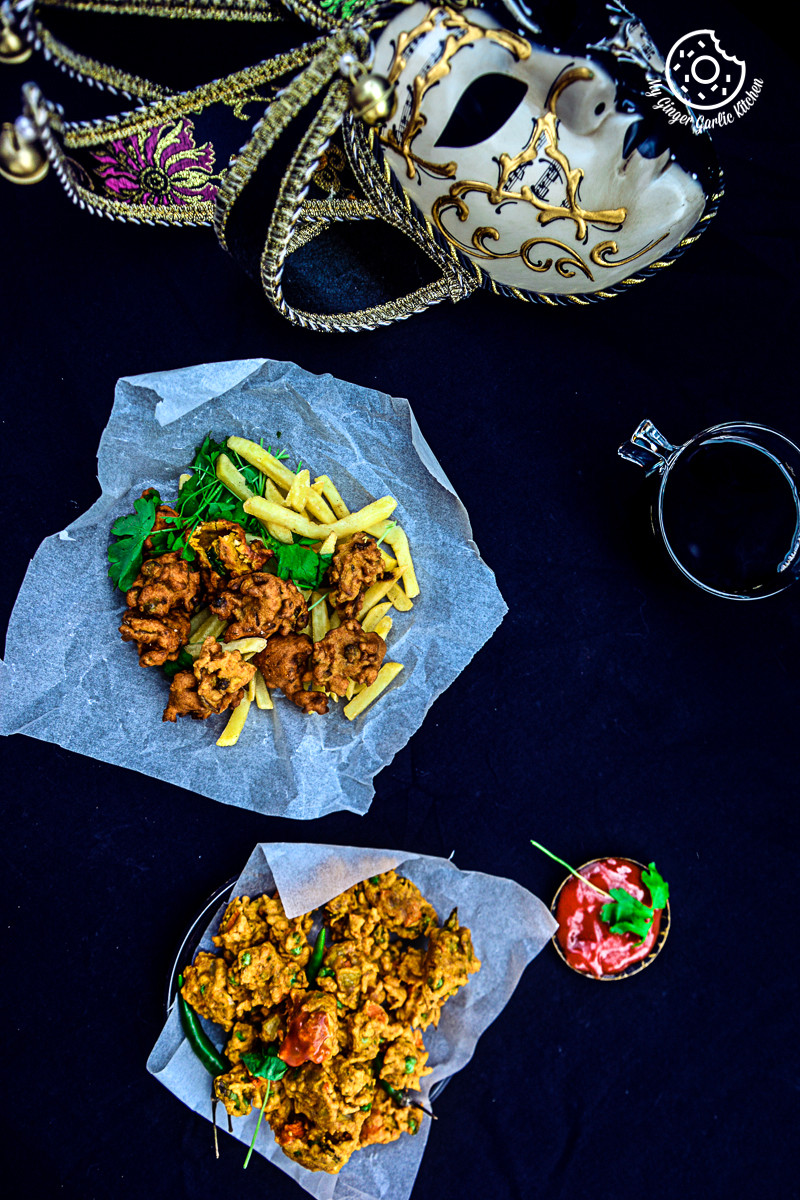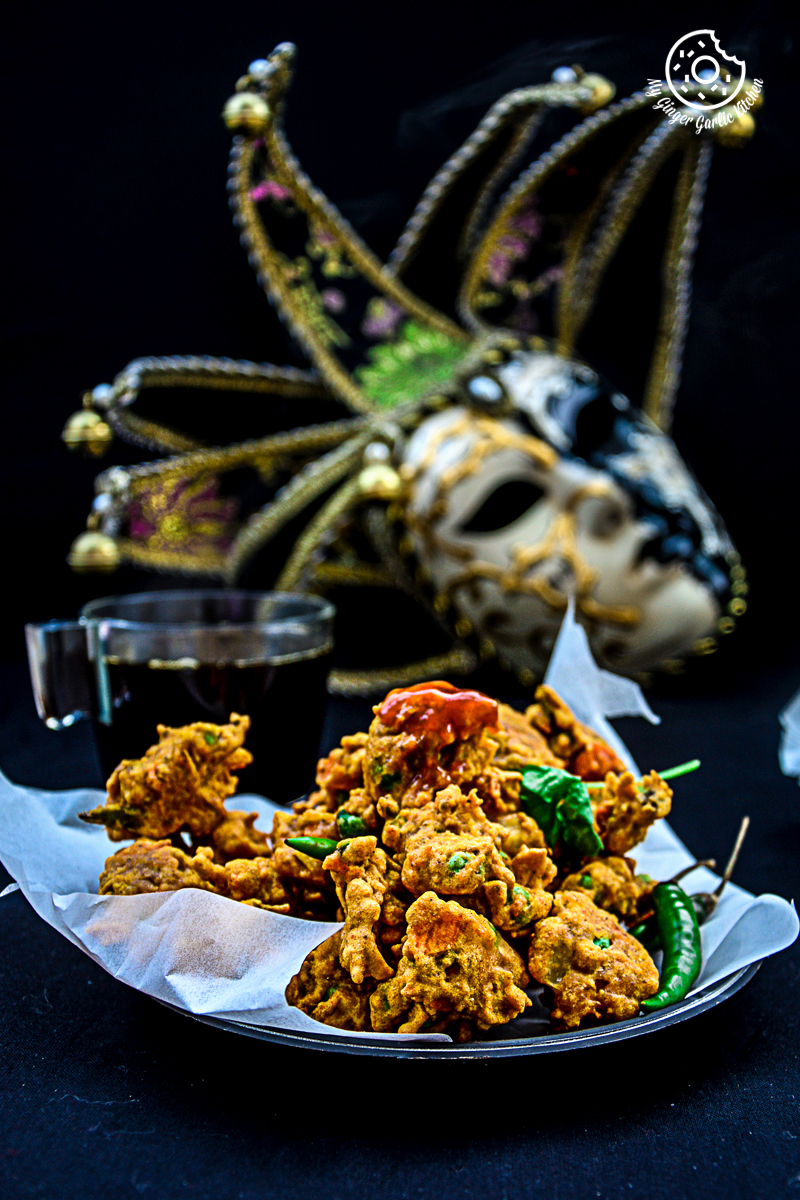 Mix Vegetable Pakora | Video Recipe

[Recipe]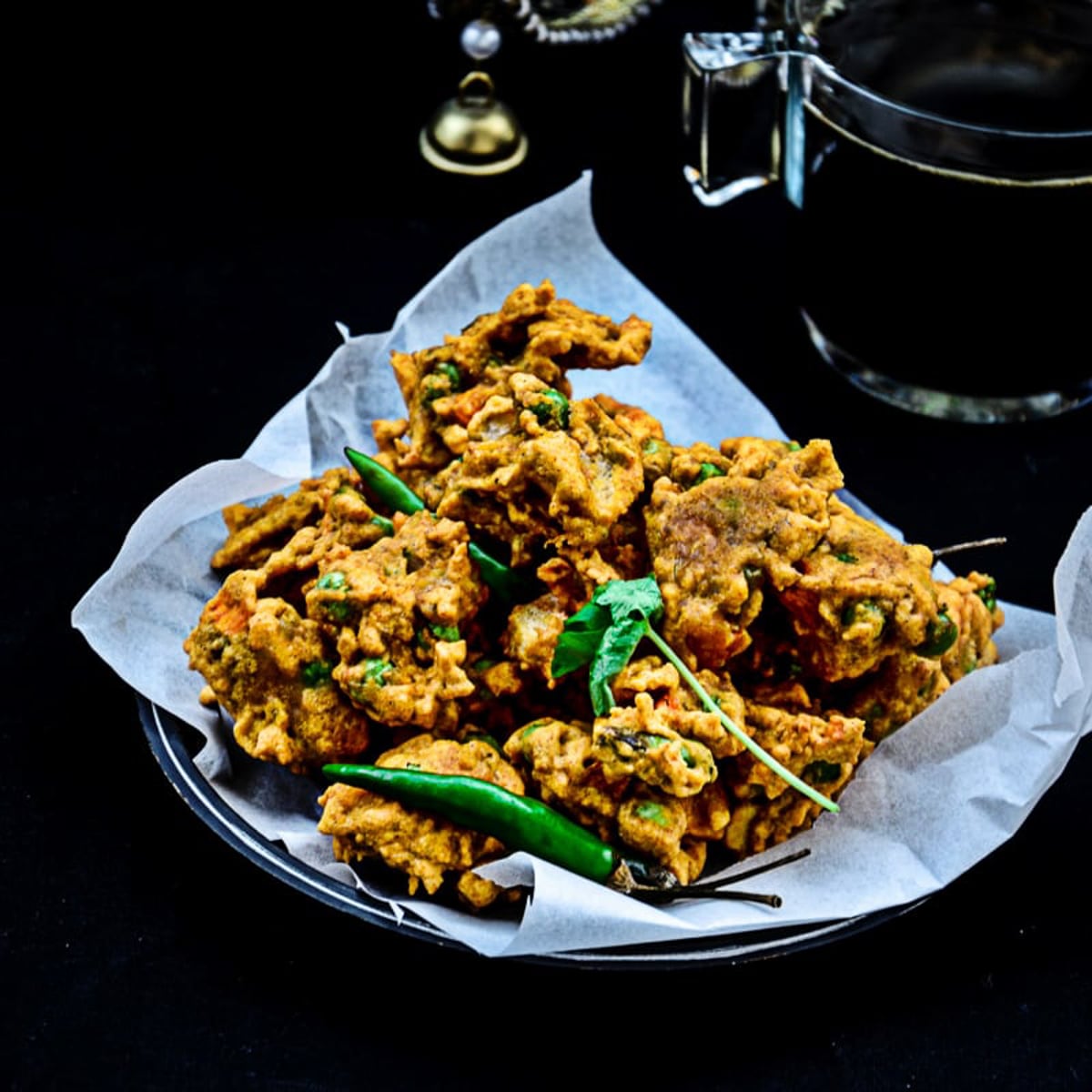 Mix Veg Pakoras are an easy to make Indian starter or snack or appetizer which are prepared with chickpea flour and spices.
---
★★★★✰
(Rating:
4.5
from
83
reviews)
---
| Prep time 🕐 | Cook time 🕐 | Total time 🕐 |
| --- | --- | --- |
| | | 25 mins |
| Category ☶ | Cuisine ♨ | Serves ☺ |
| Appetizer | Indian | 4-6 |
| Nutrition Info ⊛ | | Serving size ⊚ |
| 177 calories | | 1 serving |
---
INGREDIENTS
For Vegetables //
Potatoes, washed and chopped - 2
Onions, chopped - 2
French beans, chopped - ⅛ cup
Green peas - ¼ cup
Bell pepper, chopped - ⅛ cup
Carrots, chopped - ⅛ cup
Green chilies, chopped - 2
For Batter //
Chickpea flour - 2 cup
Pinch of asafetida
Kasuri methi (dried fenugreek leaves) - 2 tbsp
Red chili powder - ¾ tsp
Ginger-garlic paste - 1 tsp
Turmeric powder - ½ tsp
Carom seeds (ajwain) - 1 tsp
Fennel seeds - 1 tsp
Hot oil // 1 tbsp
Lemon juice - 1tsp
Salt to taste
Water for batter
For Frying Mix Vegetable Pakora //
---
INSTRUCTIONS:
How to Make Mix Vegetable Pakora //
In a bowl, add the chickpea flour, asafetida, turmeric powder, fennel seeds, carom seeds, red chili powder, kauri methi, salt and ginger-garlic paste.




Whisk everything well until combined.




Now add all the vegetables, lemon juice, hot oil and whisk again.




Add green chilies, some water and mix well.




Do not add too much water and make a thick batter. The batter should coat the vegetables.




Heat enough oil for deep frying in a heavy bottomed pan. Turn the heat to medium high. Carefully drop about 2 tbsp chickpea vegetables mixture into the hot oil.




Fry till they turn golden brown from all sides. Use a ladle to turn them so that they cook all over.




Remove on to absorbent paper once they turn golden brown. Repeat this process for the rest of the mixture.




Serve these crispy, delicious pakoras as an evening snack over a hot cup of tea or coffee.



---
WATCH VIDEO:
---
NOTES:
Do not overcrowd the pan, fry only 5-6 pakoras at a time.
---
If this recipe helped you, then please spread the word by sharing and
subscribing
to us on YouTube to get more such Recipe Videos.
---
Your feedback is so helpful for me and other MyGingerGarlicKitchen readers. So, for Facebook and Instagram, please mention
@MyGingerGarlicKitchen
or
#mygingergarlickitchen
. I would love to see your photos. :)
---
Author:
Anupama
Recipe Source Link:
https://www.mygingergarlickitchen.com/mix-vegetable-pakora-video-recipe/
Date Published:
2019-10-20
• • • • • • • • • •