Mix Vegetable Pakora | Video Recipe
Mix Veg Pakoras are an easy to make Indian starter or snack or appetizer which are prepared with chickpea flour and spices.
---
« Go back
Print this recipe »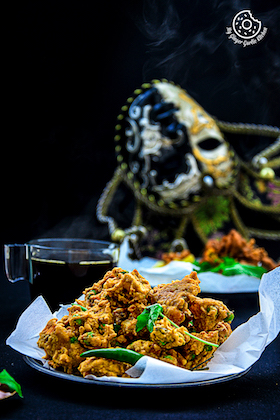 ---
Prep Time = 5 minutes
Cook Time = 20 minutes
Total Time = 25 minutes
Category = Appetizer
Cuisine = Indian
Serves = 4-6
Nutrition Info = 177 calories
Serving Size = 1 serving
---
RECIPE INGREDIENTS
» For Vegetables //
Potatoes, washed and chopped - 2
Onions, chopped - 2
French beans, chopped - ? cup
Green peas - ¼ cup
Bell pepper, chopped - ? cup
Carrots, chopped - ? cup
Green chilies, chopped - 2
» For Batter //
Chickpea flour - 2 cup
Pinch of asafetida
Kasuri methi (dried fenugreek leaves) - 2 tbsp
Red chili powder - ¾ tsp
Ginger-garlic paste - 1 tsp
Turmeric powder - ½ tsp
Carom seeds (ajwain) - 1 tsp
Fennel seeds - 1 tsp
Hot oil // 1 tbsp
Lemon juice - 1tsp
Salt to taste
Water for batter
» For Frying Mix Vegetable Pakora //
---
RECIPE INSTRUCTIONS
» How to Make Mix Vegetable Pakora //
In a bowl, add the chickpea flour, asafetida, turmeric powder, fennel seeds, carom seeds, red chili powder, kauri methi, salt and ginger-garlic paste.
Whisk everything well until combined.
Now add all the vegetables, lemon juice, hot oil and whisk again.
Add green chilies, some water and mix well.
Do not add too much water and make a thick batter. The batter should coat the vegetables.
Heat enough oil for deep frying in a heavy bottomed pan. Turn the heat to medium high. Carefully drop about 2 tbsp chickpea vegetables mixture into the hot oil.
Fry till they turn golden brown from all sides. Use a ladle to turn them so that they cook all over.
Remove on to absorbent paper once they turn golden brown. Repeat this process for the rest of the mixture.
Serve these crispy, delicious pakoras as an evening snack over a hot cup of tea or coffee.
---
RECIPE NOTES
Do not overcrowd the pan, fry only 5-6 pakoras at a time.
---