Jalebi is a quick and easy Indian style funnel cake recipe which is very popular throughout India. This juicy and crispy jalebi can be prepared under 30 minutes. This popular dessert is cherished not just by kids but grown-ups too.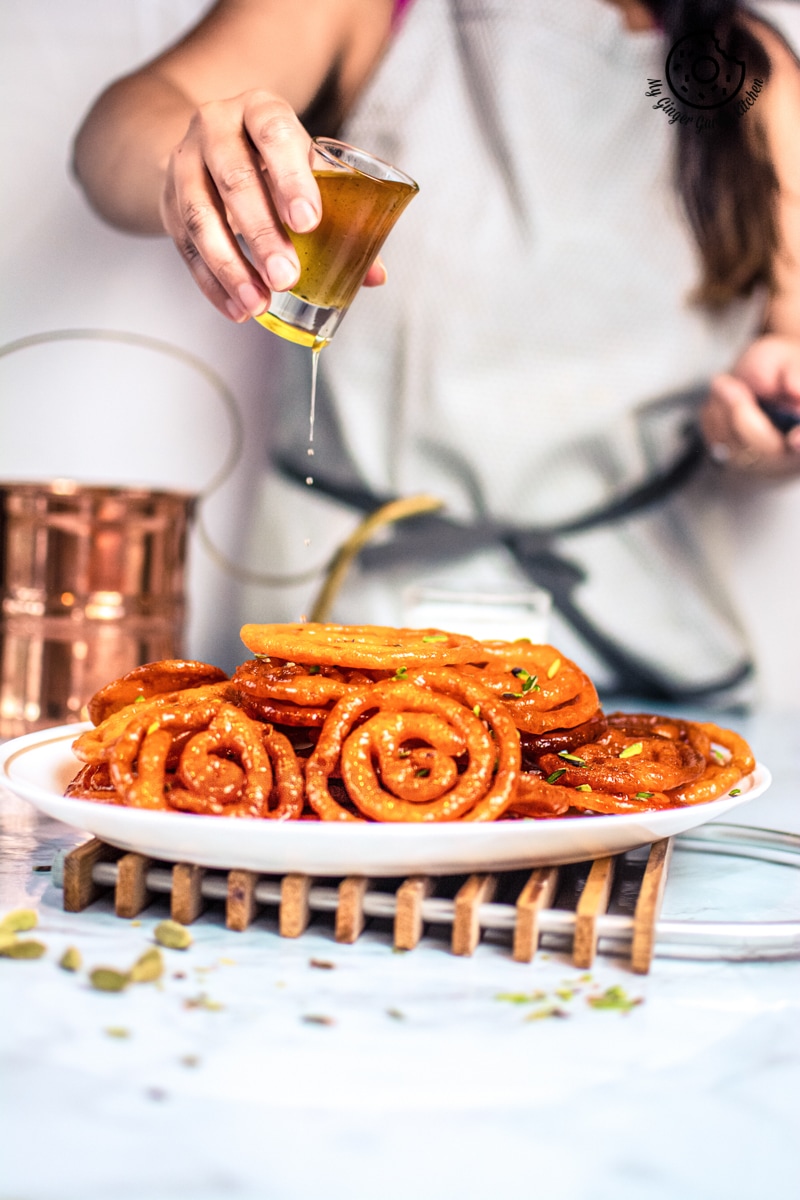 Jalebi is an ideal dessert for any special occasion, a get-together, a birthday party, wedding celebrations or festivals like Diwali and Holi. No matter what the occasion is, jalebis are everywhere. 
However, you don't really have to wait for any occasion to devour jalebi. You can make and eat jalebi anytime you crave for it. Serve Jalebi with and piping hot as an evening snack and you are all set to experience the glorious joys of life.
The crispiness of these fried spirals filled with juicy sugar syrup makes it extremely desirable.
Jalebi, the crispy and juicy spiral dish can be served for breakfast along with some , or poha. In fact, Poha and Jalebi make a fabulous combination. Jalebi also tastes spectacular when served with warm milk or chilled Rabri.
What is Jalebi?
Jalebi is a traditional Indian dessert which is made by pouring all-purpose flour (maida or plain flour) batter in spiral-shaped in the hot ghee/oil. The shapes are deep-fried until crisp and after frying, they are dunked into the sugar syrup. This spiral-shaped crisp & juicy sweet is made of all-purpose flour, (or gram flour and cornflour) and sugar syrup.
How to serve Jalebi?
Jalebi dessert is served warm or cold. However, the warm jalebi tastes much fresher and tastier.
Jalebi can either be eaten alone or with warm milk or chilled or warm rabri. The choice of devouring is entirely up to you. Since jalebis are deep-fried and sweet, I personally like to eat them along with some warm milk. That way I can eat more of these delish beauties without feeling full. ;)
What to pair with Jalebi?
This easy and quick dessert Jalebi can be paired with various savory dishes depending upon the regions. Some of the very famous Jalebi and savory-spicy snack combinations are:
Fafda Jalebi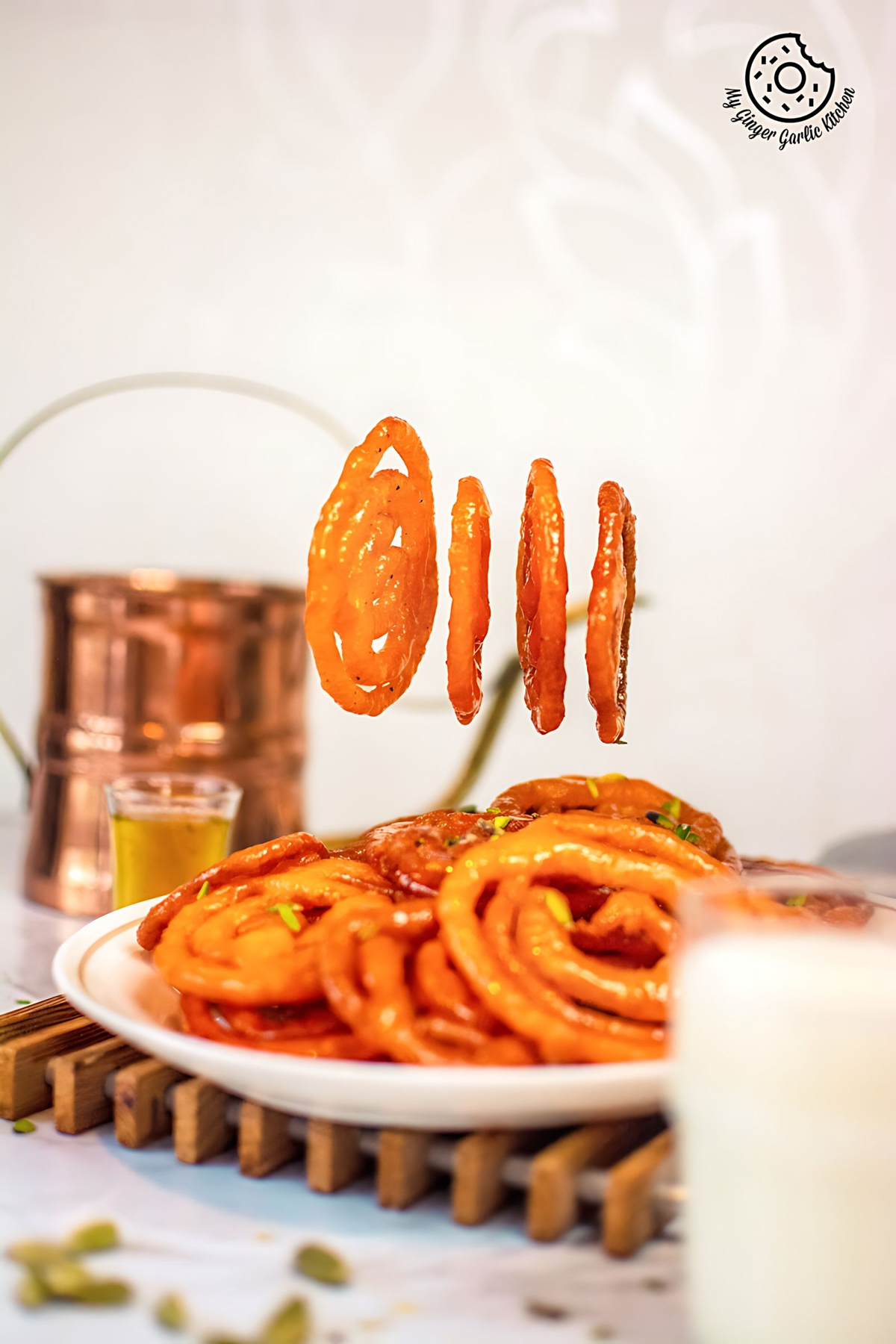 Jalebi can also be served as dessert after an elaborated Indian meal which usually consists of some type of , , , , , , and .
If you have guests coming for dinner and you don't have time for making traditional rabri, then these serving options would save your day.
Here are some serving options for you:
Serve it with warm saffron milk.
Or, top it with some whipped cream and pistachios.
Or, top it with some sweetened condensed milk and chopped nuts.
What are the ingredients and equipments needed for making Instant Jalebi?
For making Instant Jalebi you only need a few ingredients which are available at-hand in any kitchen. So you can make this instant recipe anytime when you crave for jalebi. 
These ingredients are: 
All Purpose Flour/plain Flour) (Maida)
Yogurt/curd (Dahi)
Baking Powder
A Pinch Of Orange Food Color (Optional)
Sugar (Shakkar/chini)
Water (Pani)
Cardamom Powder (Ilaichi Powder)
Saffron Strands (Kesar Ki Pattiyan)
Oil (Tel) Or Clarified Butter (Ghee)
Equipment you will need for making jalebi:
Squeezable ketchup bottle/a piping bag/ or a ziplock bag
How do you shape Jalebi?
The traditional way of making Jalebi requires a Jalebi Making cloth. This cloth is made using the layered muslin cloth which has a stitched hole in the center. However, there are some easy and simple ways to make the same 'Halwai' (confectioner) style Jalebi at home without any Jalebi cloth. You can use any squeezable ketchup bottle, a piping bag, or a ziplock bag.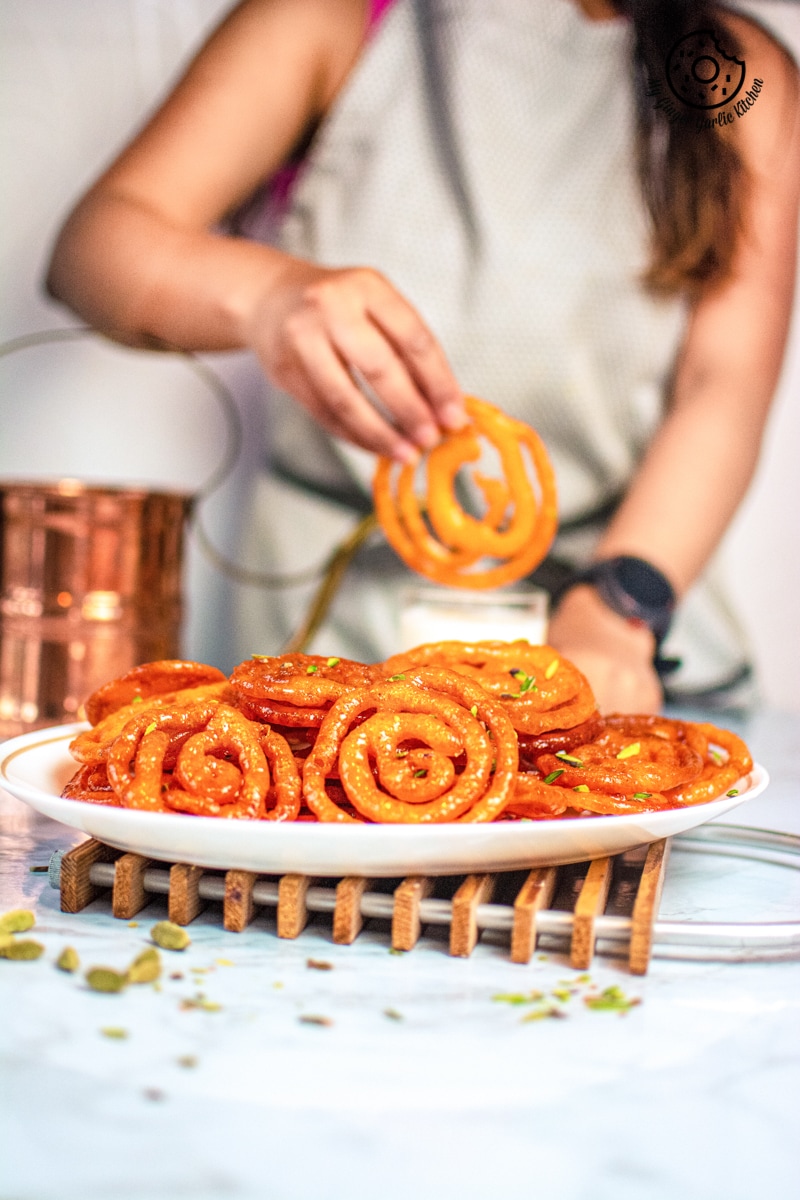 How do you make Jalebi?
Jalebi is made using two methods:
1. The traditional method, where all-purpose flour batter is fermented for 10-24 hours.
2. The instant method, where no fermentation is required.
Once the batter is ready, it is then poured into spirals or concentric circles in the hot oil. They are fried until crisp and then immersed in sugar syrup.
The traditional way of making is by fermenting the batter. In traditional Jalebi recipe, you need to ferment the batter for 10-24 hours. To make traditional jalebi, first, we will make a batter using flour. Then we will let it ferment for 12 hours or until fermented.
For making jalebi we need to make batter first.
How to make fermented Jalebi batter?
Fermented Jalebi batter requires different ingredients.
Here are the ingredients, if you are planning to make jalebis the authentic way.
1 cup all-purpose flour ( maida)
2 tablespoons chickpea flour (besan) or you can also use cornflour
1⁄8 teaspoon baking powder
Pinch of baking soda
3 tablespoons yogurt
Pinch of orange food color, if using
Water ¾ cup or as required
Let's now make the fermented batter. Add maida, besan flour and baking soda to a mixing bowl. Whisk well and add ghee, and orange food color. Mix everything well and make a thick yet smooth and pouring consistency batter using yogurt water. 
Cover the bowl and keep it aside for 12 hours or until fermented. Once the batter is fermented, you will see some bubbles on top, it might take up to 24 hours. This is because the fermenting time depends upon the weather of the place you live in. Proper fermentation of batter is much needed because the sourness we get from fermenting gives jalebi the distinct taste for which this dessert is admired for.
Once the batter is fermented, whisk the batter and add a little water if it looks thick. 
How to make Instant Jalebi batter?
Making Instant Jalebi batter is quite easy and simple. With this Instant Jalebi batter recipe, you can produce the same results as traditional jalebi.
This is how you make Instant Jalebi batter in easy steps:
Add maida and yogurt to a bowl and start whisking in one direction. For this, you can use a wire whisk or you can use your hands. Keep whisking. After about 5 minutes the mixture would start turning into a smooth and lump-free batter.
Add 1-2 tablespoons of water to the batter if the batter seems a little thick. It has to be thick, but of flowing consistency. Once the batter turns smooth add baking powder and mix it well again. The batter is ready. Once the batter is fermented, make the sugar syrup.
How to make sugar syrup (chashni) for jalebi?
This is how chashni for jalebi is made:
Add sugar and water in a pan boil over medium flame.
Let it boil until sugar is fully dissolved.
Add a slice of lemon boil for a few minutes.
Now add saffron strands and boil until you get the sticky syrup.
The syrup we need here has almost 1-string consistency (ek taar ki chashni).
Add cardamom powder and stir well. Turn off the heat and keep aside.
How to fry Jalebi=
Heat oil or ghee in a pan over medium heat. Now fill the squeeze bottle with the batter and pour spiral shapes or concentric circles in the hot oil. Fry jalebis over medium heat until they are crisp and golden.
Once fried, drain jalebis on a cooling rack and let them cool for a couple of minutes.
Now add fried jalebis to warm sugar syrup and soak them for 1-2 minutes.
Next, remove jalebis from the syrup and place on a tray lined with butter paper or foil.
Garnish with chopped pistachios and serve warm.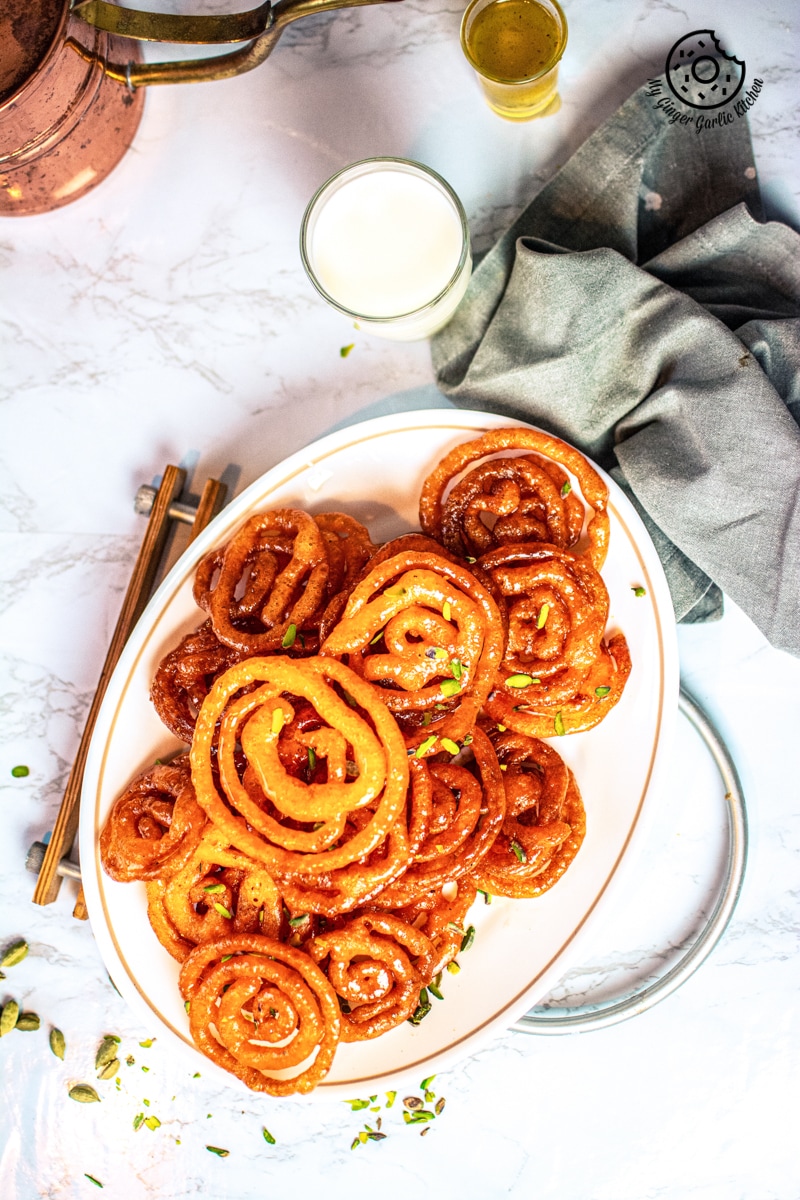 How to check sugar syrup consistency for jalebi?
To check sugar syrup consistency, pour a drop of syrup in a plate or bowl. Allow it to cool for a few seconds. Touch the syrup with index finger and then touch your thumb and index finger together and gently pull apart. If the syrup is sticky then your syrup is ready.
What is the right consistency of batter?
The perfect jalebi batter is smooth and creamy. The key to making crisp juicy & light jalebi lies in the texture of the batter. It has free-flowing runny consistency. It should neither be watery nor too thick. We want moderately thick batter for making jalebi. So if your batter is too thick, then add 1-2 tablespoons of water or more if the batter is still thick. Add 1-2 tablespoons of all-purpose flour if the batter is too runny.
The dishes Jalebi and Imarti look similar, so are Jalebi and Imarti the same?
No, Jalebi and Imarti both are different dishes. Jalebi is not to be confused with Imarti.
Here are some basic differences between imarti and jalebi:
Jalebi is made with all-purpose flour batter whereas Imarti is made from lentils batter.

Jalebi is thin and has a spiral shape, but imarti is thicker and shaped into circular flowers.

Jaebis are sweeter than Imarti.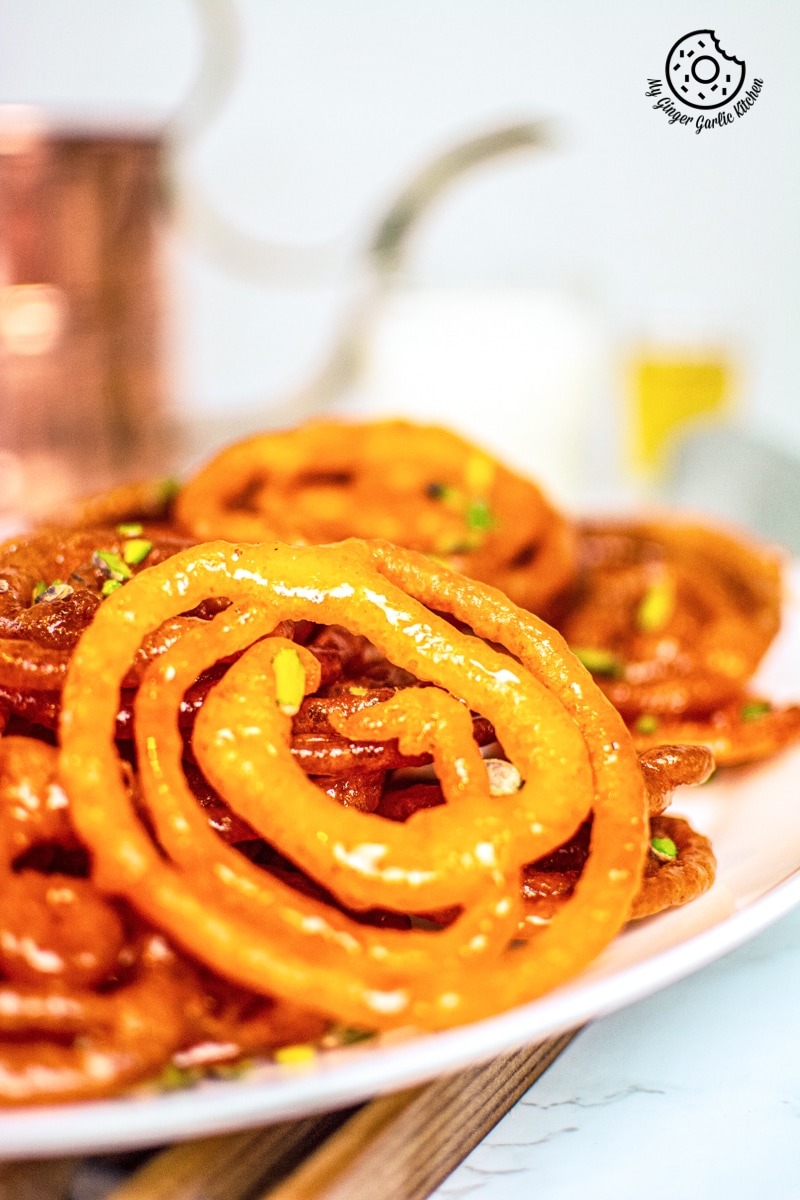 What are some important tips and variations to make the best jalebi?
Making homemade jalebi is easy if you have a perfect batter and sugar syrup. To make amazing jalebi at home you just need to keep a few things in mind.
Jalebi stays crisp for 7-8 hours when followed the exact recipe. If you want to use fried jalebi the next day, then arrange fried jalebi on a cooling rack and cover them with kitchen tissues and keep them at room temperature. When you want to serve, then reheat the sugar syrup and dunk jalebi into hot syrup for 2-3 minutes.
Add 1-2 tablespoons of water to sugar syrup every time you are heating it up. This way, the syrup will maintain it's sticky uniformity and won't get thicker.
Adding food color is optional. You can completely omit it. You can also add 1-2 tablespoons of soaked saffron water to the batter for a nice color and aroma.
I added a slice of lemon while boiling the sugar syrup. This is because it prevents the syrup from crystallizing, and stays into liquid form even after cooling.
I have added saffron strands and cardamom powder to my sugar syrup. You can also try adding rose water or kewara water for different flavors.
My yogurt was slightly thicker, so I have added 2 tablespoons of water. You can totally skip adding water if your yogurt/curd has watery consistency.
Make sure you do not add hot jalebi to hot syrup, or else, jalebi would turn soggy and soft. Always add slightly hot jalebi to warm syrup. Or warm jalebi to lightly hot syrup.
Always use a broad pan for frying jalebi, and do not overcrowd the pan. Because jalebi would expand in size while frying so make sure you keep some space.
Do not fill the pan with so much oil when frying jalebi.
The authentic jalebi is fried in desi ghee because jalebi is fried in ghee are very aromatic and tasty. However, if you think that jalebi fried in ghee is very heavy then you can fry jalebi in any refined oil of your choice. If you are planning to fry jalebi in oil, then add 1 to 2 tablespoons of ghee to the oil. This would enhance the flavor of jalebi.
Make sure the oil is hot enough before you drop the batter. To gauging the temperature for frying, simply drop a tiny piece of batter, If it sizzles and comes up without browning then the oil is perfect for frying jalebi. Or just use a wooden spoon, if you see bubbles around the wood then the oil is ready. 
If the batter sinks in the bottom then the oil is too cold, your jalebi won't turn crispy and they will absorb so much of oil/ghee.
If the batter turns brown and comes right away on the top, then the batter is too hot, you jalebi would darken very fast from outside. 
Always fry jalebi on medium heat. 
If your jalebi has shrunk, then that means you over-fried your jalebi.
If your jalebi turns flat, then it means that jalebis were fried on low heat or the batter was too thin.
If your jalebi comes out thick & soft, then the reason is that the batter is too thick.
These are some of the important tips to keep in mind. I hope you have learnt something cool today. I also wish for you to make this delicious instant jalebi recipe to relish with your family and friends.